The tiger symbolizes strength and power and is a beloved animal. These DIY Tiger Costume Projects show you how to make your own tiger costumes from scratch, whether you're looking for ideas for a Halloween costume or something more themed for a play. There are lots of cool things to do with a DIY tiger costume, from wearing it for dress-up to decorating for parties and events. One charming option is a full-body costume made of fabric and stuffing to create the look of stripes. If you love the tiger-themed decor, you can get creative and use some of your favorite things around the house. You can also make accessories like tail ties and stuffed paws that accompany your outfit. Have fun getting dressed up as one of nature's most magnificent predators!
DIY Tiger Costume
The tiger print has been around for a long time, and it's no wonder why. It's bold, handsome, and mysterious all at once—but when you think about how much branding relies on cartoonish anthropomorphic animals to make their point, the tiger seems especially apt for the job. Tigers are fierce, symbolizing strength, power, and ferocity. They're also notoriously beautiful and strong-willed, which is something that hasn't changed to this day. Their stripes are a unique symbol of their life prowess and grace in motion. You can show off your own stripes this Halloween with a DIY tiger costume! These DIY tiger costume projects are easy to make and save money. Make a realistic tiger, and get ready to roar!
If you love the idea but want something more sophisticated and refined, try these embellished 22 DIY Tiger Costume Projects that look fit for royalty.
Materials Needed For DIY Tiger Costume Projects:
Tiger costumes are the perfect way to get in touch with your wild side. Whether you're going to a Halloween party or want to dress up for fun, we've got some ideas for making yourself look like a tiger without breaking the bank.
Scrap fabric (for a striped effect)
Scissors
Hot glue gun (or another strong adhesive)
Paintbrush (for applying paint)
DIY Tiger Costume
This DIY costume is perfect for teenagers and adults. This simple design can be altered to fit anyone's size. It's also an excellent option for those who want a sleek black-and-white look without the hassle of painting their whole body. Get ready to turn heads with one of these DIY tiger costumes this Halloween. A few samples here can be used, as well as a guide on how to make your own tiger costume. Whether you want to be fierce and wild or cute and cuddly, this Halloween, you can be anything you want!
DIY Tiger Dog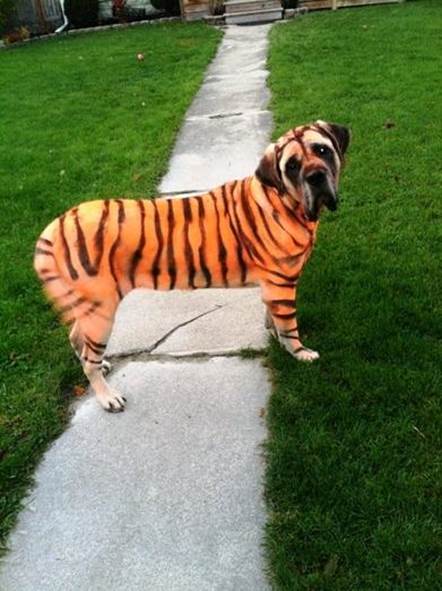 Get the party started with this DIY tiger costume for your pet of any color. The dog was painted with washable pet paint, and the nails were painted in matching colors. Bring your pet's personality to life with custom face paint. You can create a unique look for your four-legged friend with a few simple steps. This DIY tiger costume is excellent for dog parties and Halloween but can also be used as a daily look for an adorable photo shoot or video drone video if your pup is fantastic enough to impress Santa Claus!
DIY Tiger Makeup Transformation
With this simple, sassy look, your canine will be the perfect tiger for Halloween. This dog character doesn't need a bark; it has a roar. Or at least, it will after you transform it into an adorable tiger with this are-you-kidding-me makeup kit. We're not kidding: This look is super easy to do and perfect for Halloween. Add white above your lip, orange around that area, yellow onto the nose, brown along the hairline and cheeks, and pink at the bottom of your nose—plus stripes!
How to Sew a Terrific Tiger Costume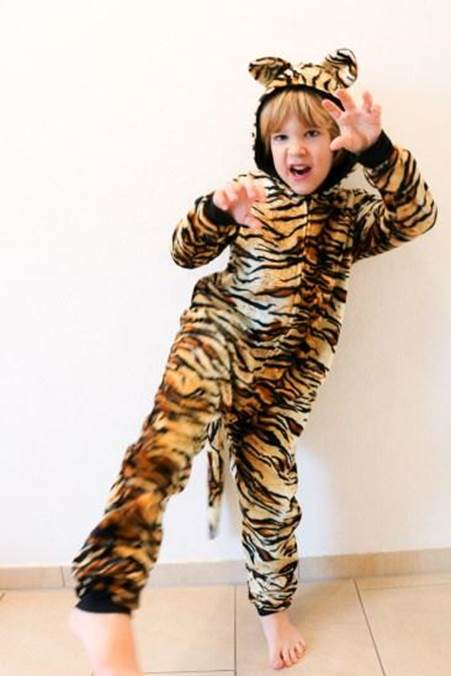 This is a very simple way to make a costume of a favorite stuffed animal. If you know the basics of sewing and have access to essential tools, this should not be too difficult. Just measure the person wearing it, cut out some fabric in the appropriate size, sew it all together, and fix any additional pieces such as eyes or a nose. Making a tiger costume out of a onesie is easy and looks great. Most of the supplies are readily available, and you can buy the tiger print and assemble it yourself.
DIY Tiger Costume for Kids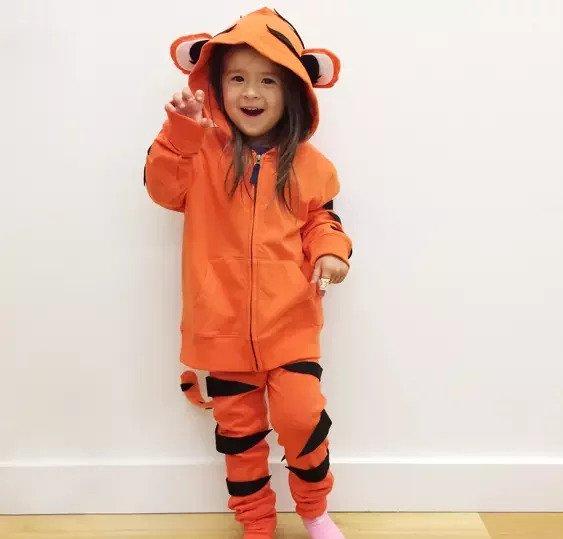 This DIY Halloween Costume will bring out your child's creativity. This tiger costume is easy to make and will surely please the little ones. This DIY tiger costume for kids is a great idea for Halloween or any party. It can be made for both boys and girls. Just grab an orange kid's hoodie and some pajama bottoms, then add ears and a tail by cutting out some felt. This is one of the easiest DIY costumes ever!
Duct Tape Tiger Halloween Costume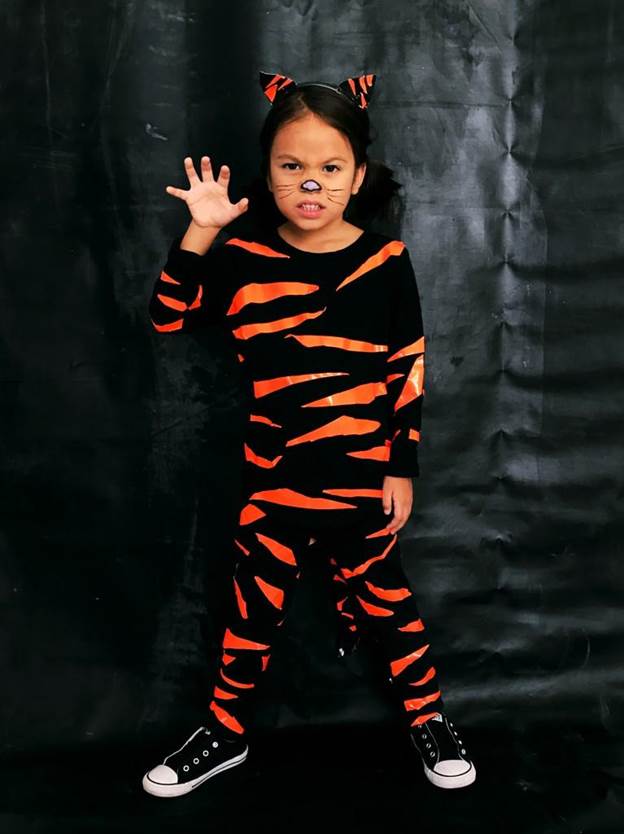 What's cool about this costume is that you can customize it to make the tiger look like your child. You can let them put many stripes, cut out triangles like slits, or even add eyes and ears at the top of the head! You can make your kid's Halloween costumes using a variety of duct tape colors and shapes, then add touches of paint, paper, or stickers. It's a bumper craft project that can be over the top regarding creativity. There's always room for more!
Fiery Tiger Costume
Tigers are fierce animals and should be observed from a safe distance. This is why you need to create your tiger costume for kids or adults that can look like this dangerous predator, but you can still wear it with others around. You will need black sweatpants, white and orange felt, and a mask. You can glue the strips onto the sweatshirt or sew them in place if you prefer having an actual hole over your head. The tiger is one of the most popular animals to be a part of any group costume, and this one is sure to be a hit. Create your own DIY tiger costume in no time!
DIY Tiger Halloween Costume for Kids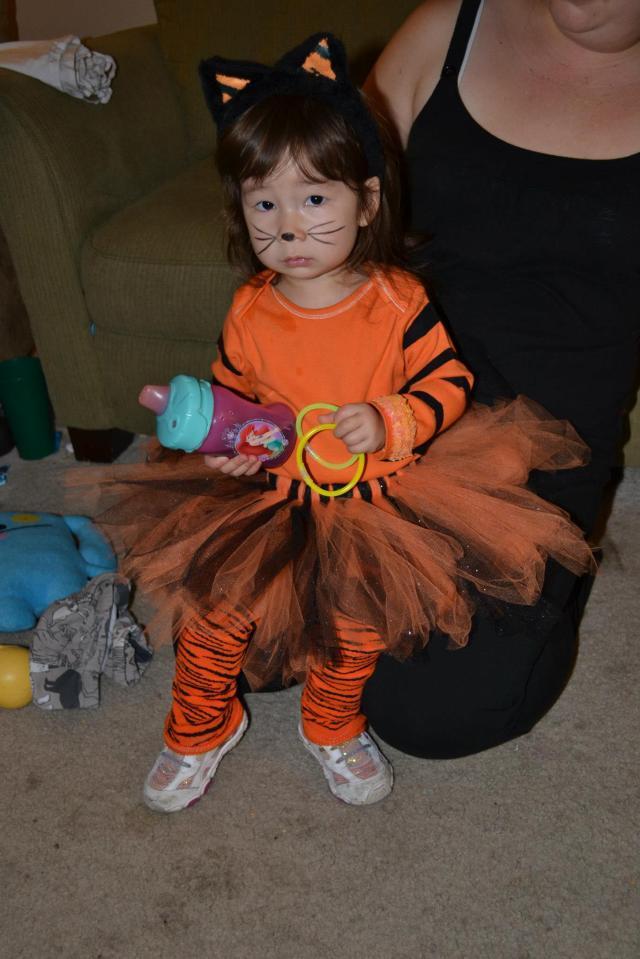 This DIY Tiger Halloween Costume is easy to make, and you'll only need a few materials. Add a tiger tutu, leggings, and a prince (or princess) costume to complete the look. This kid's Halloween costume is fun and easy to make. You can create a tiger costume with just an orange onesie, tulle, and leg warmers in no time. The headpiece is also homemade with felt and fabric. This simple craft is perfect for beginners and kids alike! Complete everything you need to create their tiger costume, including an orange onesie and leg warmers. It's perfect for creating the perfect costume at home.
DIY Tiger Makeup Tutorial
Want to know how to make a DIY tiger costume? This is everything you need to know. You'll learn how to make a face, body, and tail. In this video tutorial, you'll also hear from some of the other cosplayers who have used these techniques in the past. Make your way to the wild side with this DIY tiger costume. It's just a few steps away—you'll need to create some simple body art, paint your face, and assemble a cute dress in your favorite colors. Add an adorable toy to complete the look!
How to Make a Tiger Mask for Cosplay
When you have the materials and have done your research, you are all set to start making the tiger mask. This can be a lengthy process, but it will be worth it; your child will love wearing the tiger costume and playing in it. It is super easy to make, and you can use it for your cosplay or as part of your school project. It will fit children from ages 6 to 9 years old. The materials needed for this mask are paper and tape. When making a costume, you should do it well in advance because people take more time than other projects.
Kids Tiger Halloween Costume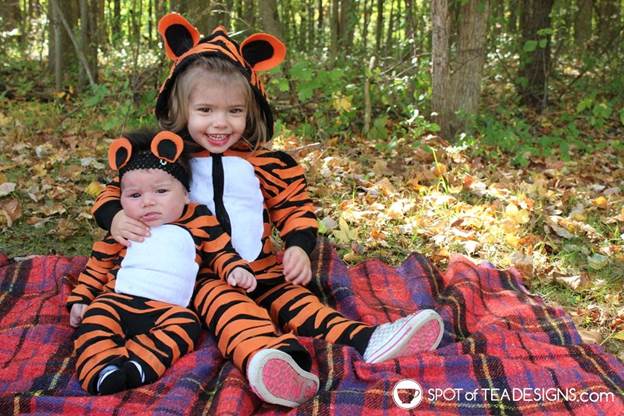 What better way to bond with your kids than dressing up and having a wild Halloween party? Show off your family and friends in this fantastic costume. As a parent, you can make the most of those moments your kids are asleep. Create this fun and easy Tiger Costume to incorporate tiger-themed daytime or naptime activities. You will be surprised at how fast they fall asleep while wearing these costumes! This costume is easy to make and fun to wear. No need to plan a pattern; just cut stripe shapes out of felt and sew them on as you go. You can use this as a base for other funny or spooky designs around Halloween!
The Cat's Meow Tiger Costume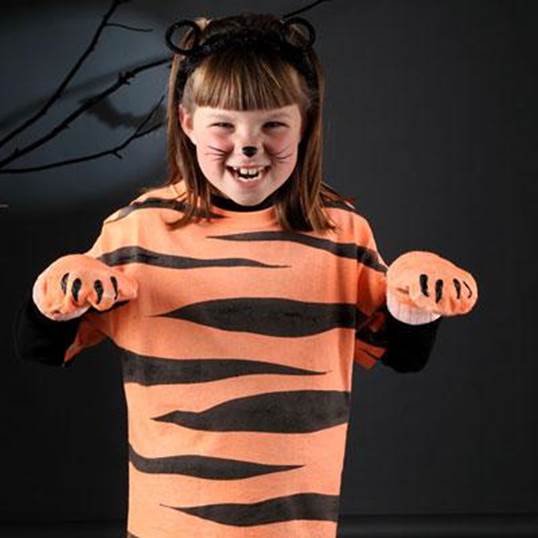 You won't have to rack your brain for the best Halloween outfit to match your personality. This DIY tiger costume will help you make the most of your positively wild spirit – and it could even be used in everyday life! This DIY tiger costume is a simple and fun craft that allows you to create a costume that is all you. You can even use this as a family costume, teaming up with your little kitty cat! The steps are easy to follow, and the materials needed to complete the project are simple to find. With just an iron, freezer paper, and chenille stems, get ready to show off your inner animal inside of you.
DIY Sexy Tiger Makeup
Give yourself an exotic makeover. Have a party, dress up as a tiger, and role-play! It is best to do this before you start doing makeup so reaching the back of your face is easier. Trying out something new is always a great idea. If you've ever wondered what it would be like to have stripes on your face, then today is the day! DIY Sexy Tiger Makeup tutorial will help you do just that. Designing the perfect tiger look can take a long time, and it's best to start with a professional kit with all the right colors.
DIY Tiger Costume
Who doesn't love a tiger?! This DIY costume gives you the chance to transform yourself into a wild and fierce animal. Take an orange hoodie and jogger for the base. Then, cut felt strips and glue them to the pants for stripes. Cut two D shapes for the headband, then glue them on for the ears. Finally, cut two long skinny rectangles (matching size) for the tail and attach them! This DIY tiger costume will allow you to be stylish and fabulous! All you need is an orange hoodie, orange jogger, and D shape felt for creating the tails.
DIY Tiger Halloween Costume for Kids
This DIY costume is super easy to make and will be super cute! This Tiger Halloween Costume for Kids is perfect for your little ones going to a party, trick or treating, or playing in the house all day. Recycling your old clothes and cutting out orange felt pieces becomes a tiger in no time. Put them on your blacktop pants and headband. For complete look kids will love, grab some tape and create a tail!
DIY Tiger Costume Tutorial
What better way to have fun on Halloween than to be creative by making a DIY tiger costume? You can always customize your costume to look like what you want and make it any color you want. Use our tutorial to learn how easy it is to create your own DIY tiger tee and other accessories for your tiger costume. Start with an orange shirt, glue gun, and other necessary items. You will be the cutest tiger at any party with this DIY costume. Use a glue gun to attach felt stripes or fabric paint to create beautiful designs for your tee. The best part is that you can customize it to look exactly how you want!
DIY Halloween Tiger Costume
Looking for a simple and cute Halloween costume that's easy to make? Look no further, as this DIY Halloween tiger costume is the perfect outfit for dressing up or trick-or-treating. With a few bunches of yarn, some white face paint, and safety pins, you'll be on your way to creating your very own tiger! (Don't forget those fuzzy mittens!) Halloween is coming, and we've got a tiger costume for you! It's super easy to make and requires no sewing. You need a few bunches of yarn and white face paint ready. Have fun trick or treating in your DIY Tiger Costume!
DIY Tiger Makeup Tutorial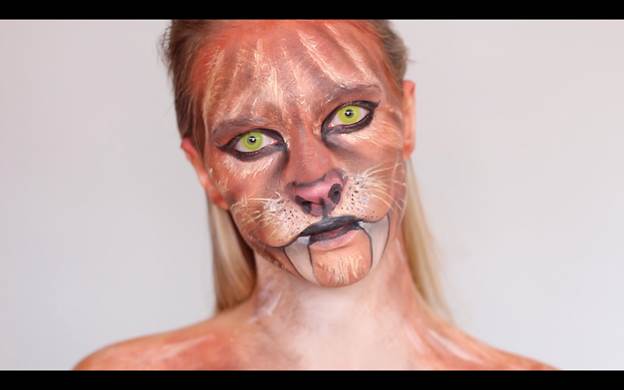 You will love this DIY tiger makeup look. It's so easy to create, whether you want to make a scary tiger, a cute tiger, or even a classy and elegant tiger! I start by making the base dark orange and adding white to the neck. Use baby pink for the nose and outline with black. Use white paint for the whiskers and eyeliner, then fill those teeth! To create fur and stripes, you will use eye shadow paint. Finally, put on some contact lenses to give that fiery look!!
Homemade Tiger Mascot Costume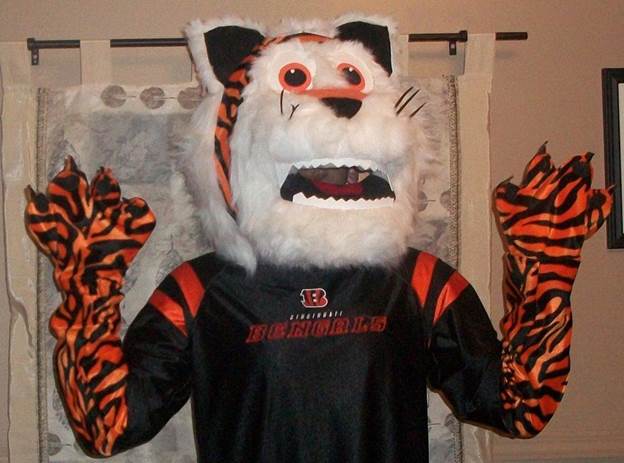 Have you ever wanted to make your own Mache costume? Here is a straightforward tutorial to help you get started. You can learn how to make a Homemade Tiger Mascot Costume with two simple steps and some handy items. The tiger mascot costume will be a great way to impress your audience and stand out from the crowd. It's easy to make this tiger mascot costume yourself with paper mache, fur, and accessories. Stand out from everyone else by using your creativity. Make one for your next party!
DIY Tiger Toddler Face Paint
Your little one will love this DIY Toddler Tiger face paint. This tiger print can be used for any toddler costume or just for fun at home. Just make sure you seal it with a white base! This DIY tiger face paint is a creative, beautiful, and fun way to make any toddler costume. Start with a white base, then use orange to blend in the rest of the face and for the eye markings. Make the tiger fierce or cute and friendly!
Printable Tiger Mask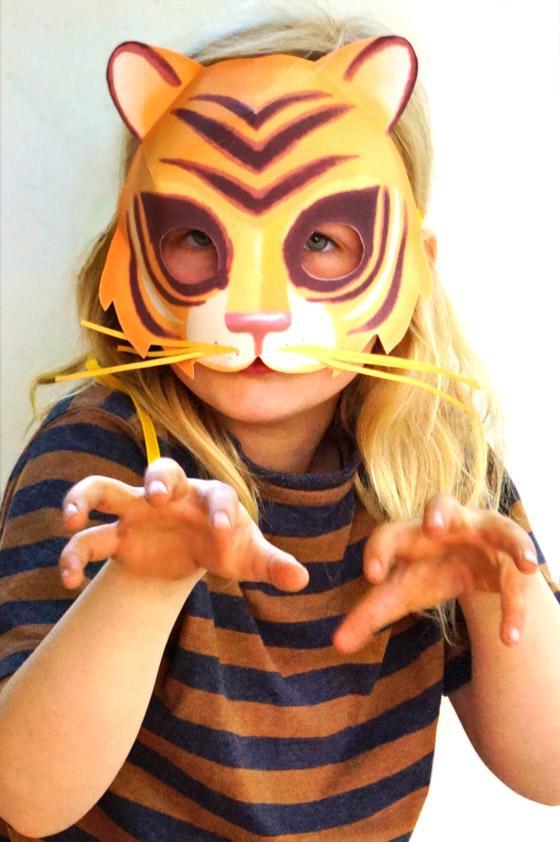 Add a little fun to your kids' costumes with this printable DIY lion mask. They'll love being part of the action with this easy-to-make and affordable mask. Anyone who likes animal costumes and mask parties should try this tiger costume. Print out the template, cut out the parts, and assemble them. You can use a ribbon to fasten it to your face. Create a DIY tiger costume with this printable template. Cut out the pieces and attach them carefully to one another to make a mask that can be worn to a masked party. You can even use it as part of a different costume, such as a hippo or lion.
How to Make Tiger Tails for Cosplay
Get ready for your favorite Halloween Catwoman costume with these easy-to-make tiger tails! These DIY trapper hats are perfect for cosplay or just an excellent accessory. Tiger tails are made easy with this tutorial. Learn how to make your own tiger tails for cosplay by flipping a pattern, pinning and sewing multiple pieces, and adding belt loops. This is a fun project that will give you a unique costume! Tiger tails are made from fake fur or thick wool, with decorative fabric or leather on the top and bottom. These are great for cosplay, costumes, or everyday wear!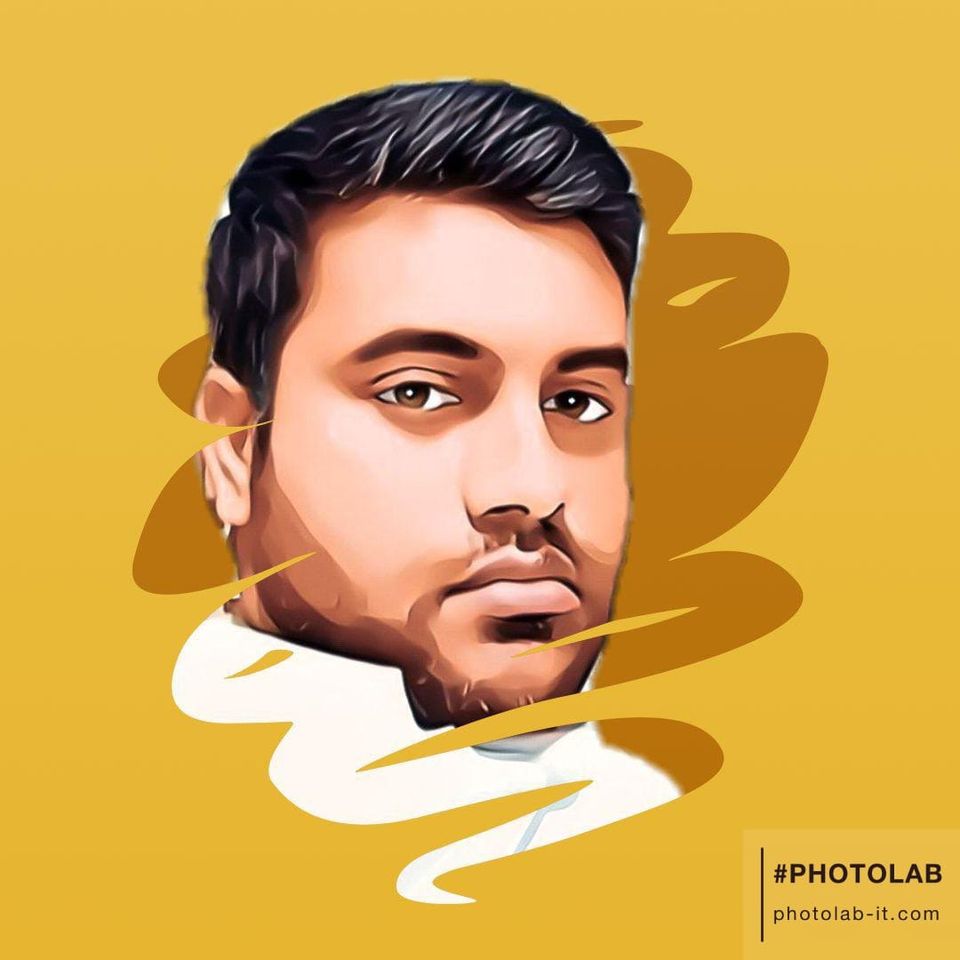 I am Raza, a crafts expert with 6 years of experience. I run this site for DIY lovers to provide the most exciting projects and ideas for your home, office, and everyday life. See More