There is nothing like a good DIY project to bring life back to the blandest of tables. Get inspired by this list of cool table tops and give your home decor a facelift with these fantastic, budget-friendly DIY tabletop ideas. If you are finding tabletop ideas for your dining table or any other table in your home, then you have come to the right place. This guide is made especially for people who want to improve their furniture but do not want to spend much money. You will find out how easy it is to make your tabletop without breaking the bank just by following this list of ideas and hacks.
DIY Table Top Ideas
Want to add some cool, modern style to your space? Whether you're bored with your dining room china cabinet or need a functional addition, these projects will add some interest and style to what you might consider another furniture piece. If you love interior design and have a spare afternoon, these simple DIY tabletop projects will help you impact your space. The best part is that they don't require fancy tools—just some imagination and elbow grease.
Select The Best Table Top
Get started with these chic DIY tabletop designs and make a statement in any space where you need it. We recommend a painted concrete table top if you're looking for a bit more stability and less of a statement. For ultimate durability, go for the thickest slab of wood you can find to offer your dining table the substantial look it deserves.
Sea Mosaic TableTop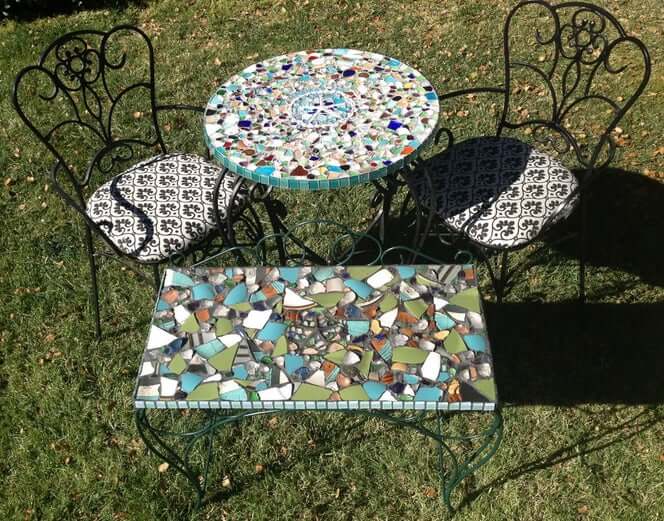 It's an ideal project if you want to brighten up an old table and make it the star of the show in your home. The sea glass and mosaic tabletop tutorial is a fun DIY project that can complete in less than a day. This tutorial will create a mosaic artwork made from sea glass and tiles. This table top is easy to make and can be applied to other surfaces. The effect will be amazing, but the result is sure to impress!
Copper Table Top Idea
Copper is a beautiful, durable, affordable material that's easy to work with. You can use it on wood, metal, or glass surfaces; the result will be fresh and unique-looking. A copper sheet is a great material for table tops. It's strong, durable, and can be used to create beautiful geometric patterns that are sure to make a statement. This copper tabletop DIY project teaches how to make copper edging around a tabletop. This project requires that you have access to a table of your own and the skills to cut and bend copper strips.
Thick Table Top Idea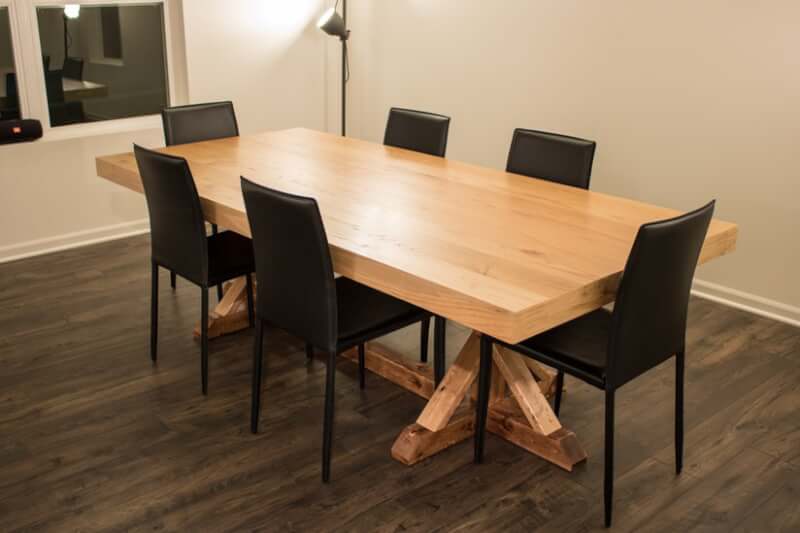 If you're in the mood to create something unique or want to try a project involving tools, this is the DIY! Making your tabletop is easy and relatively inexpensive. The hardest part will be getting the right dimensions so your new table will fit perfectly into its spot. Making a tabletop isn't hard; it will save you a lot of money. Follow these simple instructions, and you'll enjoy your new table in no time.
Drum Sticks Table Top Idea
This tabletop is made of recycled, old drumsticks. Just glue the old drumsticks to a steel frame, and your new tabletop will be ready. It can be used as a coffee table or an extension to the living room table. It is an easy step-by-step tutorial for making these stunning drumsticks table top. This is easy and fun, so start making it immediately and have your handmade drumsticks tabletop in no time.
Epoxy Resin Table Top
This is the video tutorial for you if you are looking for a DIY idea that requires only a few materials and easy-to-follow directions. You will learn a new resin method that creates an amazing effect by mixing white and colored epoxy. This table top is made with epoxy resin mixed with paint, then poured into molds to create round shapes. Finished with an edge layer of wood tape on all sides, it's perfect for any room in your home.
CD Mosaic Table Top Idea
This CD mosaic table is a fun, easy DIY project. All you need is an old table, some PVA glue, and a few old CDs. This project only requires simple crafting skills and a steady hand. The result will be a funky new tabletop for your home or garden. The mosaic top is created from old CDs, which adhere to a base of plywood and are covered with white cement and varnish. The result is a one-of-a-kind tabletop that can be used for dining or as a decorative piece.
Glazed Penny Table Top Plan
Don't throw away that old table. You can use it to make a tabletop DIY from pennies! This project is quick and easy and will look great in your living room or home office. The project helps you to reuse what may otherwise be thrown away and is perfect for beginners looking to create something from scratch. You will need simple materials like an old table, sandpaper, drywall spackle compound, glue, and white primer for an easy DIY at home.
Foosball Table Top Plan
Is your foosball game lacking the ambiance of a real table? Well, that no longer has to be the case. With this guide, you'll be able to construct your tabletop foosball table in no time. Please print out the Foos men on sticker paper and stick them onto rods. Paint the playing field, add handles and walls, and it's ready for play! Learn How To Make Your Own Foosball Table Top In This Video. This table will surely be a crowd-pleaser as you play with friends!
See More: 24 DIY Gaming Table Plans To Make Today
Fun Table Top DIY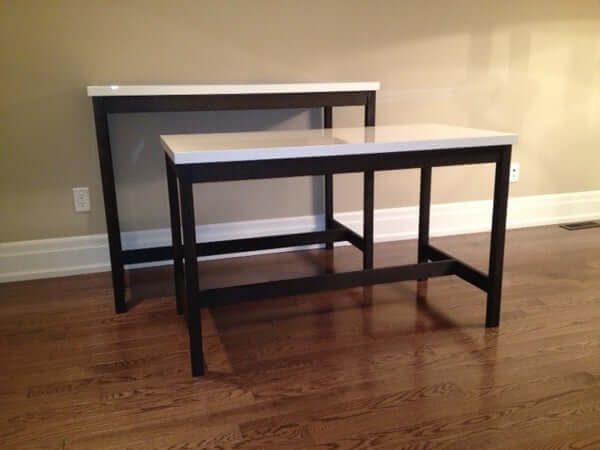 The VIKA AMON table top is a simple, rustic piece of furniture for the home, which you can make yourself. Just follow our step-by-step plan and get to work. It's an ideal project for all skill levels and will look great in a living room or kitchen. With this project, you can make your table that doesn't look like it's from Ikea. The VIKA AMON table top has a beautiful pine grain and strong legs; it is ready to be painted in any color you choose and will continue to be durable for years to come.
Homemade Glass Table Top DIY
Why buy a new table when you can give an old one a fresh look? This little DIY is easy to do and will let you forget the cost of buying a new table. Make a tabletop from an old table by attaching glass to it using screws. The glass can be of any size, shape, and color. Add paint or stain to the table's base and finish it by painting on top of it.
Concrete Table Top Idea
Gosh, concrete can be so versatile. As well as being useful for all sorts of things around the house and garden, it's also great for DIY projects like this one - no matter who you are or your skill level, you can learn how to make a concrete tabletop with this guide. A concrete tabletop is a perfect addition to your garden. Follow this step-by-step video guide to learn how to make it yourself and impress everyone around you.
Tongue and Groove Table Top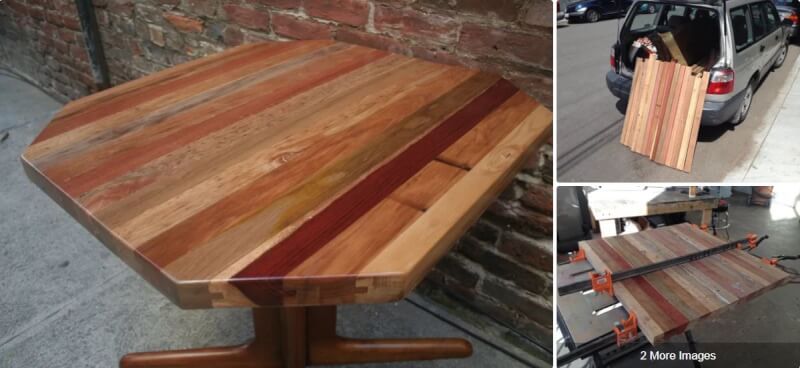 A simple project to build a rustic look dining table in your home. It looks outstanding with chunky and thick legs, giant square off-cuts of wood, and a beautiful grooved tabletop. These instructions will help you make your tongue and groove table top. Start by gluing the boards together, sanding, and applying the wood filler to any cracks. Apply a finish to create the perfect table surface. This table top is easy to build yet stylish enough for any décor. It's great for a kitchen, bar, or game room and can even be used outdoors.
Bottle Cap Table Top
Gluing bottle caps together is a craft you can do by yourself. You will need lots of bottle caps, so start collecting them now! Once you have collected enough, begin gluing them on your flat surface. Once you have glued all the bottle caps down, cover it with resin and then remove it. Design your tabletop and decorate it with a colorful assortment. This is a fun and easy project you can easily do at home. Use your favorite craft supplies to create a unique tabletop.
Maple Table Top Idea
Maple is a beautifully figured wood that grows quickly, making it one of the most popular hardwoods on the market. This hardwood can be sanded smooth without difficulty and is resistant to dents and scratches, making it ideal for projects like tables. This tabletop is a great way to practice your woodworking skills. It is easy to make and can be a great addition to any room. This project also serves as a great introduction to wood furniture construction.
Wooden Building Block Table Top
This tabletop is perfect for displaying your children's favorite building blocks anywhere. It's made from plywood, so no matter how hard they climb on them, they're sure to last. Use this step-by-step guide to do it yourself! This fun and easy tutorial transform your favorite board games into tabletop DIY. This table is a great project to get kids involved in, but it can also be a great addition to any living room or home office.
Dish Cove Cut Slab Table Top
Ready to up your kitchen game? This DIY is all you need to transform your kitchen and add a little style to it. This unique piece can use as a tabletop or a side table. You will need a good amount of woodworking skills to make this project, so do not attempt it if you are not confident. Give your tabletop a new look with this deep-dish cove cut tabletop DIY. This project requires you to use a table saw and some wood.
 Milk Crate Table Top Idea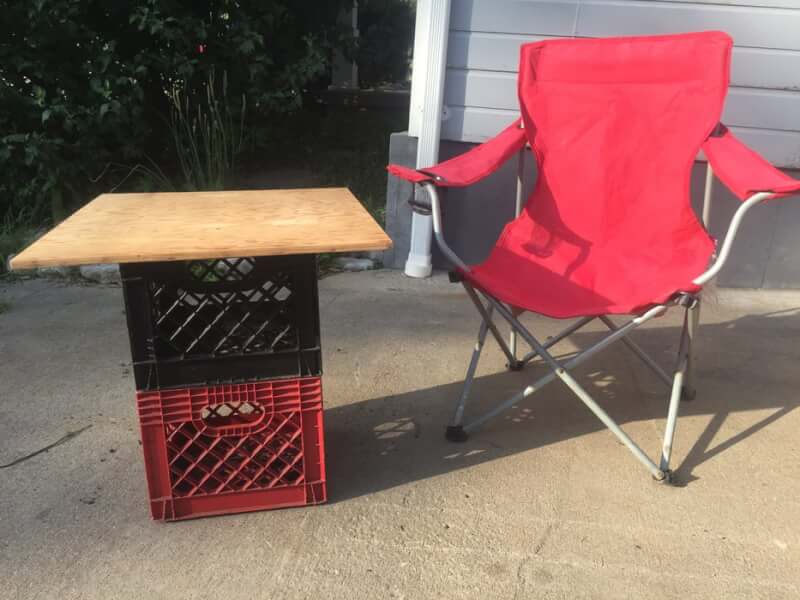 Sometimes, finding a circular table can be tough. The Milk Crate Table Top DIY helps you create your own wooden round table top that fits most milk crates. You'll need a piece of plywood and screws to attach the boards to form the top. Then cut down the pieces based on the measurements of your crate so that they will fit perfectly. Afterward, screw the tabletop onto your crate for an easy DIY tabletop that takes a few hours!
Alcohol Ink Tiled Table Top Idea

This Alcohol Ink Tiled Table Top DIY is a great way to upgrade your house's old, worn-out table. You can use a top table you already have or build your tabletop by choosing a solid material. All you need is a spray paint and an alcohol-based ink sprayer. Spray the ink onto your tabletop, or brush it on if using bristle or foam brushes. You can experiment with patterns to create unique custom art pieces for your home or office!
Hardwood Flooring Table Top Plan
Building your tabletop is a great project for DIY lovers, and it's also an inexpensive way to add a little character to your home. This tutorial will show you how to create your tabletop with hardwood flooring. This solid wood tabletop DIY is a great addition to your home. If you have spare time and love the look of hardwood floors, make this table top. This will look amazing and make you feel like you have accomplished something impressive. With this DIY project, you can save time and money by making your tabletop from scratch. This is the perfect gift for the lover of hardwood floors!
Cock Tiles Table Top
Cork tiles are a great DIY project! They look stunning, last a long time, and are completely recyclable. This project takes some time, but it's worth the extra effort if you're looking to add real character to your space. Add a rustic touch to your tabletop with these DIY cork tiles. A fun craft project, this would look great as a bar or serving table while keeping things cool on those hot summer days. Here's how to do it:
Tile Table Top Idea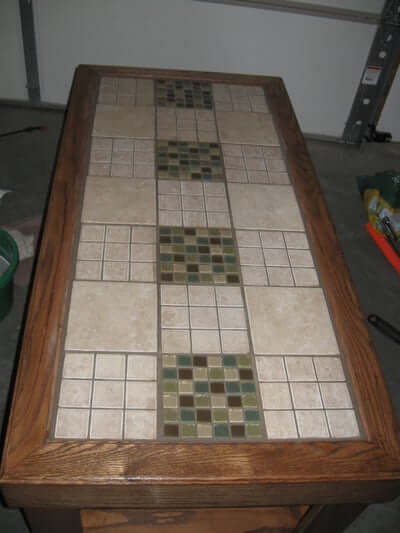 If you don't have a lot of cash and want a new tabletop, try making your own! You'll need to buy a table and some tiles, but everything else is free once you've got those items. To build your countertop, plan how it will look on your table. Once the placement and design are organized, use construction adhesive to attach each tile. When that's dried and grouted, fill gaps with caulk before covering the entire thing in sealant. There you go! On a budget but still fabulous.
Veneered Table Top Idea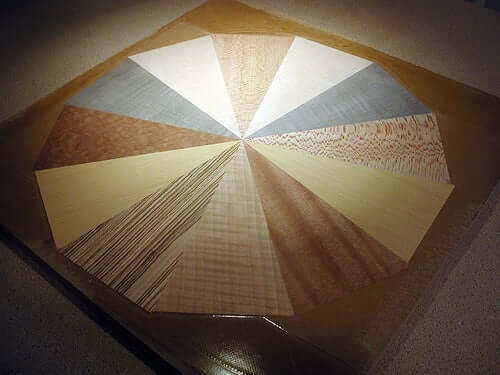 If you're looking to get creative with your woodworking projects and want an easy way to make a table with a unique edge, this tutorial is for you! In this guide, the creator shows you how to use cherry veneers and a template to create a beautiful accent table that is easy and affordable. Once complete, your painted tabletop will impress with its flowing edges. You'll love the results of your work, too!
Hockey Rink Table Top Plan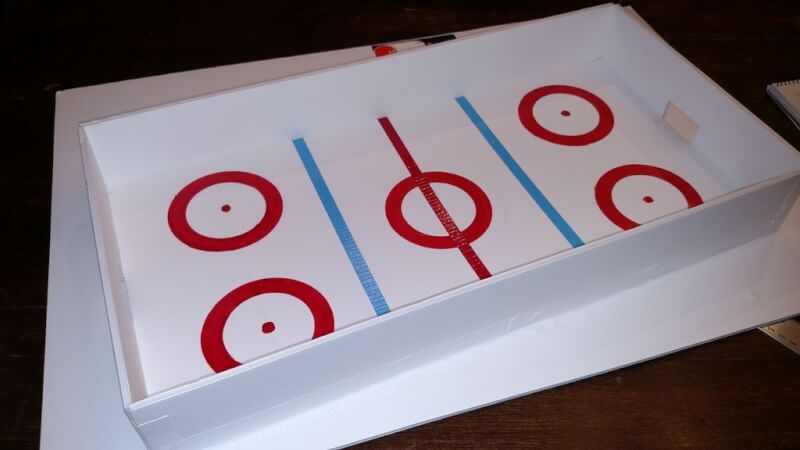 The Hockey Rink Table Top is the perfect craft for entertaining. By following these simple steps, you'll make a hockey rink table that's the ideal size for hanging out with friends, playing video games, and more for hours of fun! This DIY hockey rink table top is an excellent and easy way to add color and excitement to any room. All you need are the following materials: foam core board, pencil, ruler, and colored duct tape. Then follow the step-by-step instructions to create this tabletop hockey rink!
Vinyl Flooring Table Top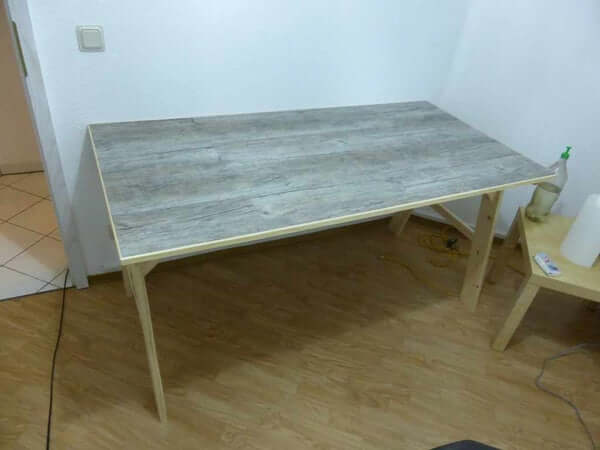 This tutorial is great for turning an old table into a reading table. You can easily build your stable and durable table top with this DIY. Vinyl flooring is a wonderful choice for your next DIY project. This tabletop will be easy to make and sturdy, so you can also use it to serve food, drinks, and other things when entertaining family and friends. It will become a focal point of your room, and you can have fun designing it to meet your needs.
How To Make Pallet Wood Table Top
This project is about creating a table out of shipping pallets and other materials you have around your home. In this video, the tutor will show you how to make a beautiful table that uses old pallet wood just as if it were new lumber. This project is really exciting and fun. It can be accomplished in a few hours with minimal tools and supplies. The best part is putting the food in the mason jar, enjoying the table, and watching your friends envy it!