When you've run out of room in your garage, and your only option is to build a workbench in your basement, you can spend a lot of money on tools that are too large for the room or that don't fit in all. But you don't have to be limited by those costly options—you can create a sturdy and versatile workbench with exactly what you need. Here are 19 DIY table saw workbench projects that use simple materials and can be put together, even by someone with minimal carpentry knowledge.
DIY Table Saw Workbench Projects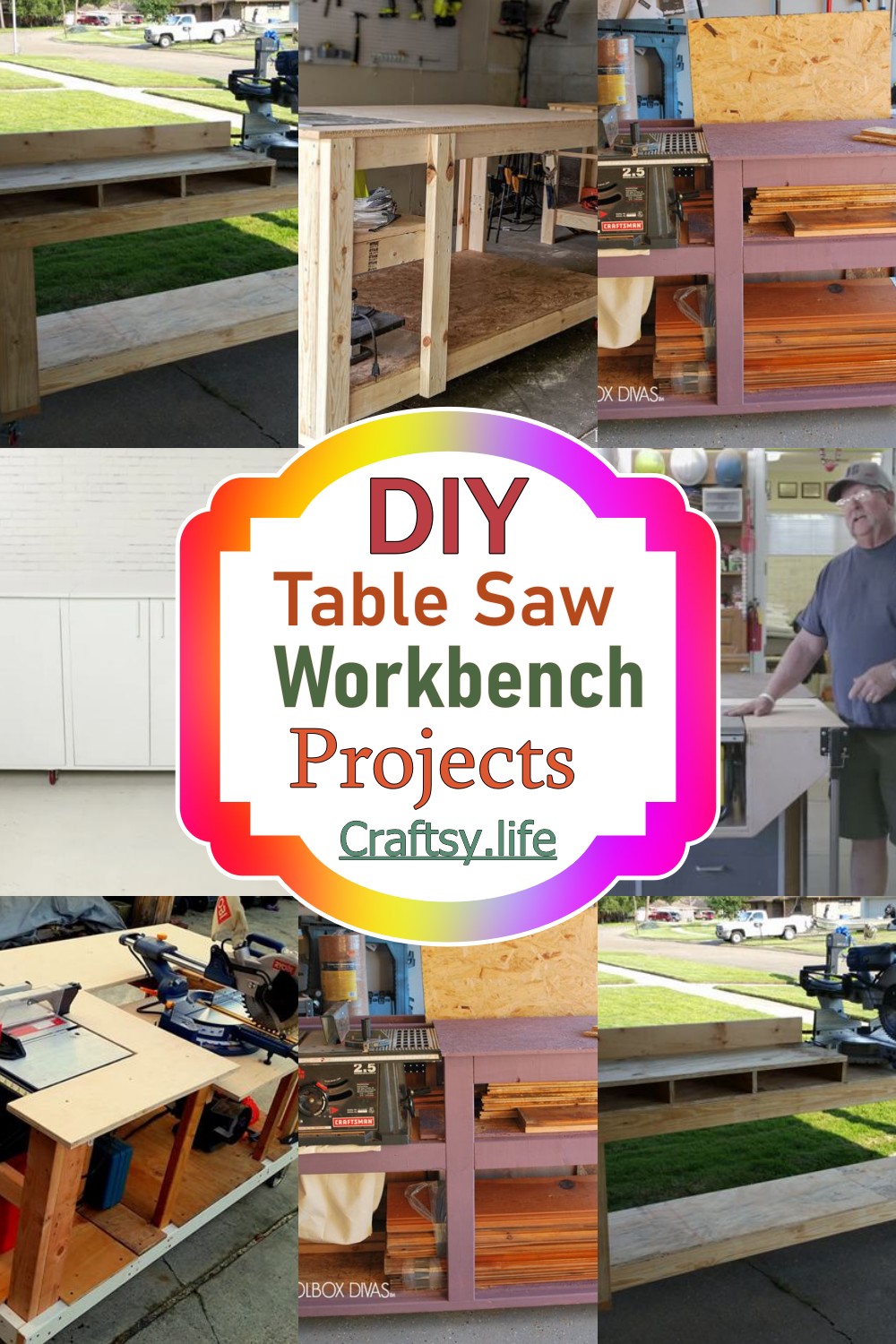 There are plenty of ways to build a workbench for your use at home. You can buy kits or make the whole thing from scratch. But one of the most popular DIY workbench projects uses a table saw as its base. It's an interesting combination of power and flexibility because you can use the table saw as a jig to cut pieces and clamp them into place while assembling. This allows you to build a bench with cool features like drawers, racks, and cabinets.
Make these versatile 19 DIY Table Saw Workbench Projects to create a custom tool caddy and storage solution that holds all your tools, fasteners, clamps, and more.
See More: 25 DIY Storage Cabinet Plans For Home Decor
Advantages Of DIY Table Saw Workbench Projects
DIY table saw workbench projects can be a great way to save money and have fun. If you are looking for an affordable and easy project that will allow you to create your own table saw station, then you should consider doing a DIY table saw workbench project.
Here are some reasons why you should consider doing this type of project:
It Is Affordable
One of the best things about DIY table saw workbench projects is that they are affordable. Most people do not want to spend a lot of money on expensive tools and equipment, so having the option to build your workbench gives them more options for saving money and creating something that works perfectly for them.
It Is Easy To Build
Building a table saw station from scratch is not difficult because most people already have the tools they need in their garage or basement. All you need is some wood and some nails, screws, or glue depending on what kind of wood joint you want to use.
DIY Modern Workbench
This DIY Modern Workbench is a flat workbench that has numerous features that can make your work easier. The replaceable top, replaceable top, and pegboards can help you easily use your tools. The mobile workbench also provides extra space, so you have a place to store your tools while working on projects. This bench also has an adjustable height so you can work on projects more comfortably. The modern workbench is built with a flat top so you can store items on it, but more importantly, it is adjustable. The different heights make the bench more flexible and comfortable. Assembling this workbench will be easy and quick as it comes with all the hardware you need, such as nuts and bolts.
How To Build A Table Saw Workbench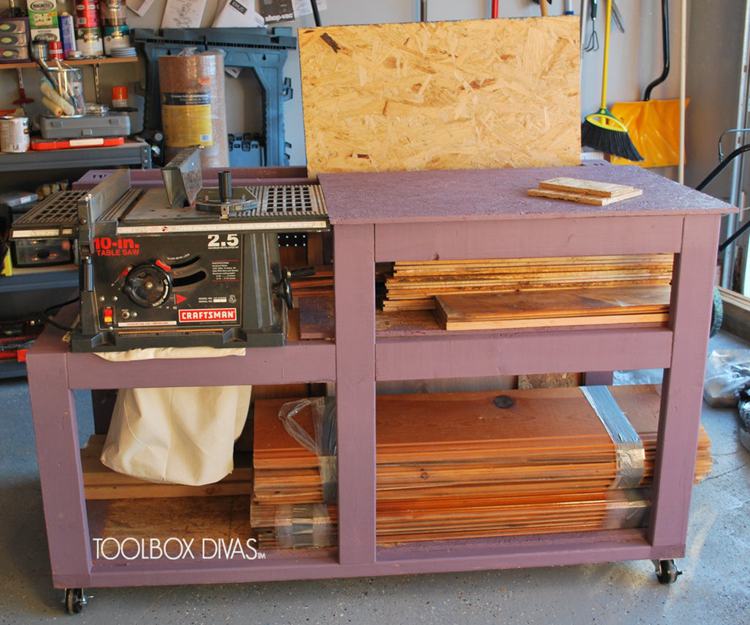 This project is the easiest way to add a table saw to your workshop. The plans are sized for a portable power tool, but you can scale them up or down to suit your needs. The workbench includes an expandable rail for adding rip cuts to longboards and large outfeed support for long panels. The table saw workbench is built easily and is one of the most useful and versatile workbenches. With this, you can use it as a base for your projects. While working on various projects, you can also store the tools in this unorganized and messy workshop. This table saw workbench is great apart from being highly functional and easy to build.
 DIY Table Saw Workbench With Wood Storage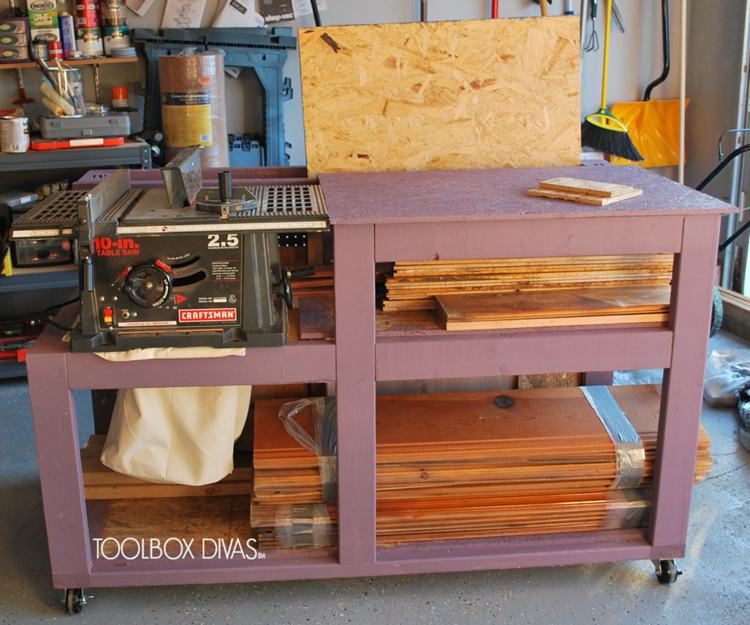 Add storage space to your workshop with this clever DIY table saw workbench. The workbench features a sliding miter jack that lets you move quickly from one cutting surface to another, but it also has a dust collection system that hooks onto or attaches to almost any table saw. It's designed to maximize your table saw's footprint by putting accessories right in front of it, away from the blade area. Also, by building the structure yourself, you can ensure that it's made just for your needs and fits perfectly into your space.
Mobile Workbench With Built-In Miter Saw
You can build this mobile workbench with a super-strong framework and top that houses a sliding miter saw. The design of the workbench makes it easy to install, plus this cabinet is designed for convenience when working on your projects. With its large size, you'll have plenty of room for lumber and other tools. And it's great for cutting long items like boards because the miter saw has a wide cut capacity. This workbench is strong enough to support your miter saw, with ample space for small workshop items like screws and nails.
How To Build A Table Saw Workbench
This table saw workbench is a great way to upgrade your workspace while protecting the floor around it. It uses simple framing and plywood to provide a sturdy structure that can help you make any sized cuts more safely and easily. This table saw workbench is easy to build. It is made from 4 × 4 lumber and plywood, making it strong enough to complete any project. The top of this table saw workbench could support up to 1,500 pounds, so you can use it without worrying about it breaking or sagging.
How To Make A Workbench With Built-In Table Saw
This workbench will give you a lot of workspaces, and it also has a built-in table saw, which can be extended when needed. With the easy storage of tools and machinery, this bench will get you organized and ready to start any project. This workbench was made using a framing square, six legs, and plywood. The framing square has to be attached to the legs in an upright position, and then another framing square is put on its bottom to hold the weight of the bench. The construction is done according to your preferred design, but there are some important things you have to remember while making it.
Table Saw Workbench Build
This quick, step-by-step guide will have you building your own table saw workbench in no time. The best part? You can use this solid workbench as a sacrificial surface to clamp down while cutting. Make your workbench to support your table saw. It is a cost-effective solution and the perfect way to organize your workshop. The design is similar to the popular Kreg multifunction workbench, but this build is much easier. You can cut out all pieces from our cutting list with just one cheap circular saw and jigsaw.
DIY Miter Saw Workbench
Are you looking for a convenient way to store your miter saw and tool collection? This DIY Miter Saw Workbench is the perfect project to build with friends, colleagues, or family. It's designed to provide more space, comfort, and efficiency when working with power tools. This DIY miter saw workbench is a great space saver for a small workshop. It has plenty of storage areas behind the sliding miter saw shelf, providing a place to store tools and power cords out of sight of your cutting line.
Homemade Table With Built Saw
If you love to tinker and create, this DIY table is perfect. The homemade table allows you to design and make your own custom furniture. And if you're looking for easy projects that are beginner friendly, this one needs no experience in woodworking. This tutorial will show you how to make a beautiful, rustic table using simple tools. Using a hand saw and drill, you can build your table in just a few hours!
DIY Mobile Workbench With Table Saw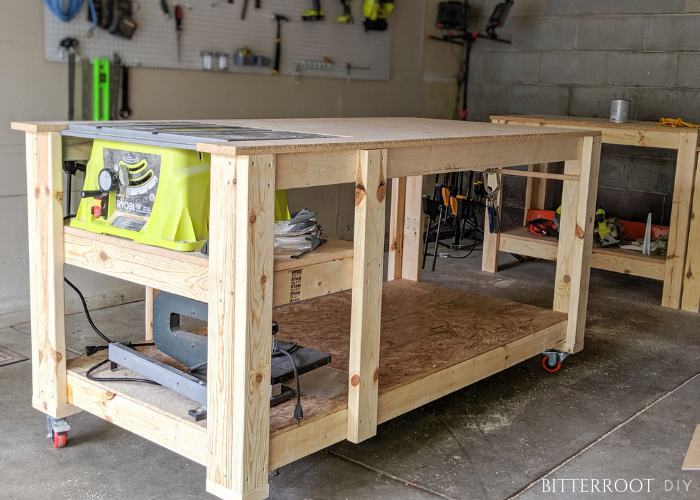 A mobile workbench with a table saw is one of the most useful and convenient pieces of equipment you can add to your shop. Its many features will help you get more done in less time. This DIY Mobile Workbench With Table Saw is a great project for anyone interested in building their own workbench. The saw can easily be placed on top of the bench and then moved to other locations. This workbench is mobile and can be used anywhere. It provides a work surface for woodworking, metalworking, and other projects.
DIY Mobile Workbench With Table Saw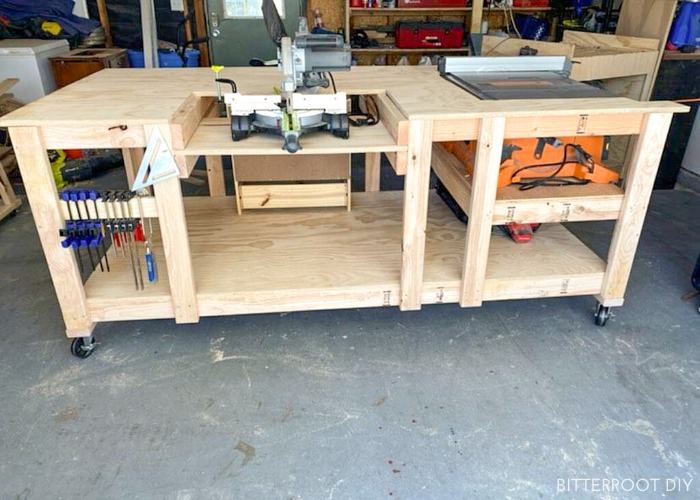 This mobile workbench with a saw is easy to build and perfect for the garage or workshop. After cutting all the pieces, the first step will be assembling them using screws. Attach the bottom frame and attach supports for the upper shelf. Then you can prepare the top frame with a screwdriver. Once ready, you need to sand all of the surfaces before coating them with primer and paint. This mobile workbench is the perfect addition to any garage or workshop. It's easy to build, featuring a rugged frame and heavy-duty construction.
How To Build A Table For Your Table Saw
Watch this video to learn how to build a table for your table saw with minimal tools and not a lot of money. In this step-by-step guide, you will learn how to cut a full sheet of plywood and make accurate cuts by attaching the Jobsite table saw to your existing workbench. This guide will show you how to build a table for your table saw. The old workbench can be modified simply and equipped with the Jobsite table saw. This will allow you to cut full sheets of plywood with accuracy and speed.
How To Build A Mobile Workbench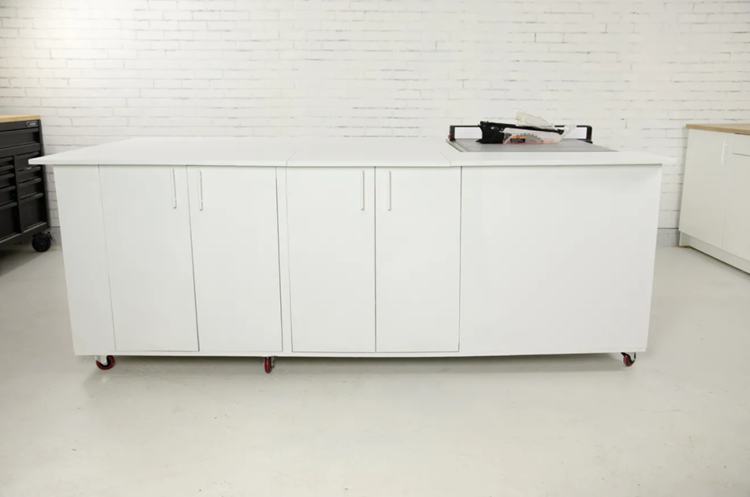 If you have always wanted to make your own workbench but have put it off due to the cost and time of building one, this could be a fantastic project for you. This is how you can build a mobile workbench that costs less than $200 and takes less than 10 hours to create. This workbench will probably be the most useful thing you have in your workshop. It is a mobile workbench that can easily move around the shop yet is strong enough to support your projects. This article will help you build a mobile workbench out of standard materials.
DIY Table Saw Workbench
Building your own workbench is not as hard as it sounds. You need some wood, screws, and other materials that can easily be found at any home improvement store. Building this table saw workbench will also save you money because you can buy everything yourself instead of spending a lot of money buying an expensive one made by someone else. This workbench gives you valuable elbow room and the strength you need for your table saw. With careful planning, you can make this DIY table saw workbench fit easily in any space with the right design.
DIY Workbench With Built-In Table Saw
This DIY workbench with a built-in table saw is perfect for any experienced woodworker or hobbyist. It comes with the necessary plans, cut lists, materials lists, and detailed instructions that show you how to build this great workbench. Once complete, you can use it as a portable workbench, a permanent workstation in your shop, or even build another one to share with a friend! This DIY workbench is a great starter project for anyone looking to make a workbench but also wanting to get into woodworking. It's easy to build and will help you hone your skills while providing a functional workspace throughout the years.
DIY Mobile Workbench
This DIY mobile workbench is a great project for any handyman, and it comes with compound miter saws, bench belt drives, and even a small tool cabinet. This mobile workbench can be used indoors or out with its steel base. Create your mobile workbench with this DIY kit. The perfect solution for garage enthusiasts and anyone wanting to add more storage space and additional workspace. It features a self-leveling, heavy-duty construction table that can be moved for versatility in any workspace. This workbench has a storage compartment for tools and keeps everything organized on the go.
How To Build A Workbench
This is an easy-to-follow tutorial on how to build a workbench for your garage or home. It can hold heavy equipment and tools and ensure your work area is safe from accidents. Building a workbench can be done with minimal effort and minimal cost.  You will only need two basic tools to create your own DIY workbench: a measuring tape and a saw.  Once these tools, you can turn the basic materials into a sturdy workstation. Try out this guide for assembling your wooden workbench today!
Homemade Table Saw And Workbench
Build a DIY workbench with a table saw from recycled materials. In this step-by-step tutorial, we'll show you how to design and build a portable DIY workbench using a handheld circular saw as the table saw. This project uses bicycle gears and chains to create the rail track system that moves the blade vertically and horizontally. This homemade outdoor table saw stand and workbench is a neat DIY project that uses recycled bike parts. Inspired by a classic design, this functional piece will help you easily tackle all of your home improvement projects.
DIY Table Saw Workbench
With the table saw workbench, you can quickly cut pieces and get rough cuts down to size. It's great for general carpentry and woodworking projects and makes it easier to use your table saw at home or outdoors. Create your own table saw workbench with this easy-to-follow plan. With its large top and spacious material storage, this workbench is big enough to handle any task. The plans include add-on options like an outfeed table, tool holders, and more.