As a parent and a kid, you might be tired of the same old toys for your children. You might want something fun and exciting for them to play with and something that does not cost much. The DIY sword ideas are great for making handmade swords out of cardboard and paper mache. This is the great way to spend your day with kids is by making swords! There are so many ways to make different versions of swords, depending on the type of material you want to use. You can create foam swords or cardboard swords, or you could go all out with paint and glitter. Here, we have some great DIY sword ideas that your kids will love, and they can all be made of recycled items.
Many kids love playing with swords, but it's hard to find a good one that won't break and even harder to find one that's cheap enough for a parent who doesn't want to replace them constantly. The good news: there are tons of ways to make an affordable, sturdy sword that will give your kid years of fighting fun without breaking the bank. We found DIY sword ideas made out of everything from PVC pipe etc. Most importantly, though, they all look super cool!
If you love sword fighting and want to make your own sword, we've collected over 24 DIY Sword Ideas that kids can make in various shapes.
PVC Training Sword DIY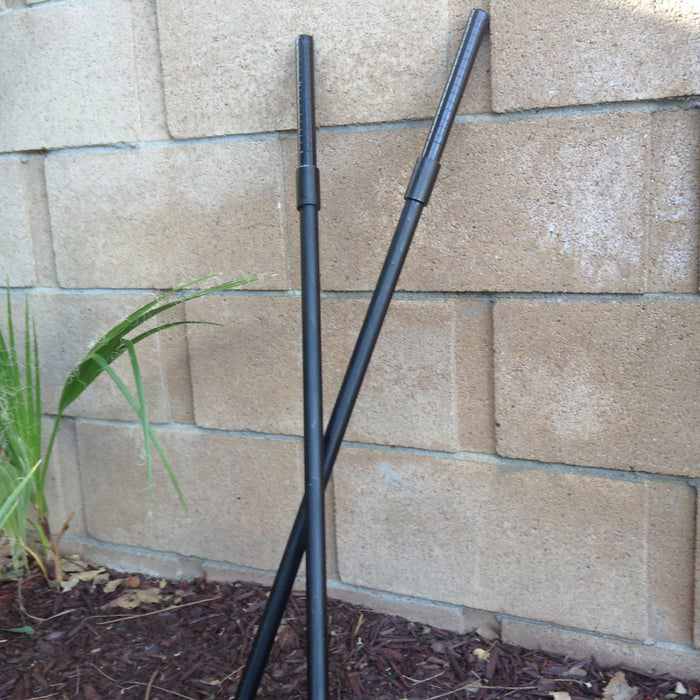 Are you looking for the best DIY sword? Then you have come to the right place. Take 2 PVC long tubes, cut them in half using a hacksaw, and tape them together on the floor; this will be your basic sword. To prevent any cuts and scrapes while in use or when being crafted, sand the edges and apply spray paint; you should use a matt color so that it doesn't get dirty easily. This DIY PVC training sword is simple to make, and you can use it for years! Get ready for some action.
Kendo Inspired Training Sword DIY
This DIY is ideal for those looking to start training at home and who don't have access to a kendo training hall. The kendo-inspired training sword you will create will be as good as high-end professional equipment and can be used for practicing at home. Learn how to make kendo inspired training sword with this DIY video guide. This DIY is great for any martial artist like yourself and requires easy-to-find materials. In just some simple steps, you can have your sword to practice with at home or even get creative and build one for each family member.
Halo Covenant Energy Sword DIY
Are you a lover of the Halo franchise and want to know how to make an energy sword? Inspired by the famous Covenant energy sword, this DIY device is easy to assemble and effective. Step-by-step instructions in this video will get you started on the right track. This is easy to make Energy Sword impress your friends and family. Not only can it enhance the decor of your living space, but it's fun to play with too.
DIY Light Saber / Sword for kids
This light sword is right up your alley if you are looking for a project for a birthday party or Halloween. You can easily make one of these swords even without crafting skills. All it takes is a pool noodle, duct tape, electrical tape, and a knife. Get the right materials and have some fun creating your realistic-looking light saber that works just like the real thing! This easy-to-follow tutorial will guide you step-by-step on how to make an awesome light saber. It's super fun, and the materials are easily available.
You Can See More: 15 DIY LED Grow Light Projects For Plants To Nourish
Fire Dancing Sword DIY
Fire dancing is a spectacular display of fire's beauty, power, and grace. Fire dancers use swords made from wire wick to create dynamic shapes and patterns while they dance with fire. You can make your Fire Dancing Sword using common materials like Kevlar and aluminum tape, bolts, nuts, washers, and wooden practice swords. This project takes patience and a steady hand but is well worth every moment! It is a great project for kids because it allows them to make something incredible out of ordinary household items.
Gamora Sword DIY
With our Gamora Sword DIY, you'll have a replica of one of the most famous weapons in Guardians of the Galaxy. The sword is made of cardboard, expansion foam, and masking tape, with Elmer's glue and mod podge to hold it together. You will love this design because it's lightweight and easy to carry around. Make sure to use silver spray paint for authenticity. Instructions on how to shape the parts of the sword can find in this video guide.
Zuko's Dual Dao Swords DIY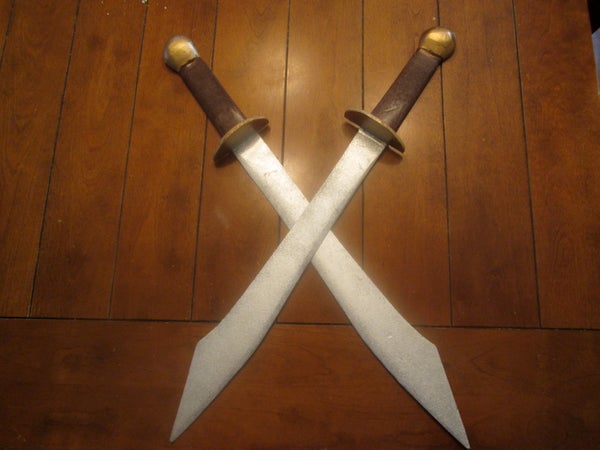 Are you ready for a diy project that takes you back to the era of ancient China? This DIY instructs on creating an amazing pair of swords that will have people talking. Zuko's Dual Dao Swords DIY is the perfect craft for any Avatar fan. This project includes everything you need to make your authentic-looking weapons! You can also display them in your home or office or give them as a gift to someone who loves the series.
He Man Power Sword DIY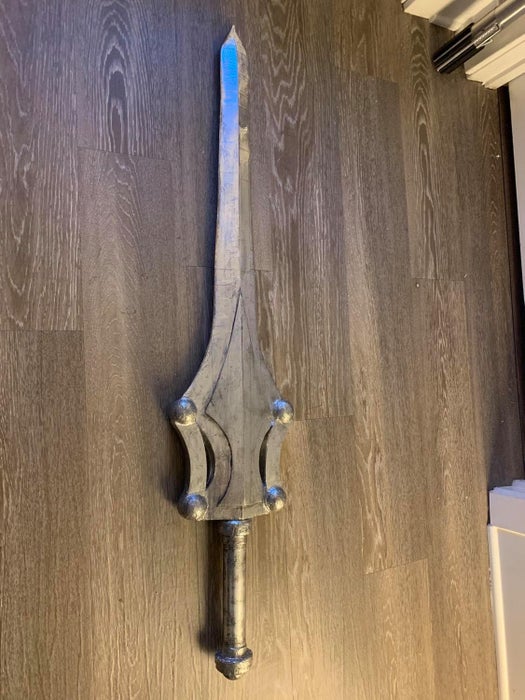 This DIY project is a fun activity for kids and adults. You can make your own He-Man sword using foam core board, epoxy, PVC, and acrylic paint. This DIY sword is easy and fun to make, especially if you are a fan of He-man. The steps are simple, and in the end, you are left with an awesome sword. It's also fun and creative to give the gift of superheroism!
Links Master Sword From Legend Of Zelda DIY
If you love Legend of Zelda, you must make Master Sword. This DIY video tutorial shows you how to make this legendary weapon from the game using foam floor mats and dowels! This is the best Link's Master Sword tutorial out there. The finished product will be a work of art: amazing detail, strong, light, and last a lifetime. This project is intended for intermediate skill levels but easy enough that an intermediate beginner could make it with some little help.
Mine Craft Sword DIY
This Minecraft sword is a fun and easy craft for kids that looks great on display. You'll need cardboard, spray paint, glue, paper, marker, and masking tape. Print out the template, then glue it onto the cardboard. Color your swords using paint and cut them out using a knife. You will surprise at how easy it is with this step-by-step tutorial. Follow the instructions to complete the project and have fun playing Minecraft!
Gladiator Sword DIY
Are you a fan of Gladiator? Want to feel like one? Well, with this DIY, you can. This project is straightforward as you will need to glue the parts and sand them down. Afterward, screw in your eyebolts and follow the instructions to light up the blade (which includes wrapping it in wire). Finally, once completed, you will have a truly amazing sword that makes everyone who sees it want to be like Maximus!" The creation of this sword is perfect for beginners. It's a great project to be done with friends and family, with the bonus of being able to light up the sword!
Duct Tape Sword DIY
Ever imagined yourself as a medieval knight?  Now you can make your imaginations come true with this DIY Duct Tape Sword. Using only duct tape and bamboo, you can create the perfect sword for combat. Get started by researching the design and making a template from paper; once that's done, go ahead and mark, cut out, and glue all the foam pieces with super glue to form the base of your sword. Then get creative in crafting an awesome blade to your liking before decorating it and adding strips of tape that make up the handle.
Umbrella Samurai Sword DIY
Umbrella Samurai Sword DIY is an amazing project which will turn your every day into an umbrella samurai sword. You will need a basic steel pipe, old black jeans, vinyl cloth, and a sewing kit. You must unscrew the umbrella handle and screw the steel pipe inside. Cover them with old black jeans and place clothing inside the tube for it to bulge outwards. Finally, finish using a samurai lace wrapping technique and make a sheath out of the leftover material. You can also decorate it further, adding a chain or fabric as decoration.
DIY Garden Sword
In this video tutorial project, you will learn to make a sword using bamboo and steel. It is not an easy craft project, but it's simple once you understand what needs to be done first. The best thing about this project is that you can do it without having any previous experience working with bamboo or steel. Making a bamboo sword is easy; you only need epoxy resin, spring steel, and an inner tire tube. This can be your garden decoration or used as a weapon during battle play.
DIY Wooden Two Hands Sword
Try this DIY Wooden Two Hands Sword for yourself for those who have the intention of making swords. This easy-to-follow, step-by-step guide is designed to help you from start to finish. By following the instructions carefully, by the end of this tutorial, you will be able to make your very own working sword! This DIY sword is great for parties, costumes, and cosplays. This easy project can be completed in about two hours.
Mini Sword DIY
Tired of those flimsy swords that break at the least impact? Grab a file, hammer, and nails, and make your sword! Make your very own miniature sword by following these easy-to-follow steps. The video demonstrates the various steps required in the process so that you can create a perfect replica of an original sword. In making this little sword, you will need Nails, an anvil, a drill, a file, a blowtorch, and sandpaper.
Origami Sword DIY
Handmade paper swords are an art project that will delight your child, who can use them as props during role-playing games or pretend they're the hero in a grand adventure. This project requires only a few materials, including an inexpensive origami paper pack, scissors, masking tape, and a glue stick (or double-sided tape – see notes). This craft project is ideal for children five years old and up. The results will be impressive and a great addition to your child's collection of swords.
Bilbo's and Frodo's Sword DIY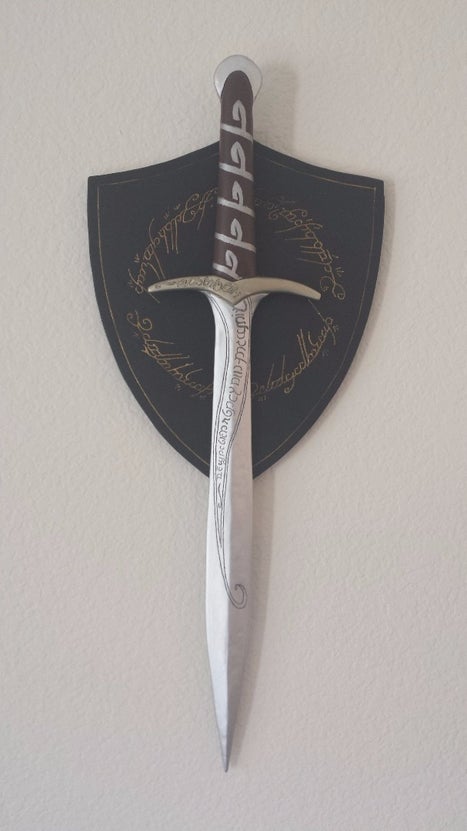 Get in the mood for battle with a DIY Bilbo or Frodo sword from The Hobbit. This project is easy to do and great for all ages, so gather some friends, get out your foam board and get ready for fun! Print out your favorite sword reference image, draw it, and trace it onto a foam board. Cut out your stencil, then glue the two pieces of foam together using glue. Sand the edges down and use air clay to create a smooth surface for painting. Once the clay is completed, paint the sword with silver paint, the lamp black, and then cover with clear varnish.
Shulk's The Monado Sword DIY
In this DIY project, you will make a sword from the Monado from one of the best games of all time: Xenoblade Chronicles. First, you will need to print the template and cut it out, then create the blade using foam core board, adhesive tape, and paper. Connect the lights around the sword, and add a power supply to make it glow like on screen! This sword is complicated because all the lights must be secured and shaped. However, if you are good at following instructions and need a fun DIY project, this one is worth it.
Lord of the Rings Wooden Sword DIY
For those who love Lord of the Rings, this is one wooden sword you don't want to miss. For starters, print out the image of the swords and trace all the lines onto your wood as shown. Use a belt sander to refine and shape it to how you want it. Then spray the paint in colors of your choice and add aluminum foil on parts that need detailing. Lastly, use metal polish to give it a metallic look, and attach a handle at the tip so that you can carry it around as Legolas would have!
Sturdy Ninja Sword DIY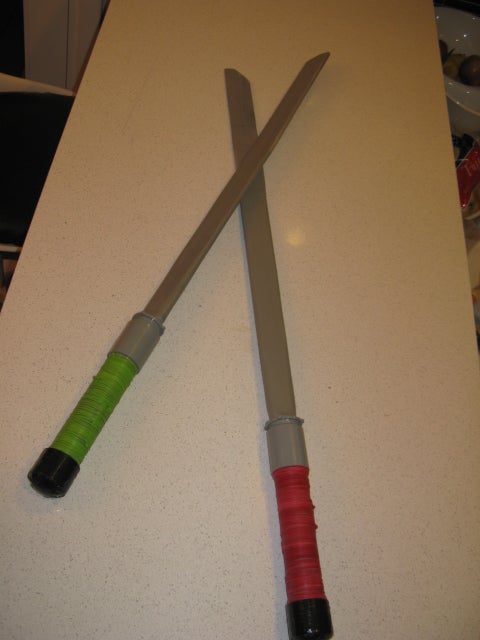 Gratify the inner ninja in you by making your sturdy ninja sword. This DIY is easy and can be done at home with basic tools. This DIY requires PVC pipes, an end cap, coupler, spooling, and cement. Begin by cleaning the pipes and making a blade by heating it until soft enough and compressing it. Glue together using PVC cement, cut a rubber band, and wind it around the handle. Finish your sword by painting it with acrylic paint
Prince Caspian's Sword DIY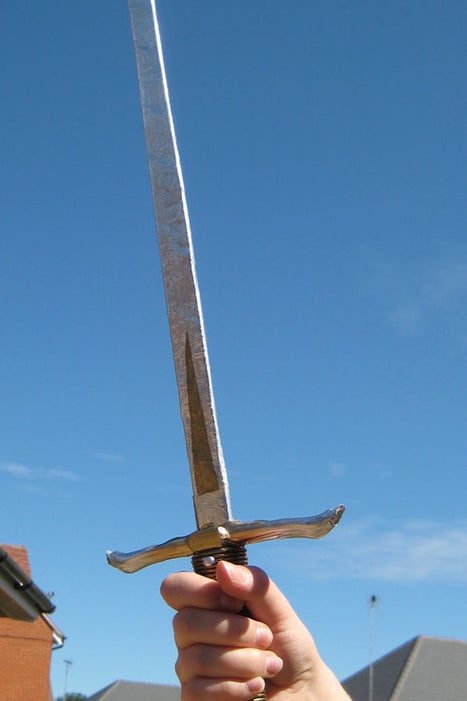 Assemble this DIY Caspian sword and go on a quest to find the lost lords of the castle. This project requires you to use old toothbrushes and other materials to create a fun gladiator-style sword. This is a simple sword you can make at home. Find the materials, then follow these easy step-by-step instructions on how to make them. You will have your very own Caspian's sword when you are done! Follow these simple steps to make the sword at home and show your kid this recreation of the character from the Chronicles of Narnia movie.
Paper Sword DIY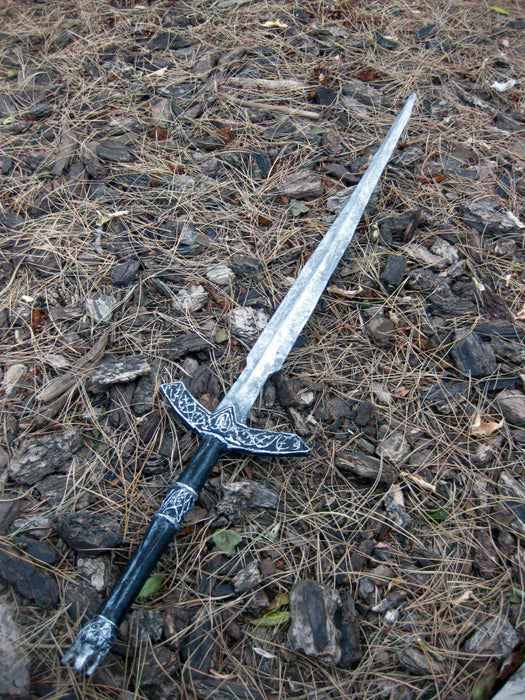 Create this fun and easy paper sword DIY. This project is suitable for ages eight and up, but younger children can work alongside an adult. The craft uses simple techniques perfect for beginners or those just getting started with crafting skills. You will need cardboard, a hot glue gun, scissors, acrylic paint, masking tape, and a wooden dowel. Get ready to create your personalized sword! With this DIY paper sword, you'll learn how to design and make a sword with the help of your imagination.
Wooden Leonidas Spartan Sword DIY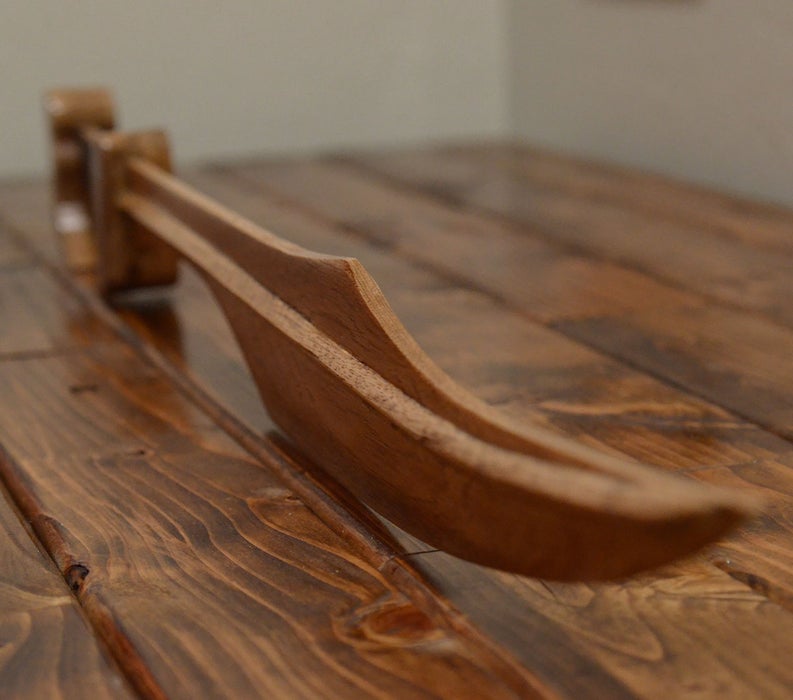 This project is for those who love the ancient Spartans and want to learn how to create a replica of their king's sword. The craft knife is ideal for cutting out the blank, but you can use a scroll saw with a flexible blade if you have one. Give them a gift they'll love and cherish forever by building them a personalized keepsake with this easy DIY project. Made from wood and leather, it's sturdy enough for even the most furious battles.