Strawberry planters are great for growing strawberries but can also be used for other plants. These DIY strawberry planter ideas will show you how to make a simple wooden strawberry planter that you can build in no time at all. Strawberry planters are a great way to add a little colour and whimsy to your home. They're also great for gardeners who love fresh fruit but don't have space for a whole strawberry patch. Strawberry pots are fairly easy to make with just a few materials. You can make them out of wood, ceramic, or plastic. You can also get creative and use recycled objects like tin cans, glass bottles, or jars.
DIY Strawberry Planter Ideas for Container
Strawberries are one of the easy-to-grow fruits. You can even grow the berries in your house by using a few DIY planters and containers. If you're not big on eating strawberries, consider turning them into other things that can be used at home. Bring strawberries to your table and garden in various ways, from simple yet effective pots to DIY planters made from reclaimed items. There's something for everyone here, whether you're looking for something modern or retro, big or small. Here are some DIY Strawberry Planter Ideas that will help you start your new strawberry garden.
Check out these 30 DIY Strawberry Planter Ideas you can make if you want to decorate your home with this cute little planter.
You Can See: 24 DIY Hanging Planter Ideas You Can Make Easily
Advantages of DIY Strawberry Planter Ideas
DIY strawberry planter ideas are a great way to save money and can also help you enjoy the experience of growing your own strawberries. Here are some of the advantages of DIY strawberry planter ideas:
-You can make a DIY strawberry planter on any budget, from simple to extravagant. If you want a simple option that won't cost much but will still get the job done, you can always use an old pot with dirt! If you want something more elaborate and expensive, many different types of kits will allow you to create a beautiful and functional DIY strawberry planter at home.
-Growing your own fruits and vegetables is great for your health because it gives you control over what goes into them—and if you're growing strawberries yourself, that means no pesticides! It's also fun because it allows you to try new things like different kinds of soil or fertilizers if needed.
How To Build A Strawberry Planter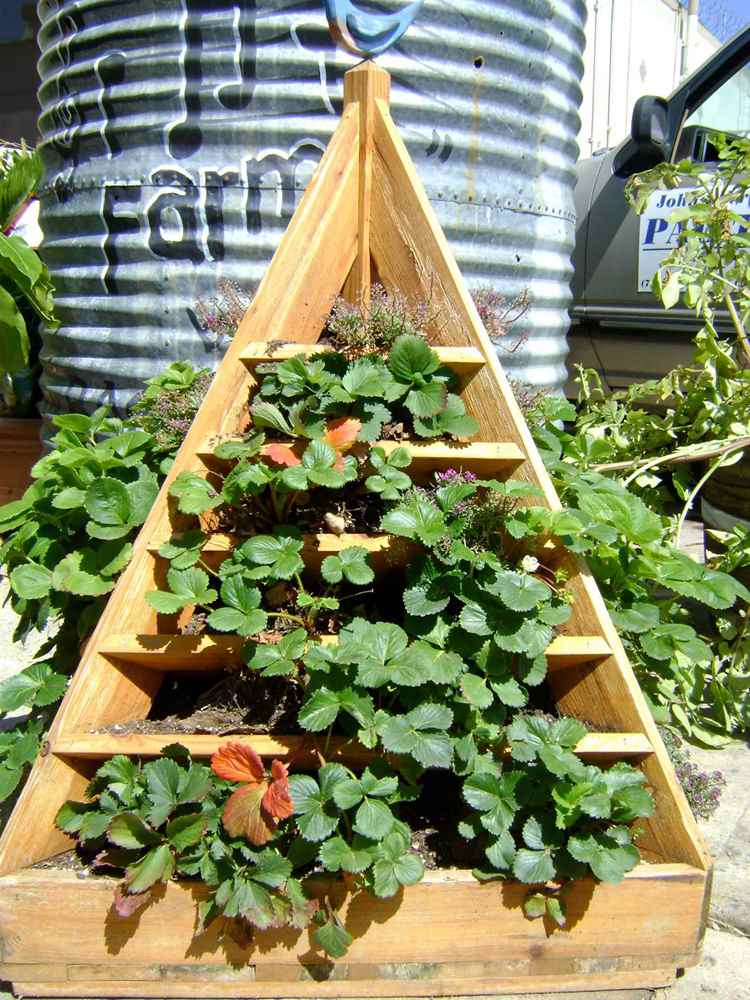 Love strawberries but don't have the space to grow them? This strawberry planter is a great way to maximize your small garden space and grow vegetables on your patio. You can build this Strawberry Planter with a few basic woodworking skills and relatively inexpensive materials. You'll need a mitre saw, or table saw and a drill/driver with at least ⅜-inch bits for pre-drilling the holes (or you could use a handheld jigsaw). There are no complicated instructions, and even if you don't have woodworking skills or tools, this guide will show you how easy it is to create your strawberry planter.
DIY Easy Strawberry Planter
Strawberry planters can be made out of all kinds of materials. Plastic saplings are one of the most common and cheap ones, but cheap doesn't always mean good results. You will need to ensure that the strawberry plant can grow into the plastic pots without getting damaged. You can buy a simple strawberry planter from your local grocery store or garden shop. Cut the plastic pots, fill them with soil, and then sow your seeds.
DIY Pallet Strawberry Planter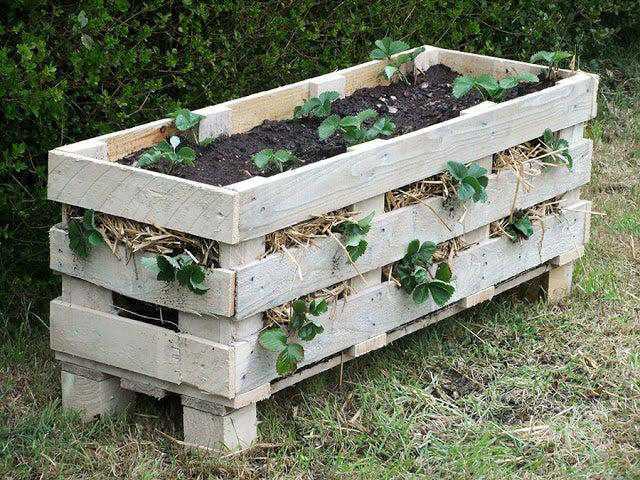 If you want to grow your strawberries but don't have the money to buy those pricey planters and pots, then this DIY pallet strawberry planter is your solution. Pallets are a very cheap, easy, and eco-friendly resource that can use for so many different things. This diy pallet strawberry planter would make an excellent addition to your garden and offer a creative and stylish look for your balcony. You can even paint or stain it any colour that you want!
How To Make A Strawberry Planter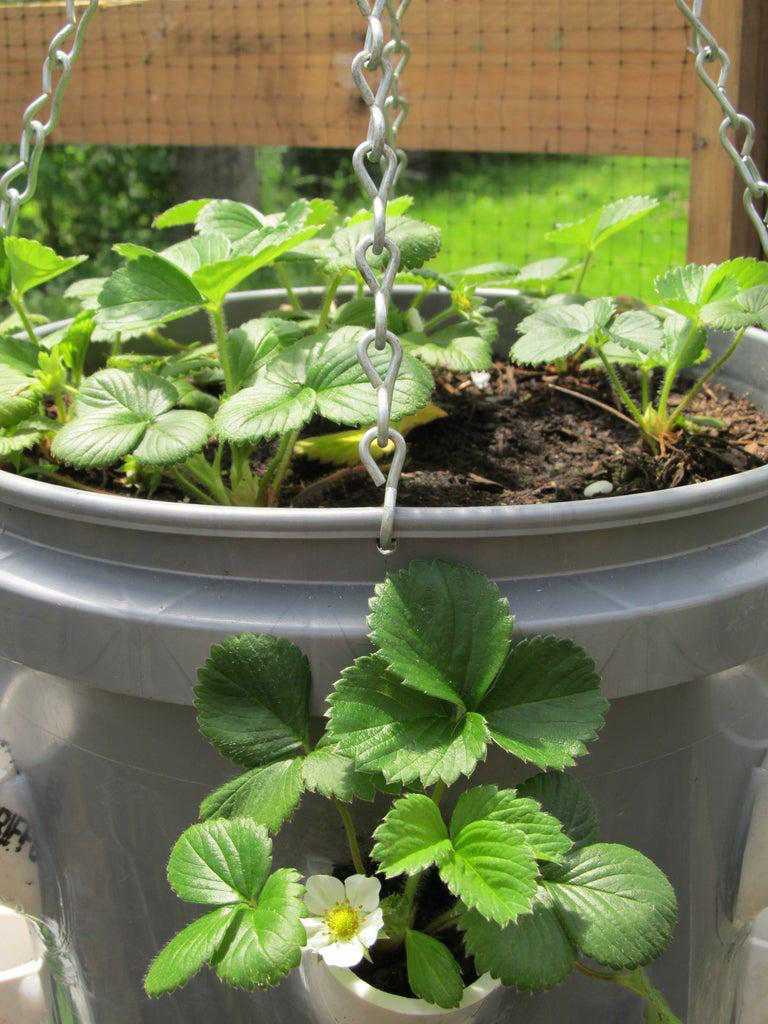 Strawberry planters are great if you want to grow your own juicy, sweet strawberries. But they can also be limited in what you can do with them and how much space you have outside. So, there is an option for those who want to grow their strawberries without a lot of investment: a simple planter made of a large bucket and some other supplies. This is perfect for beginners and people who do not have a lot of resources or space for planting – it doesn't require a lot of advanced skills or excessive tools to make this one.
DIY Laundry Basket Turned Strawberry Planter
Strawberries are a sweet treat and are incredibly easy to grow. They require very little attention or care, and a few hours of sunlight each day will give you a great crop of delicious berries. The tutor will show you how to turn your ordinary laundry basket into a strawberry planter in this video. This strawberry planter requires a few homemade supplies and some creativity. You'll be on your way to growing strawberries in your backyard in just a short time! A lovely present that's both beautiful and functional at the same time!
DIY Galvanized Vertical Strawberry Planter
In this video tutorial, you'll see how to create a DIY garden planter that's both unique and functional. Hanging plants are always a great way to show off your green thumb, but it cannot be easy to find the right planter for your plants. Try using these galvanized pipe planters to hold tomatoes and peas on your deck or patio. Use a hole pad and drill bits to cut out holes in each end cap for drainage from the bottom of your wall planters.
DIY Strawberry Tower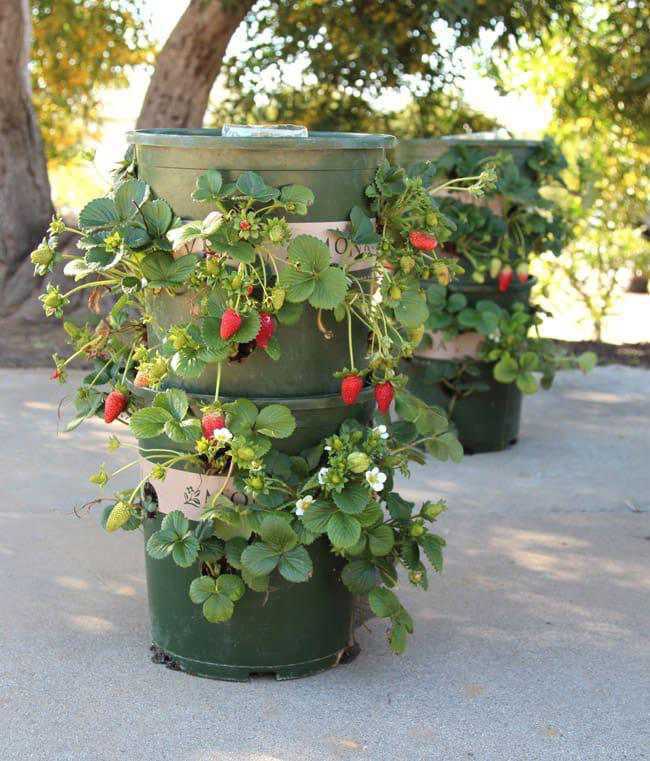 It's strawberry season, which means it's time to get picking! Hardly anyone likes to mess around with soil, but this DIY tower will make life easier. And thanks to its support, the plastic pot looks like a tomato cage and won't collapse under your weight as you pick. You can get creative with the design or follow this step-by-step guide for making your strawberry tower. This will keep the berries fresh while allowing you to harvest them when they are ripe!
DIY Tiered Strawberry Planter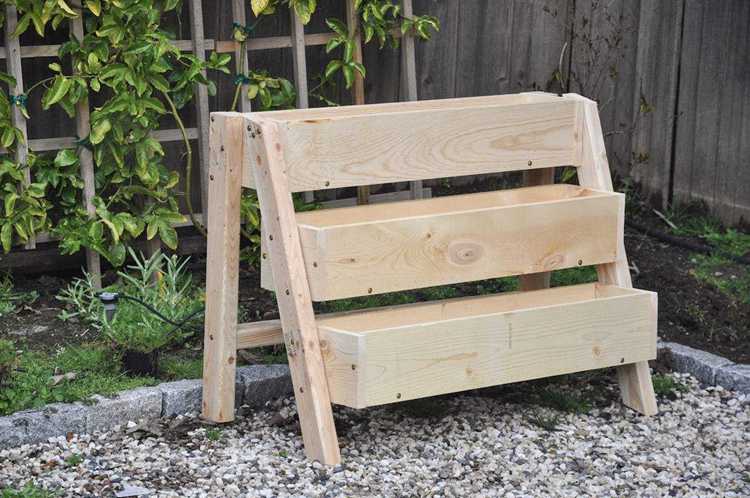 If you love growing your fruits and vegetables, this DIY strawberry planter is perfect. This tiered design makes keeping the soil in place easier, so you won't have to worry about accidentally tumbling all of your roots out of the pot when you go to harvest! If you're looking for a fun project that's easy on the wallet and doesn't take a lot of time, this DIY Tiered Strawberry Planter is the right one for you. It will allow you to grow an abundance of strawberries in your backyard.
DIY Strawberry Pyramid Planter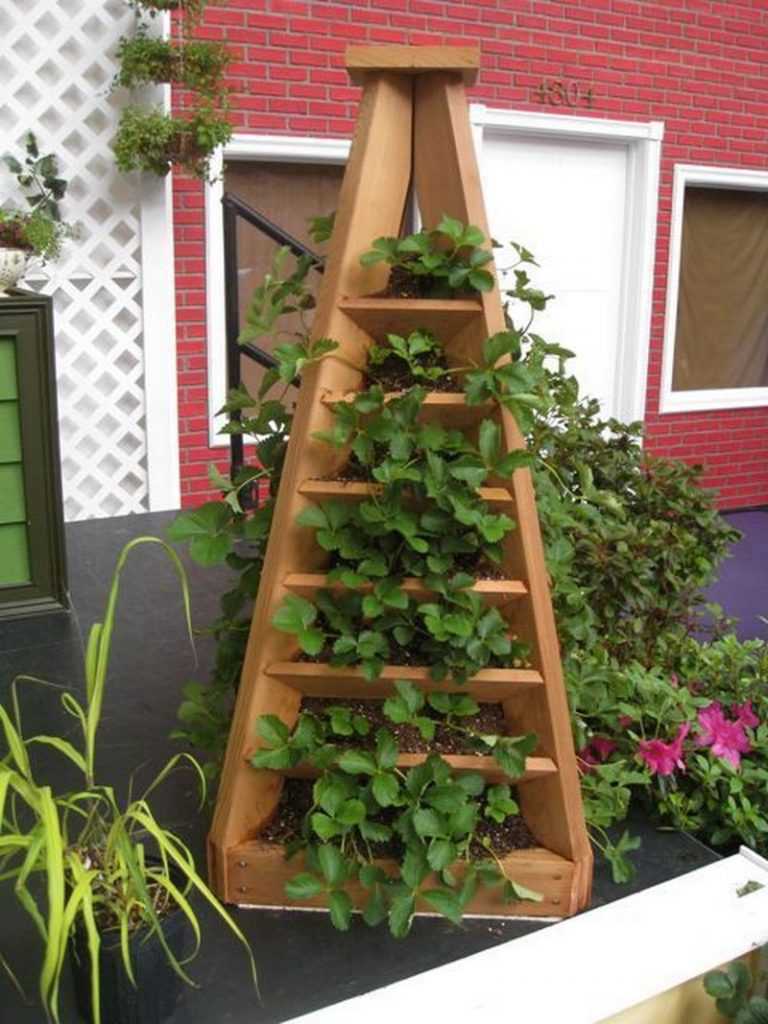 This DIY strawberry pyramid planter is a great option for people who have a small garden and want to plant strawberry plants. It takes up the least space compared to other designs and can hold up to three plants. Strawberry pyramids are super easy to make and grow. This DIY strawberry pyramid planter is a great way to increase your strawberries, tomatoes, herbs, and more. Made of durable material, it's easy to assemble and rot-proof for years of use in the garden.
How To Make A Vertical Hanging Strawberry Tower
If you love strawberries or are a home gardener or hobbyist who likes to grow your fruits and vegetables, this will be a great learning resource for you. It provides a step-by-step guide explaining how to make a vertical hanging strawberry tower. It's a fun, simple project that requires little more than PVC pipe and brackets, but it yields an impressive result for minimal effort. It's easy to follow and even easier to build.
DIY Rain Gutter Strawberry Planter
This video shows you how to build a gutter-based strawberry planter. It's pretty easy for those who have some handy skills and experience. You'll need some caps, wood glue, and other basic supplies. With so many people building rain gutter vertical gardening systems, it's hard not to consider one. The price of a new system can be pretty steep, but we decided to look at how much you'd save by using a DIY rain gutter vertical planter kit.
How To Build Strawberry Towers
If you love strawberries and don't have a lot of space in your garden, check out the strawberry tower. This vertical gardening system will help you grow strawberries in just seven to eight weeks. All you need to know is how to build a strawberry tower, which is not hard. This high-yield garden is easy to put together and turns into a thriving garden of strawberries. It's perfect for novice gardeners with limited time, space or money.
Vertical Strawberry Pallet Planter
This vertical strawberry pallet planter is a cheap solution for growing strawberries. Pallet gardening is very popular right now, and it's easy to see why; they're cheap, don't require much maintenance, and are super useful. This vertical strawberry pallet planter is easy to make and great for small gardens or balconies. This can be a good solution if you want to grow more than one plant in a limited space, as this has two compartments.
DIY Vertical Strawberry Planter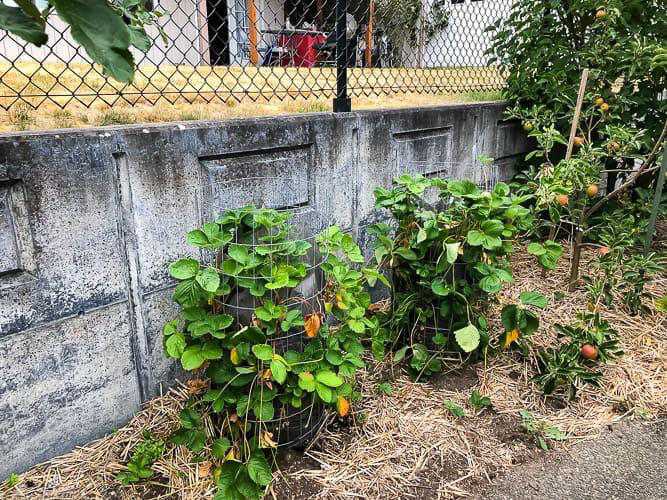 This vertical strawberry planter is perfect for those who want to grow strawberries but don't have enough space. Your berries will be off the ground, protected from sun and soil compaction. The best part is that you can use this DIY vertical strawberry planter yearly! This simple DIY project has everything you need to make your vertical strawberry planter at home. It takes a few hours, some basic tools and materials, and fresh fruit in no time!
DIY Strawberry Planter From Recycled Materials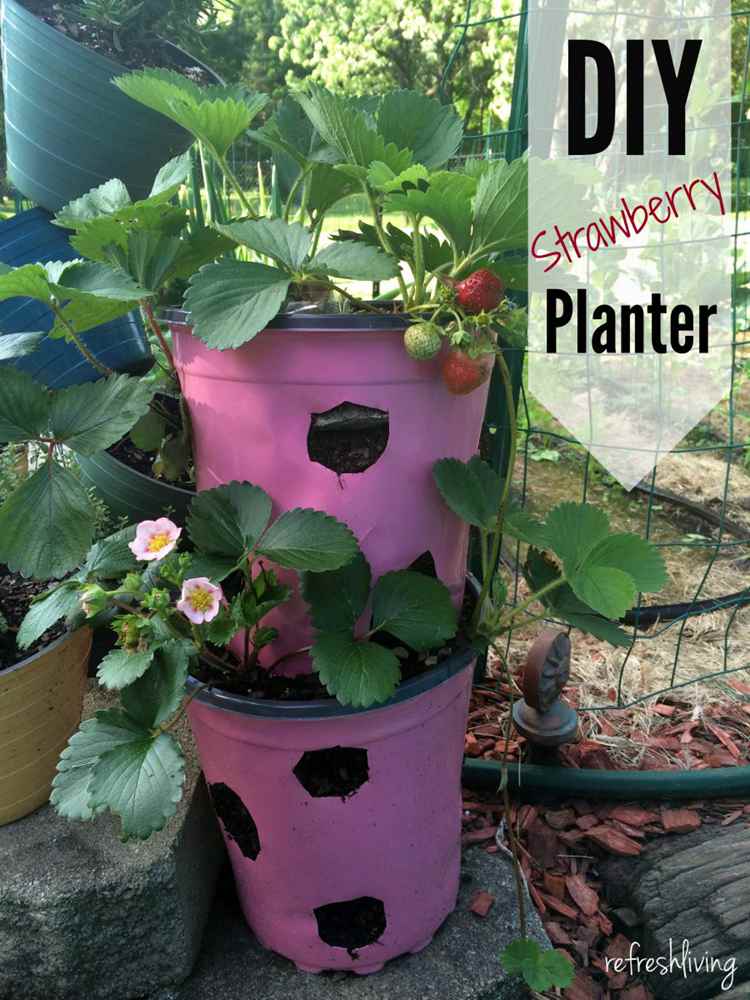 This strawberry planter project is a great way to grow your own delicious and natural fruits. This project uses recycled materials found anywhere in your home and at the grocery store's deli counter. It's gardening at its finest; you can grow strawberries and asparagus with two different types of pots! You will need plastic pots, decorative pebbles, moss, grass, and other common materials you can find at home. The best part about this project is you'll be able to enjoy the fresh produce from your very own garden!
DIY Strawberry Planter
Strawberries are a wonderful ingredient to include in your diet, especially during the summer. Strawberry plants can grow in containers; therefore, it is best to plant them in raised beds, so you have more control over the soil's moisture levels. This DIY Strawberry Planter is easy to make and can be made out of old pallets or lumber boards. Using pallets gives your garden a natural and charming look, while the components are quite durable, so the plants will have a better hold and grow stronger.
How To Make A Strawberry Pot From A Kitty Litter Bucket
Need a great idea for some indoor gardening? Make your strawberry planter. It's easy and cheap, and you'll be able to grow your strawberries for just about as long as you want. If you have a kitty litter bucket and another bucket, you've got everything you need to make your strawberry planter. In just a few simple steps, you can create an outdoor garden in your backyard that can produce strawberries year-round.
Building A Strawberry Rack
There's an easier way to grow your strawberries than in a traditional garden bed. If you want to plant strawberries vertically, there are several options from which to choose. This video tutorial shows you how to build a strawberry rack at home that can be used for several years and requires little maintenance because it keeps the fruit off the ground, saving you time and money. The nice thing about these vertical planters is that they are sturdy and cheap to make, plus they make it easy to care for them!
How To Grow Strawberries In A Planter
So you wanna grow strawberries but don't want to invest in soil? This video will show you how to turn a standard planter into a hydroponic strawberry growing system. You'll learn how to modify the bottom of a planter with holes, attach plastic sheets to keep the roots dry, and even place pesticides on your plant's foliage. This is one tutorial guide you won't want to miss! All you need is your preferred planter, some soil, and the berries.
DIY Tasty Strawberry Planter
Looking for the perfect way to add some flair to your garden? Or perhaps you are looking for a gift for your favourite gardener? Then try this fun and easy strawberry planter! This is a fun and simple DIY strawberry planter. You can use it as a gift or decoration in your kitchen or create a garden full of this unique planter around your house. The 3D printing process will help you finish the project quickly and easily.
 Simple Vertical Strawberry Planter DIY
If you love gardening and are passionate about strawberries, this awesome vertical Strawberry planter is a must-have item in your garden. Determine the location for your vertical strawberry planter by visualizing where you want it. It should be near a water supply and close to an electrical outlet. You will be growing strawberry plants vertically, which means they grow well in a small space. This is because it's rather easy to plant them with this planter as there are holes at the bottom of each plank so that it drains out water, and air can get in easily.
Easy Watering Strawberry Planter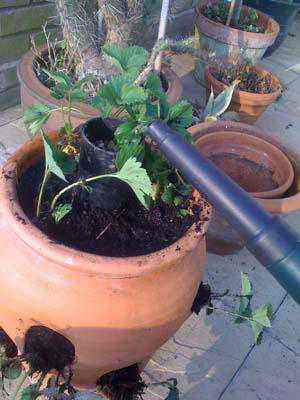 Fresh fruits, herbs, and plants are the key to a healthy home. And this water-based DIY planter is easy to make and gives you a great piece of decor for your patio, deck, or porch. Before you know it, your strawberry plants will grow in this super cool and unique DIY Strawberry Planter. This is perfect for people who love strawberries and want to eat fresh ones without taking care of them! Using a pipe, some stones, and a pot, you can ensure that these strawberries have enough water to survive.
DIY Vertical Strawberry Planter From Reclaimed Ladder
If you've always dreamed of growing strawberries but have limited space, this DIY vertical strawberry planter is for you! Not only does it take up a small footprint in your garden, but it also allows you to grow as many strawberries as you want. Follow these easy instructions, collect some reclaimed lumber, and get your hands dirty with this fun project. The strawberries will grow horizontally out of the planter, and you don't even need to take care of them as the plant does it for you. So, if you're thinking about growing fresh strawberries, this DIY project is for you!
Mini Strawberry Planter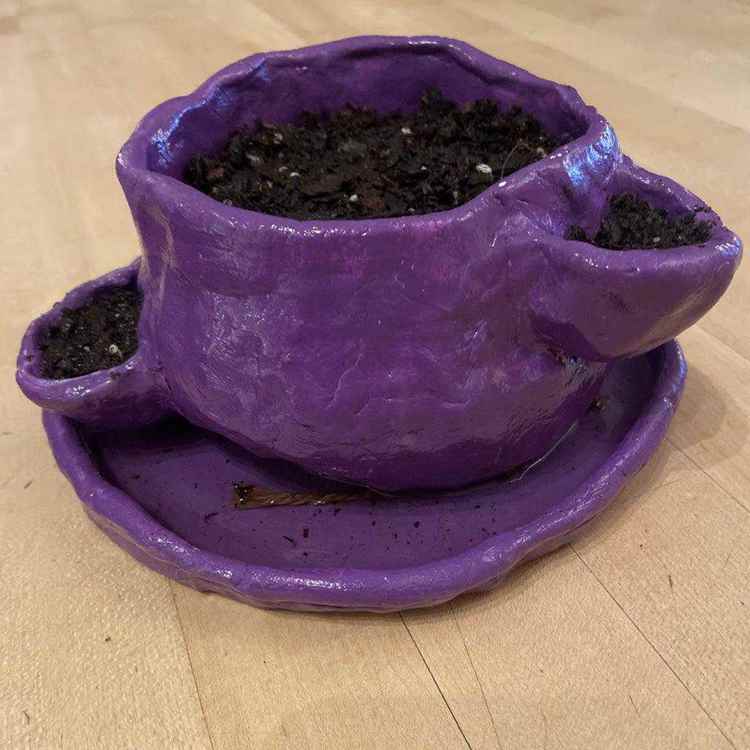 Do you love strawberries but don't want to spend money on large amounts of strawberries? This mini strawberry planter makes it easy for you to grow your strawberries and use them in many different ways! This is the perfect planter for small to medium-sized gardens. Its small size means it won't take up much space in your garden, while the classic strawberry design makes this planter a beautiful addition to your outdoor space. Follow these simple steps to make your very own DIY mini strawberry planter!
DIY Strawberry Planter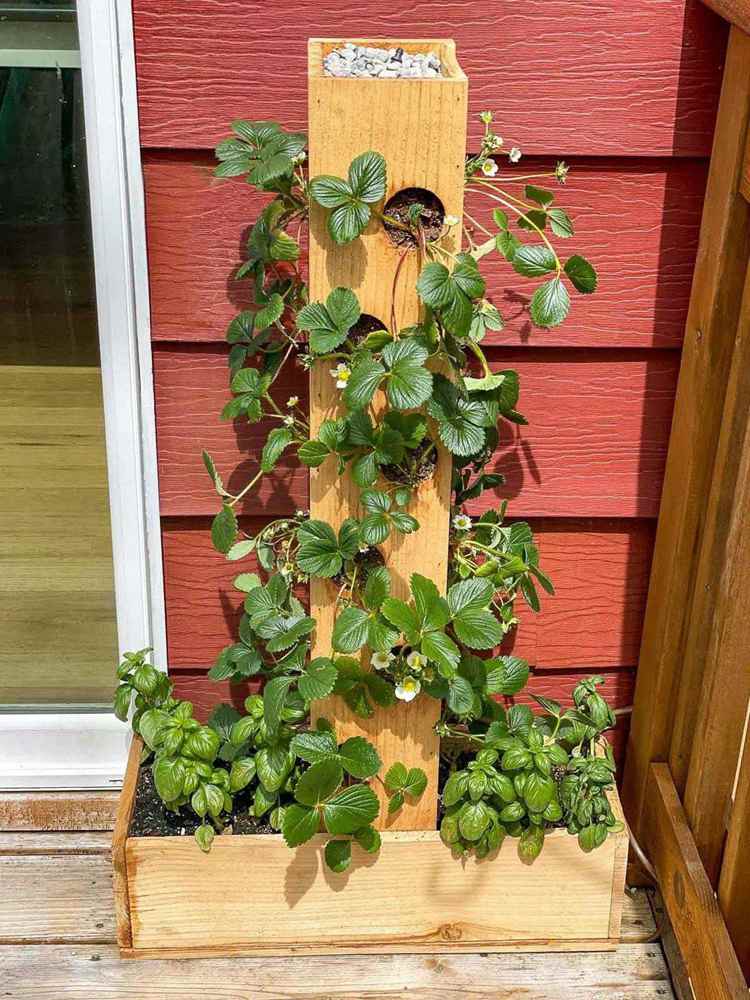 Strawberries are not just a cute and tasty snack but a tasty and healthy way to stay fit. However, these delicious berries don't hold their flavor for long and require proper storage. If you're looking for an alternative planting method that does not take up much space, this DIY strawberry planter is the one for you. The container part of this planter is easy to make and requires only a few tools found in most households. You can place it in any place of your house where there is enough sunlight and water once in a while, and enjoy eating fresh strawberries all summer long!
Vertical Strawberry Planter DIY
This planter is great for growing strawberries inside, especially when you're short on space. The steps are easy to follow, and you'll be done in no time! This video tutorial shows you exactly how to make a vertical strawberry planter. You'll need only a few items, and this will be a fun, rewarding project that can help you save money on food and enjoy the satisfaction of making something yourself. It's not only functional but also beautiful.
How To Build A Strawberry Pyramid
Here's a fun project that uses the strawberries' natural pyramid shape in the most stylish way possible. Gather up a bucketful of fresh strawberries, chop off their tops, and place them upside down on top of one another to create your elegant-looking display. Follow along as you learn how to build a strawberry pyramid. This is a fun project to make for parties and summer, but it can also be used as decor throughout the year.
How To Make A Strawberry Tower
This strawberry tower is a great idea for a summer party, and the best part is that you don't need to be a master gardener to make it happen. You only need a simple PVC pipe, some paint, and a plastic pot. Check out this step-by-step tutorial on making your own strawberry tower here. Create the perfect display of your delicious strawberries. This wooden strawberry tower will be the talk of your party. This project is easy enough for any beginner but impressive enough to make anyone want to try it.
Strawberry Planter DIY
Looking for a unique way to grow your strawberries at home? This strawberry planter DIY can be created with any pipes, making it accessible to everybody who loves gardening and nature. The best part? All you need is a flower pot, which you could buy from your local hardware store or grocery, plus a few other household items. This is a great indoor garden project, and it's also good for kids because it's low light, so it doesn't need constant watering like most other vegetables.