Build your own storage bed perfect for storing out-of-season clothing, extra blankets and sheets, and more. Shop reclaimed wood from Craigslist, or use inexpensive and sustainable plywood panels from IKEA to create a one-of-a-kind look. And whether you're building it yourself or hiring someone else to do so, don't forget to check the weight capacity of your new bed before loading it with books, shoes, or DVDs. Here are 25 DIY storage bed ideas that can help you solve that problem so you can pay more attention to doing other fun things in life than searching for important items that are hard to find if they are stored away from where you need them the moment.
Easy Cheap DIY Storage Bed Ideas
Beds are the centerpieces of your bedroom, so it's only natural that you'd want to be able to store things in them. But with beds made of wood and metal, it can be hard to find a way to stash books, blankets, clothes, and more. Regarding storage, there are so many solutions out there for us to choose from—you'd think it would be easy to find one that works for you. Not so fast! If you're going the DIY route, you might find yourself in a bit of a quandary about making your bed double as a place to stow things. Here are 25 ideas for transforming your bed into furniture that will keep those extra items you need but don't quite know where else to put close at hand.
Benefits Of Easy DIY Storage Bed Ideas
If you are looking for ways to make your home look more beautiful and stylish, you should consider DIY storage bed ideas. These beds are not only easy to make but also cost-effective.
Here are some benefits of DIY storage bed ideas:
No need to hire a carpenter or an interior designer
You can save money in the long run
It is fun and creative
You can customize the design based on your needs
There are no restrictions on the design
DIY Storage Bed
A bed that stores all your bedding and other things you usually leave on the floor. This is a great idea, especially if you don't like a mess. It could also store items in small apartments or guest rooms. This DIY storage bed is a great piece of furniture, especially in small spaces. You can adjust this bed based on the sizing you want; remember to consider the height of your mattress when determining the measurements of the drawers.
DIY Bed With Storage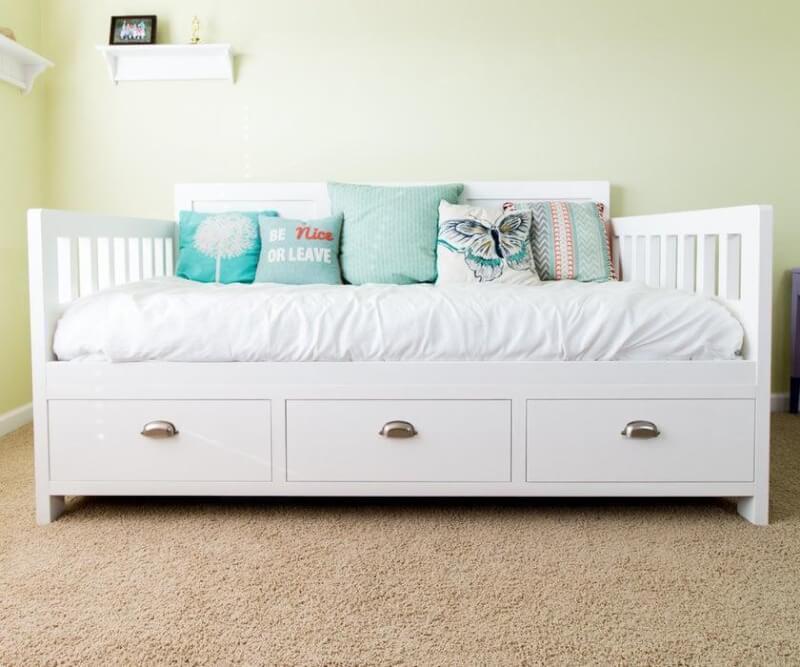 If you're a DIY-er, this project makes for a great weekend project. It is not too difficult, as all it takes is basic woodworking skills, but the result is enough to impress your friends and family. This bed has a space-saving design, making it an ideal choice for small bedrooms. The bed frame is made from plywood and stained pine veneer, while the headboard is covered in pine veneer with a cork finish. The drawer fronts are made from MDF, as is the base of the bed. This DIY project requires basic carpentry skills and can be completed in two days.
DIY Shelf Bed Storage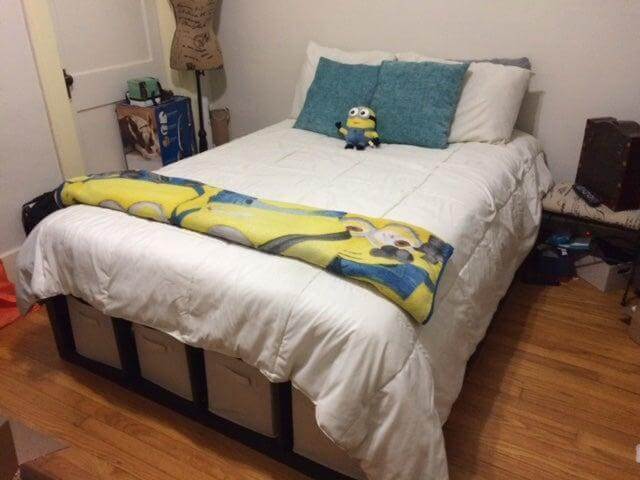 Learn how to make a different type of storage shelf. It is lightweight and easy to install. You can place it anywhere in your bedroom and even in the living room, where it will serve the purpose of a bed for guests. Make your home look more organized and tidy by DIYing a new shelving bed. This project is simple to create and can fit in any size home. Using plywood, shelves, and a bed frame, build a bed with storage compartments underneath it. You can use combinations of different sizes of boxes in one space and place them on either side of the bed or even both sides to create extra storage space that's not only easy to reach but also visually appealing to look at.
DIY Bed With Storage
This bed with drawers is designed to be simple and easy to make. It's perfect for the first-time DIYer and great as a starter project if you are getting into woodworking. This is a great DIY Bed with storage for you. You can store your things in it easily with the storage boxes under the bed. It can be useful for children's room to keep their toys, stationery items, and more. The best thing about building your bed is making it exactly how you want it.
DIY Modern Platform With Storage
If you're looking to put a modern twist on your bedroom design, this DIY platform bed is just the thing! You'll need a sheet of plywood and butcher block, along with some screws for joining the sides. It's easy to build and has plenty of storage space in case you need somewhere to store those extra blankets or shoes. With this DIY modern platform with storage, you can save on space and style. You need to draw the dimension of each piece on a sheet of paper so that the building will become easier. Then, cut down the pieces and join them using screws
How To Make Storage Under The Bed
Want to store away your extra blankets and pillows in an organized manner? Try this storage under the bed. These cubes come in various colors, so you can choose the one that suits you best. The design is simple because we were hoping you could make more of this structure, arrange them to fit the bed size, and then attach the pieces with wood. It can be as sturdy as you want because it is up to you where you place screws or nails on it. This storage solution is great for small spaces and is easy to assemble. It's also one of the most inexpensive DIY options to free up space under your bed.
How To Build A Storage Bed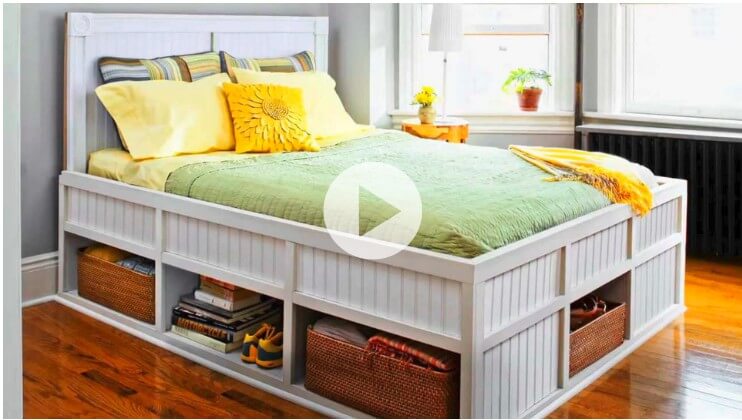 This contemporary storage bed is a great solution for anybody looking to enhance their bedroom space. By making this bed, you can add plenty of storage without any walls or shelving. The bed frame and the storage are made separately and then joined together later by a supporting frame that helps to keep everything aligned properly. You can create a complete storage bed without being an expert carpenter. You don't need to be one, though -- follow these simple steps that show you how to build a storage bed for your home or kids' room. This is made from MDF, plywood, screw, drill, miter saw, and glue.
DIY Farmhouse Storage Bed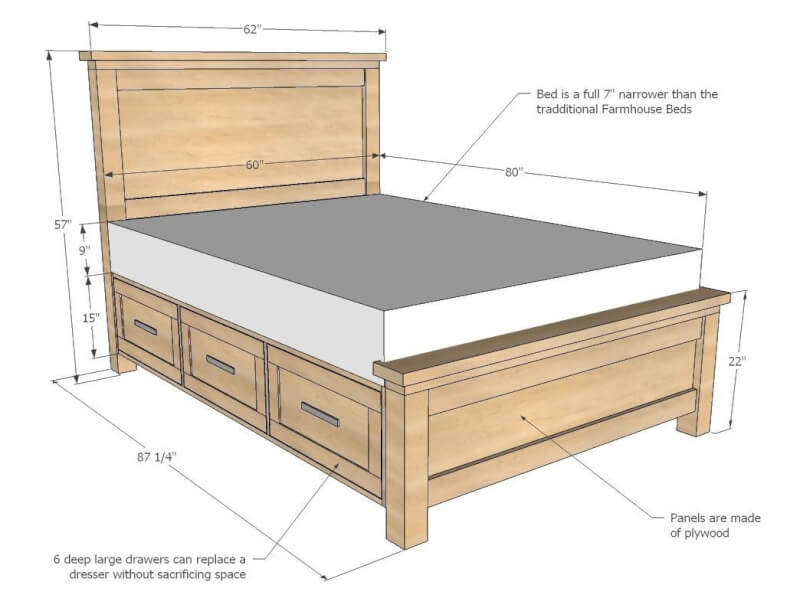 This project is great for any skill level and will give your bedroom a rustic, farmhouse look. You'll need to cut the pieces for the headboard, footboard, storage boxes, and drawer front first. Once they're ready, put them together and add handles or knots to make them more decorative. This project is perfect for anyone looking to customize their space with a modern design that's classic yet trendy. This farmhouse storage bed is made from plywood sheets and kiln-dried solid wood. It features a modern farmhouse design that is ample in size, clean, and stylish. The construction of this bed is formidable yet simple to assemble and requires no special tools. It is simple and quick to build!
How To Build A Queen-Size Storage Bed
Need more storage space in your room? This DIY queen-size storage bed with custom dimensions allows you to store plenty of things under the bed. This storage bed will be your best friend in keeping the room tidy and tidy. The bed has two drawers, two shelves, a magazine holder, and a hanging bracket to maximize storage space in the bedroom. You can keep blankets and other things in the drawers, store books on top of the shelves and hang clothes with hangers on the hanging bracket. This is simple to build. It can be done on the weekend with only the basic tools needed: a Kreg jig, miter saw, drill and screws.
DIY Platform Bed With Storage
Build your own platform bed with storage in minutes! This DIY project pairs well with our Cube Organizer to create a custom storage solution perfect for any home. This platform bed is suitable for all types of mattresses and box springs. You can use it as a traditional one, and the storage space below will store your books, shoes, and office stuff. Or you can use it as a futon to encourage guests to visit your house and snuggle up on the top section of this loft bed. Either way, it's a great choice for your bedroom.
DIY Bookcase Bed With Storage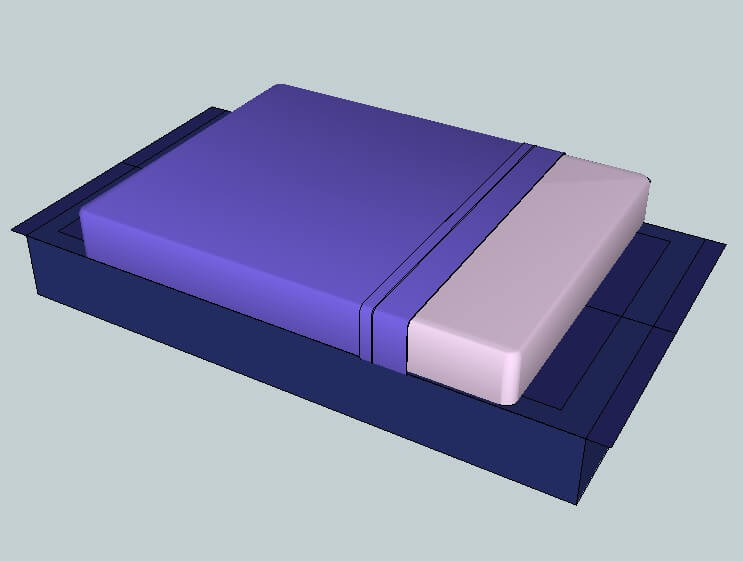 If you love books and believe in the power of positive thinking, why not create a bed with lots of storage? This do-it-yourself project is easy to put together and can be done by anyone. It requires only one piece of plywood and two panels to make an excellent combination of a reading nook with a headboard and plenty of storage space for clothes and books. It is a unique and creative way to add space to your room by using a bookcase that can be used as a bed with storage. This DIY bed gives you the opportunity to do it yourself creation, as well as add extra storage for books and magazines.
How To Make A Bed With Storage Drawers
There are so many great pieces of furniture in the world, but they often come at a premium. This affordable DIY bed with built-in storage drawers is a one-of-a-kind piece you can build in just a weekend without breaking the bank! There are many storage options for a bed, but none bring as much function and style to the room as these bed storage drawers. The frame is built with simple wood and metal supports to give it a sturdy frame, and the drawers slide in and out easily. It's simple and inexpensive to build and makes an impression on guests – even if they don't realize they just slept on a piece of furniture that you built yourself!
DIY Storage Bed
Reclaimed wood adds elegance to any room. The storage bed is versatile and can be used as a headboard, nightstand, shelving accent, or even in the living room. Use your creativity and make an exciting piece of furniture. The bed has two storage drawers that are not only large but also sturdy. The assembled bed can be easily moved around with its caster wheels. Assemble the pieces of the DIY storage bed and secure them with screws. Prepare all the wood needed for this project, sand everything down, and secure each piece with screws using your drill.
DIY Queen Storage Bed
This bed has a bottom shelf that allows you to store items underneath it, making the most use of the space. It is also very easy to paint or stain any color you want. This DIY queen bed storage unit can be customized to fit any mattress and is the perfect space to store your linens and pillows. This video tutorial teaches how to build it at home in just two hours. This DIY project is great for people with small spaces! You can find all the materials you need at your local home improvement store and make one of these beds for an affordable price.
DIY Under Bed Storage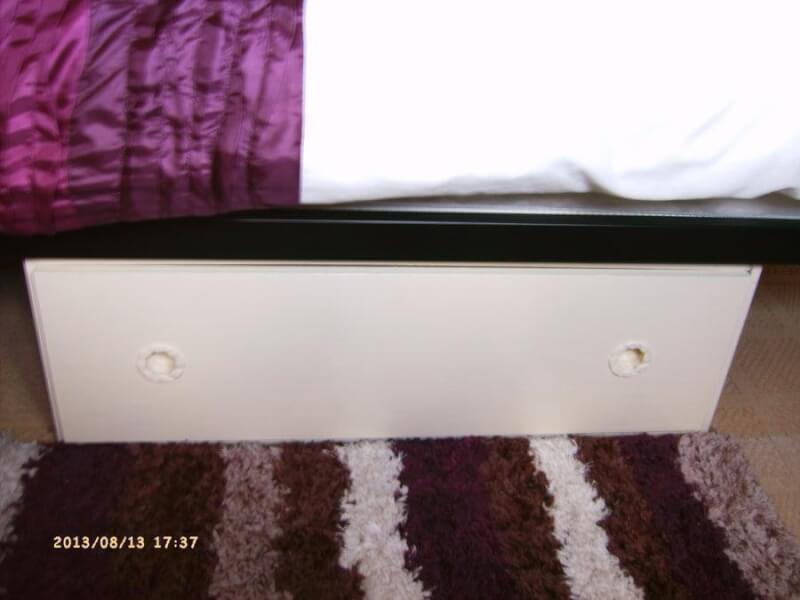 This under-bed storage is a smart way to use the extra space underneath your bed. This project can be easily customized by swapping the wood colors and drawer pulls and adding or changing elements.This bed is designed to fit perfectly under the top bunk of your child's bed. Includes a built-in drawer so your child can keep all their toys, games, and books in one place. This worthwhile project will allow you to organize toys, books, and clothes that would normally be strewn around your home.
DIY Queen Size Storage Bed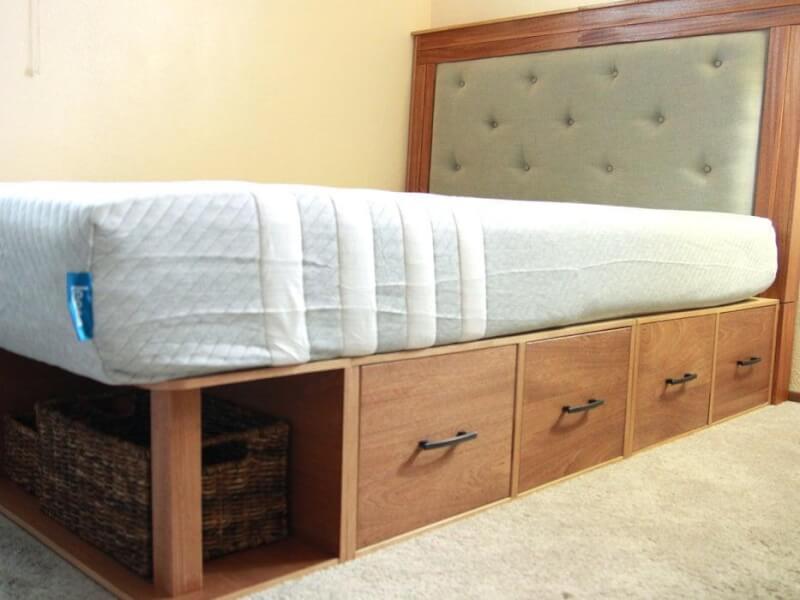 If you love having extra storage but one isn't enough for your needs, this bed frame can be built in no time. It's a simple solution that you can use in almost any room in the house. The parts are made from standard-sized lumber, making it easy to start this DIY project. With a drawer underneath your bed, you can store things like clothes, linens, and other items you want to keep out of sight but close at hand without needing a separate closet. This DIY Queen Size Storage Bed is the perfect solution for small spaces.
How To Build A DIY Storage Bed
This DIY storage bed is the perfect solution for your home organization needs. With its simple design, you can make this piece on your own and add more fun to your bedroom. Make your DIY storage bed with this easy building tutorial. All you need is a pocket hole jig and pocket hole screws, wood, and the right tools. Have fun customizing the look of your bed by choosing the perfect color of paint and fabric for your new headboard.
DIY Modern Storage Bed
Our DIY modern storage bed is the answer if you want an extra storage solution in your bedroom! The low-profile cabinets with two drawers on each side and horizontal planks make the perfect place to store all those extra items. To build this bed, cut sheets of plywood and join them with glue and nails, then make the drawer. The simple design and cleverly-hidden storage spaces will create the perfect bed for your home. The low-profile cabinets allow extra storage space, while the white oak planks add a unique touch to the overall look.
DIY Sofa Bed With Storage
This sofa bed with storage is a practical solution for any home. It offers extra seating space but can be easily folded up for guests or when hosting gatherings. Now you can customize your sofa and make it more multipurpose by adding storage. This DIY sofa bed with storage has a thick cushioned mattress to make it comfortable for sitting or sleeping. Plus, the storage boxes under the seat can be used for magazines and novels, so you can keep things tidy when not in use.
DIY Captain's Bed With Storage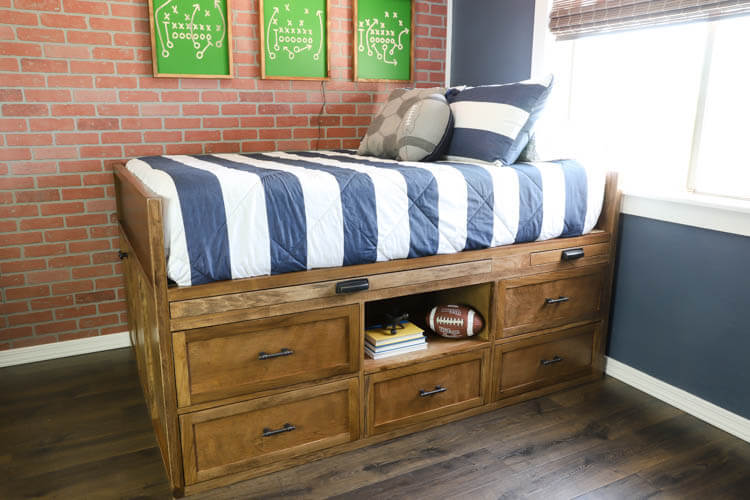 If spacious and functional bedside storage is what you're going for, this DIY captain's bed with storage fits the bill. It has a long shelf for storing books, magazines, knickknacks and two drawers to keep things organized. The nightstands are created to match the headboard using pine or poplar boards. This bed is ideal for kids but can be used by adults too. It's also a quick and rewarding project for beginners who can try their hand at woodworking with some guidance and direction.
DIY Storage Bed For Kids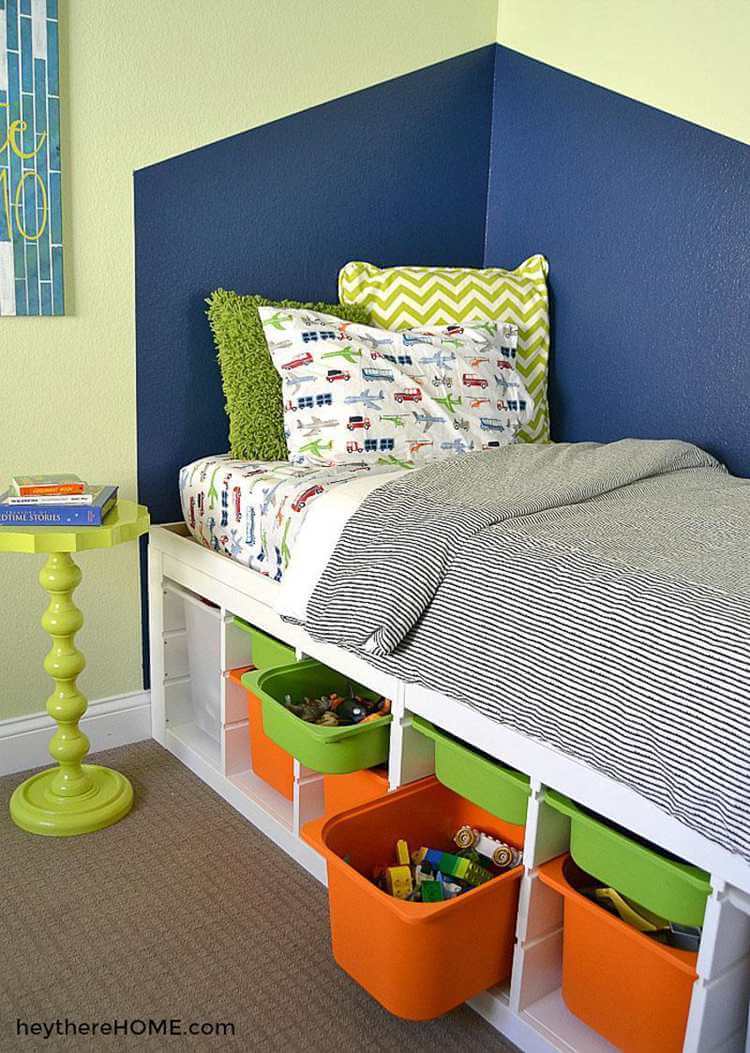 This DIY storage bed for kids is an excellent way to get your kids to keep their rooms clean and organized. This attractive and easy-to-build project will make it fun for them to put away their toys and clothes every night. The best part? When beds are ready for use, you can fold down the panel and transform it into a standard twin bed. It's also a great place to store extra blankets, toys, and other things so they'll have more room in their rooms.
DIY Bed With Storage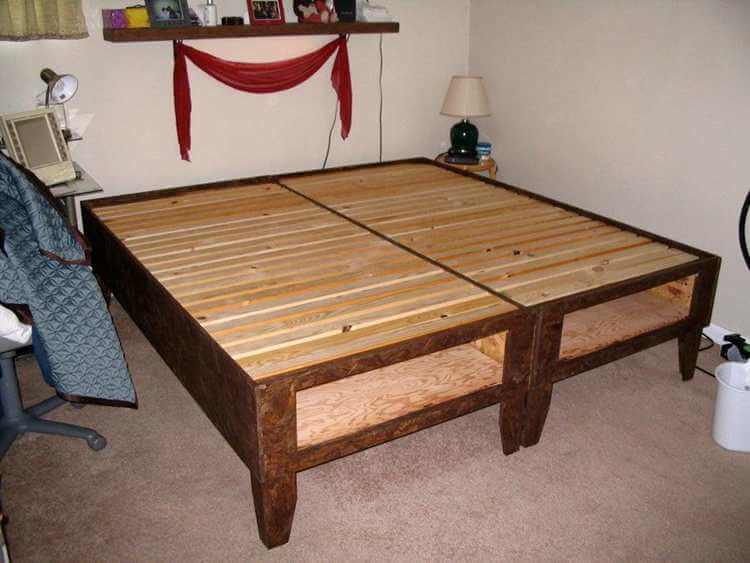 This DIY storage bed is one of the best ways to save space in kids' rooms. Nothing can be more frustrating than when your kids can't find the toys they are looking for because their stuff is scattered all over the room. The shelving on this DIY bed doubles as a place to store those toys and books so your little ones will always know where to find what they need. You can make the frame, stain it and decorate it however you want, or leave it natural if your kids prefer that look. Once you're done, the best part is that you have a sleek piece of furniture that doubles as a place to store toys or even personal items.
DIY Storage Bed
This DIY storage bed is one of the best ways to save space in kids' rooms. Nothing can be more frustrating than when your kids can't find the toys they are looking for because their stuff is scattered all over the room. The shelving on this DIY bed doubles as a place to store those toys and books so your little ones will always know where to find what they need. This DIY storage bed is a great way to maximize your kid's room space. It holds all their toys and keeps them organized. The bed can be easily disassembled and rebuilt if needed.
Twin Bed Frame With Storage DIY
This bed is super stylish and ideal for small spaces. It features a large storage drawer on the side, a mid-height headboard with lots of storage space, and a low-profile footboard. The Twin storage bed is a great idea for the modern home. This DIY project includes a platform for your mattress and two drawers for extra storage. The assembly instructions are very detailed, making it easy for beginners to complete this project. This bed frame has a base that's easy to assemble and offers storage space in the top drawer for books, games, or whatever you need to stow away. It features four sturdy drawers, allowing you to keep extra linens handy when guests pop by.
DIY Queen Bed With Storage
This DIY Queen Bed With Storage is perfect for small spaces. Making this bed is super easy and doesn't require any fancy tools. You can recycle old wooden crates or make some to fit your size needs. Plywood slats hold the mattress up, giving you lots of additional storage. This queen bed with storage is an easy and affordable project that anybody can do in no time. It features wooden crates, painted white, attached by a plywood sheet. You will need three crates for each side of the bed frame, four to six crates for the headboard, and one for the footboard.