Squat toilets were a great invention, and ancient Romans even used them. They provide ease while sitting on the commode and the best possible angle for better elimination. They also help stave off some symptoms of hemorrhoids, reflux, constipation, and other digestive issues by helping users align their knees below their hips in a squat position. So if you're willing to make some useful squatty potties by yourself and looking for a starting point, then these DIY Squatty Potty ideas will be the best option. You can easily make toilet footstools that gently elevate your legs and hips to align your body for easy, complete elimination.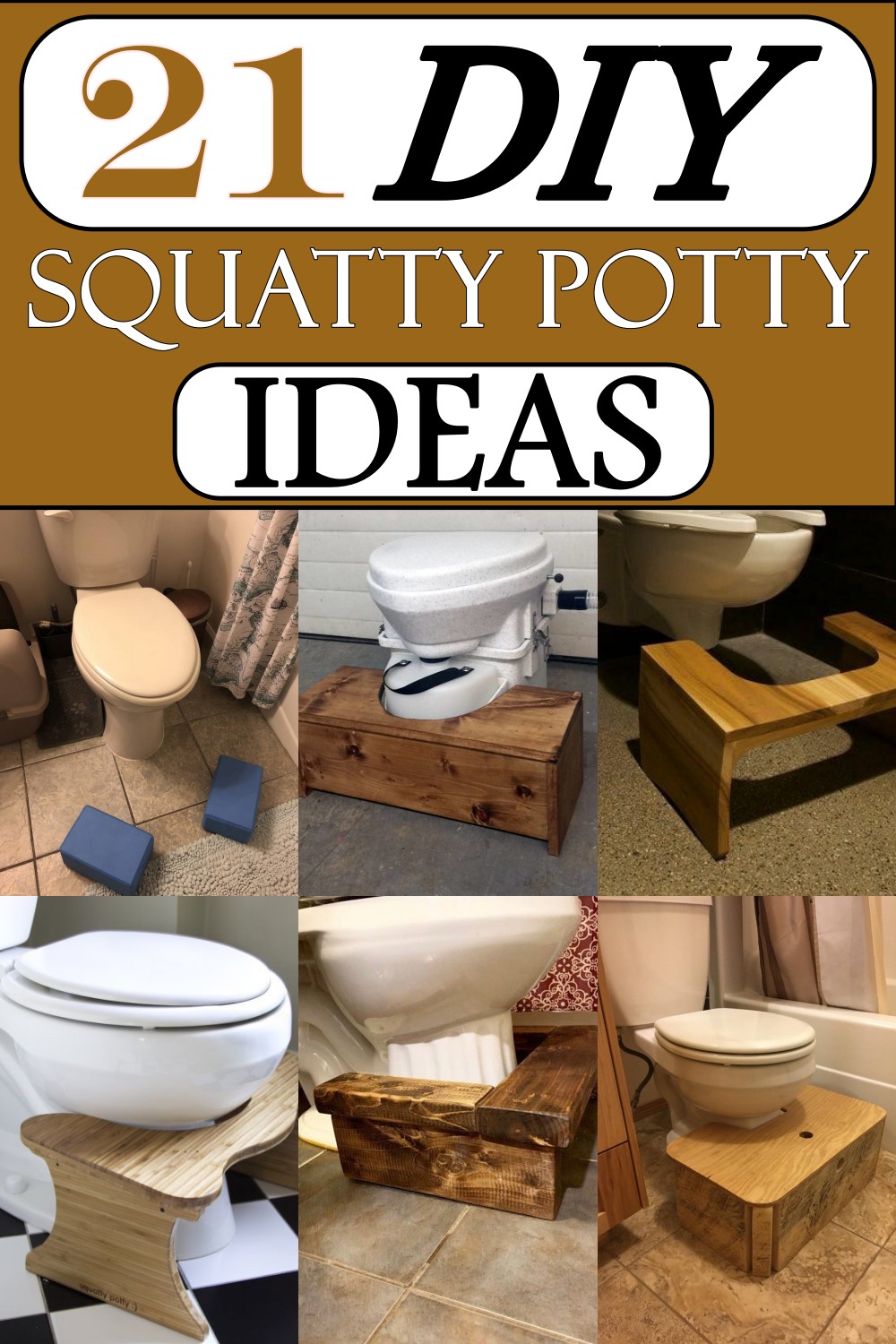 There are plenty of reasons why you might need a footstool. Perhaps your feet don't quite reach the ground, or maybe you've got one leg that's a little shorter than the other. Footstools can be very helpful in solving these sorts of problems, and they're also great if you want somewhere to rest your feet while sitting in a chair. But stools can be costly, especially when made of natural wood. That's why DIY squatty potty ideas can be a great alternative—they'll give you the same function without the high price tag! If you've got some good old scrap wood lying around and you're ready to get crafty, here are some ideas for putting it to good use.
Advantages of DIY Squatty Potty Ideas
You can save a lot of money by making your squatty potty ideas. This is an easy project that will take you less than an hour, and the materials are affordable.
There are several benefits to making your squatty potty ideas:
You'll get the best possible squatty footstool up to your needs, making your eliminating experience easier.
You can save a bunch of dollars to spend on premade squatty potties from the store.
Essential Tips To DIY Squatty Potty Ideas 
DIY squatty potty ideas are a great way to save money while giving your bathroom a fun and fresh look. If you want to keep the cost of your DIY squatty potty ideas down, consider using some of these simple tips:
Consider using reclaimed or recycled wood instead of brand new lumber or plywood.

Look for ways to reuse other items from around the house instead of buying new ones for this project (e.g., old wood scraps from another project).

Look for cheap tools or supplies at thrift stores or yard sales before choosing between multiple options priced higher than what you have planned on spending on them!
DIY Squatty Potty With Style
Squatty Potty Stool (a low-cost toilet seat alternative) is the most effective and comfortable way to poop! Squatting helps you poop better and faster and avoid the mess by elevating your feet so you can naturally open your colon. It opens up the kinks in the colon, creating smooth elimination—for those unaware, squatting is the natural way of doing this. This DIY squatty potty is one of the best-designed pieces I have seen. The project involves using extensive woodworking tools to cut and shape the pieces you will use to make it. Once finished, this squatty potty can be placed anywhere in your home, and no one will ever guess it's actually "that" kind of potty!
DIY Squatty Potty
This Squatty Potty is the perfect addition to your bathroom. Made with wood and a cork inlay, this potty is easy to assemble and use. With its angled design, you can poo your best with ease! If you have experience with woodworking, the DIY Squatty Potty is a fun project to try. This squatting stool is made from African mahogany and cork inlay, so it's not only beautiful but also comfortable to use. Once completed, it will be a valuable tool whether you are taking care of your babies or just trying to get acquainted with squatting for healthy elimination (it's easy!)
How to Use a Squatty Potty
This DIY squatty potty provides effortless and comfortable toilet posture. It allows you to sit on the toilet comfortably, aligning your hips, knees, and ankles with your torso. The correct position prevents stress on your body, so you can eliminate it effortlessly without straining or worrying about hemorrhoids or other joint issues caused by sitting incorrectly. The squatting position has also been deemed safe for people of all ages and medical conditions. It is the modern answer to eliminating bathroom squatting. It features a step stool that elevates your legs while on the toilet, encouraging complete comfort and positioning the body to eliminate effortlessly, naturally, and quickly.
DIY Wooden Squatty Potty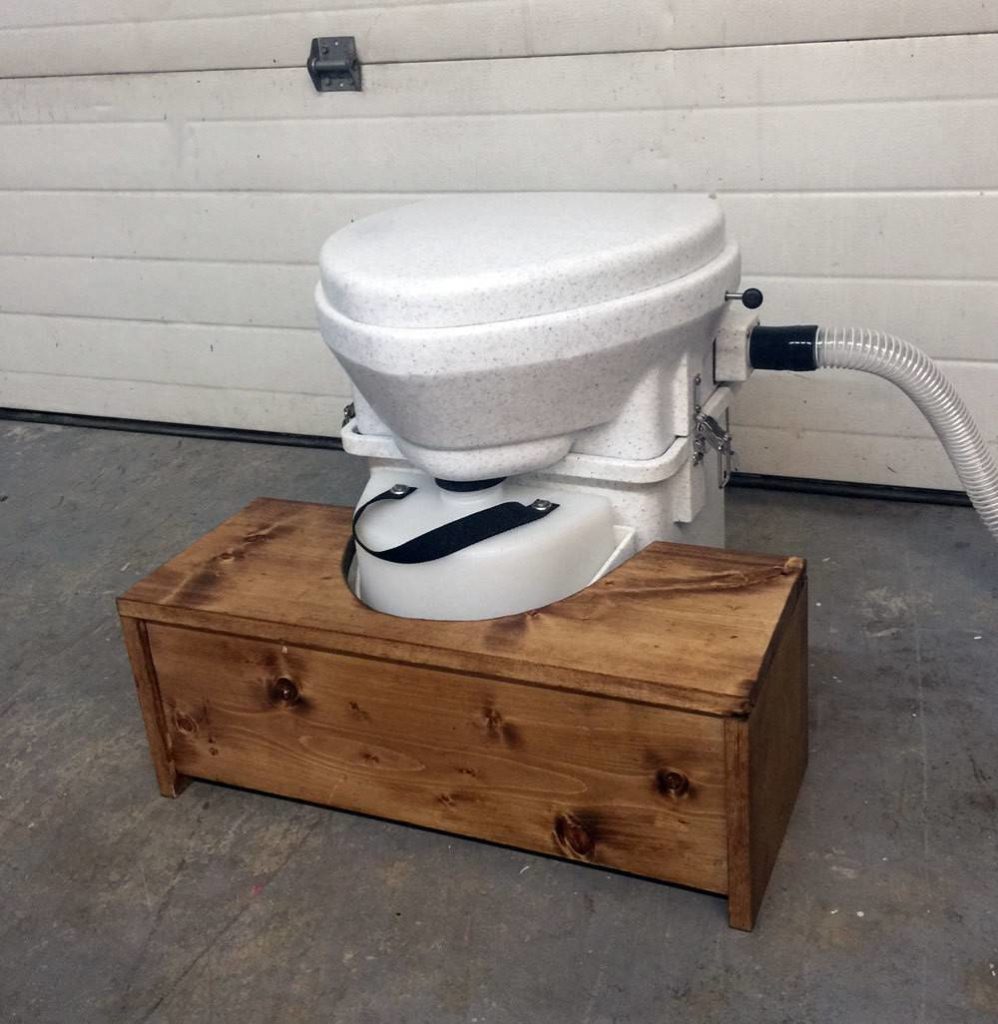 A simple, creative and inexpensive way to upgrade the look of your bathroom with a large wooden squatty potty. This DIY Squatty Potty is easy to build and necessary for anyone who wants a healthier way to go to the bathroom. The design raises your legs while sitting on the toilet, allowing for better elimination and an improved posture. It is easy to make and requires no tools, just an electric drill. The finished product includes two pieces that fit together, so it's simple to take apart, store, or transport anywhere.
Easy DIY Squatty Potty
Squatty Potty is just the right height for optimal comfort, and you can create one using this simple guide. It includes the necessary tools, materials, and measurements to have your own DIY Squatty Potty by the time it's over! The DIY Squatty Potty is designed for comfort, effectiveness, and hygiene. You can do the work yourself without having to be an expert. This squatty Potty will make your bathroom experience convenient for you. You can build it in just a few hours with simple hand tools from your local hardware store.
Fancy Wooden Toilet Stool DIY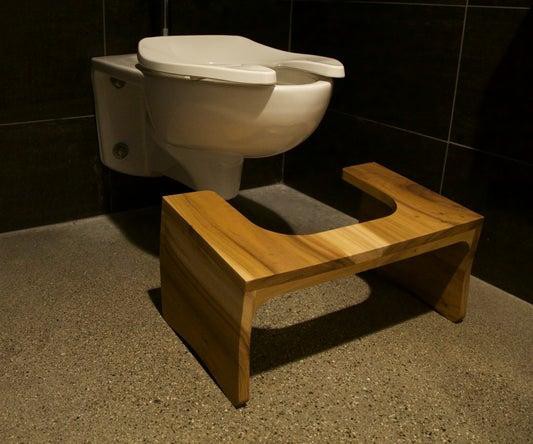 This portable toilet stool does not require any plumbing or electricity. It is easy to disassemble and clean as well. Making this toilet stool is also not very hard, but it's easier if you have some woodworking knowledge. Made from beautiful natural wood, this fancy toilet stool is one of the best DIY squatty potties to use at home. It will give you 100% comfort while using the loo, and it looks great too. The making process is a bit easy to follow but more manageable if you have experience with woodworking. It is just perfect for every bathroom. You will get all the comfort you need when using the toilet at a very affordable price.
Squatty Potty From Pallet Wood
A squatty potty is a product that helps you manipulate the position of your body when going to the toilet. Some people might find this contraption a bit weird, but it makes wiping more efficient and proper. With this homemade design, you can make one yourself out of pallet wood and other materials like plywood or MDF. This is a perfect idea if you are looking for a great DIY project from pallet wood. Make yourself comfortable with this squatty potty by converting the old wooden planks into a modern design that can help you relieve your body daily.
Best Squatty Potty Alternative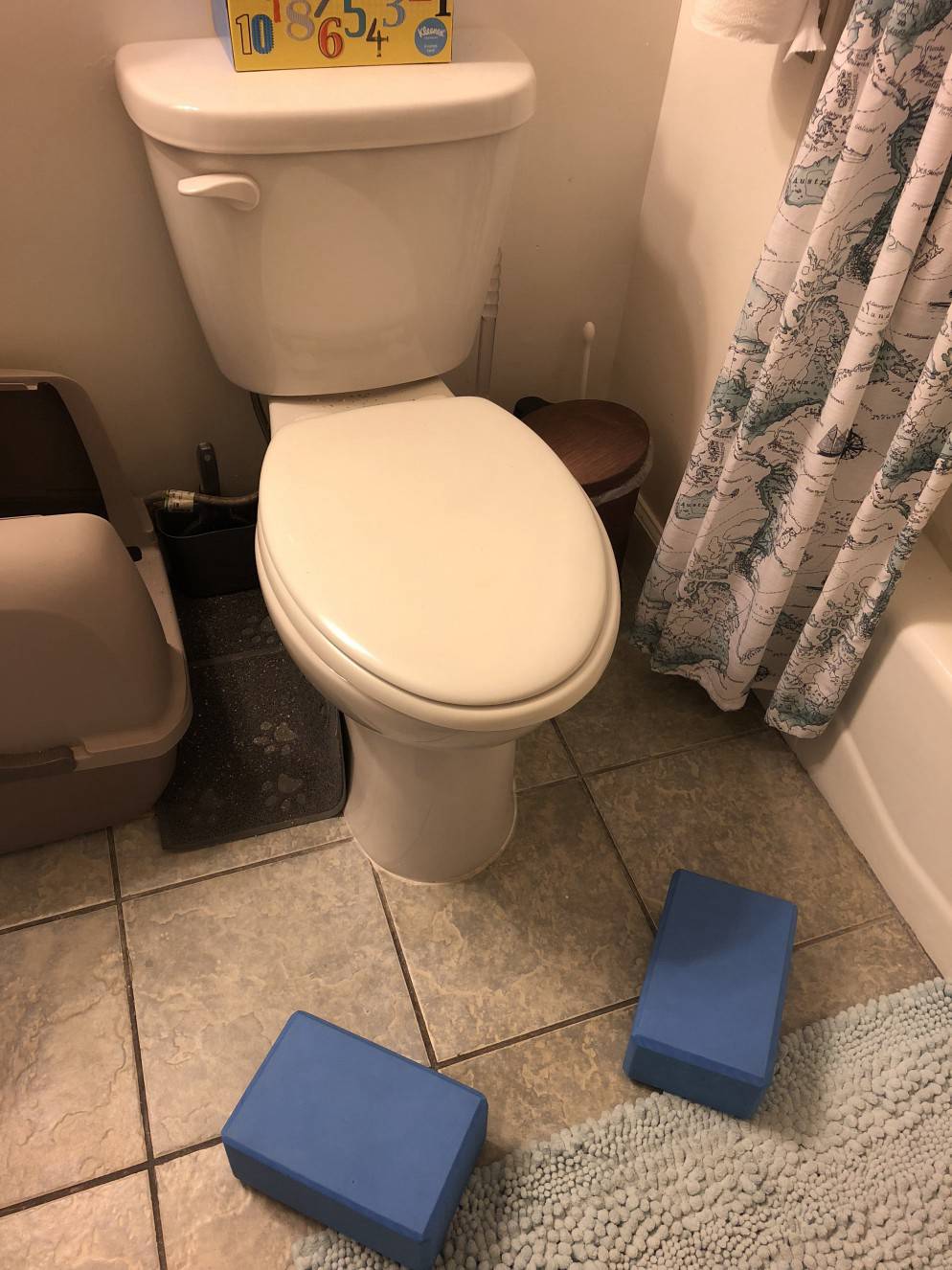 This is it if you're looking for an alternative to a squatty potty. This bamboo yoga block is designed to raise your feet off the ground at a comfortable height and position, allowing you to achieve the perfect squatting position. Made from eco-friendly bamboo, this squatting platform is eco-friendly, easy to clean, and easy to store when not in use. It's great for anyone with limited mobility who can still perform a basic squat or when one wants extra height while sitting on the toilet seat or lifting out of a wheelchair.
You can also See: DIY Shower Curtain Ideas 
Sleek Squatty Potty Design Idea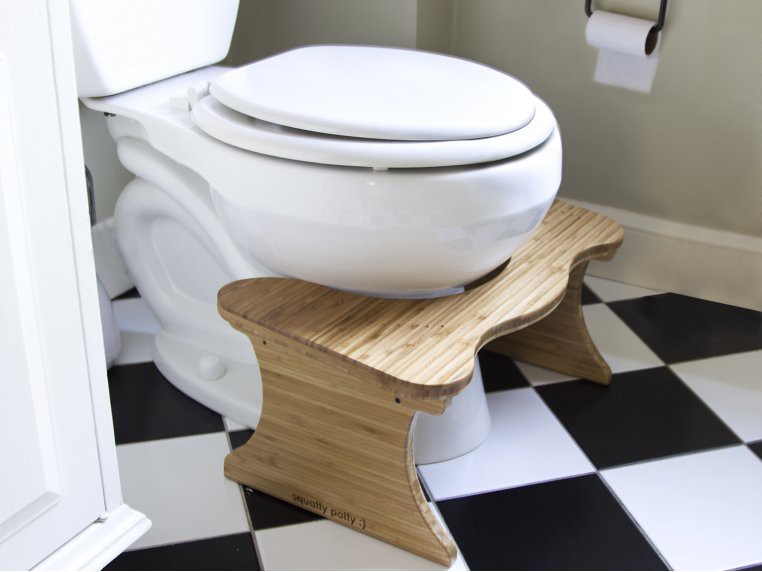 Are you tired of squatting down to reach the toilet bowl? If you have the budget for it, this wooden design will help you get rid of that awkward going-down-to-the-ground position. You can try this if you're a DIYer with wood crafting skills. This Sleek Squatty Potty is a great design idea if you want something unique. You can try asking your family and friends if they are professional woodworkers who could make this for you. The Squatty Potty moves your body into the perfect natural and complete elimination position.
How to Build a Potty Step Stool
Potty training is fun and messy! But with a simple wooden step stool and a few tools, you can solve the problem of where to stand while your toddler does their business. Make this beautiful little potty step, and watch as your little one takes pride in their independence. This is a perfect DIY project for the father. The potty step stool is easy to make, and it can be used as an item of furniture in the house or a potty training device. The creator uses pine wood, but you can use whatever you want according to your needs. This lightweight and portable potty can be used for outdoor or indoor use. If you are looking for an excellent potty step stool, this is the one to get!
DIY Squatty Potty For Kids
Are you worried about teaching your kids the proper way of doing Potty? You'll love this easy and fun DIY squatty potty tutorial that teaches how to create a squatty potty specifically for your kids. It is pretty simple, quick, and inexpensive to make. Squatty Potty for kids, who doesn't like them? They are fun and attractive. They will surely make your kids look forward to using the toilet. For those who do not know what a squatty potty is, in simple terms, it is a stool attached to your toilet. It helps your child learn how to use their feet when sitting on the Potty. And we all know how important it is to teach our children how to use their feet from an early age.
Wooden Squatty Potty Toilet Stool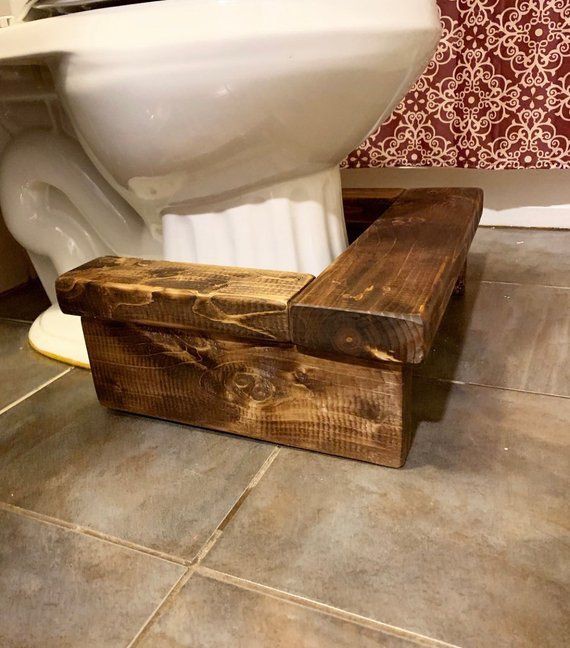 This squatty potty might be a good idea if you want your children to develop good bowel habits and healthier pooping. This is made of salvaged wood, but you can build one like this or even more attractive if you want to use your creativity. This fantastic toilet stool puts you in a squatting position to allow gravity to do its thing, helping you take your time and be healthy simultaneously. Use this stool on your existing toilet, and you'll see a major difference in your pooping experience.
Squatting Toilet Stool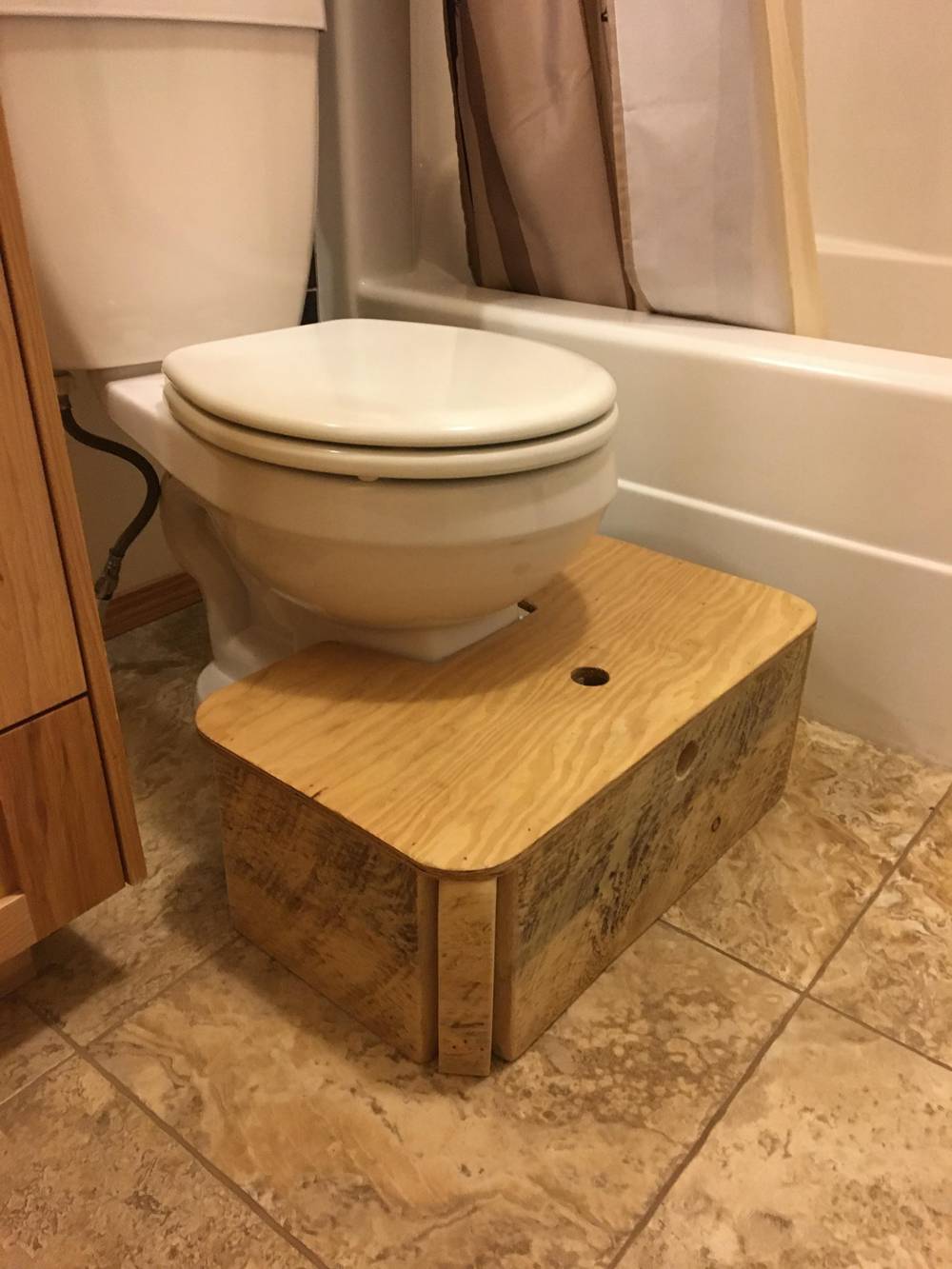 There's no place like home, and there's no better way to make your home smell sweeter, fresher, and safer than by installing this squatty potty. The squatty potty stool is a must-have for everyone. The ceramic toilet is made with everyone in mind. Its size, shape, and design will ensure that it is perfect for any family member who wants to get inspired to go potty. It is a simple exercise but also pays homage to traditional squat toilets used by billions of people worldwide.
Simple DIY Squatting Stool
This DIY project is perfect for you if you want to start using a squatty potty right now. It's easy to build and even easier to use. The design is similar to most toilet designs, except for a hole that makes it easy to use while squatting. This stool will make your life way easier from now on! This DIY squatting stool is an excellent addition to your bathroom, especially if you're working on improving your squatting ability. The simple construction requires only essential tools and materials and can quickly be completed in a single afternoon.
Simple Squatty Potty Idea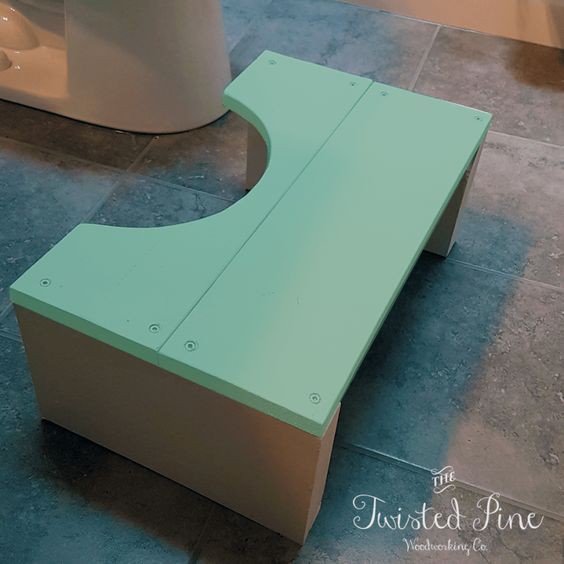 Having a regular toilet in your own home is excellent. But it doesn't offer the same benefits that a simple squatting toilet can provide. This is a simple squatty potty idea that you can DIY at home. It uses a plastic storage bin and plywood. You will also need screws, a stapler, and wood glue. With those materials, you can make a tremendous homemade squatty potty. This simple squatting toilet can be made in just three steps; after doing this, you'll never have to suffer from constipation or hemorrhoids again! This DIY is a fun and easy project that can be completed in less than an hour.
DIY Footstool For Toilet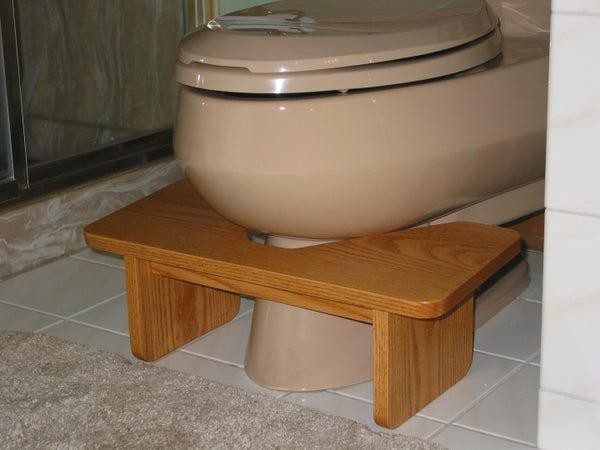 Do you need a small squatty potty to be placed inside your toilet? Have no time to get off your toilet seat? Then this DIY footstool for your toilet is just perfect for you. Make it out of wood, which will serve as a footrest for your bathroom activities. You may also use the leftovers to make the seat or backrest of your favorite armchair in the living room. This DIY footstool for the toilet is perfect for those looking for a squatty potty without taking up much space in their bathroom. It's easy to make and requires only a few supplies you may already have.
How To Build A Squatty Potty
Anyone can build this squatty potty in a few hours. It's made from inexpensive materials and is small enough to store under the sink when not in use. If you are looking for a small, portable way to improve your bathroom, try this DIY project. The squatting stool is great for anyone with limited space in their bathroom or people who live in an urban apartment setting. The process is also straightforward to follow. This DIY squatty potty project helps solve these problems by giving you a comfortable position while going to the bathroom.
How To Build Cheap Squatty Potty For Your Child
Owning a potty is one thing but using it daily is another. The squatty potty makes using the toilet more straightforward, especially for kids with little legs and the elderly who have trouble bending over. The cost of a squatty potty can be expensive, and this DIY project will show you how to make your own at home for cheap. The Squatty Potty is an award-winning stool that assists in the elimination of waste from the body by helping you squat rather than sit on a whole-size toilet. The creator of this DIY project will show you how easy it is to make your squatty potty for your kids at home.
DIY Squatty Potty
This DIY Squatty Potty project is the perfect solution for uncalled-for toilet-related accidents and back pain. The Squatty Potty is designed to fit over any standard toilet and adjust to your comfort level with an adjustable height range of 9" to 14". The Squatty potty improves your body's natural elimination posture, giving us all the proper alignment we need on the toilet when sitting. With a bit of know-how and a little time, you can transform your toilet into a comfortable, healthy, stress-free bathroom experience we all deserve!
How To Make A Kids Potty Stool
This tutorial is designed to help parents who want to build their potty stool. You will learn how to make a squatty potty stool where you can sit down and urinate, just like adults. To make it easier for them, turn the side of the stool facing them at an angle, so they don't have to get on their knees when using it. Not every day do you have to deal with potty training a toddler or a young child. However, if faced with this situation, you might consider making your toilet stool for your kids.
Small Squatty Potty Idea
Do you have a friend who is interested in using a squatty potty? This is an ideal gift for new parents facing the same struggles we did. The baby will love this squatty potty, which will look lovely in your bathroom. This product solves the space problem of your bathroom by slanting the edges so that it can be placed anywhere in your bathroom, even in a corner. This product ensures comfort and safety for your child as it will help them prevent unnecessary accidents. This is excellent if you want to save a lot of space inside your bathroom but not make the squatty potty too small. A regular size toilet can be placed beside this.