Think of your sink as more than just a way to wash your hands. A sink can be an element of style, function, and design in any room of your home. If you're looking for a way to spruce up your kitchen or bathroom, why not try one of these DIY sink projects? If you want to change your sink, you've come to the right place. Sinks are a universal fixture that can go from modern and minimalist to rustic and romantic—no matter your decorating style, there's a DIY sink project for you. From personalizing an existing sink or installing a new one in your home, these DIY projects will help transform your bathroom.
DIY Sink Projects For Everywhere

Get ready to fall in love with your sink again with these 20 DIY sink projects that make even the most basic sinks feel like a glamorous addition to your kitchen! It takes creativity and the right supplies when you're looking to give your bathroom a new look. Since sinks are an integral part of any bathroom, they're a great place to start when you want to make changes. With a few materials and some elbow grease, you can create a sink that's just what you're looking for!  Save money and customize your kitchen sink with these easy DIY projects.
Advantages Of Handmade DIY Sink
DIY sink projects are a great way to save money and get the look you want in your bathroom. If you're thinking about doing a DIY sink project, here are some advantages:
You can save money.
You get to choose the design and finish.
It's fun!
You can do it yourself in just a few hours.
You learn much about plumbing and other skills that will help you with future projects.
DIY Concrete Sink
You can never go wrong with concrete. Want a sink that is made entirely of concrete? This project is for you! Concrete sinks are durable, lightweight, and beautiful. These DIY concrete sinks create a statement in any modern home. With their unique look and feel, these sinks are great for homes that want to stand out. Choose from various shapes for your sink and install it wherever you'd like! Concrete is an eco-friendly material, which makes them perfect for this product. This concrete sink would look great in the kitchen or bathroom of your modern home.
How To Build A DIY Outdoor Sink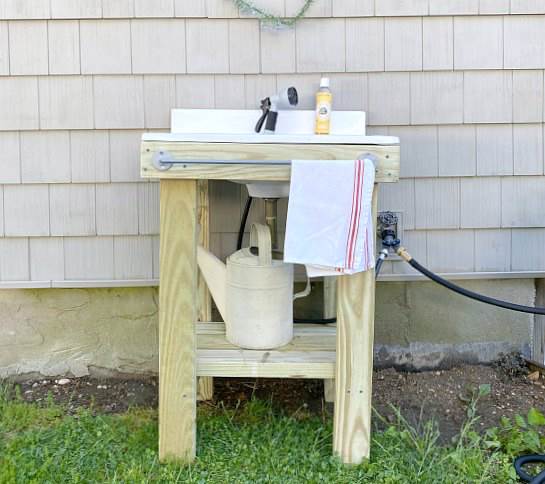 This DIY Outdoor Sink made of recycled and pressure-treated materials is a great addition to your garden. It's easy to clean, beautiful, and durable. This can be used for washing hands after gardening or cleaning up after a BBQ. To build this outdoor sink, you'll need pressure-treated boards, a bathroom sink, a hose splitter, and a galvanized watering can. Build this DIY outdoor sink to make the most of your garden space. It's easy to clean and keep while adding a decorative touch to the space.
DIY Portable Sink
With the demand for portable sinks rising, here is a DIY project that might interest you. What do you think about this DIY Portable Sink? How would you jump in? You can find this DIY project on the internet. It's a portable sink kit that is easy to assemble and use; it's lightweight and durable. You can use it in your household, office, or camping trips. This DIY project can be done in a day or less; follow the instructions and enjoy!
DIY Low Budget Concrete Sink
This concrete sink project is a great way to save money and make your own custom design. You will learn how to make a concrete sink using plasticizers, dye, cement, and other materials that create the perfect mix of color and durability. This DIY project is sure to enhance any room with its attractive appearance. This video teaches you how to make a low-budget concrete sink using standard materials and simple construction methods. You can get started with this project and enjoy a unique look in your bathroom or kitchen.
DIY Field Sink
A field sink is one of the most important accessories for camping and other outdoor gatherings. While finding a field sink at home is easy, it can be quite inconvenient if you like to go out with your family. Why not make your own field sink? It's portable and doesn't take up too much space so you can use it anywhere. This field sink is made from recycled materials such as milk jugs and water bottles. It's portable and doesn't take up much space, which makes it perfect when camping or traveling in the wilderness. You can fill it with water and use the attached faucet to wash your hands.
You can also see: DIY Camp Kitchen Ideas 
Outdoor Sink DIY With Wine Barrel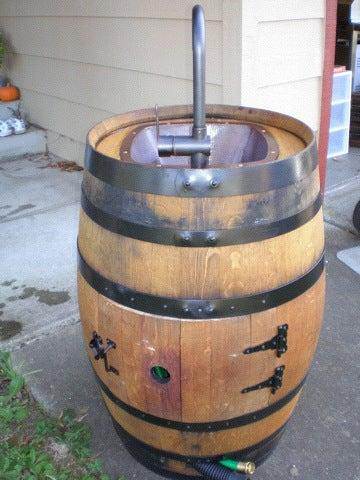 Keep your cool when gardening and yard maintenance with a DIY outdoor sink. This DIY project will add beauty and functionality to your garden, patio, or deck. This DIY outdoor sink project is a unique addition to your outdoor space and an opportunity to get creative with what you have or can find at your local hardware store. It will add beauty and functionality to your garden, patio, or deck. Go ahead and get creative with what you have or can find at your local hardware store.
DIY Concrete Sink
A DIY concrete sink project is not complicated and doesn't require expensive tools or equipment. Learn how to make one in this video that shows you the steps, including pouring a base, adding color and texture, placing drain fittings, and installing accessories. This homemade sink can be used for various spaces in your home, including the utility room, laundry room, and bathroom. The DIY stone sink is durable and can last you for years to come. Whether you're interested in creating a unique countertop, vanity top, or sink for your laundry room, concrete is an excellent option due to its durability and versatility.
DIY Stainless Sink
This stainless steel sink is an easy project, no matter how you slice it. You can build your own custom under-mount stainless steel sink, even if you haven't built anything before. All you need is some basic tools, patience, and this video course by DIY with Mikey! This stainless steel sink practically builds itself. You can even purchase most materials at your local home improvement store, some of which may come from your house store!
Outdoor Garden Sink DIY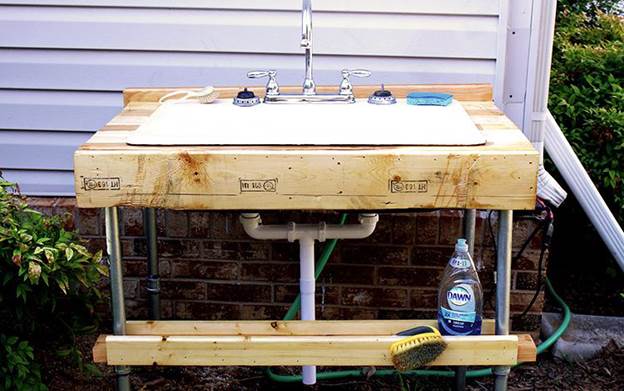 Are you a gardener and need an outdoor sink for your garden? Or do you like to have an outdoor activity center for your family? If so, then this DIY project is good for you. It's convenient, easy to build, and a great addition to your home or yard. Follow these instructions to build it easily, then enjoy the fruit of your DIY efforts! You don't have to strain yourself looking for water when you need some for your garden; follow these steps to build this sink and make gardening faster, easier, and more convenient.
DIY Kitchen Sink Installation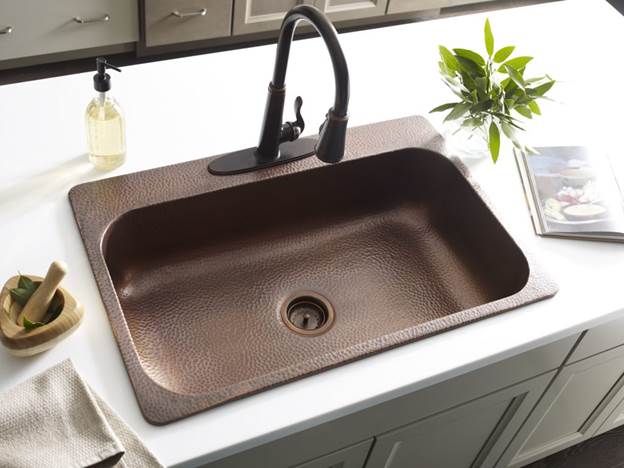 You can install a new sink with ease. With the right tools and some elbow grease, you can install it in just a few hours. Installing a new sink in your kitchen is a great way to update and improve your kitchen or the perfect way to start building one from scratch. You can DIY a sink installation just like this, and with the right tools, materials, and supplies, you can install it in a few hours. From getting the measurements right to keeping things level as you install it, this tutorial will show you what you need to know about kitchen sink installation.
DIY Sink From Plywood
This fun and the creative DIY project can be completed in no time while still being affordable. You'll need some plywood, a few nails, a hammer, some adhesive, and some paint for your finish-up. This is an excellent project for anyone with some woodworking experience; all you need is interest, practice, and patience. This is the perfect project for anyone with some woodworking experience who wants to save money and dive in to do it themselves. This DIY sink is so easy to make you'll be proud of your handy work!
How To Build An Outdoor Sink
When it comes to outdoor space, there are few things more useful than a sink. It's an indispensable part of any outdoor kitchen or sitting area, and they're not that hard to build! This DIY outdoor sink can be built on a weekend and is perfect for washing your hands, face, or dishes outside. It's big enough to fit all the dirty items you need to wash, yet small ENOUGH to make it easy to transport. This outdoor sink is perfect when you don't have a water line available close to your outdoor kitchen.
DIY Camp Sink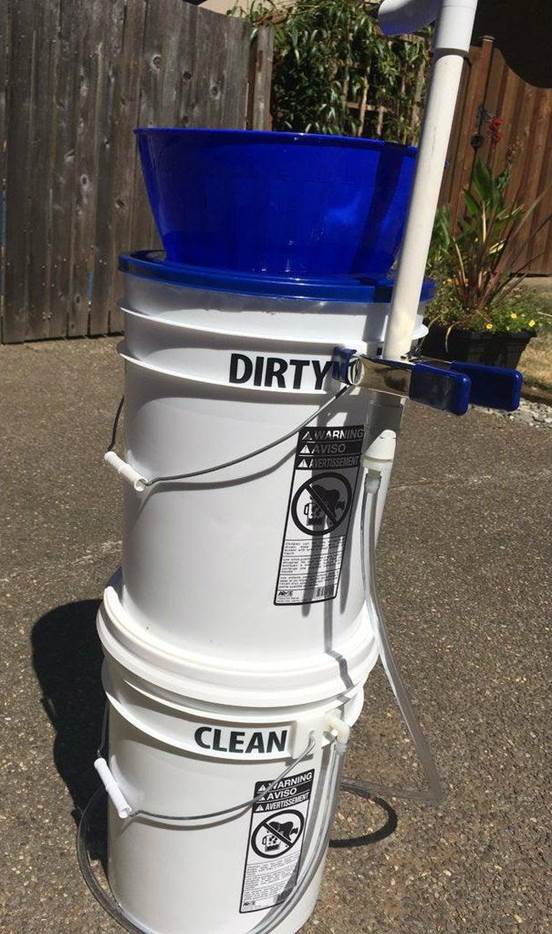 Do you love camping and hiking but hate using the traditional toilet in campsites? This DIY camp sink is perfect for you! Made from buckets and popcorn bowls, this sink can be used when needed and easily stored away when not in use. This project is that it can be used just when needed and stored away when not in use. This portable sink is perfect for camping enthusiasts who want to get away from the standard toilet. It's great to have on hand when you need to wash up, brush your teeth, or even fill up water bottles. This project can be used only when needed and stored away when not.
DIY Toilet Top Sink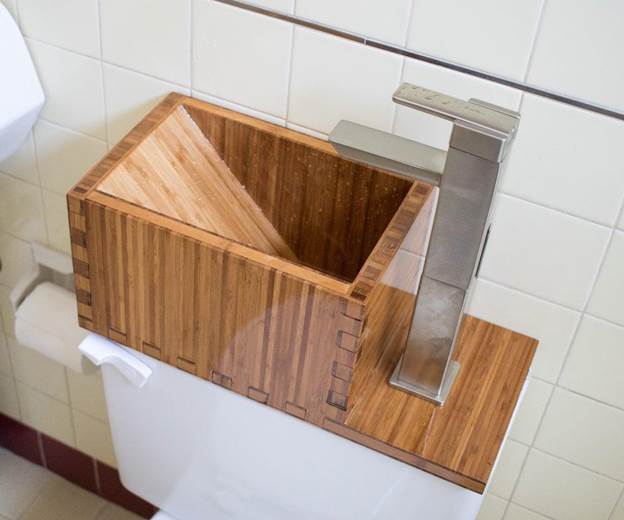 It's time to take up a new challenge. Do you want to make your toilet top sink? This project will bring your bathroom decor to the next level while reducing water waste. With just a plunge router, brass compression tee, and ply-boo sheet, you can create a functional piece that will improve your bathroom décor while bringing down your bill and boosting efficiency. This easy DIY toilet top sink is perfect for those who want to save water while they wash their hands or brush their teeth.
DIY Plastic Hand Wash Sink
Looking for an easy way to improve your kitchen or bathroom? DIY a sink by following this simple project guide. Installing a hand wash sink is easy to give any kitchen or bathroom a professional look. By creating your sink, you can ensure that everything is exactly how you want it and will be, hands down, the most comfortable thing ever. The best part is you can build this in just a few hours. You only need basic carpentry skills and the perfect material for your dream sink. You'll be able to create a new sink in a few hours and enjoy better organization in the kitchen or bathroom.
Building A Modern Concrete Sink
Building a concrete sink is the way to go if you want to add a modern touch to your bathroom. This project will show you everything from preparing your materials, measuring and mixing the concrete, putting bricks, and finishing touches. A concrete sink is a very durable, sturdy, and lightweight item to have in your home. It has a modern look that is quite appealing to most people and won't clash with the rest of your decor. This tutorial is designed to help you create a beautiful concrete sink that looks great in any modern home.
DIY Outdoor Sink from Salvaged Materials
This small project is a perfect way to re-purpose leftover building materials, and almost anyone can do it with basic do-it-yourself skills. This outdoor sink is also a great gift for your gardening friends or a convenient wash station when working in the yard. The smaller size makes it useful for many purposes. If you have a beach cottage or cottage in the woods, this DIY sink is exactly what you need for picnics and parties—or even just for washing your hands before enjoying a meal at home.
How To Make An Oil Drum Sink
Building your own oil drum sink is a great option if you're looking to save money on breaking in a new sink and don't have room for a standard one. This piece is hearty, durable, and simple to build at home. This easy project will help expand your bathroom space and open up more areas for styling accessories while also being a conversation piece! This DIY project is easy enough to complete in just one weekend, saving you hundreds on the cost of purchasing an installed unit.
DIY Outdoor Kitchen Sink
This DIY outdoor sink is a great addition to your outdoor kitchen. Materials are easily found around your house and can be painted any color you like. The process is easy to follow and will give you a great base sink to use in your outdoor space. This DIY sink can easily add color and style to an outdoor kitchen. You can make it out of any leftover materials lying around your house; paint it according to your preferred color scheme!
How To Build A Rustic Plywood Sink
Build a rustic plywood sink that looks as good-looking as it is functional! This durable DIY project makes a great addition to your kitchen or workshop. After you've completed your rustic plywood sink, be sure also to check out this Rustic Kitchen Cabinet Ideas and other DIY projects to create the perfect rustic living space for your home. This easy-to-follow guide will show you how to build your own rustic plywood sink. You'll find step-by-step instructions, videos, and photos showing how to install the drain and faucet holes, plus learn tips for painting your finished project.