There's nothing more annoying than having a shower caddy that falls over every time you turn your back. With so many DIY shower caddy ideas available, you'll never have to worry about that happening again! Caddies are a great way to store shampoo, conditioner, body wash, and other toiletries in the shower. They allow easier access to these items while you're cleaning up. The problem is that they can be challenging to find or expensive to buy. Why not make your own version? Here are some ideas for simple DIY shower caddies that you can customize to fit your needs.
Homemade DIY Shower Caddy Ideas
If you are tired of simply throwing your hand wash and shampoo in a plastic bag, then you will enjoy these DIY Shower Caddy Ideas. From modern to ultra-stylish and calm, there is a shower caddy just waiting to be personalized by you! Shower caddies are not just for holding shampoo, conditioner, and body wash. They can also be used to store other essential items in the bathroom, such as jewelry, razors, toothbrushes, toothpaste, and so on. Jazz up your bathroom storage with these clever DIY shower caddy ideas. Some will make you want to throw out the plastic and invest in a new, modern shower trolley.
Benefits Of DIY Shower Caddy Ideas
DIY shower caddy ideas are a great way to save money and bring a personalized touch to the bathroom. Not only is it a fun project, but it also makes an excellent way to organize your supplies, making them more accessible when you need them.
Here are some of the benefits of DIY shower caddy ideas:
You can choose the size and shape that fits your needs best
You can customize it with your favorite colors and patterns
It's easy to clean, so you won't have to worry about mold or mildew
It's easy to install
1. Quick And Easy Shower Caddy
This quick DIY project will do the trick if you're looking for a simple, easy solution for organizing your shampoo bottles and other shower essentials. Using wire baskets made from metal hoops, these hangers can be used on an existing shower rod to keep everything in order. This simple tutorial shows you how to install a shower caddy on your bathroom wall with minimal effort and cost. Follow these steps, and you will have an organized storage space that makes it easier for you to get ready in the morning or evening.
2. DIY Shower Shelf
If you're tired of reaching for your shower caddy to get shampoo, conditioner, and soap, you can make your shower shelf using inexpensive materials. This DIY project will be fun for your entire family, but it's also the perfect way to save money by doing something yourself instead of hiring a contractor. All you need are essential tools and lumber from the hardware store, and you'll have an instant shower shelf built to last! This easy DIY shower shelf is a great way to add storage space and increase functionality in your bathroom. It's customizable, so it can hold whatever items you need!
3. How To Make A Shower Caddy
Shower caddies are great because they allow you to store everything you need in the shower, like shampoo and conditioner. A shower caddy can be used in any bathroom and is one of the most practical organizational tools you can install. It comes in a variety of sizes, shapes, and designs. They're also super versatile and can be used as a cosmetic organizer in the bedroom or bathroom. This DIY shower caddy will help you keep your shower clean and organized. This household hack will show you how to make a $5 shower caddy that's cheap and easy on the eyes!
4. DIY Corner Shower Caddy
If you're all about having a small but functional bathroom, then you know how hard it can be to store your stuff. The problem is when you have a shower and no additional storage space, this is where corner showers come in handy. Not only do they save up on space, but they also offer extra storage. This DIY corner shower caddy is a great project to make if you're looking to maximize the storage capacity of your bathroom. You'll learn how to build this handy rack in no time, and once it's finished, you'll have all of your bathroom essentials at arm's length.
5. How To Make A Shower Caddy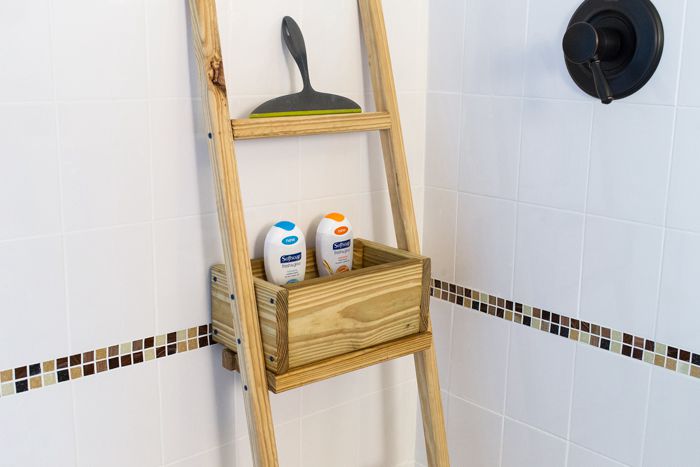 This tutorial will show you how to build a shower caddy. It's great for those who want to do their own DIY projects but don't have the tools or equipment. This could be an excellent addition to any bathroom, especially if you love the prison look. This is a beautiful set of instructions for how to build a shower caddy. I know there are all kinds of store-bought ones, but they are not always perfectly designed or the size you want. Making your own allows you to customize and design it to your needs—and those of your family!
6. How To Make Your Own Shower Caddy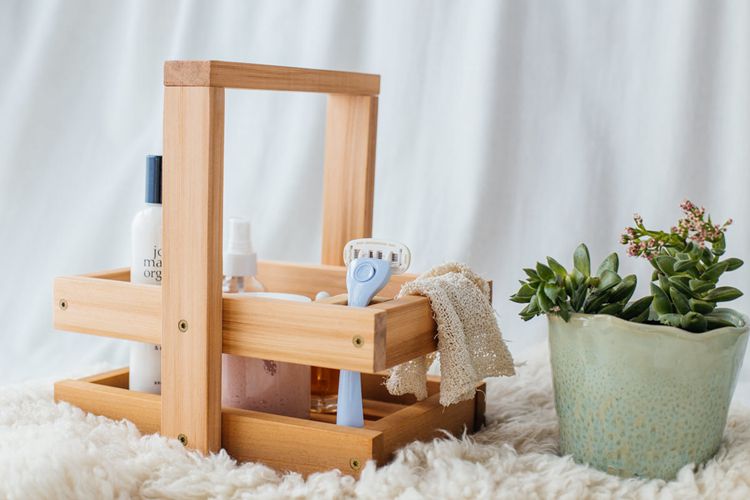 You can make a caddy that works for you and your bottles. It's essential to take the time to plan what size will fit your collection and needs, but once you figure it out, it is simply brilliant! Shower caddies come in many shapes and sizes, but you can make your specifications to meet your needs. Measure the dimensions of a shower caddy you currently use or want to make and consider ways to customize your design so it can accommodate all of your products. You may want to include drawers or shelves in the design process so everything will fit nicely without using lots of shelf space.
7. How To Sew A Shower Caddy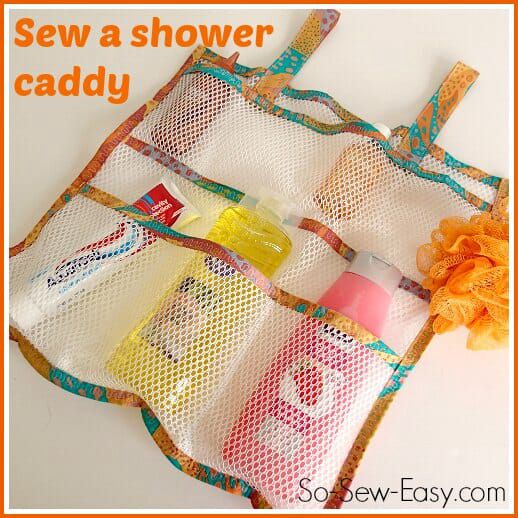 This shower caddy is perfect for you if you love to pamper yourself and make sure you are ready for a fun day at the beach or pool. It allows you to house up to six or more bath accessories in one place so that nothing goes missing. The best part is how easy it is to make: follow these sewing instructions and get creative with your color choice! This is a great shower caddy that you can make at home. You can have a lot of storage for your bathing accessories, and it won't cost you much. In no time, you'll be on your way to having an easy and handy place for storing all your bath accessories in the shower or bathroom or even as a towel rack around the house.
8. How To Make A Chic Bath Caddy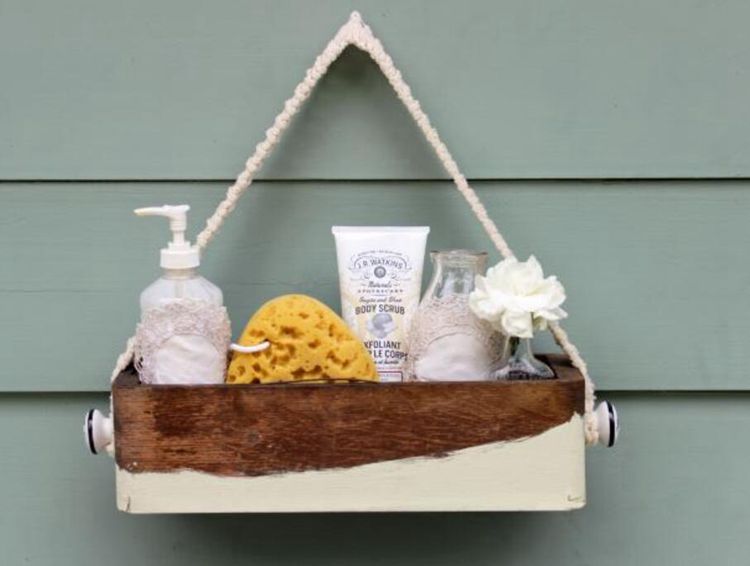 Do you find yourself looking for a small item in your bathroom? Do you get frustrated because it's always hidden somewhere? Why not make a simple bath caddy that you can place next to the sink? It's a great way to store soap, razors, and more! It's time to create a chic bathroom caddy. This DIY project is the perfect way to store all your necessities near the tub or shower, ensuring that you're organized wherever you choose to bathe or shave. It's easy to make and install yourself, which means you can have a stylish and functional accessory in no time at all. This easy DIY project is a great way to give your bathroom a little makeover.
You can also see: DIY Shower Plans 
9. Gallon Jug Shower Caddy DIY
This Gallon Jug Shower Caddy tutorial is perfect for creating a rustic and natural feel in your bathroom. You can create this shower caddy from a gallon jug with a few simple supplies. This gallon jug shower caddy will help organize all your bathroom needs. With this practical and cute DIY project, there is no need for you to clutter up your shelf with different bottles. You only need simple tools, a marker, and an x-acto knife. It's that simple!
10. How To Make A Bath Caddy
Your bathroom needs a hand towel, but where do you put it? Maybe you're just not sure. Well, this bath caddy will solve your problems by providing a place to store your towel and other essentials. You can mount this caddy to the wall or place it on the back of the toilet. This project is a great way to organize all of your items in the bathroom. The book holder is perfect for reading material, while the drink holder keeps your favorite drink close at hand.
11. Walnut Bath Caddy DIY
This is one of the most fun DIY projects you can do to spruce up your bathroom, and in this tutorial, I show you exactly how it's done. This bath caddy is simple yet elegant and an excellent accessory for any tub. The best part about this project is that very little time will be taken on your behalf as everything goes smoothly without any complications. This is a straightforward video tutorial on how to make a caddy that fits your bathtub. The idea of using wood here is to give it a natural feel so that it will blend in with the rest of the bathroom decor.
12. How To Make A Bath Caddy For  $10
If you are a beauty fanatic on a budget, you should try this DIY project. It will save you money; the best part is that it's straightforward to make! Now you can have a stylish bath caddy under $10 and easy enough to assemble in a few hours. This DIY bathroom accessory is easy to build and even easier to customize. You can use it as a linen holder for towels or even create a cabinet underneath it for more storage space. The result is a unique piece of bathroom art perfect for holding your shampoo, conditioner, and other bathroom necessities.
13. How To Make A Timber Caddy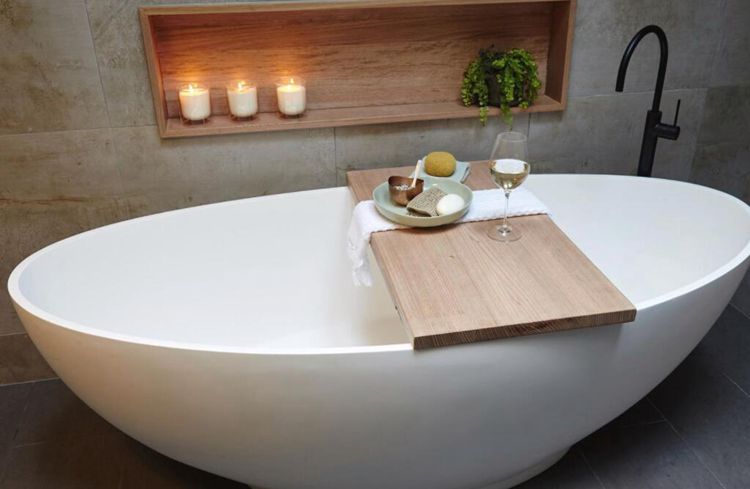 If you want an easy DIY project that looks great, then this is a simple caddy to make. This caddy can be made quickly, and with the wood you already have in your workshop. Adding some cup holders and a book holder to the caddy would be nice, but if you don't want to, it is not a must. You will need some time to make this simple but elegant bath caddy. It works perfectly and does not need much work to give you a perfect piece of furniture for your bathroom. This can be a great gift idea for any occasion.
14. Razor Caddy For Shower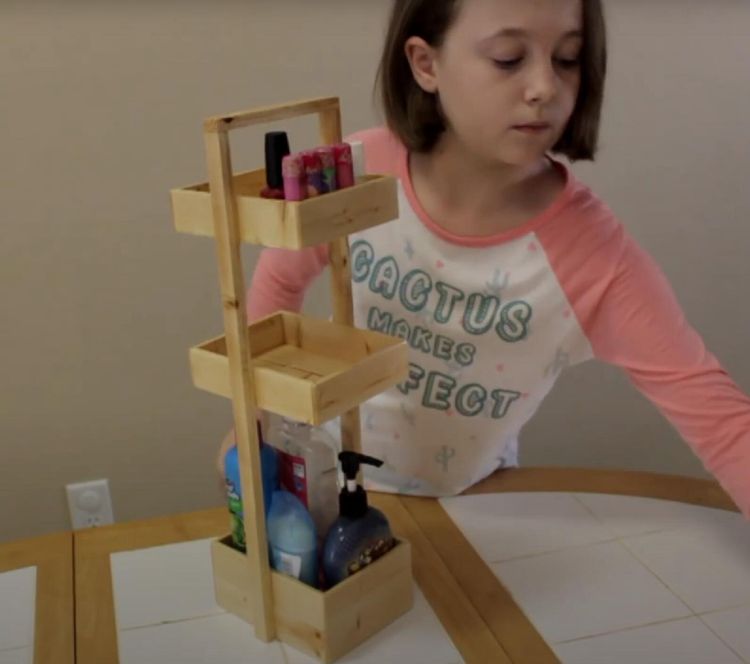 A great idea is a simple crochet caddy to keep your razor from falling into the tub. The tutorial will show you how it was made and how you can make one yourself. This caddy is perfect for storing your shaving sticks. It will give you a great place to keep your razor, soap, and shaving cream in the shower. Just remember to keep it dry since it will get wet on occasion. Make sure to crochet with love in your heart! It's simple to make and will significantly help your daily routine!
15. Shower Bottle Caddy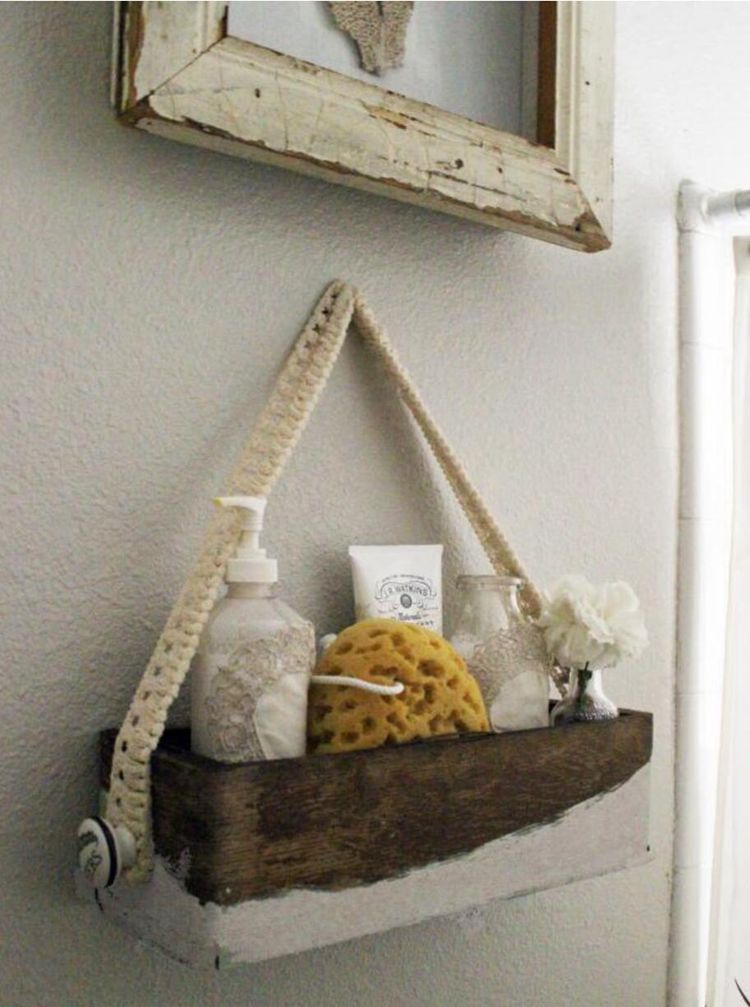 We all love our showers, but we all hate getting out of them and putting our stuff away. Well, I have a solution for you. This shower caddy is made from an old plastic bottle, scissors, and some wall hooks. Plus, it's cheap and easy to make! A shower Bottle Caddy is the perfect storage solution for your bathroom. Made from an old plastic rubber, this creative caddy hangs on the wall of your shower and provides a place to keep items such as soap and shampoo. It adds a pop of color while simultaneously making your life simpler. So simple you won't believe it!
16. Quick Shower Caddy DIY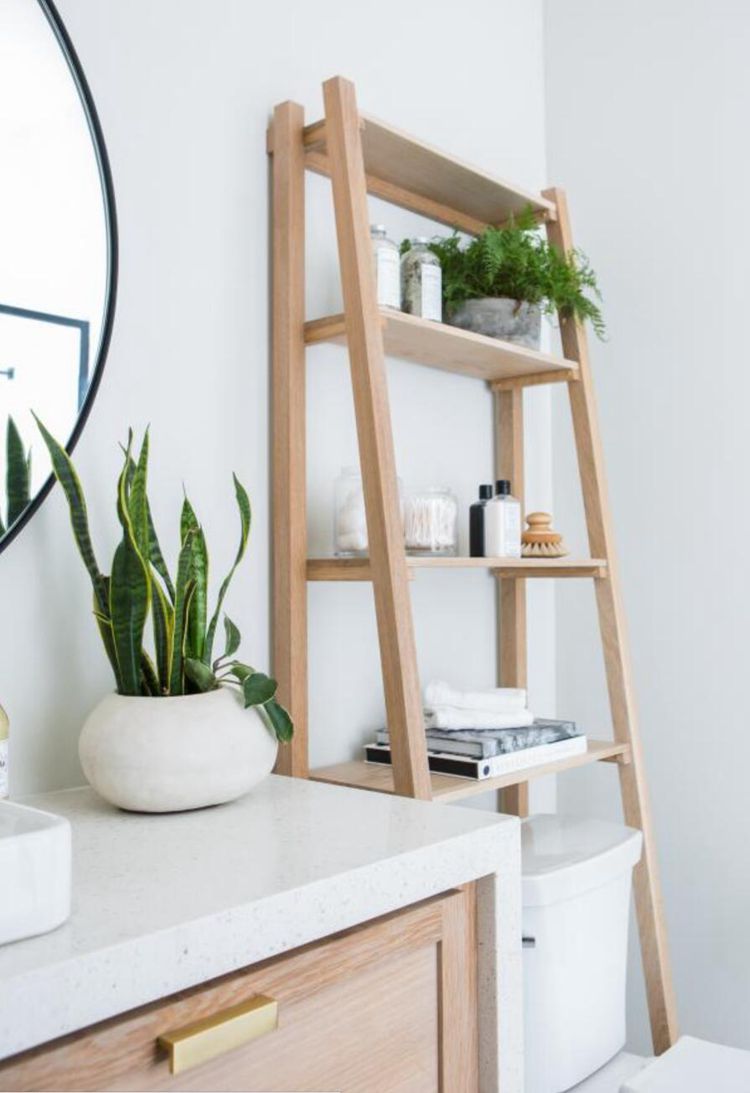 This quick shower caddy is easy to put together and looks great. The plastic bottle base provides a sturdy base for the bottles, while the jute rope adds a bit of texture and brightens up the design. This shower caddy is a great way to use this old plastic bottle. The rope adds so much character and visual interest; it makes me want to take a bath. Spray the paint of your choice and let it dry before hanging it inside your bathroom.
17. Shower Caddy Gnome
Are you looking for a fun and easy DIY project? For this shower caddy gnome, you will need to pay a quick visit to the dollar store and get an aluminum shower caddy and two mop heads. The process requires that you pull out the strands from the mop heads and use them to design your own Dollar Tree shower caddy. This should take about 3 hours or less to complete. This handy design will help you keep your bathing essentials in one place. The best part is that it can be made from items found at your local dollar store.
18. DIY Storage Caddy For Bathroom
Do you need a stylish storage unit for your bathroom? This is the perfect storage caddy for your bathroom, and the elegant design makes it fit in any interior décor. This beautiful and functional storage caddy will be perfect for your bathroom. It is easy to make and requires a few power tools. The structure has three compartments which will be handy for storing different items. Feel free to jump on this project if you have the tools, or check out other fantastic DIY shower caddy projects. The best part is that you can build this with your bare hands using power tools.
19. Personalized Bath Caddy
Having a hard time reaching for your bath accessories? This caddy will solve the problem. It has holes in the sides to place frequently used objects, like cups and shower gels, making them easier to reach while relaxing in the tub. This beautiful caddy is best suited for the bathroom. The book holder makes this a must-have for readers who like to keep a novel and cup of tea while relaxing in the bathtub. The caddy fits all standard-sized tubs and requires some cutting, sanding, and shaping during its making process.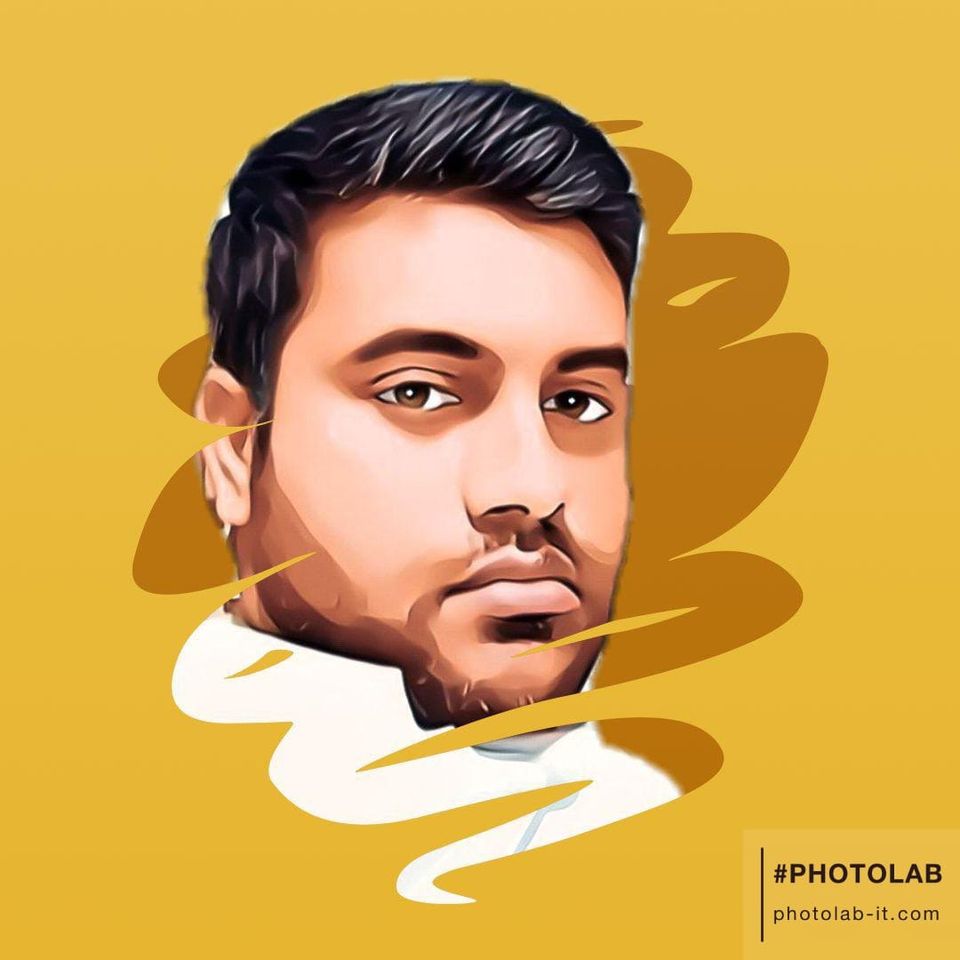 I am Raza, a crafts expert with 6 years of experience. I run this site for DIY lovers to provide the most exciting projects and ideas for your home, office, and everyday life. See More