You'll love these DIY shooting bench plans to help you make a masterful piece of furniture for your home or garage. Whether you're looking for a traditional wood shop sitting area or something more modern, we have the plans you need. We've included a few extra touches, such as material varieties and layouts, so you can customize your project to fit your particular space. With these 11 DIY shooting bench plans, creating a beautiful workspace for your next project is easy! Use these easy-to-follow shooting bench plans and get a perfect place to spend time alone.
Free Shooting Bench Plans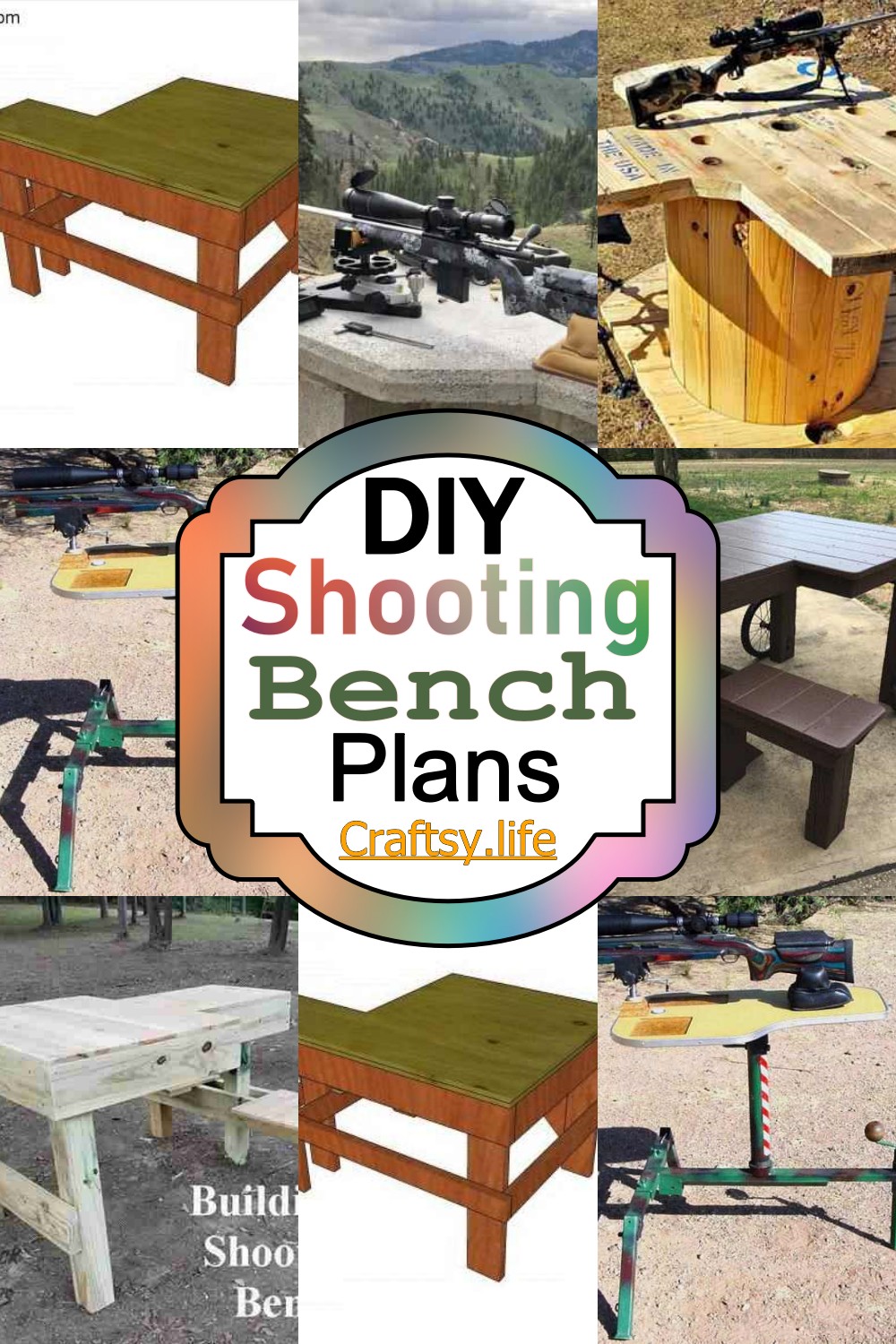 Woodworks plan to build an outdoor shooting bench. These outdoor shooting benches are perfect gun benches because they have a built-in ammo storage area and well-placed ventilation holes. Building your own shooting bench is a great way to practice shooting and keep yourself away from the elements. When you build your own shooting bench, you have complete control over the design and functionality of the shooting surface.  Here is a collection of 11 different DIY Shooting Bench Plans, which you can use to make your own shooting bench for your sporting activities or club competition.
See More: DIY Gun Rack and Cabinet Plans You Can Make Easily
Advantages Of DIY Shooting Bench Plans
DIY shooting bench plans can be a great way to create your own shooting bench. The advantages of a shooting bench include:
Cost Effective – shooting benches are much more cost-effective than purchasing a pre-built model. You may pay less than $100 for everything you need to build a sturdy and reliable bench. In comparison, most pre-built models will cost at least several hundred dollars.
Customizable – You can customize your shooting bench to meet your specific needs. For example, if you want to add storage drawers or magazine holders, these additions can be made easier with a few additional tools and supplies.
Easy To Build – If you have basic carpentry skills, DIY shooting benches are very easy to build. Most projects require only basic tools such as tape measure, saws, hammers, and screwdrivers.
DIY Shooting Bench
Do you want to get your shots off quickly and accurately? The DIY Shooting Bench is a great way to work on your shot technique by getting comfortable on the range. It's small, portable, and very sturdy. You'll need grinding equipment, drill, welder, and other materials to build it yourself. Once built, it folds down so you can easily carry it in a duffle bag when traveling. This shooting bench is a portable, sturdy, and dependable bench for your shooting training. It is built to be easily removable and can easily fit into the trunk or back of your car. This is a must-have for all gun enthusiasts who like to practice at home.
How To Build A Shooting Bench
Even though this project is fairly simple, it requires a lot of time and effort. If you are not familiar with the process of woodworking, it may be best to learn from a professional before attempting to build your shooting bench. However, if you follow the steps outlined here and take your time, you can construct a shooting bench that looks great and functions perfectly for years to come. Make this great shooting bench that is perfect to go on your deck. You will get a chance to improve your woodworking skills and make a useful piece of furniture.
DIY Cheap Shooting Bench
If you don't want to spend money and aren't looking for an easily transportable bench, this project is for you. But as you design your shooting bench, remember where it will be used most and how any changes you make might affect its use in that area. This simple DIY project is not for everyone. This bench is built from a wooden reel and is heavy. If you have access to a wooden reel that is not being used, this project will be a great way to reuse the wood and make it into something new that can be a shooting bench. It would help if you had some tools, but this project is easy for any beginner woodworker.
DIY Concrete Shooting Bench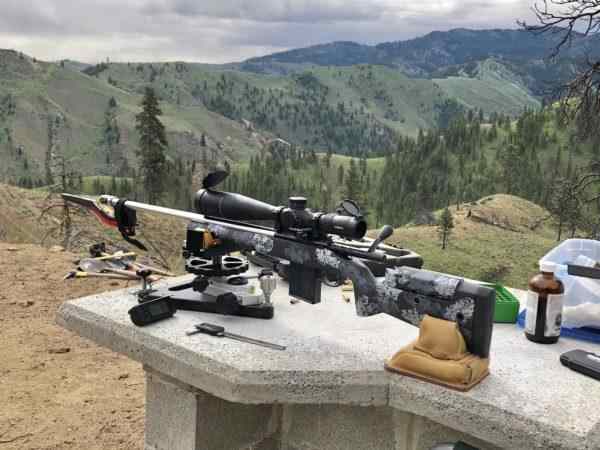 Sometimes there's not enough time for the hardware store. Keep your time management skills sharp on the job site and have a finished product in no time with this DIY Concrete Shooting Bench. Concrete shooting benches are easy to build at home and can be used for many projects. They can be used as a tool station or built around trees, posts, and fence lines as a bench to sit on while cleaning your guns or building something in the yard. This concrete shooting bench will provide an awesome place to shoot and doubles as an excellent bench for observing targets. With this project, you can spend less time setting up and more time shooting!
How To Build A Shooting Bench From 2x4's
Build the perfect shooting station with our how-to guide. Find out how to build a portable gun bench or table perfect for the backyard. By building a shooting bench from 2x4s, you can make an affordable, portable, and customizable bench that will make a great asset to your home range. Shooting bench plans vary greatly, and it is up to you to decide what works best for you. This project is designed so you can move it if desired – the top is attached with hinges, and the legs are detachable so that one person can move it easily.
Free Shooting Bench Plans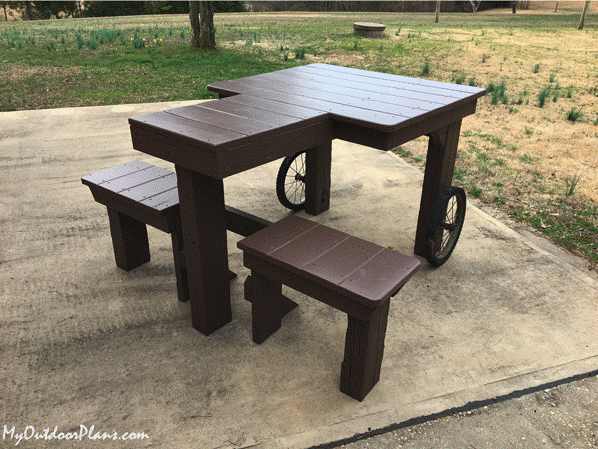 A shooting bench like this will have you looking like a professional at the next target competition. In addition to being a visually appealing accessory for your target range, it's also functional. The iron wheel and wooden base offer stability and durability, making it perfect for all your ammo needs! This free shooting bench plan will show you how to build easy and affordable target shooting benches that can be easily moved in your backyard or storage area. It's a great gift for those who love hunting and want a comfortable place to rest their back. The materials needed are easy to find, and this project can be completed in a couple of hours.
DIY Portable Shooting Bench Rest
This bench can be made easily, and you will also save money. No need to spend hundreds of dollars buying a shooting bench usually made of wood, but you can use cheap wood to make it. This little DIY shooting bench is portable and strong enough to hold your rifle or another hunting gun, plus the weight of your sandbags. It's easy to move around and set up again at another spot. All you need is a sawhorse, some plywood, a few carriage bolts, nuts, plus an afternoon of work!
DIY Adjustable Shooting Bench
This DIY Adjustable Shooting Bench is the perfect way to create a smooth shooting platform. It's portable, takes less than an hour to build, and is strong enough to hold any rifle, shotgun, or bow you want to put on it. You can also adjust it for left-handed shooters. There are many ways to build a shooting bench, but most are expensive. This is one of the easiest and cheapest ways. You don't have to be a mechanic or an engineer to build this adjustable shooting bench.
How To Build A Shooting Bench Table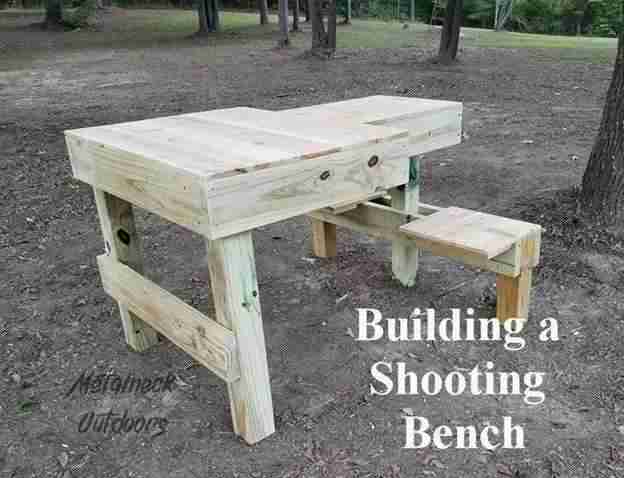 This is a simple, easy-to-follow guide on building a shooting bench table. The materials required include some common construction materials such as scrap lumber or 2 by 4s, a few screws, and one sheet of ¾-inch plywood. This guide will walk you through each step, from building the legs and attaching them to the tabletop to sanding and staining your finished product. This is a super easy and inexpensive way to build a shooting bench for your long-range rifle. The video below walks you through all the materials needed, how to construct it, and some tips and tricks to ensure you and your crew have the best time out in the field.
DIY Shooting Bench
Want to elevate your shooting skills? Learn how to build a portable, bench-style shooting table for archery or gun practice—no experience required. Explore your passion for shooting with this easy-to-assemble bench. Use it to create a comfortable seating area or stand while you are target shooting. Whether a novice shooter or seasoned marksman, you need a solid place to rest your rifle while aiming. With this DIY shooting bench project, you can build a solid, portable shooting bench that will serve you well for years.
How To Build A Shooting Bench
You need a shooting bench that ensures you and your family's safety when enjoying the outdoors. If you do not have a permanent wood structure, setting up one from scratch can be time-consuming and costly. This tutorial will share some steps to build a simple and durable shooting bench using cedar boards. The shooting bench is essential to a professional's set-up, making it an essential piece of equipment. It will help you create a more comfortable experience while aiming at your target and participating in different hunting activities.