A retaining wall is a structure built to retain soil. DIY Retaining wall projects are a great way to add functionality and style to your property, whether you're trying to add an extra area of land for gardening or spruce up the look of your yard. They're most commonly used to prevent soil erosion or make room for a garden or other development, and they come in many shapes, sizes and designs. Whether you're building a wall from scratch, putting up a retaining wall that's already been built, or doing some repairs on an existing one, you'll have to be careful about the placement of the dirt around the wall so that it's properly supported. The ground itself doesn't break down. Adding a retaining wall can be done by anyone, but it is important to make sure that the ground you're retaining is stable enough to support the weight.
DIY Retaining Wall Projects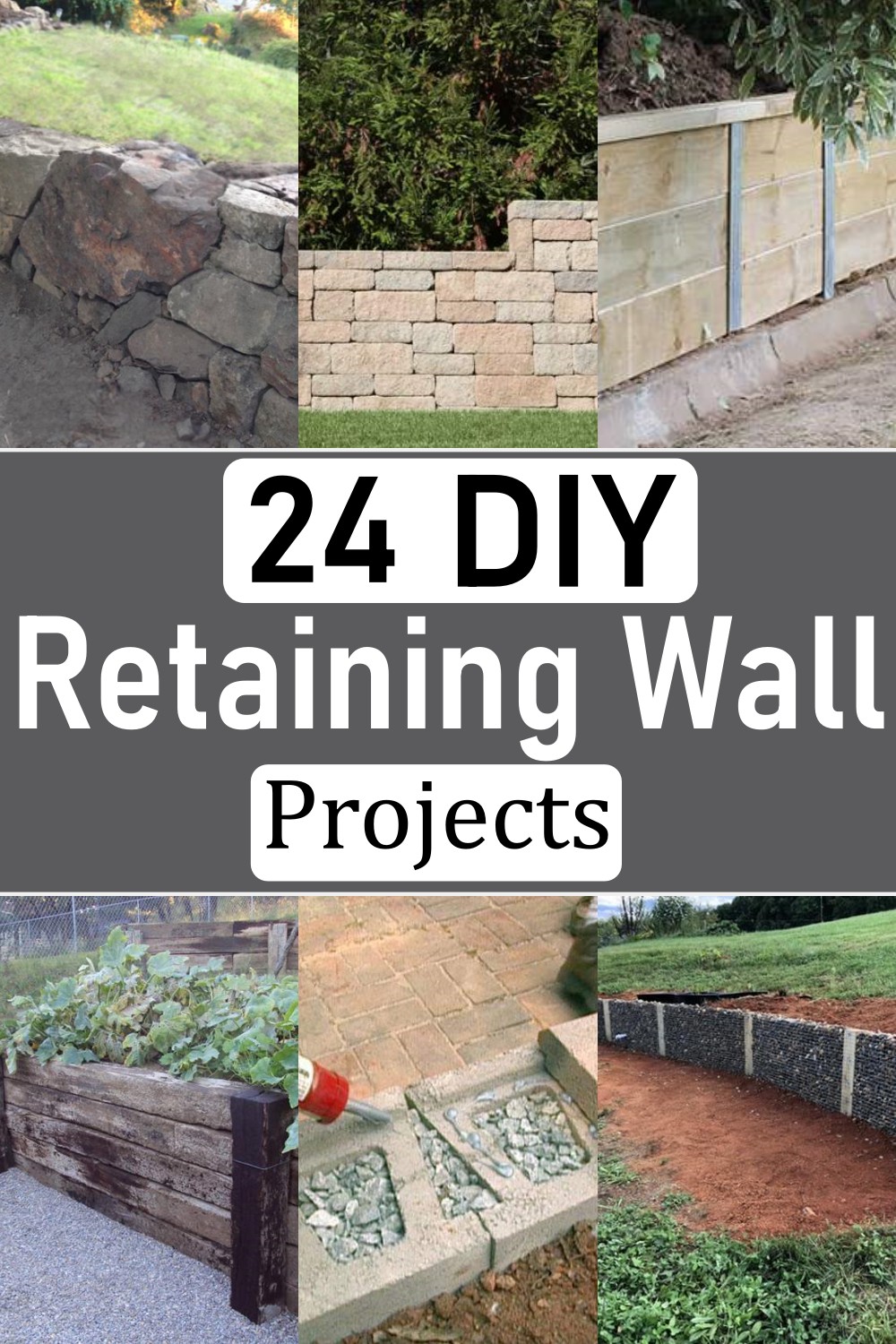 Different materials can be used to build a retaining wall, depending on what you're trying to achieve with it. For example, creating a pattern or using different textured materials will enhance your design if you want to build something that holds back soil but has a decorative effect. Other options include using different kinds of stone or mulch as material for your retaining wall. If you've got a long hill at the edge of your property and don't want it to erode into your garden or swimming pool, this is an excellent way to keep it in check while making room for more development!
You Can See: 16 DIY Butcher Block Ideas To Build For Cutting Ease
Reasons Why Building a Retaining Wall Might Be a Good Idea:
If you're looking to build a retaining wall, there is no shortage of options for how to do it. You could hire someone to come in and construct one for you, but that can be pricey. Or you could buy a kit from your local home improvement store, but many are flimsy and don't look very nice.
Retaining walls usually need to be built because the land behind them has sunk, making it unsafe to walk up the hill without fear of sliding back down. Some people like having a retaining wall because it adds to the aesthetic appeal of their homes and gardens, but if that's not your motivation, here are some other reasons why building a retaining wall might be a good idea:
-The soil behind your home has shifted and needs extra support

-You want a place to sit among an otherwise woodsy area (like near a creek)

-You want to give your landscaping more definition

-You have slope erosion problems (the grass keeps dying out)
How To Make A DIY Retaining Wall

A simple retaining wall is a great addition to your backyard or garden. You can build this sturdy, wooden retaining wall yourself in a day or two with just a few tools and supplies. You will be amazed how this easy-to-build retaining wall can change the look of your typical yard for a more upscale style and add value to your home. Building a retaining wall can be a grueling and expensive process. That's why we recommend this DIY method. Find a piece of land that suits your purpose, and you can build the wall yourself without costly visits from expensive contractors. Don't want to do it yourself?
Block Retaining Wall Project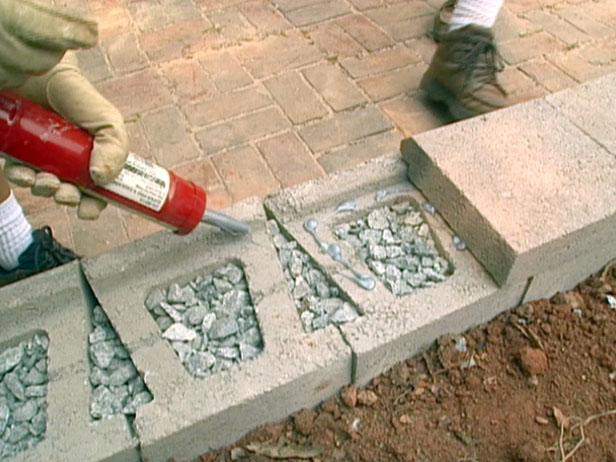 Retaining walls are great looking, functional, and easy to build. Create a beautiful retaining wall without breaking the bank. These concrete blocks are sturdy and cost less than garden stone, yet just as attractive. This project may be intimidating, but if you're willing to have some fun and work hard, it can easily be done by someone with a high-level skill set and simple tools. The final product will be worth it! Block walls are a good choice for retaining walls because it has good drainage, which is important for preserving the integrity of your landscaping.
Easy Retaining Block Wall Creation Guide
A retaining wall is the most basic and inexpensive way to add a decorative, functional, and durable border around your property. It can also turn an uneven piece of land into something usable, such as an outdoor patio or sidewalk. With our step-by-step guide, you'll be able to build this simple project in just one day. This retaining block wall project is great for the beginner DIYer. It's easy to follow with step-by-step instructions and simple tools you'll need to get the job done. The finished wall will be a beautiful addition to your home or business, making owning a house or commercial property much more enjoyable.
Retaining Wall Plan
You'll need a retaining wall if you are tired of dirt and lawn clippings and want to give your backyard that neat and attractive look. This awesome video tutorial will guide you step by step in building a great-looking retaining wall all by yourself. It's super easy, cheap, and fun to do! This creative retaining wall has all the benefits of high-end landscaping but at a fraction of the cost. And it's super easy to build! Watch this step-by-step video guide and start building your backyard today. It's super simple and looks great in any backyard. You'll save time by building it yourself, rather than hiring someone else to do it for you!
Retaining Wall Idea For Home Decor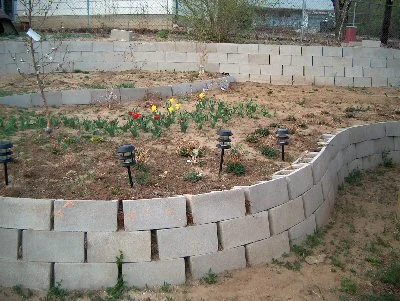 Retaining walls are used to prevent erosion and to hold back soil from a hill. You can use this for a garden, or you can use this to protect your house against erosion. If you're looking for a way to add a little more privacy to your backyard, or if your yard is just too sloped for planting, but you still want to have a nice view that's not completely blocked by a chainlink fence, building a retaining wall out of cinder blocks might be the solution you're looking for. This DIY project may seem complicated or daunting initially, but it's quite simple—and fun! The best part is that it doesn't take much time or money.
Gabion Retaining Wall Plan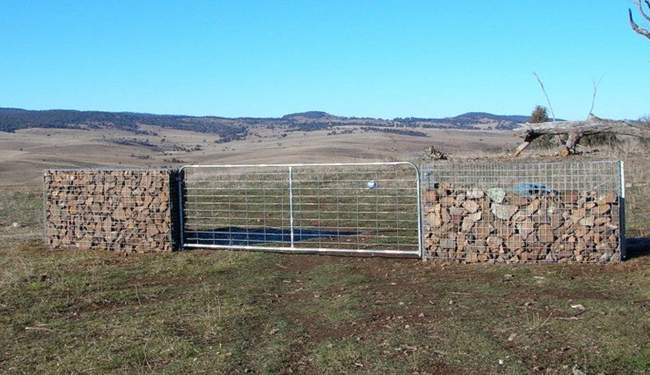 The Gabion wall is a beautiful and functional way to add a stone barrier to any area that needs it. The wire mesh forms the wall's structure and gives it shape, while the stones fill up the spaces and make it sturdy. This DIY is simple and easy to follow, and you can probably do it in a day! It is the perfect way to create a beautiful-looking retaining wall with just wire mesh and stones. Not only will it help stabilize the soil, but it's also affordable and easy to build. This project is easy to install and maintain; it doesn't require any special skills or tools. And best of all, you can build your beautiful gabion retaining wall in your backyard!
Outdoor Wooden Retaining Wall Project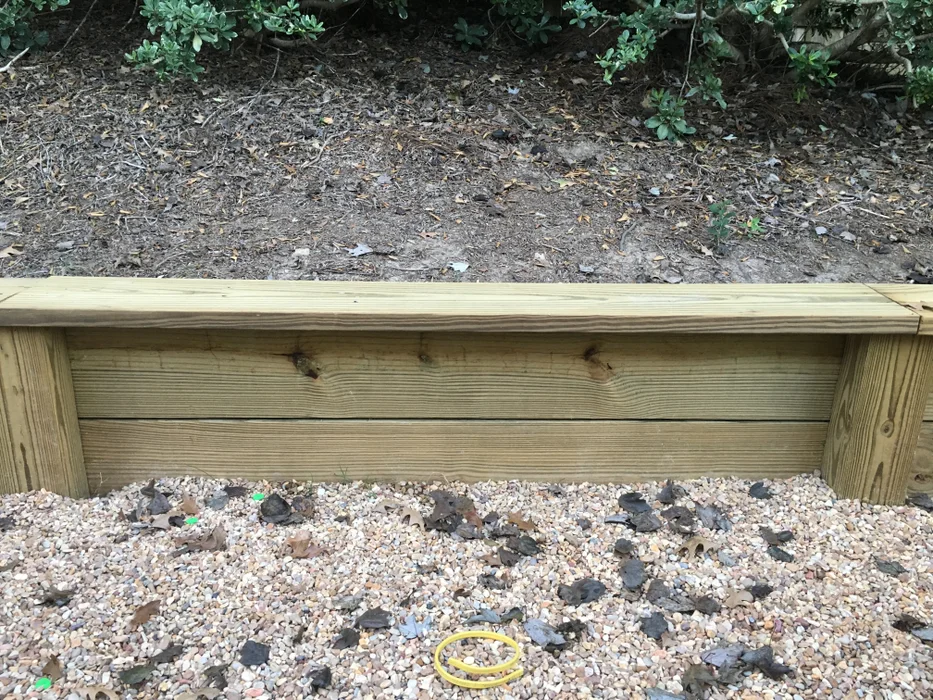 This easy-to-follow tutorial shows you how to build a beautiful outdoor retaining wall with wood. This outdoor retaining wall is a simple and quick project that can be made using only wood and some basic tools, like a saw and hammer. It's easy to build your retaining wall in any shape or size, put it anywhere you want, and use it for whatever purpose. Watch the video to see it in action, and follow along with illustrations and step-by-step instructions. This is a great project for beginner carpenters or anyone who wants a simple yet attractive way to define their outdoor space.
How To Make A Block Retaining Wall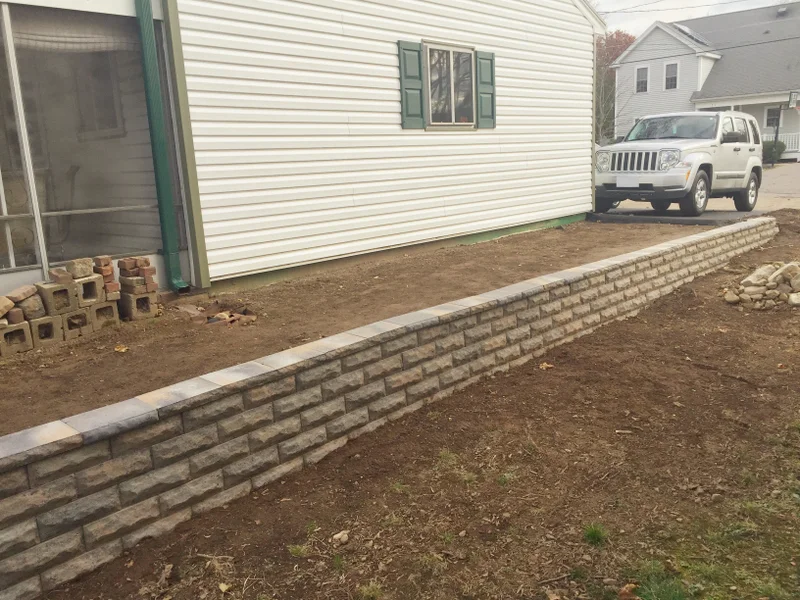 Building a retaining wall may seem complicated, but it's pretty simple. Take a few basic steps, and you can have an amazing-looking retaining wall in no time. These retaining walls are called masonry walls. They're made from blocks, usually about a foot deep and three feet long. These blocks are held together by grout, a special cement that helps hold them together and makes them look nice. This is a popular way to make a wall for a garden or patio. It's so much easier to make one of these than to find something like wood to make it out of, and it still looks great!
Make A Small Retaining Wall
Building a retaining wall can be a very fulfilling project for the homeowner and the builder. In many cases, building a concrete block retaining wall is quite easy. The first step is to level and tamp the ground where you're building your wall. Next, lay out your blocks using spacers between each row to ensure it's even. Once you have all your blocks in place, fill in the gaps between each block with mortar or concrete. Then use a trowel to smooth out any rough edges on your newly built retaining wall!
Easy Block Retaining Wall
A retaining wall is a great way to create a beautiful landscape feature in your yard. But they can be expensive to build. Why not build one yourself? If you are looking for a simple and cost-effective way to build your block retaining wall, look at this guide. You can make a DIY retaining wall with blocks that you can pick up at any hardware store, and this guide will help you start planning and constructing your DIY block retaining walls. This project uses 100% recycled materials and requires no heavy machinery or specialized tools to build!
Make A Retaining Wall With Ease
A retaining wall can make a big difference in the look of your yard. Transform your landscape from dull to stunning with a DIY retaining wall. You'll need to use good quality blocks, reliable cement, and patience, but it doesn't need to be done all at once. Let the project take its own pace. A well-made retaining wall will last many years, keeping plants and trees safe from erosion. It's easy to build one and inexpensive. With some basic knowledge, you can set one up effortlessly both for privacy and to increase the value of your home.
Make Retaining Wall With Blocks
Are you looking for a retaining wall block project? Retaining walls are the best way to create a garden bed and hold the soil in place. They are not only functional but also decorative. One of the cheapest ways to build a flexible retaining wall is with concrete blocks and fillers such as gravel or sand. This guide will walk you through the entire process of building a wooden retaining wall using concrete blocks, including all materials required, tools, and how to do it on a low budget. Building a retaining wall is an affordable way to add height and definition to your yard while creating usable space. This DIY guide shows you how to make your retaining wall quickly, easily, and cheaply.
A Stone Retaining Wall Tutorial
Building a stone retaining wall is something that you'll do in your neighborhood sooner or later. You can create a work of art using stones, which everyone will love. If you like this simple and beautiful project, this tutorial will guide you through it step by step. The idea behind building a stone retaining wall is to give your certain garden artistry that's missing from what you currently have. This video tutorial will show you how to make the wall and give you all the tips and tricks along the way so you can get it done like a pro. And even if your yard isn't that big, you can still get a nice-looking stone retaining wall using this guide.
Culvert Retaining Wall Guide
This DIY project is a very impressive retaining wall that the creator of this video guide made using culvert pipe. This wonderfully sturdy, long-lasting retaining wall holds back about 50 yards or more of dirt in its place. Turn any landscape into a hillside paradise by using this wonderful idea! This project uses a trench to create a beautiful and sturdy retaining wall. The completed wall provides an easy access path to the front door, with plenty of space for planting and landscaping around the steps.
Retaining Wall Creation Guide
Retaining walls are a favorite of homeowners because they add clear value to properties while also giving the owner a reason to play in their yard. A traditional retaining wall is made with cement, which requires professional backhoeing and excavation. If you want to make your own but can't afford the equipment or don't want to get your hands dirty, this project will show you how to build one without breaking a sweat. The video will teach you how to build a beautiful, solid retaining wall in under 30 minutes. It costs about $1000 for the tools and materials, but we have a link on the description page where you can get them at a better price!
Easy To Make Retaining Wall
If you're looking to build a retaining wall, this guide is the one for you. This DIY Retaining Wall project will make your garden look the best. You may be able to build this retaining wall within an hour or two, but it all depends on your experience level. It could take even less time or more, depending on how skilled you are in doing this type of project. Many people are very proud of their work with their skills and knowledge in building and creating some amazing things that turn out so nice when executed properly. This DIY Retaining Wall is the perfect guide to help you build your own retaining wall home. All you need are some tools and materials, and our guide will take care of the rest!
Retaining Wall Easy Idea
The DIY Retaining Wall Easy Build is the easiest, most versatile retaining wall on the market. Easily build your own beautiful and functional retaining wall with this DIY Retaining Wall Easy Build. This detailed guide tells you everything you need to know about building your retaining wall! Constructed with interlocking blocks that lock together, this wall requires no mortar and is easy to assemble without special tools. This project takes 5 minutes of your time and can be built by anyone.
Retaining Wall Creation Idea
This DIY Retaining Wall Idea is a beautiful addition to your landscape and is not even that hard to make. Capstones are very versatile and can be used in many different ways. Their long, horizontal shape and chiseled edges make them perfect for adding curb appeal to your home or improving the look of a garden or patio space. Framing a flower bed is a simple way to use these stones. Get the perfect DIY retaining wall in your yard with this simple tutorial!
How To Make A Railroad Tie Retaining Wall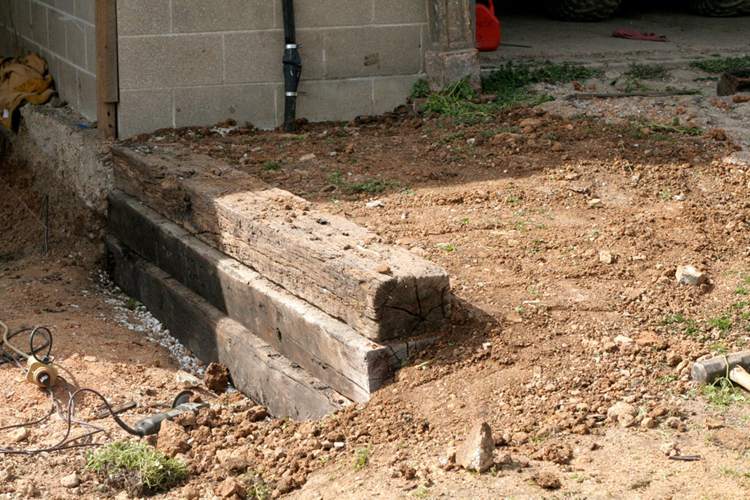 This guide will show you how to build a railroad tie retaining wall. It takes just a few hours to complete one, so get out there and work on making your wall today! The creator went into detail to explain what he did to build the retaining wall. The building method is quite precise and easy to follow. It is a recommended guide for anyone who has no idea how to build retaining walls or wants some pointers on how to do so efficiently.
How To Make A Timber Retaining Wall
A well-built timber retaining wall can be quite handsome and functional. However, a poorly constructed wall that doesn't have good drainage or isn't properly built can be very expensive to fix. Retaining walls go a long way in helping improve the look of your outdoor space and make it feel more elegant. They are also great for creating boundaries, protecting plants, and enhancing landscape surroundings. The good news is that you don't have to hire professionals to build one for you. You can easily follow this DIY guide on building a timber retaining wall to make your home stand out from the crowd!
Easy Retaining Wall Build
This DIY guide will teach you how to make a retaining wall with railroad ties. Rail ties are easy to find and can be used as a cost-effective alternative to stone or concrete retaining walls. The ground upon which you build your wall must be level, so if you have uneven ground, it is worth checking the depth of your local bedrock before starting this project. You'll be amazed at how fast and how good your garden looks! A DIY Retaining Wall for all those who love gardening but don't know how to create one on their own.
Fun Wall From Railway Ties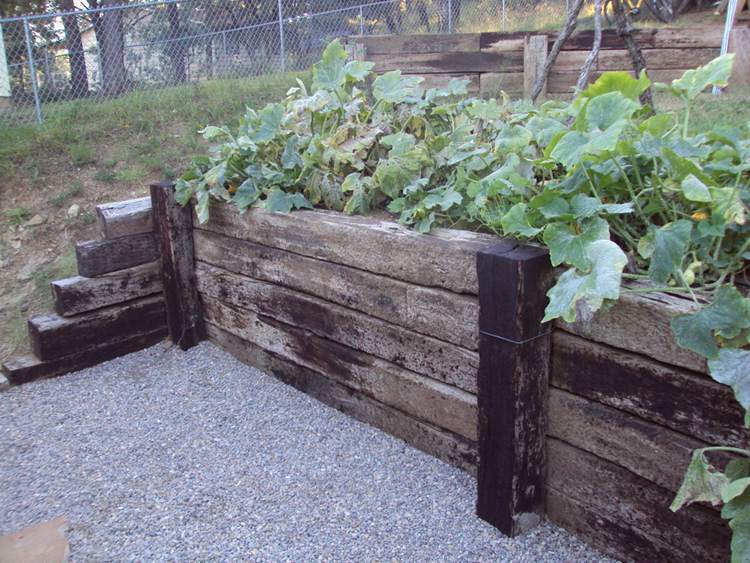 Let's get building. This tutorial will show you how to build a retaining wall with railway ties. You'll need lumber, cement, and a few other supplies, but it's easy and fun once you get started. The process is straightforward: get your materials together, pour the concrete in place, and then pile on your ties to create your new structure! Creating a retaining wall is a great way to add safety and stability to your yard, small garden, or other outdoor space. You can build them on large flat areas or steep hillsides if properly planned and installed. This guide will give you all the information you need to create a beautiful DIY retaining wall from railway ties!
Gabion Stone Retaining Wall
Are you looking to build a DIY retaining wall? Well, this is an easy-to-do gabion stone retaining wall. It uses wire fencing, landscape fabric, and more to keep your land out of the way. Use this guide to make your gabion stone wall! Building a retaining wall is a great project for landowners and farmers, especially those with farmland and gardens. This is the kind of wall you might want to make for your garden, farmland, or whichever land you want to keep out of reach. The creator made this retaining wall using gabion stones. The creator also used welded wire fencing, lag bolts, landscape fabric, and lots more.
Dry Stacked Stone Wall Creation
If you want a simple, low-cost solution to your landscaping woes, natural dry stacked stone walls are a great DIY choice. This guide will show how to set up your retaining wall, including how to choose the appropriate stones and stack them in a way that makes them easy to install. This is a great way to get your stone retaining wall started. You must first gather your materials and set up a base to hold all the rocks. Then you can build your backing and install the stakes to keep it straight. Then take some time to finish with a sealant before planting. These are some great tips from our experts that even a novice can follow.