DIY resin tray projects are a great way to add sparkle and shine to your home decor. They'll serve best as a decoration piece base or to add some fun and creative juices to show off your DIYer nature to your family members and outsiders. We have found some of the best DIY resin tray projects to try today! Learn to use resin and make stunning DIY resin trays that can be used to display photos, plants, or other items. We have put together a list of great ideas for making your funky resin tray featured below.
DIY Resin Tray Projects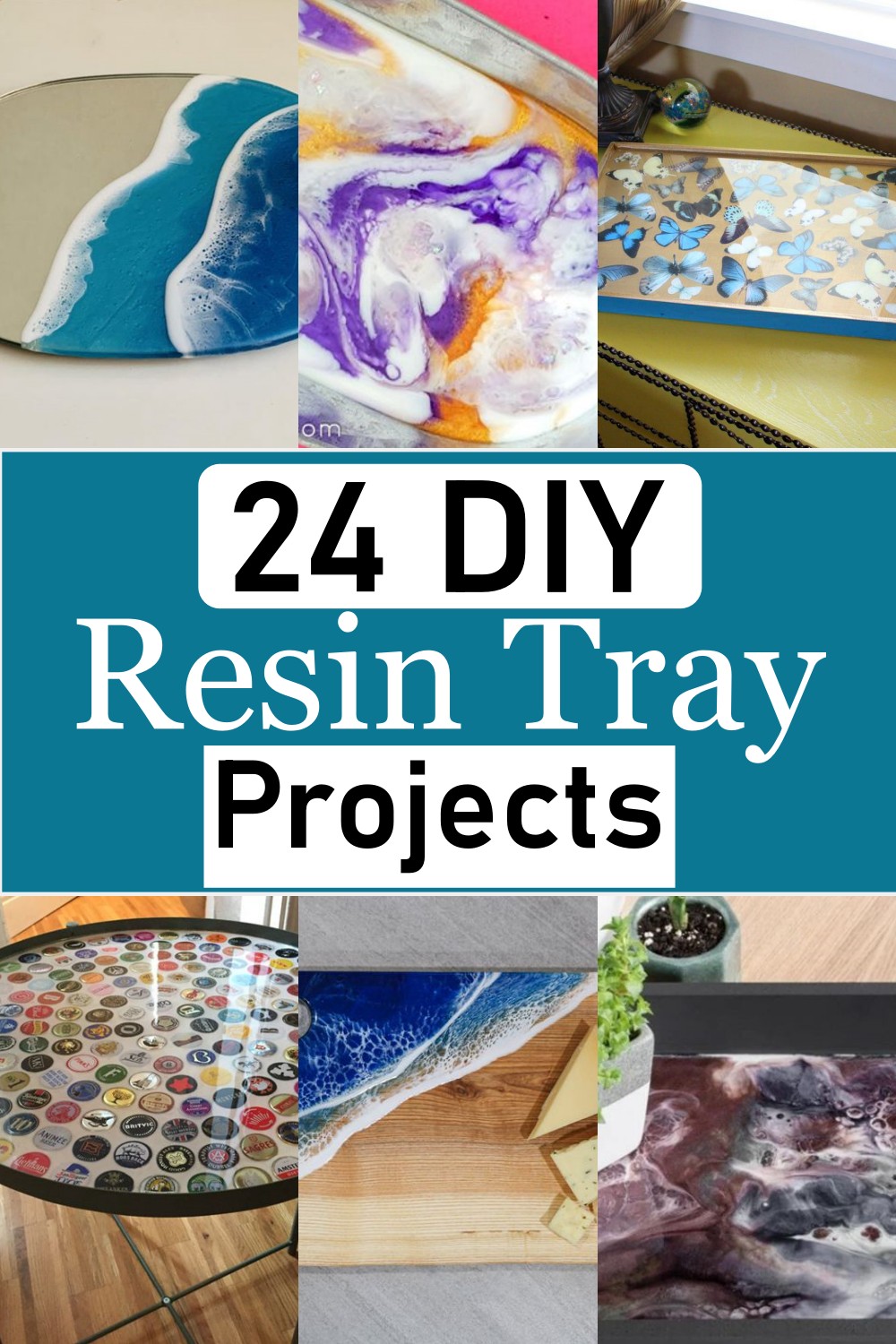 Resin trays are the perfect blank canvas for all sorts of projects and crafts. Resin trays don't require advanced skills or techniques but can make beautiful decorations for your home, wedding day, or special event. Here are 24 DIY resin tray projects that are simple, fun, and, most importantly—create a personalized piece you will love! Resin trays are a great addition to any home at any time of the year, but we especially enjoy them around the holidays. For example, you can use the tray as the base for a centerpiece or display Christmas cards. These trays also make a wonderful gift for your friends and family members!
How To Build A Resin Tray
Creating a perfect piece of decor can be a lot of fun and give you a great way to showcase your style. Making resin trays is a great way to add some glass and sparkle to your home or office, whether for your coffee table, windowsill, or as a nightstand addition. This video will walk you through making these trays and will include a breakdown of all the necessary supplies.
Making Resin Tray
If you're looking for a fun way to make one-of-a-kind crafts, this Making A Resin Tray is just the thing! The process is easy and can be customized to your taste or your favorite project theme. Make an ocean scene, a tree trunk, pastel colors, vibrant colors - the options are endless! This will let you make different kinds of trays in the colors of your choice. With the right tools and materials, you can make a simple but beautiful piece of art at home quickly and easily.
Butterfly Tray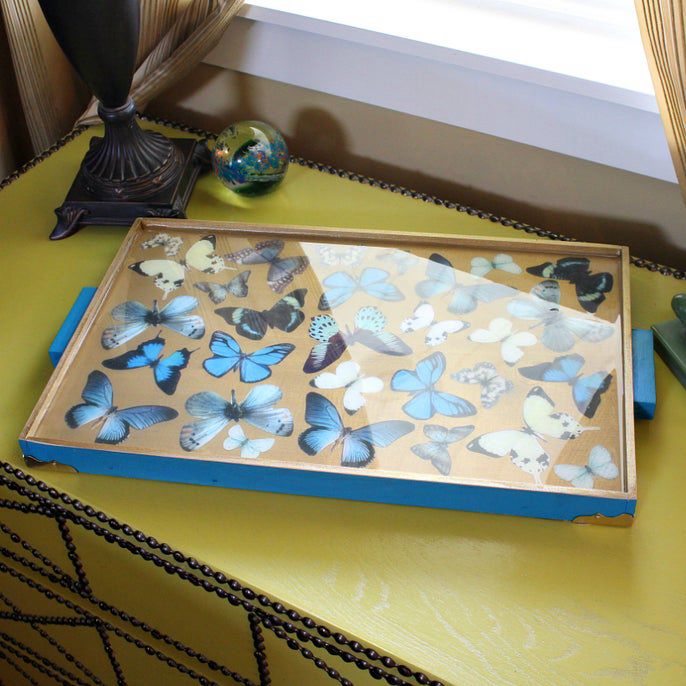 Aren't you just amazed by the beauty of a butterfly? It's so beautiful and elegant. Here is an easy DIY for you to make your own Resin Butterfly Tray. You will need a tray, butterfly images, and Americana decoupage in gloss. This decoupage is easy to make and involves cutting out your favorite butterflies with a stencil, gluing them onto the base of the tray, covering them with decoupage, and using a sealant once dried. It's easy fun, and your guests will be amazed at your handiwork! Why not get started now?
White And Gold Resin Tray
This white and gold resin tray adds a beautiful stand-out piece to your home decor. If you love the look of gold and silver, then this video tutorial is for you! Perfect for parties and gatherings, it can place on a coffee table or sideboard for serving drinks or nibbles. Or use it as a centerpiece at a bridal shower or wedding reception. Once you have one of these trays at home, no doubt your friends will be asking you where you got it from!
Blush And Rose Gold Resin Tray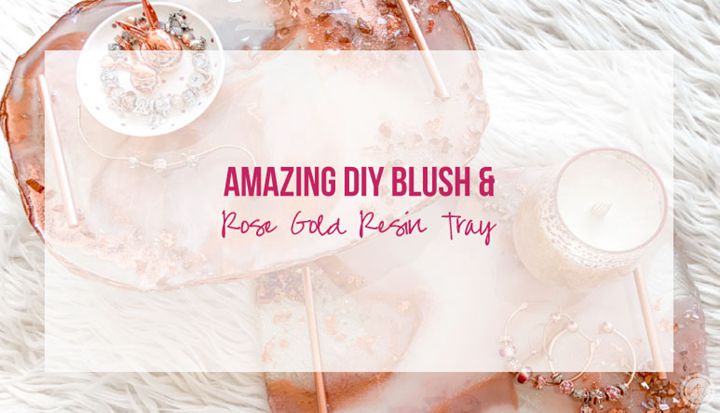 This DIY Blush And Rose Gold Resin Tray is a fun and effortless beauty product. In this tutorial, you are going to make blush and rose gold resin tray. All you need is some glassware, resin, a heat gun/torch, and some rose gold flakes! This DIY is really easy to do, and the results are excellent. You can use this tray for anything from storing jewelry and make-up or just as a pretty piece of art on your vanity!
Black And White Epoxy Resin Tray
This beautiful Black and White Geometric Resin Tray would be a lovely addition to any table. It has a modern yet simplistic style and is fantastic. In this video, you will learn how to make this stunning DIY craft project from scratch using basic supplies from a craft supply store. Ready to show your creative side? Once you understand how to make this tray, you'll want to make more and more. The simple secret is mixing the epoxy resin until it's exactly how you like it.
Resin And Wood Tray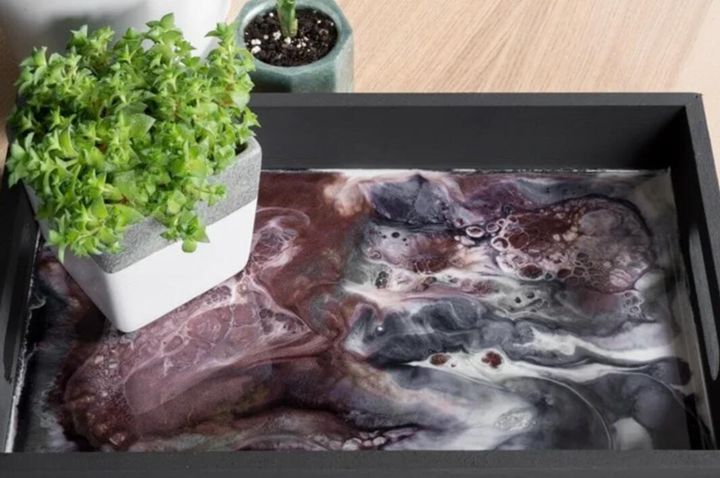 This wood tray is a beautiful DIY project for any crafter. Mix up some resin and pour it into the wood tray to create your own stunning design that looks professionally done by a craftsman. The resin will dry in a few hours, and you've got yourself a beautiful and practical tray that is ready to be used in the kitchen or on display. This project will add extra color and texture to any space.
Epoxy Resin Tray
Create an eye-catching, unique tray or container with this easy-to-follow tutorial. You'll need resin, silicone molds, liquid pigment, gold leaf, glitter, and other decorative elements to customize your trays. This DIY project is easy to follow and takes only a few minutes to make. You'll learn how to make a unique tray using colored resin and add some glitter in the middle. It's fun, looks great, and makes the perfect gift for any time of year.
How To Make Resin Tray
Resin Pearl Powder is a super simple and economical way to add a glittering effect to your resin creations. Creating a free-form resin tray is a fantastic craft project for anyone who wants to try some new techniques. This project can be completed in just a few hours using ordinary craft tools and materials available at most craft stores. This video tutorial shows you how to make this brilliantly shiny jewelry tray in a few short steps by mixing resin, pearl powder, and gold leaf.
Decorative Wooden Resin Tray
This decorative wooden resin tray is perfect in any room of your house or office. You can use it to display your favorite things or put it to work and use this tray as a catch-all for odds and ends. This incredible tray is resin-coated and will never scratch or peel. The decorative wood tray is handcrafted with an eye-catching look that will make an impression wherever they're used.
Wooden Tray Resin Pour
Making a tray is easy and presents an opportunity to add a unique piece of art to your home. You can use any wood shape and paint or stain your tray before starting the DIY. Let's get started! This project involves making three different epoxy colors and combining them on the plate through random pour patterns (random color order). Don't be intimidated! Even with minimal experience, you'll be able to complete this project in no time. You'll have a resin project that's ready for display or gift-giving.
DIY Resin Wooden Tray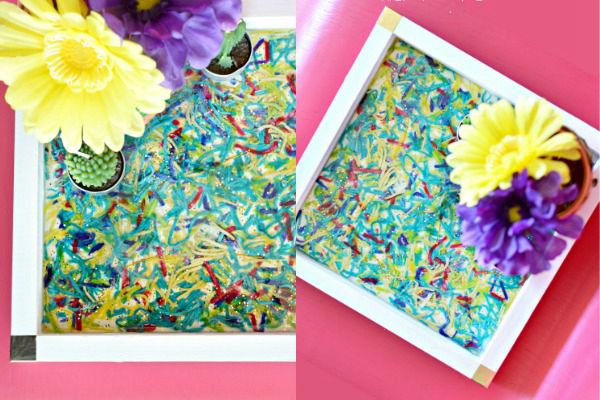 This tutorial offers detailed instructions on making a DIY Resin Wooden Tray using yarns. It covers everything from finding the correct type of wood to cleaning and preparing it for epoxy resin. You can use any waxed yarns you want to make this beautiful Resin Wooden Tray. You will have to check it out to see how simple and easy it is to do this. This DIY epoxy resin wooden tray is perfect for storing items like toiletries, keys, and jewelry. It`s easy to make and requires only a few simple materials.
Photo Resin Tray
This project is a fun way to memorialize your love for family. It takes less than an hour to complete and needs several supplies you may already have around the house. All you need is resin, a mixing stick and lighter, a poetry book, photos, and a wooden tray! Use old pictures from the past and combine them with some new images to make this fun, memory-filled keepsake. It's easy to use and doesn't require much care:
Make A Custom Resin Tray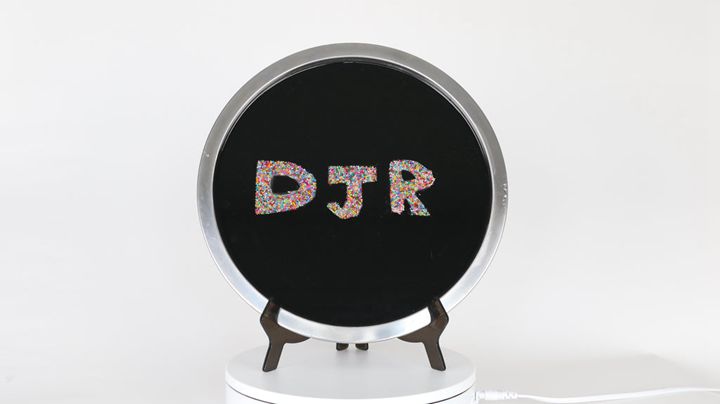 Want to create a customized glass tray for your living room, bathroom or kitchen? This Resin Tray is an excellent gift for any occasion and will look beautiful on any countertop. If you're looking for a personalized resin tray print with your own monogram, name, or phrase, this helpful tutorial will give you the tools you need to create the perfect gift for friends and family. This step-by-step tutorial features detailed instructions on creating an attractive and personalized resin tray, perfect for any occasion.
Resin Ocean Serving Tray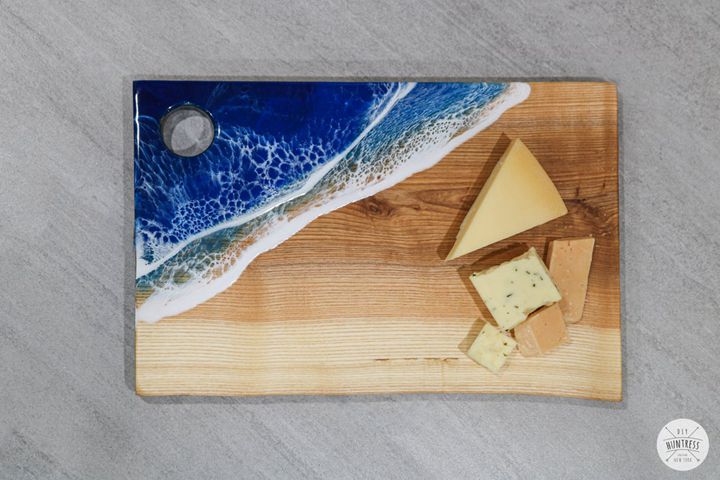 Arrange your favorite treats and snacks on this DIY resin tray for a relaxed summer vibe. This tray features an ocean-inspired design, perfect for setting out salads, fruits, and yogurt parfaits. Create an eye-catching serving piece that's sure to impress on any occasion with this simple DIY project. This DIY resin tray is easy to make, and you only need a few supplies. This project works best with a cedar board, but you can use any sturdy board you have lying around.
New Year Resin Tray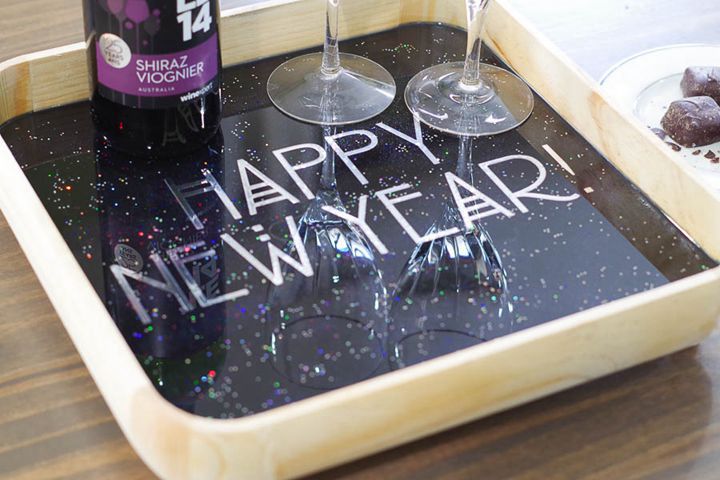 Add a touch of sparkle to your new year celebrations with this resin tray. It's perfect for use as a tray to serve drinks at your New Year's Party or simply as a decorative piece to display in your home. Making a Happy New Year Resin Tray is so easy and fun that you will want to make many more of these! Learn how to mix the paints and glitter in your new year's colors that you can use every year to create a custom tray every time.
Pearl White Resin Tray
With an easy-to-follow process, this customizable DIY Pearl White Resin Tray is perfect for anyone looking to create a gift with a personal touch. With the help of this tutorial, you'll learn how to mix resin to form a resin tray that's ready to be painted. And with this DIY project, you don't even need to spend too much time or effort if you wish to try it. You can use this as a plate holder or a decorative item at home.
Beautiful Resin Tray
Create a beautiful and stylish tray using a mold made from resin. This method is perfect for those who want to personalize their home décor! To make one, you'll need a tray, heat-resistant resin and opaque black pigment. Make your own beautiful resin tray at home with this simple step-by-step tutorial. This resin tray is a low-maintenance piece, easy to clean and maintain, with a subtle sheen that will bring a sense of elegance to your living room.
Resin Casting Tutorial
Get your hands on this resin casting tutorial to create an array of beautiful home decor and accessories in your very own home. By following simple steps, you can quickly turn your dried flowers into lovely resin molds that you can use to create beautiful charms and other parts of your project.  In addition to having fun with this craft, you will also be able to keep your kids busy as they learn more about this art form.
DVD's Mosaic Resin Tray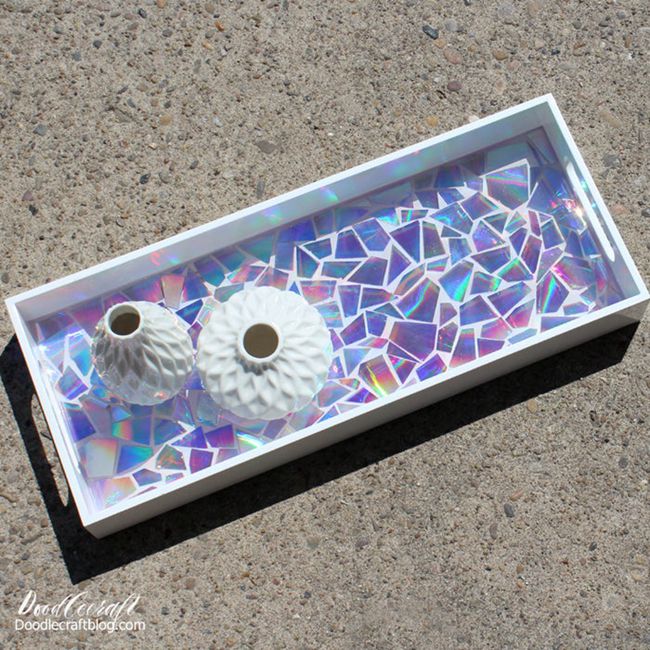 Once you learn about resin, you'll want to make everything in your home with it! It is fun, versatile, and environmentally friendly. This DIY project requires no special tools – just a few old DVDs, a tray, and a hot glue gun. The best part is that this tray can be customized according to your tastes. Using recycled discs, you can use your imagination to create an array of decorative pieces like coasters or wall clocks using different shapes and colors.
3D Flower Resin Tray
Do you have an event coming up? Maybe an upcoming birthday or wedding? If so, you should add something new and beautiful to your decor. Here's a 3D flower resin tray that will surely impress your family and friends. You can use it as a centerpiece, candle holder, or simply as a display stand for your jewelry or knickknacks! Make your own version by following the steps in this video! This project is a great way to express your creativity and will look amazing on display in your home.
Bottle Cap Resin Tray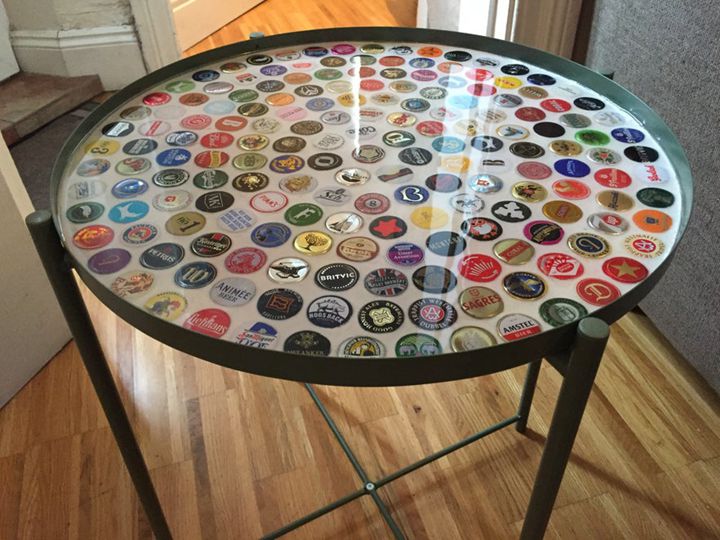 For some, bottle caps are merely used to contain beverages. But for others, they possess a magical appeal that's hard to resist. If you are one of those people who love making things out of practically anything and everything, this is an excellent idea for you today. This DIY Bottle Cap Resin Tray is the perfect thing to do with that old beer or soda bottle. It is simple yet extraordinary, so start preparing your space and gathering bottle caps today! follow the steps in this DIY guide, and you'll be enjoying an heirloom-quality piece made from recycled materials in no time
Resin Serving Tray
Are you looking for a fun and simple DIY project? The marble wood DIY tray project is a great way to recycle some stuff around the house. This woodworking project uses wood, marble, and resin to make a beautiful piece of home decor. A handy power tool is required to cut the wood with the accuracy and drill holes into each side of both pieces of wood to fit in the marble slabs. The gold handles provide a stylish contrast to the marble inset, making it even more beautiful. It's easy to make, looks beautiful, and will be used daily in your home.
Resin Ocean Mirror Tray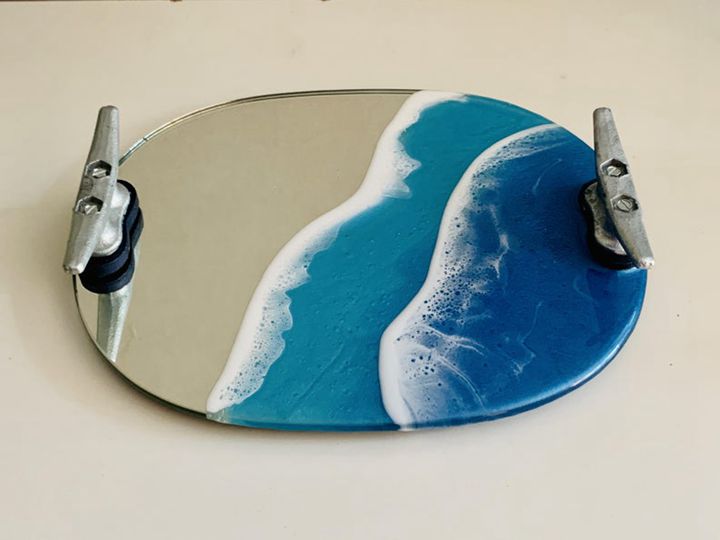 Are you looking for a fun and easy way to add some eye-catching decoration to your living room? Look no further! Whether you're looking for a coastal vibe or a nautical theme, this DIY project is perfect. All you need is a mirror tray, a few different colors of resin, and some patience (and maybe a glass of wine) -- then it's time to turn it into your favorite new accessory. This tutorial will show you how to make your own chic mirror tray using resin and acrylic paints.
Conclusion
This DIY resin art tutorial will walk you through the easy (and fun) process of creating a unique and modern home decor piece. We'll show you some amazing projects on making a DIY resin tray by mixing epoxy resin, chemicals, and pigments to create a mesmerizing end result! If you haven't found an ideal resin tray tutorial, feel free to go through this list again, I'm sure you'll see what you're looking for.