25 DIY Play Kitchen Ideas that you can Make Easily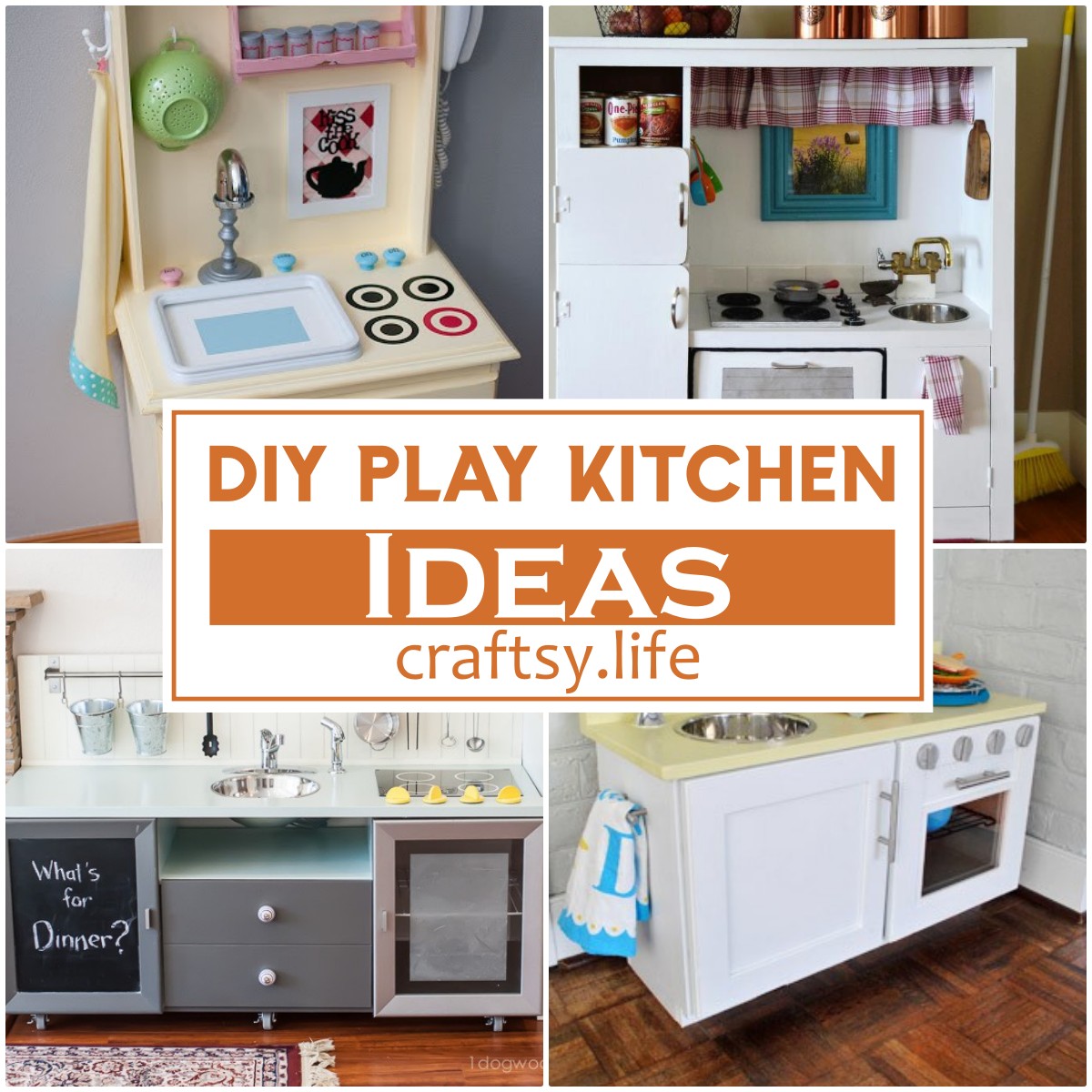 Who doesn't like to see their kids happy? When you have a daughter who adores princesses, and your son can't get enough of the ocean, play kitchens seem like the obvious answer to making them both happy at once. This is also a fantastic idea for parents or grandparents looking for a fun, creative option for their kids' next birthday party. It's also fun to help your child learn social skills and etiquette without making them feel like they're in school. There are so many wonderful DIY Play Kitchen Ideas out there, and it seems that with every passing year, many people are interested in giving their kids play kitchens that look just like the real thing—only better! If you want to give your kids the best, here are some unique phenomenal DIY play kitchen ideas that will fill your home with lots of fun!
DIY Play Kitchen Ideas
Kids love to play with various toys, but one of the most fun things they can do is pretend they're grown up. Pretend kitchens are a great way for kids to pretend they're adults while cooking and cleaning. The most suitable part is that you can make your own DIY play kitchen or even find a used one and make it look amazing. Here are some ideas for play kitchens you and your kids can do together. These DIY projects are perfect because they are fun to make, and your kids will love them.
These 25 Phenomenal DIY Play Kitchen Ideas are the perfect inspiration for creating your own play kitchen.
You Can See: 25 Free DIY Toy Box Ideas You Can Make Easily
Large DIY Play Kitchen
Your kids need a fun place to cook and bake, right? If you're looking for such a play kitchen, here's one that has everything! This DIY project comes with many ideas and inspiration, from the refrigerator to the oven countertop. You can convert a spare room into the ultimate play kitchen! This awesome DIY play kitchen is sure to be a hit with your child. Perfect for role play and pretending to cook up some delicious treats, your child or grandchild will love this fantastic set-up.
Play Kitchen Made From Cabinet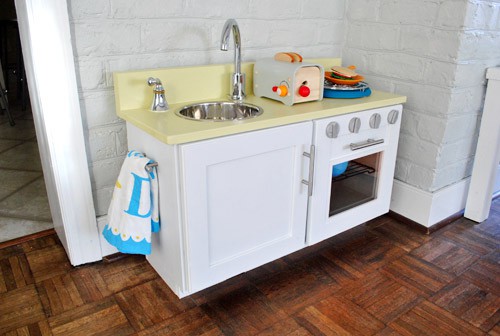 This is it if you want to make a Christmas gift for your little angel. Make it completely from scratch and use recycled materials. This kitchen is super cute and would be the perfect place for your child to play with any of their toys and dolls. This is a great question for their home and has all the necessary ingredients for a pretend kitchen, including a sink and tap. Children love being creative, trying new things, and just being themselves; this gift will help direct their thoughts in the right direction.
Low Budget DIY Play Kitchen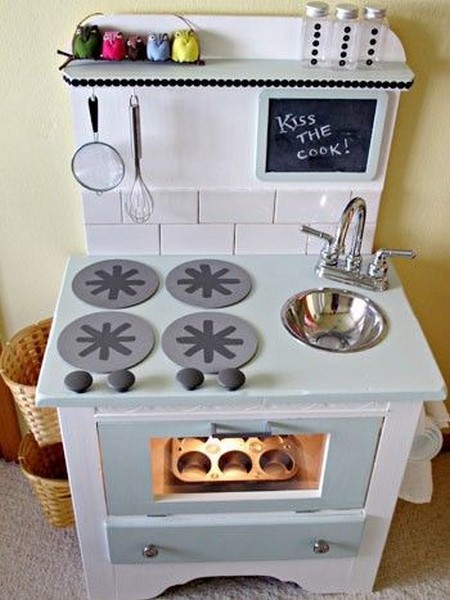 How much money do you wish to pay for a play kitchen? Not much? If so, you can use these instructions to build a very low-priced kitchen for your little one. Your child will feel like a chef with this play kitchen. It's amazing how good of a job you can do with just cardboard and some paint, right? It's easy to assemble, and the finished product looks great. It also has many fancy buttons, sounds, and other things that keep your child occupied for hours.
DIY Play Kitchen Makeover

DIY Play Kitchen Makeover. If you have an old play kitchen that needs a makeover, you can do it yourself, and there's no need to buy a new one. The creator of this play kitchen transformed an old painted play kitchen into an amazing piece in her home by painting and adding some extras. The cost was less than $50, most of which was spent on the paint job and a few décor items.
Decorated DIY Play Kitchen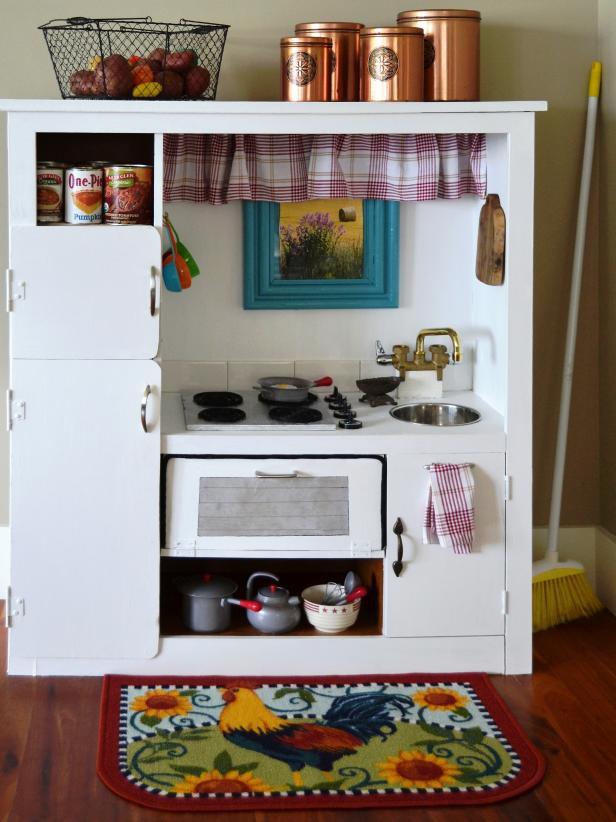 This kitchen set is perfect for youngsters who love to pretend to be grown-ups. Kids will learn how to cook, spend money on groceries and serve food to their guests with this DIY play kitchen set. It has a fully functioning stove and oven and a sink filled with water that drains away and lights up too! Made from light yet durable pine plywood, this play kitchen set will stand the test of time – providing years of fun for your little ones. This project takes time and effort, but it will be well worth it when you see your kids' faces playing with this adorable kitchen.
Transformed Cabinet Play Kitchen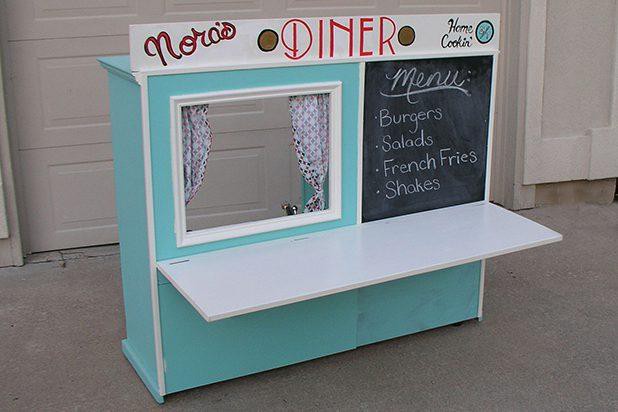 If you hold an old cabinet you don't know what to do with, you can replace it with a play kitchen for your little one. You can create a beautifully designed play kitchen for your child without spending much money. This is easy to do in less than 24 hours with just some paint and other tools. The finishing look is impressive, and any kid would be proud of having this in their room.
Cute Play Kitchen Idea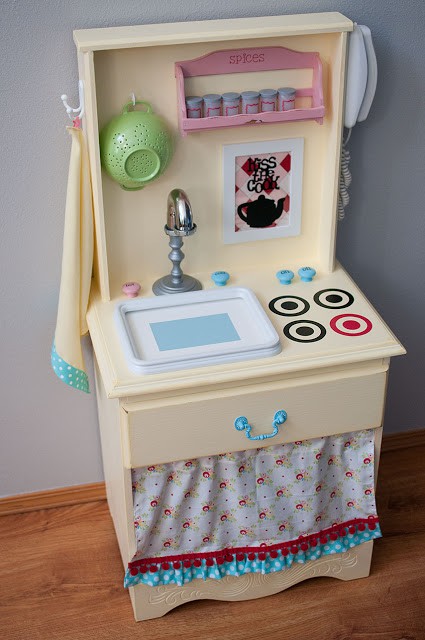 This play kitchen idea is an old nightstand that has been transformed into something more functional and decorative. This kitchen will smile your kid's face with a fancy sink, spice shelf, and other details. Your kids would love this type of play kitchen that has a lot more details than some of the others. It's super easy to make and so pretty too. You can use it to store a favorite doll or toy.
Handmade Play Kitchen Idea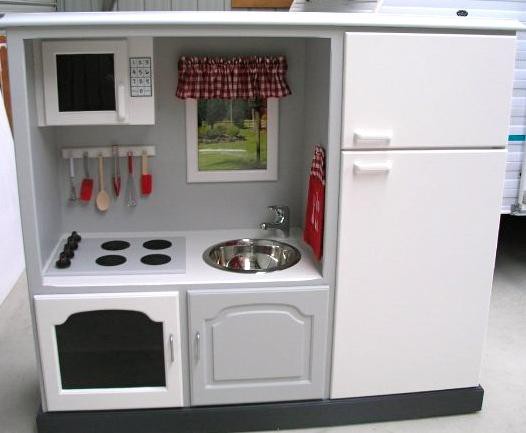 This DIY play kitchen is a great way to go if you want to increase your child's imagination and encourage a love for cooking. If you have any old TV units in your garage or basement that need some TLC (Tender Loving Care), this is the perfect way to give them a new lease on life. This handy tutorial transforms your old TV unit into a fun, functional, adorable kids' play kitchen. Your child will enjoy hours of playing in the wonderful world of cooking and pretend games.
DIY Play Kitchen With Cabinet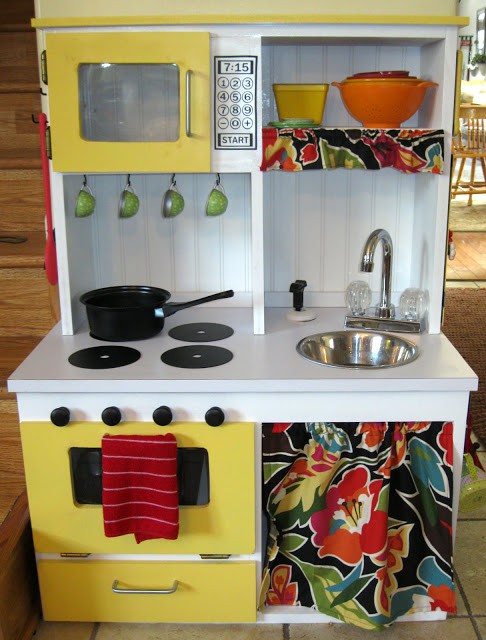 You've always wanted to make a play kitchen for your kid, but that project just looked like too much work, and buying one was way too expensive. But now there is an easier way! This DIY Play Kitchen With Cabinet is perfect for kids and will help them develop their creativity. You do not have to be a handyman to create this project. You need simple tools and patience, and you can start building something wonderful!
DIY Kids Play Kitchen
As a parent, you will like to keep your kids busy and entertained with something educational to avoid exposing them to harmful activities such as watching too much TV. This DIY project will help you do just that! Let your child get inventive and make a play kitchen on their own by cutting some wood and assembling it to create this awesome setup. It requires basic woodworking skills and some toys to make the kitchen look real.
DIY Play Kitchen Makeover Idea
If you own a play kitchen and it's looking worn, here is a quick and easy DIY project that can give your kids an updated kitchen to play with. You can give it a cool makeover with simple materials and some elbow grease. You only need to remove the old doors and drawer fronts, then paint them in a color of your choice. Add new hardware such as knobs, hinges, and drawer pulls to complete the transformation.
Deluxe Style Play Kitchen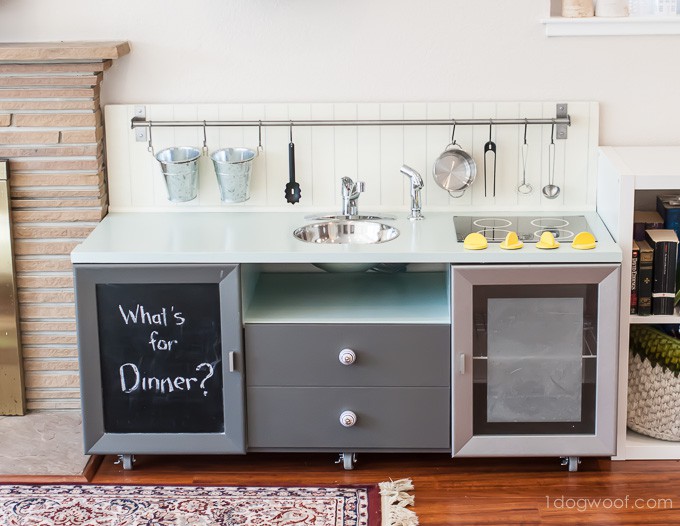 Kids love to cook and play "restaurant" at home. You can create this amazing play kitchen for your child with a few tools, plywood, and toy equipment. Create a home-based cooking play kitchen your child can't wait to start using with the help of this easy-to-follow plan. Straightforward instructions and detailed drawings make this fun project simple to build, even if you have no experience with carpentry or woodworking.
Simple Kid Play Kitchen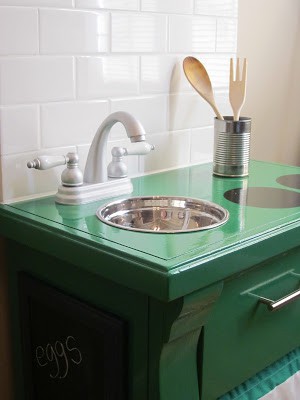 This project is perfect for your child, who loves learning! It's like an art project, but it can be used as a play kitchen in your child's room. The chalkboard at the side of this design is also amazing. Make drawings there and let your kid enjoy creating their food drawings! This simple kid play kitchen is an excellent beginner project for any woodworker and includes plans for a chalkboard wall on one side of the kitchen.
DIY Realistic Play Kitchen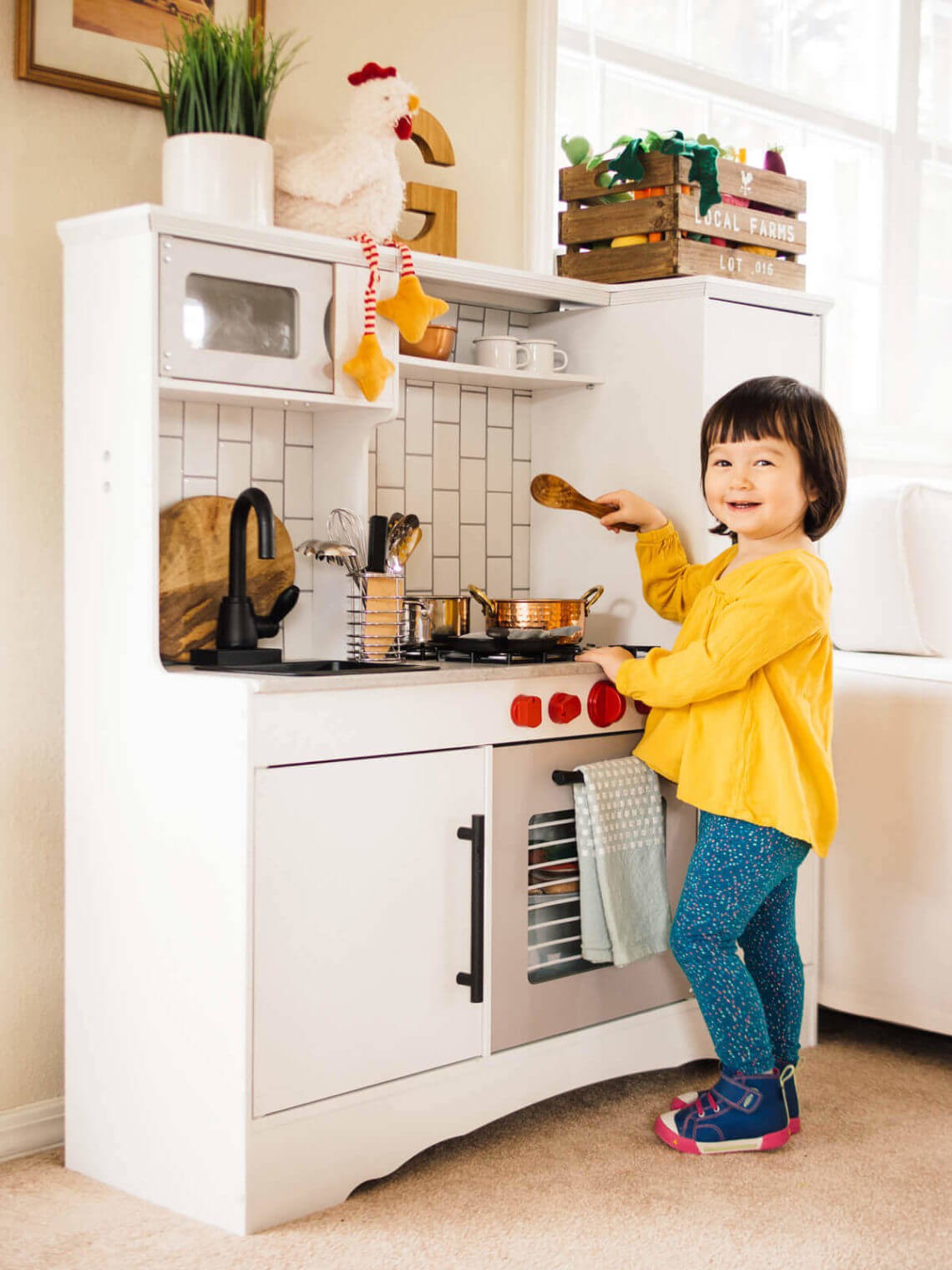 Do you need a gift for your special little girl? Maybe you have one of your own but don't know what to get her next. Then look no further than the DIY Realistic Play Kitchen. It's got all the bells and whistles of an adult kitchen but with safety in mind. With toys like this, who needs a babysitter? Everything your little one needs to be a great chef is right here in this amazing project—including a sink with a faucet that works, a stovetop with four burners, a microwave oven, and even a dishwasher! Its bright colors also look like a fun place to play in!
Cheap DIY Play Kitchen
It's hard to believe how much you can do with an old TV stand, and you will love this conversion of a TV stand into a DIY play kitchen. It might be lying in your house or at a local thrift store. You can turn it into a play kitchen that your child will love. With a few minor adjustments, you'll have a beautiful DIY play kitchen without breaking the bank!!
You can also see: DIY Kitchen Garden Window Ideas
DIY Low Budget Play Kitchen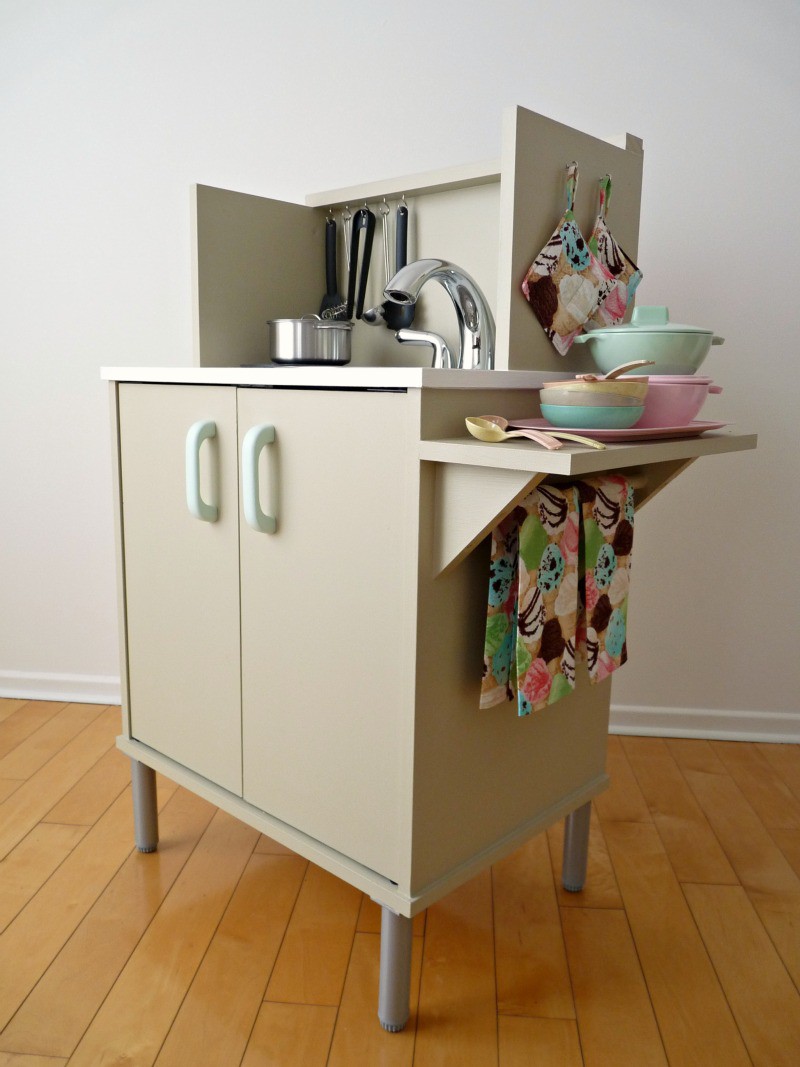 Try out this awesome project and transform any microwave stand into an attractive play kitchen. This is one of the easiest DIY play kitchens that you can make. It has a cupboard for storing your kid's play kitchen utensils and a sink and tap at the end of the kitchen countertop. It might not have many compartments, but your kid would love this simple kitchen play set either way. You don't need much money to make this play kitchen, and it will take you less than two hours to finish it. You can even use old furniture to make something like this while saving some cash.
DIY Miniature Cardboard Kitchen
If you're searching for a play kitchen for your kids that's safe, sturdy, and easy to clean, then this DIY Miniature Cardboard Kitchen might be what you're looking for. Discover more about the materials needed to build this gorgeous play kitchen! This project is quite simple and can be accomplished in one night. The kitchen uses just a few basic tools, plus cardboard and paints, to create this functional decor piece. It's inexpensive and can be customized to fit your taste
Modern DIY Miniature Play Kitchen
Have you been struggling to find a safe play kitchen for your kids? This modern miniature play kitchen is made from cardboard, and you can customize it according to your needs. It has all the basic things your kids must play with, including a stove, baking oven, microwave, and sink. This play kitchen can be constructed within a short time. Your kids would have fun with their friends while playing in this adorable miniature play kitchen.
DIY Kids Cooktop
The DIY Kids Cooktop is a fun way to let your kids participate in the cooking process. It has working burners, a sink, and an oven. Your child can use the play pots and pans to make their delicious meals, soup, or anything else they want. The safety features include a cool-touch design, so even if your little one gets too close, the hot liquid won't spill on them. This DIY Kids Cooktop will keep them occupied and out of trouble while they cook their favourite foods.
DIY Kitchen Playset

This play kitchen is the perfect size for your little chef to create many recipes. The color and style will fit almost any child's room, playroom, or basement. It's lightweight so it won't be a heavy investment. All you need is simple tools and patience, but these tools can easily be found in any toolbox. This simple play kitchen is easy to build and does not require any advanced carpentry skills. The sliding door adds a unique feature to this classic design, ensuring hours of pretend play and fun for kids.
14. Ultimate DIY Play Kitchen Idea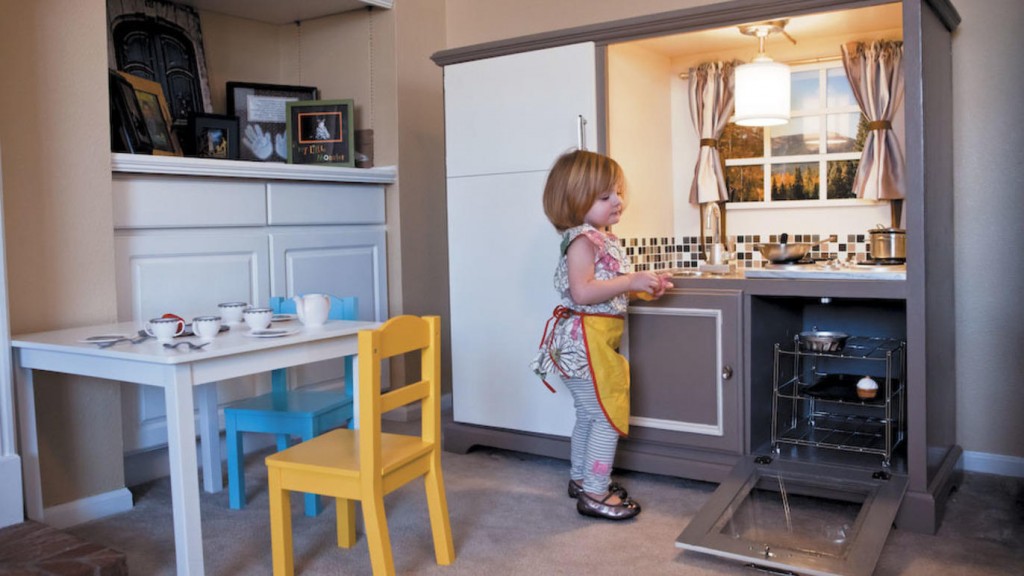 Using old stuff in new ways never gets old. This play kitchen idea is one of the coolest you have ever seen. It was previously a TV shelf that had been removed from the wall because it did not match the rest of the house decor. The owner found an awesome way to repurpose this shelf for their child's play kitchen. If it can look so good, why not try it at home? This new play kitchen has a modern design. It is unique because it is not only a kitchen but also a place to store toys or other things like toys. The child can use it for many years and even as an adult.
DIY Kitchen Idea From Entertainment Center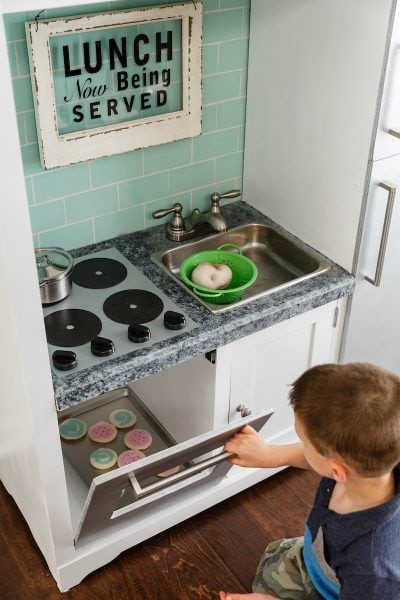 Kids can easily set up this awesome DIY Kitchen Idea From Entertainment Center. Kids will love the knobs, the storage, and everything else about this play kitchen. It's time to stock up on those tiny pots and pans you can find at any dollar store because this DIY kitchen idea is the easiest way to make your kids the happiest chefs in town. It only takes about a day or less to create, and you can build it for less than $50.
DIY Play Kitchen For Kids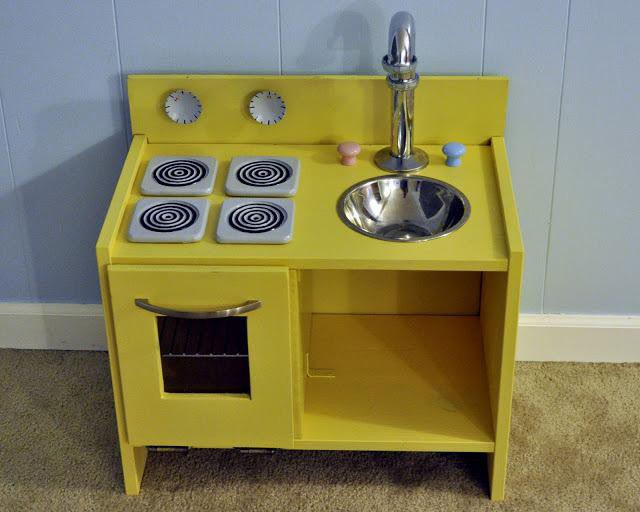 The DIY Play Kitchen For Kids kit gives your child everything they need to create their place to play and learn. With a variety of accessories, it allows them to play out everyday roles. This set includes a durable refrigerator, oven with adjustable heat, sink, and dishware stored in the double door cabinet and cupboard—this amazingly simple DIY project for making your child's play kitchen. The best part is that it can be made from items you have around the house.
DIY Play Kitchen In A Box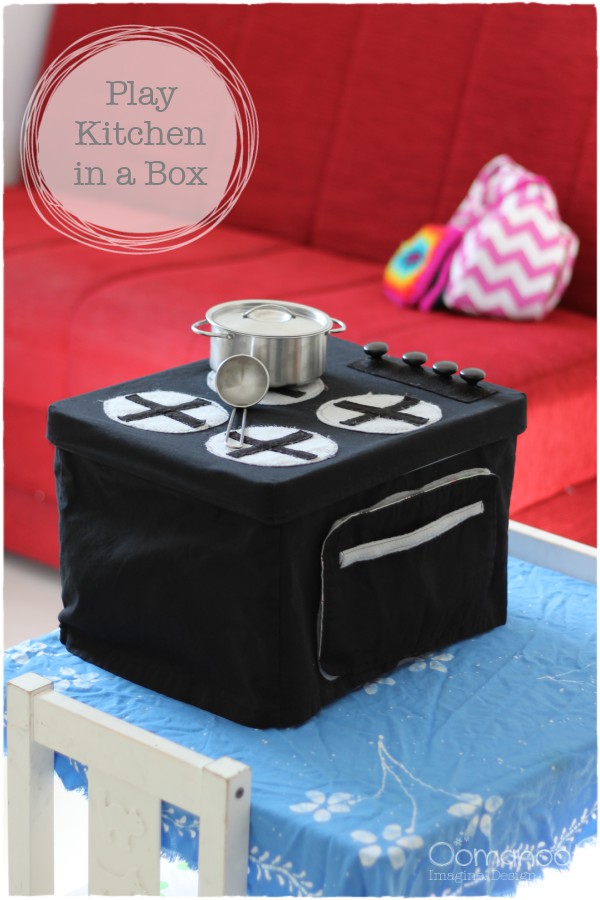 This DIY play kitchen in a box is a great first project for anyone who wants to get into carpentry. Made from plywood and screws, it will be easy to assemble! You can also choose certain styles of cabinets to go with this project. The DIY Play kitchen in a box is a great project for children. You can make this play kitchen using easily available materials. It's great for a child who loves to take things with them when traveling or on outings. You don't have to bother about storage space once you are finished making it.
Play Kitchen DIY Woodworking Plan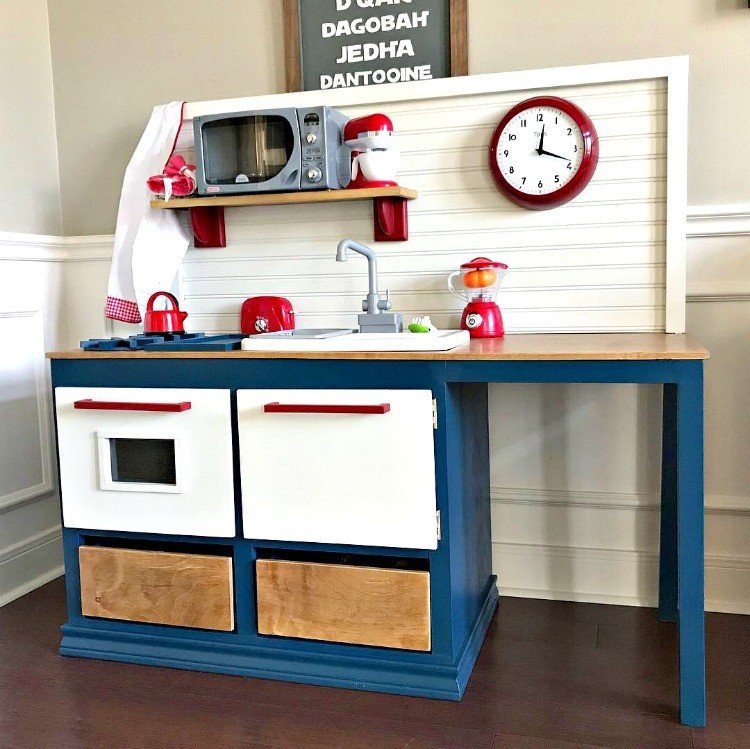 Your little chef will want to cook up some fun with this DIY project. This play kitchen has a sink, dishwasher, wooden spoons, a removable spatula, a microwave, a hood fan, and an overhead light. You can add a faux fridge door with bins to store the kids' toys or food! This DIY woodworking plan is exactly what you have been searching for. It will give your kids hours of fun and entertainment as they pretend to cook up all their favorite meals.