The platform bed frame is nothing but a traditional-looking bed frame that is simple and easy to make. It is made from wood and has a base that is flat or at a slight slope instead of high. They are big enough to accommodate any mattress size, whether twin or king. The steps for making this bed frame are fairly straightforward, and the DIY Platform Bed Frame Ideas on this list are incredibly easy to follow. With the right materials and tools, you can build one of the following platform bed frames in your home. The designs and the instructions to build these platform beds are provided below. You need to follow the guidelines to build the perfect and unique one.
DIY Platform Bed Frame Ideas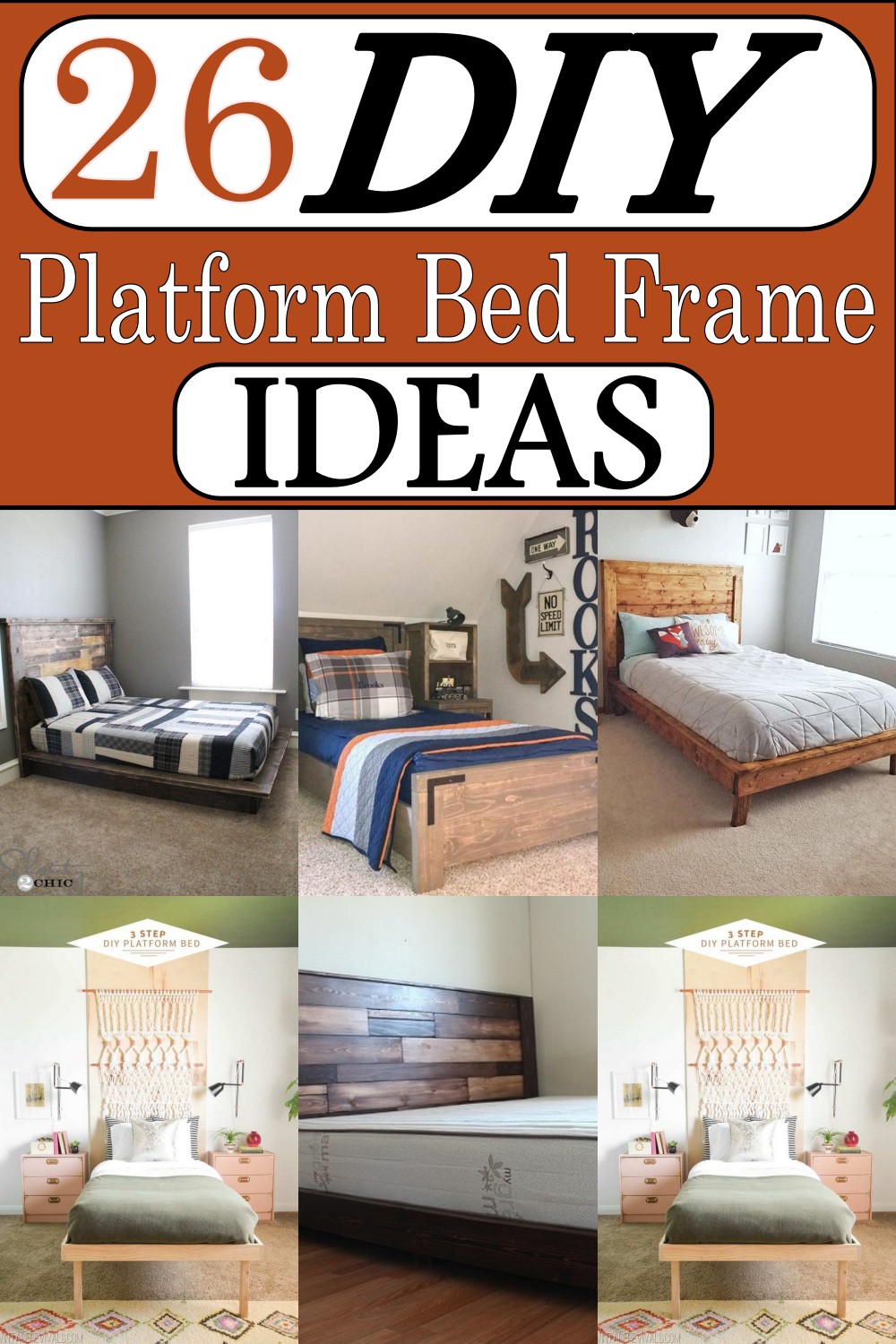 These DIY platform bed plans give you all the options you need to make a beautiful, custom-made bed frame. Many designs choose whether you want a simple platform-style or something with built-in storage. The best part is that they'll look great next to your DIY nightstands, dressers, or even a custom headboard.
If you want to build a platform bed frame, then these DIY Platform Bed Frame Ideas would be the best to start with, as it shows how you can make a versatile and sturdy platform bed frame that works with any mattress size. With the measurements given in these guides, you can easily decide how wide and tall the platform should be. Using these easy DIY plans, you can have a sturdy frame that will last for years. Whether shopping at a home improvement store or building a platform bed from scratch, you will learn everything you need to know in each of the following step-by-step projects!
Modern Platform Bed Plan
Now you can build this sturdy and clean-lined platform bed for your spare room or guest room. The design is modern, simple, and elegant. It is an easy build, and the result is really impressive. This design has no measurements to follow, making it perfect for beginners to learn from. Just follow the step-by-step instructions in our easy guide, and you'll have a brand new bed to sleep on in no time!
Platform Bed With Floating Night Stands
This DIY platform bed with nightstands is a stunning and unique design you need in your room. It can be built using LED lights, a switch near it, a charging socket port by the side, and other amazing features for easy accessibility. The creator made it easy for anyone to build. Building plans are available if you wish to get more involved in making. The plans are detailed and include everything you need to know about building this bed frame.
Easy Platform Bed Plan
Building a platform bed is one of the most economical and stylish ways to get a solid place to sleep. And with this plan, you'll be amazed at how easy it is to make one from any lumber. You can build your own using basic tools like a circular saw and sandpaper. With these simple building plans, you can make this sturdy and durable bed frame in no time! It might not look like much now, but once it's painted or stained, it looks amazing.
How To Make A Floating Platform Bed
This floating platform bed frame is easy to make and affordable. It also allows many years of usage by adults and children. This bed frame can be made out of plywood or masonite board, and you can screw in the blocks or use wood glue for a stronger bond that holds the two boards together well. Here are the instructions and tips to help you put this beautiful floating bed in your bedroom so you can sleep on top of your dreams. This is one of those ideas that will save money, look great, and provide many years of use.
Easy DIY Platform Bed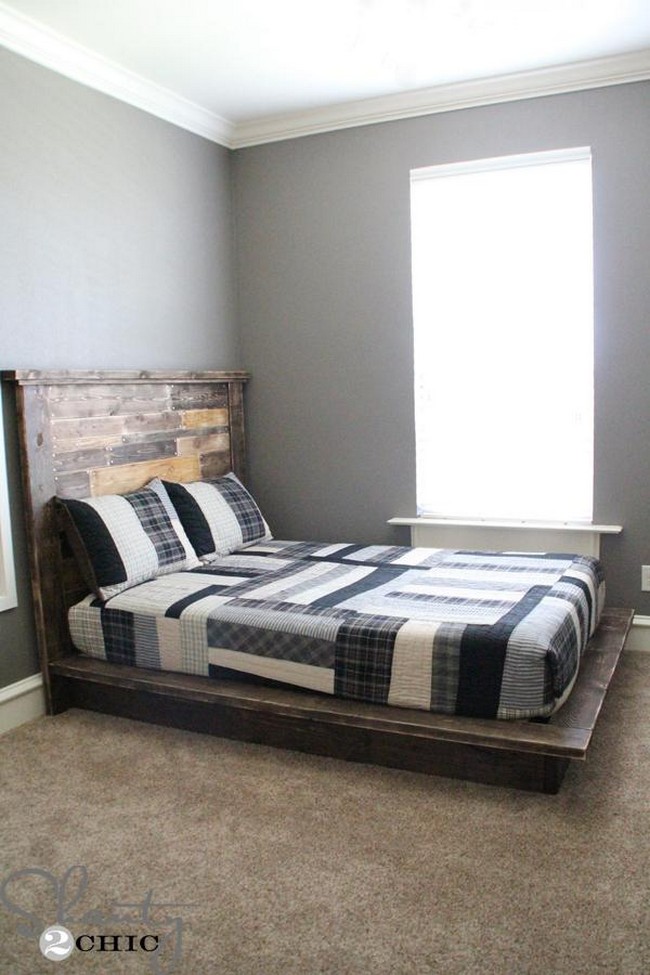 This DIY platform bed is easy to build, but it is also not a floating one. This means that our job is easier than other projects, which require a lot of work in shaping their frame. The creator used this frame for their bed, where the size was a twin. This platform bed is the easiest one to build and the most helpful in saving space; it allows you to place your furniture to maximize space and make your home look more spacious and elegant.
Hailey Platform Bed
How would you like to make your own Hailey Platform Bed frame and save more than the price of buying it pre-made? You can build this beautiful bed frame effortlessly with just a few simple steps. It takes wood screws, pocket hole screws, and finishing nails to attach the boards with pocket holes. The best part? You can choose any stain color you want for your pieces!
Platform Bed Frame For King Bed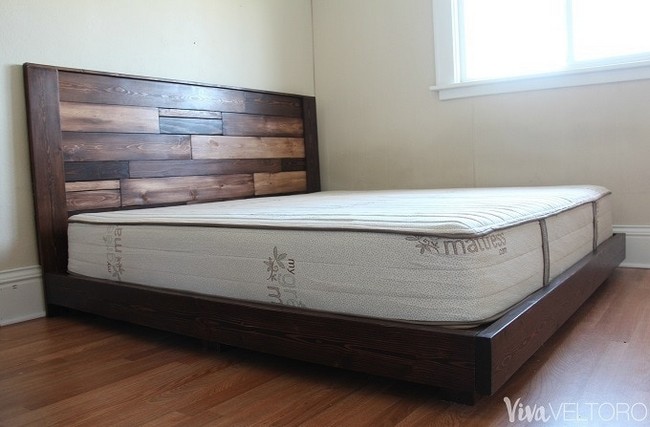 If you have a king-size bed, this DIY platform bed frame answers all your sleep dreams. This platform bed frame is simple yet elegant in all the right ways. This looks simple, but it might not be an easy project for everyone, so check out the instructions before starting. The overall dimensions of this wooden platform make it extremely solid and sturdy, so there won't be any squeaks with this one.
Platform Bed Frame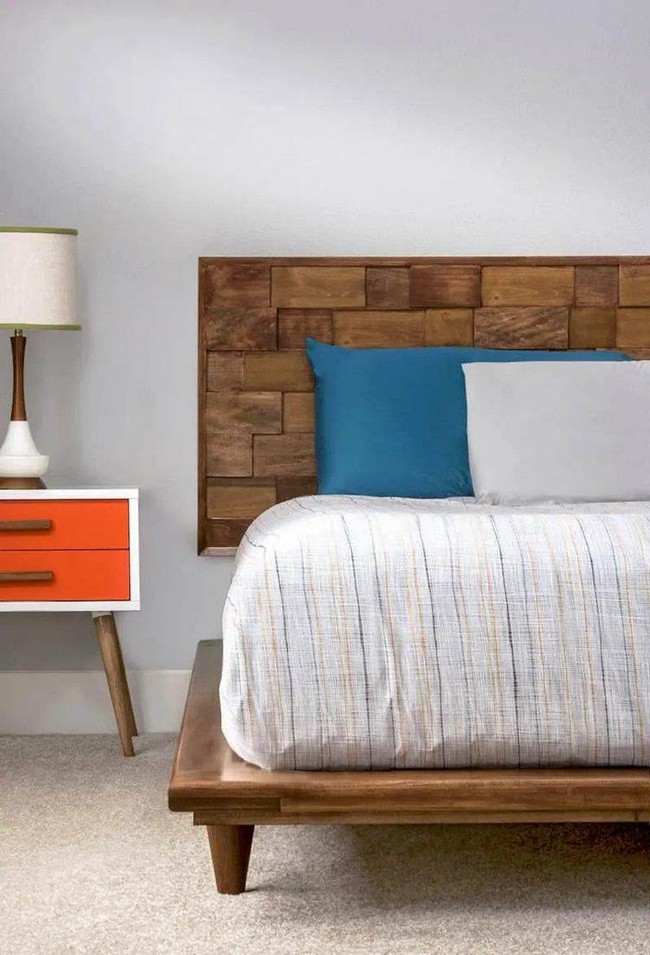 Finding the perfect platform bed frame to fit the space in your bedroom is challenging. However, with this DIY Platform Bed Frame tutorial, you will be able to make a platform bed frame that can be customized to fit your space and style. The DIY directions are simple and easy to follow for anyone looking for an inexpensive and creative space-saving solution for your home. This platform bed frame is crafted using simple steps and materials that are easy to find in any home improvement store.
2x4 Queen Platform Bed Frame
This is a DIY guide for building a platform bed frame with 2x4s. This bed is perfect for storing stuff underneath if the space is limited and the room has big windows. You can easily make this DIY platform bed in one day using a drill and a saw. This simple design has many advantages over conventional beds: it's easy to build, completely customizable, inexpensive, sturdy, and comfortable. You can change its height according to your needs and preferences by adding or removing the boards needed.
Build A Modern Platform Bed
Build a Modern floating platform bed without having to hire professionals. The creator of this video made it from scratch, and the time-lapse video will show you how simple it is! It's super easy to build, and you'll learn exactly how it was made. This DIY project features instructions, plans, and tutorials, making it easy to build your own high-end modern floating platform bed with LED lights. Watch the tutorial video and follow along!
Floating Platform Bed Tutorial
This floating bed will thrill anyone who loves to make things themselves. This bed is uniquely designed with a floating base and supporting block structure that can be assembled from scratch by anyone you like, so your children can build it themselves while they are still young. This project will give them much experience with basic carpentry skills and help them gain confidence.
Easy Platform Bed
Are you tired of seeing all those pallet frame beds around, and you still can't figure out how to build one? Well, here is the answer. This is a simple Easy Platform Bed DIY that anyone can make with ease. This Super easy pallet bed frame requires no wood cutting skills or tools. You can enjoy its beautiful rustic design and sturdy structure simultaneously without hassle. All you need are the materials and tools you have at home, and off you go!
Farmhouse Platform Bed Idea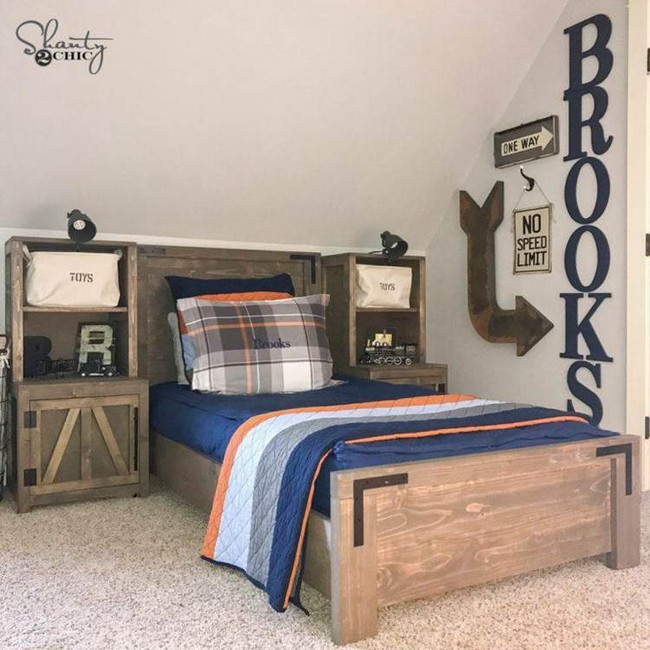 This project is a great option for homeowners looking to create the perfect bed. The platform bed not only has clean lines but is simple and stylish. We recommend a plywood bed base or similarly reinforced platform as the best foundation for this project. Although we show is made with only three boards, you can make one side longer to create a bed that fits your needs. If you love farmhouse style but don't have the space for an actual farmhouse table, give this DIY Farmhouse Platform Bed a try!
Platform Bed Plan
This great DIY platform bed is perfect for small spaces. Learn how to make it in just three easy steps: first, you'll need some premium plywood, premium pine boards, 15" parsons table legs that you can get at home depot or any local store near you, and heavy-duty top plates. Next, cut your plywood sheets down your pine boards to the right length. Lastly, nail the legs onto the wooden panels and add a thin layer of foam padding to provide comfort while sleeping on the surface.
DIY High Platform Bed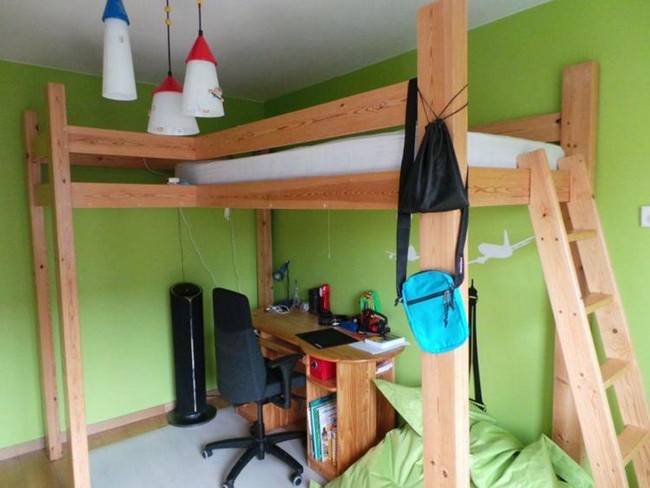 This high platform bed frame requires an expert woodworking skill to perform, and you might also need an extra hand or two to finish this build. The measurements are clearly stated in the guide, so there won't be any trouble figuring out how to place the vertical post for the upper part of the platform bed frame. This DIY project will allow you to make furniture that you can use for years.
You Can See: 34 Best DIY Loft Bed Plans For Kids Room
Modern Platform Bed With Storage
Here is another amazing platform bed frame with storage underneath and a simple headboard. In this time-lapse video guide, the creator took time to explain as he built the Modern platform bed with easy-going materials and tools. It features adjustable shelves, so your storage will always be hidden from sight. The entire DIY process takes about three hours for one person, but if you work with a partner, it would only take less than an hour and a half.
Floating Platform Bed Tutorial
Are you struggling to find a bed that is just right? With this DIY floating platform bed, you can make the perfect bed, whether it's for yourself or as a gift. It's super simple, and you'll love knowing that all materials are eco-friendly and safe. This amazing design also adds a touch of elegance to your home, ensuring that it looks modern and stylish no matter what you decide to do with it.
Fun Platform Bed
This video will show you how to build a DIY platform bed. A platform bed is a traditional style with no legs or feet. It simply sits on the floor, and the mattress supports the entire bed. The aesthetic appeal of a platform bed is obvious — it's simple, clean, and uncluttered. If you are looking for a solid wood project with great materials and clear instructions on building it, look no further than this DIY platform bed tutorial that will only cost you $200!
Easy Platform Bed Frame For $120
This DIY platform bed is a great choice for those who want to build their bed frame but don't want to spend much money. The two big advantages are that it has a headboard and two drawers that double as under-bed storage space. This project also saves you from spending hours wandering around countless hardware stores searching for the right tools and hardware to make your DIY platform bed frame.
King Size Platform Bed Plan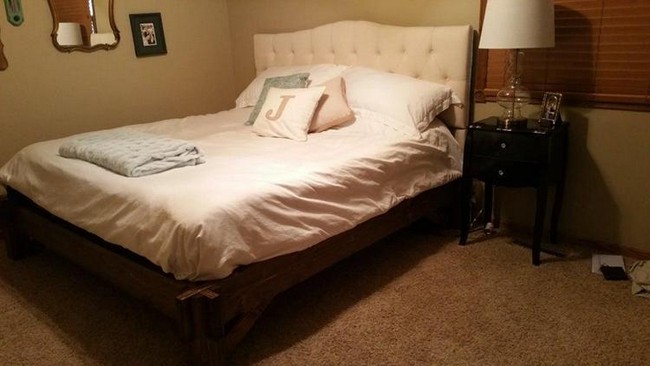 A platform bed can be built from scratch or using an existing platform. The price of building a complete bed frame, including headboard and footboard, averages about $300 for a queen size and about $450 for a king size. For those who want to save money, there are many alternatives to buying a pre-fabricated king-size platform bed. Most DIYers will design their own and spend only around $110 if they use recycled materials. This guide has 14 steps to building a king-size bed successfully. Each step has sub-steps with detailed instructions, so it's simple to follow.
Pottery Barn Storage Bed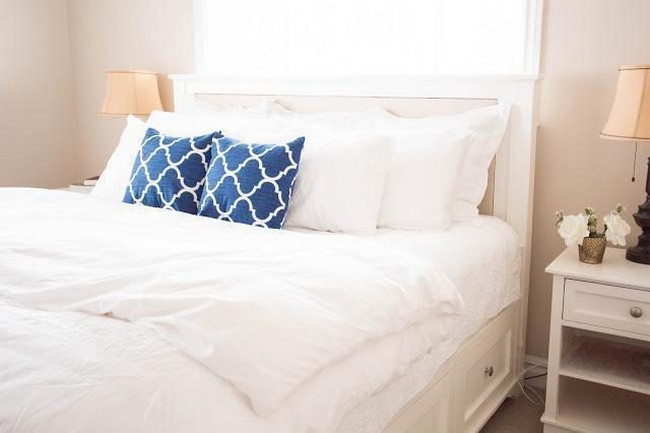 This is a good project for those looking to enhance the space under their beds. We all know that storage space is highly sought after since we need to store our clothes, gadgets, shoes, and other items with ease. This DIY project can be made in any size and makes it all the more usable if you are building something that meets your specific needs. The guide links the project's building plans in detail so you don't go astray.
Cheap Platform Bed Plan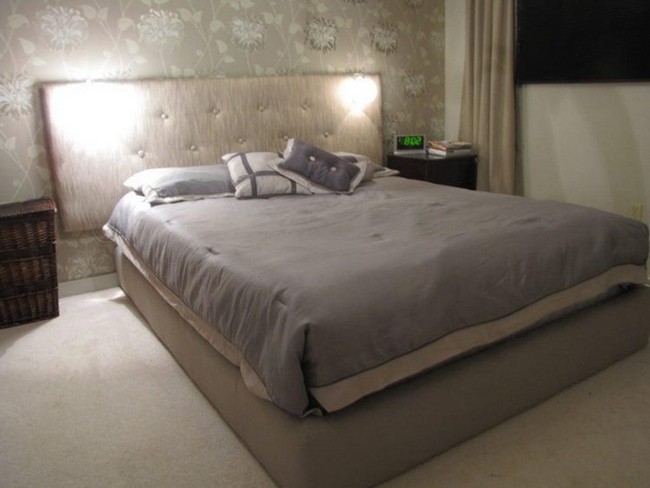 Have you ever thought about making a DIY platform bed? This beginner-friendly guide requires minimal woodworking skills, so it's perfect for a beginner. Learn how to make this cheap and chic platform bed with a few supplies like a big foamy mattress, staple gun, wood boards, a big chunk of fabric, and lots more. Follow this easy guide to make it in a few hours using just a few supplies like wood boards, a foam mattress, and a large piece of fabric. You can use this guide even if you're a beginner at woodworking!
Modern Platform Bed
You just made your platform bed with a modern twist. The LED light along the headboard is just what you need to give your room a little more zing while respecting its style. You can use this project to inspire an entire theme when decorating your home or apartment. This DIY project does not require a lot of tools or expertise, and the outcome leaves you with a beautiful and comfortable bed for years to come.
Platform Bed With Storage And Charging System
This platform bed frame is made with a storage system for easy organization of your clothes and a charging system. It has two compartments to save space by storing more items. Starting from the bottom: The first compartment features four wooden blocks that support the mattress railings, and underneath there is a small drawer that you can use to store items such as books, office supplies, and wallets. The second compartment has an open shelf on which two chargers can install simultaneously.
Massive Timbered Platform Bed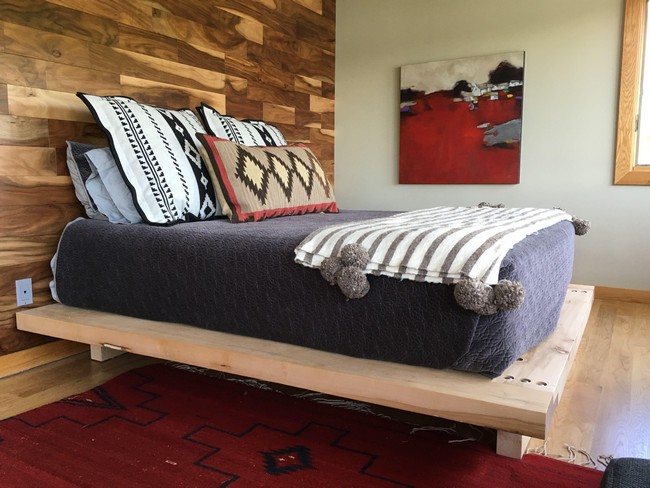 Our Massive Timbered Platform Bed is a stylish and functional addition to your bedroom. Made of reclaimed wood, this bed combines style with strength. Its slatted frame construction further accentuates the design, allowing air to circulate freely around your mattress, so you sleep even better! Ready to assemble. This is a perfect addition to any contemporary space; the shape of this piece adds character to any bedroom.
How To Make A Platform Bed For $50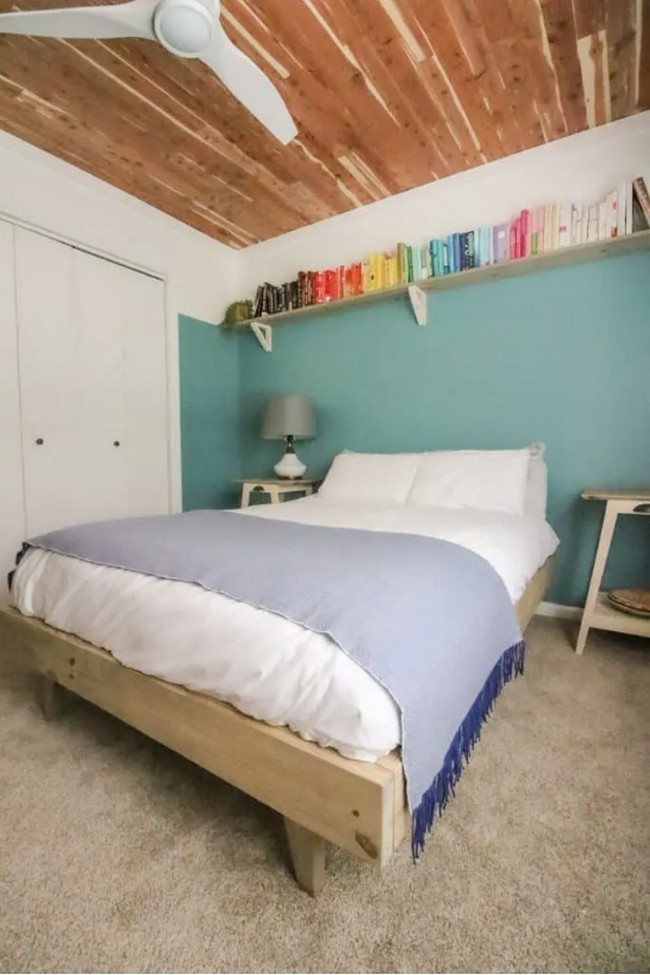 Are you looking for a high-quality platform bed for your home but do not have the budget for an expensive one? Describing what you will make and how to do it step by step is a great way to share your knowledge with others. Building your bed from scratch can seem like a daunting task. However, this guide shows you how to build a platform bed for less than $50 in only two hours. All materials available here can find at any hardware store, making this project both affordable and easy.
Conclusion:
We always have projects around the house, but most of them are complex and time-consuming. In this DIY today, we will be looking at some of the easiest things you can make. One of those simple projects is a platform bed frame for any size mattress. A platform for a bed will elevate your sleeping surface and save you a lot of space under the bed. The next step is choosing what materials to use to build your platform bed.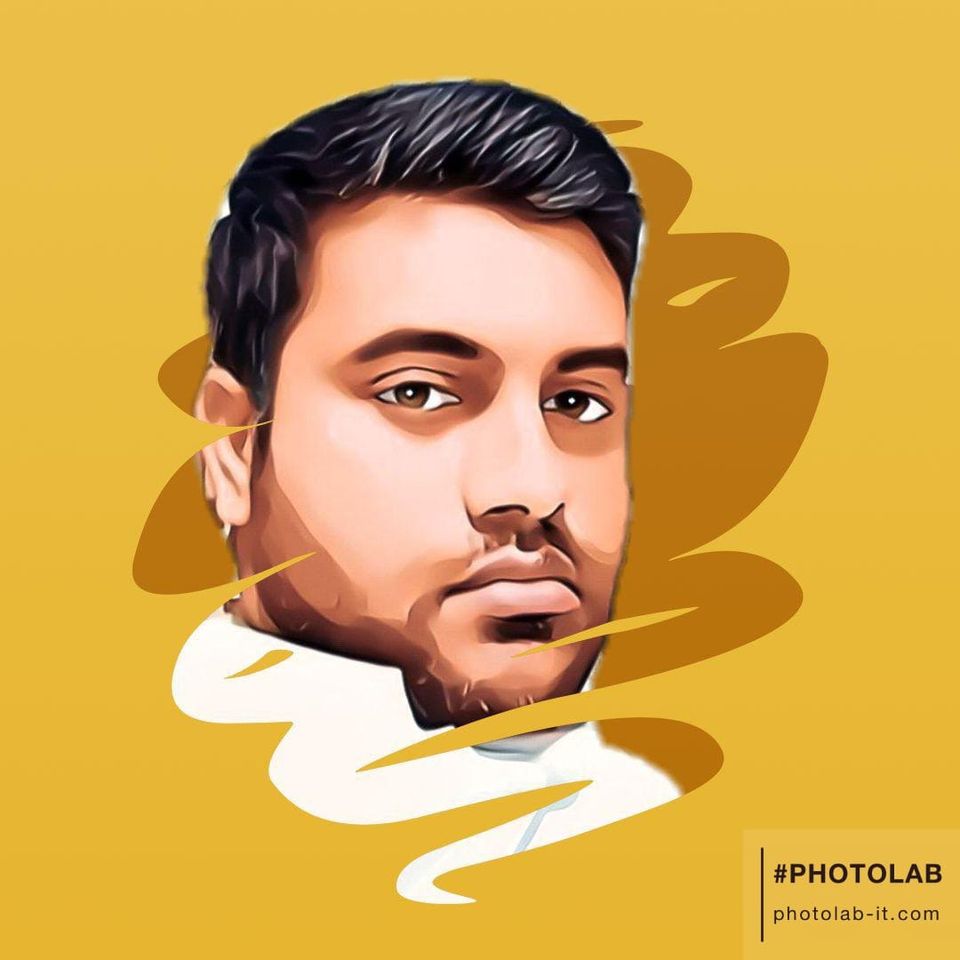 I am Raza, a crafts expert with 6 years of experience. I run this site for DIY lovers to provide the most exciting projects and ideas for your home, office, and everyday life. See More