With summer just around, it's time to think about the upcoming warm weather and the opportunities for outdoor fun it brings. And what better way to enjoy the great outdoors than hosting a picnic? Picnics are a great way to spend time with family and friends, and delicious food is always a must-have at any picnic. A picnic table is likely one of the essential elements of any outdoor space, so if you don't already have one, you'll need to build your own. With these DIY picnic table plans, there are plenty of options to choose from. The best part is that they're all straightforward to build! So get creative, make your picnic table, and start planning your next picnic!
DIY Picnic Table Plans
When you're looking to create a space in your backyard that's perfect for entertaining, there's no better option than a picnic table. You can use it for everything: BBQs, games, crafts, or even just for relaxing after a long day. But there are many options for picnic table plans, so you might be wondering what the best way is to build one. Whether you're looking for an inexpensive project for the kids or want to create a more whimsical dining area, these projects will help you make the perfect place to enjoy the outdoors. Browse through this collection of 25 picnic tables that will give your family backyard plenty of space to eat and play.
Benefits Of DIY Picnic Table Plans
The benefits of building a picnic table are numerous. You can create a basic table that will last for many years, or you can go all out and build something that will surely envy all your neighbors. Here are some things to take into carefulness when making your picnic table:
1. Cost - This is an option if you are on a budget. You can purchase the materials at a fraction of what it would cost to buy them from a store. The great thing about building this type of furniture is that you can use materials that may otherwise be thrown away - old pallets, scrap wood, and other items you might find lying around your garage or backyard.
2. Convenience - This is another benefit many people enjoy when making their own picnic tables. They don't have to trust someone else to make it for them because they know exactly what they want their table to look like and know they have the skills to make it happen!
3. Customization - With so many different furniture styles available today, most retail stores have no room for personalization.
How TO Build A Picnic Table With Built-in Cooler
A picnic table is an excellent addition to any deck. But why not take it to the next step with a built-in cooler? This fantastic table has everything you need and more. Plus, it's made from simple materials you can find at any home center. You need to know how and then you can enjoy an item that will last for many years to come. With this video guide, you'll be able to build your own picnic table with a built-in cooler bin and replaceable cover in no time.
See also: 25 DIY Table Top Ideas For Transformation
DIY Picnic Table
Creating your own picnic table is a fun and rewarding way to bring something practical and stylish into your home. This DIY table is easy to assemble and consists of basic instructions that you can follow along with. The materials required in this project are minimal, making it super affordable and accessible on a budget. So create an outdoor space that's inviting, comfortable, and beautiful with this project! Just follow the step-by-step instructions to get started!
DIY Hexagonal Picnic Table
You can do this DIY project as part of your home improvement projects. It's simple, inexpensive, and so much fun to build! You don't even need any special tools or skills to create this hexagonal picnic table. With some carpentry skills, you can make this hexagonal picnic table to use in the backyard or while camping. This DIY guide will help you find all the necessary materials and how to cut, assemble and connect them.
DIY Picnic Table Plan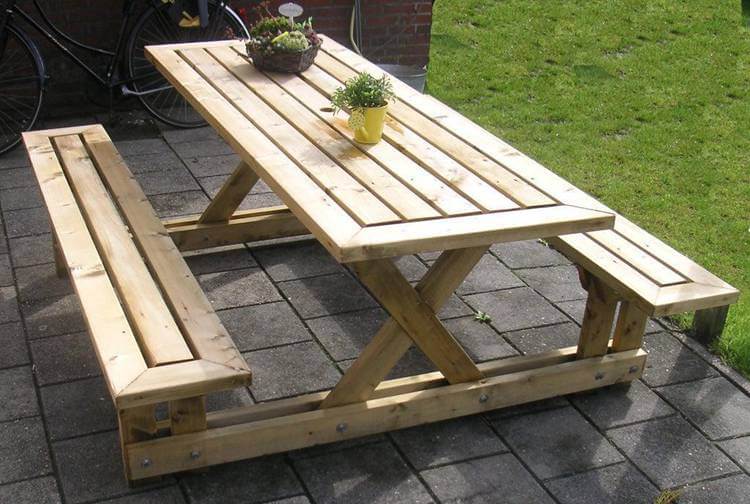 This DIY picnic table plan is a great weekend project for any handyman. It can be made from various materials, but for this one, the creator uses cedar to give it that classic look and durability. The plan includes a cutting list, details on how to cut the pieces, assembly instructions, and photos showing each step. The making process should take four to six hours, depending on your skill level. This picnic table plan is built to last and can be customized to your taste. You can add this to your garden with time and hard work.
You can also see: DIY Farmhouse Table Plans
DIY Picnic Table Plans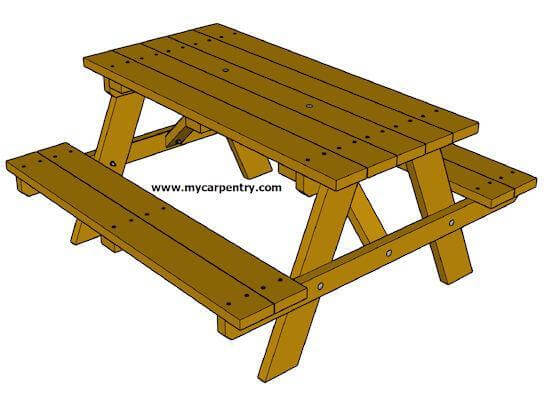 This project is easy to assemble and economical so that you can use it as a picnic table or on your patio. It's so charming you might decide to leave it in your backyard even after the warm weather has passed. It's made of wood and galvanized carriage bolts, which are strong enough for outdoor use, but if you want a more formal look, use cedar slats instead. This project will take about an hour of your time. Easy-to-follow instructions show you how to make a simple picnic table from scratch using inexpensive, readily available lumber.
DIY Strong Picnic Table Plans
If you need a DIY picnic table that holds up for years, you've come to the right place! This video shows the steps to build a strong picnic table that's easy to assemble and affordable. Picnic tables are an essential part of any picnic or large gathering. However, they can be pretty hard to build and make since they have to be solid and sturdy. This DIY strong picnic table plan will help you get the table's structure right, and the final product will be much better than other similar ones in the market.
How To Build A Picnic Table
If you have a backyard, you probably keep a picnic table. But have you ever wondered how to build one? A picnic table is an excellent addition to your backyard, especially if you have kids or pets. It's a neat way to take advantage of clean, green space and enjoy the outdoors, even in inclement weather. This video shows how to construct a sturdy outdoor picnic table with simple tools. You'll learn how to cut and assemble the parts, as well as how to waterproof it with caulk.
DIY 8-Foot Picnic Table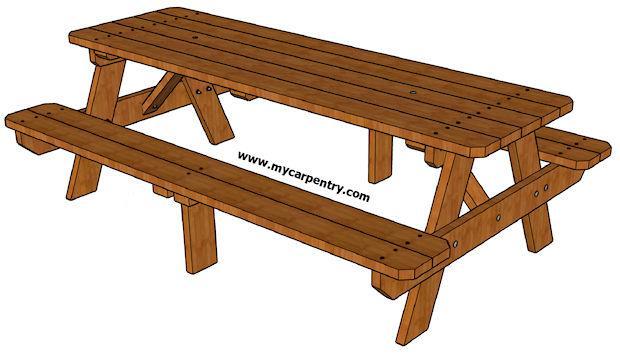 If you love the outdoors, make your place more comfortable with this DIY 8-Foot Picnic Table. You can easily create a picnic table from scratch by purchasing pieces of plywood, wood, and hardware. But before you get started, make sure you have all your tools together. This easy-to-follow tutorial will walk you through step-by-step instructions that take only a few hours to assemble and can be used anywhere.
How To Build A Modern Picnic Table
Building a picnic table is an excellent way to create an outdoor space for everyone. Making one is not that complicated, but you need to be organized and pay attention to detail if you want a quality finished product. This modern picnic table will add a touch of style to your outdoor space. Its simple design allows for quick assembly, and with the ability to provide seating for up to six people, it's perfect for relaxing after a meal or inviting friends over for a barbecue!
Easy Picnic Table Build
This simple picnic table is easy to build and perfect for a medium-sized group. Using only wood and bolts, you can have this picnic table ready for your next outdoor gathering in no time. This DIY picnic table builds quickly and can be made of inexpensive materials. A few pieces of wood, stainless bolts, and nuts are all you will need to create this sturdy picnic table that can easily seat four adults comfortably or six children.
DIY Octagon Picnic Table
Keep your outdoor party under control with this DIY Octagon Picnic Table. This picnic table has eight seats and ample room for your guests to sit, eat, and enjoy the great outdoors. The octagonal shape makes it easier to fit tight spaces while providing enough space for everyone. This plan allows you to make your picnic table in just a few hours. This design can be easily adapted to fit any room or budget so that you can build the perfect tabletop accessory for your backyard.
How To Build A 10' Picnic Table
Here is the best idea for you if you need a larger picnic table to accommodate more people. It's built from basic materials—deck screws, lag screws, and wood boards—and can be assembled in a single afternoon. This 10' picnic table will be perfect for your deck or backyard. This is an effortless project, so even if you have never done anything like this, you should be able to follow along and complete the project within one day.
DIY Picnic Table With Benches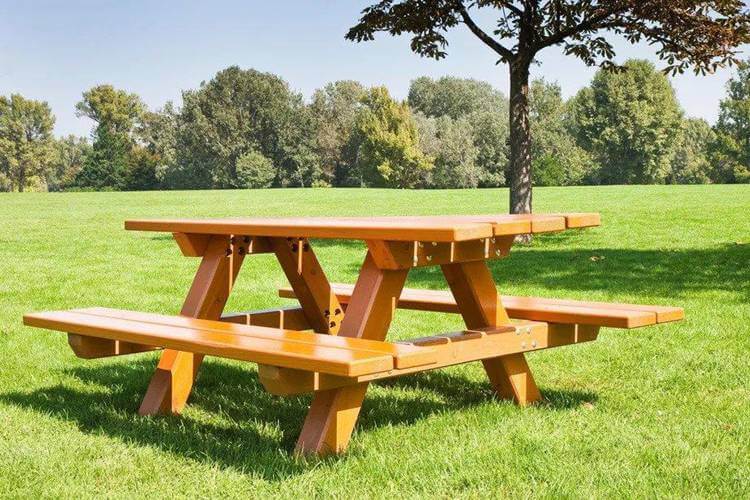 This awesome picnic table is great for your patio, deck, or backyard. The wood is durable and will last for years to come. This table can accommodate around 5-6 people, so it's perfect for small family get-togethers or your home parties. You could have your own outdoor entertainment area with this DIY picnic table and the tutorial below. It's built with cheap materials and easy-to-follow instructions.
DIY Building Plans For A Picnic Table
Picnic tables are essential for your backyard, patio, and deck. You could complete this project in just a day, and it looks great! This picnic table gives you plenty of space to eat, play games and hang out with family and friends. This beginner-friendly guide will walk you through how to make a picnic table, which is great for kids who need an outdoor space where they can safely play.
15. How To Build A 6-Foot Picnic Table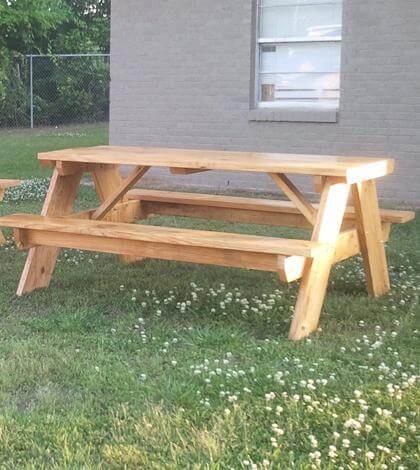 Whether you're having a picnic at the park or hosting that neighborhood barbecue, it's essential to have an ample table for everyone. Since this project is done with cedar, it will hold up even in damp climates and require very little upkeep. With these tips and tricks, anyone can build a strong, sturdy 6-foot picnic table that will last many years! The tutorial below shows you how to make a simple picnic table great for outdoor gatherings.
DIY Suitcase Picnic Table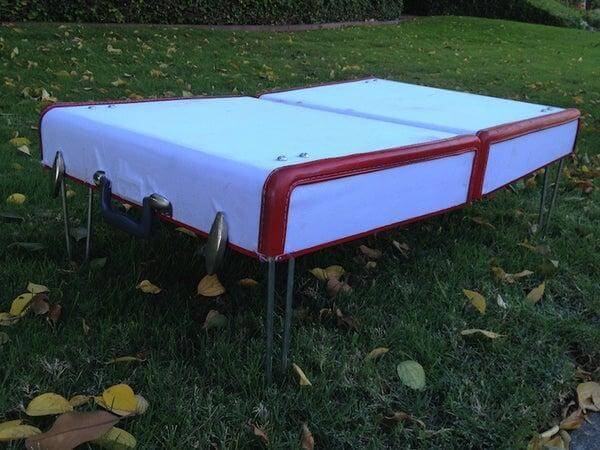 This DIY project is perfect for kids and adults who want to make their picnic tables. All you need is an old suitcase and hairpins, which you can find in any craft store. Just make sure that the briefcase is strong enough to survive with weight on it. This DIY suitcase picnic table can be made in a few hours with a few supplies and tools. It's perfect for the garden or the patio and makes use of a suitcase that you otherwise might not have used again.
DIY Picnic Table
This project is a terrific way to repurpose some old cedar into a beautiful outdoor piece of furniture that can use easily for years. Once the pieces are cut, assemble them with the screw gun and glue gun. Once assembled, finish the cedar composite tables with paint or stain and sealant. Get creative, customize your picnic table with various colors, or add your personal touch to make this piece unique. Watch the video above to learn more.
DIY Detachable Bench Picnic Table
This picnic table is perfect for picnics, barbecues, and parties. It is an excellent addition to any patio. This DIY bench can be placed in the corner of your garden or along the side of your home. Make sure to use good quality wood for the outdoor furniture to last longer. This tutorial is a great way to make a simple but sturdy picnic table. You'll need essential tools and materials—use them to build your own outdoor dining area.
DIY Convertible Picnic Table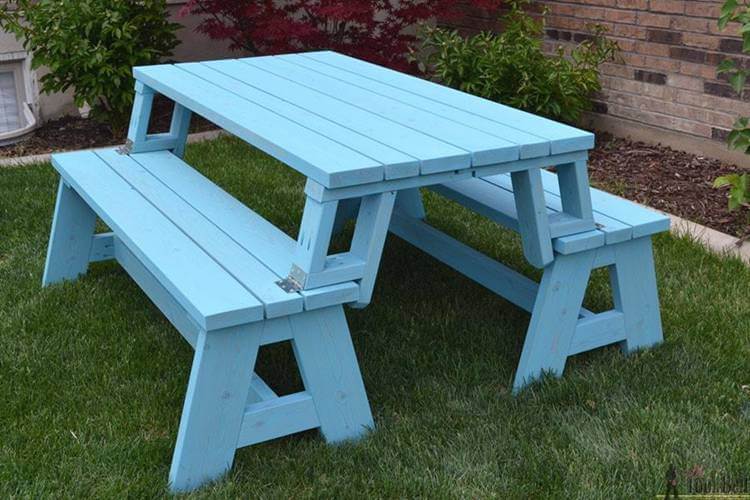 This DIY convertible picnic table will be the centerpiece of your backyard space. This table provides the flexibility of a traditional picnic table and the easy conversion to a bench seat or two separate benches. You may quickly find yourself seeking out reasons to spend more time outdoors! With just a few tools and materials, you'll have this versatile piece of furniture ready for entertaining in no time.
DIY Kids Picnic Table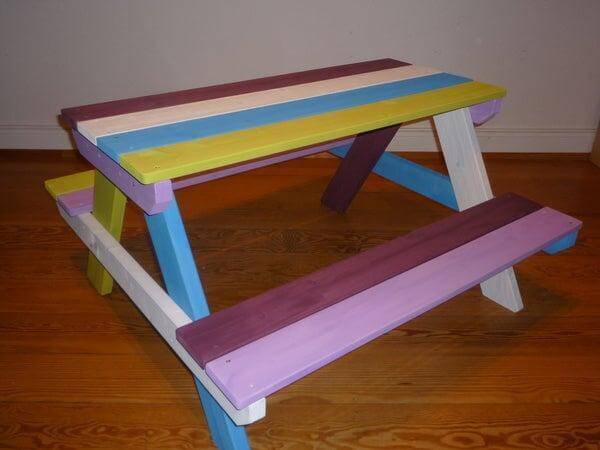 This DIY kid's picnic table is great for your children's playground. With their favorite colors and shapes, your child will love them. It will also help them organize their daily activities and play with friends while eating outdoors or having fun in the yard. Gather the necessary materials and tools and follow the step-by-step instructions to create a great picnic table your family will love!
DIY Children's Picnic Table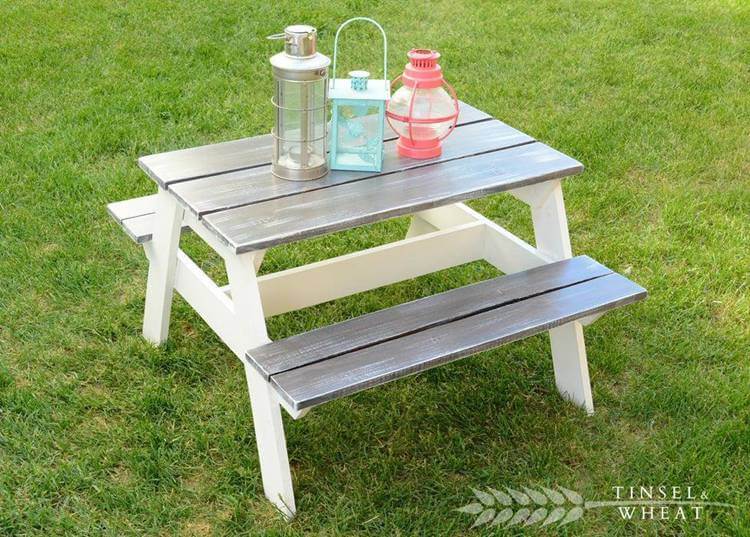 This Kids' Picnic Table is a beautiful addition to your backyard. Your kids will love hosting outdoor picnics with their friends, and you'll love how easy this DIY project is. This DIY picnic table is also a great way to get your kids exploring the great outdoors. It features a minimalist design and can be easily stored when not in use. Go through the below guide and Build this project with a few easy steps, then use it all summer long!
DIY Picnic Table Plans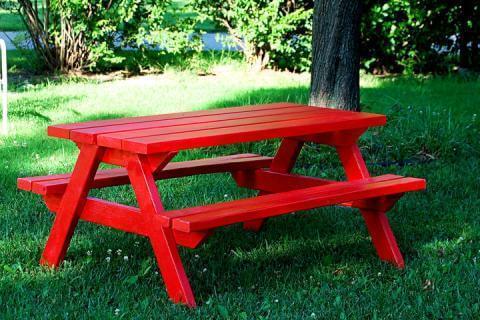 DIY Picnic Table Plans are the best way to make your picnic tables at your home. It is an easy project; you can get the materials needed with minimum effort. It is a perfect DIY project for your weekend. Make one for yourself and also for your family and friends this summer. Make memories that last forever! This guide will walk through the entire process - from start to finish - giving you all the information you need to build an attractive, durable, and spacious picnic table for your backyard.
DIY Modern Picnic Table
This modern picnic table is perfect for your patio, backyard, or front porch. The wooden boards used to create this table are from reclaimed wood, so you can make a stylish and eco-friendly table for the whole family to enjoy. The sturdy legs and simple design make this project easy for beginners. The finished product can be painted or stained in any color that suits your home's decor.
DIY Luxury Picnic Table
This luxury picnic table is the perfect backyard accessory for your next outdoor party. Made from hardwood, screws, and white acrylic paint, this DIY project will be a showstopper at your next gathering. Start by cutting the pieces for the top with a miter saw, then prep them and assemble them with screws. With this fully customizable picnic table, your backyard will be ready to host summer get-togethers. The instructions are easy to follow in the tutorial above.
20. Free Picnic Table Plans
Get this excellent plan for free if you need to make a picnic table. You'll be able to make a picnic table without the need for expensive lumber or clearance from the building department. This excellent picnic table is constructed with elementary materials and a little knowledge so that you can save money on expensive furniture. The design of this picnic table is quite simple; all you have to do is follow the instructions in the plan to create a sturdy one.