Pergola plans are a great way to turn your outdoor space into an oasis quickly. These DIY Pergola Plans show you how to build your own beautiful pergola or gazebo made from pressure-treated spruce lumber. These DIY Pergola Plans include everything you need to create a sturdy structure that will last for many years. The perfect addition to any yard or garden, they are not only classy but also easy to build. Paired with colorful plants and flowers, you'll have a lovely little oasis outside your home. These plans use cedar for support, but you can use any wood near your home.
DIY Pergola Plans For Your Home
Pergolas are one of the most uncomplicated patio structures you can build yourself. They're fast to create and make a great addition to any outdoor space. And not only do they provide shade in summer and shelter from the rain in winter, but pergolas also add instant curb appeal. Keep reading for 25 brilliant DIY pergola plans to help you get started on your next project. These pergola designs offer a range of benefits to suit any size garden and style. With sections such as foundation layout, materials to consider, and construction tips, you'll be confident in putting together the perfect pergola for your garden within no time.
With these 25 easy-to-build DIY pergola plans, you can create an attractive structure that improves your outdoor living area.
You Can See:
How To Build A Pergola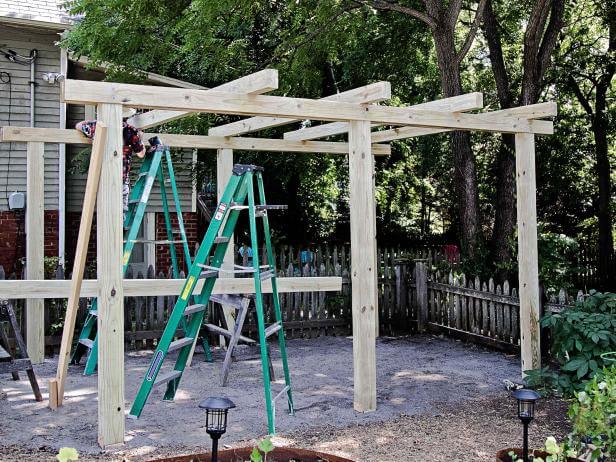 The pergola is perfect for shade and seating and can be built to any size that fits your property. Follow this simple instruction to find out how you can make one yourself. Start your pergola-building adventure with a complete guide. Here you'll learn how to choose the perfect boards, how to drill pilot holes and why you shouldn't over-drill them, how to cut a 45-degree angle at a leisurely pace, how to measure for a post, and so much more! This unique guide also explains the best attachments for each project step in detail.
How To Build A Pergola With Ease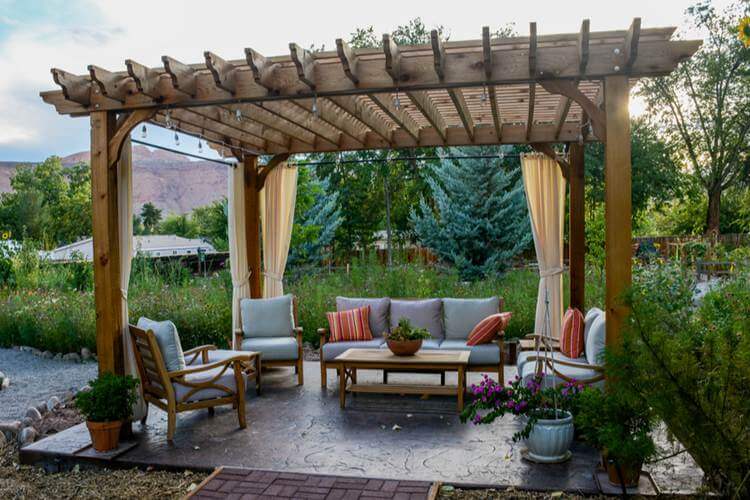 If you've been thinking of building a gorgeous pergola but aren't sure where to start, this article is just what you need. In just a few hours, you can have yourself a lovely pergola to complement your backyard – and get in some practice with your new tools. The creator of this video has made it easy to follow. He explains each step while also showing what went wrong during the process. Choosing, cutting, and assembling all the materials is not difficult once you get going. Once it's complete, it makes such an impressive addition to your home or yard!
DIY Weatherly Pergola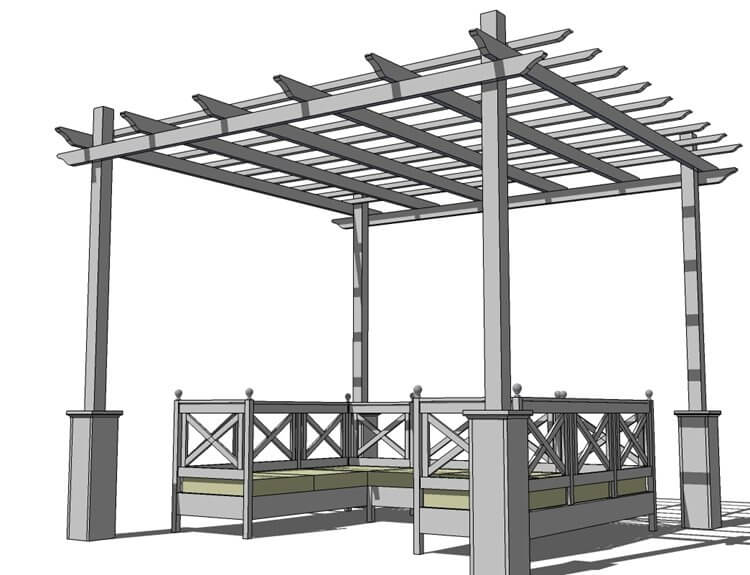 This DIY Weatherly Pergola is an excellent project for backyard or patio furniture. The design is simple yet sturdy and elegant. When creating a permanent pergola to sit beneath, you must ensure that the foundation is put in place correctly. After laying down the footings and building a sturdy base, you can create your pergola piece by piece. In this tutorial, the tutor will show you everything you need to know about adding on and how to make sure it is sturdy enough for your family to sit under comfortably.
DIY Tiered Pergola Plans
o Are you planning something special for your outdoor space? Do you need a place to relax and escape daily hustle? Here is what you need to make your outdoor living area look more appealing. This tiered pergola is designed with three tiers with a cool geometric pattern that gives you a spacious ambiance to enjoy time with family and friends. The tiered design allows you to add on to your pergola whenever you want by adding additional layers.
DIY 10 x 12 Pergola Plans
This is a more practical and low-cost way to add shade to your yard. The plans for this pergola are transparent, have considered measurements, and you can build it yourself in one weekend. This pergola was built on a small land to add shade and cover to one side. The decking boards were left on the ground and placed on top when the frame was up. The posts are 2" x 4"s, which were daisy-chained together with carriage bolts. You get a better understanding of how the design fits into limited spaces.
DIY Garage Pergola
Build a DIY pergola over your garage door to add shade, privacy, and curb appeal to the front of your home. This DIY garage pergola is a great way to add a customized look to your home. It can be used as a trellis for climbing plants or as an arbor above an entrance door. You can use this handy structure as part of your landscaping plans in many ways!
How To Refurbish An Old Pergola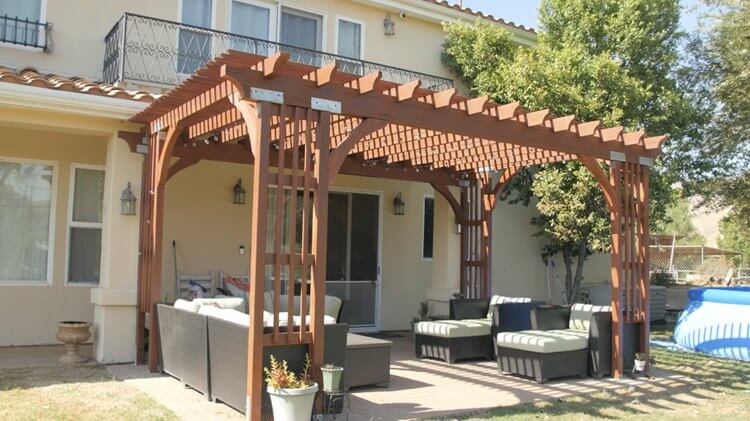 Refurbishing a pergola is the perfect DIY project. It's straightforward to do and can give your space an instant makeover. All you need is some time, a little planning, and the right tools. The expert shared his secrets here! You can turn an old and drab pergola into a brand new, contemporary structure with a stunning design. The process is not very complicated or time-consuming so you can transform your old pergola in just a few hours.
How To Build A Pergola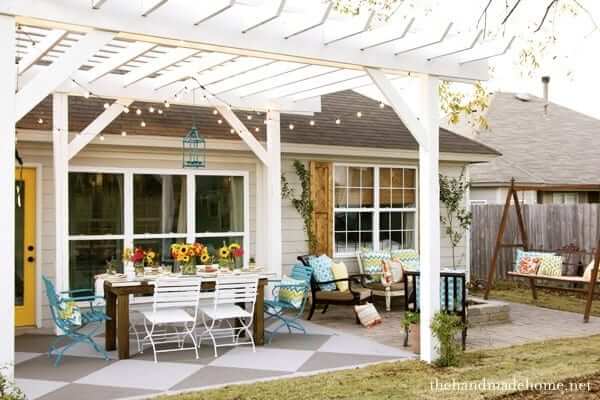 This pergola is a great place to escape the sun, relax, and enjoy a glass of wine. But it doesn't take a lot of labor to build or materials to complete it. You need essential tools and materials for making your pergola today! This guide will help you learn how to build a pergola in your yard. Included are the right tools and materials for the project, plus step-by-step instructions for constructing this functional outdoor structure.
DIY Pergola
Building a pergola is an easy structure to make and adds beauty to any backyard. There are many, many ways to create an arbor. This time you'll stick with the basics, using T-straps to attach the wood frame to your structure, then covering it with lattice and white picket cedar slats. It's easy to build and perfect for backyard entertaining! Use the following plans to make your pergola or gazebo from scratch or as a guide for constructing a professional-looking structure.
Building A DIY Pergola
Pergolas are perfect for creating a relaxing and private outdoor getaway but can be expensive to buy. This video will teach you how to make your own with materials available at any local hardware store. This video tutorial on how to build a DIY pergola is an excellent resource for do-it-yourselfers. Watch as this talented builder shows you how he made his pergola using essential woodworking tools and lumber that most people have in their garages.
Free Deck Plans With Pergola DIY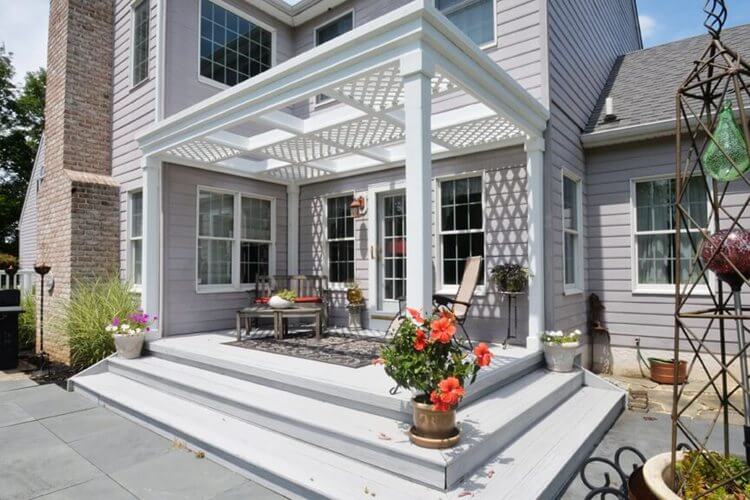 This pergola plan features a unique design that includes a checker-board pattern that makes for an attractive roof design. It is wood, perfect for a backyard getaway or simple patio. This DIY pergola plan has a unique frame structure made of square lumber, alternating long and short pieces. The canopy is covered in lattice wood. This one is a checkered wood frame with some squares using lattice wood. You should check out the full tutorial to learn how to make one yourself and find out how much fun it is!
DIY Pergola Time Lapse
If you are a fan of time-lapse videos and want to get some ideas on creating a pergola by yourself, then we might be a good place for you. The creator of this video has made every step clear in it so that anyone can understand what they are doing. This beautiful pergola has a lot of details, and this time-lapse video makes it easier to know how it was built. If you are passionate about woodworking and have some experience in these fields, then you will probably find his tips helpful when creating your own pergola. If you are interested in building your own pergola, this is a must-watch for you.
DIY Patio Pergola Plans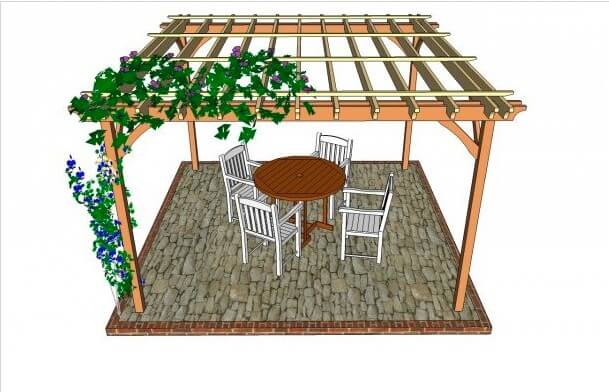 This DIY patio pergola plan is for the more experienced builder. It requires the assembly of several components to create a sturdy, functional structure that can be used in your yard or patio. Start by laying out the measurements on the lumber and installing support beams. The rest is easy and fun. It's pretty simple to make and incredibly easy to install. You will need just a few materials and tools, along with 2-3 people to help during the construction process. Use the layout guide provided here and then go ahead to assemble the support beams. It's that simple.
DIY Pergola Plan With Canopy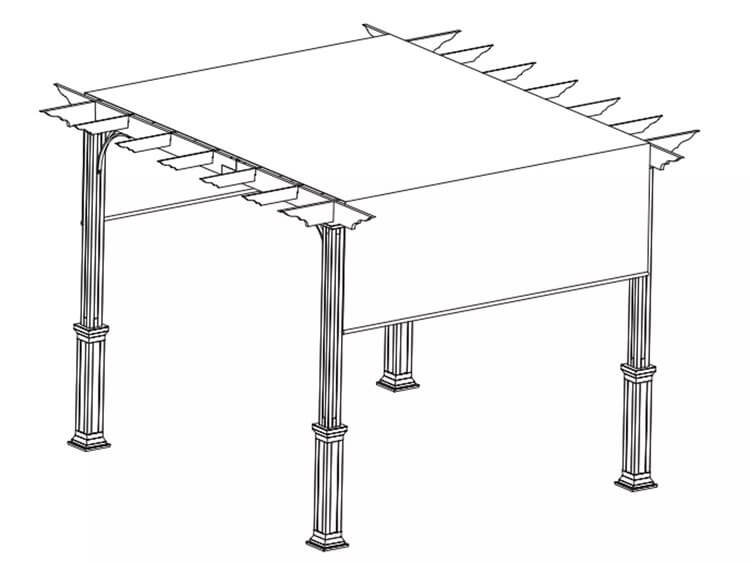 This DIY Pergola with Canopy Plan is for anyone who wants to build a pergola. It will be primarily understandable by people who are woodworking professionals. This plan consists of instructions, illustrations, and material lists to help build a pergola with a canopy. This manual will provide you with all the tools, materials, and education to make your own pergola. You will get step-by-step instructions on how to prepare the ground, how to set up posts and beams, and how to install rafters.
DIY Pergola Plans
This DIY Pergola with Canopy Plan is for anyone who wants to build a pergola. It will be primarily understandable by people who are woodworking professionals. This plan consists of instructions, illustrations, and material lists to help build a pergola with a canopy. This manual will provide you with all the tools, materials, and education to make your own pergola. You will get step-by-step instructions on how to prepare the ground, how to set up posts and beams, and how to install rafters.
DIY Pergola For $200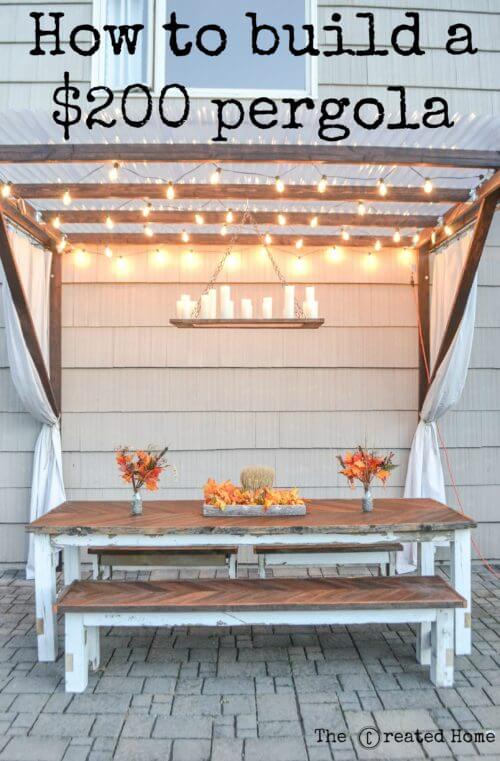 A pergola is just what you need if you love to garden and like to sit outside in your backyard. With this DIY pergola, you will have a nice place to set up your garden chairs or sit on the grass. When deciding where to put it, make sure they will be close enough so that you can reach them easily, but also far from any water or possible flooding areas. It won't cost as much as a brand new construction, so if you want to make it yourself, go for it!
How To Build A Vietnamese-Style Pergola
This how-to guide will show you exactly how to build a Vietnamese-style pergola. It starts with drilling holes in the ground for the base of the pergola and then moves on to assembly. Feel free to paint your pergola with your preferred color. It starts with drilling holes in the ground, then building the pergola. Painted wooden planks are used, making it easy to paint your select color. This simple tutorial will help you create a pergola, which is an excellent addition to your backyard. Vietnamese-style pergolas are extremely practical and can be turned into a storage area or even serve as an entrance door for your backyard. As with most DIY projects, the design and size of the building are entirely up to you.
DIY Pergola Attached To House
You can make the most of your outdoor space by attaching a pergola to your house. This pergola tutorial will show you how to build one and give you specific measurements for various types of pergolas attached to places. This easy DIY tutorial will have you creating your own fast, and it's a lot like building an arbor. All you need are some garden lattice and essential tools. This pergola was built for a house. It looks sturdy, and it should last for years with proper care. The creator makes the point that it is easy to assemble and gives excellent results for minimal cost. This may be a good project for you if you want to transform your backyard into an outdoor living space but do not have enough room or equipment.
How To Build A Modern Pergola
Are you looking for a way to add more sophistication to your backyard? This freestanding pergola is exactly what you're looking for. It adds charm and elegance to any space while protecting you from the sun, rain, and wind. This freestanding pergola features a twisted trellis and lattice design. The framework allows plenty of airflows to circulate while shielding the front doors. The project requires severe supplies and tools, so that it may be a bit difficult for novice carpenters, but experienced do-it-yourselfers will love this project!
DIY Pergola Plans
If you're trying to create a more welcoming, relaxing space in your backyard, you may want to build a pergola. This DIY woodworking project is great for constructing an outdoor structure that adds value to your property and increases the overall aesthetic appeal of your backyard or patio. Its design makes it convenient to use and simple to maintain. The tutorial walks you through how to make your own. Following these DIY plans, you can quickly build and install a pergola.
DIY 12 x 12 Pergola Plans
Want a pergola but don't have ample space to accommodate one? Well, this one doesn't need that much space. It is smaller and more manageable than the other pergola plans. The 12-by-12 Pergola Plans are projects that most DIY enthusiasts can complete with simple skills, tools, and materials. You will need carpentry skills and essential construction tools to build this pergola. A circular saw or jigsaw is required to cut the wood, and a power drill is vital for attaching parts. Other tools required include hammers and nails. You will also need several boards of lumber.
DIY Pergola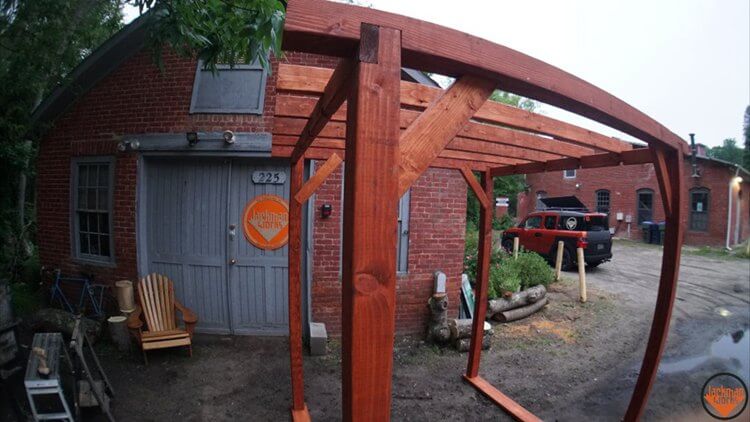 Do you love to build things for your yard? If so, this project is right up your alley. It will take time and effort, but the finished product is well worth the effort. This DIY Pergola is easy to build and requires only basic carpentry skills, a circular saw, miter saw, drill, hammer, and nails. You can purchase the material at any local home improvement store. Sturdy construction is the key to this project, and your pergola will last a long time if appropriately built.
How To Build A Pergola
A DIY pergola is suitable for various uses, allowing you to relax in the shade or sit under it while entertaining your guests. Building a pergola is not hard if you have the right tools and materials. This step-by-step video guide will show you how to build a basic pergola, including measuring where your post holes will go. The process starts with installing posts in the ground, then building profiles around them to create the frame of the pergola.
Free 14 x 16 Pergola Plans
A pergola is a stunning addition to any yard, and an excellent place to start is with these free plans. With step-by-step instructions, they're easy to build and can be used as a patio cover or walkway canopy. This easy-to-follow structure can be made in most climates and offers plenty of shade. And since it is built from cedar lumber, it will last for years. Build the pergola yourself or hire professionals; either way, this set of plans will give you everything you need to get started.