If you don't want to commit to building a store-bought pantry shelf, then why not make your own? DIY pantry shelves ideas are more affordable and can also be tailored to suit your needs. These pantry ideas help you organize and store food and make it easier to find what you need. If you have a large family that eats a lot and is always looking for tasty food, a pantry will come in handy, especially in the kitchen.
One of the essential parts of a pantry is its storage; the best way to store your food is on shelves. Shelves are also a very versatile design feature—they can be arranged in several arrangements and go in pretty much any room, from a kitchen pantry to the laundry room. That said, finding the perfect fit for your space is not always easy. If you're having trouble finding what you need or if you're looking for inspiration for your next project, this article has plenty of DIY pantry shelves ideas that are sure to inspire you. Make these pantry shelves to organize your kitchen space and store oversized containers. You can even use them to hang baskets and other items on the bottom rungs!
DIY Pantry Shelves Ideas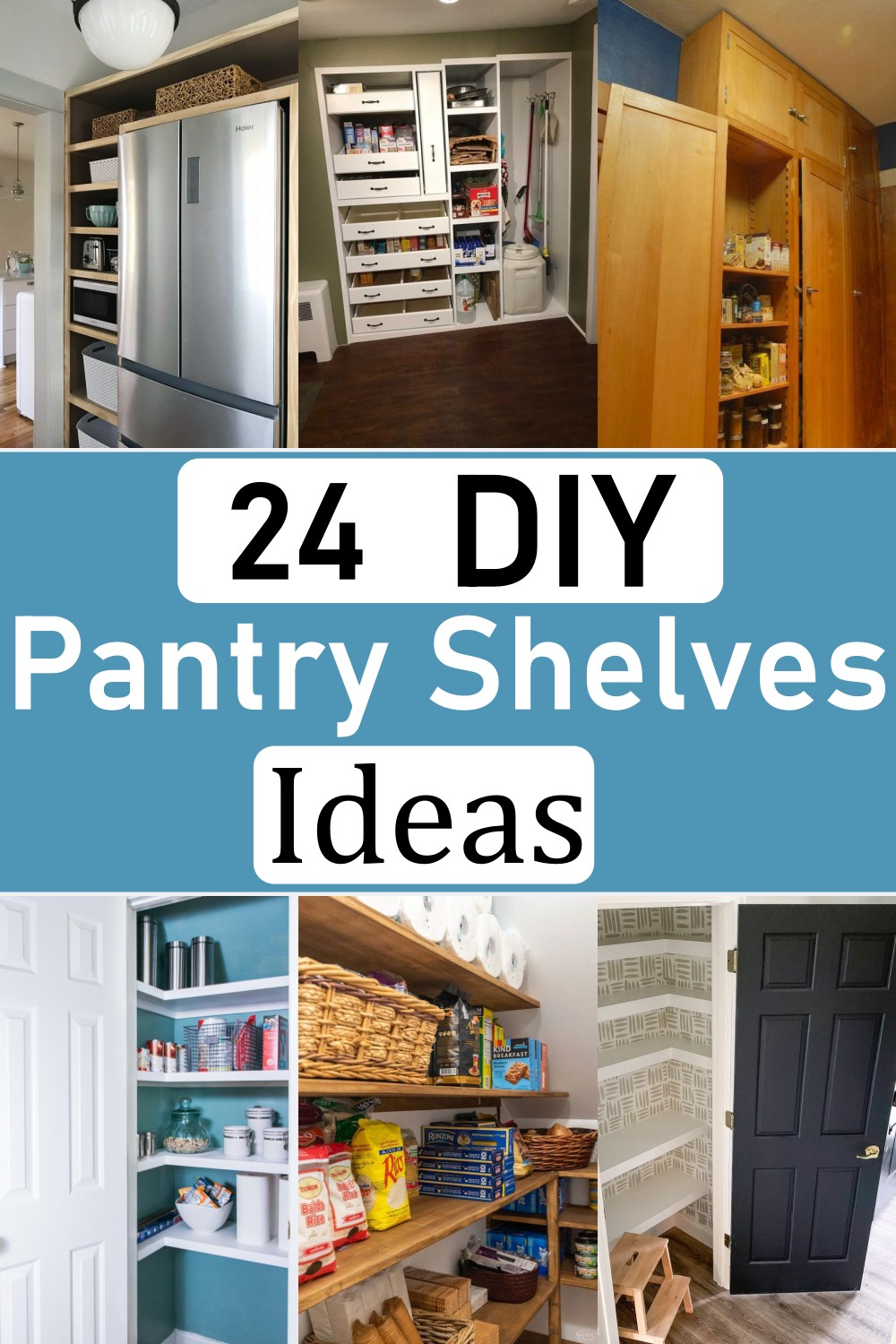 DIY pantry shelves are a quick and easy way to add some personality to your kitchen. Plus, they're helpful. Pantry shelving is a great DIY project if you want to save money, have enough space for the materials, and don't mind getting your hands dirty. Here are unique ideas for DIY pantry shelves, from wooden crates and recycled furniture to washtubs and cinder blocks that will make your kitchen stand out. These pantry shelves are inexpensive to make and great for organizing a small space.
Materials Needed For DIY Pantry Shelves
These DIY pantry shelves are a great option to add extra storage space to your kitchen. They're easy to make and can help keep your pantry organized and looking stylish.
What You'll Need:
Wooden boards (preferably ½" thick)
Wood screws (or nails)
Caulk (if using wooden boards)
Advantages of DIY Pantry Shelves
DIY pantry shelves are a great way to add style and organization to your kitchen. They're easy to make and can be customized with paint or stain in any color you want! They're also a great way to repurpose old furniture or hardware that you already have.
Here are some of the advantages of pantry shelves:
*They save money over buying new ones.
*You can customize them to match the rest of your kitchen or create something unique!
*You can make them as large or small as you need - from a single shelf up through an entire wall of shelves.
*They're super easy to install (and uninstall).
DIY Pantry Shelves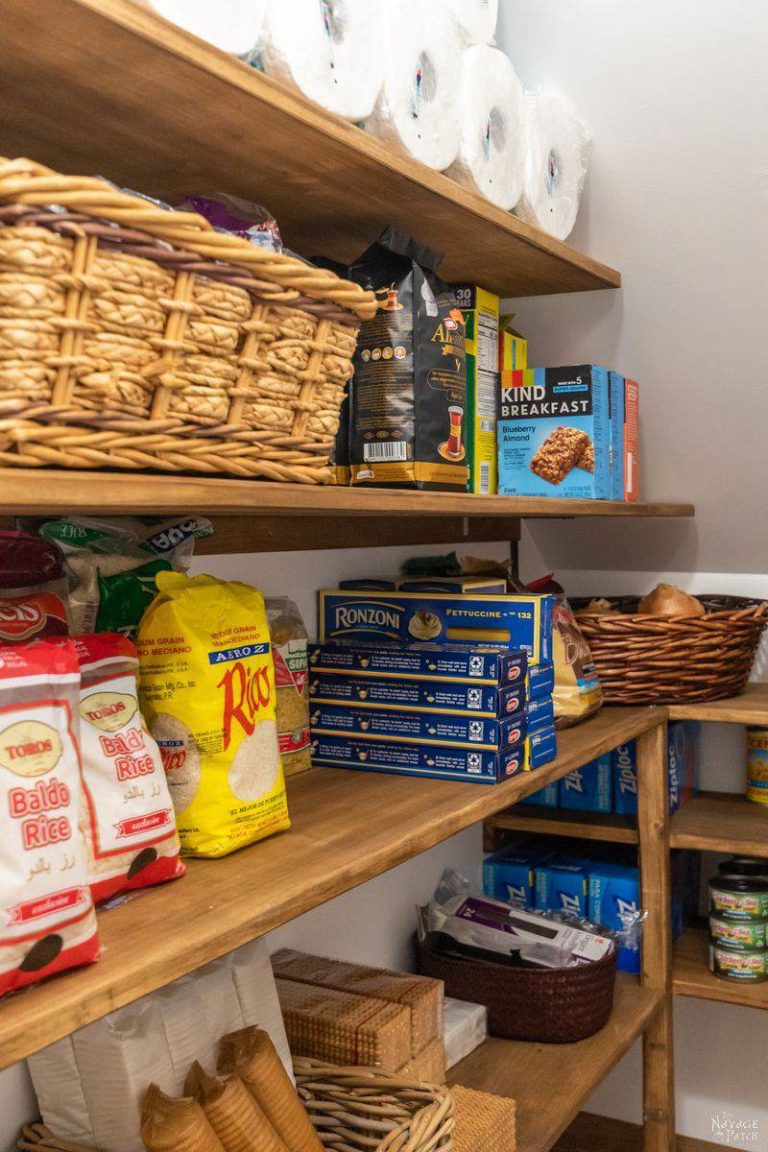 Are you need an alternative storage solution to keep your kitchen organized? If yes, these DIY pantry shelves are perfect for you. With a little bit of budget and knowledge, you can make these shelves yourself and transform your pantry into an organized place without hiring someone. All that is needed is the right tools and guidance; with these steps, you can create them easily. These large DIY pantry shelves will help keep the mess in your pantry organized and clean. You can make this shelf very easily with our easy-to-follow instructions. The finished product is of high quality, durable and sturdy. These shelves will serve you for many years ahead!
Pine Pantry Shelve Idea
Pine shelves are a great rustic look for the kitchen or pantry. It'll make it easier to customize your pantry shelving plan to add or remove shelves. They are easy to put together and only cost around $20 each. These pine shelves look so much like you've spent ages putting them together, but in reality, they are about as easy as it gets! You can make them with just two small pieces of pine or MDF. Like all of our ideas, they came in under budget too!
How To Make A Pantry
A pantry is probably one of the most critical areas in your home. You'll want a pantry that not only stores your food but can also function as a place to organize your home. Here is a step-by-step video guide on building a pantry like the one in this image. The process is straightforward, and it takes less than an hour to build a pantry like this. This DIY tutorial will explain the process of making the perfect pantry for your home. Making your pantry is relatively easy and doesn't require many tools. The best part about this project is that it doesn't take too much time.
Build An L-Shaped Floating Pantry
A floating pantry is a genius space-saving idea for any kitchen, but depending on your living situation, you might not have much room to play with. This project is a lot of fun to make, and it's straightforward. The L-shaped floating pantry is made from wood, plywood, and MDF. If you are looking for a fast weekend project or something fun to do after work, this could be just what you need. This can be made from materials such as plywood or plyboard, and I plan to have some woodworking equipment handy. No special tools are needed, so it can be made by anyone who is handy and has the right tools.
DIY Retractable Pantry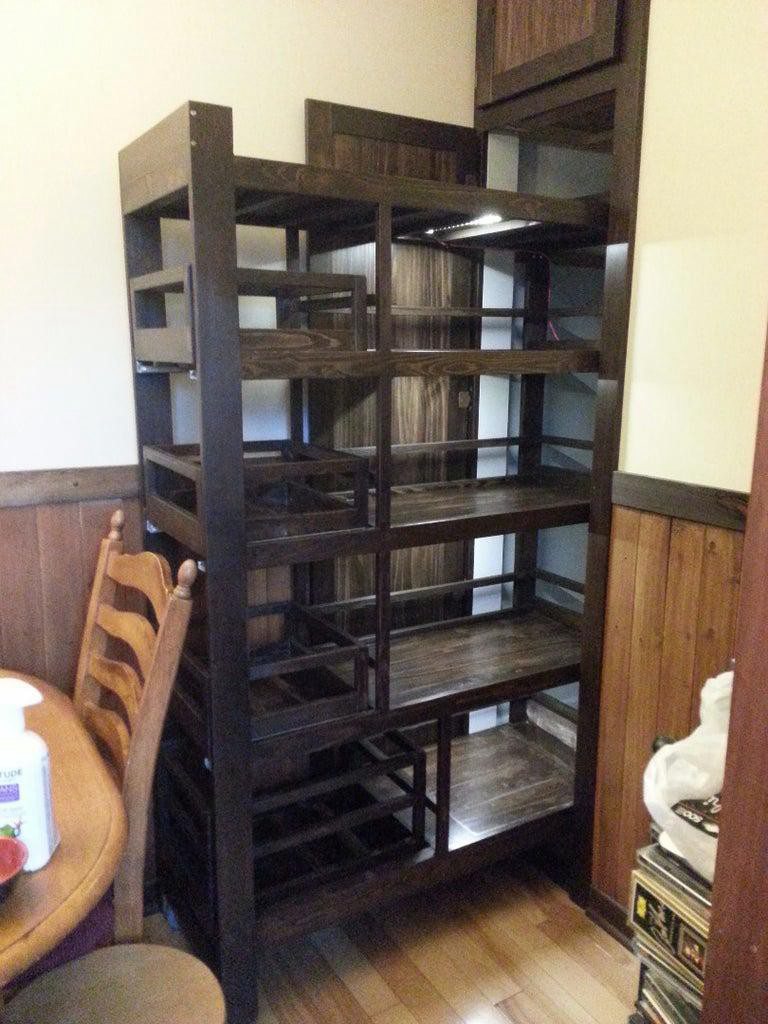 So, if you're looking for a pantry that can be hidden when it's not in use and pulled out when needed, this DIY project is the way to go. This crafty pantry idea makes your kitchen more compact, practical, and organized. The stylish cabinet door hides a retractable track when closed but can also be pulled out as needed for easy access to groceries and ingredients. The kitchen is often the heart of a home, and this retractable pantry gives you valuable space so you can bring that feeling to your kitchen. It's made of long-lasting materials, so you don't have to worry about it getting damaged by age or everyday use.
How To Build A Free Standing Pantry Shelf
Freestanding pantry shelves are a great way to save space in any kitchen. Building this DIY pantry shelf is a project that can be completed in one day if you're making it from scratch. Making a pantry shelf can be a terrific way to bring organization and order to your kitchen. And if you have small pantry space, a freestanding shelf will help you maximize your storage options. This DIY project not only teaches you how to make one but also tells you where to find the materials needed. This project has few tools, required materials, and a reasonable time frame, making it easy to complete.
DIY Pantry Cabinet
If your pantry needs extra space, this project is perfect for you. You can try this easy hack tutorial to turn a cabinet into a beautiful new pantry. Now that you have a little more room in your kitchen, it's time to organize. Is there anything more satisfying than a pull-out pantry cabinet? It does not take much time to create one out of an existing cabinet, making your pantry instantly more helpful. This is also one of the most straightforward pantry cabinets to make. It should take less than an hour to fix this up!
Design Your Own Custom Pantry Shelving
Now that you have a little more room in your kitchen, it's time to organize. Is there anything more satisfying than a pull-out pantry cabinet? It does not take much time to create one out of an existing cabinet, making your pantry instantly more helpful. You can convert your cabinet into a pantry with little work. The only tools you will need are a drill, drill bits, and a screwdriver. Replace the door hinges with regular hinges to create an opening for the pantry. Then attach it to one of your cabinets to create more counter space in your kitchen.
Easy DIY Pantry Shelves
This pantry shelf idea is an excellent choice if you're looking for a fun and easy DIY project. Not only does it add extra storage to your kitchen, but it provides a great space to display items or fruits that you want to be able to see at all times. This pantry shelving idea is super easy and can be finished in just a few hours. The best part is to decide how many of these DIY pantry shelves you need in your kitchen. It's also straightforward to install, making it quick to do yourself or with your partner or friend.
Modern Style Pantry Shelves
This style is relatively easy to make and can be used anywhere. This DIY pantry shelf is comparably inexpensive; you can use different materials per your taste. It's a very similar process to making kitchen cabinets, so you won't have any difficulty working on this project. This shelf has a lot of compartments for your storage needs, and it's relatively easy to make at home. Now that you know how this gorgeous pantry shelf was created, why don't you create one for yourself?
Open Kitchen Pantry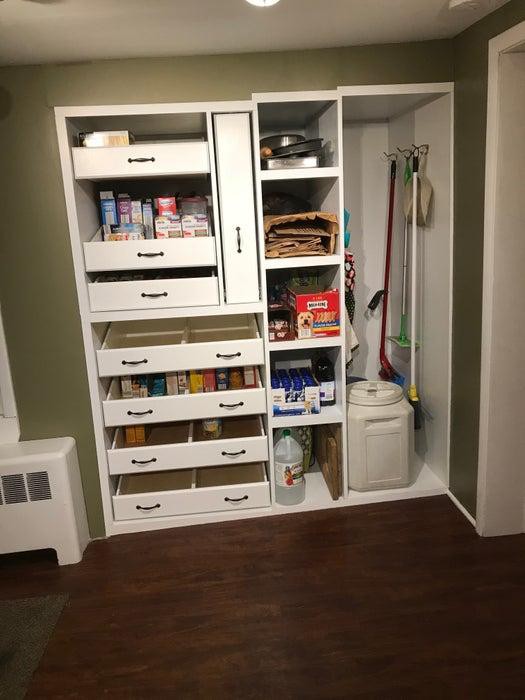 If you love the idea of creating your pantry, then this DiY Open Kitchen Pantry is the best project for you. Open cabinets are a great way to show off your decorating skills and connect with family, but if you're looking to replace one of your kitchen cabinets, you may want to consider building one from scratch. Building a DIY pantry isn't as easy as it sounds, but if you follow these steps, you can create a pantry that can organize everything neatly and efficiently. It's a simple and easy-to-follow DIY project that you can complete in just one weekend. With a few hours to spare and some leftover wood pieces of your choice, this pantry shelf will surely be your new favorite organizational piece.
Pantry Shelves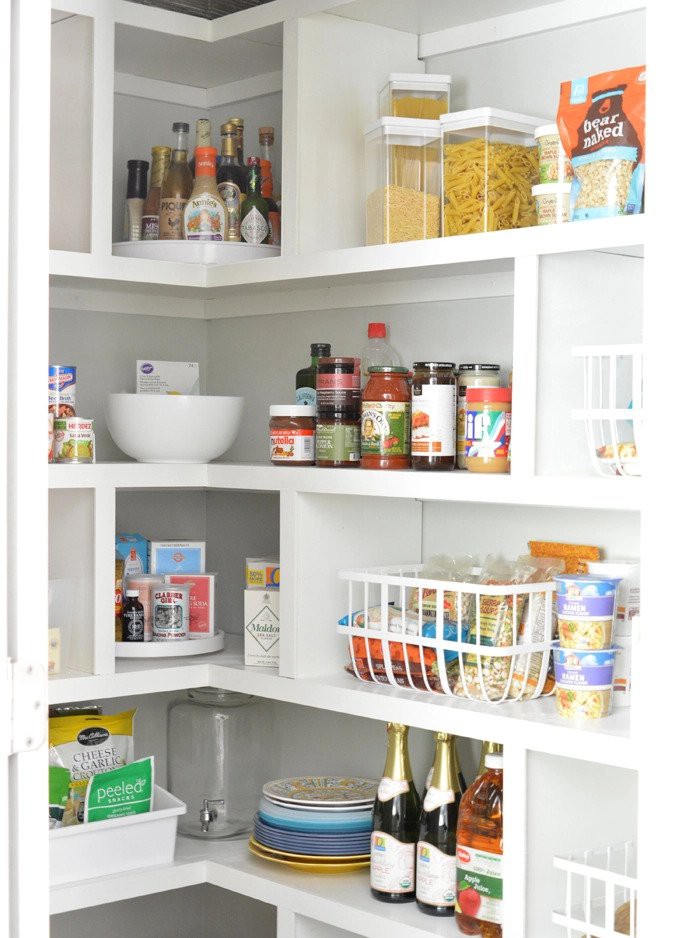 Pantry shelving isn't necessary, but it can add much to your daily life. This could be a great DIY project if you cook or bake often and have enough space. These pantry shelves are a must for every well-organized kitchen. It's spacious, roomy, and perfect for keeping various food items and cooking supplies. This one is for you if you're looking for the perfect DIY shelving unit that will fit perfectly in your kitchen. The size of the pantry shelves can be adjusted depending on your needs. You can even adjust the shelves to make them taller or shorter, depending on how much space you have on your kitchen countertop.
How To Make Easy Pantry Shelves
Sometimes, the items you want to store can't fit on your kitchen counters. If you need a place to store those items, you should consider building a shelf for your kitchen pantry. A pantry shelf is also a great way to keep food items off your kitchen counters and out of the way. These shelves are easy to build and can be customized based on your needs.
The best part about these shelves is that they're inexpensive to build. You probably have all the materials you need in your home already! The whole process should only take a few hours from start to finish. Read on for instructions on building this pantry shelf so you can start using it in your kitchen today!
Walk-in Corner Pantry
Adding a walk-in pantry to your kitchen will allow you to keep your food items organized and in one place. Since this pantry is built in the corner space, it's an efficient way to utilize the small space in your kitchen. Building a walk-in corner pantry is cheaper than buying one from the store. But before making any changes, make sure that your cabinets can support the weight of a large tray or shelf. You'll be amazed at how much you can store when building a corner pantry for your kitchen. You might need to get some tools handy to complete this project, but once it's done, you'll wonder why you waited so long.
Easy DIY Pantry Shelving Option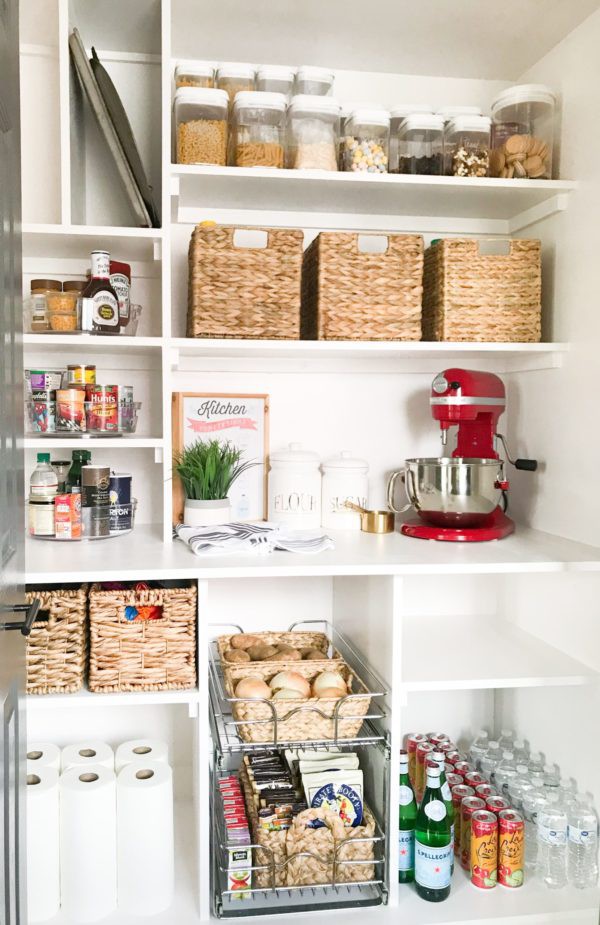 Why spend money on a fancy shelf when you can make one yourself? There are so many reasons to craft your shelves, and the first is that it's fun! This project involves measuring, cutting, gluing, and nailing the boards together. (If you're not comfortable with the use of power tools, there is a way to do this without the use of any power tools.) You can also paint or stain these shelves any color you like. The other reason for making your plywood shelves is that they look great! If you want to create an eye-catching pantry or pantry closet that people will notice as soon as they walk in, this is a great way to do it.
DIY Pantry Shelves With Pull-Out Drawers
It's never been so easy to organize your kitchen. If you have the pantry to put it in, this DIY pantry shelf with pull-out drawers is a great project. It's easy to build and can be customized for any size of space. This pantry shelf with pull-out drawers is all you need in your kitchen! It's spacious, easy to assemble, and anyone can make it. Follow the steps below, and you'll have a spacious storage shelf in no time! This pantry shelf with pull-out drawers is perfect for those with limited storage space who want to maximize their use of every grid inch of space. It's easy to make, made from reclaimed wood, and you can paint it in any color you like.
Replace Pantry Shelving
When you live in a small apartment, your pantry will become a storage place for everything you need to keep. You probably have a lot of stuff, and finding the best place to put them all would be challenging. The problem with the wire shelving is that it looks dull and doesn't have enough space. The good news is an easy way out of this situation. This DIY tutorial will teach you how to replace your wire shelving with beautiful-looking wooden shelves. The process of replacing the shelving is relatively easy to follow.
Hidden Fridge Gap Slide Out Pantry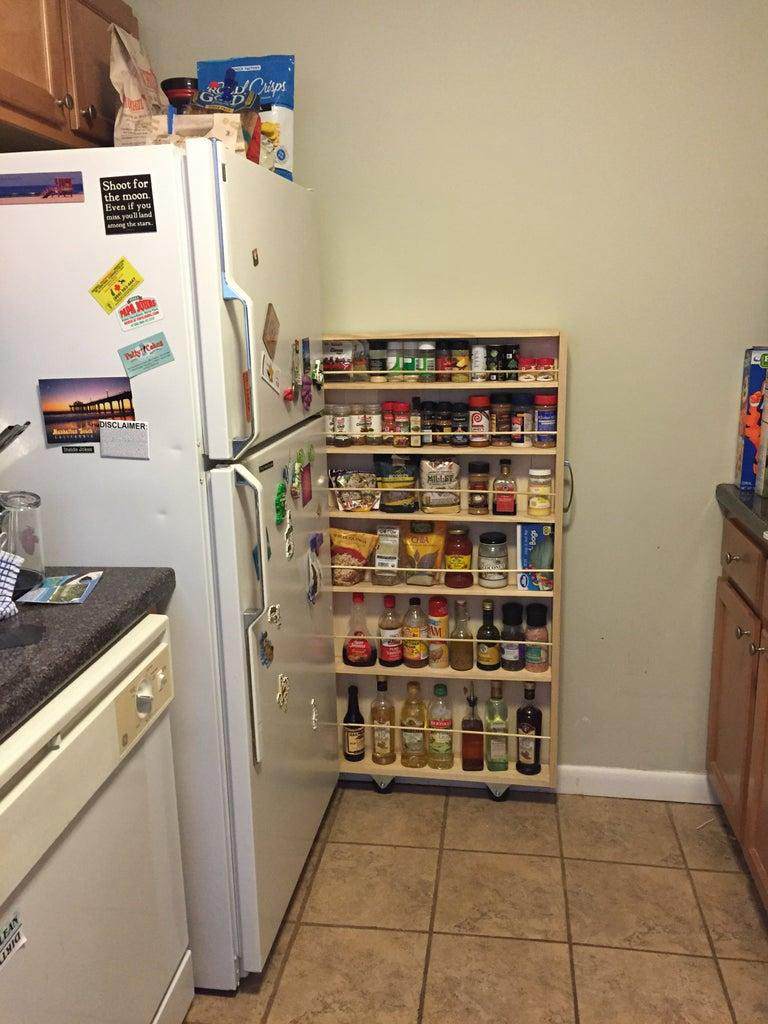 You may not think the extra space next to your fridge would be helpful, but this hack will make you realize its potential. This slide-out pantry is perfect for storing items you don't want anyone to see, like junk food and alcohol. This hack will likely make you feel like you're in your dream kitchen. Sliding down the pantry is such a fun way to bring a whole new level of storage space to your small kitchen. The hidden slide-out pantry is an excellent hack for your kitchen storage needs. It utilizes the space beneath your fridge and turns it into a pantry by installing a slide-out shelf. The steps are easy to follow, so take your time, follow the instructions, and you'll end up with a beautifully organized kitchen.
Canned Food Pantry
If you're looking to expand your storage space in your kitchen, here's an excellent idea. Make the most out of your canned food pantry. Store your canned goods and rotating shelves on this DIY storage solution. This DIY canned food pantry makes use of vertical space by maximizing accessibility. It has a rotating device that can easily access stored items, making it very convenient when you need to get something from the back. The canned food pantry is great for storing your canned food collection. The shelving features a rotating option allowing you to access all your favorite food easily.
Built-in Pantry Shelves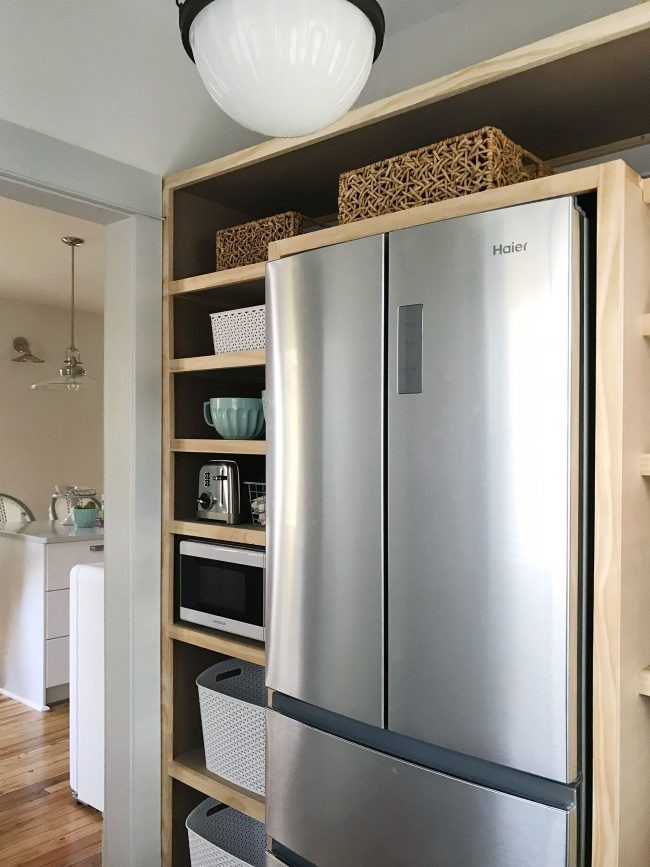 Have you ever wondered what to do with your kitchen pantry? It can be awkward, small, and inconvenient. One way of making it more attractive and functional is by adding a built-in pantry shelving—cheaper than you think. This DIY idea shows how shelves can be added to the back of a refrigerator. If you have space in your house, you should refer to this tutorial and consider adding built-in pantry shelves. This is a fantastic way to store food and keep it fresh! This DIY built-in pantry shelves tutorial will take you through making your custom cabinets. It's pretty easy as long as you can follow instructions!
How To Build Custom Pantry Shelves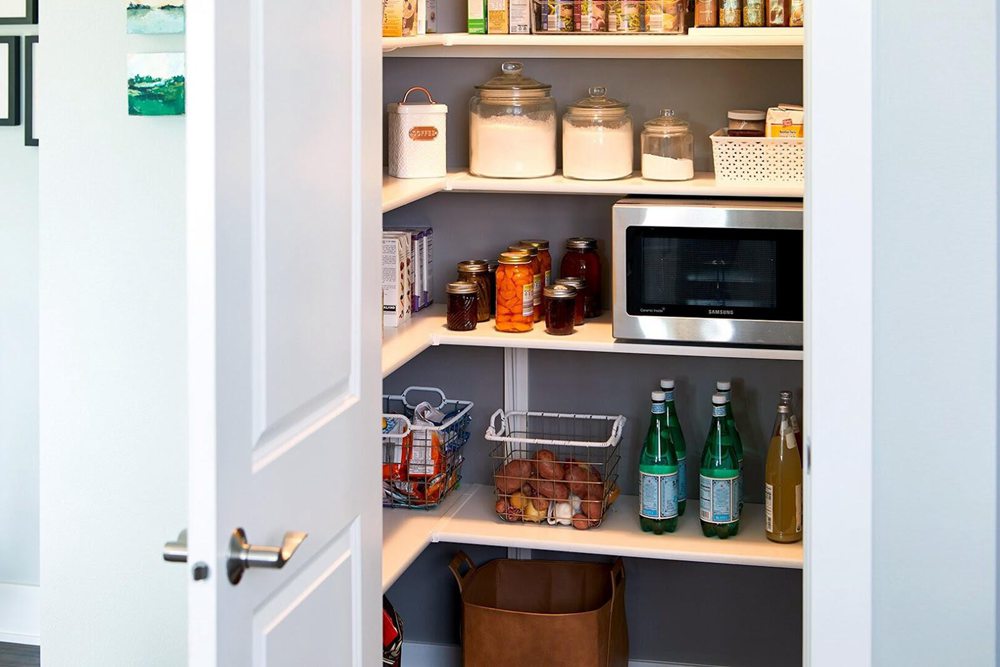 Are you tired of seeing your pantry items piled up in the corner? This handy DIY video tutorial teaches how to build custom wooden pantry shelves. You can create custom shelves with a few tools and materials to show off your home-baked goods! This DIY project will show you how to build custom pantry shelves in the easiest and best possible way. The steps are straightforward to follow and can be completed by a beginner without much experience in woodworking. You'll need about six woodworking tools and a few materials to bring your shelf to life.
French Cleat Pantry Shelving
Pantry shelves are another great addition to your home. With French cleats, you can quickly raise and lower the storage location. Finding a shelf that can fit into your pantry and offer enough storage space is hard. Most commercial brands only store items for the show but aren't great for real life! This french cleat pantry shelving system does the trick. It allows you to put in more food items, which everyone loves about their pantry. But it also has a unique design that makes it fun and easy to keep stocked with food! This pantry requires a lot of space in your kitchen, but it's worth having additional room for groceries.
Under Stairs Pantry Shelves
If you don't have the space for a traditional pantry, consider converting your home's staircase into a storage solution and adding storage under it. This DIY guide shows you step-by-step how to make it happen. A homemade pantry under the stairs is a great way to take advantage of extra storage space in an already-used area. With proper planning and execution, you can create something that improves your cooking experience and offers additional functionality in your home.
Floating Corner Pantry Shelves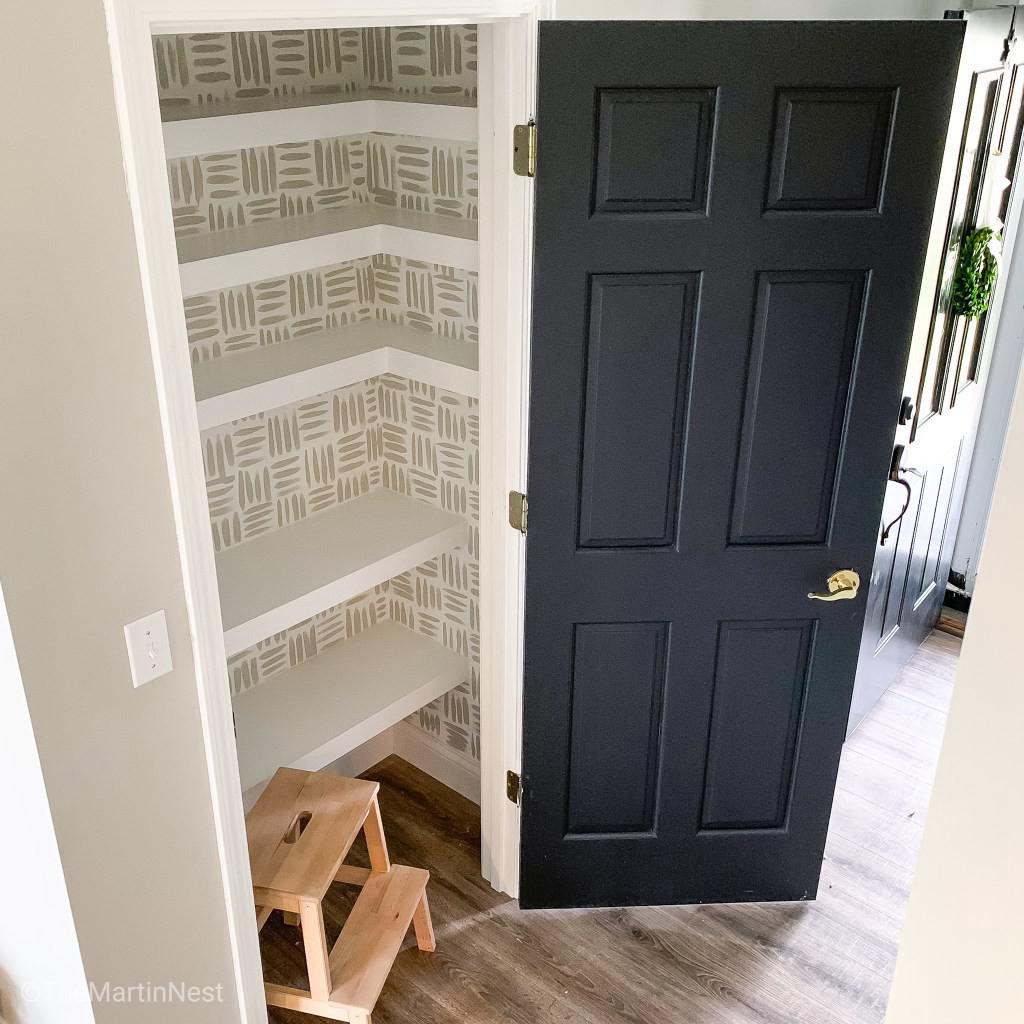 What a great way to utilize an underutilized corner area in your home! This floating pantry shelf is functional, decorative, and unique. The framework itself can be made from materials available at any hardware store. The shelf itself is made from kitchen cabinets we had on hand. By adding black cloth over the shelves, we created a false shadowbox effect for this floating corner pantry that adds depth and interest to our kitchen space. This fantastic floating corner pantry shelf is the perfect project for your underutilized closets. Installing this pantry shelf will take time, so ensure you have all your tools ready before you start.