If you're looking for an easy way to add flair to your backyard, consider building an outdoor kitchen. DIY Outdoor kitchen ideas are a great way to increase your home's value and provide a space for entertaining. They can take on many forms, from a simple grill and outdoor sink to an entire outdoor kitchen complete with a refrigerator, range, and oven.
Low-Budget DIY Outdoor Kitchen
An outdoor kitchen is a great way to enjoy your backyard, especially in the summertime. Whether you're hosting guests or just having a family gathering, an outdoor kitchen allows you to host al fresco gatherings with family, friends, and coworkers. You'll enjoy cooking and dining outdoors, no matter how hot or cold it gets outside. These DIY Outdoor Kitchen Ideas will help you create an attractive and functional outdoor kitchen. They will help you turn your patio into a fun place for cooking, dining, and socializing outdoors.
DIY Outdoor Kitchen Ideas
DIY Outdoor Kitchen Ideas are a great way to make your home more fun and inviting, especially if you live in a house with a large yard. A DIY outdoor kitchen is perfect for entertaining friends, family, and yourself.
Here are some of the benefits of DIY Outdoor Kitchen Ideas:
Save Money - One of the most significant benefits of DIY Outdoor Kitchen Ideas is that they can save money on your next project! You can do all the work yourself, so there will be no need for an expensive contractor or professional designer.
Customized To Fit Your Needs - Another benefit of DIY Outdoor Kitchen Ideas is that you can customize them to fit your needs exactly! Whether you want a small grill for one person or an elaborate setup for entertaining guests, you can build anything you want using these plans!
Build Your Patio Furniture - Not only can you build your kitchen, but you can also build your patio furniture! This will allow you to have custom pieces that fit perfectly into your outdoor space and make it look even better!
Outdoor Kitchen Made Of Stones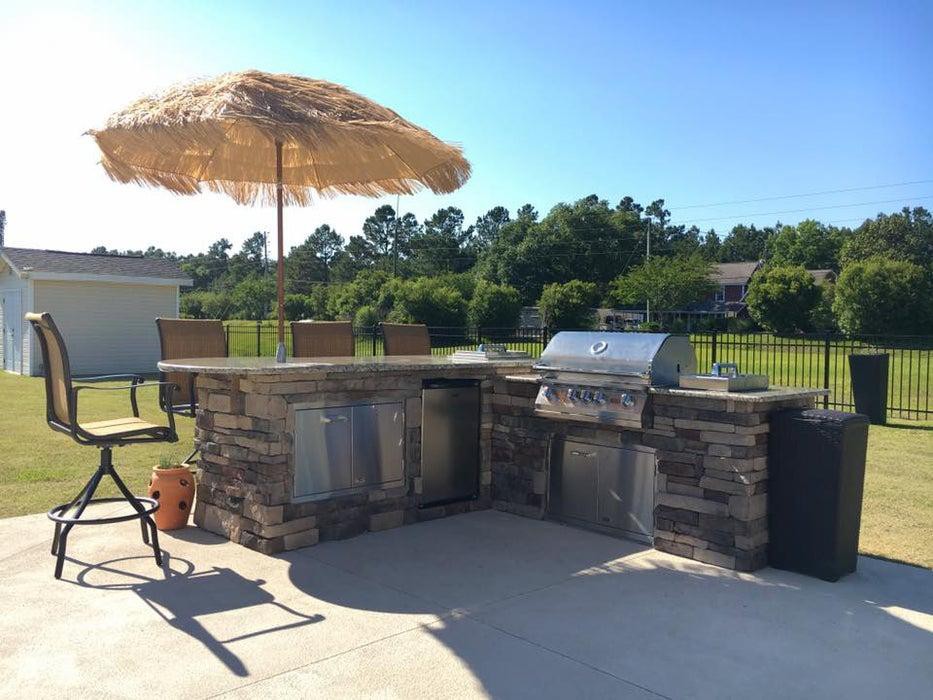 Create the perfect backyard space with an outdoor kitchen made from stones. This kind of outdoor kitchen won't spoil quickly. It is not so easy to make, but it can create a beautiful place in your home where you can entertain your family and friends on sunny days. It can take days to make this kind of outdoor kitchen. But If you have a few friends who are good at DIY projects, let them help you to make one like this.
DIY Outdoor Kitchen With Concrete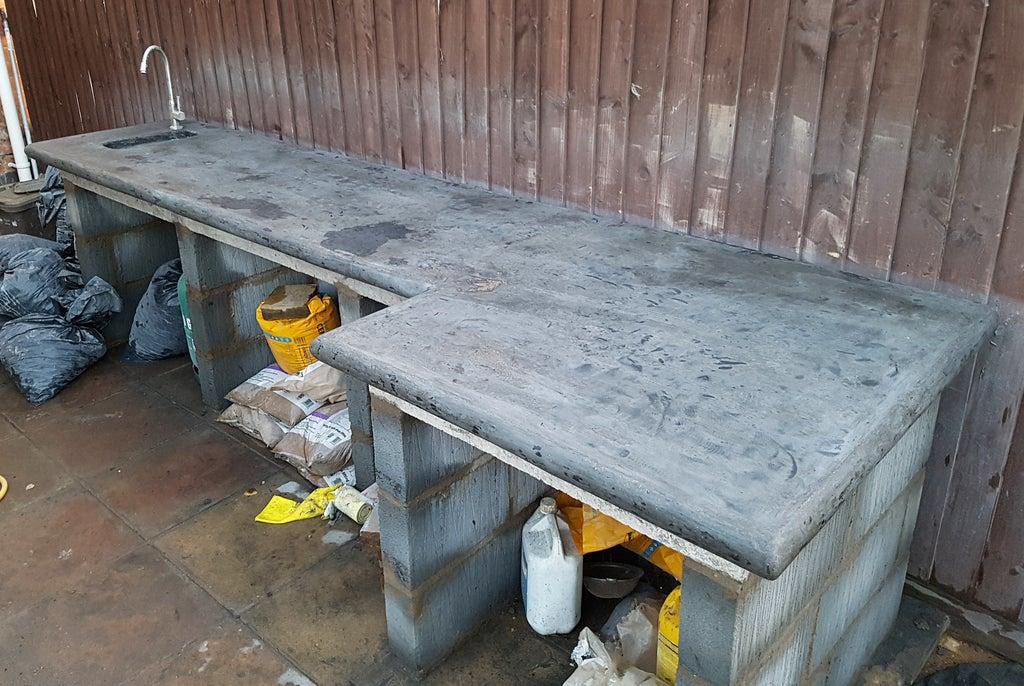 Make this outdoor kitchen in your backyard with concrete. This project will allow you to experiment with concrete and its many benefits while creating a great-looking and functional outdoor kitchen that you can use for years. This is the perfect project for the beginner do-it-yourselfer; this concrete countertop makes for a robust, durable and functional outdoor kitchen in no time.
Outdoor Kitchen With Concrete Countertop DIY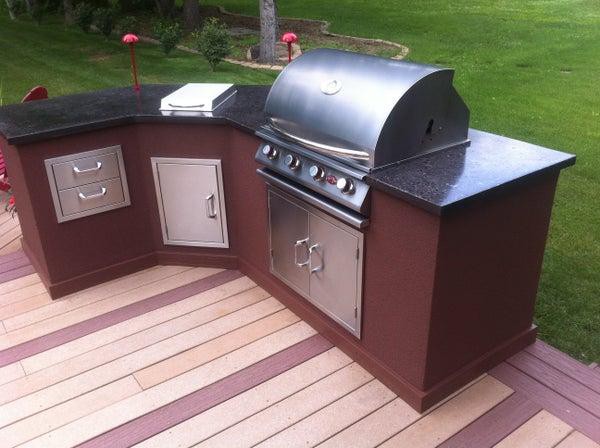 This outdoor kitchen with a concrete countertop is good for entertainment. It's simply beautiful and functional at the same time. It has a complete kitchen island, including a sink and faucet. A few cabinets are there to store some of your gadgets and even more pots and pans. The cabinets are spacious and add to the overall look of this DIY project.
Concrete Countertop DIY Outdoor Kitchen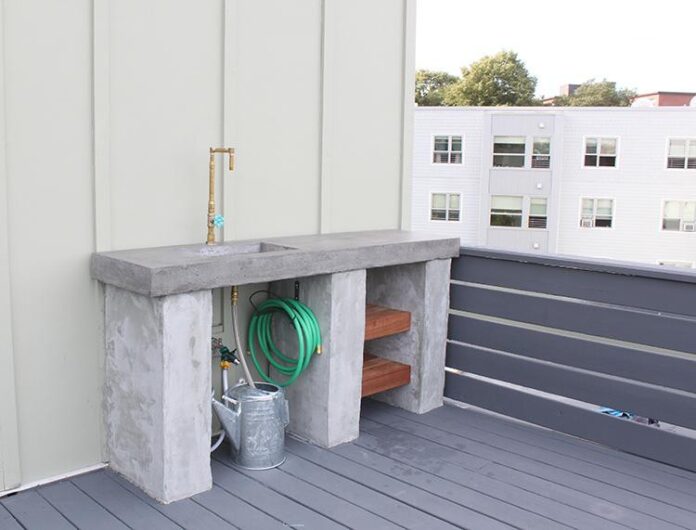 The concrete countertop DIY outdoor kitchen is both aesthetically pleasing and functional. The structure features beautifully constructed countertops made of concrete, making it easy to keep clean. So, Create your outdoor kitchen with this easy-to-follow guide. These step-by-step instructions help you make the most out of your outdoor space.
DIY Outdoor Kitchen With Pizza Oven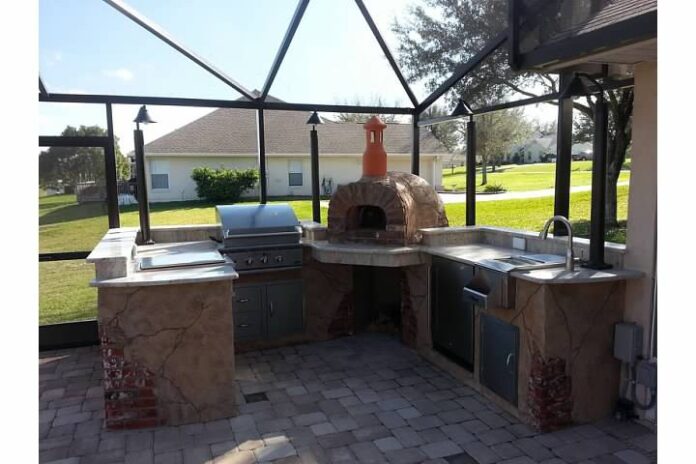 The outdoor kitchen is one of the most popular projects, and with good reason! It's a great way to gather friends, family, and neighbors for delicious food and fun. But what if you could take it one step further? The pizza oven is often overlooked by those looking to add a little pizzazz to their kitchens. Add a wood-fired brick pizza oven for that little extra something, and you're all set.
DIY Budget-Friendly Outdoor Kitchen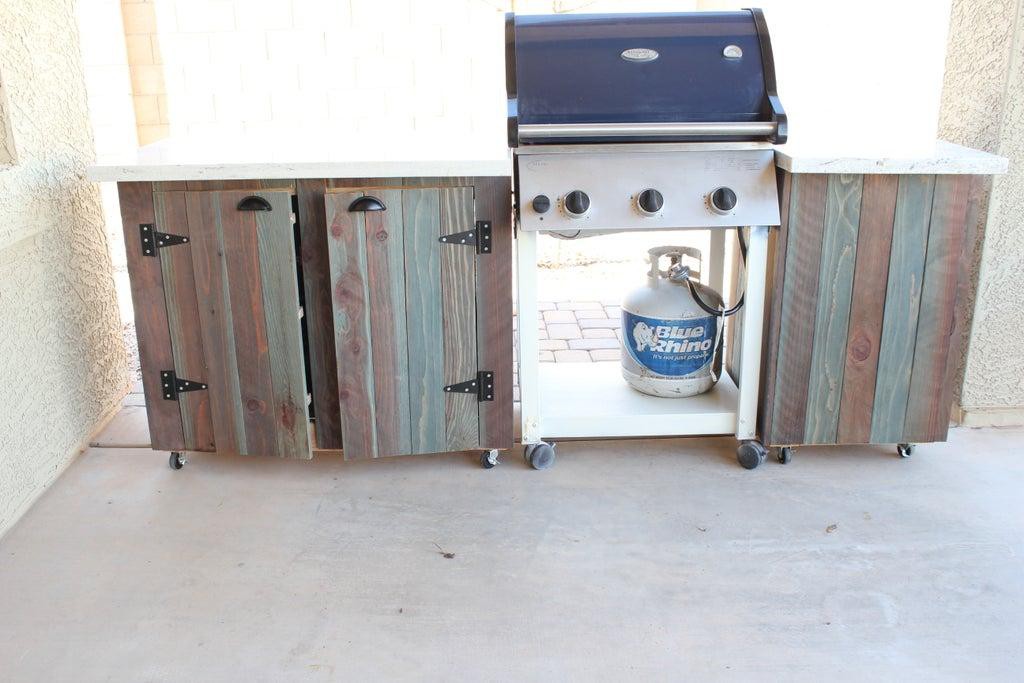 If you're on a budget or want to build an outdoor kitchen for your home, this simple DIY project is for you. Creating your own outdoor kitchen is a fun DIY project you can tackle with a budget. With clever planning, building materials, and labor-saving tips, this guide show you how to build an outdoor kitchen for your home that doesn't break the bank. If you're short on time but still want a functional and efficient kitchen, this can also be done on the weekend.
Simple Low Budget Outdoor Kitchen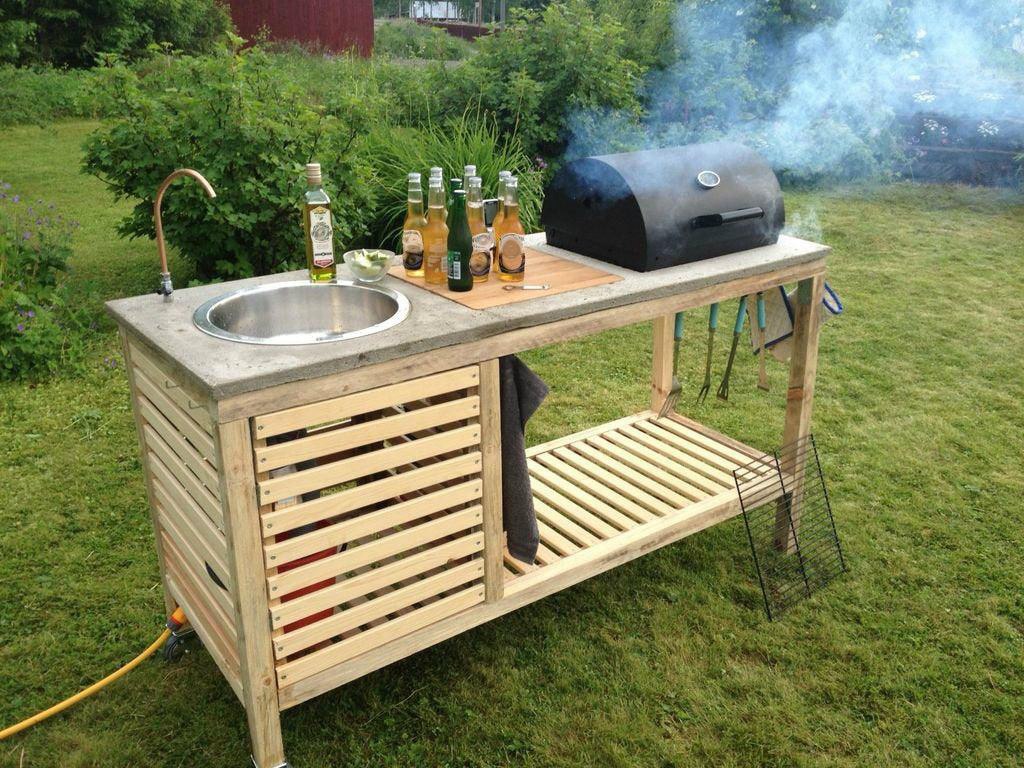 This is a great space-saver solution for anyone with limited backyard space or who needs an outdoor kitchen that can easily be moved. You can have the grill and countertop at the ready whenever you need them, but it folds down flat when not in use. It's portable, so you can take it with you for summer parties, and its black paint finish is sleek and modern.
Outdoor Kitchen For Garden Shed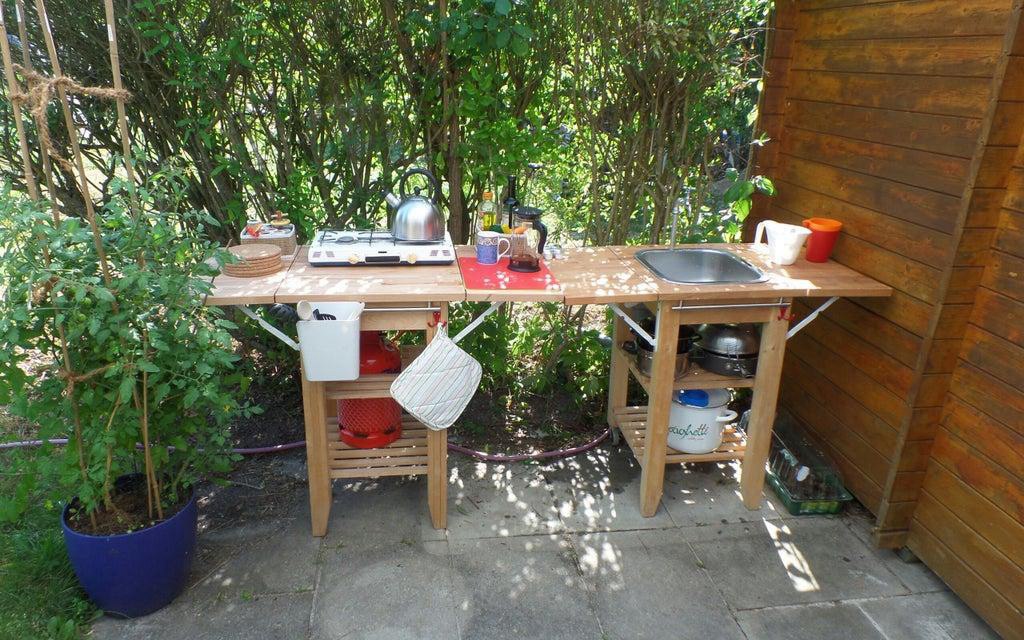 If you love to cook, this outdoor kitchen is perfect. You can use it in your garden shed or outdoors. It has ample countertop space for placing your gas cooker and other cooking appliances. The countertop space has built-in storage for plates, glasses, and more. This stylish countertop kitchen is an excellent addition to your outdoor space for summer and winter. The modern design makes it a perfect addition to any shed or cabin.
You can also see: DIY Kitchen Garden Window Ideas 
DIY Outdoor Kitchen

This DIY Outdoor Kitchen offers a free design and instruction guide to help you build your outdoor kitchen. Created with comfort, it will look great anywhere you plant it. This outdoor kitchen is the perfect choice for summertime entertaining. Its sleek design, simple construction, and sturdy materials make it the right choice for outdoor needs.
Concrete DIY Outdoor Kitchen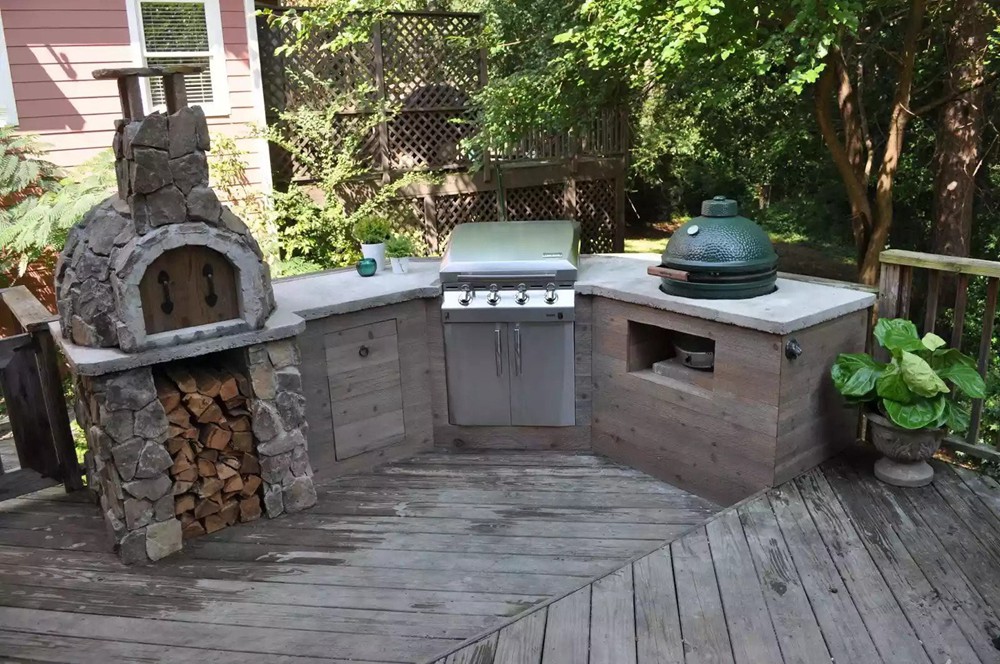 This outdoor kitchen is appealing if you want to try a DIY landscaping project. The combination of wood and concrete makes it look sophisticated instead of rustic, so it works well in any urban or suburban backyard. It has a large countertop surface, making it perfect for any meal. It can withstand the elements and be used for cooking outside year-round, on your back porch, or by the pool. This outdoor kitchen can not be moved after placing it in its final resting place. Just put it where you want, then start cooking!
Large DIY Outdoor Kitchen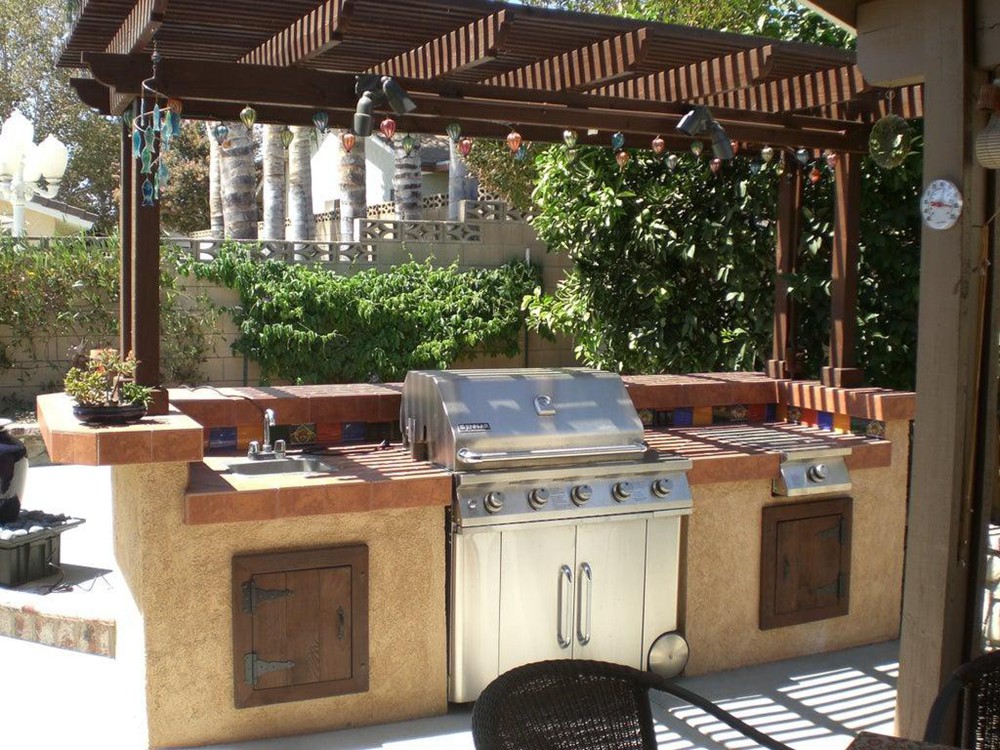 This DIY outdoor kitchen is perfect for those with a lot of backyard space who want to create a home that provides more than the bare minimum. It has a sink, counter space, storage compartments, and more. If you can get four people together and have them work on it for a day or two, this project should be completed by the end of it.
Outdoor Kitchen From Reclaimed Materials

Enjoy your backyard entertaining by building a beautiful outdoor kitchen made with reclaimed materials. Depending on the size of your backyard and available space, you can make this project as modest or extravagant as you like. So, An outdoor kitchen is an excellent addition to your backyard, but it's not the easiest thing to create. With reclaimed materials, you can build a stunning outdoor kitchen that will be ready for hosting in under 48 hours.
Outdoor Kitchen With Pergola Top

A pergola top can be your best friend when adding more surface area and creating more room. This simple Pergola Kitchen is the perfect example of how you can take an ordinary outdoor kitchen and transform it into a lovely oasis. The small size doesn't even limit what you can do with this design, yet you will find that it will meet your needs.
DIY Palapa Tiki Hut With Outdoor Kitchen

Are you in the market for an outdoor kitchen? This palapa tiki hut has it all. This DIY outdoor kitchen is a great place to relax and enjoy your meals from the cabinets to the countertop. Outdoor kitchens enhance your backyard's beauty, and it also helps you create a place where the whole family can spend time together. You can also make palapa tiki huts in different styles, shapes, and sizes to change how your outdoor kitchen looks.
Budget-Friendly DIY Outdoor Kitchen

This could be if you're looking for the perfect outdoor kitchen. With enough counter space and storage, your grilling needs are covered. It doesn't stop there; with a full range of appliances, it can help you cook anything from lunch to dinner! This outdoor kitchen has everything you need for grilling and cooking. You can sleep under the stars and cook your favorite meal all in one place.
DIY Outdoor Kitchen Grill Station
This DIY project is perfect if you want a creative, inexpensive way to turn your patio into an outdoor kitchen and dining room. It will take minimal time and effort to transform your existing grill into an outdoor kitchen with a sink, prep area, refrigerator, and countertop. This DIY project shows that you don't need to spend much money on adding extra space for grilling.
DIY Beautiful Outdoor Kitchen
This outdoor kitchen DIY project is the perfect solution for adding extra counter space and storage to an existing outdoor patio or even a tiny home deck. This DIY Outdoor Kitchen is beautiful, functional, and has all the storage space you need. But most importantly, it's a perfect place to entertain with family and friends. This is the ideal addition to your summer cookout! Watch this video to learn more!
DIY BBQ Island
This DIY BBQ Island is an awesome project packed with features! You can think of it as an outdoor kitchen island for those who love grilling, but one that's a lot more durable. This DIY BBQ Island project will unite you and your friends for hours. You can create an outdoor kitchen perfect for your tastes without breaking the bank. With a few simple tools, you can build it yourself!
Amazing Outdoor Kitchen Built By Novice

Have you always wanted an outdoor kitchen? This fantastic example can inspire you even if you lack skill. Just look at the result and then pick up the phone to have one built for yourself. You don't need to be a professional to create this unique outdoor kitchen. It was created by a guy with no experience in the field, and it took him only 12 hours! Check out his unique DIY project.
Simple Outdoor Kitchen DIY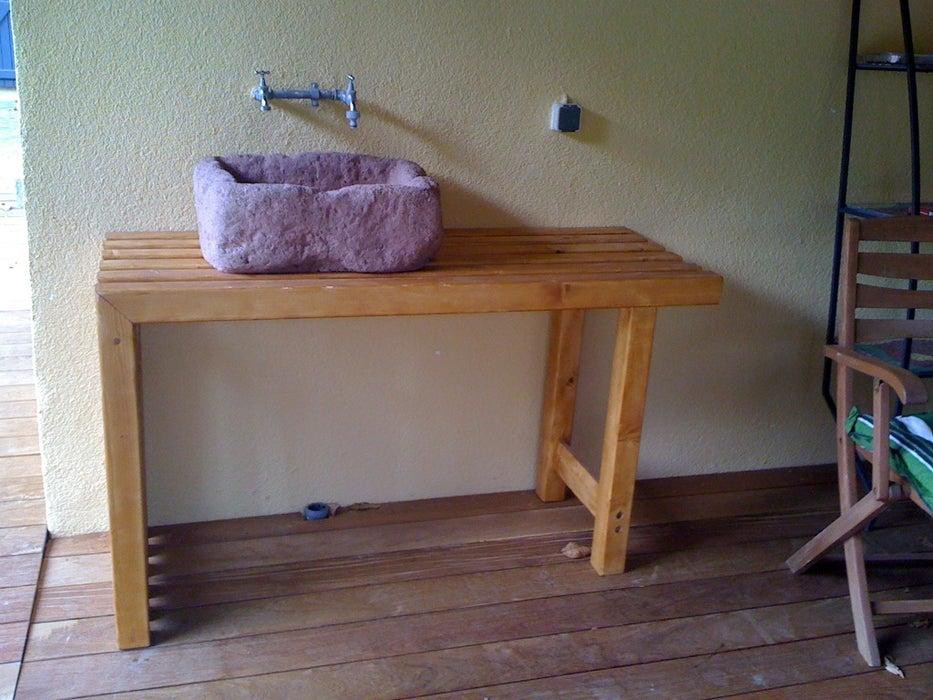 The DIY outdoor kitchen continues to attract a lot of attention. The simplicity of this design is not only beautiful but also very practical. It uses homemade counters and tables to place your gas cooker on it, so you can cook your food quickly while also enjoying the weather outside. This is a quick and easy DIY idea without breaking the bank if you have a regular gas stove.
DIY Outdoor Kitchen With Wood
This DIY outdoor kitchen idea is easy for beginners with basic woodworking skills or for a weekend project with friends. The entire thing is made of reclaimed pine and uses a custom-made stovetop to make it more eco-friendly. You will need basic woodworking skills, but this is an effortless project. You can create a rustic feel with natural finishes like raw wood or paint or use more contemporary colors and materials to give it your unique style.
DIY Low Budget Kitchen Cart For Outdoor Cooking

Need a place to store your spoons, spatulas, and other major kitchen utensils while cooking? This DIY low-budget kitchen cart is perfect for taking your food to go. Use it in the house or out on the deck. This low-budget kitchen cart is also for outdoor cooking and is perfect for family gatherings or a romantic dinner on the beach. It's easy to build and can be customized to fit your needs.
Low-Cost Outdoor Kitchen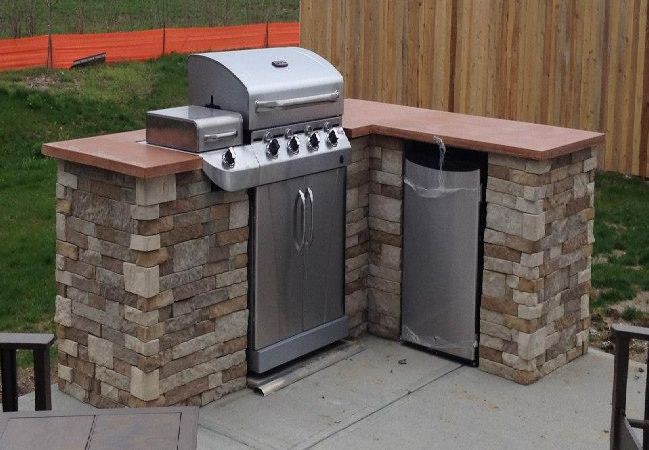 If you're on a budget, this is an easy way to get started with an outdoor kitchen. It's a great way to save money, provide family entertainment, and use wasted space. Building your own is a great way to save money in the long run with inexpensive materials. This low-cost outdoor kitchen has a grill installed and is designed to be affordable and functional. Just follow the below guide and start building.
DIY Kitchen With Sink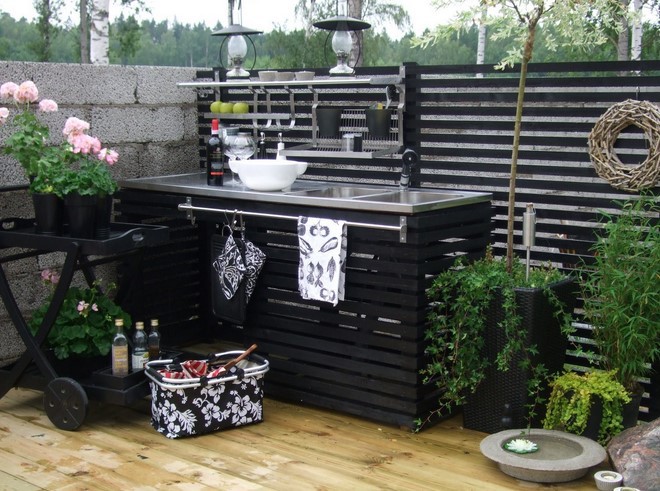 This is a great build plan if you love the outdoors and want to add a kitchen to your outdoor space. It's simple, easy to follow, and, best of all – will provide you with years of use. With this building plan, you can make your outdoor kitchen in no time. Experience is unnecessary and will allow you to save money by doing it yourself. This guide shows you the complete procedure.