Give your bedroom a beautiful, organized look with these great DIY Nightstand ideas. These DIY nightstand plans are perfect for every room of the house, and you can choose from various styles, colors, and designs to suit your needs. Whether you're looking for a bookshelf/nightstand combination suited to an office or bedroom or want an updated nightstand that includes an attached shelf for storing accessories, these 30 plans will help transform your space into a place where you can stay organized and enjoy waking up in the morning.
DIY Nightstand Plans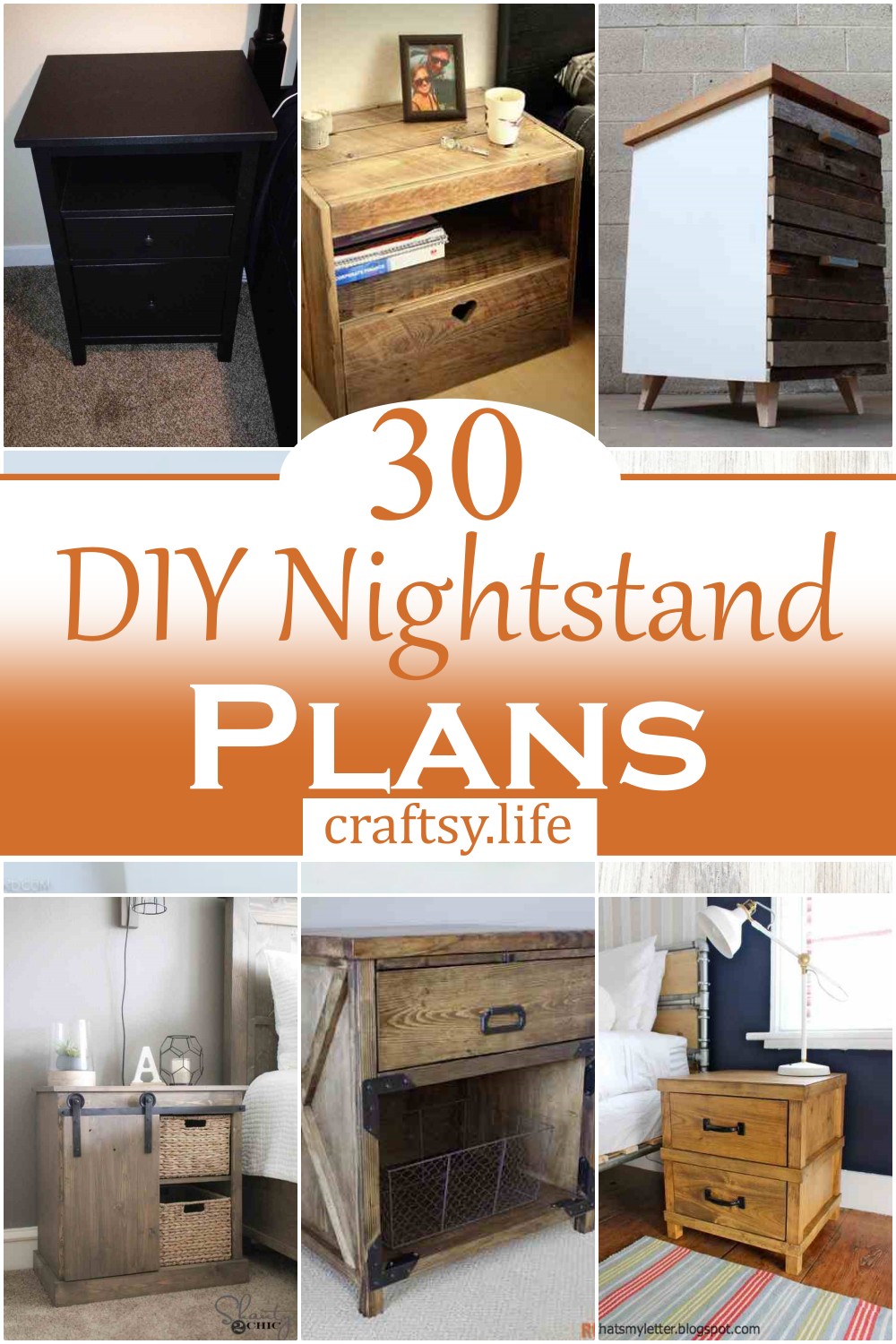 When it comes to nightstands, there are so many options that you could end up with a whole roomful of them. No matter your style or decor, there's a nightstand that can match it perfectly. Just to make sure you don't go crazy trying to find the perfect one for your home, we've compiled 30 of the best DIY nightstand plans. When you build one of the 30 DIY nightstand plans below, you'll have plenty of space for all of your devices and even more. These projects cover your head to toe with charging stations and hidden compartments!
DIY Nightstand Plans are a great way to make your nightstands. They will save you money and time, and you can customize them to suit your needs. With these plans, you can build the perfect nightstand for your home. Whether you want one or two drawers or shelves, designs are available for all tastes. The most satisfactory part is that you can use these DIY nightstand plans to create a custom-made piece of furniture that will fit perfectly into your home décor.
Benefits of DIY Nightstand Plans
There are many benefits associated with using DIY Nightstand Plans to build your furniture pieces:
Saves money: If you have ever shopped for furniture in a store or online, then you know how expensive it can be! However, these plans make it possible to create beautiful pieces without spending lots of money on them.
Customizable: You can choose many styles and designs when building your nightstands. This allows you to easily create something unique that perfectly matches the rest of your décor!
Easy: These plans are easy to follow and understand, meaning anyone can build their own nightstands without prior experience!
DIY Floating Nightstand
Here is a super easy and simple DIY Floating Nightstand to build. It costs only $10 to make, uses basic carpentry skills, and can be completed in just a few hours of your time. Here's what you need: 1x10x48 inch pieces of pine wood boards, measuring tape, clamps, handsaws (or circular saw if using thin plywood), drill bits for screw holes, sandpaper, and finish. The result is a modern, floating shelf you'll love having in your space.
DIY Modern Plywood Nightstand
Your modern room deserves to shine with a DIY plywood nightstand. With a few simple tools and a little bit of time, this version is easy to make and will look great in just any bedroom. You'll only need a drill, a Ridgid octane cordless router, and a cutting system for its building process. The making process is very simple. So don't wait any longer, and start making yours today! It's big enough to store all your belongings in its beautiful drawer.
How To Make A Nightstand
Can't afford a nightstand? This DIY guide can easily make one from scrap wood and fixtures. Learn how to build a nightstand with a space for a lamp, 1 drawer for books and reading materials, and a bottom shelf for extra storage. This project is perfect for beginners! This is a great beginner DIY project for your first time making furniture. It's easy to follow, with detailed instructions and a step-by-step visual guide. The video will show precisely how each project step should look so you can be confident that your finished product will look just like the example.
DIY Modern Rustic Nightstand With Drawer
A nightstand isn't just a place to put your glass of water—it's a necessary companion that adds style and character to your bedroom décor. If you're looking for an affordable yet stylish option, this modern rustic nightstand is just what you need. Make this DIY nightstand with your own hands. It's easy to build and has the most beautiful appearance! It took me less than one day to complete it. If you like the rustic decor in your home but don't want to pay an arm and a leg for an expensive nightstand, check out these plans.
How To Build A Nightstand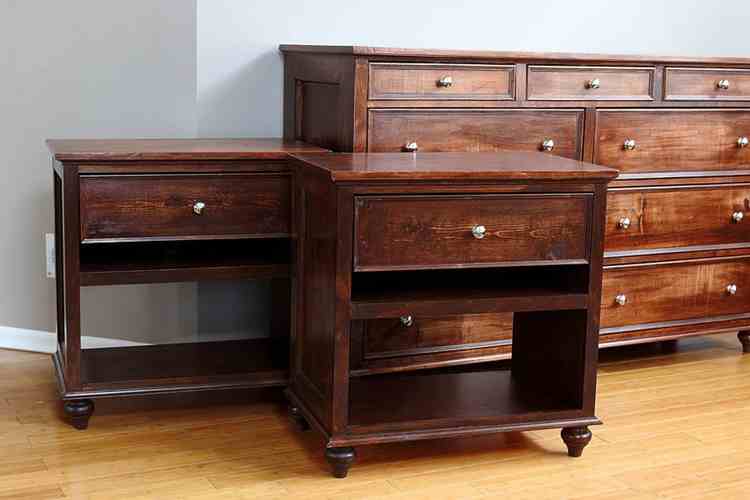 This DIY how-to tutorial shows how to build a nightstand. This can be used as a lamp stand or for storage purposes. It is made of pine and is easy to build with basic tools and materials. Nightstands can be expensive! But you can create your own stylish and unique nightstand for just a few work hours. This is a great build; though it looks like a professionally finished job, you can also do it. This furniture DIY is the perfect weekend do-it-yourself project to challenge your skills and impress your friends!
DIY Sliding Barn Door Nightstand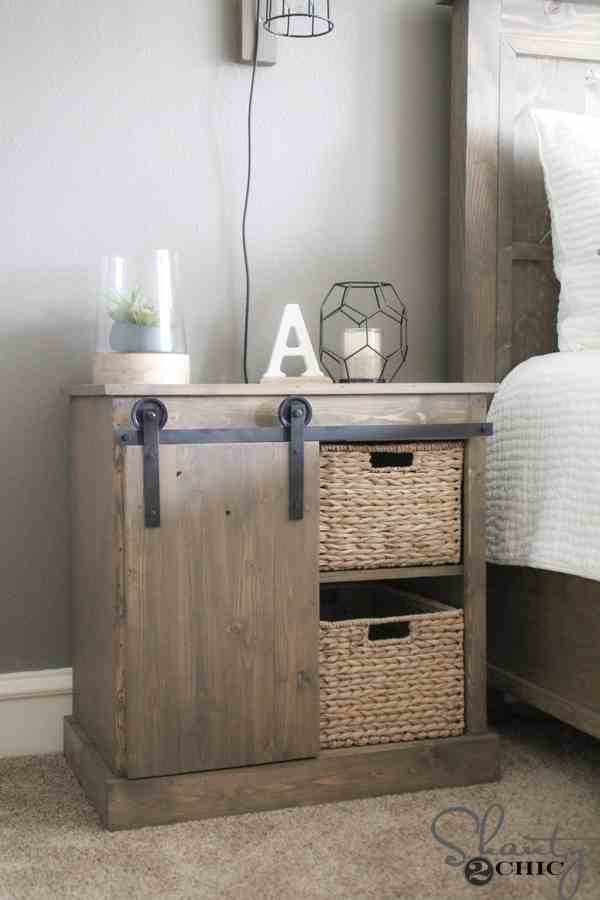 If you have extra time and money to work with, this sliding barn door nightstand is a great project. From start to finish, it should take about 1-2 hours to complete. It's made with a wooden base, some sliding barn door hardware, and wood dividers. It's also quite functional because you can store things inside it easily when you need to use other stuff in the house. This sliding barn door nightstand is the perfect storage solution for your small bedroom, but you can make this as long as you want and customize it to fit in your space perfectly.
DIY Nightstand
If you're looking for a fun and simple project, this DIY Nightstand is the perfect place to start. You can turn historical design techniques into your modern piece of furniture with detailed step-by-step plans. The materials needed for this project are a saw or circular saw, glue for the joints, sandpaper to help smooth out the wood, wood stain to color the wood, and lacquer or varnish to seal the wood. My favorite part of this nightstand is that it can be easily customized based on your needs; swap out drawer size and style, or change up the main dimensions to fit your specifications!
DIY Pallet Nightstand
This DIY pallet nightstand will be a great project if you love working with your hands. With its simple design and step-by-step instructions, you can create a charming piece of furniture right in your home. A cute, rustic nightstand that you can easily make! This pallet-topped table is a perfect way to add a warm, homey touch to your bedroom. It's easy to build, and you'll love the feeling of accomplishment when you're done with it.
Owens Nightstand Plan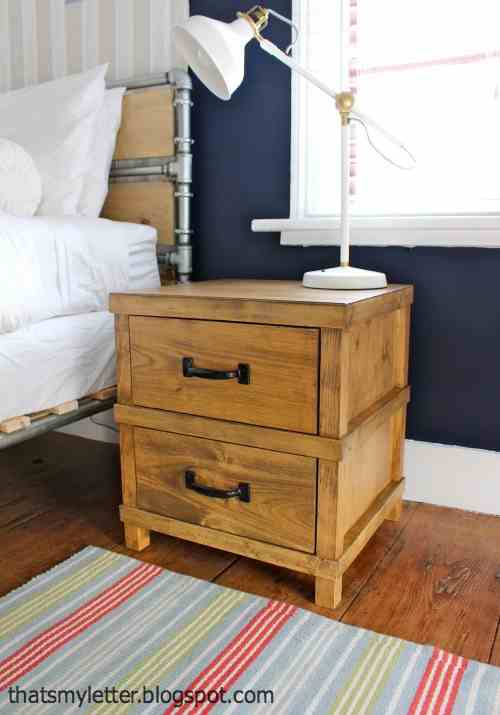 This nightstand plan makes it easy for you to build your piece. Each step includes detailed instructions and diagrams that show you how to saw, measure, and assembles the pieces. The cut list is also included so you can cut the necessary parts from your favorite wood, like pine or oak. Plus, there's even a list of all the tools you need. This DIY Owens Nightstand Plan will offer a solution to your lack of storage space. With this plan, you'll learn how to build an easy and versatile nightstand with the capacity for drawer storage and a laptop/tablet stand. The cut list includes all the parts needed to build one nightstand using basic tools.
DIY Scrap Nightstand
This project is the perfect place to start if you're looking to build something on a budget and have never built furniture. It works well in small apartments or on a deck, occupying very little space but still providing plenty of organization and storage for all your belongings. It is worth investing your time and money into creating your own because the result is an item handcrafted by its owner. Plus, you can always change your mind and repurpose it anytime.
DIY Nightstand Organizer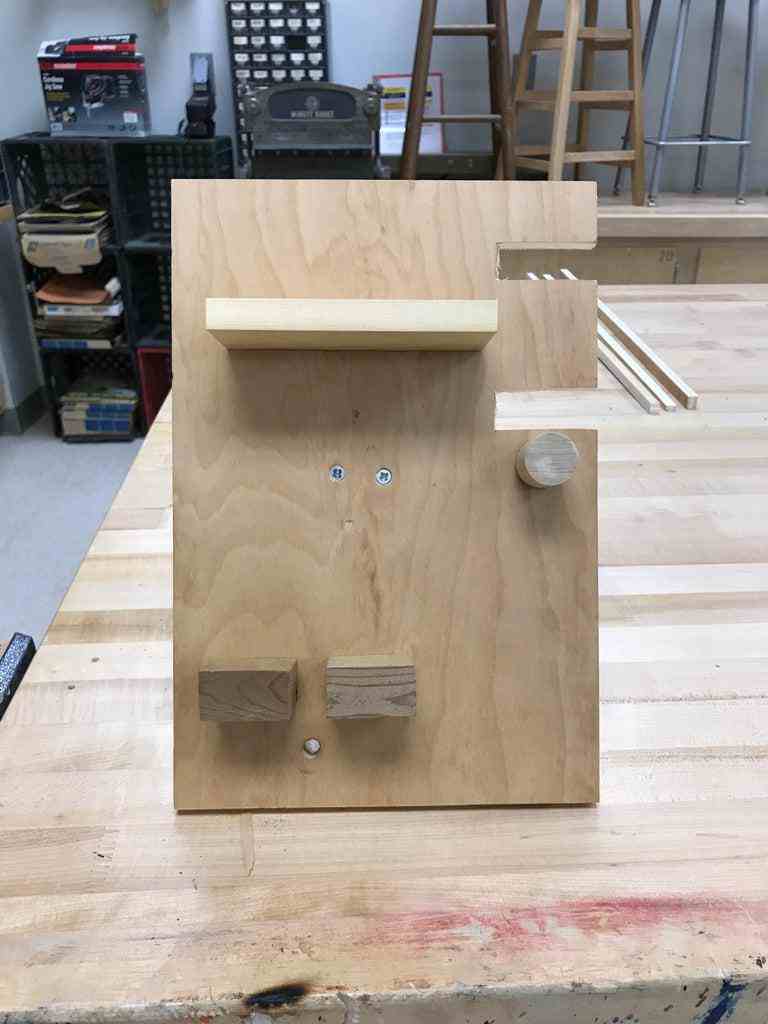 As we all know, making new furniture at home is easy, and if you're a DIY devotee, then this Red Nightstand Organizer will be your favorite. This example is made of pine boards, but any other wood that is soft enough to cut can also be used. The construction is simple, and the tutorial is easy to follow. Assembling this nightstand only takes a few hours. It's not hard, so making one won't be a problem even for beginners.
Tapered Leg Bachelor's Chest Nightstand
A great table is a must-have for any room in your home, whether you're setting up a new workspace or gathering friends around the TV. So why not do it in style with this tapered leg bachelor's chest nightstand that's as handsome on its own as it is filled up? The Tapered Leg Bachelor's Chest Nightstand is a perfect little nightstand with a tapered leg design and simple, clean lines. Not only is this chest capable of holding books, lamps, or other household items, it can be used as additional space in the bedroom or even as a hallway console.
DIY Floating Nightstand With Drawer
If you have limited space in your bedroom but still want to be able to store some of your stuff, the floating nightstand is great. These can also be used as a second step or a children's step stool. Make this DIY floating nightstand with a drawer your new favorite piece of furniture. This project is simple and inexpensive but has a chic overall look. It will be the perfect addition to any bedroom or living room that could use more storage options. This floating nightstand features a drawer, so you'll never have to hunt for your phone again or dig under the bed searching for your keys.
You can also see: DIY Floating Bed Frame Ideas 
DIY Nightstand Plan
Make your home look more fashionable with this DIY Nightstand Plan. It stands high and has shelf storage underneath for your stuff, such as books and magazines. The drawer is laser engraved so that you can add your personalized touch. This project will surely add value to your home interior because of its elegant design and craftsmanship. This project requires an expert level of skill in tools and materials used in construction, as well as an experienced person who knows how to use them.
Simpson Nightstand Plan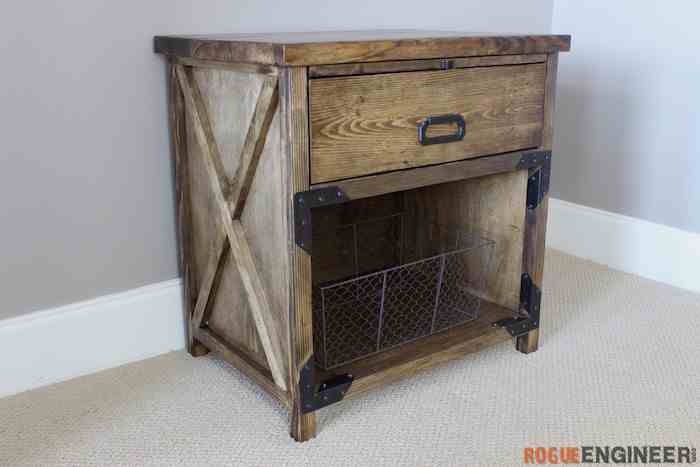 Meet the Simpsons, the newest addition to your bedroom! This Simpson Nightstand Plan is an easy project to build while watching your favorite show. The nightstand has a fixed middle shelf and a drawer to hold those important books, magazines, or anything else you want close by at night. The Simpson Nightstands are the perfect addition to any bedroom. They are made from pine and can be customized with your choice of stain. The plan includes a template for cutting out the drawers and an article on finishing them. Make it yourself and create the perfect nightstand for your bedroom.
DIY Nightstand With Secret Drawer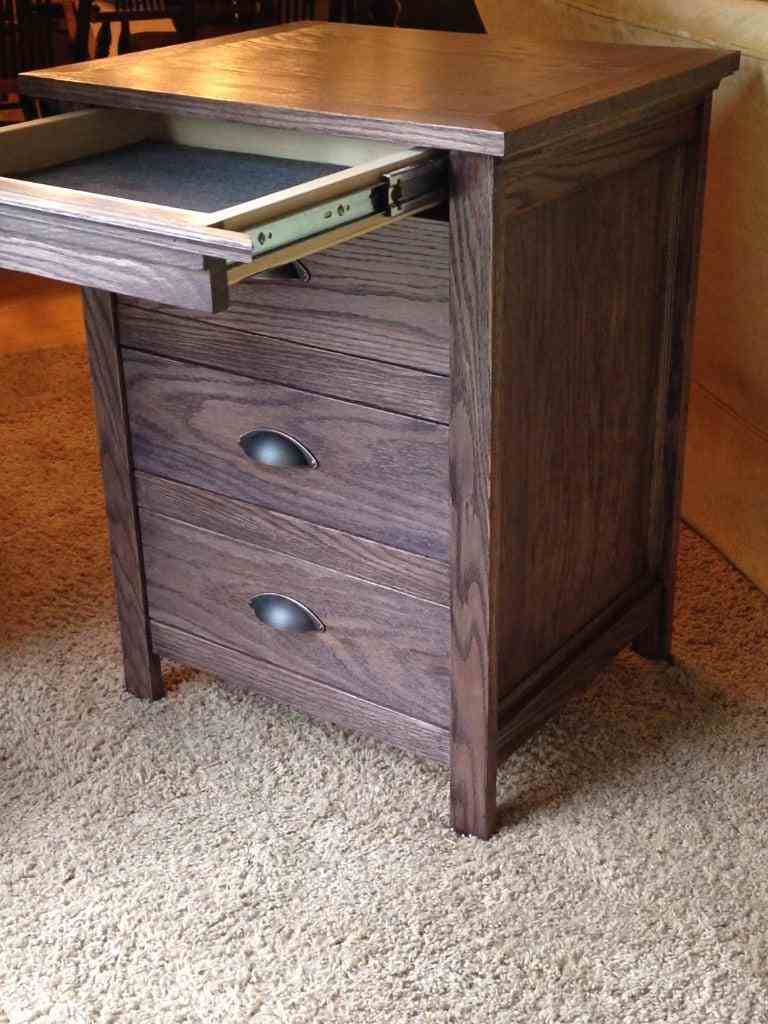 You don't need much space to make a statement with style. This DIY project will help you create your nightstand, perfect for resting your drink or tablet and hiding away your valuables. The subtle details are what make a piece of furniture unique. A secret drawer adds functionality and fun to any nightstand while making it look more rustic and chic! The best part is that it's incredibly easy to DIY.
Modern Farmhouse Nightstand
This DIY Modern Farmhouse Nightstand is a super easy way to update your space and make it look completely different. This project requires minimal time and effort, but the results are gorgeous! It's simple enough for beginners but has enough room to add creative details, making it a one-of-a-kind piece. With a less traditional shape and design, this nightstand will stand out when paired with your bedding or in front of a window. It's easy to put together and has a tutorial for any DIYers who want to make one for themselves!
Simple Wood Nightstand DIY
This Simple Wood Nightstand will help to create a beautiful and functional piece of furniture. This project is easy enough for anyone to follow, even with a little DIY experience. If you want to make this a gift for someone special in your life or just as something nice for yourself, then get ready because you will be amazed at how easy it is! It uses simple tools and techniques to create a functional, sturdy piece that you made yourself! From sawing to sanding and more, this project will help you improve your skills while you build this handsome nightstand.
Free Floating Nightstand Plan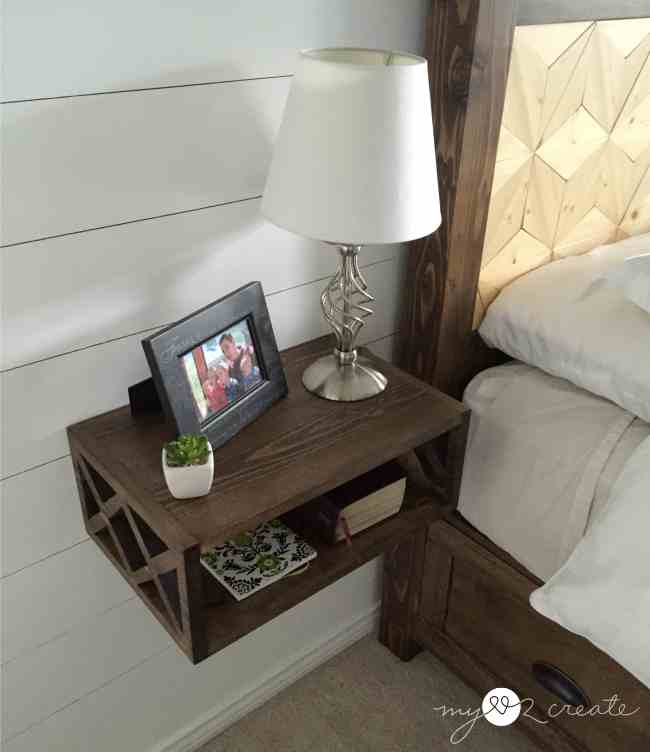 This Free Floating Nightstand is easy to make and requires only a few things. It's a piece of wood with paint, hooks, and the right finishing touches. You can add light, too, if you like! This is a simple, minimalist floating nightstand that can make in no time. It's functional and fits any space without taking up floor and bookshelf space. Its minimal design adds a pop of color that makes a bedroom cozy. Gather your supplies and follow along to make one of these eye-catching pieces in your home today!
20. Simple And Modern Nightstand Plan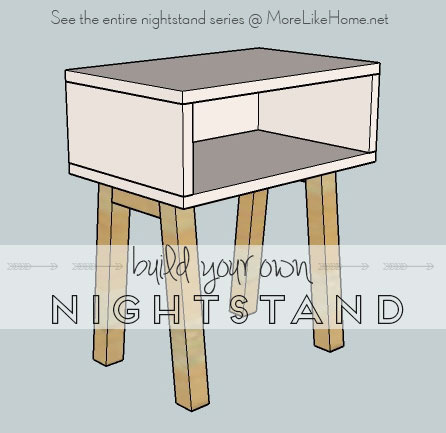 Do you have a space in your home that needs a little help? With this simple design, you can create your modern nightstand in no time. You'll find easy-to-follow instructions and diagrams to help guide you through the process. Whether you're just starting with DIY projects or have dozens under your belt, this little project is sure to impress! It will add a modern touch to your bedroom, with many personalities!
DIY Modern Nightstand
Viewers who are looking for a modern nightstand can try this project. It has simple building plans and is also easy to understand, so you can build it without any problems. This video tutorial will help you build your mid-century modern nightstand using simple tools like a circular saw and acrylic paint! So if you're looking for a unique modern nightstand to enhance your bedroom decor, this project is perfect for you.
3 Step DIY Nightstand
Make your own simple and stylish nightstand with this DIY project. It's a fun way to add one-of-a-kind style to any room of your home while simultaneously saving money by spending time making a piece that would otherwise cost big bucks. This nightstand is perfect for small spaces and makes a wonderful accent to your bedroom designs. Don't worry; even if you're starting - this video guide will show you how easy it is to build one yourself! Follow these easy steps, and you'll soon enjoy a nightstand that fits right into your home.
How To Make A Nightstand With Drawer
This video will show you how to make a nightstand with a drawer using standard woodworking tools and materials. This is an easy DIY project and can be completed in just a few hours, with minimal cost and effort. You can use this same approach to build a desk, small table or large cabinet. In addition, if you want something in your design, use the same techniques and start from scratch. You'll learn how to build this basic nightstand in about an hour!
DIY Modern Side Table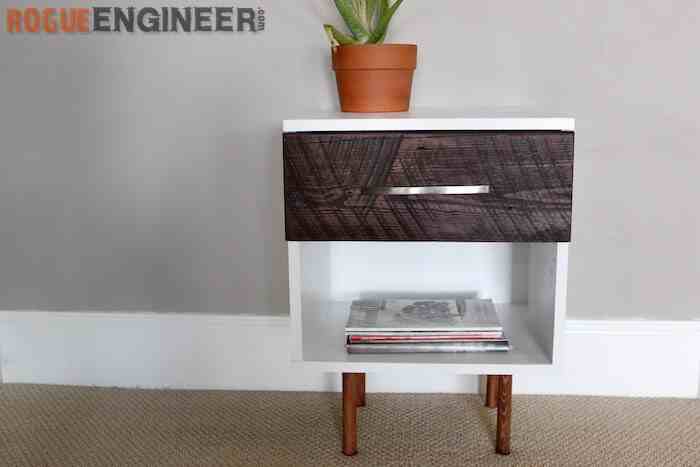 This modern side table is quite simple to make, although the legs do not look like they can hold much weight. The real beauty of this piece is that it's made from only two pieces of wood, each cut to size. This would be the perfect project for a beginner woodworker because it is made from basic shapes and requires only basic tools such as a saw and drill. The size of this table is perfect to be placed in any room, either as a bedside rack or as an accent table in your hallway or living room.
DIY Nightstand With Light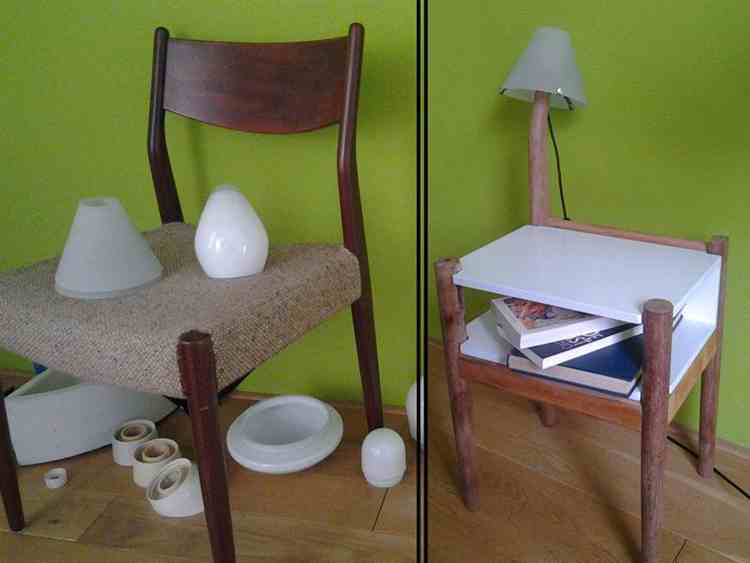 Attention, all nightstand seekers! If you have a spare chair, this is the perfect project for you to add some space to your bedroom. This furniture hack will give you a custom piece of furniture in one day that has plenty of storage space and adds illumination to your room. This technique can be applied to other household objects such as cabinets, benches, and furniture pieces like coffee tables. It's easy, and you'll just need a piece of wood, glue, and other supplies.
DIY Bedside Table Build
Tired of your bedside table falling apart? Need a sturdy nightstand? This project will show you how to make a sturdy, stylish bedside table that fits perfectly with any bedroom's look. It can also be a nice place to store books or magazines. You can do it, even if you don't have any money or experience. All you need is a few simple tools and some patience. Check out this step-by-step video guide to learn how.
DIY Pallet Wood Nightstand
It's a unique nightstand design with one drawer and an open shelf, which gives you more storage space for all your little odds and ends. It's quite easy to make, and the step-by-step instructions are available in the video. This DIY pallet nightstand made from pallet wood is a great addition to any room. It's a quick and easy project, making it a great weekend project! Enjoy the tutorial and see how easy it was to make this beautiful nightstand.
How To Build A Bedside Table
Building a bedside table to match your bedroom can be a good idea. You can do that the easy way with this video guide. Follow along as it shows you how to build this bedside table from scratch. See how and build one for yourself today! This tutorial will show you how to build a bedside table from scratch. The bedside table is designed to fit a full-sized bed, maximizing storage potential for those with limited space. However, if your room is small, the bedside table can be used in other rooms as a nightstand or beside a chair!
DIY Hanging Table Nightstand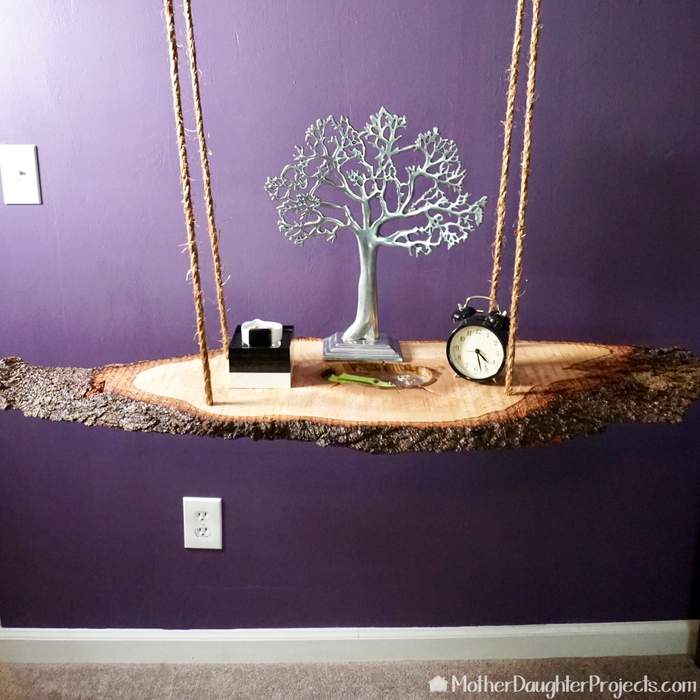 This hanging nightstand is the perfect addition to your bedroom, and It brings nature and beauty into your life, adding charm to an otherwise dull room. This nightstand does not have a lot of room for storing things, but it is perfect to use as a side table or in the living room. It does a perfect DIY project that can do cheaply, doesn't take too long, and will last for years. You only need about 30 minutes of free time every week or two to get it done! You can always customize this nightstand according to your needs and taste.
DIY Reclaimed Lumber Nightstand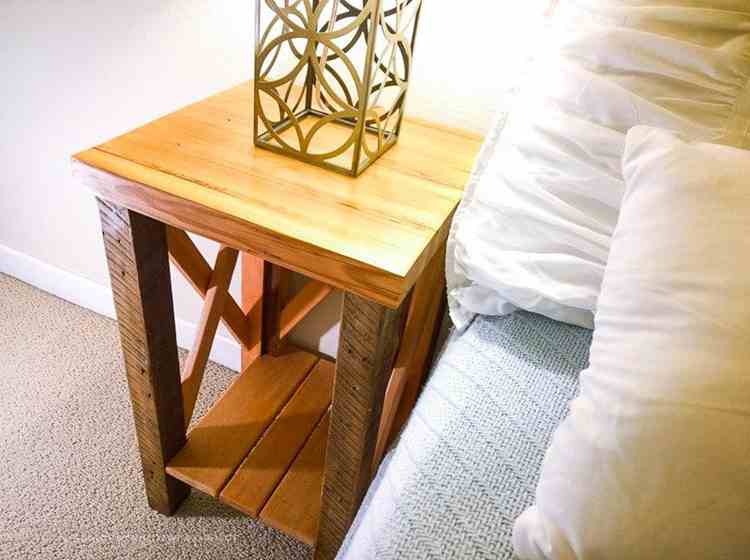 The charming DIY Reclaimed Lumber Nightstand is a perfect example of elegant, rustic style. It's an easy project that can complete in one weekend and is certain to add instant appeal to your bedroom or guest room. The perfect addition to any bedroom, this nightstand is a great way to add some timber-lined rustic charm without spending a lot of money. This wood nightstand is perfect for any nursery or kid's room. It features straight lines, simple joinery, and easy-to-follow steps to help you build it yourself with ease.