Mardi Gras is upon us, and if you're looking for a way to bring some of the season's spirits into your celebration, consider making a mask. Whether you're dressing up with friends or family or want to add something to your wardrobe, there are plenty of easy, inexpensive options for masks that will get you in the mood for the big day and show off your style. This list of DIY Mardi Gras mask ideas is here to help you create exactly what you want. Some of these ideas require simple building blocks like clay and paint, while others are more complex projects that require an entire afternoon to complete, but all of them are sure to make your celebration more memorable.
DIY Mardi Gras Mask Easy Ideas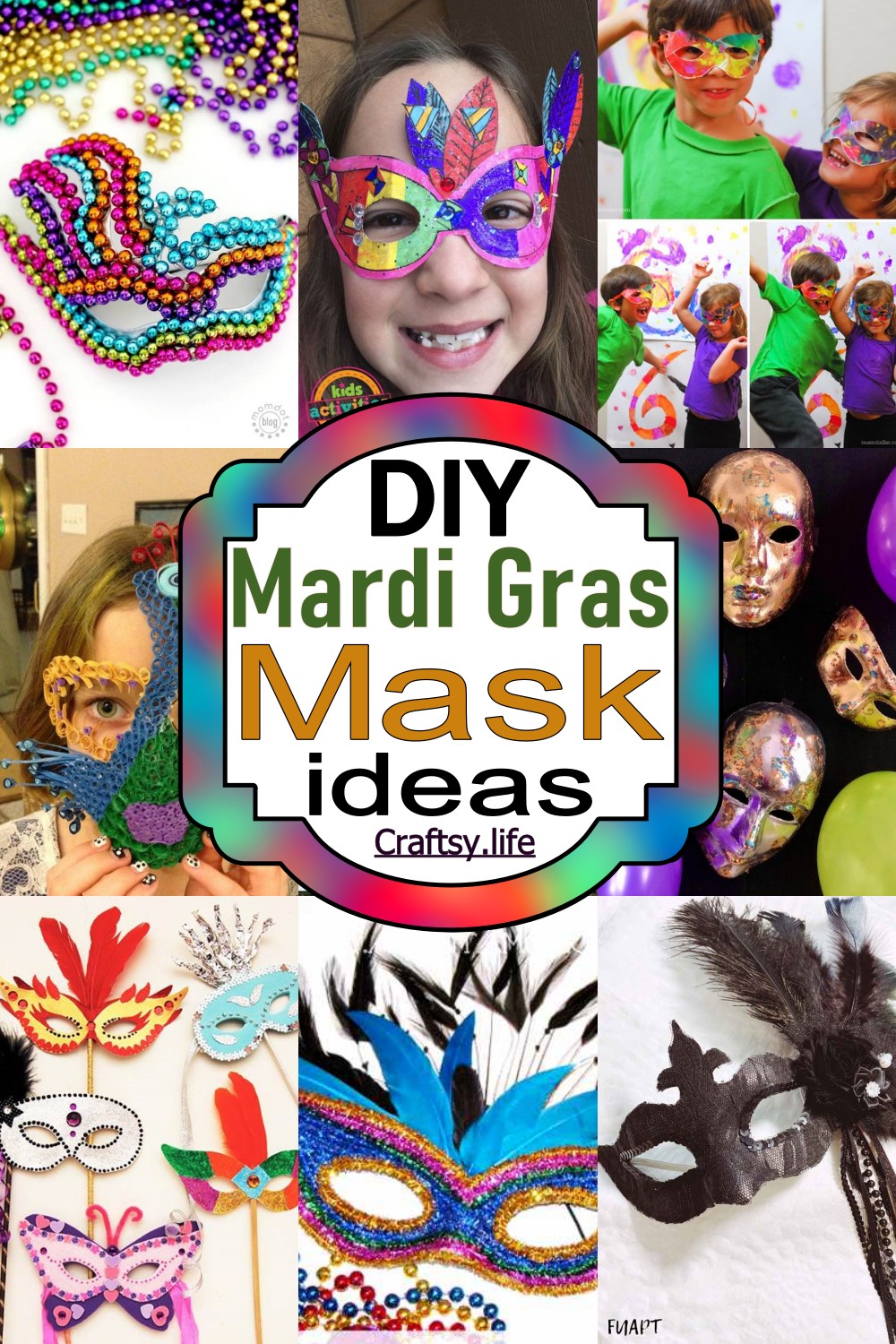 Mardi Gras is all about having fun, so why not have a few cheap, easy and creative Mardi Gras mask ideas for your next party? These DIY Masks are easy and fun to make but still look scary and creepy. The best part is that you can wear rings around your eyes, giving yourself even more of a creepy effect. Whether you're planning on celebrating Mardi Gras or want to make a statement on color day, these DIY Mardi Gras masks will turn heads. We've got everything from classic feathered masks to more intricate pieces that will have everyone asking for your secret. These will not only stand out at the carnival but will be a great addition to any mask collection and can be used year-round.
Benefits Of DIY Mardi Gras Mask Ideas
You can create your original and unique mask with your creativity and sense of style. You can use your favorite colors and patterns to create something that will express yourself.
These masks are made from recycled material, so you can say that you save the environment by recycling things instead of buying new ones.
You can also use it as a quirky gift for someone who loves arts and crafts or even a DIY project for kids who like doing such stuff!
DIY Masquerade Mask Tutorial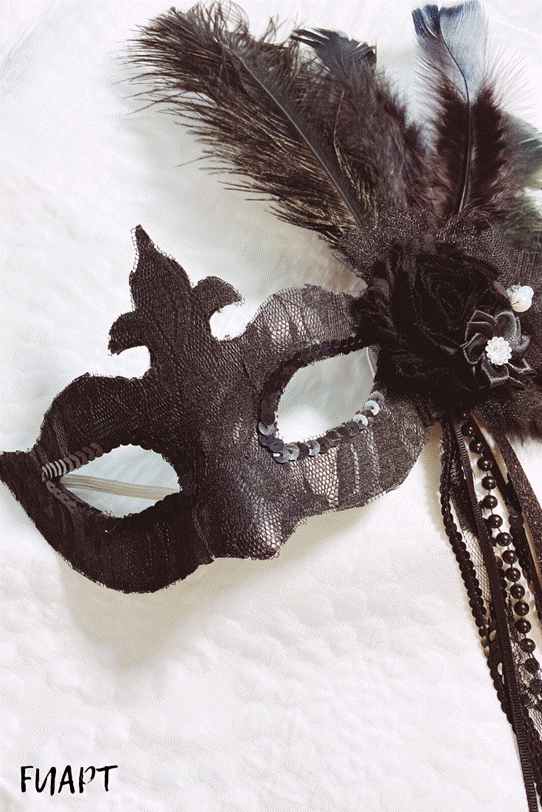 Black is the perfect color for you if you want to express your inner self. If you're looking for fantastic masks, you might as well make one in your own style and with whatever materials are available. If you love black, this DIY Mardi Gras mask is for you! This DIY mask tutorial is easy to follow, and all the supplies are available at the craft store. It will provide you with a unique Mardi Gras mask for yourself. The mardi gras mask is perfect for festivals, events, and entertainment.
Tips To Make Your Own Mardi Gras Mask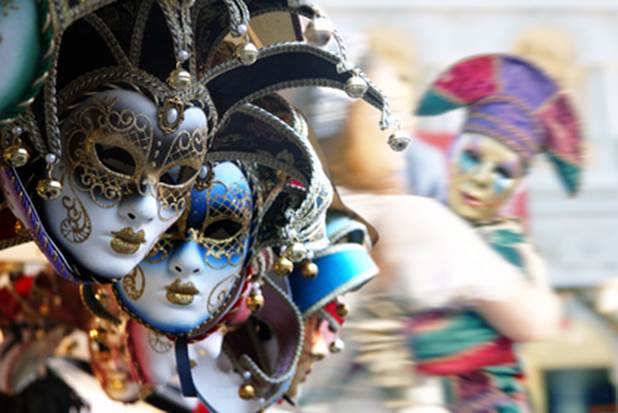 Making a mask is a fun project. Once you have the suitable materials, it is easy to construct your mask in no time. Your kids will have a blast making these homemade Mardi Gras masks, which are not hard to make. You can use any color crayons, which will be much cheaper than the store-bought ones! It makes a great stocking stuffer that is easy enough that even young children can do it themselves.
DIY Mardi Gras Mask With Crayons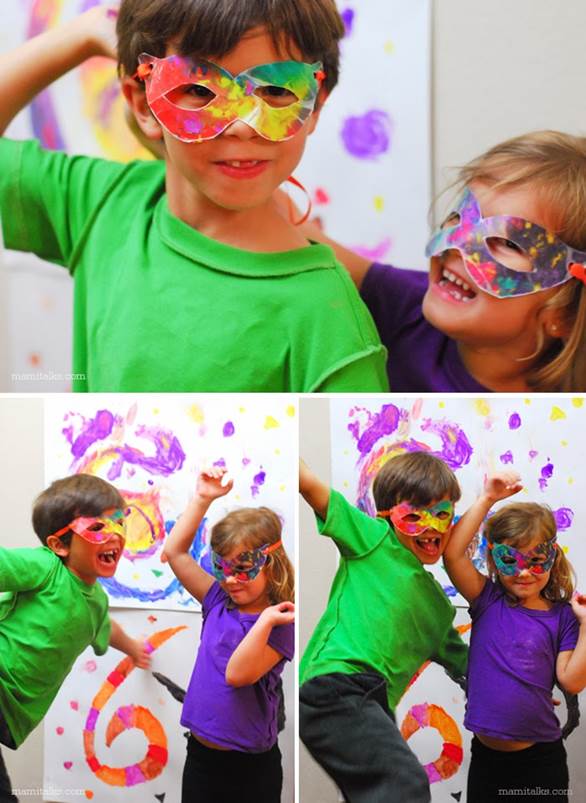 Don't miss out on making your children interested in art and crafts this festive season. The following is a tutorial on making a Mardi Gras Mask With Crayons that you can do with your kids at home. It's fun and helps them learn the importance of colors in their lives. This DIY mardi gras mask with crayons is a fun craft project for kids that's easy to make and has a bright, colorful result. Kids will love creating and wearing their art, so this is a great way to get them involved in the holiday.
Quilled Mardi Gras Mask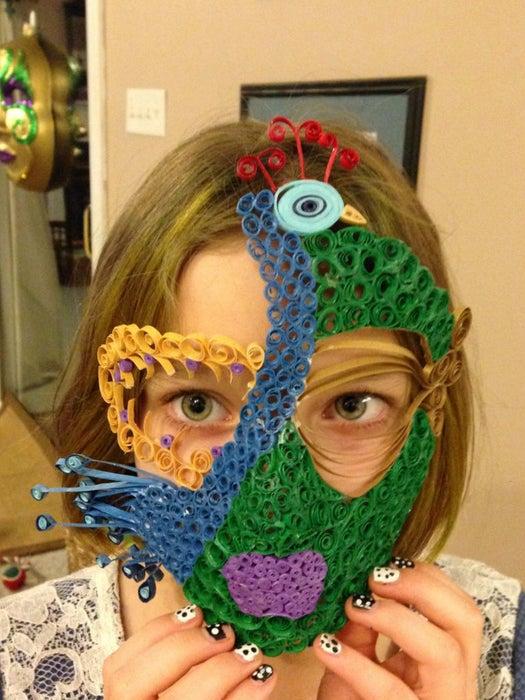 This DIY Quilled Mardi Gras Mask will make you stand out at your Mardi Gras party! It's super easy and very dramatic. This mask is designed for adults, but kids could undoubtedly make a smaller version. You will need patience and time to complete this mask, but it will be worth it when you see yourself in it! This beautiful DIY mardi gras mask will make your costume stand out in the sea of other masqueraders. It could be hard to make, but if you pay attention to the tutorial, you can complete it.
DIY Mardi Gras Gilded Mask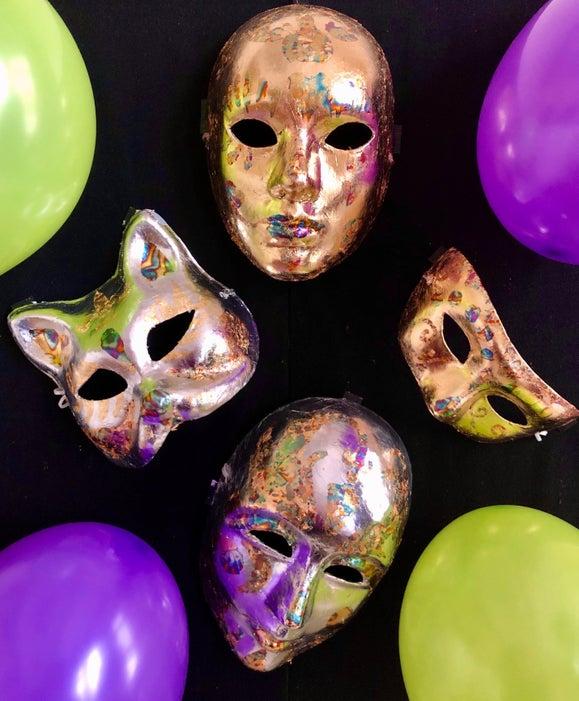 Are you planning to attend a Mardi Gras party? Then, you might want to try our DIY Mardi Gras Gilded Mask. This tutorial is perfect for beginners because it includes everything you need to know to create your own stunning mask. These masks are great for costume parties, New Year's Eve, or other special occasions when you want an unforgettable look. You will learn how to use acrylic paints, gold leaf, and other materials that can add a certain sparkle to your mask.
DIY Mardi Gras Mask With Beads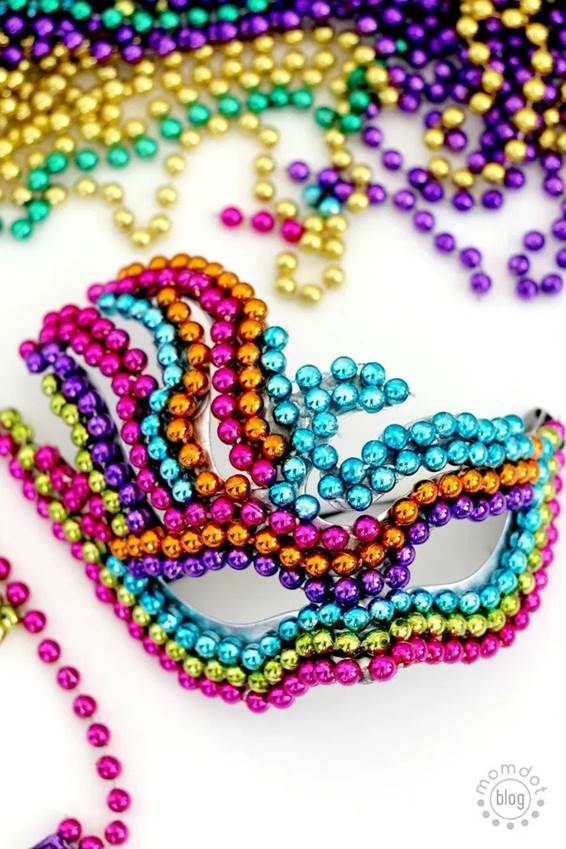 Looking for a mask that is simple and beautiful? This DIY mardi gras mask craft with beads is easy to make and will prepare you for Mardi Gras. DIY Mardi Gras Mask with Beads is all you need to transform your outfit, and it can easily be made using a few materials you'll find lying around your house. This DIY Mardi Gras Mask With Beads allows you to participate in the celebrations. The designer used different colors of beads to enhance the beauty of the mask. You can make one by yourself with just some simple materials.
DIY Printable Mardi Gras Mask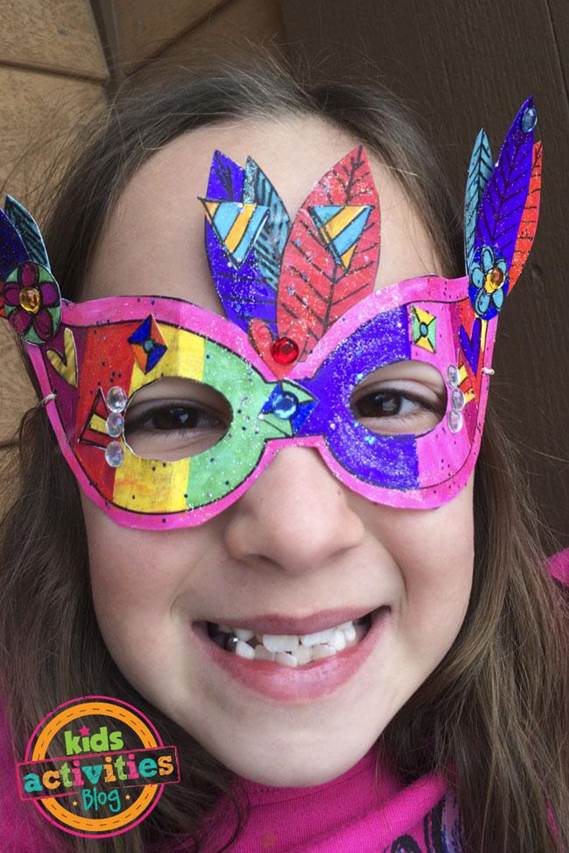 This mask can be used in a mardi gras party to make the event fun and lively. It will also be a suitable way to spend time with your kids without allowing them to get bored. It is easy to do, and you won't have to worry about safety issues when doing it with your children. Make a Mardi Gras Mask with this DIY kit. Learn how to form the mask, print, color, and complete your mask at home. Once finished, you will have hours of fun designing and creating your own mask.
DIY Carnival Mask
A mask is one of the most effective ways to enter a carnival's spirit. With this DIY tutorial, you can craft your own stunning carnival masks with simple materials. Anyone who likes to make things from scratch can complete this easy process. This DIY tutorial will show you how to make this beautiful mask, it only takes a few hours, and you don't need any fancy tools or materials. All you need is a mask, glitter powder, felt, and glue.
DIY Paper Plate Mardi Gras Mask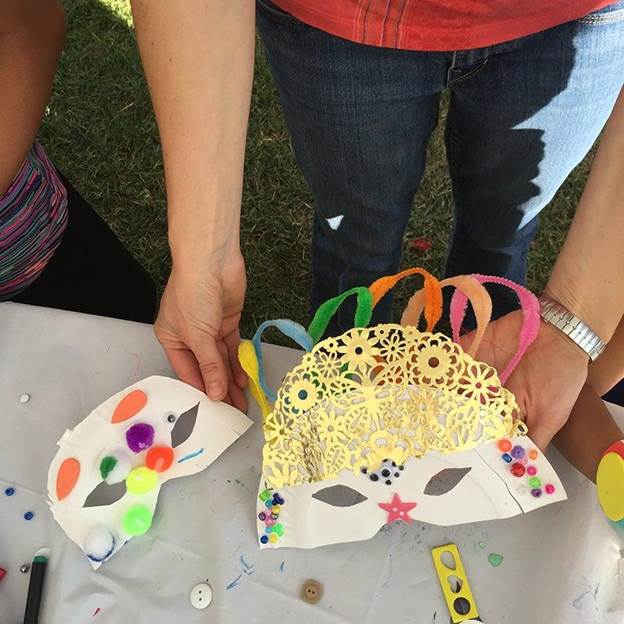 If you love Mardi Gras or New Orleans, then you need to try making this mask. It's a fun and easy project for all skill levels! A mardi gras mask is an essential ingredient of a party, do not miss this opportunity to get your hand dirty and create a one-of-a-kind mask. This mardi gras mask is the perfect way to show off your pride. It's affordable and easy to make with simple supplies you probably already have at home. Check out this fantastic tutorial from Crafty Britt to make a mask that looks real!
DIY Mardi Gras Mask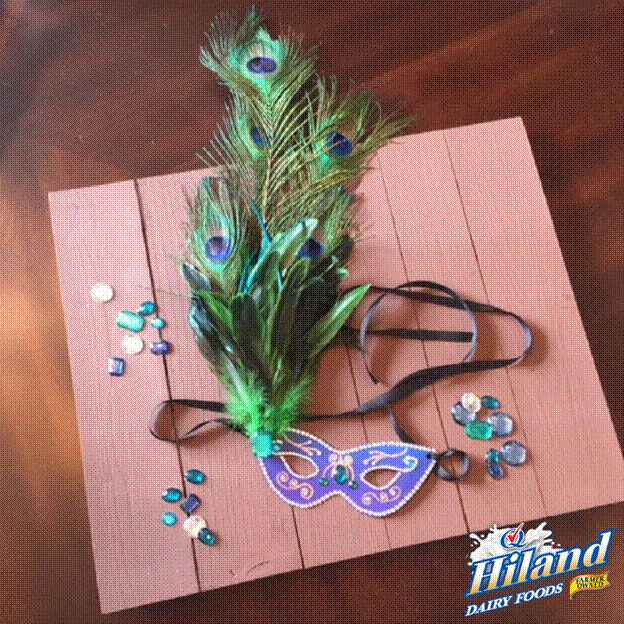 This DIY mardi gras mask is created using peacock feathers and a solid black band. It's easy to make and fun to break up the usual colors seen in masquerade masks. This amazing DIY Mardi Gras Mask is easy to make and features peacock feathers, sequins, and iridescent beads. Make a mask for every member of your family, or heads for all your friends, and have a great time at the party. Add a little Mardi Gras flair to your party with this fun mask. It's a simple DIY - just cut the feathers into the shape of a mask, glue them on, and voila!
DIY Masquerade Mask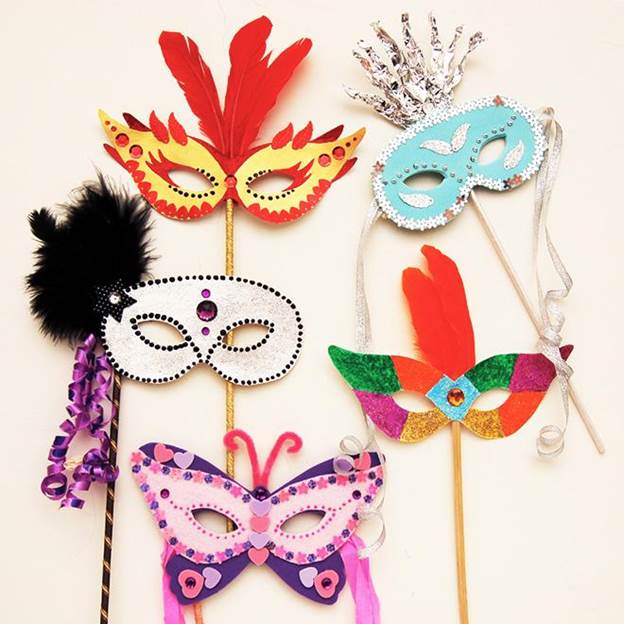 Straw masks are easy to make and will be a great addition to your masquerade party. Please make one of these fun DIY masks and wear them on Halloween or for your next Halloween-themed celebration. Take your flirting to a whole new level with DIY Masquerade Mask. This article has several designs from a simple black mask to a very colorful one. They are easy to make, and you can use them for many other occasions, such as costume parties, masquerade balls, and dinner parties!
DIY Masquerade Mask
Looking for a DIY Masquerade Mask? This mask is so easy to make, and you'll probably have all the supplies around your house. Easily create your own masquerade mask at home with the DIY Mask Kit. This kit includes all the needed materials, which you can use to make your mask in under ten minutes! What makes this masquerade mask so unique? The paint job is done by hand, and the two pieces are made of high-quality cardboard, meaning these masks last longer than those made with other materials.
How To Make A Huge Cardboard Mardi Gras Mask
If you are having a Mardi Gras mask party, this DIY tutorial can help you make it huge! Follow the steps in this video, and you will have the perfect mask everyone will love and admire. Make a big mask for Mardi Gras with this simple tutorial. All you need is cardboard and paint. Use your imagination to create a custom mask with different colors and designs!" This fun DIY project is great for Cinco de Mayo, Mardi Gras, and just plain fun. The possibilities are endless with this easy project.
DIY Venetian Mask
Let your personality shine through with this free DIY Venetian mask template. Print it out and cut out the pieces to make a masculine, classic-looking mask. Make your home feel like the Venice Carnival with some crafting. This easy-to-make Venetian mask project is an excellent addition to your home décor. This project is for you if you want to look different from everyone else and make people envy your mask.
DIY Leaf Masquerade Mask
This DIY Leaf Masquerade Mask is such a fun and easy project that you should be able to complete it in one sitting. The mask is made of fabric and leaves, with a few feathers just for detail and color. Make the perfect masquerade mask using your materials. This DIY leaf masquerade mask tutorial can be used in several seasons, as it is small and easy to hide. Make the perfect masquerade mask using your own materials. This DIY leaf masquerade mask tutorial can be used in several seasons, as it is small and easy to hide.
DIY Mardi Gras Mask For Kids
Halloween is just around the corner, and what better way to celebrate than by making a DIY Mardi Gras Mask? Follow our simple step-by-step instructions to create a mask that kids of all ages will love! Turn your little one into a jester or voodoo princess, or give them the wings they've always wanted. With these easy tutorials and fun materials, you can make this mask for your child in just a few hours. It's a simple craft that can be made from materials available at local craft stores, such as foam sheets, feathers, glue, and paint. Once the mask is finished, you can decorate it as you wish!
DIY Mardi Gras Mask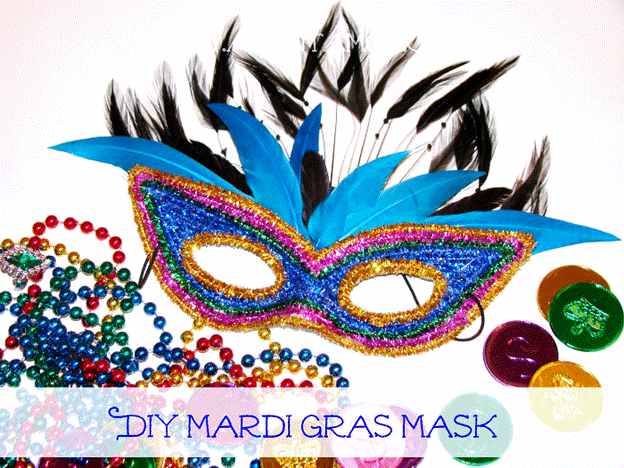 With these DIY Mardi Gras Mask Kits, you can make masks to wear for Halloween or any other festival or party! The masks are multi-colored and covered in shiny pipe cleaners, giving them a beautiful glow. You can also add feathers to your show if you like. You can wear this mask and put it on the wall as decoration. It is perfect for parties, celebrations, and festivals. With this DIY Mardi Gras Mask, your little girl will love dressing up like a beautiful pink peacock. This mask is covered in shiny, glitter pipe cleaners, and feathered wings are attached to each side, making it look just like a peacock's face.
No-Sew Mardi Gras Mask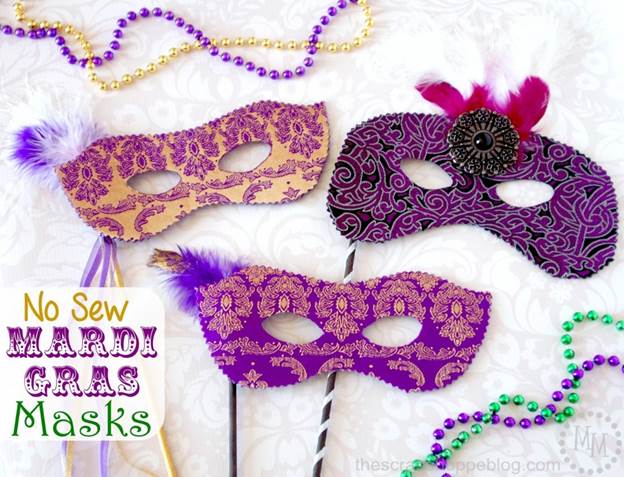 These no-sew Mardi Gras masks are incredibly easy to make and only require a few items. You'll have a fashionable mask in just minutes! You no longer have to spend time and money making Mardi Gras masks. These masks are very easy to make; you only need one fabric sheet. All you need to do is cut the fabric into pieces, sew the edges, and stuff them with polyester beads. They look great, and you won't have to spend much time making them.
DIY Mardi Gras Mask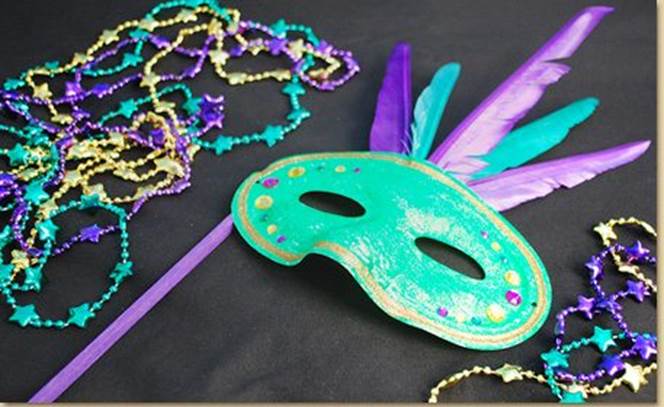 If you love easy projects and a little fun, this DIY Mardi Gras Mask project is just what you need! This idea is great for kids and adults alike. Let your imagination run wild as you decorate this mask to make it your own! Show off your Mardi Gras spirit with this easy DIY mask. It's the perfect project to make with your friends or even kids! This DIY Mardi Gras Mask is super easy to make and will only cost you a few bucks. This paper mask can be your new favorite costume for the wildest festivities with just a few supplies and tools.
Filigree Masquerade Mask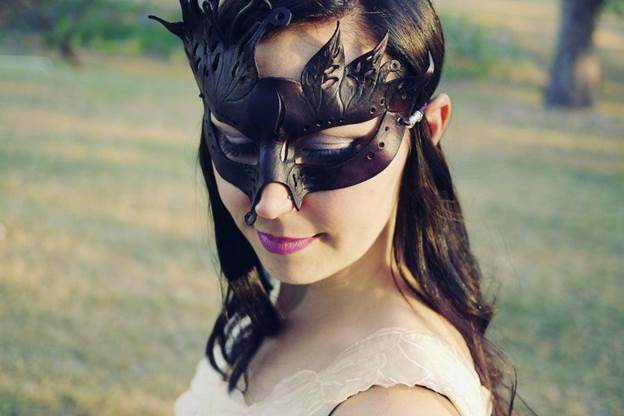 This beautiful and intricate mask adds a touch of magic to your masquerade. Thanks to its delicate filigree design, it's perfect for your next special occasion. This DIY Filigree Masquerade Mask is created from an old book cover, creating a stunning and unique look. This mask has all the elements of a classic Venetian masquerade mask. Now this will surely knock your socks off. The old-school Venetian masquerades inspired this gorgeous mask. Just like those masks, they will knock you off your feet.
DIY Mardi Gras Mask For Fat Tuesday
Are you looking for an easy mask to make for Mardi Gras or Fat Tuesday? This DIY Mardi Gras Mask is great for kids and adults alike. It only takes about 35 minutes to make, and it is perfect for any holiday party or parade! Mask is ready to be worn on the day of Mardi Gras, Fat Tuesday, and other festivals. The mask can be worn as clown or beast-like, as you prefer. You can use different types of paint and color schemes. This mask is an excellent DIY project for kids to add fun to their carnival celebrations this year.
DIY Gold Leaf Mardi Gras Mask
This is the proper tutorial if you are looking for a DIY Gold Leaf Mardi Gras Mask. You won't believe how simple and easy it is to make one at home. All you need is gold paint, a mask, and a lot of patience, as you have to coat the entire show with layers and layers of paint. Once done, you can add some glitter to make it look more glamorous. This DIY gold leaf mardi gras mask is great for any Mardi Gras carnival. This mask will fit most people and can be worn over your face or made into a table decoration. It takes only a few minutes to complete and costs less than $10 to make!
DIY Masquerade Mask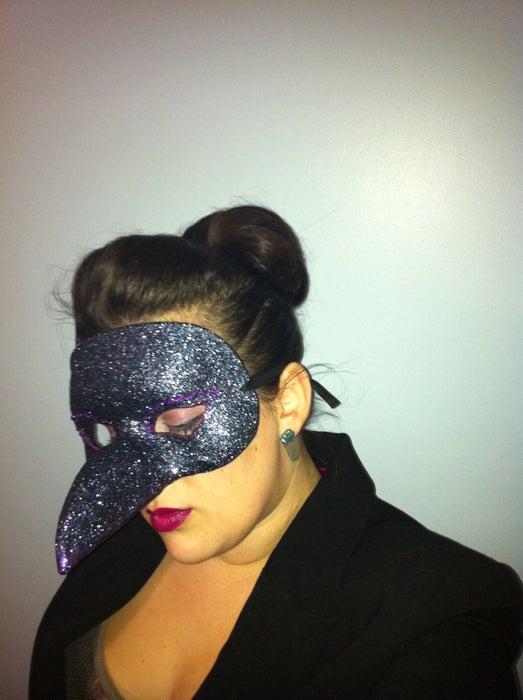 If you think you are bore with the same usual mask at some party, then this DIY Masquerade Mask is suitable for you. With the advantage of a custom one's design, the mask will look more like yourself. An excellent mask for masquerades and parties, this DIY Masquerade Mask is sure to be a hit! This is a beautiful gift idea for your children when dressing up as a mardi gras mask. The biggest bonus of this DIY mardi gras mask is that you can make it as scary or cute as you want. It works from pieces of plastic, wire, and hot glue then painted to give it color and detail.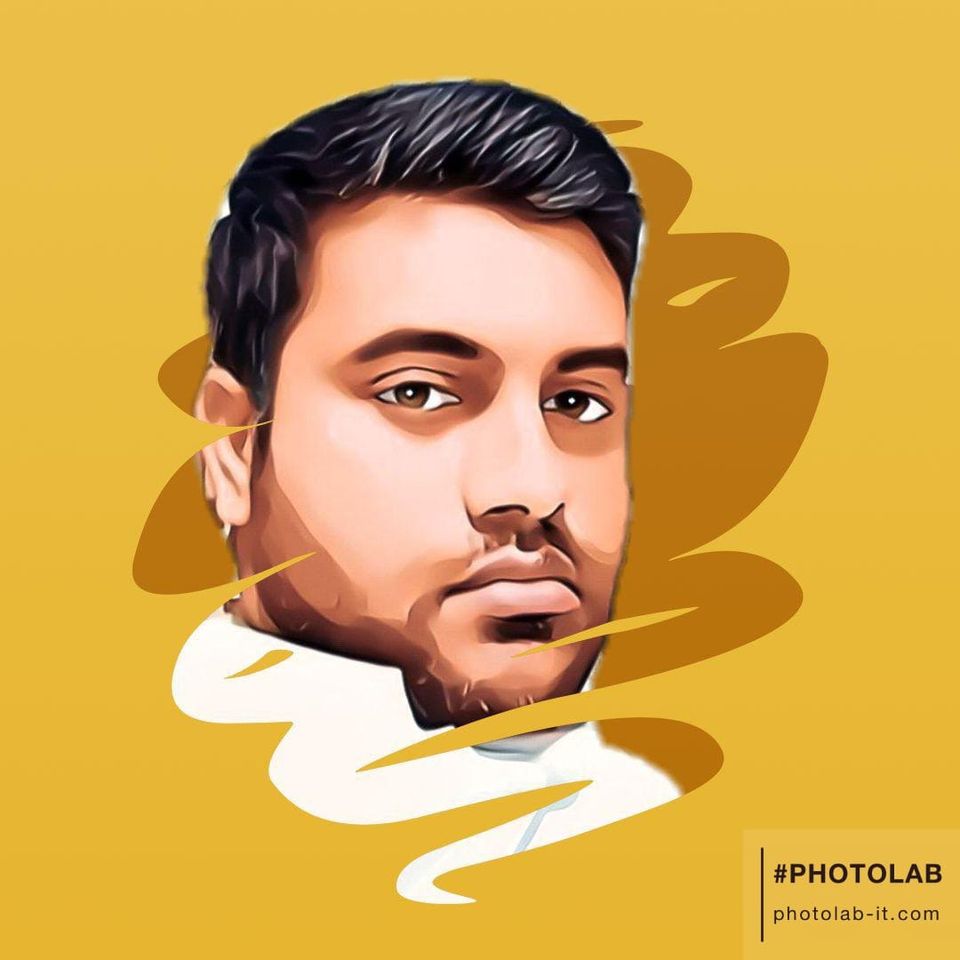 I am Raza, a crafts expert with 6 years of experience. I run this site for DIY lovers to provide the most exciting projects and ideas for your home, office, and everyday life. See More