Do you want to create a customized personal ladder shelf? Then, it would be best if you had these free plans we've found for you. The best thing about these DIY ladder shelf plans is that they all look equally gorgeous, so it doesn't matter where you put them. Ladders are the perfect height to add a touch of industrial style to your home. Plus, using them for storage is a simple way to get the job done without spending a lot. A ladder shelf is a simple but stylish addition to your home. These 25 DIY Ladder Shelf Plans offer everything from rustic and industrial to sleek and modern. Whether you're looking for inspiration or want a great project to try out, these plans will help you build your own ladder shelf.
DIY Ladder Shelf Plans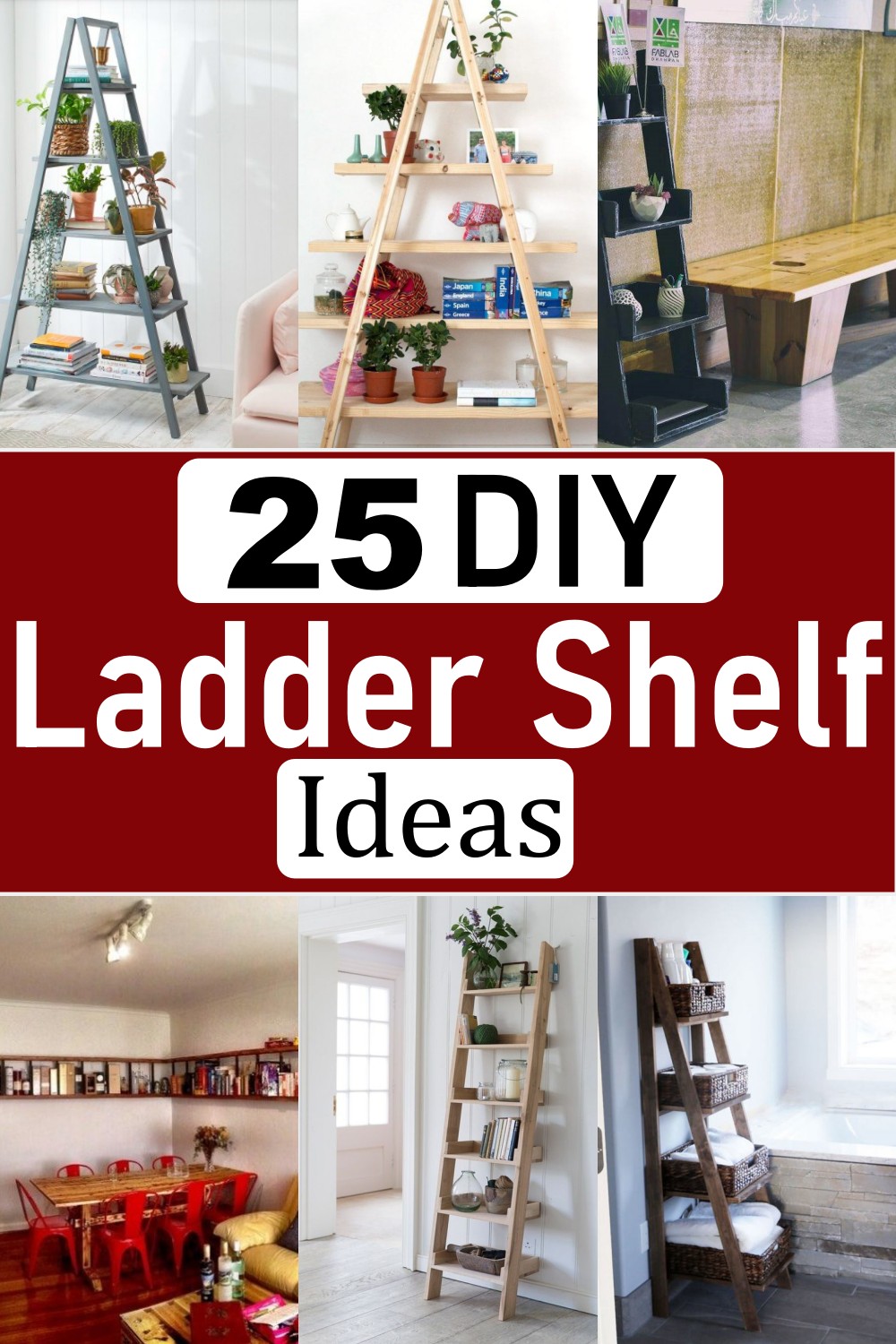 A ladder shelf is just the solution when you need to store things and organize your life. Not only can these shelves be used to give your room the perfect rustic or industrial feel, but you can also use them for storage. You can even add wheels if you want! Build a DIY ladder shelf for a unique and functional storage solution. With different styles, these ladder shelves are perfect for holding plants, books, and more. Make the most of every inch of your home with these simple DIY ladder shelf plans. Enjoy your favorite books, decorative items, and more with a custom DIY ladder shelf!
These 25 DIY Ladder Shelf Plans show you how to create a personalized and unique shelf that you'll be excited to display!
Tips To DIY Ladder Shelves
You can make your own ladder shelves with a few simple tools and supplies or have someone else build them for you. If you decide to DIY, here are some tips:
1. Measure the space where the ladder shelf will go. Do not use a tape measure—you need to be able to eyeball it and make sure that the space is big enough for your ladder and shelf.
2. If it's not big enough, move to another location in your home. You want as much open floor space as possible to easily access things on the shelf when needed.
3. Take measurements from each side of the wall where you plan to install the shelves (or from underneath if it's an outside wall). Then take those measurements to the store with you so they can cut your wood pieces exactly right for whatever size ladder you have at home!
4. Buy all your supplies at once so that nothing gets lost along the way—and then start building!
How To Create A DIY Ladder Shelf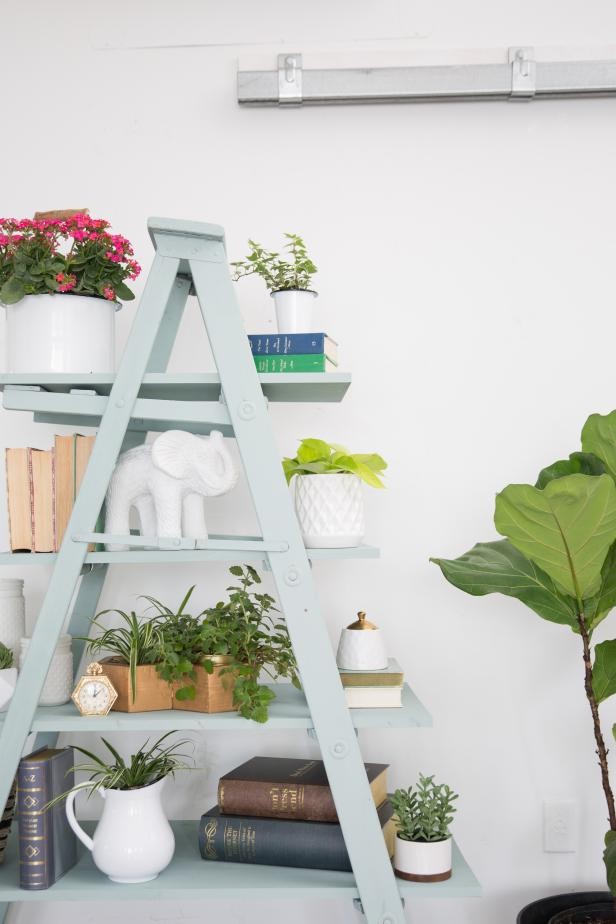 Do you want a space-saving ladder shelf? This design is compact and has plenty of room for any item. It can be placed in any room, but do keep in mind that the dimensions of the wood you'll need will depend on how tall your intended setup is. This build may seem a bit difficult initially, but it's quite simple. With this DIY ladder shelf guide, you'll learn how to make an awesome, sturdy, stable shelf. It's great for displaying books and decor items on any wall in your home.
 Leaning Ladder Shelf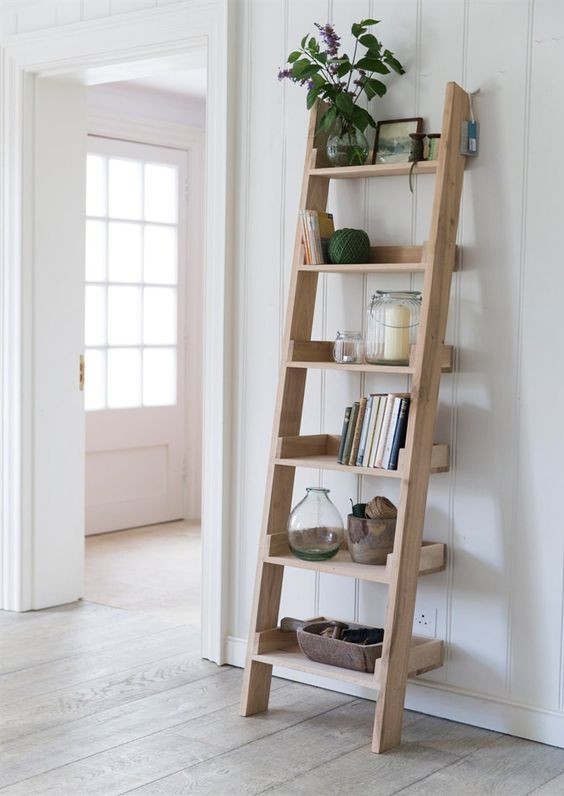 You'll love this leaning ladder shelf because it's super easy to make and looks cool on your wall. All you need is a ladder, wood, and a finishing line. Why spend over $100 on a homemade product when you can do it yourself in no time? Bit of a brain teaser, but once you have nailed it, you will see that it wasn't so hard after all. This project is a way to repurpose an old ladder and can be made with just a few simple steps. The ladder shelf leans against the wall, making it easy to change its height whenever possible.
Ladder Shelf DIY
Transform your wall into something completely new with this Ladder Shelf. It looks like a real ladder, but it's a shelf you can use to display art sculptural designs, flower planters, and other important items. This unique piece of wood adds more character to your home interior. The shelf looks like a real ladder, but its 4 legs provide extra stability and support for anything you want to display. This shelf is a must-have for organizing your entryway, kitchen, bathroom, or anywhere you need a little more space.
How To Make A Ladder Shelf
You'll love this DIY ladder shelf, with its simple and inexpensive materials, extremely fast build time, and modern-style look. The side rungs are perfect for displaying larger items like vases or flower arrangements. The shelf can be used as a hallway storage organizer or as decorative wall art in your living room. This fun, modern-style shelf only takes about an hour to make. It's an easy and adorable DIY project for your home! You will need tools like a saw, hammer, screwdriver, and drill.
How To Build A Leaning Ladder Bookcase
A DIY bookcase with a leaning ladder bookshelf is an interesting and useful piece of furniture you can add to your home relatively quickly. This design uses wood from your home improvement store, plus inexpensive planks of pine. The result is a beautiful, sturdy bookcase with storage space for all of your favorite reading material. Build this easy DIY ladder bookshelf in a few hours. It makes a great display piece that adds visual interest to any room. Check out the plans and make one for yourself today!
How To Build A Ladder Shelving Unit
Shelving is the best way to fill up a wall with stuff, but it can be tricky to find a good place for your shelves if you don't have access to an electrical outlet. A couple of wooden planks and some brackets will get you going in no time. You can try this simple and effective DIY project at home. It's a great starter build for beginners and only requires wood, glue, and nails to complete. Watch the video to build a wooden ladder shelving unit.
DIY Ladder Shelf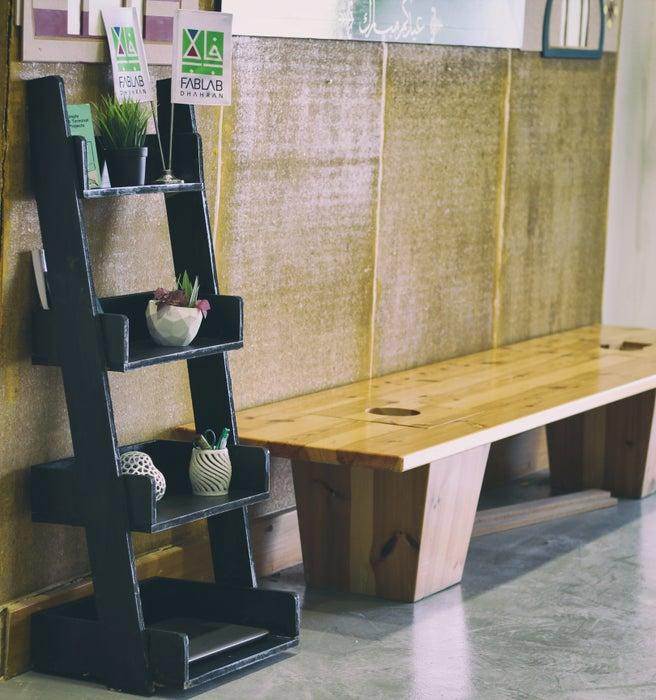 If you know how to use a power drill, you can make this DIY Ladder Shelving Unit with just 4 simple steps. It's a perfect piece of furniture for displaying your favorite books and plants or as extra storage space in the bedroom, living room, or entryway. This DIY Wooden Ladder Shelf is simple and easy to make, but it can add a lot of character to any room. You may not realize it, but this shelf has unlimited design possibilities! It can be made in any color and style you choose, for any room in your home.
DIY Modern Ladder Shelf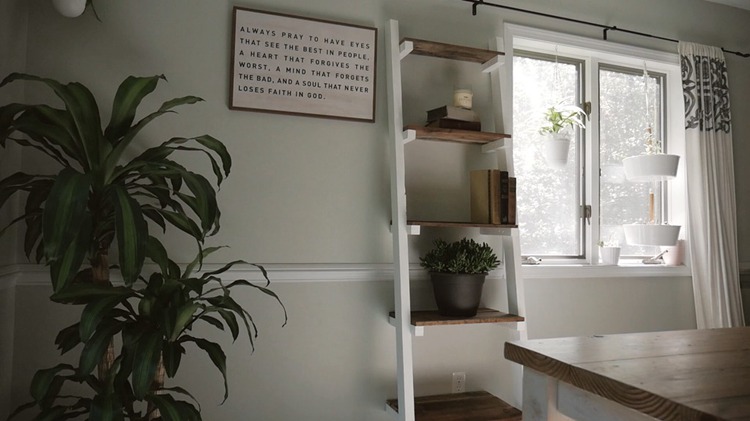 Say goodbye to those old, ugly shelving units and say hello to modern, space-saving shelves that can build in less than an hour! With a little wood, some screws, and your choice of paint color, you can make your own unique ladder shelf. This is the project for anyone who likes to DIY or just someone looking for something new in their home. With this DIY Ladder Shelf, you can make a unique, modern, and space-saving shelf that will impress your friends and family. The process is quick, easy, and affordable - the perfect combination!
DIY Wall-Mounted Horizontal Ladder Shelf
This DIY ladder shelf is quite similar to the traditional ladder shelves, but it's designed to hang on the wall. Horizontal and sturdy, this shelf contains many diverse storage spaces to be used for a variety of functions. You may have noticed that this corner shelf also utilizes a few wooden rods for pins for a better look. Here's how to build a DIY wall-mounted corner ladder shelf that fits your budget and your home
How To Build A Leaning Ladder Bookcase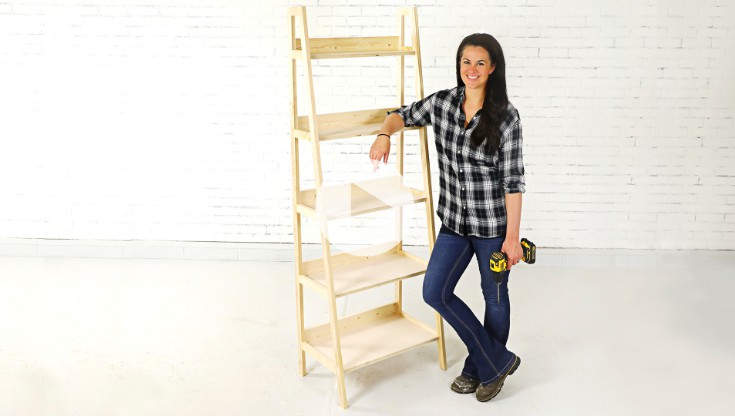 Building a leaning ladder bookcase is easier than you think (and this guide will show you how!). The design also serves multiple purposes. It can stand up against the wall but lean against it when it comes down to putting books away or reaching things at the top. Here is how to make a leaning ladder bookshelf that will fit well in your small space. The beauty of this shelf is that it keeps things tidy and organized, saving you the hassle of putting everything away before going to bed.
DIY Ladder Shelf For Bathroom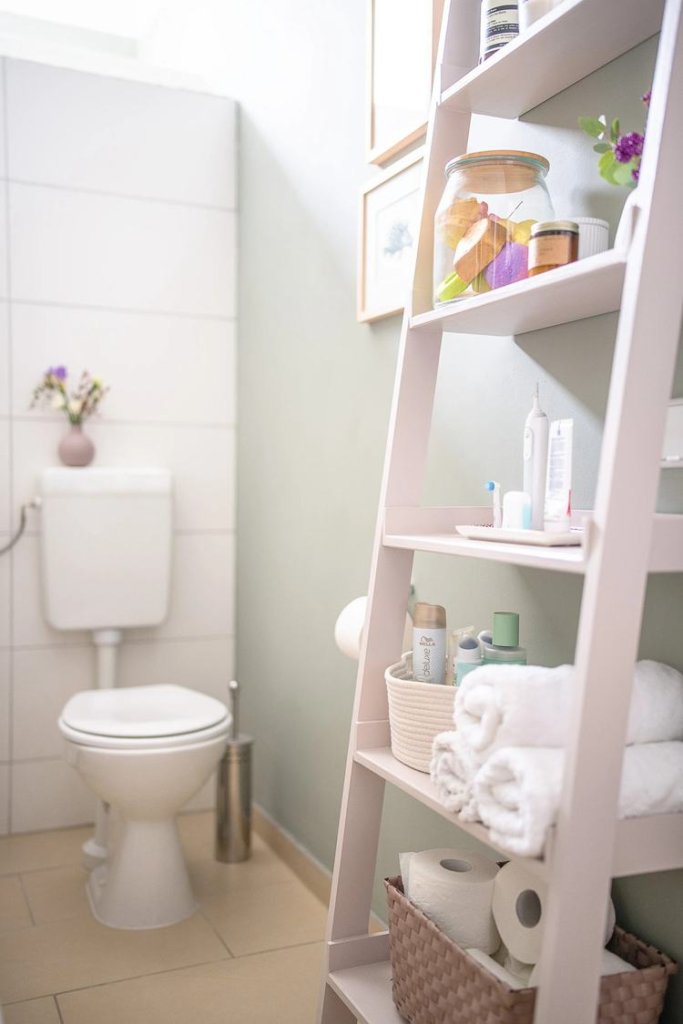 Picture a shelf that displays your items beautifully, without cluttering space, and looks great. This is the perfect DIY project to do with minimal tools and supplies. You're sure to love having this leaner ladder shelf in your bathroom. This DIY step-by-step project guide will help you to create your leaning ladder shelf for your spacious bathroom. It is inexpensive and easy to make; you just need the right tools and materials.
DIY Ladder Shelves
If you have a lot of books but no space for bookcases, this ladder shelf is a good solution. It can easily be built from planks of pine and a few screws. The shelves are adjustable, and the whole thing can angle to suit the room where it will hang. This ladder shelf is elegant yet very easy to build. The materials used were a 2'x4' piece of pine wood, some screws, and L-brackets for mounting. It will only take about 2 hours, costing about $10.
DIY A-Frame Ladder Shelf
An A-frame ladder shelf is the perfect way to showcase your favorite books and trinkets. You need some Douglas fir; then, you can cut them into your desired dimensions. Some power tools are used, so be prepared. The creator made this piece with a lot of woodworking experience, so it might take some time to get your hands dirty and work with all the tools needed to do this project. This creative DIY project will surely add style and function to your home. It's a real eye-catcher!
DIY Modern Ladder Bookcase Build
Make yourself a modern ladder bookshelf with this step-by-step tutorial. The tracks are constructed from lightweight wood and feature a beautiful walnut stain finish, but you can easily customize the design using different wood types. This design looks great on its own and when used as an accent piece in a multi-tiered bookshelf setup. This DIY ladder bookcase is a great project to start building your furniture. The finished result is a beautiful piece that can go anywhere in your home.
DIY Modern Ladder Shelf
A modern ladder shelf is a great way to add storage, organization, and decor to your room. It provides a simple but stylish look to any room you want to add. This DIY project looks good wherever you place it, whether in the living room or bedroom, as it has sufficient space for the ladder. This modern shelf is made from MDF plywood board, nails and others. It's super simple to make, and all you need are a few tools and materials.
DIY Ladder Bookcase For Beginners
Ladder bookshelves are a great addition to any room. They add more storage space without taking up precious floor space. If you have always been interested in woodwork and furniture making, this is the time to start your venture. Start with a simple project like the ladder bookcase that doesn't involve a lot of detailed woodwork and won't take much time to construct. This guide will help you with the whole process step by step, and you can use it as your reference for any other type of DIY furniture project.
DIY A-Frame Ladder Shelf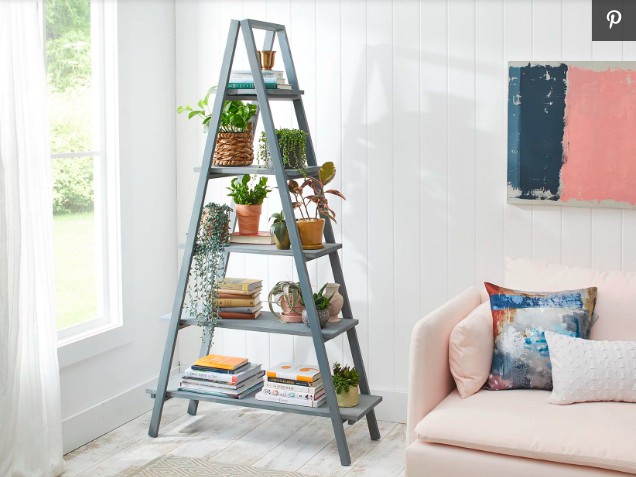 DIY A-frame ladder shelf is perfect for displaying books and other items in your home. The simple design makes it easy to build, with minimal tools, and the clean lines look great in a modern home. If you love the look of A-frame ladder shelves but don't have the cash or space to drop on one, this post will show you how to create one using simple tools and materials. With a little bit of woodworking know-how and a few dollars, you can make an affordable version that's just as sturdy.
How To Build A Leaning Wall Shelf
No matter how good your home is, some things are difficult to store. There is always a lack of space in the house and rooms that look untidy. If you need a shelf in your living room, you should consider building this one. It will look amazing and provide the needed storage space. The shelf you can place in any corner or near the window. The project looks great, is easy to build, and adds a handy shelf to your home.
DIY Ladder Bookshelf
Ladder shelves can be fun, especially if you want to customize them and make them unique. Learn how to make an easy DIY ladder bookshelf with this step-by-step tutorial, then complete your room decorating project with freshly organized books and other accessories in a living room. The Ladder shelf is a great project for anyone who wants to display their prized possessions uniquely. It's also perfect for displaying flowers during any time of the year and creating a conversation piece.
DIY Movable Shop Tool Ladder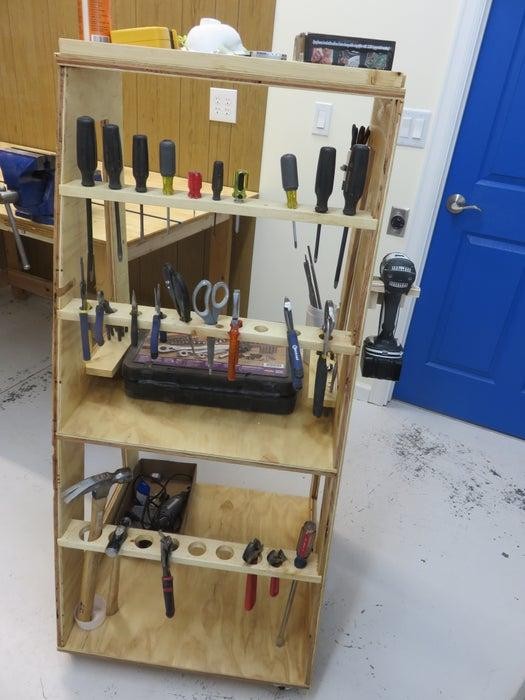 Add this multi-purpose ladder shelf to your tool collection for easy access to your tools. This garage storage unit is easily made with plywood and tools, and it helps you get every square inch in your garage. This playful ladder has caster wheels that allow you to move it from one place to another without difficulty. The wooden shelf has many holes cut out so that you can easily find the right size drill bit or wrench if you need to use one tool after another.
DIY Wooden Ladder Shelf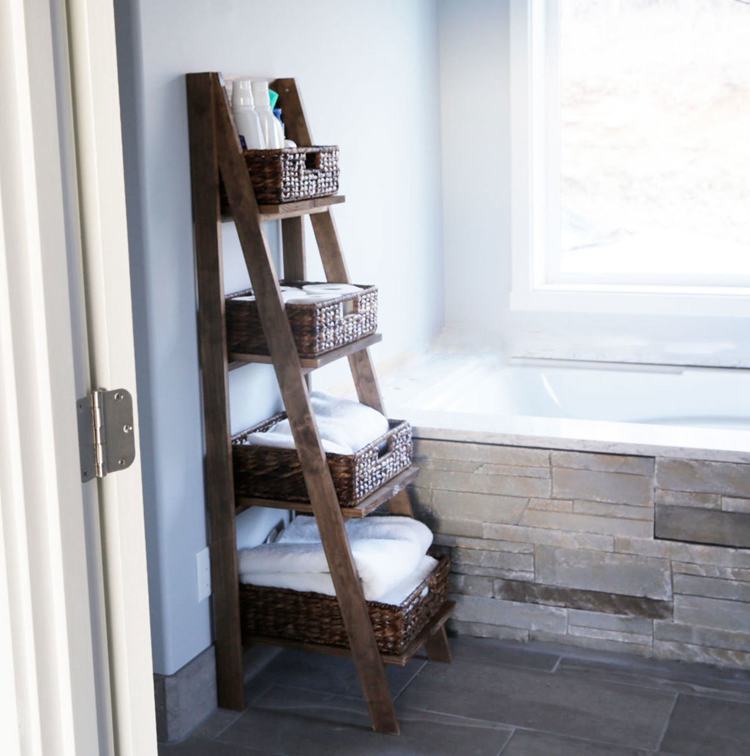 This is a great design and eye catcher piece in your living room. It's truly an easy DIY project, and you don't need to be an expert woodworker or anything like that. You can easily build this wooden ladder shelf with the plan for less than $20! It takes precision cuts, a few power tools (you can use hand tools if you prefer), and glue. This shelf is a way to add storage space to your home. It has many customization options that let you adapt it to fit perfectly in any space.
DIY Ladder Shelf
A DIY ladder shelf is a perfect addition to any homeroom, whether a bedroom or a bathroom. It's a beautiful artwork that can also add practicality to your home. With this project, you'll be able to make one without renting a tool or hiring a professional carpenter. This shelf is simple and easy to build, so you can still do it even if you've never used an electric saw before! This DIY ladder shelf is great for any room, especially small spaces. It's easy to build and customize to your taste so that you can make one for any room of your home.
DIY Floating Ladder Shelf
This customizable floating shelf is the perfect way to display your favorite art, decor, and memories. Constructed from simple materials and sturdy steel pipes, it's easy to build and can be customized for any room or space. Plus, you can make several of these DIY floating ladder shelving units at once for a unique way to create storage in small spaces. This floating ladder shelf is great for anyone who wants an easy, low-cost project to build that looks great. In the video, the creator will show how to build a floating ladder, talk about how it works, and offer tips on how you can make things even better.
Fast DIY Ladder Shelf
If you want to add style to your home but aren't sure where or how to start. This DIY Ladder shelf is great for any room. It's simple, the modern design goes with any look, and you can do it with a few materials or tools! You will love how easy it is to make! It requires minimal skills and tools so that anyone can make them at home. It will take you a day to make it up from start to finish! This DIY project will have a perfect look for your living room, kitchen, and even in your bedroom!
DIY Leaning Ladder Shelf For Bathroom
If you are searching for an inexpensive piece, this ladder shelf is an ideal option. The project is not too complicated, but it does require some woodworking skills and a lot of patience. This ladder shelf is a great way to add storage and decor to your room, kitchen, or bathroom. With a little work, you can have this leaning ladder shelf that will help bring the style of rustic warehouses into your home.