The kitchen is the place where we spend most of our time. It is more than just a room for cooking; it is a place to gather with family and friends, to share good times and bad times. It is also one of the essential rooms in your house. If you have a large family, you probably have many people who use this room daily. Thus, it's best to ensure that everything in your kitchen is organized and well-kept so those who use it can quickly get what they need without any problems. And one of the best ways to organize your kitchen is by using shelves. This article will explain some DIY kitchen shelf ideas to help you better manage your kitchen!
DIY Kitchen Shelves Ideas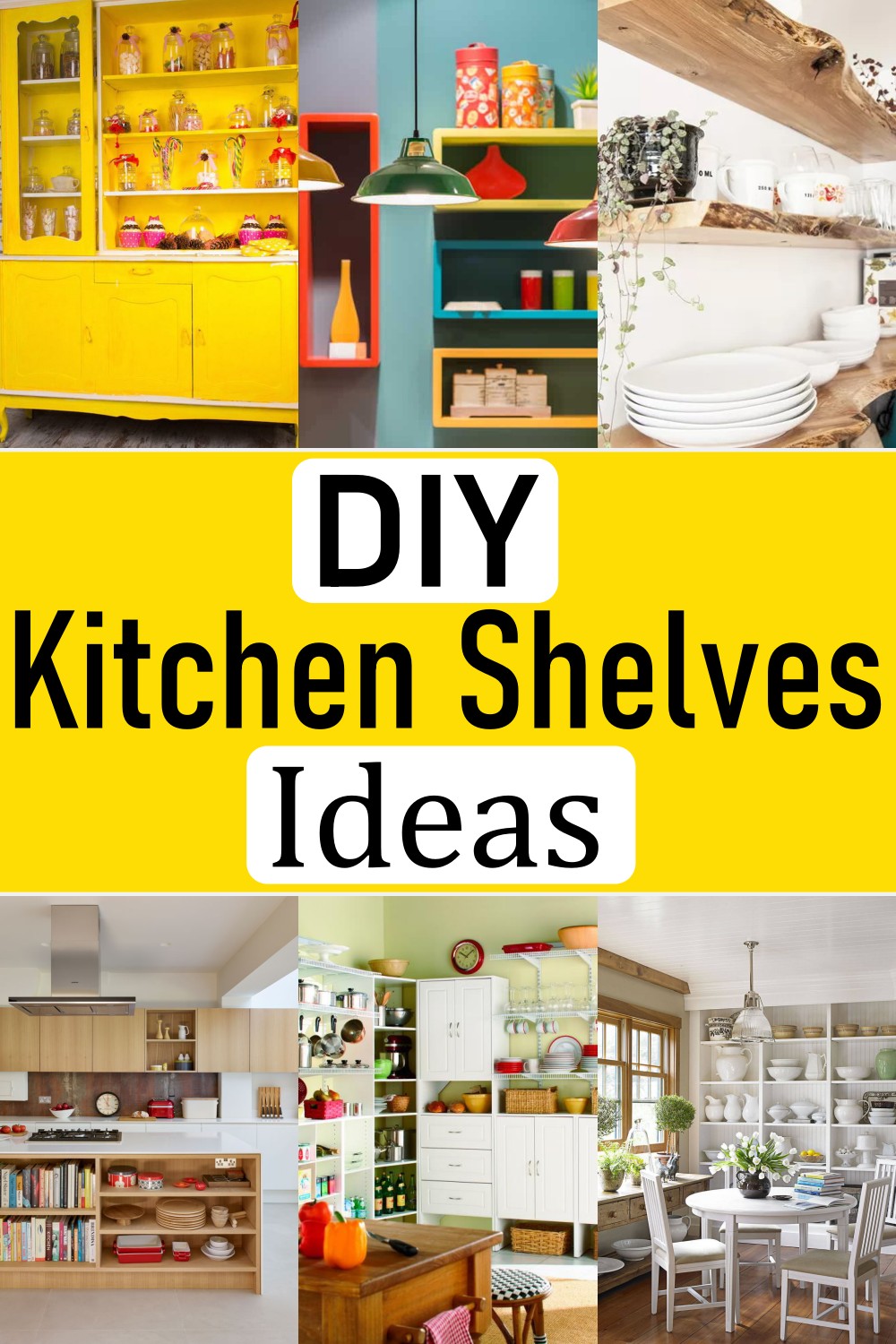 Turn any corner of your home into a kitchen storage area. These shelving ideas are great for maximizing wall space in a small kitchen and using your existing shelves to display things you may not have wanted to put away. Whether you are looking for an enhancement or extra storage space in your kitchen, you will find something here. There are a variety of ideas to get kitchen shelves at home. Some are very useful for small space dwellers, and others for people who need to store more food and other things in the kitchen. So let's look at some DIY kitchen shelves ideas that you could quickly turn into reality. Enhance your kitchen storage with creative and innovative ideas.
Best Kitchen Shelves Ideas
Kitchen shelves are an essential part of any kitchen. There are many advantages to having these shelves in your kitchen. For example, you can store your pots and pans on them and other items you need to keep in your kitchen. The following are some other advantages of having these shelves in your home.
Organization:

 If you have a small kitchen, then it is pretty likely that you will want to organize it so that everything is within reach. This is where the kitchen shelves come into play. They allow you to manage your kitchen items so they can be easily accessed when needed.

Storage:

 This is another advantage of using these shelves in your home if you have lots of things that need storage but not enough space. You will be able to store all types of items conveniently without taking up too much space at all!

Easier access to spices and ingredients: When you store all herbs and ingredients in one place, you will no longer have to search for them when cooking. This means you will spend less time looking for things you need while cooking. You can also save money by buying fewer identical products at the grocery store because they are more accessible now.
Shelf And Cabinet Combos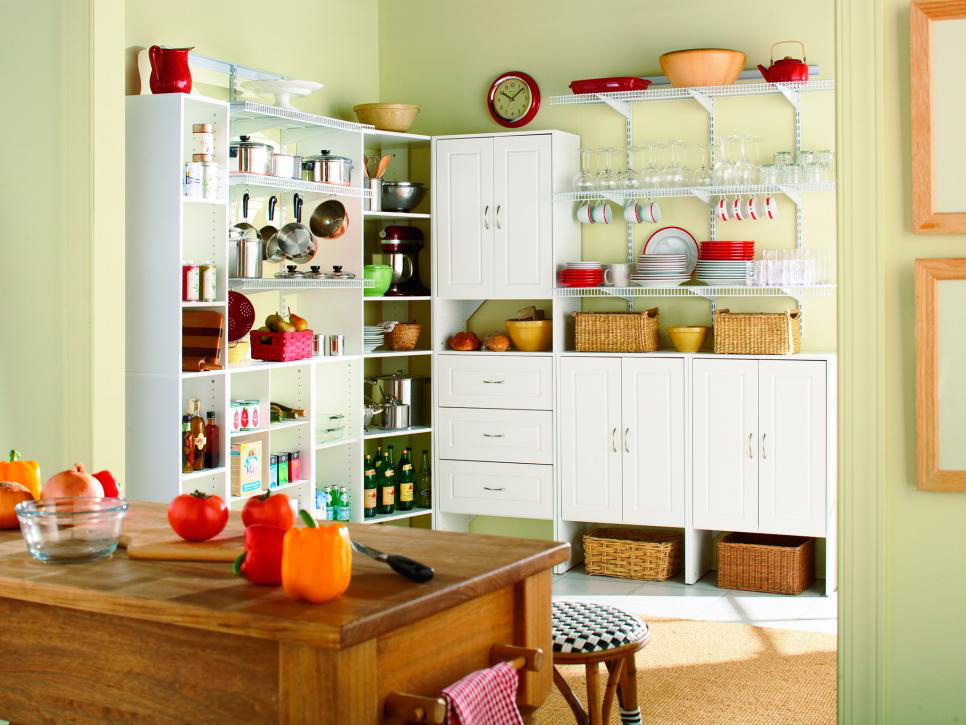 It's always easier to keep a well-stocked kitchen if you have organized cabinets to put everything in it. Lay out all your utensils, small appliances, and heirloom dishes in plain sight so you can see them all at once. Baskets and bins help corral smaller items like spoons, spatulas, and other tiny cooking tools that take up a lot of space when shoved in a drawer. It is all hardwired through the back and connects to the wall. It is a good solution for creating extra storage space in the kitchen.
HALF AND HALF WOODEN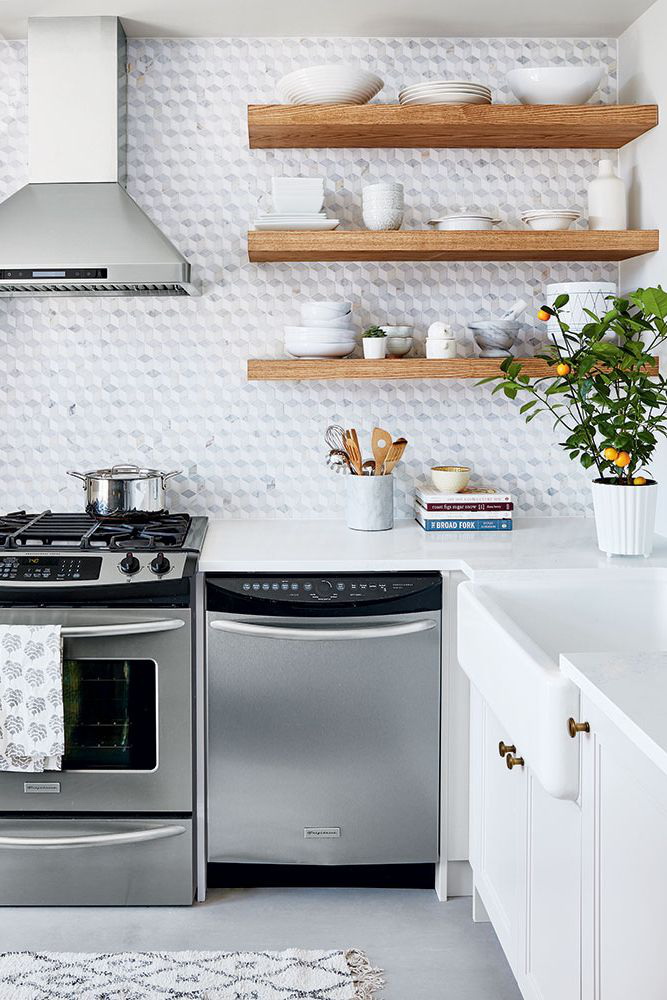 Get a casual, unpainted look for your kitchen cabinets with simple half-and-half shelves. Half and half cabinets are a great way to add storage to your home and make the most of your space. But if you still want to keep the things hidden, try this idea: Install half and half cabinets in a wall unit or cabinet, with the bottom half. Then use the top half to display and store items as you would regular shelves (hanging dishes, figurines, and cookbooks). You can work the same look into your other rooms, too.
KIND OF FUNCTIONAL, KIND OF FUN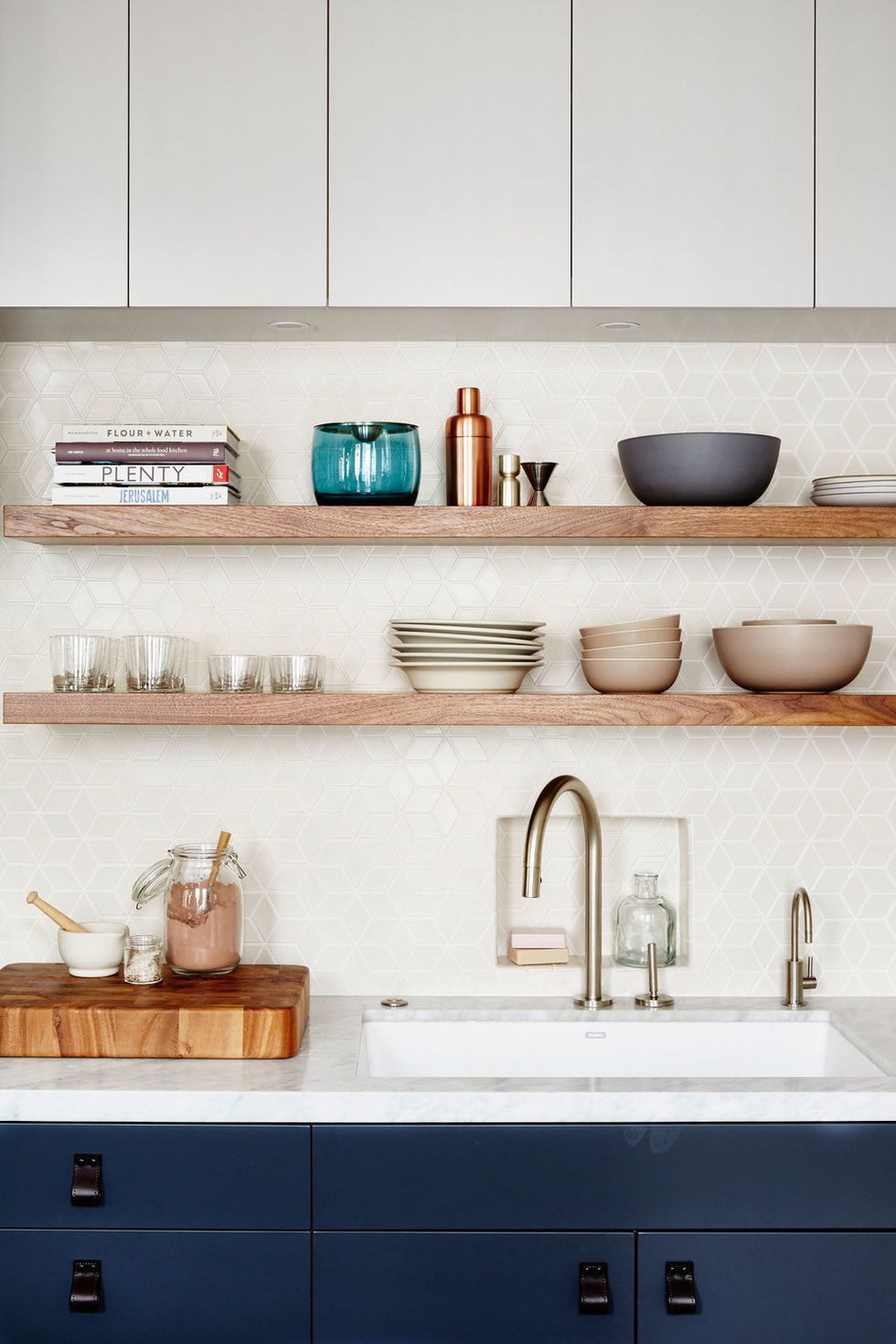 Under your kitchen countertop and above your sink—or any other surface you would like to increase storage space—these built-in shelves add a functional and fun design touch. This DIY project makes organizing easy while adding much-needed storage space in the kitchen. The open tops are great places to put books, photo frames, or vases that can add functional and decorative appeal to any room. You can create additional shelves in any part of your home, such as under stairs.
KITCHEN SPACE SAVER
Many people face the kitchen storage problem, but you don't have to be a true DIYer to solve it. In this helpful tutorial, you'll be amazed at how easy it is to create this sleek and simple shelf. The best part? It only requires just a few tools and supplies. Grab some scrap wood and get ready for an afternoon of crafting! This can do double duty as a serving area and a place to store your dishes.
FIT IN LIVE-EDGE SHELVING FOR A RUSTIC LOO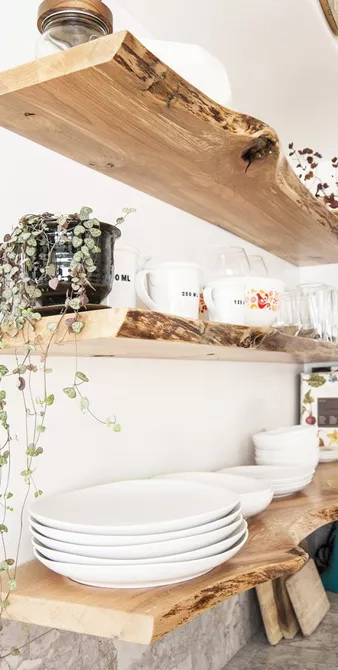 If you want to upgrade your kitchen and are on a tight budget, you could try this DIY project to add a new look to an old cellar door. It's inexpensive and simple, and you don't need much space to install it. Not only that, this piece offers storage as well! You can make your own rustic-style live edge shelving with some basic carpentry skills and some know-how. A huge plus? You can do it almost entirely on the weekend! Kits are available to help you get started, but if you already have the tools, this project will be easy peasy.
SHELVING IN A CORNER KITCHEN AREA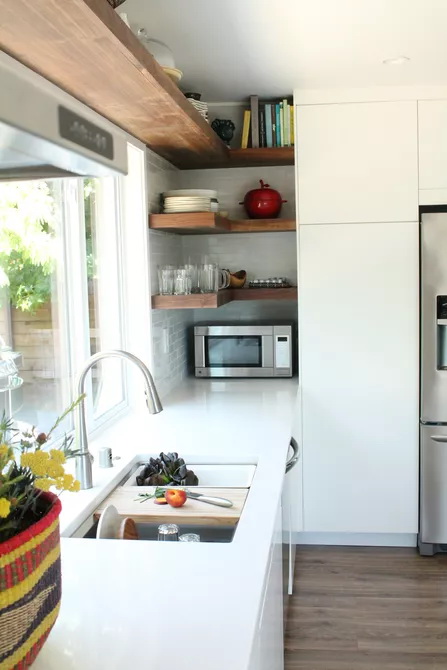 Consider a corner kitchen area if you're short on space but want to add organized storage. The trick is to choose open shelving that can either continue around the room or stop at a right angle at the end. The result is a functional and stunning display area for decor items and kitchenware. After all, what better way is there to make good use of an oddly-shaped room like this?!
ADD OPEN SHELVING ABOVE THE SINK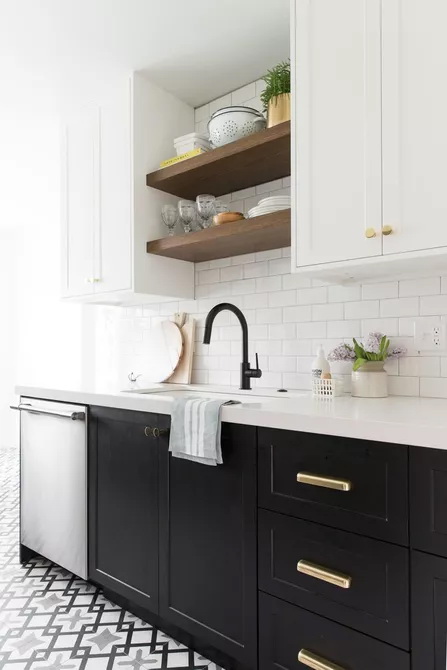 The sink is a wonderful place to put any items you don't want to cover up but don't want in the way. All you need is cleat hooks and shelves - your custom shelving unit above the sink! A sink-level shelf can easily add storage space in a small kitchen. You can use it for dishes and storage containers if you have too many cabinet options. The tutorial will cover how to install shelving over a vanity sink and some tips and ideas for how to furnish the space."
DOUBLE FUNCTION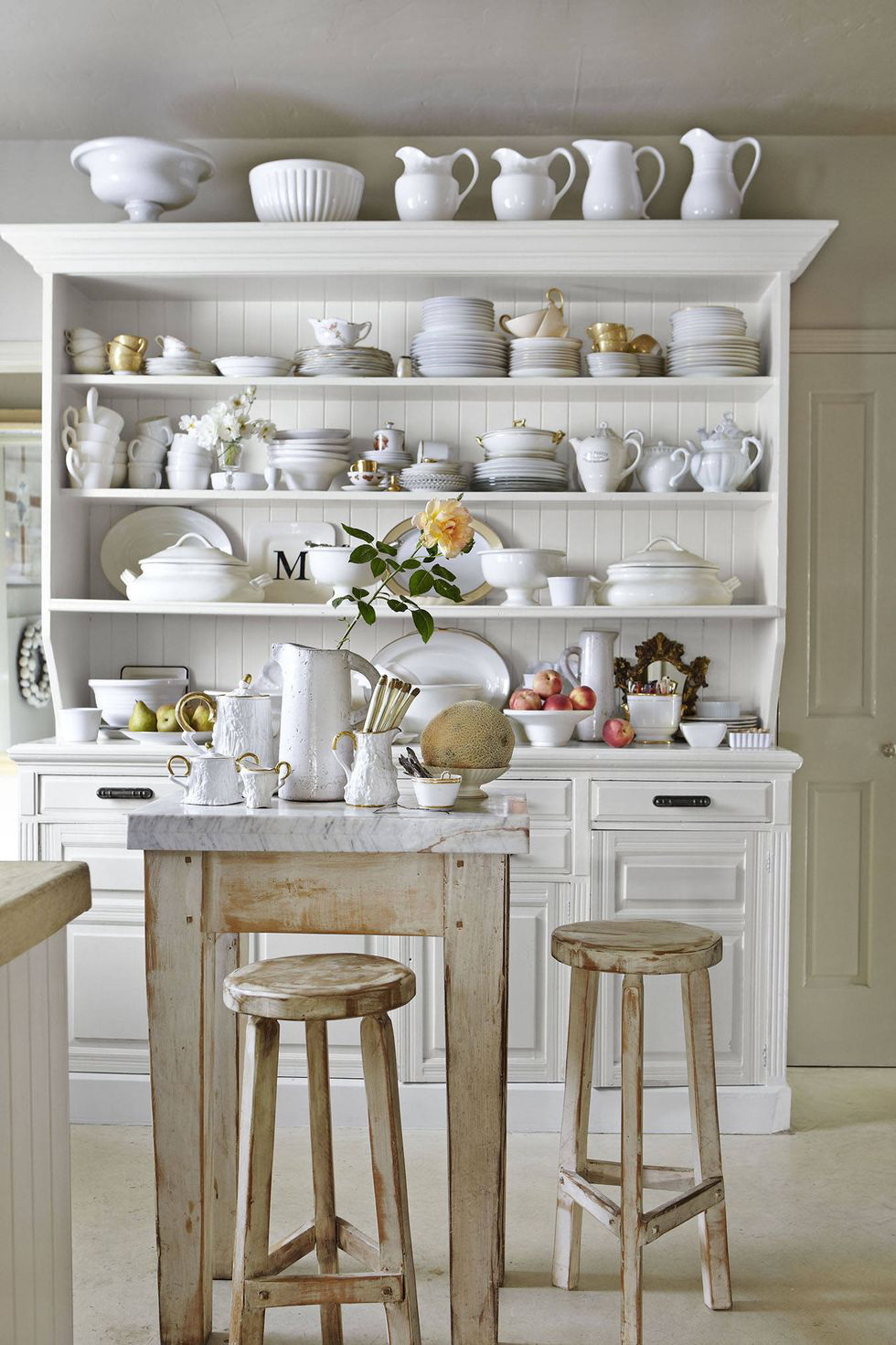 Create the perfect kitchen with this movable wall mount. The double-function kitchen cart is a great addition to any home. It is feature- and space-saving, making it a must-have in every kitchen! Organize your kitchen in style with this kitchen hutch and save counter space. Store your most used items, leaving more room for kitchen prep.No more ugly-looking dish stands. Let your dishes, serving ware, and entertaining accessories shine with this modern and functional design. This double-function shelf will envy all guests at your next party!
HANGING SHELVES
Consider hanging shelves if you desperately need extra space to store your kitchen essentials. This project is a great way to use space in your kitchen by utilizing the ceiling area for additional storage. Shelves mounted on the ceiling create an open, airy, modern look that creates a feeling of more space. These easy DIY instructions will help you put them up yourself. There are many ways to create hanging shelves; all you need is time and patience!
 UPPER EDGES
It's tempting to store everything in your kitchen cabinets, but less is more. Consider removing upper cabinets from the kitchen entirely and installing open shelves instead. It will help to lighten up a compact space, plus it helps to create visual interest in an otherwise monotonous environment. This can help organize, declutter and further define your cooking space—a way to say "Hello" and "Goodbye" to an eye-level cabinet mess. Also, don't forget that decorative accessories like wall pictures and frames can be eye-catching and beautifying while adding more interest to your kitchen.
THE X SHAPE SPOT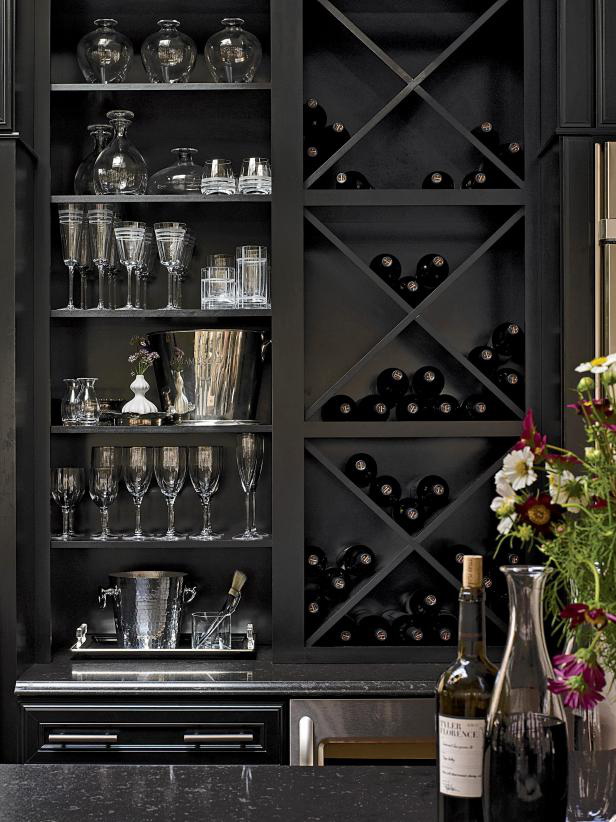 The X-shaped spot is the perfect way to give your most precious items a spot on display. The X cabinet features specially designed shelves, so each item has its own space. The shape of wine bottles also inspires these shelves, so they fit perfectly into the shelf while keeping your china on display. No more trying to figure out where to put your favorite piece of art or corkscrew collection in your kitchen - these cabinets are designed specifically for these items and more!
CHANGE IT TO THE OTHER MODE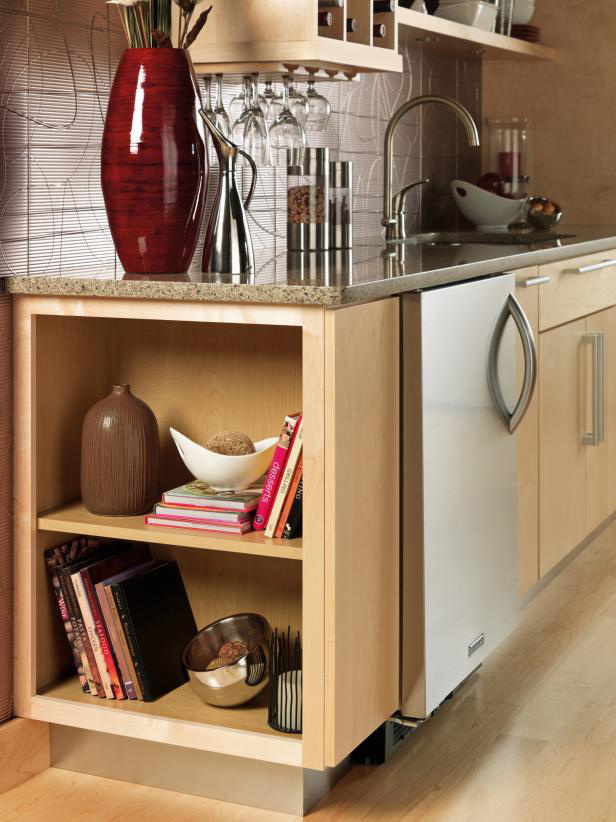 One of the most useful kitchen storage ideas is to make good use of any underused space shelving is an easy way to add storage and style to a kitchen, but often it can be a bit clunky and cumbersome. In this kitchen, the shelves have been replaced with open shelving, bringing a more streamlined appearance. Open shelving can also create a focal point in your room. A collection of small vases in this kitchen adds color and character while creating the area's focal point.
USE EVERY SINGLE NOOK AND CORNER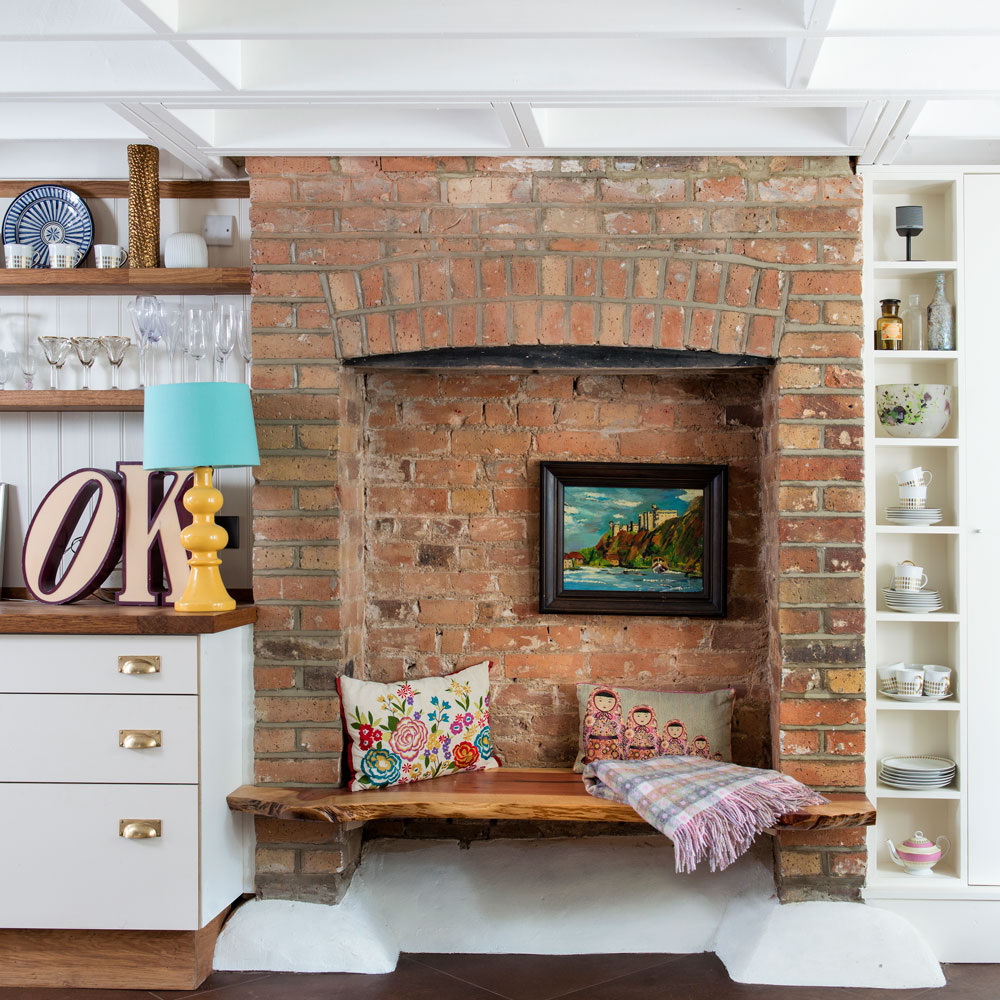 Turn any unused space into smart storage that's beautiful and practical. If your kitchen has a wall or corner that isn't being used to its full potential, turn this into a useful place to store pots, pans, or canning supplies. It is also a great place for bulk items such as lunch boxes, office supplies, or even pantry items. Take a look at this example. The space is so small it only works if you put in the hard work to ensure everything fits perfectly – but the outcome is worth it!
TAKE ISLAND INTO CONSIDERATION FOR STORAGE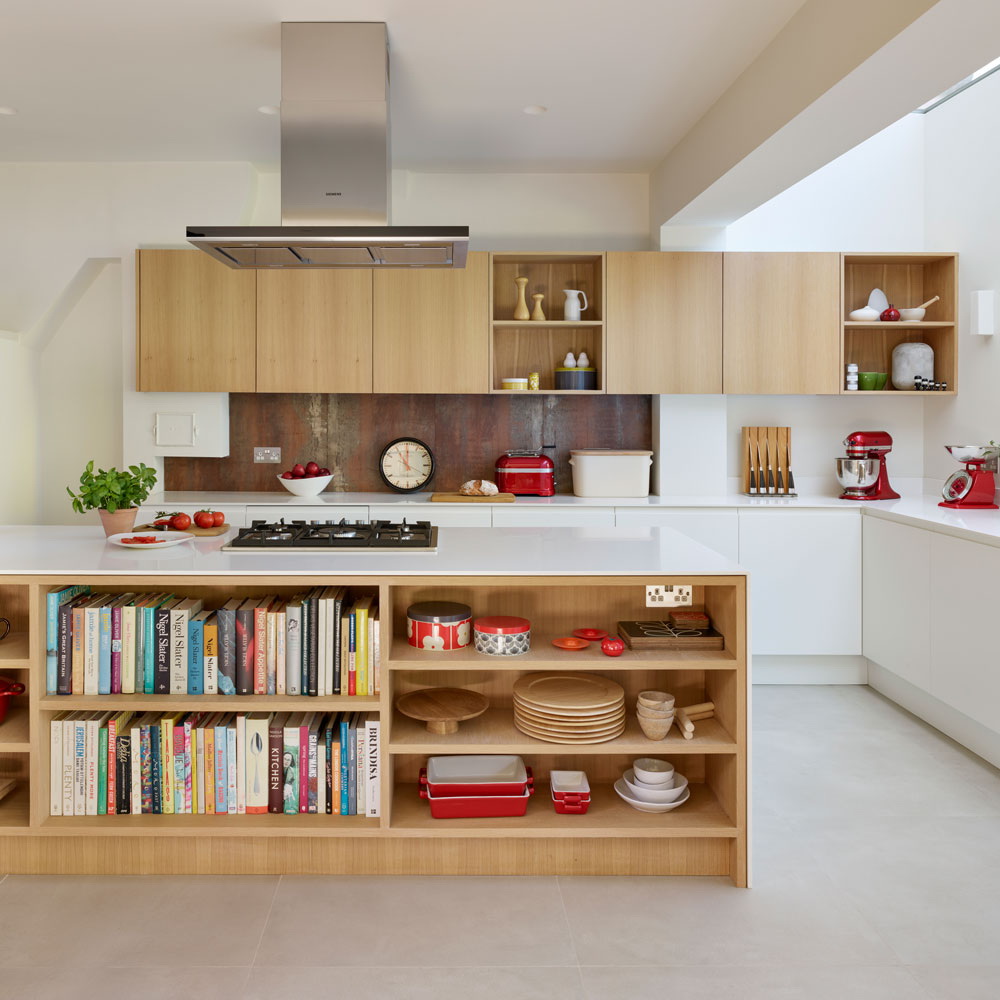 You can use an existing kitchen island to create open shelving that's a great spot for collections, artful florals, and even your most treasured cookbooks. Open shelves make a pretty statement on the sides of an island while adding extra storage. Make sure they're sturdy to hold heavy pots and pans. The island provides a great surface for extra serving pieces and other baking ingredients, which can be tucked away when not used.
WOODEN FRAME' SHELVES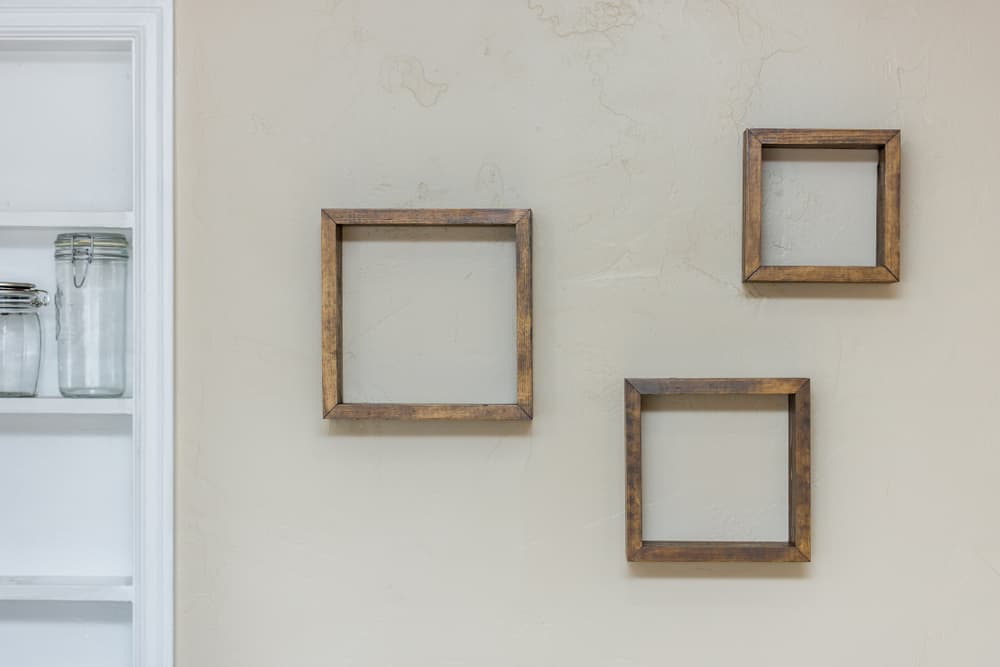 This DIY wooden frame is an easy project that can do in just a few hours. This frame features a solid wood design with a distressed look, and it comes with two shelves that are perfect for displaying your favorite items. This classic furniture will provide long-lasting style to any kitchen or home office. They have a unique design and will add a country-style feel to your house. With these, you can display any of your favorite pictures and other important stuff. Hence they are indeed very useful.
A CHALKBOARD WALL LOOK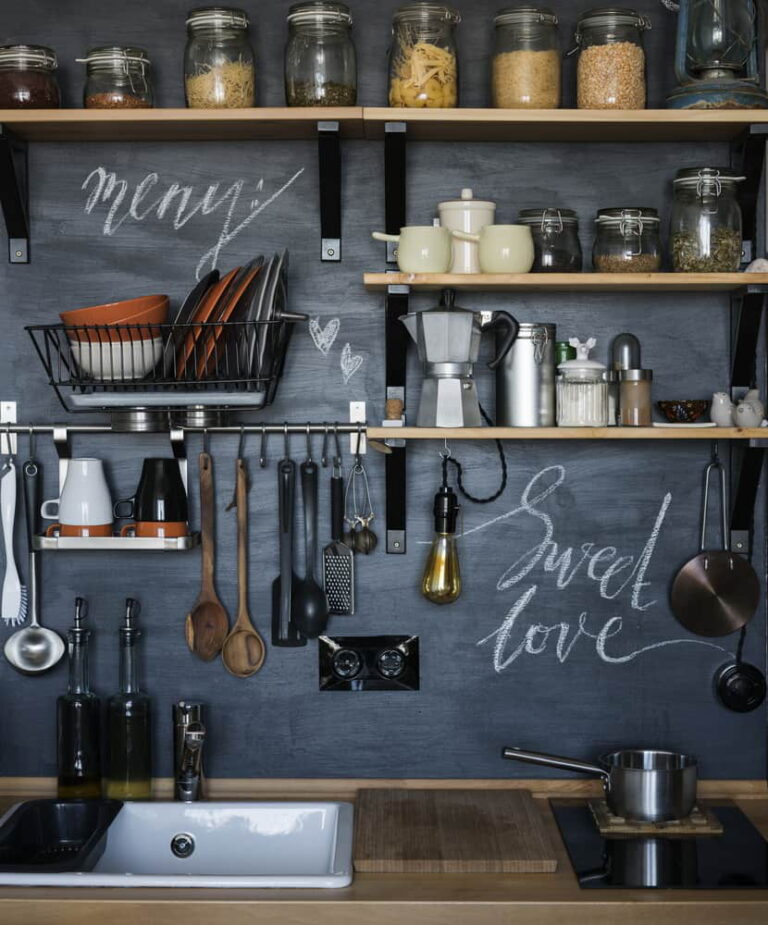 Add an unexpected touch to your kitchen with a DIY chalkboard wall. Use this quick and easy trick for an inexpensive yet trendy makeover. A chalkboard wall adds a personal touch to your kitchen, especially if you are tired of having the same look as everyone else. Use shelves if your kitchen is small and does not have enough space for a chalkboard. The color of the walls should always match the chalk paint so that it does not stand out too much and eventually make it seem unorganized.
DIFFERENT LENGTHS OF SHELVES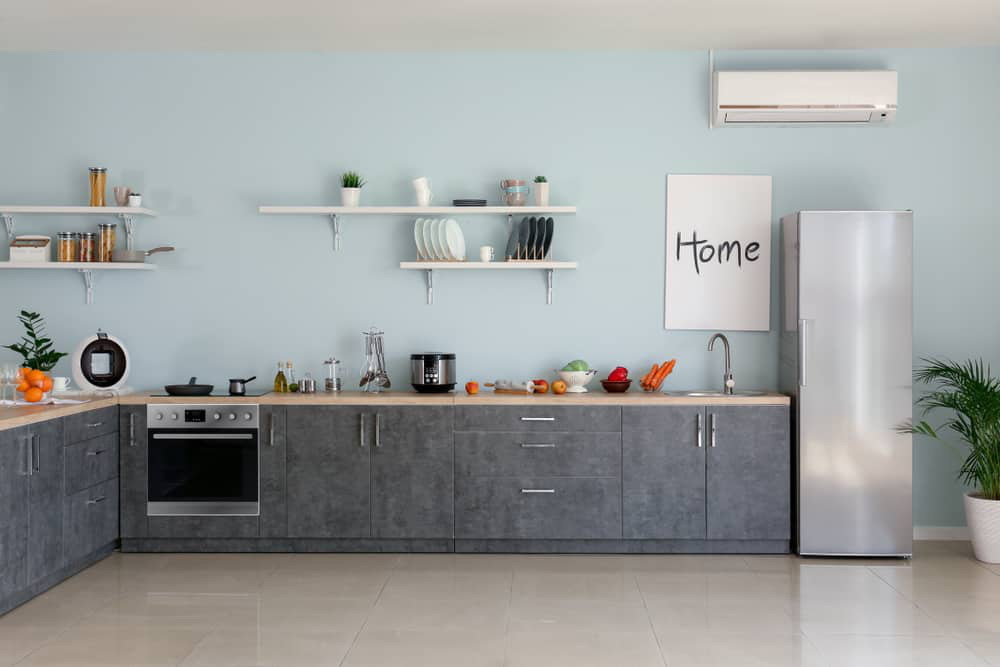 To get the best out of your utensils, you must keep them properly organized. The kitchen is where most of your utensils are used and stored. Getting shelves for the kitchen can be very useful if it holds the right items in place. The shelving design can make the shelf more attractive too. You can add the touch of personality by making different lengths of shelves. Just cut the plywood to size and then bring in the color! Don't forget that you can do this with any color combination. You'll want to make sure that your shelves are strong enough to support their contents, so make sure you use plenty of supports and screws.
Different Colors of shelves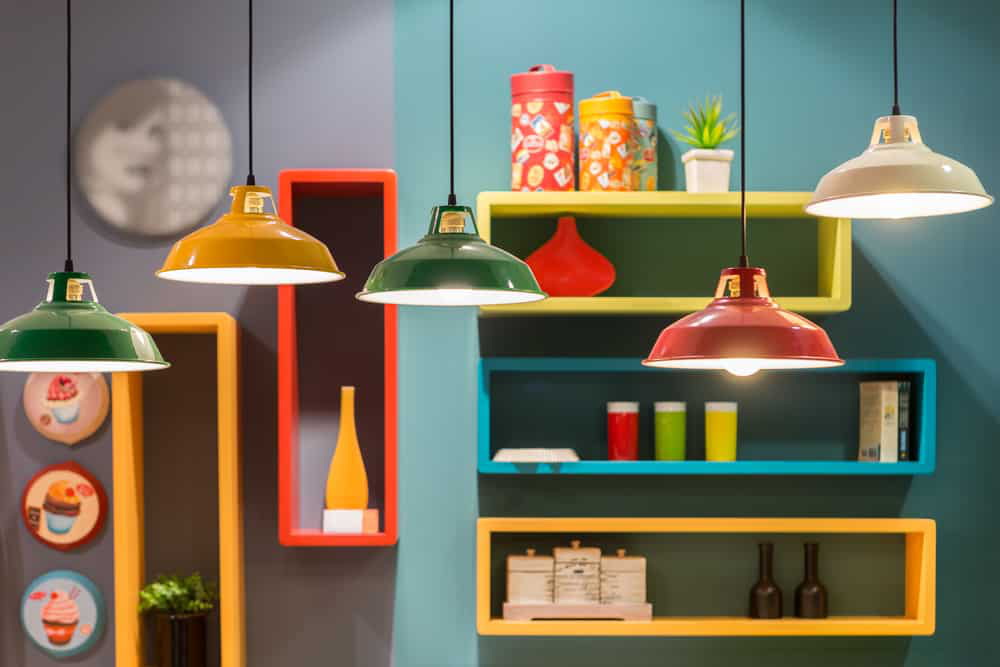 Want to create your own DIY different colors shelves? Here's what you can do: This project is an excellent way to transform an ordinary setting into something more interesting and vivid. Just make sure that you choose your colors very well. A good way to brighten up your kitchen with shelves of different colors is through contrasting colors. You could suit yellow, orange and purple. This makes the shelves look unique and eye-catching!
GO MODULAR
You have been looking for a kitchen workbench with ample storage and a place to work. This DIY GO modular workbench features sturdy slots to hold your cooking utensils, pots and pans, and other items. Using this modular workbench is a great way to organize your kitchen. It's the perfect solution for your storage needs, especially for ingredients and baking tools that do not need to be stored in the fridge.
CREATE AN ARTWORK LOOK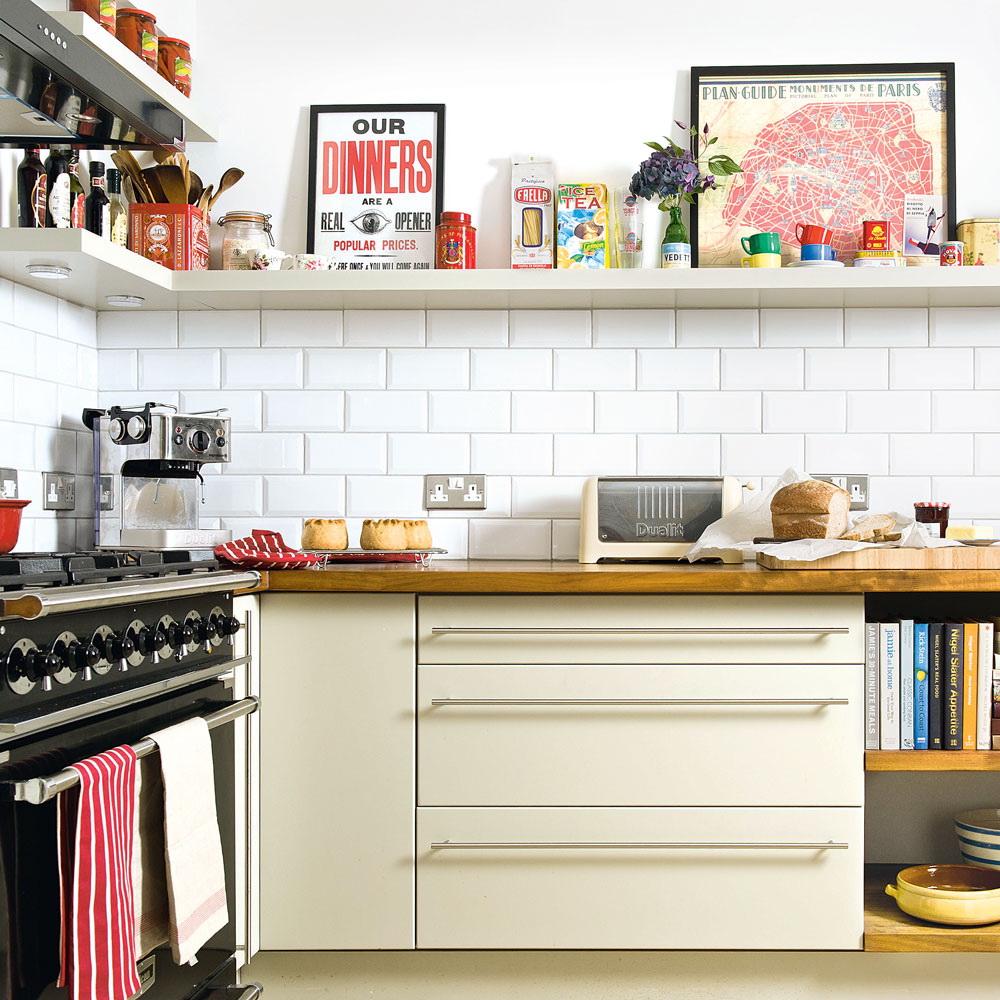 Give your kitchen an artistic edge with this artful DIY shelf. The combination of painted paint tins, bulky bottles, and an old frame creates a unique look, perfect for displaying personal collections or favorite photographs. This is a great way to create storage space if you're short on cupboard space. As you want for your home, find the right balance between function and decoration in your kitchen. A simple DIY project like this can add to the charm of a room and help you create a more personal space while also saving you time and money.
BRING UNUSED CORNERS TO USAGE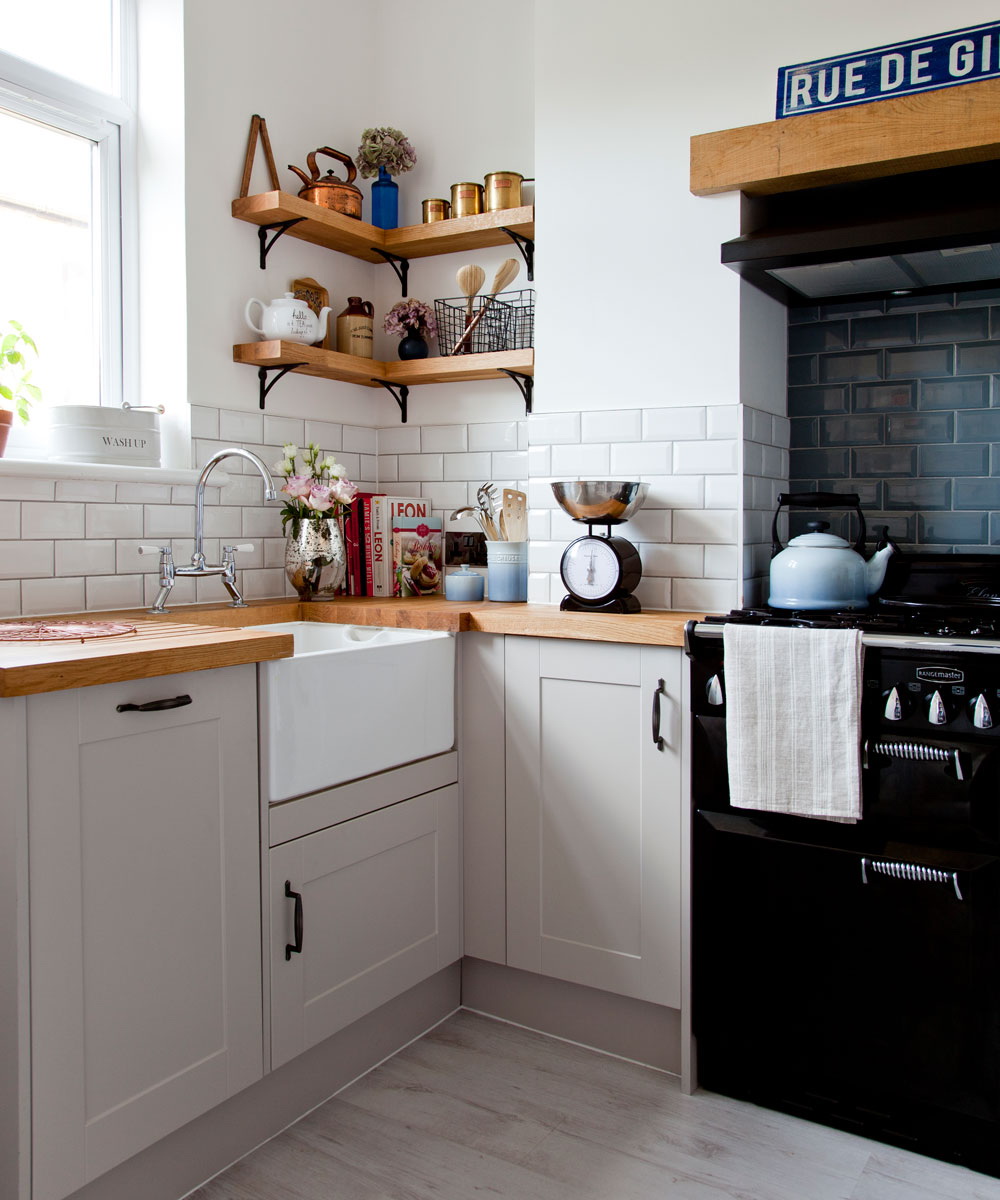 In a corner, cabinets can make the most of space and help divide a room. There is also a lot of extra space in a corner that you can use to store your pots, pans, and utensils. Corner spaces that are not in use can be made useful by adding a shelf or two. Adding shelves between walls allows you to change how you display things in your home. You can add shelves among any edges, including those around windows and doors or along the wall or ceiling of a room.
DUAL SHELVES A TRADITIONAL LOOK
This DIY dual shelf offers a traditional look that is also very functional. The top is open, allowing the items to be placed without worrying about falling off the shelf with kids or animals playing in the kitchen. The bottom shelf is closed so you can keep more delicate kitchen equipment in place and not worry about it falling off. The shelf is made from sturdy wood, making it strong enough for the heavy pots and pans that often take up space in the cabinet below.
WOODEN SHELVES A FLOATING TOUCH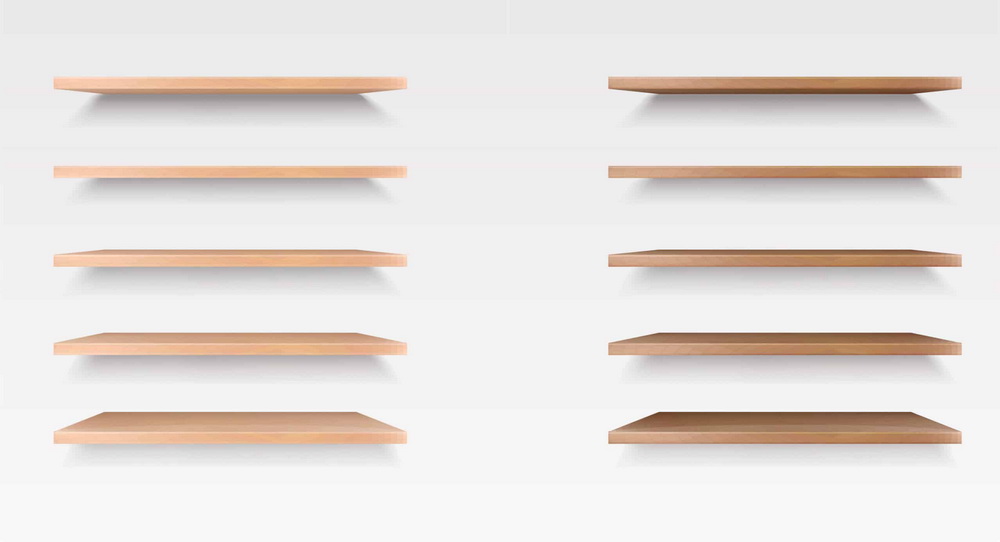 Add a creative, urban feel to your kitchen with floating shelves secured by rare earth magnets. The natural color of these wooden shelves will look beautiful against your wall, particularly in contrast to white cabinets or backsplash. These floating shelves are a perfect way to add that urban feel to your kitchen. The wood is natural, so that it will match any style, and the touch of color gives it that extra flare. They are crafted to stay in place, so you won't have to worry about them falling apart while cooking or entertaining.