If you love entertaining and want to provide your guests with a unique experience in your kitchen, then you should consider creating a bar area. A bar can be a great addition to any home and help you create a space to show off your personality and style. You can design a bar area for your kitchen in many ways. If you want to create a bar area that will be the envy of all of your friends and family, then here are some DIY Colourful and Unique Kitchen Bar Ideas that will help you get started.
Easy DIY Kitchen Bar Ideas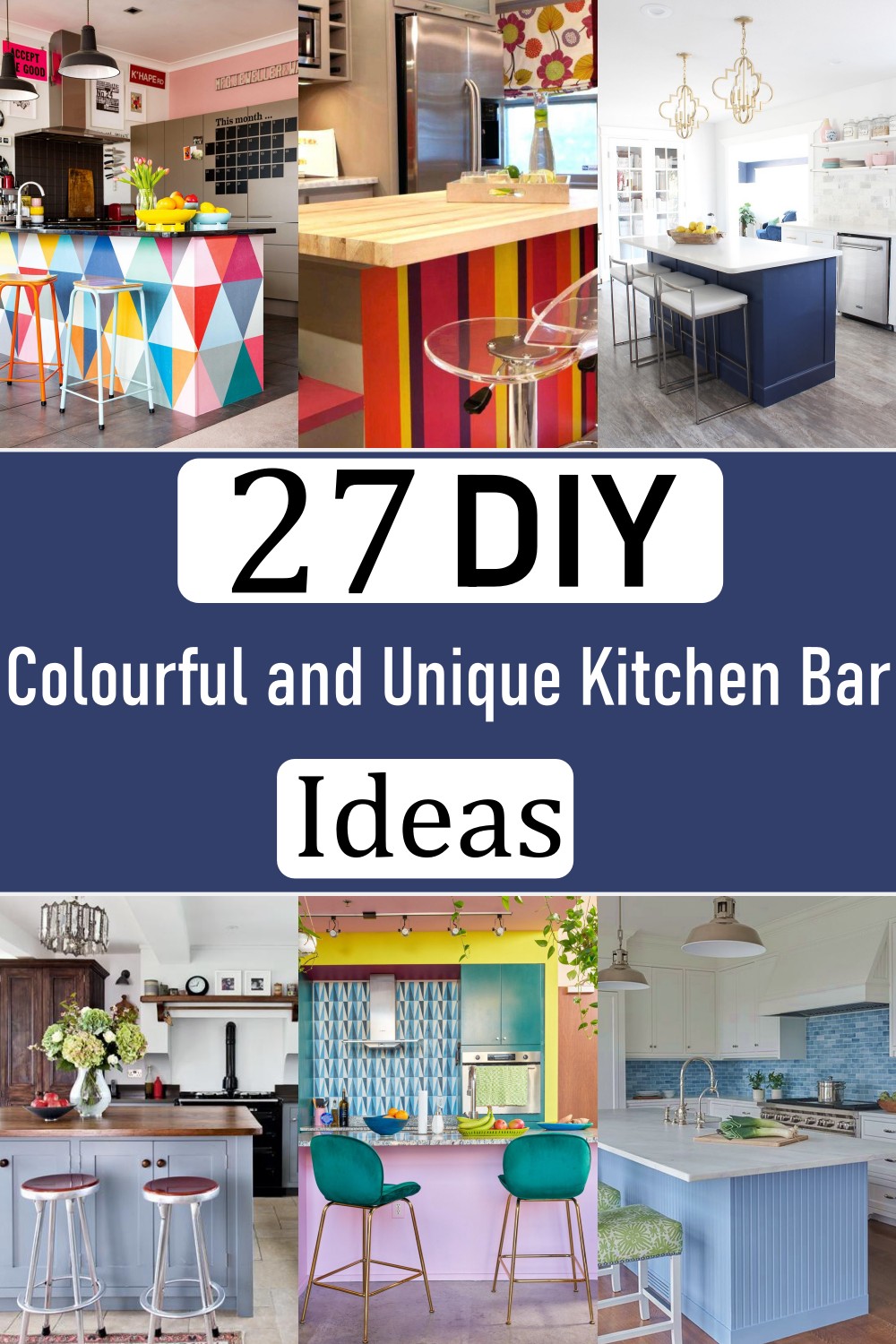 Kitchen bars are a great way to create a cozy spot in your kitchen, but they can also be used as an entertainment area—the perfect place to entertain guests and make them feel at home. Kitchen bar ideas are important because they help you make the most out of every inch of space in your kitchen. These kitchen bar ideas will be perfect if you don't have space or want to create a functional and beautiful space.
DIY Colourful and Unique Kitchen Bar Ideas
If you are a DIY lover, this article will be helpful for you. Regarding the kitchen, bar ideas can add great fun and excitement to the room.
Here are some benefits of DIY Colourful and Unique Kitchen Bar Ideas:
You can customize it according to your taste.
It will give your kitchen a more modern look.
You can use your creativity while designing these bars and make them look beautiful and appealing to the eyes!
A Cosy Place to Eat
Bar seating in the kitchen is a great way to add comfort and style to your space. The bar seats can be quickly built at a low cost and with DIY materials that fit your personal preferences. This project will show you how to make a simple but excellent kitchen bar that has the best of both worlds: it's solid and durable enough to support any weight while also being comfortable and good-looking at the same time. They're also excellent spaces to sit and spend time in your kitchen when you're just cooking. Whether mixing ingredients, preparing a meal or simply hanging out after work, a kitchen bar can be the perfect space.
You can also see: DIY Bar Table Ideas 
Every Cloud has a Navy Blue Lining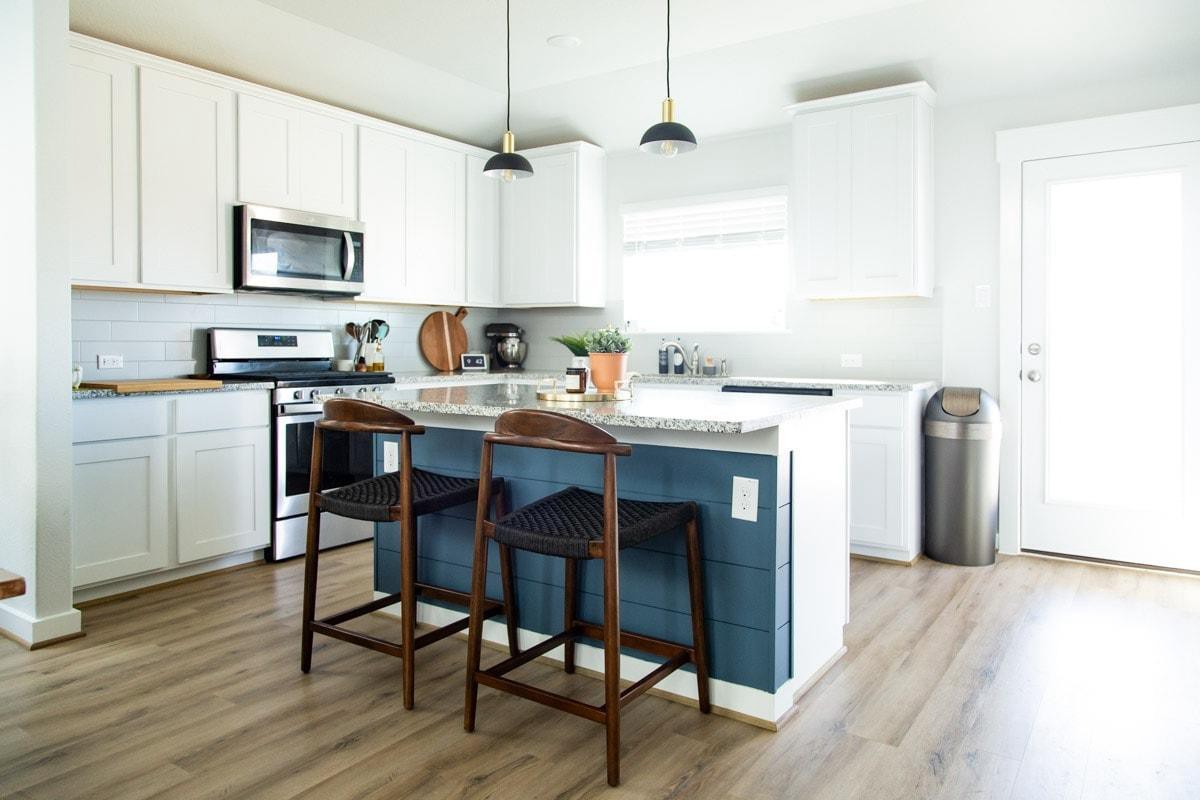 Here's an exciting way to revitalize your kitchen bar that can be customized to add a playful twist. This shiplap project is easy to follow, and you don't need to be a DIY expert to do it yourself! The build is easy, but it doesn't take long to do (about a day). The best part of this project is that you can make it yourself or modify it according to your taste and kitchen. You could even keep it simple and have a white or grey kitchen bar in navy blue, like this one here:
Back To School
This is an entirely affordable and easy-to-do DIY project that you can even do on a budget if you know where to shop. Yes, from now on, you can have it all! Your kitchen can be a pleasant place for everyday activities and memorable moments. The geometric wallpaper gives just the right touch to this back-to-school-themed kitchen. Let's start simple - with a beautiful wall covering, you can instantly transform the space into something unique.
Simple Is Always In Fashion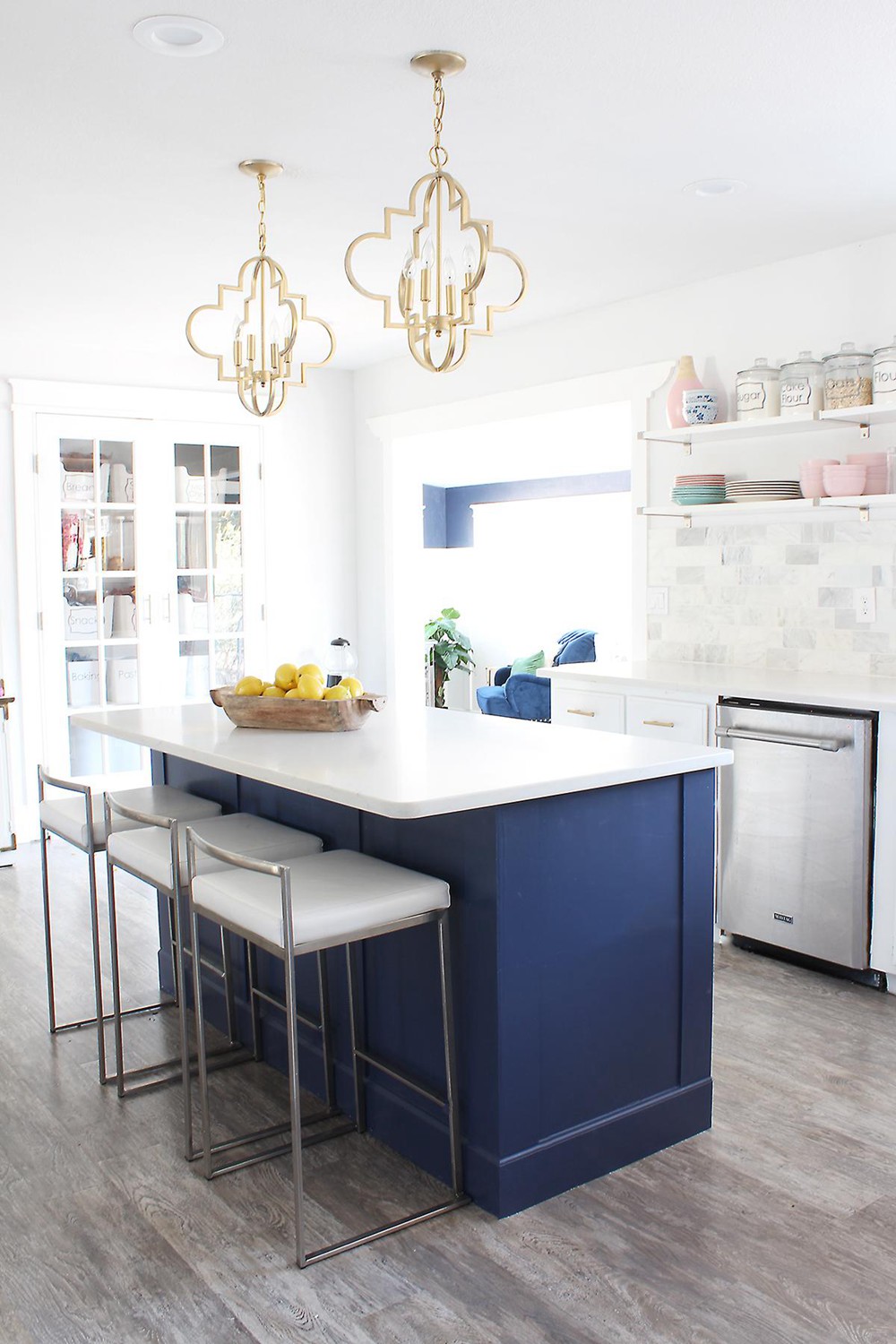 The DIY Colourful and Unique Kitchen Bar Idea, Simple Is Always In Fashion, is a one-of-a-kind DIY project that will make your kitchen stand out from the crowd. Instead of putting all your energy into making it appear complicated, this project takes some easy steps, and you can enjoy a beautiful bar in no time. Create a unique kitchen Bar using simple materials and your personal touch. You can create a beautiful and functional look in your kitchen with a few essential tools.
Multifunction Kitchen Bar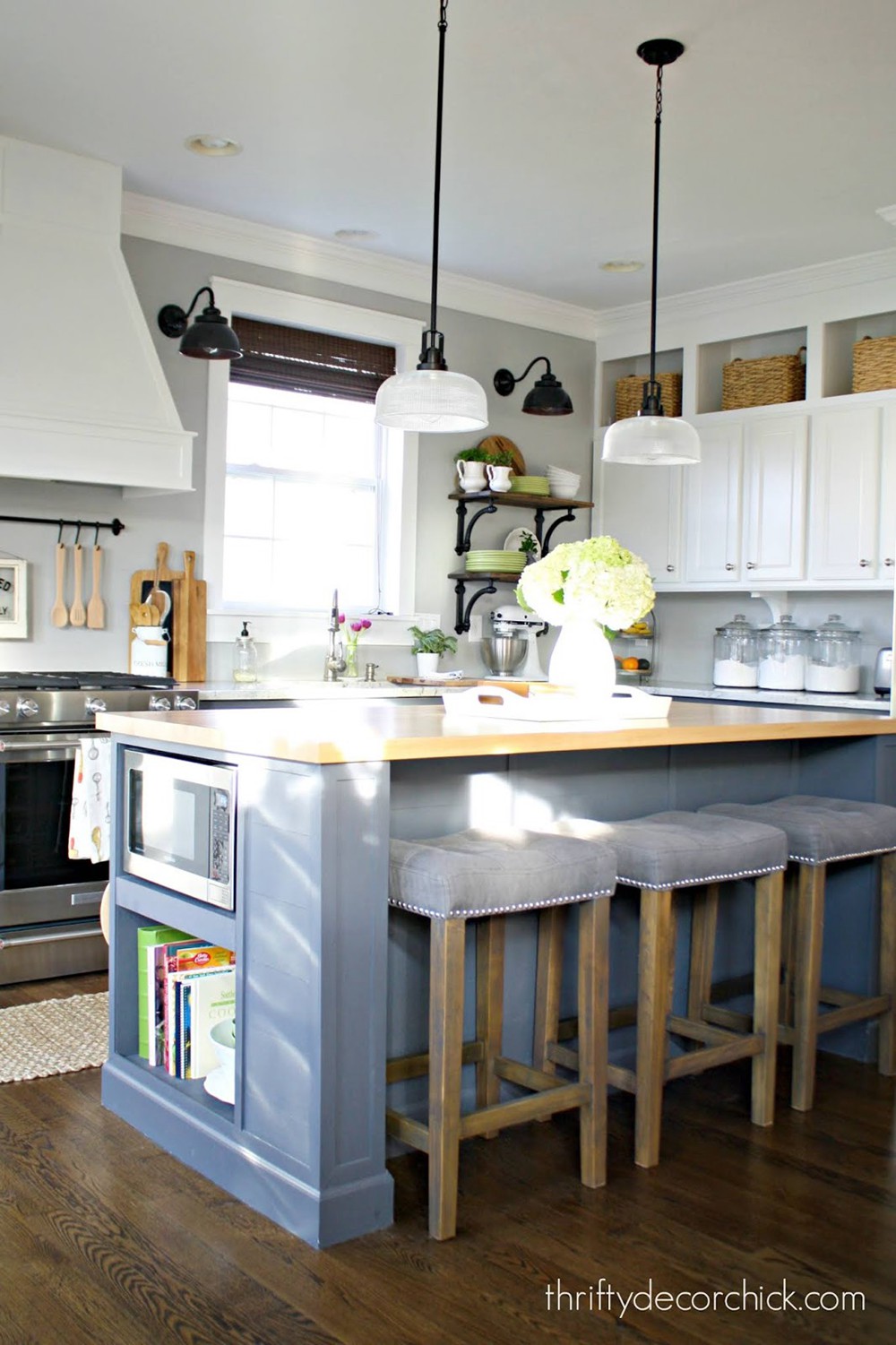 This multifunctional kitchen island offers the space and flexibility you need in your kitchen. The light blue color makes it easy on the eyes and can be changed to fit your needs, whether you want to expand it with a microwave or incorporate it into a bar by incorporating drink trays. This DIY Kitchen Bar will be your home's most unique and contemporary piece. It is not only a functional kitchen island but also works as a dining table or even a bookcase.
Teal Green Is The Cue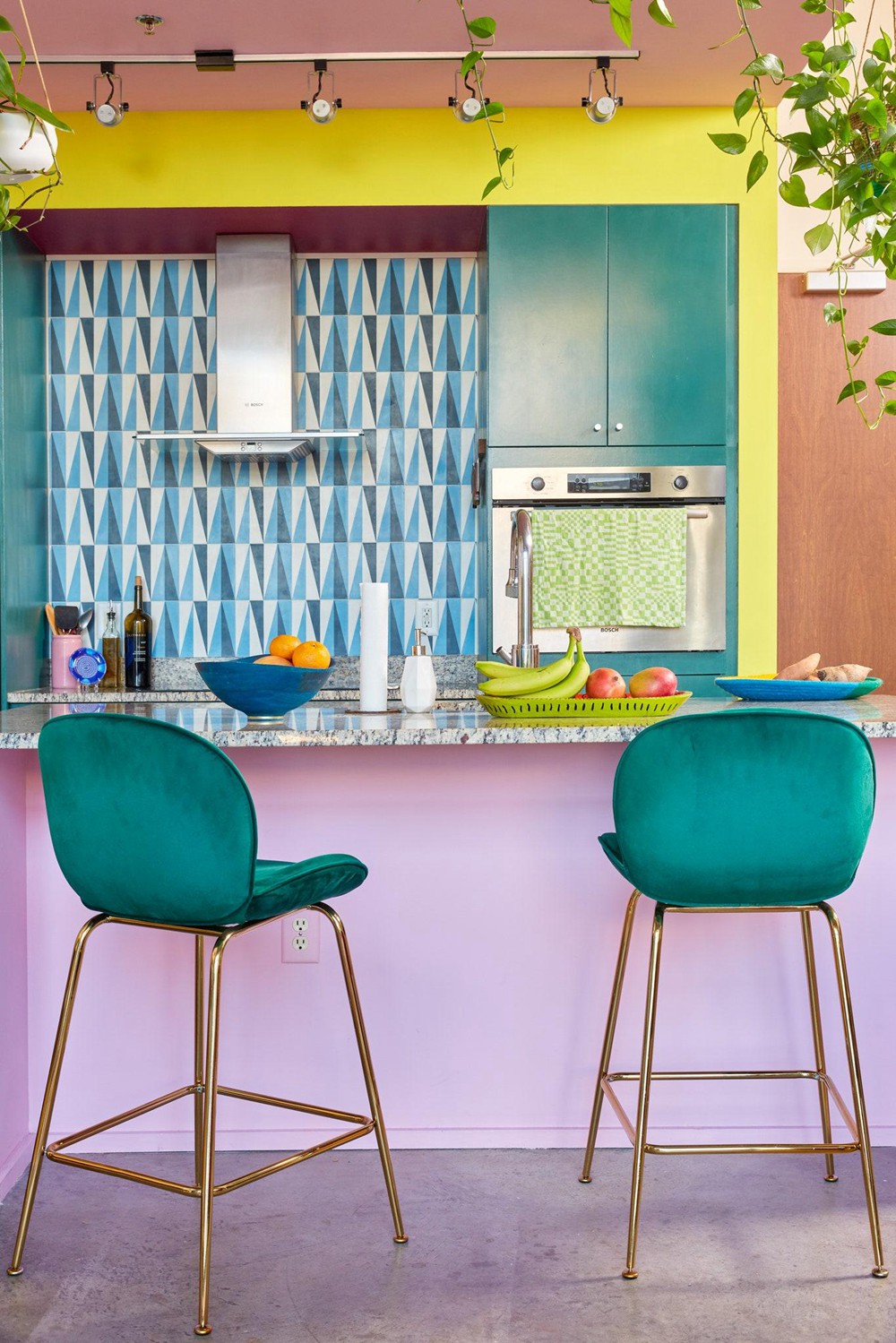 You will fall in love with this unique and charming kitchen bar! The combination of soft fabrics, teal green chairs, bright golden details, and gorgeous colors makes it a space to remember. Get inspired by this unique and colorful kitchen bar, where elegance, comfort, and imagination are combined. Decorate your kitchen space with golden details and add a soft stripe of teal green to give it a creative touch. Your creativity will lead you to beautiful results like this one.
Poetry of Earth
The kitchen island is a creative idea to enhance your kitchen and bar stools, providing a beautiful setting for food preparation and serving. You can use it as a breakfast bar or coffee station when you are entertaining friends or family. This wood-topped kitchen island is one of the most popular designs in our portfolio. Rich green marble is a unique addition to the island's otherwise earthy-toned appearance, giving this kitchen a one-of-a-kind look
Back In Black
Most of the time, kitchen bars are being used to serve drinks and food. However, it can also be the perfect place to store wine bottles. This is one of the unique ways they have decorated a kitchen bar. Using decorative items and some temporary furniture, they have created this amazing-looking black wooden Bar with a shelf under it. It blends well with the modern look but still has some classic elements that can bring back memories of simpler times. Define your space with a color of choice – red, green, or black; you can leave the wall as a canvas for the different elements. Use it as a focal point to accentuate the style of your kitchen.
Reduce - Reuse - Recycle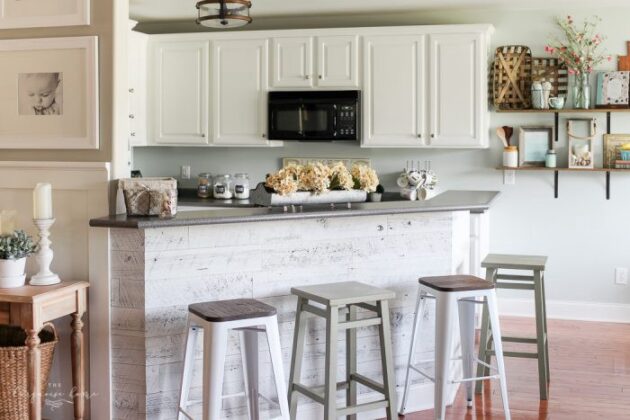 Are you a lover of small but efficient kitchens? This design is perfect for people who love to cook, especially if you have a smaller space and want to save every inch of it. This fantastic creation made with reclaimed wooden planks will help organize your workspaces and keep the room in your kitchen. Inspiring! This is a great way to reduce waste and get creative with old items. It will be not only eco-friendly but also very stylish and unique.
Big Happy Family time
Do you enjoy doing DIY projects at home? If yes, then this post is exactly what you need! A kitchen bar made from reclaimed wood is an excellent idea for the kitchen. The wooden slab is arranged gorgeously, and the chairs are in a perfect design too. This design will make your kitchen more comfortable and enjoyable to be used by the whole family members. It provides plenty of extra storage space for your kitchen utensils and appliances. So, welcome to the Big Happy Family's kitchen!
Colourful Stripes Go With Everything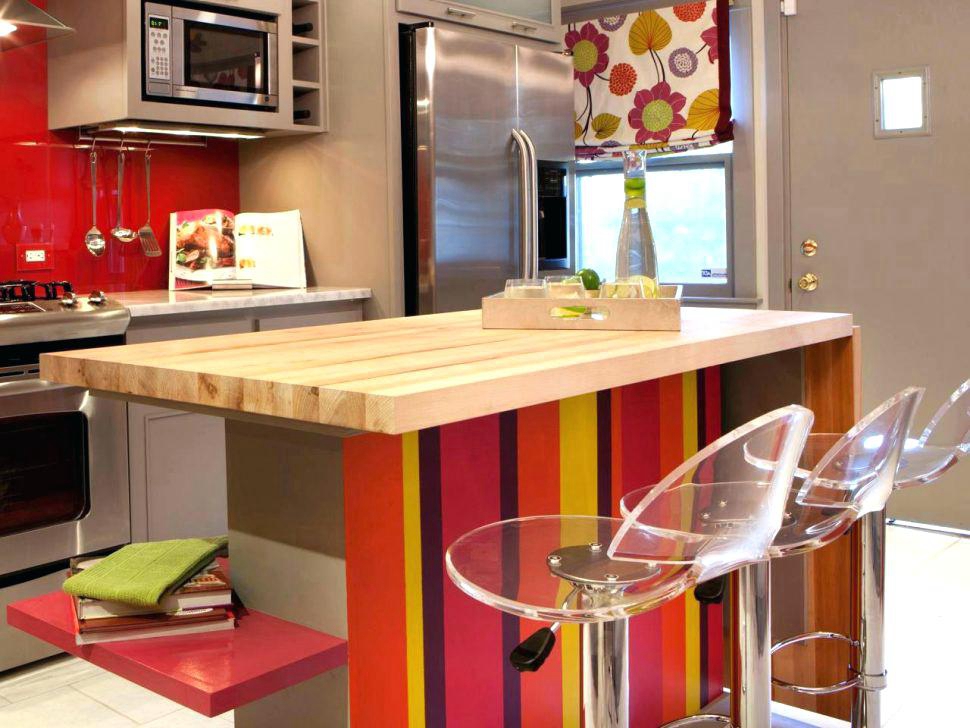 Just cook, relax and have fun in the kitchen at a contemporary bar designed just for you. This versatile island can go with everything with various finishes and colors. Add a splash of color to your kitchen with colorful wallpaper and stools with transparent plastic legs. All you need to do is change the floor, paint the walls and add some light fixtures. To renew your Bar, you can use wallpaper with simple stripes or a noticeable print.
Outdoors Barbeque Time: Check!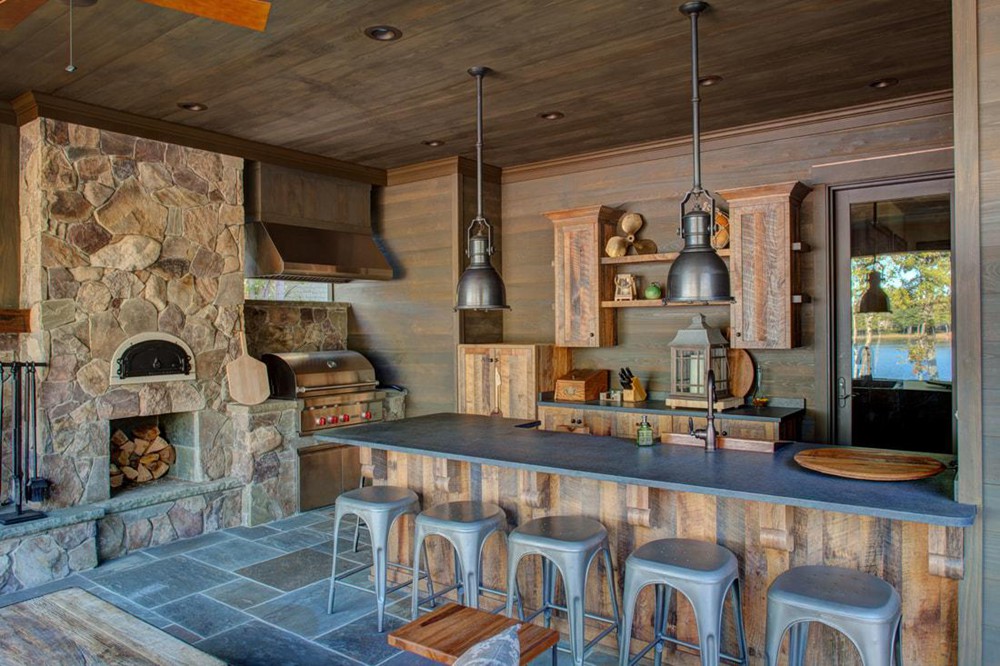 After a long day at work, everyone needs to get together for a refreshing and unwinding barbeque party. And if you have an outdoor kitchen, your guests won't be able to resist the temptation of serving delicious dishes from its gallery of equipment along with some great drinks while they sit around and talk about all sorts of things. Don't let it be just a party; let it become a memorable event that can last for years. You can create the perfect outdoor kitchen bar with this easy DIY idea to start your barbeque party!
Put a dime in the Jukebox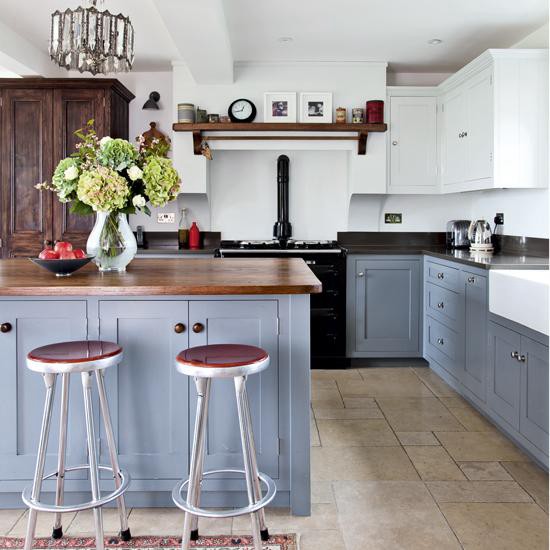 When you want to add an industrial touch to your kitchen, look no further than a vintage-styled bar. Not only is it a great way to entertain guests, but it also frees up precious counter space. You can create this DIY masterpiece in a couple of hours with a few boxes, bricks, and tools. This kitchen creates a unique space to enjoy your meals with friends and family. The combination of modern and retro styles creates a fantastic atmosphere.
A Smooth Variety Of Shades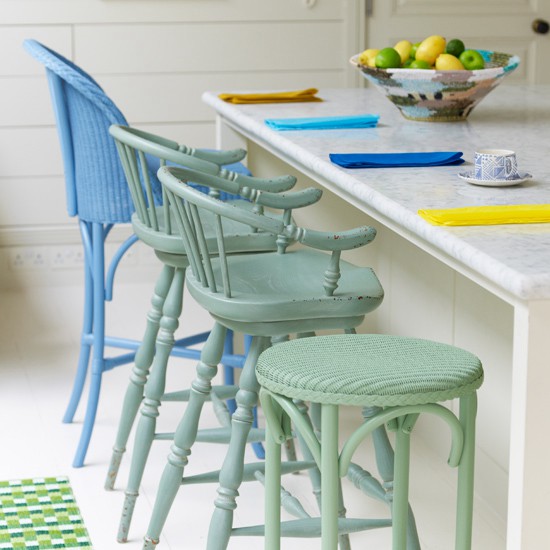 Are you bored with the white kitchen island look? The classic color can make your kitchen appear dull and lifeless, but with a DIY color bar idea, your guests will be more than impressed! Here are some tips and tricks that will show you how to create a smooth variety of shades that are perfect for any home. This article will show you how to make a fantastic DIY colorful, and unique kitchen bar idea. It can be a great way to add some interest to your kitchen if you don't like the traditional look of a large island.
A Study In Pink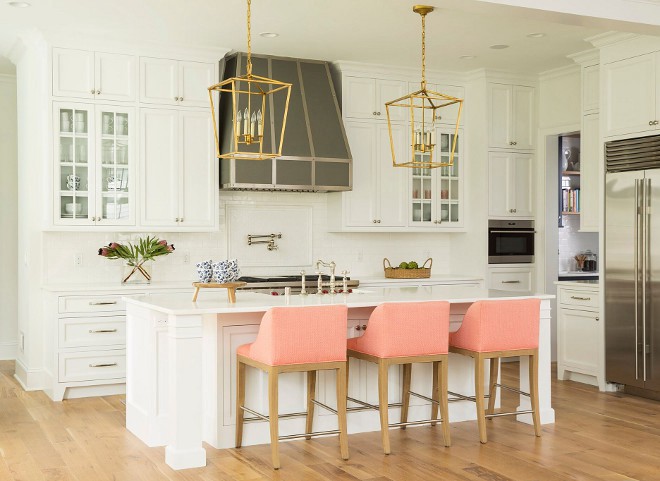 This kitchen island is the ideal solution for a small apartment, with its neutral tones and classic appeal. The bright stools and colorful chairs will help create a sense of space and comfort in any room. This DIY kitchen island is all about style and comfort. It's like having your home bar, only better: You can eat off the countertop! This cozy nook's bright color and pattern create a welcoming space for friends and family to gather, dine and sip on their favorite drinks.
Up To The Mountains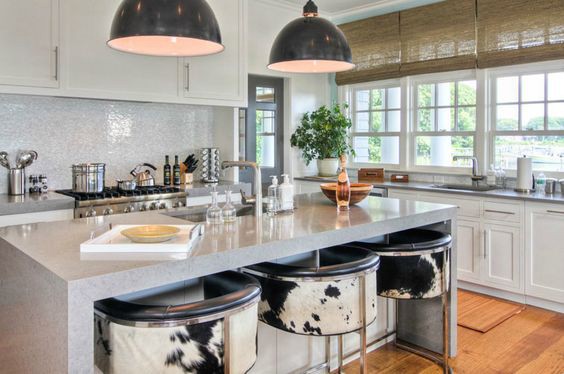 This might be the perfect kitchen island for you if you're a fan of cowhide bar stools. You can learn how to make your own by following the instructions in this Tutorial. Creating a country-style kitchen is not difficult, especially when you have the right ideas and elements of decoration. A wooden island, for example, looks much better when matched with rustic-style metallic chairs. A white kitchen set complemented by cowhide bar stools will make an impression on your guests!
Dots Everywhere!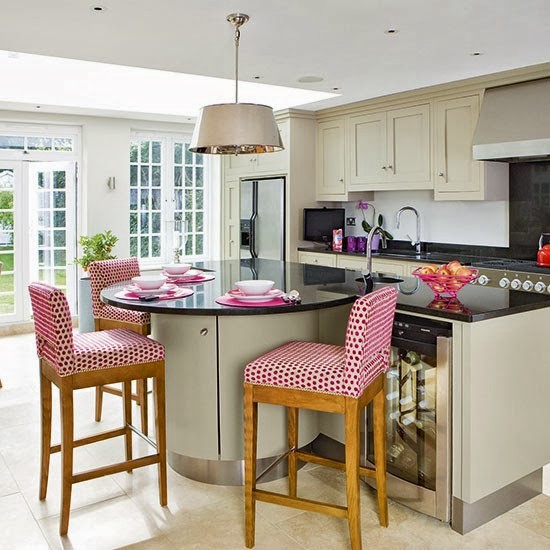 Help your kitchen stand out with this bright and colorful DIY, Colourful and Unique Kitchen Bar Idea. It's a perfect space-saving idea that replaces your dining table, but it also makes for a great area to play around with color, even if you don't have ample space to work with. Save space in your kitchen with this round island and switch out the table for a handy spot to dine, work or have drinks. The black countertops and pink-white chair cushions provide a fresh color for any area.
Where Flowers Bloom, So Does Decor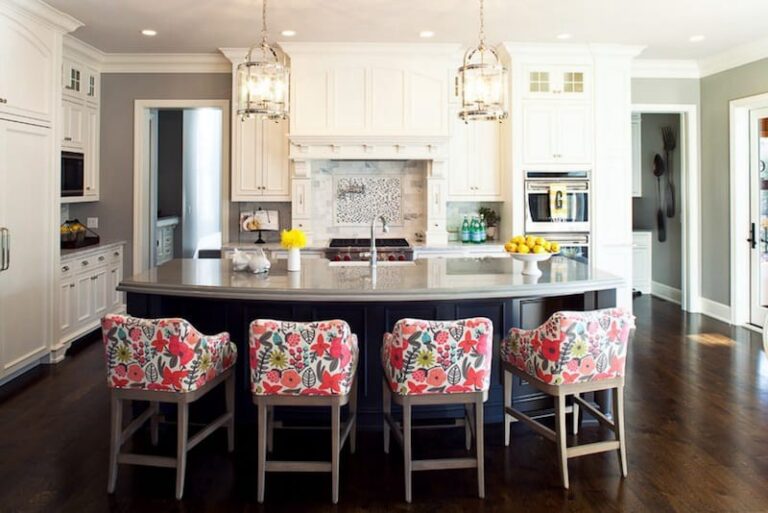 If you want to ensure that your guests are surprised, then modern furniture designs are worth using. They look pretty interesting! This piece of kitchen furniture is excellent because it's reasonably affordable and because it gradually makes any room feel more welcoming and alive. Add a splash of color to the kitchen with the DIY-friendly "Flowers Bloom, So Does Decor" design. This contains fabric, seeds, and small flowers - sprinkle the flowers over the fabric and let nature take its course. Just like in spring!
Time Travel
The kitchen bar is one of the most integral parts of a kitchen. It offers a great place to prepare meals and drinks, which makes it a highly functional part of the house. Customize your kitchen with color and personality! Try this unique and futuristic kitchen bar idea with a three-colored room, white and light blue walls, and Red diamond-shaped stools. This will surely be the most memorable and creative kitchen space ever. The open space allows you to move quickly without hindering each other while cooking.
Summer Breeze Elegance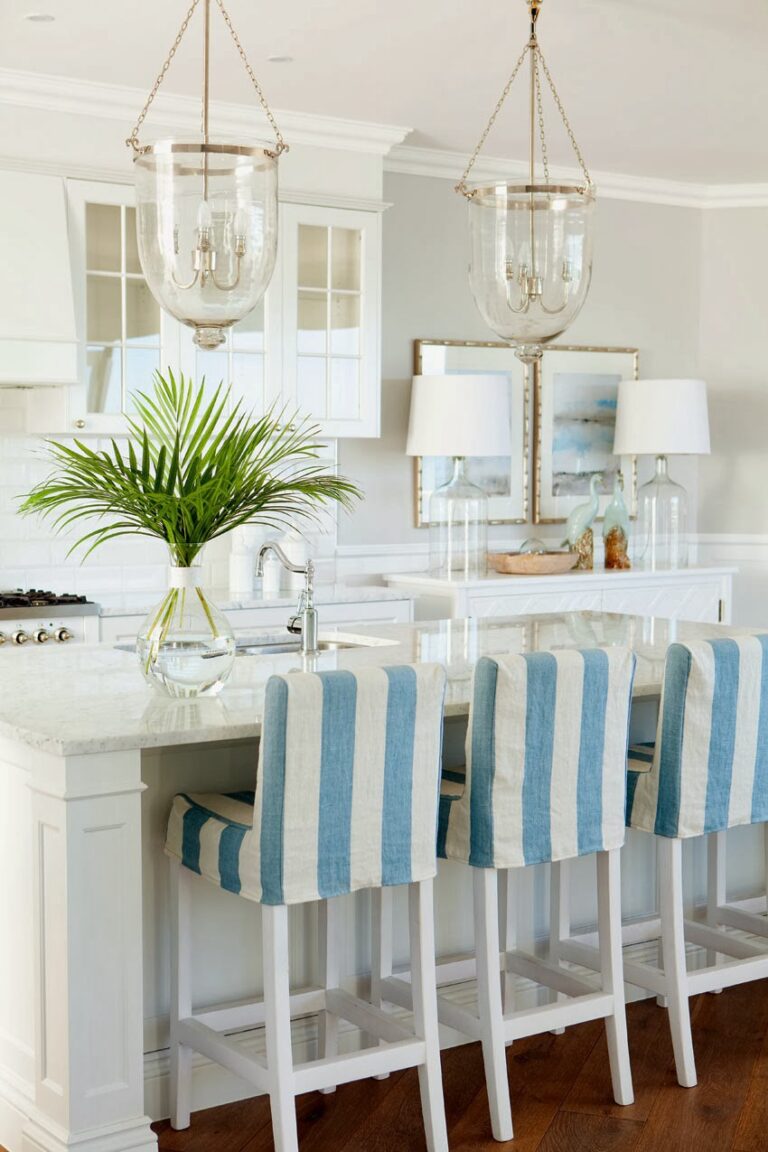 Your summer backyard party depends on the right mix of food and drinks, including the island bar. A simple and casual table with a view will make guests want to stick around for a while. This is a very colorful and unique kitchen bar idea for those who like to experiment with colors. Think about how fun it will be to match your different dinnerware sets, decorative pieces, and tablecloths with the colors in this space.
Eastern Inspiration
Choosing the right furniture is essential if you style your room with a rich Eastern theme. A large kitchen island is an elegant and practical choice; it provides plenty of storage space, and stools covered with Persepolis fabric will achieve this aristocratic feeling, suitable for family meals and entertaining. This guide shows you the complete procedure.
Eastern Inspiration Vol. 2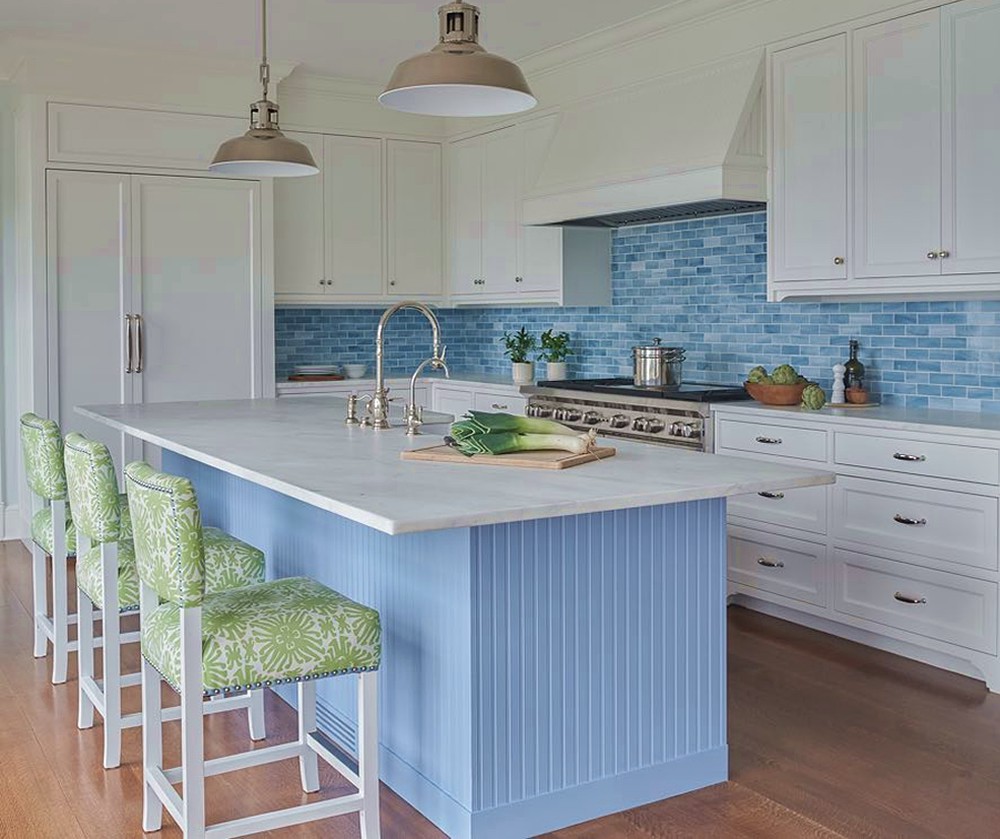 A fascinating modern concept with a fresh appeal. This gorgeous kitchen bar is another example of the eastern influence over western styles, with a unique fabric on its chairs and walls. Using this bar kitchen, you can enjoy eastern culture in your home in the most innovative way possible. This is your kitchen will make it look more spacious and more pleasing to the eye. The island itself is made of wood and has a simple design. It has excellent blue surfaces with green Sigourney fabric on the chairs.
The Famous Colour Combination on Bigger Scale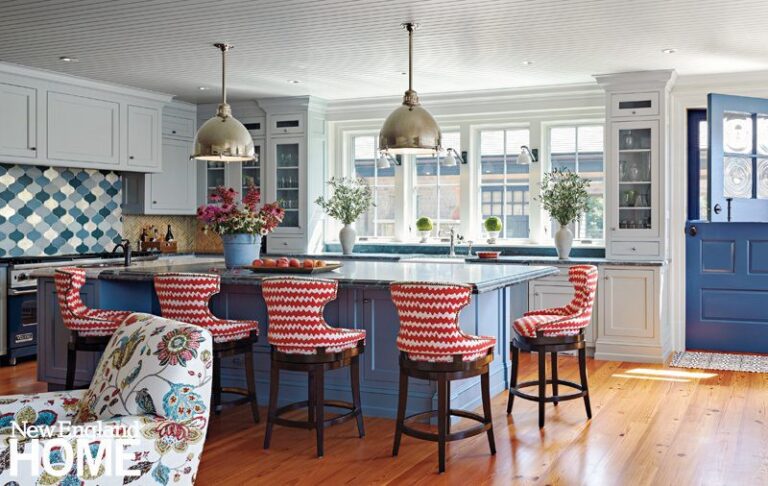 The idea of a breakfast bar is to create a casual eating area that brings people together. Today, the idea has moved beyond breakfast and the backsplash to define the entire space. This kitchen has a place for everyone to gather with white chairs, a bold blue island, and a bright countertop. Doing it yourself? This colorful kitchen bar idea is sure to be a hit among your guests. Using color, space, and comfort makes it easy to make this room an extension of your home's style.
No Limit Creativity
A kitchen bar is one of the most versatile pieces of furniture that can be found in any kitchen. It is where you cook, it is where you sit, it is where you eat, it is where you talk to your partner or friends and family, and it is typically where all sorts of magic happen! If you're looking for a fun kitchen bar that can brighten up your space, this is the perfect DIY project. It's colorful and quirky but also serves a purpose - it gives you an extra bit of counter space where you need it most. This is a great way to express yourself through your home decor while making the best use of small spaces!
Less Is The New More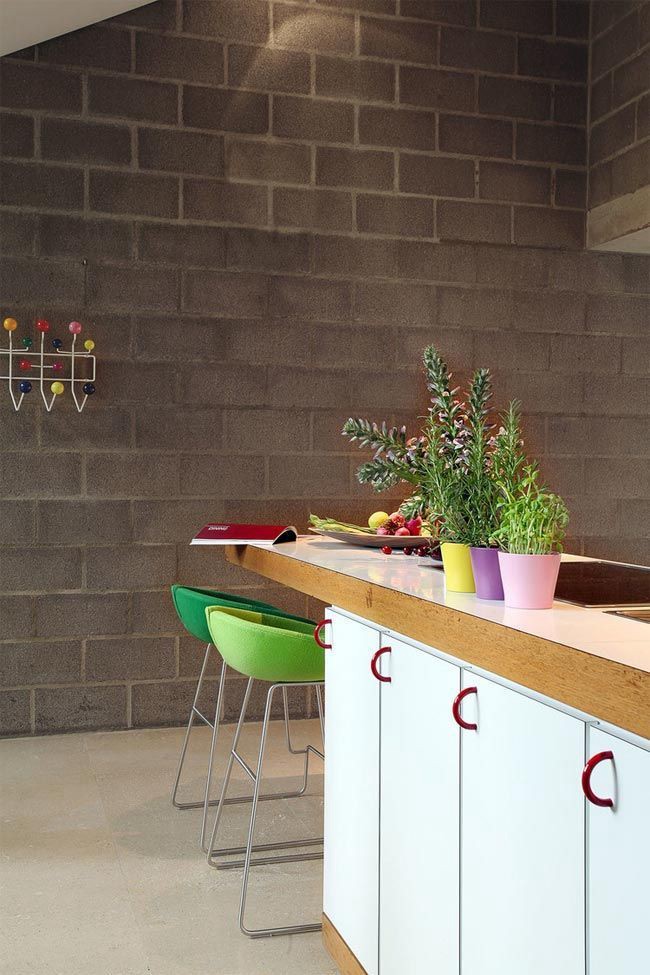 The idea of the kitchen bar design is to create a functional and practical solution for the space and be beneficial for you and your family. When working on a small kitchen, the idea is to keep most of your appliances hidden, so you have space for activities. This means you must store your devices where they can be seen but keep them out of sight. For instance, if you want an island bar, it will work great in this situation as parking stools under it, when not used, make it look like a standard unit in an area where there isn't much room for storage and other appliances.
Green, Green And Green!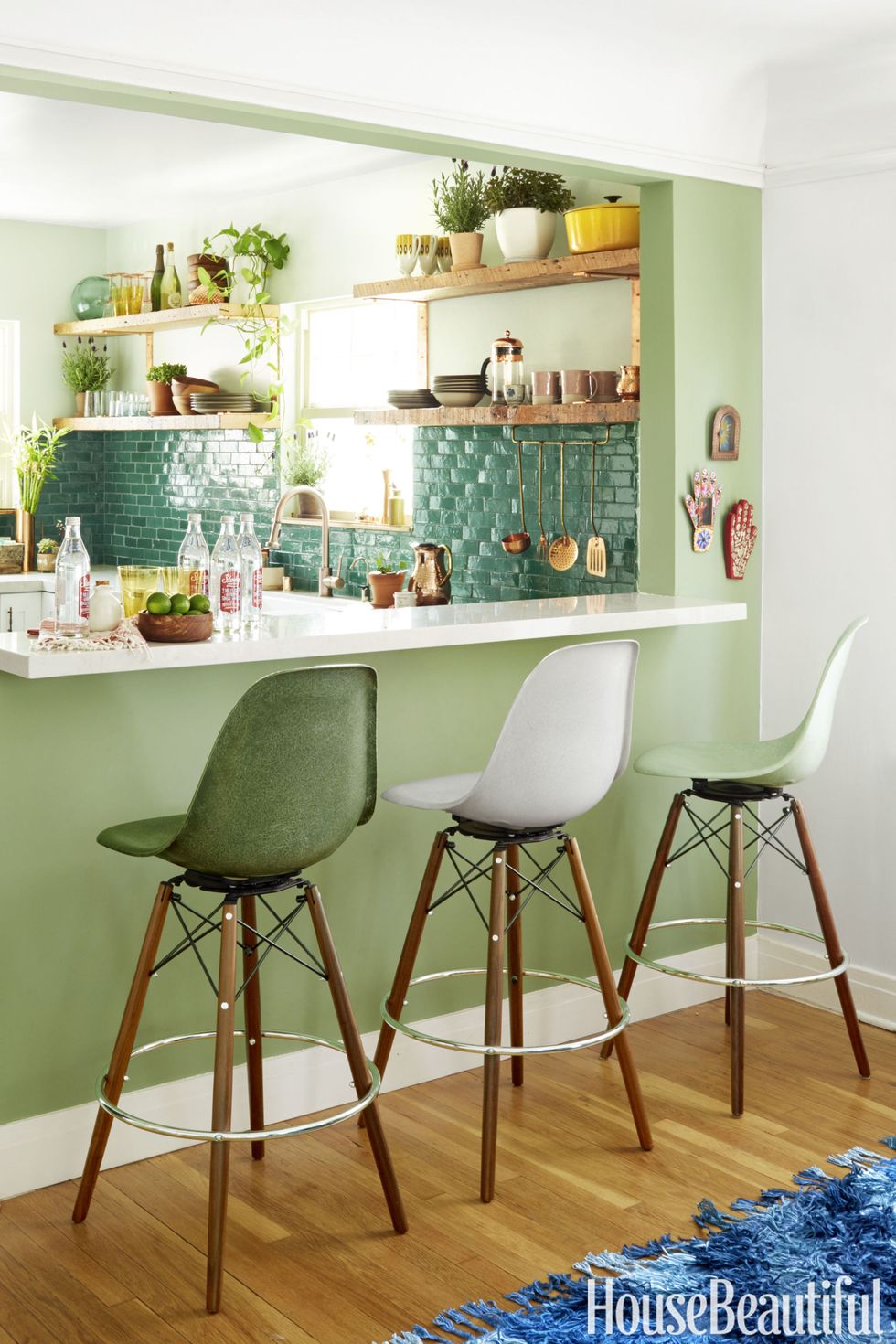 Kitchen bar ideas are a great way to create a comfortable space free from clutter. If you have a nook in your kitchen, this is an excellent place to add it! The kitchen bar is perfect for hosting a small party or chatting over wine with friends. The trick here is to use a single color as the dominant color for all furniture, appliances, and decor elements. This overwhelming shade of green is striking and will help you create a calm and relaxing space where you can relax after a day in the kitchen. Green is also known as the color of balance and harmony, so this color scheme is perfect for a busy home cook!
Fairytale Delight
This charming kitchen bar features a unique and majestic look that is perfect for your home. This idea is something everyone can do themselves, so there is no need to worry about building contractors! This Bar stands out from the crowd because of its unique design, which is full of color, character, and whimsical details. You will love the pink tiles and green stools mixed with white marble. The bright golden light from this structure's top corner makes it stand out even more. This is truly a work of art!