If you're a kayaker, you've thought about getting a trailer for your boat. A trailer is a great way to get your kayak to the water and back again without having to carry it. Kayakers often use trailers for hauling their boats to events where they need to transport them with other vehicles. If you've been considering getting a kayak trailer, but don't want to spend hundreds of dollars on one, here are some great DIY Kayak Trailer Ideas for creating an inexpensive and sturdy vehicle-mounted kayak rack that will fit most cars:
Homemade DIY Kayak Trailers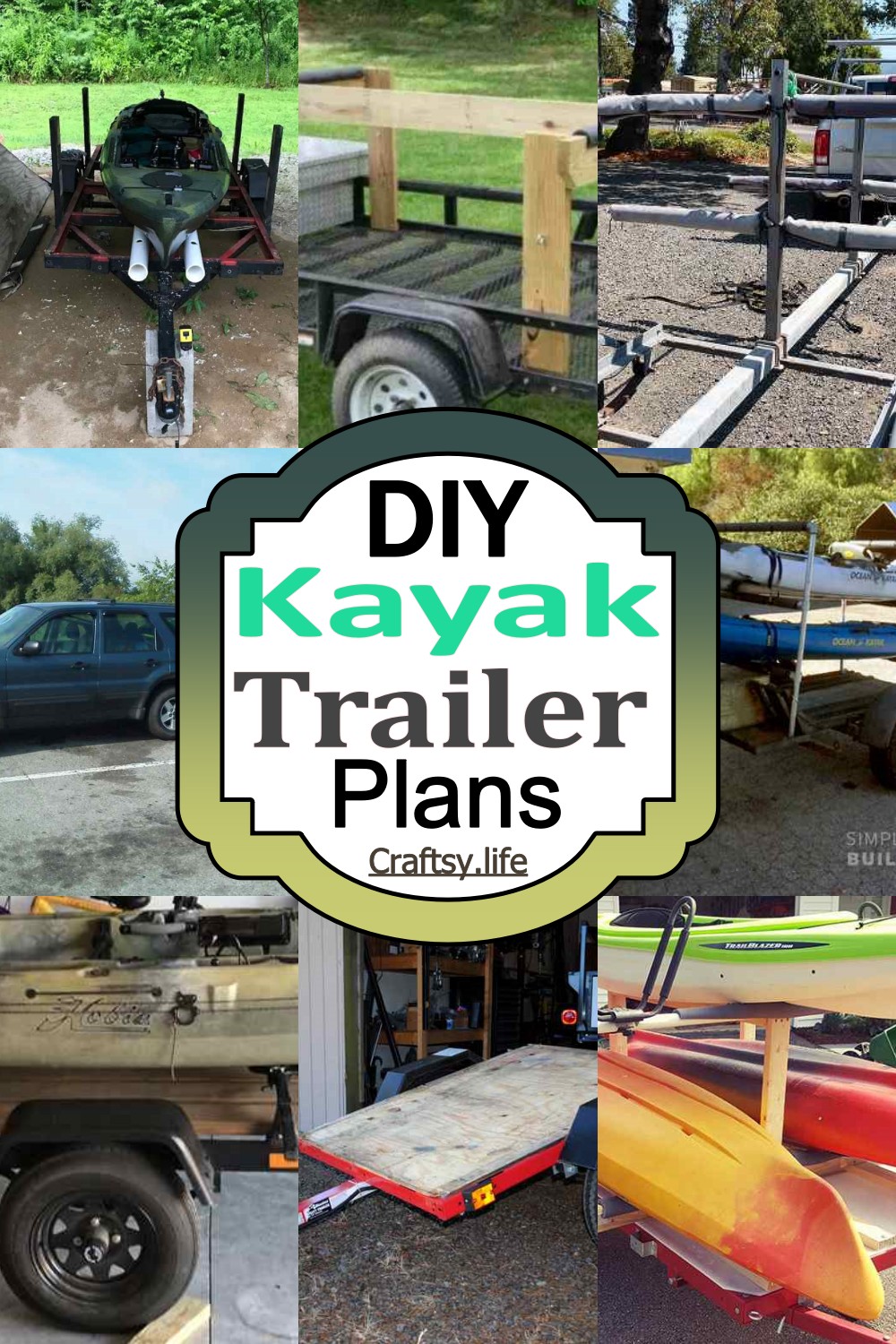 Kayak trailers are a great way to transport your kayak. They are much easier to pull than a kayak with the help of a dolly. However, building a DIY kayak trailer is not as difficult as it may seem; All it takes is a little time and effort. Creating your own kayak trailer is fun and can save you money! Not only that, but it's a great way to add some personal style and personality to your kayaking adventures. Here are some DIY kayak trailer ideas that you can use to customize your new boat haulier.
Here are 15 DIY kayak trailer ideas that range from simple to complex and let you get your boat out on the water without any hassle.
The benefits of DIY kayak trailer ideas
The benefits of DIY kayak trailer ideas are many. Here are just a few:
Cost savings: You can build your kayak trailer for less than $100. Compare that to buying an off-the-shelf trailer that costs hundreds of dollars, and you'll see why so many people prefer to build their own.
Customization: If you want a specific kayak trailer, then building it yourself is the way to go. It's much easier to modify an existing design than start from scratch.
Fun - Building your kayak trailer will give you a sense of pride and accomplishment when all is said and done that isn't there when buying one off the shelf.
Homemade Kayak Trailer Rehab
If you need to haul your kayak, this article is for you. It covers converting a used utility trailer into a recreational vehicle. The goal is to help those who want to save money by doing their DIY projects. And hopefully, it will inspire you to get out there and make something happen! Building a kayak trailer is not rocket science. And many can do it with minimal skill and knowledge. But if you need more help, check out this article on how to build a simple kayak trailer that can work for any kayaks you thought of buying.
Multipurpose Kayak Trailer
This multipurpose kayak trailer or similar DIY constructions remains perfect for multiple applications. You can utilize it as a trailer to haul your kayak, scooter or motorcycle around the backyard, road or park. It works just as well for accelerating stands at the fishing ponds. Depending on their preferences, many prefer to use their homemade designs by mounting them on their watersports vehicles. Using this guide, you can easily convert any trailer into a multipurpose kayak trailer. It will give you a detailed description of how to do it yourself.
Cargo Hauling Kayak Trailer
This DIY Cargo Hauling Kayak Trailer is a great solution for kayak enthusiasts tired of towing their boats by other means. The trailer has a small storage capacity and can be towed by most cars. In this video tutorial, the creator builds a kayak trailer that allows you to easily move your kayak by simply pulling it behind your vehicle. With this DIY kayak trailer, you can haul your kayak along to the lake or river without having to worry about any rear hatch lift being required.
Improvised Kayak Trailer
The improvised kayak trailer is the most economical way of transporting your kayak. This simple and easy-to-set-up method provides a sturdy hitch that helps transport your kayak in style. The trailers are the best alternative to expensive trailers. The building process is also simple and can be assembled at any place or time. Getting the materials needed for a Kayak trailer is not very expensive as long as you follow instructions well.
Kayak Trailer How-to Guide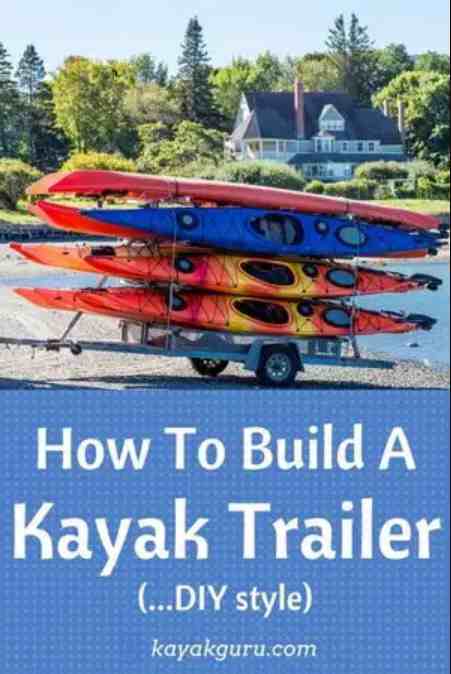 Building a kayak trailer doesn't have to be difficult or expensive. This DIY Kayak Trailer How-to Guide shows you how to build your trailer from scratch, saving money and building an excellent product. With this DIY Kayak Trailer How-to Guide, you can easily build a boat or canoe trailer at home. This tutorial includes all the necessary steps for building a quality trailer for kayaks, canoes, and boats. Saving you money on the parts and making it easy to move your kayak with one person. It includes a material list, step-by-step instructions, and helpful pictures.
Key Facts of Kayak Trailer
This project is the experimental build of a kayak trailer. The construction has been documented carefully with video tutorials, step-by-step guides and explanations. Kayak Trailer's key features are considered serious considerations, which you cannot neglect. This video helps you to explore and understand the basics of custom-made kayak trailers. At first, it gives you some details on the design and the construction process. Then it covers all essential factors related to a successful DIY. Finally, it compares them with an integrated trailer in terms of cost, look and performance.
Reliable Kayak Trailer Option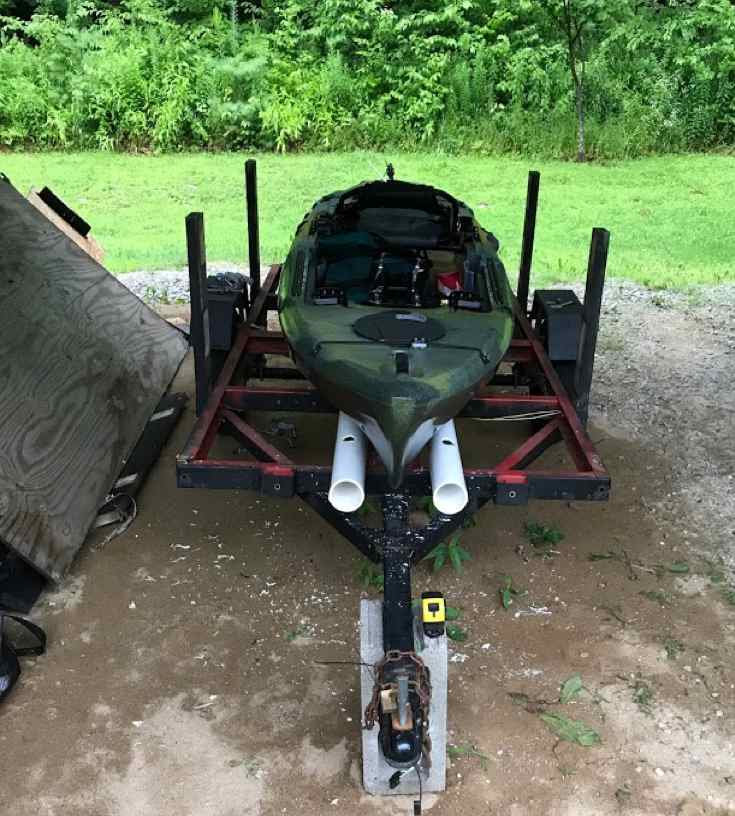 If you're looking for a reliable and effective solution to carry your kayak into the water every time you're on a journey, then this DIY option can help you out. You'll need to know about the process in detail and should be ready for any troubleshooting as well. It is a simple DIY solution meeting all your requirements and eliminating the need to invest in expensive equipment. You can identify the appropriate setup that fits your needs and get it without investing much.
Simple Trailer Transformation
This video shows a simple method to transform the utterly wasteful trailer into a functional one. It's an easy and eco-friendly way of saving money while turning your old trailer into something you can use for other purposes if you want to later. The video will use recycled materials to show you how to design and build your kayak trailer. The necessary materials to get started are plywood, a metal strap, a shovel and a drill with bits.
Stepwise Kayak Trailer Guide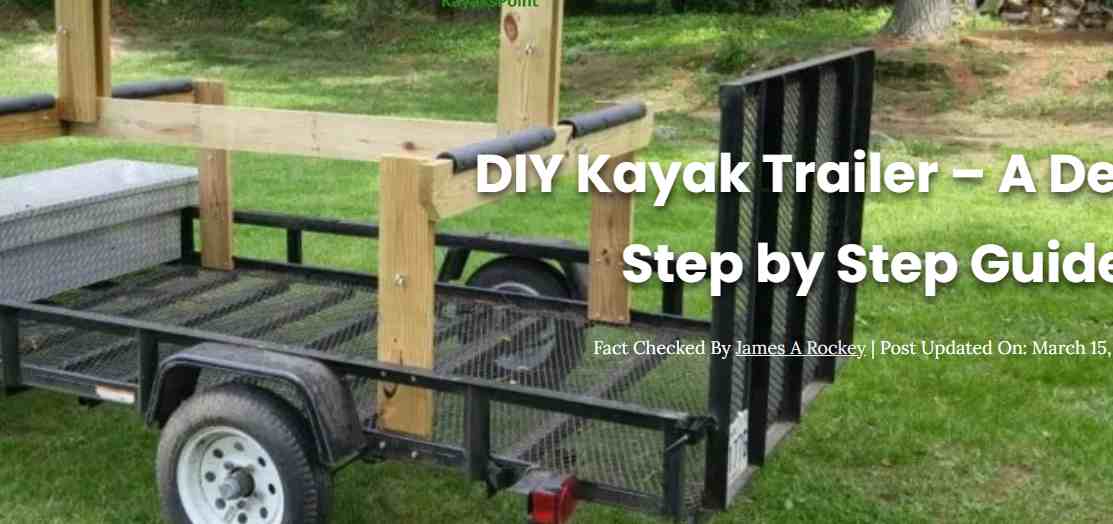 This DIY Project Guide will help you build a kayak trailer most easily, and it is simply suitable for all types of kayaks! This ultimate DIY kayak carriage guide enables you to build a sturdy and durable trailer. This stepwise kayak trailer guide will help you build a kayak trailer that would take no time to load and unload the boat, plus the added advantage of easy mobility. It has been designed so that you can understand the process with simple diagrams and text steps.
Heavy-Duty Freight Trailer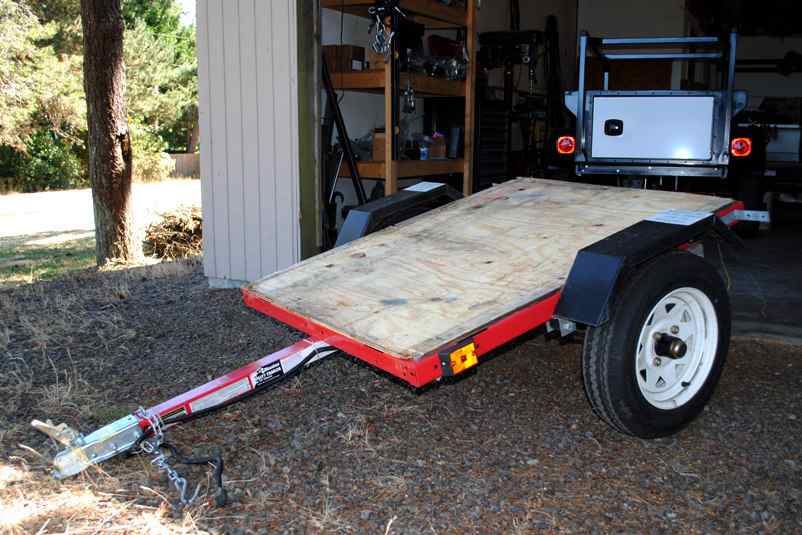 If you want to make a heavy-duty freight trailer for your business purposes, follow the step-by-step guidance suggested in this article. A detailed explanation will help you understand the procedure. A heavy-duty freight trailer is designed to help you move heavy loads. This DIY package includes everything you need to build a quality trailer's base, body and wheels. The heavy-duty steel construction with reinforced tubing ensures durability and strength. It's durable enough to endure harsh weather conditions and rough roads yet light enough for people to easily transport it on a flatbed truck or the back of a pick-up truck.
Back-Saving Kayak Trailer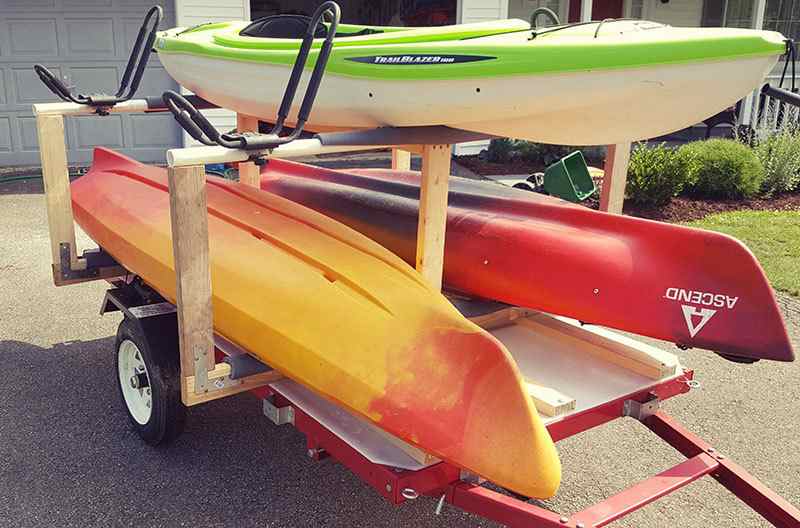 This project is for you if you spend a lot of time on the water but don't like the hassle of loading and unloading your expensive kayak from your vehicle. The DIY trailer lets you drive close to your favourite launch with ease. The DIY will save your back and your budget. You'll learn how to make a functional kayak trailer with just $400 in materials. It will cover everything you need to know about designing, building, and testing kayak trailers.
Story on Kayak Trailer

Kayak trailers are a dime a dozen, but if you choose to go with one already out there, you're missing some of the fun. DIY trailers certainly aren't hard - they require some work and know-how. But before you even think about getting started with your trailer, you'll want to read this story on its workings. The kayak trailer is a cheap, easy and flexible way to move your boat around. It's also the perfect solution if you're interested in paddling on smaller bodies of water and tailoring your carrying capability to fit any size boat or load. This project is ideal for use on flat ground or dirt roads, but it can also use on city streets with little to no modification for smaller kayaks and canoes.
Converted Kayak/Camping Trailer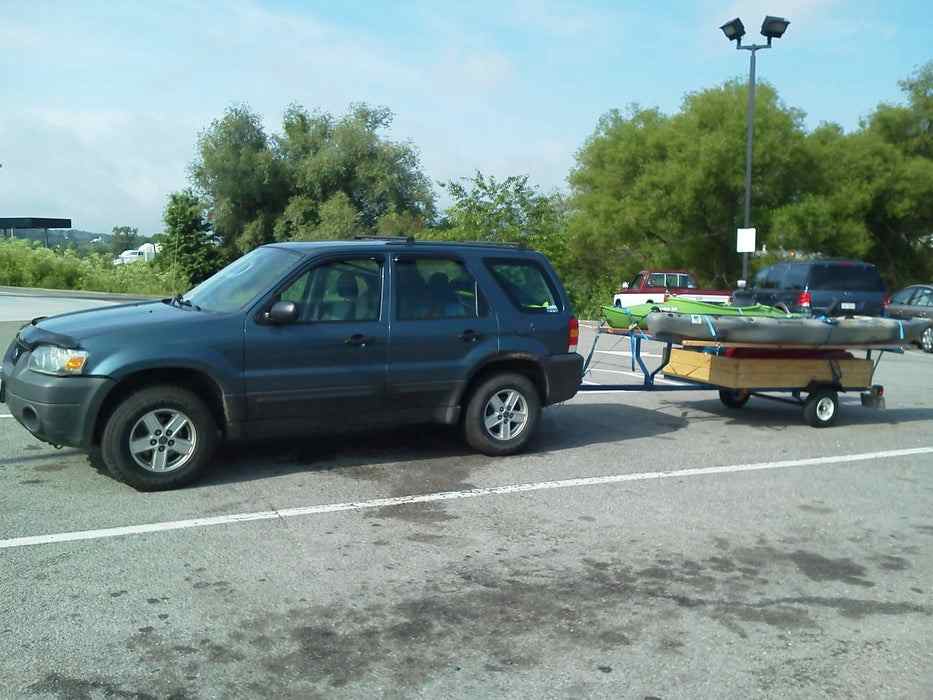 This DIY kayak trailer can help you haul your family and kayaks on the road. You need basic supplies, tools, and parts from a local hardware store. This project won't cost much time or money to build but will allow you to take your favourite pastime anywhere. This DIY kayak trailer conversion can make in only one afternoon. Build the frame and attach your kayak, and you are ready to take off on your new adventure!
Utility – Kayak Trailer
Kayak trailers can be extremely handy for getting kayaks from one place to the next. The DIY utility trailer is a quick and easy way to turn almost any utility trailer into a kayak trailer. You will need some basic tools and about an hour of your time. This video will walk you through how to build your kayak trailer using only 2x4s, bolts, washers, wing nuts and others. The tutorial is easy to follow, even for beginners. The presenter carefully moves through each step and adds a helpful voiceover describing the process.
Utility Trailer Conversion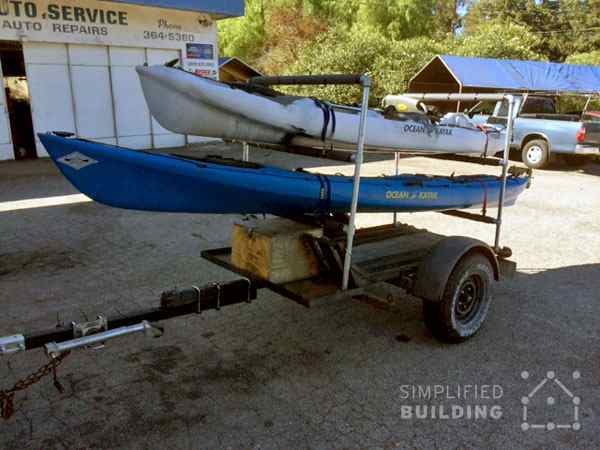 Do you need a hitch-mounted kayak trailer? Tired of paying for expensive trailers or not having an option for transporting your kayak? There's no need to spend time and money shopping for those special trailers with many features. This DIY utility trailer conversion project can be considered a tool that helps nearly anyone decide to get his transport or carry that expensive piece of equipment. It's also a good way to explore new ideas since you can design the parts yourself.