DIY hanging shelves is a great way to add beautiful and functional storage to any room of your home. Whether you're looking to create space in your garage or attic or need additional kitchen or dining room shelving, this simple DIY project will give you an instant update that looks like a million bucks. Hanging shelves are perfect for small spaces, a clever way to utilize unused wall space. They can be used as wall decorations or even as room dividers. This article includes several creative DIY hanging shelf ideas to make a statement in your living space.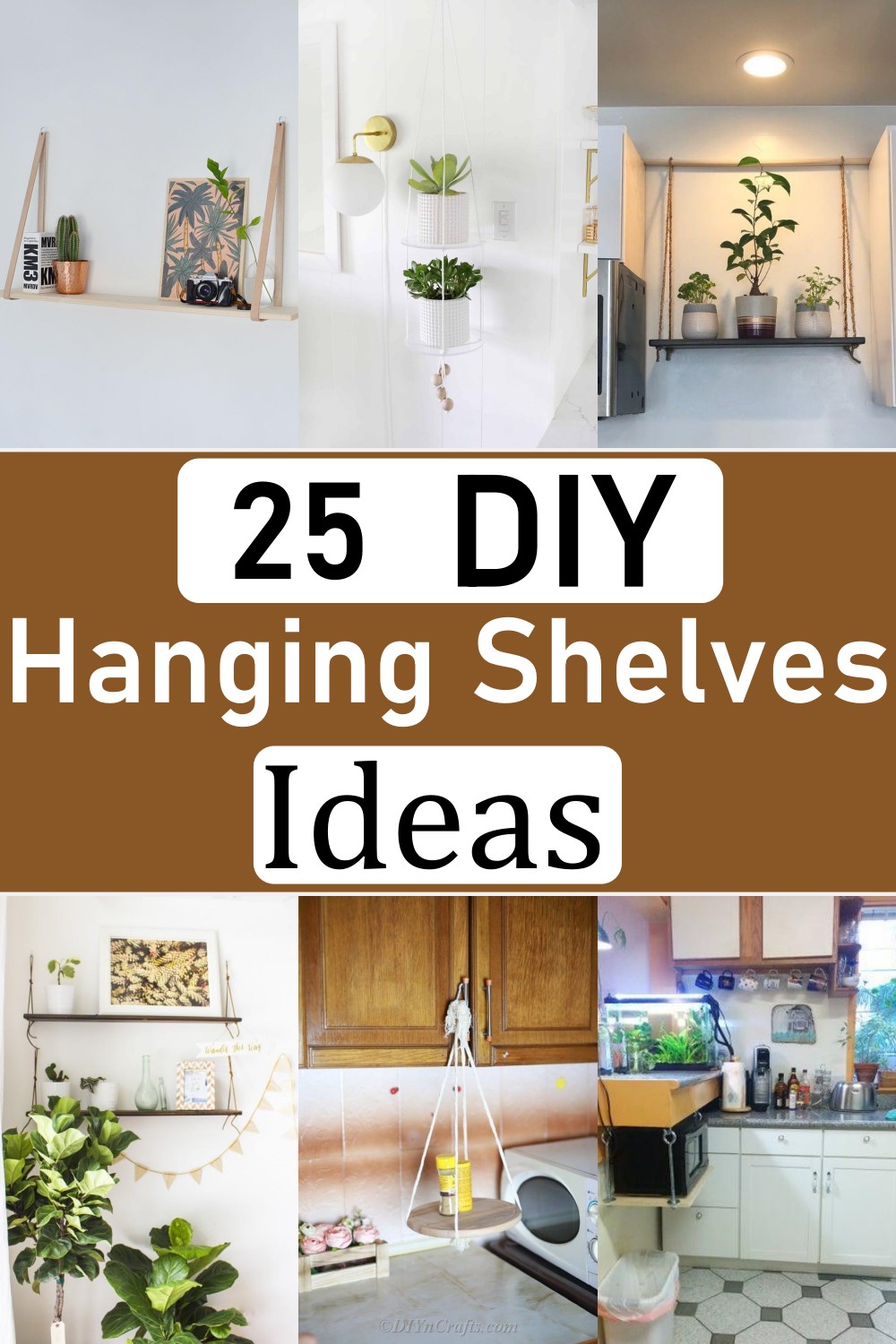 Hanging shelves are fantastic because they take up minimal floor space. You can hang them over your bed, along a wall, or in the corner of your room. They're also perfect for small spaces; you can use them to display your favorite stuff! Hanging shelves create a seamless look in your home and add extra storage space for your possessions. If you've wanted to try building a hanging shelf but don't know where and how to begin, these 25 DIY hanging shelf ideas are easy enough for beginners and make great gifts!
We have collected 25 creative DIY hanging shelves ideas for your home; See how you can turn a wall into a beautiful storage space with these simple upgrades.
You Can See: 32 Cleaver DIY Storage Ideas For Your Home
How To Make A Rope Shelving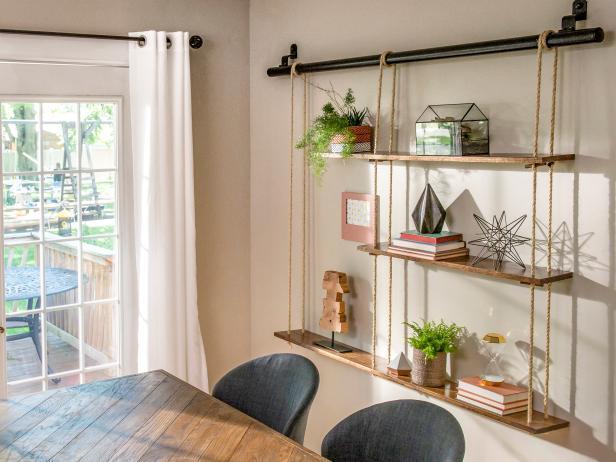 This is the guide you need if you are looking for a DIY project to help with your available space. Made with rope, leather, and wood planks, it's simple enough to do yourself. This is a great way to add some rustic touches to your home or office! This guide project will teach you how to make an easy rope shelf with just rope and some essential tools. This easy DIY project is great for anyone looking to add extra storage space to their home.
Hanging Rope Shelves DIY
Are you looking for the perfect DIY project to add rustic chic style to your home? These rope shelves make any wall space look good. Hang it over your bed or kitchen to store books, plants, and more. Make your own hanging rope shelves. It's so simple and looks beautiful. The most valuable part is that you don't need a building plan; this video tutorial will teach you everything you need to know! Watch the creator build one herself; you can do it too!
DIY Hanging Cardboard Shelf
This is a simple way to make a hanging cardboard shelf for your wall using recycled materials. The shelf is more durable than the paperboard, and you can paint it any color to match your decor. Making a hanging shelf out of cardboard is a cheap and easy DIY project that can be done in your own home. This video tutorial will show you how to make your own hanging shelf from scratch, including cutting the pieces to size, drilling holes for hanging, and decorating with choice fabrics."
DIY Hanging Kitchen Shelf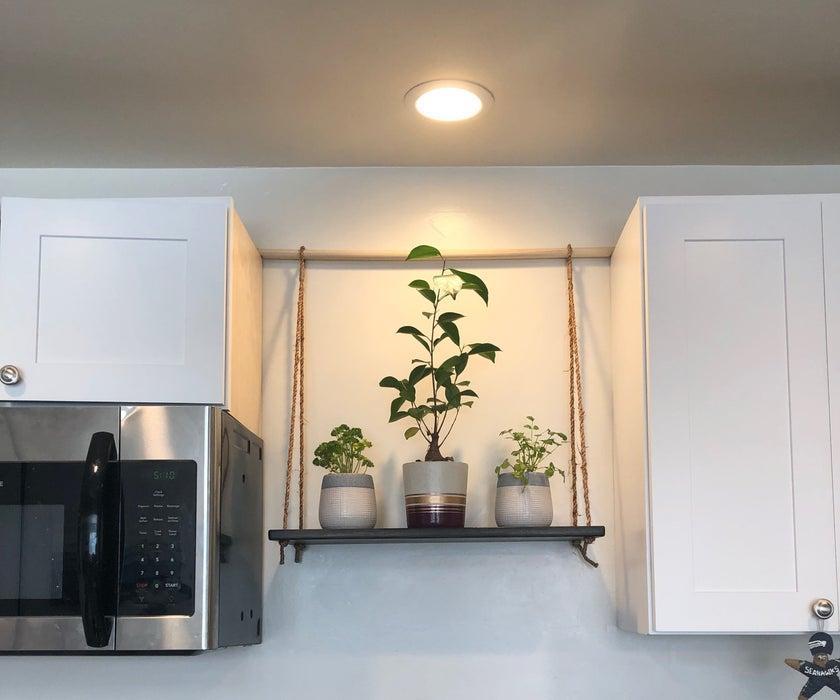 This hanging kitchen shelf is a great way to add some extra storage to your kitchen. It's super easy to make and doesn't require any special tools or skills. The best part is that you can customize it any way you like! This hanging kitchen shelf will not only be a great addition to your kitchen area, but it's also relatively inexpensive. It can be expensive to buy a hanging shelf when you can make one yourself; that's as good! So, Go through the guide below, and let's get started!
DIY Hanging Shelf From Cardboard
No need to spend money on a professional shelf. You can follow this DIY hanging shelf tutorial and build your own if you have a few minutes, some spare cardboard, and a little time. This quick and easy DIY project makes your home look more stylish. You can use cardboard, metal rings, and rope to make this hanging shelf. It's so easy that you don't even need any power tools.
Easy DIY Hanging Shelves
A hanging shelf looks great on an entryway, dining table, or even your desk at home to hold plants and other decorative items. These hanging shelves are the perfect solution for a small corner or hanging on your office desk. It is pretty simple but stylish. It can be used as a decorative shelf or placed on a plant stand to display a plant at home. This video guide will show you how to easily make your own hanging shelf using materials from your local hardware store.
Lightweight DIY Easy Hanging Rope Shelf
The rope shelf is suitable for books and other small objects. It's a lightweight rope shelf and can be hung anywhere you like. The wood stripes used are 1 inch long from the wall. You obviously cannot place something large and wide on this shelf; only books can take up space because of their area. This lightweight DIY rope shelf is easy to hang up and can be placed in any room because of its size. It's not large or too small, so it's a perfect fit for most spaces.
DIY Hanging Shelves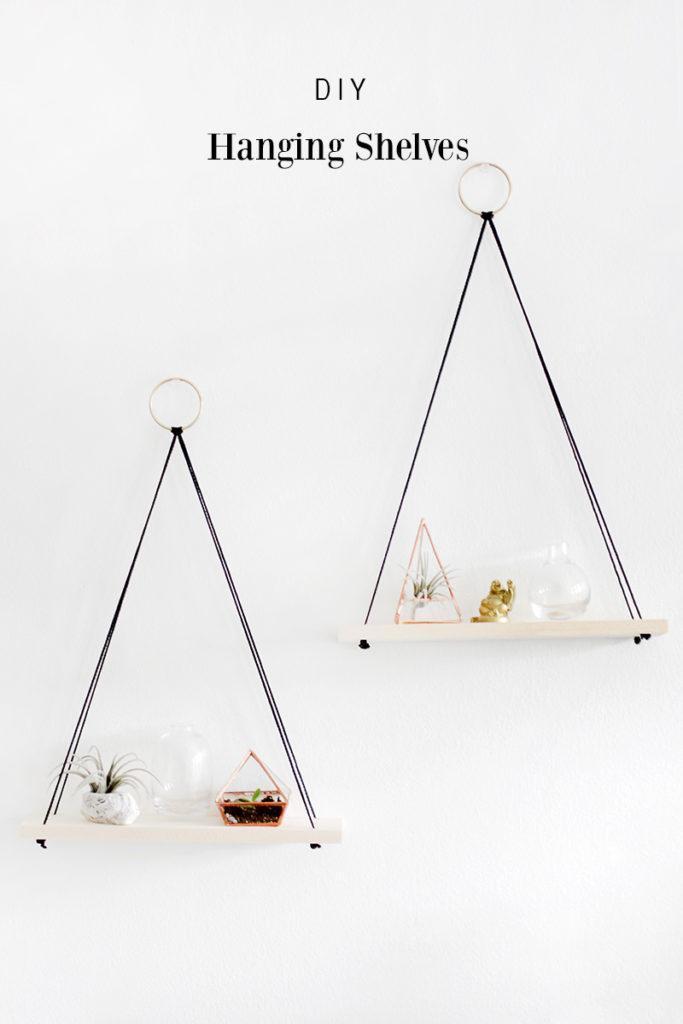 This Hanging Shelf is a unique design that will be functional and aesthetically pleasing to anyone who steps into your living room or anywhere this hanging shelf is installed. There are many shelves of different shapes and sizes, but this is a unique design. The triangular shape is unlike anything you have seen before, and it's made even more enjoyable with the hanging rod coming up through one side; It will add many characters to an empty wall or your living room.
DIY Macrame Hanging Shelf
Looking for a simple, affordable, and customizable DIY project to do at home? With this Macrame Hanging Shelf idea, you will have a new way to decorate your home with style. This project offers the perfect combination of rustic and modern elements. You won't believe how easy it is to make your own hanging shelf out of a typical board and some string. Just follow the instructions in the video above, and you'll be done in no time. This project is far too inexpensive to stress your pocket or keep you worrying about how you'll afford it at night!
7. DIY Hanging Rope Shelf
Are you looking for a Unique Hanging Rope Shelf? This easy DIY project allows you to create a beautiful and unique shelf from scratch. Not only will it be highly durable and sturdy, but it also allows you to display all of your favorite items in style. This DIY Hanging Rope Shelf is an affordable, easy-to-make option to liven up any room. Its simple design and easy functionality make it a great addition to the fashionable and functional home. This is the perfect way to display your favorite knick-knacks and keepsakes. The DIY project comes together quickly with just a few supplies from the dollar store.
How To Make A Hanging Shelf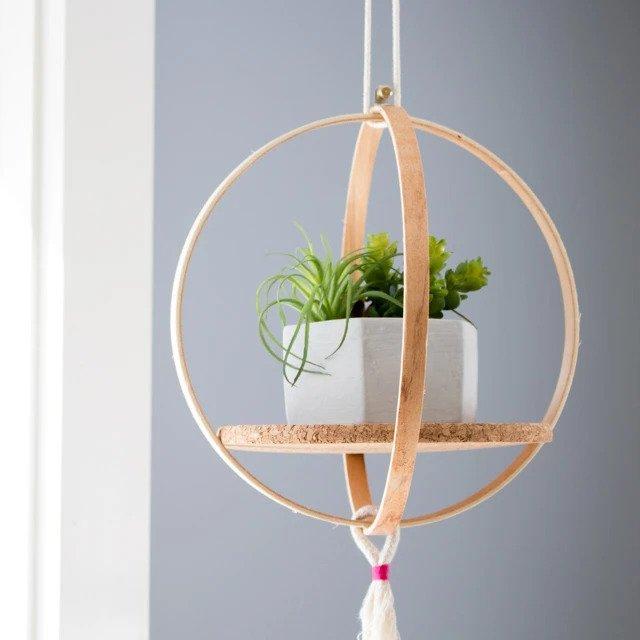 A hanging shelf is a terrific way to add extra storage space to any room. But you can also use these shelves to make custom arrangements, like this one with recycled old embroidery hoops. This is a simple DIY; It takes about 2 hours from start to finish, and it looks super cool! This makes an excellent gift for a friend who loves plants as well. Add some brightly colored flowers or greenery, and you have yourself a creative decorating idea for your home! Follow this guide on making an embroidery hoop hanging shelf and find out just how easy it can be.
DIY Hanging Rope Shelves
This is an outstanding solution for you if you want to improve the look of your space and provide a vast storage capacity. This hanging shelf is super easy to install and can be built in just a few hours. You can try different designs using various materials, like metal or wood with rope, but the recommended item is to use a rope to avoid damaging your walls when assembling. The step-by-step process and instructions in the tutorials make it easy to understand and follow.
DIY Round Hanging Shelf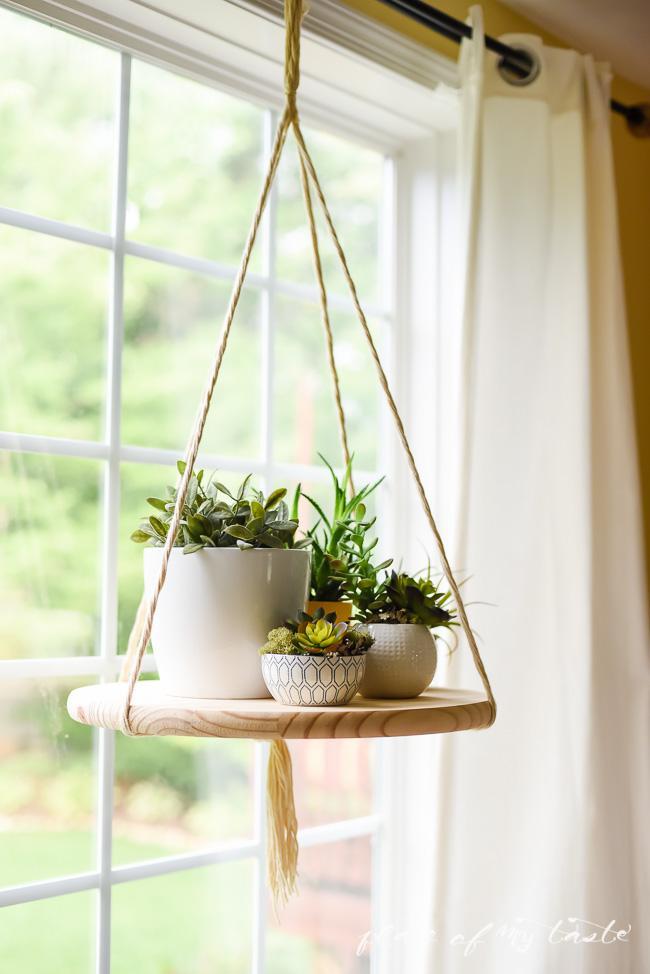 This DIY hanging shelf is an excellent choice if you're looking for a hanging shelf that can hold up a couple of small flower planters. It's easy to build with some basic materials and will look great on any wall in your home! This hanging shelf can display your plants, herbs, and other small items like keys. This hanging shelf is easy to build and perfect for showing your favorite small things. It can hold up to 6 planters or anything else you want to display! This is a super easy DIY project and will take a few hours to complete.
Dollar Tree DIY Hanging Rope Shelf
Hanging Rope Shelf is a simple and cheap DIY project. It doesn't take much to make it, just some rope, wooden planks, and intention. It is one of the most helpful tools if you have a small space. This shelf is ideal for smaller rooms around the house and uses some pretty cool materials you can pick up from your local dollar store! If you don't like to spend much, this hanging shelf might be what you are looking for!
DIY Easy Hanging Shelf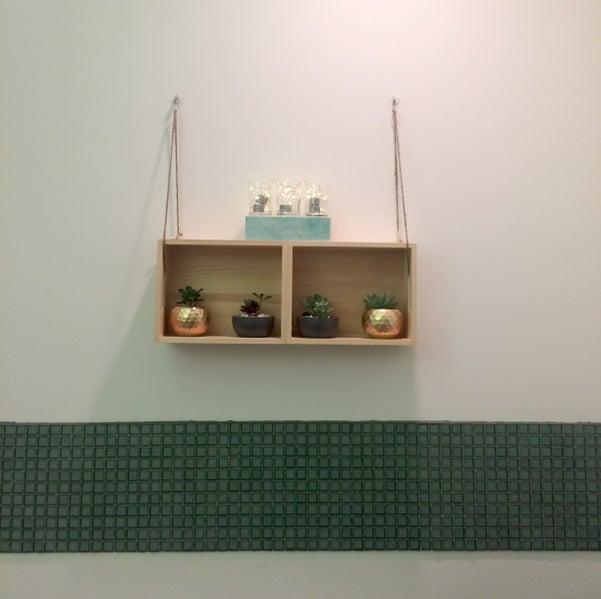 Do you want to hang a shelf in your room? We have the perfect DIY project for you. This shelf is quick and easy to assemble, has a beautiful design, and it's efficient. You can paint it any color that matches your interior design. You could also use this idea to organize books or collect everything you need, like keys, cell phone chargers, and other valuables. This DIY guide has everything you need to make your own beautiful box-like shelf on your home or office wall.
How To Make A Decorative Hanging Shelf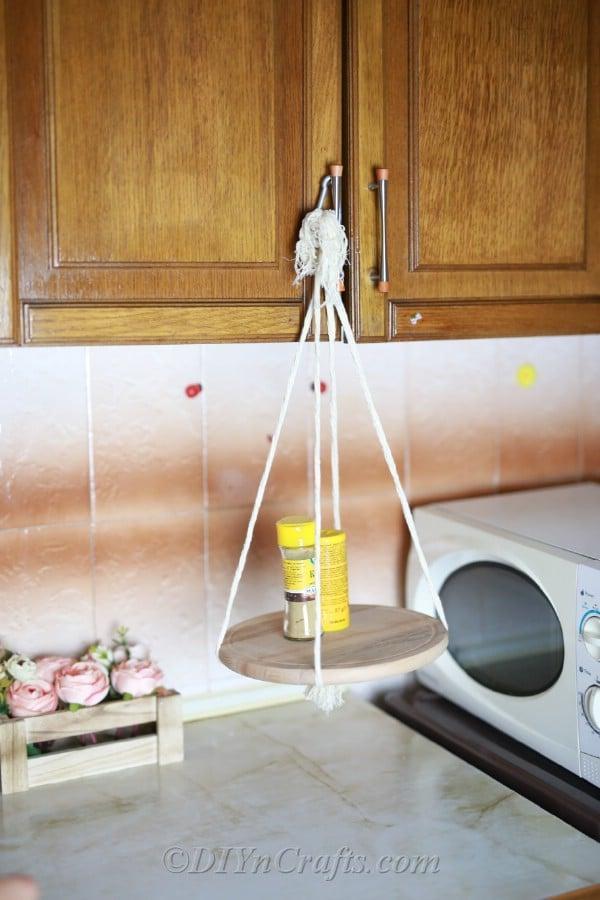 Here's the answer: if you are looking for a unique way to display your favorite items and bring life to your kitchen or dining room. This shelf is a great way to get started in adding DIY decor that is both functional and fashionable. This simple design is easy to create and won't take more than an hour from start to finish. This hanging shelf is easy to make and can be installed in many places. It can be used as a decorative or functional item, depending on what you store in it.
DIY Hanging Microwave Shelf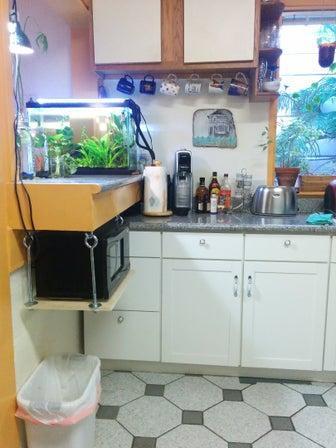 This microwave shelf is the perfect and simple solution if you're looking for a way to preserve space in your kitchen. Building this microwave holder is easy to do in the DIY spirit. It's an excellent project for those who like to make things themselves, and it can be finished in an hour or so with only a few simple tools. The result is a sturdy shelf that's easy to install when you know how, yet it still looks beautiful in your kitchen or any other room where space is at a premium.
DIY Hanging Acrylic Shelf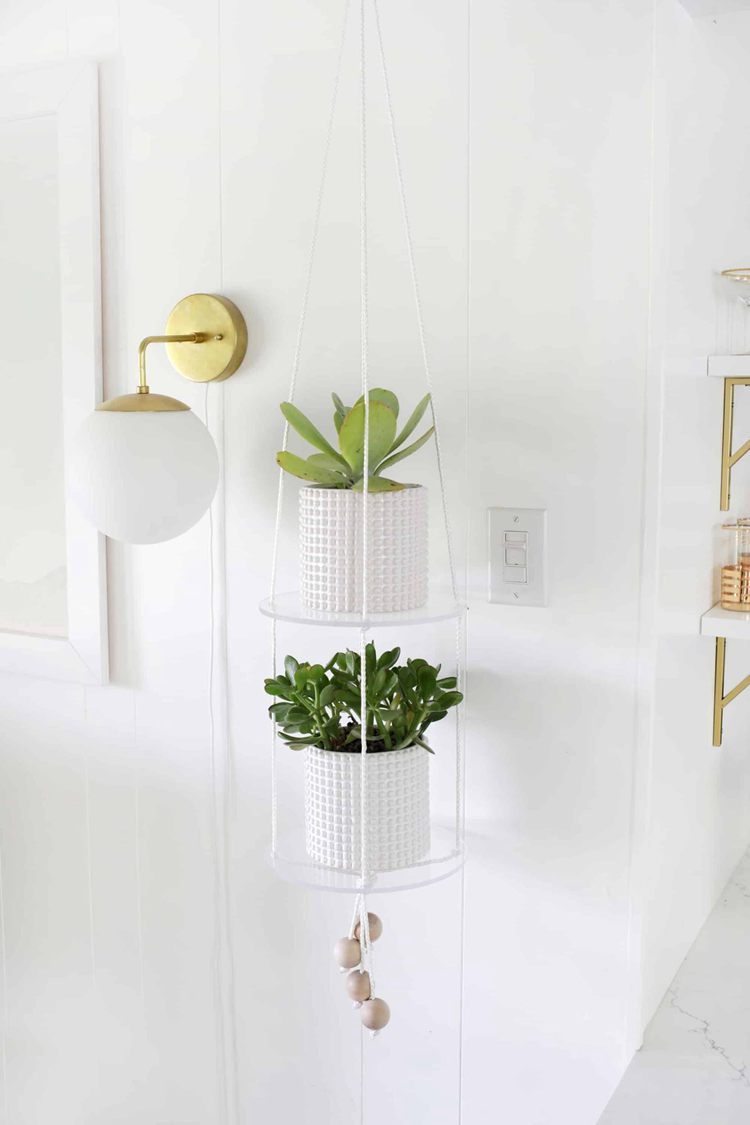 This unique hanging acrylic shelf can add a stylish and modern touch to your home. It's easy to assemble and install, so you can devote time to creating a functional space for all your things. Hang it on your wall to store books, decorative objects, and jewelry, or add some flowers from your garden to make some room feel more warm and cozy. You could even give this as a one-of-a-kind gift to your friends, family, or loved ones!
DIY Rope Shelf
Are you looking for a creative and easy way to add storage and style to your space? A DIY rope shelf is just the thing! This DIY project is super easy, and you can whip it up in an afternoon. The rope shelf makes a great kitchen décor, but it's also great for organizing things and storing goodies in the pantry. You can Build your own DIY Rope Shelf! This step-by-step video tutorial will teach you how to build a shelf using rope and hooks.
DIY Affordable Hanging Shelves
DIY hanging shelves are a terrific way to add extra storage space to your home. The best part? They're super easy to make and don't require any power tools or expensive materials. This project will save you time, money, and frustration. They'll be a great addition to any room - in the kitchen, living room, den or bedroom. They look so good, and you'll love having all your books and knickknacks on display. If you're looking for a quick and easy way to add storage to your home, you need to check out this DIY hanging shelves video guide.
DIY Hanging Rope Shelves
These hanging rope shelves are exactly what you need to make your space beautiful. It is super easy to make and can be done by anyone. This hanging shelf is an excellent alternative to the more expensive ones you can find in stores. It's also nice that it's made from wood, which means it's durable and long-lasting; These Rope shelves are a fabulous way to show off your favorite books and decorations. With this DIY Hanging Rope Shelf tutorial, you can make a simple and cheap bookcase that hangs on the wall without harming your walls.
DIY Easy Leather Strap Hanging Shelf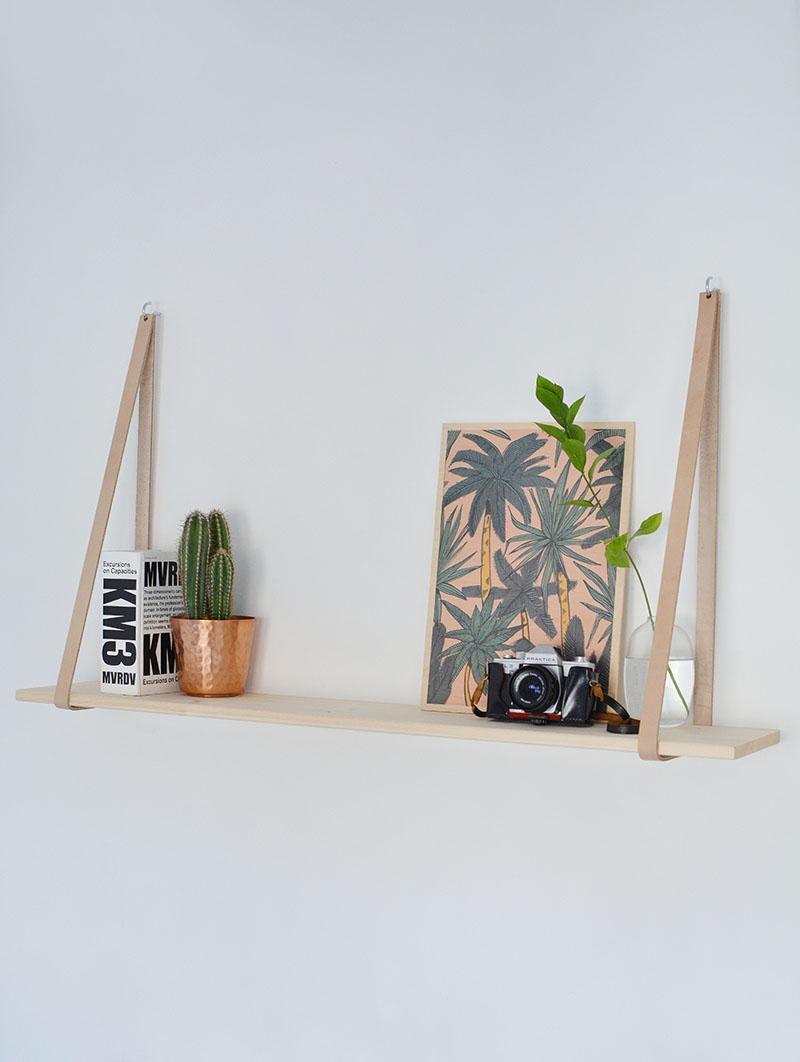 Do you need a handy yet attractive shelf that can be used in any room at home? This DIY project will help you build a leather strap hanging shelf. You can use leather straps that you have lying around your house or those that you can get pretty cheaply from any leather store. It's not hard to build and will last forever; plus, it gives you plenty of storage space. You can make this hanging shelf that is both useful and beautiful for your home. Go through the guide below that show you the complete procedure.
DIY Hanging Rope Shelf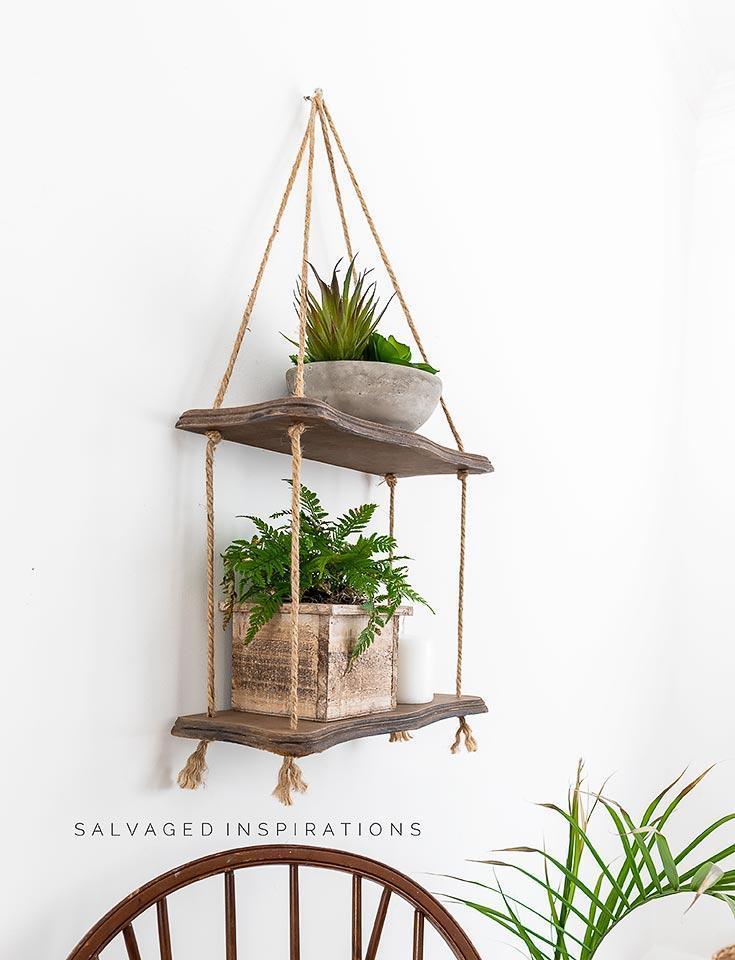 This shelf made from wooden pallets is a great way to keep things at hand. You can build this in your garage or storage area and use it for tools and gear you use frequently. It's easy to make and will help you stay organized as it holds your tools and supplies. This creative DIY hanging shelf uses recycled materials to save money. Combining a decorative magazine rack and your creativity can create beautiful shelves at a fraction of the price.
DIY Hanging Shelves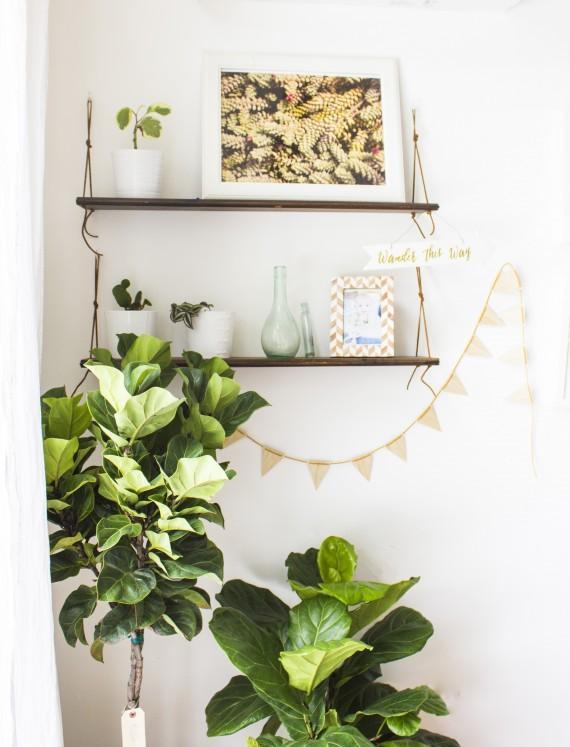 These hanging shelves are one of the most practical and valuable projects at home. It's easy and cheap; you just need a rope or belt strap and no need for any tools. It will save you tons of space in your house; use it as additional storage for books, clothes, or toiletries. You can also make this project in many forms: triangular, square, hexagonal, etc. If you want to create a cool and minimalistic hanging shelf? This tutorial explains how to make a super simple, inexpensive, and sturdy hanging shelf.