20 DIY Hangboard Plans For Strengthening Your Fingers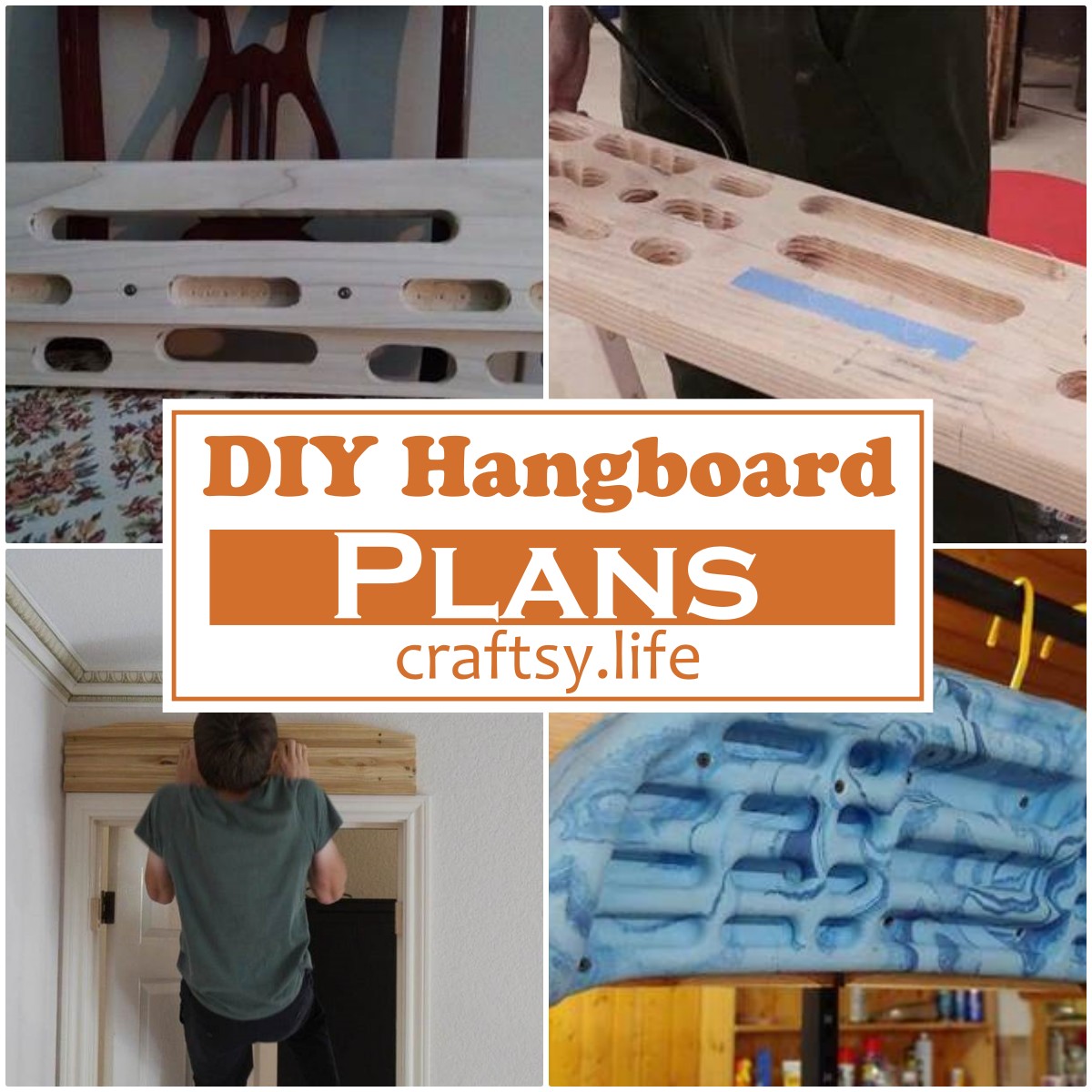 DIY Hangboards is a great training tool that helps climbers improve their grip, strength, and endurance. For the DIY-inclined, building your own hangboard is a fun and low-cost project that will pay off in your climbing gains. Hangboards can be customized to fit your training needs, but many people build wooden frames with wood screws to hang from. You can go barebones and design something on your own (like this minimalist one), or you can fill up all the spaces with cool accessories like jugs and pockets—and anything in between! If you're looking for handholds to put on your new board, look no further than the ever-popular Metolius Wood Grips.
How To Make DIY Hangboard At Home
Hangboards are used to build finger strength and endurance, and they can be a great asset to any climber, no matter their level. If you're new to climbing, that doesn't mean you have to spend money on one. There are plenty of homemade options out there that can help you build your strength without breaking the bank! Some DIY Hangboard ideas are easy and won't cost you anything, while others might take a little more time or Money. Either way, they'll all give you a way to get stronger so you can climb even better than before. These boards run the gamut from simple to complex and consider a wide range of experience levels.
Benefits Of DIY Hangboard Ideas
There are many benefits of doing hang boards at home. Some of them are listed below:
Save Money: DIY is one of the best ways to save Money. You can make your own hang board at home for less than $50, and it will work just as well as any other commercial model.
Customize Your Board To Your Needs: You can customize your board to fit your needs and requirements perfectly. Moreover, you can make it as simple or as complex as you want!
Make It More Fun: If you are bored with the same old commercial hang boards, try making one yourself! This way, you will have something unique and fun to use in your training routine again!
Homemade Hangboard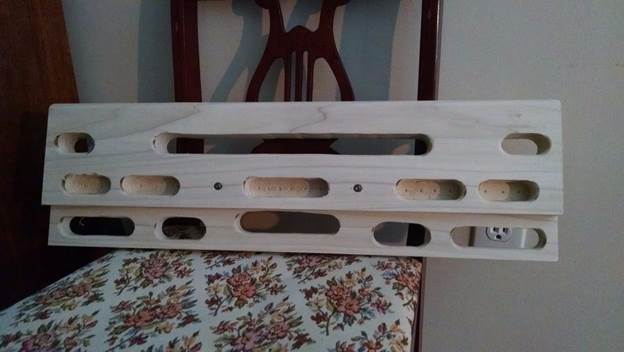 This wooden hangboard is one of the best homemade hangboards on the market. It is very simple to make and will surely improve your climbing experience. You can even paint it the color of your choice. This is ideal for kids because it's small and easy to carry around. This hangboard is an excellent piece for anyone who would want to work out at home without the expense of purchasing a large climbing wall. This is also a great gift for those who do not have access to a gym or coach but still want to stay in shape and improve their climbing skills.
Portable Hangboard DIY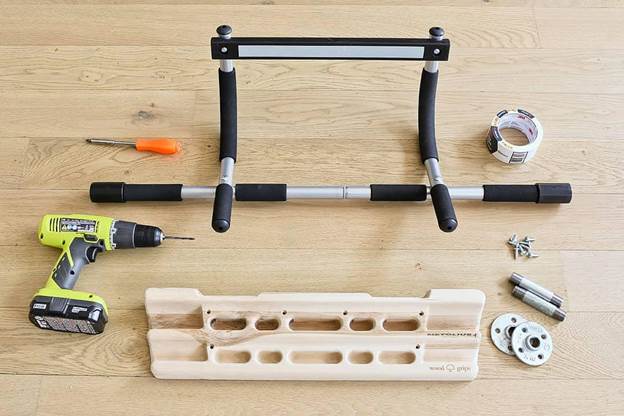 Portable Hangboard DIY is a handcrafted portable hangboard. This kit has the two slings you need to hang your board and the hardware needed to make it. It also includes instructions on constructing your board in four simple steps. The set is lightweight, fully adjustable, and can be placed anywhere in your house or outside. You can choose from several different patterns or get creative and create your own!
Standalone Flexible Hangboard DIY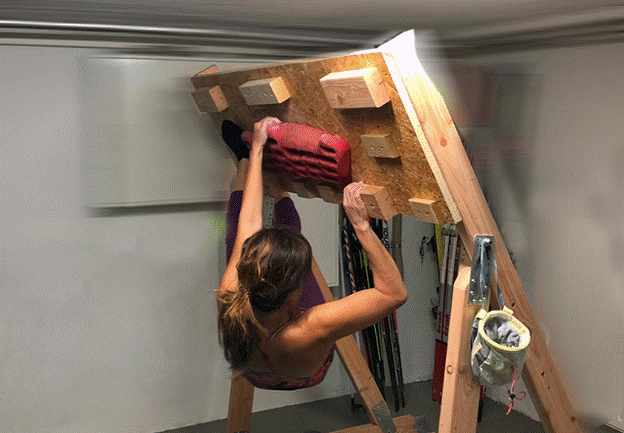 Hang board is an essential part of your climbing setup. With it, you can improve your climbing by getting ready for challenges while improving strength and power. But many people think they can only use the hang boards sold in shops; this is not true because you can get yourself a DIY hangboard. This wooden hang board is a perfect tool to help climbers improve their climbing skills. The board offers several difficulty levels and comes with slaps where the fingers can be placed. The board also comes as a standalone, so it doesn't require any holes in your wall or ceiling, which saves you from trying to fix something later.
DIY Hangboard For Less Than $15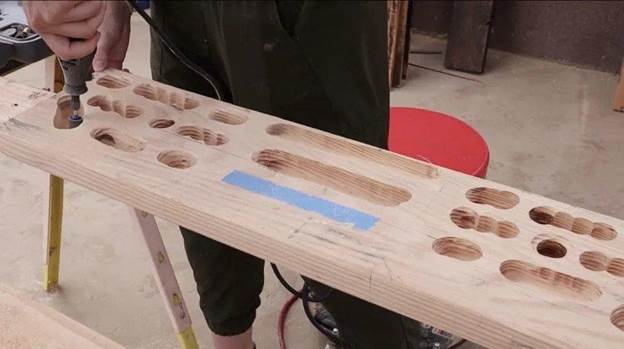 If you're someone with slightly wider hands than the average person, this hangboard could be a great fit for you as it features hand-sized holds. This hangboard is a complete setup constructed from quality materials that will last many years of use. This hangboard is for someone with long fingers that may not be able to fit on other hangboards. Just stick this board up in your garage, shed, or anywhere the teenagers aren't going to find it! This wooden fingerboard is great for any beginner climber just getting their feet wet.
How To Build A Hangboard Without Drilling Walls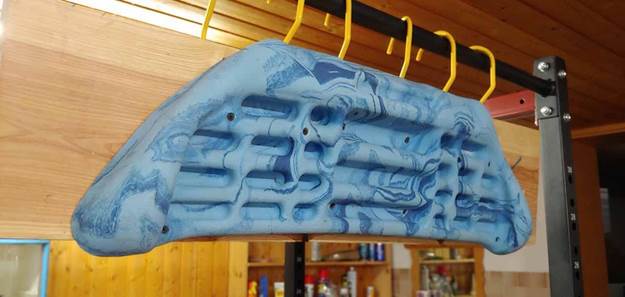 If you are looking for a hangboard but want to avoid using a drilling machine, this hangboard can be used by you. You do not need any drilling machine at all. All you need is a router and a board ready to be installed on your wall. This one can give you the benefit of holding different workout tools without losing their originality, with no drilling process needed. Protect your walls! No drilling, no screwing, no putty. This hangboard mounting system is a simple way to build your own fingerboards without having to drill holes in the walls.
DIY Hangboard Stand
Nowadays, DIY stands are available online. The hangboard stand is a product, and you can easily create one. Also, these stands are portable. That means you have the freedom to move it around as you please. All you need to do is attach your hangboard to the stand, and it is ready for use! Create your hangboard stand to create the perfect climbing space in your garage or home gym. The stand is assembled from basic boards and brackets, making it easy to transport anywhere – even to a friend's house for a killer workout.
Slat Style Hangboard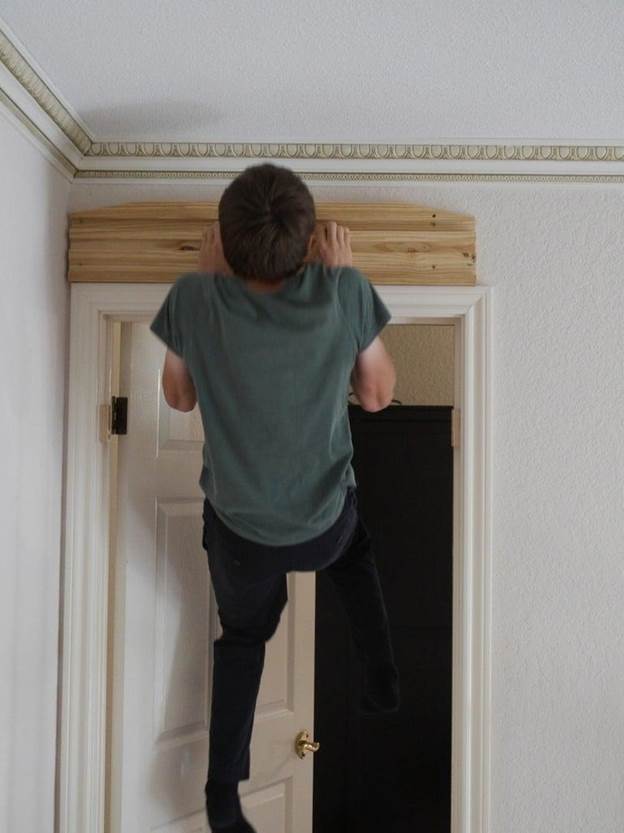 Simple, yet unique and functional. This hangboard is the perfect solution when you need a quick, simple, and easy to build, effective board for climbing training. This hang board is suitable for anyone who wants to start training and doesn't want to get too technical. The construction is simple yet effective, with a 2-centimeter-thick slab of wood attached to walls with heavy-duty hooks. Hang it wherever you like, and you're good to go! This classic hang board is a great way to break in new shoes and train finger strength quickly. The slat-style design will provide comfort while allowing air circulation to help keep your hands dry.
DIY Hangboard
If you're looking for a hangboard that's more than just a board with grips, this DIY option by Crazy Stone is great. It uses non-splintering wood and comes with easy-to-follow instructions. This is also a cheaper alternative to buying all materials separately, but you should ensure that your local hardware store carries all of the necessary pieces before attempting this project. This quick and effective workout improves grip strength, agility, and endurance. All you need is non-splintering wood and some drill bits to get started.
DIY Hangboard Mount
If you've recently purchased your first hangboard and are looking into finding a way to mount it on the wall without breaking the bank, this is the tutorial for you! It will show you how to build an easy-to-install, affordable, functional DIY hangboard mount. So you have a hangboard. Awesome, now it's time to install it in your home gym! This DIY hangboard mount tutorial shows you how to make a perfect hangboard mount from scratch and also what tools you might need for the job.
How To Mount A Hangboard Without Drilling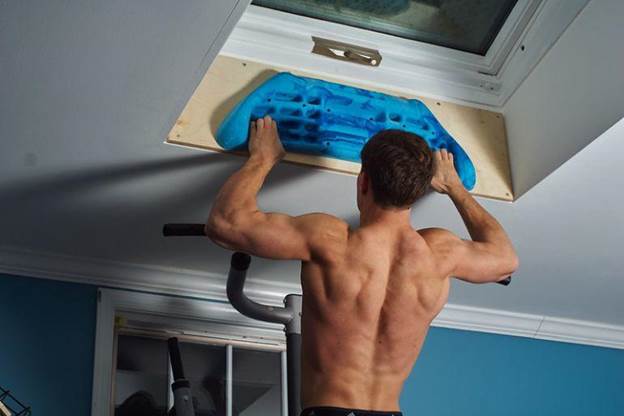 Do you want to install a hangboard in your home? But you don't want to drill holes in the walls? This guide will teach us how to mount a hangboard without drilling. Hangboard is necessary for climbers serious about becoming the best in their sport. A hangboard offers unique grip training surfaces to mimic real rock or wood climbing. However, hangboards may be restricted if you live in an apartment, condo, or other building that does not allow drilling holes into the walls.
Making A Climbing Hangboard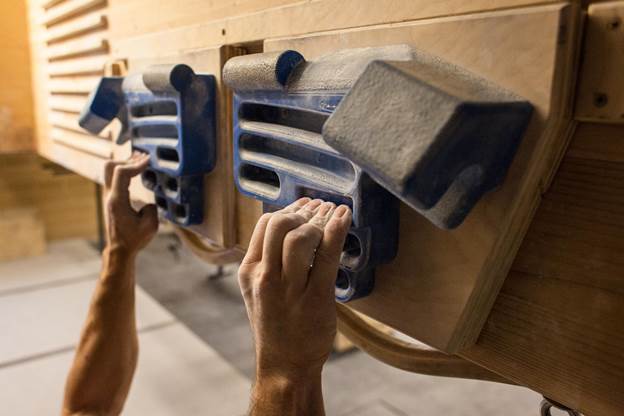 Why not make your own hang board? It's perfectly customizable, and you can put it wherever you like. If you have access to wood and a saw, you'll need time and elbow grease. You can either purchase or make your own hang board. Making a hangboard is an enjoyable project, providing you with something to work with your hands and a climbing accessory that you can fit in any corner of the room. This project requires basic easy-to-find materials, a few power tools, and a little knowledge about how to use them.
DIY Hangboard Build
A hangboard is an essential part of any climber's training routine. It mimics the resistance training effect you get from climbing and helps build strength, stamina, and finger strength. But building a hangboard is not as easy as just buying one. With this DIY hangboard tutorial, you'll learn how to build a unique hangboard with recycled wood that will be made entirely by hand out of salvaged discarded timber. This DIY hangboard guide will teach you how to build a hangboard home. Making one yourself will save time and Money, plus have undeniable bragging rights.
Low Budget Hangboard
Are you looking for a hangboard that won't cost you a fortune? Then this one is the perfect option. It costs very little and even comes with instructions on how to make it at home. The thinking behind this board is to find ways to save you time, Money, and energy when making hangboards. You can build an awesome hangboard without spending $40 or more on materials. The process is pretty simple, too; check out the video, and it should be clear how easy it is to build a hanging board for just about any level of climber.
How To Make A Hangboard In A Day
If you have the time, a hangboard can be built from scratch in a day. The time will vary depending on how much work you can do and how long it takes to get the materials cut to size. The 4 x 4 wallboard is the most popular and simplest type of hang board. It's ideal for homeowners with smaller budgets who want to install a hangboard in their home gym or garage. The materials needed to build this hangboard are typically easy to find at local home improvement stores and hardware shops, making them more affordable than many other hangboard styles.
How To Make A Perfect Hangboard
This guide will get you started if you want to make your own hangboard. The hangboard is constructed of wood and drywall screws, making it a durable choice for street and in-home use. Hangboards are almost always worn out over time because of chalk residue, making your hangboard last longer than normal! Building and hanging your own hangboard is a great way to ensure you have everything you need to train properly and set up exactly how you want. This guide will walk you through key decisions during the building process, then show you how to assemble your hangboard.
Backyard Climbing Wall DIY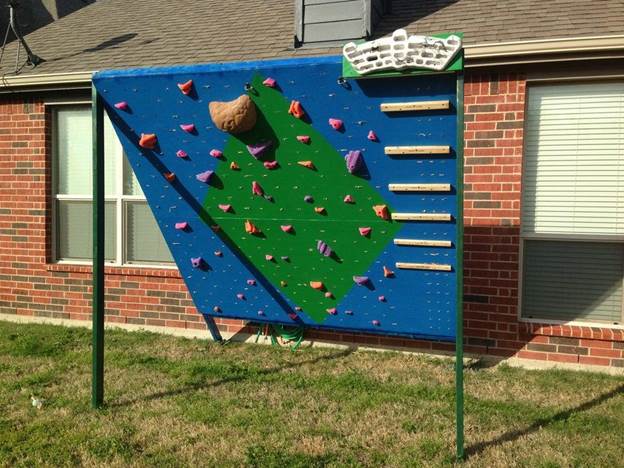 This backyard climbing wall is perfect if you're looking for a new way to entertain the kids or enjoy some fitness time outside. The Backyard Climbing Wall DIY takes your backyard to the next level. It will be a complete transformation when the sun goes down, and you get the chance to show off your new addition to your neighborhood. After spending hours shaping each board, you'll have an outdoor wall that looks great and features plenty of handholds for every level of climber.
DIY Hangboard With Pull-up Bar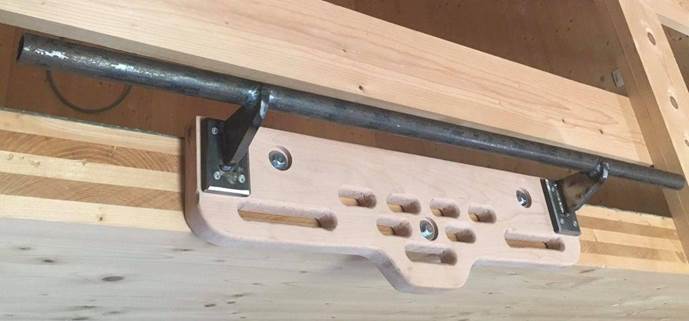 If you're looking to make your own hangboard, including the pull-up bar, this DIY hangboard is something you should try out. This DIY Hangboard with Pull-Up Bar is a great way to kill two birds with one stone. You get a hangboard and pull-up bar all in one. The wooden design makes it easy to install and can brighten up any gym or bedroom wall. This hangboard is a DIY project that focuses on strength and endurance training for climbing. It has a pull-up bar for extra upper-body strength and endurance, which we all need when climbing.
DIY Hangboard For Climbers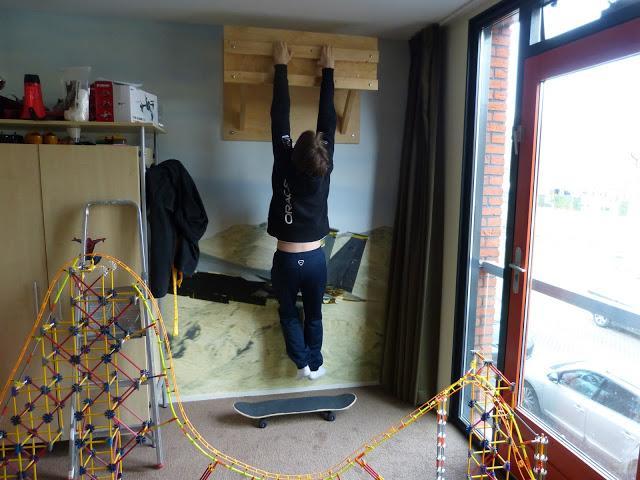 Now you can get your dream hangboard home without having to drill holes in your wall. This DIY hangboard uses pieces of wood instead of screws, making it easy to turn from a homebrew project into something climbers can use. This hangboard for rock climbers can construct without special tools other than a circular saw and some drill bits. Make your Hangboard for Climbers with this step-by-step DIY tutorial. This DIY Hangboard will help climbers develop the strength to progress on their climbing goals. It will be a great addition to any home gym, garage, or basement.
Making A Climbing Hangboard
This DIY Hangboard makes the perfect gift for your climbing partner. The design process is easy and can be completed on a computer with special software. After designing the hangboard, you'll need to create an initial template of the size of your handholds using chalk. This template will make drawing out the design and cutting each wooden block easier. This is an awesome DIY hangboard project. Make it and enjoy your daily rock climbing sessions. The board comprises a main surface, crimps and pinches, campus rungs, and even a dyno!
How To Build A Climbing Hangboard
Learn how to build a unique climbing hangboard from the creator of Climbing Holds, Todd Pherson. This design is easy to build and will last you a lifetime. Making your own climbing hangboard is a great way to customize and save Money. Whether you are building your first board or already have one, it's always helpful to get some new ideas and inspiration! The result is an attractive and functional product that will help you work on your forearm strength while adding a decorative element to your home or office decor.
Hangboard And Chin Up Bar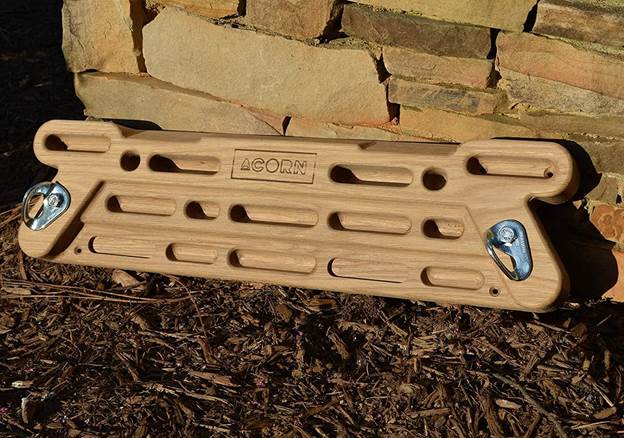 This DIY project is for you if you want a killer grip workout but don't have the money to spend on a full hangboard system. It's done with basic tools and some elbow grease. Once it's complete, there are moveable holds so you can adjust your grip work based on what you feel like training that day. This hangboard and chin-up bar is an easy project that turns a simple wooden board into an effective training station for your home gym. Add holds and adjust the distance from the wall to create a custom climbing wall perfect for your needs.