19 DIY Hall Tree Bench Projects For Rustic Decorations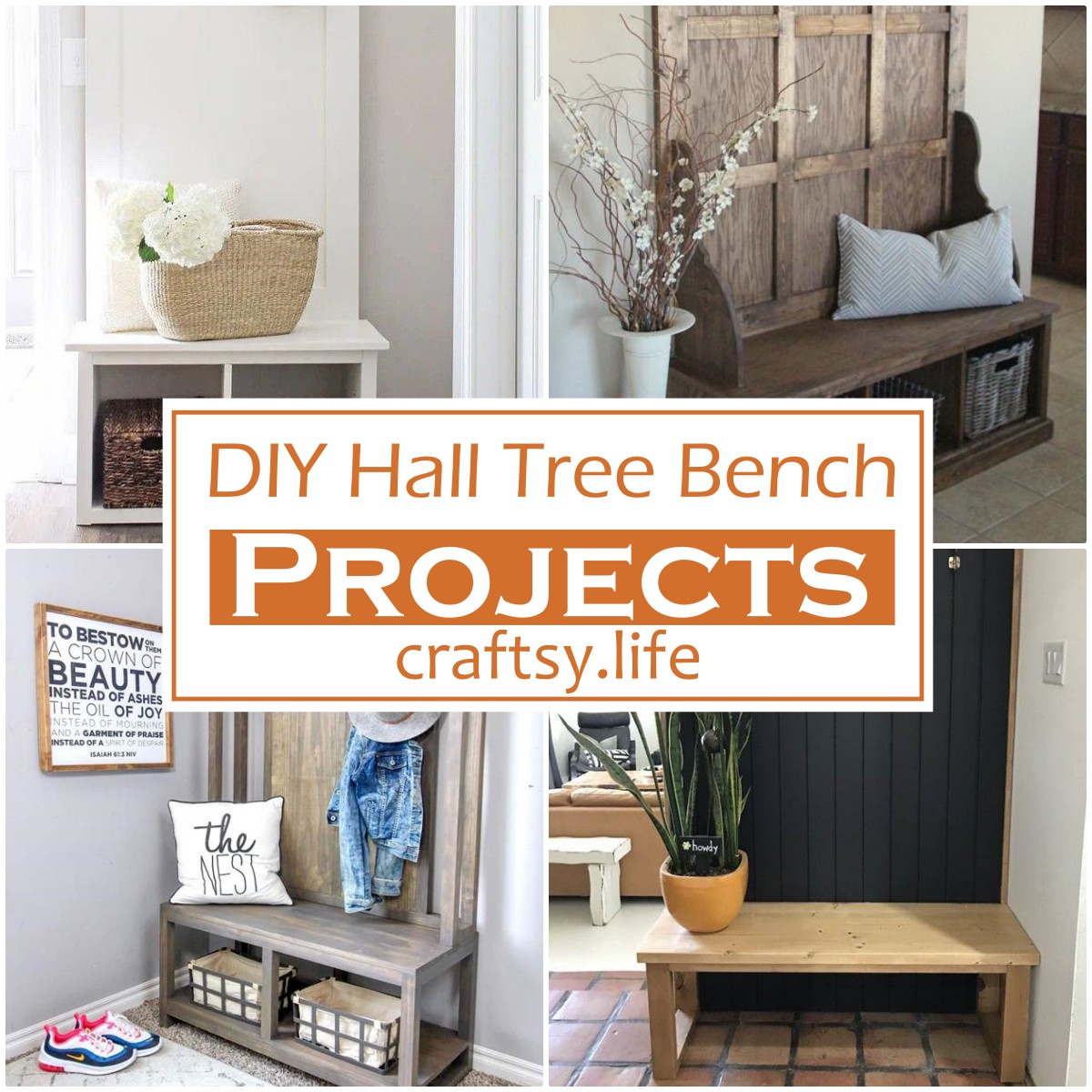 If you love the look of large hall tree furniture but want to avoid paying for it, you can build one yourself. With some plywood and a few power tools, you can create your own unique piece of country decor – whether it takes up space in the entryway or by the bathroom door. Add storage and seating to your entry with a project that combines your love of DIY and throwback-style furniture. From rustic to industrial, you'll find a wide variety of DIY hall tree bench projects to transform your entryway into a welcoming space.
Creative DIY Hall Tree Bench Plans For Indoor & Outdoor

Do you have a hall tree that needs to be functional enough? That is the fundamental question that led to the creation of these 19 DIY projects. Some of these projects are from blogs that specialize in furniture making, while others are from blogs that do not. They all share the same necessity: more storage space in a hallway or entryway. These DIYs involve building a DIY Hall Tree Bench and range in difficulty from beginner to advanced. The best part is that all these ideas are easy to do, so even if you're not the most experienced DIYer on the block, you'll be able to get the job done in no time!
Benefits Of Building DIY Hall Tree Bench Projects
The Hall Tree Bench is an essential storage piece for your home. You can use it to store shoes or coats, but it also makes a great place to sit down and rest your feet. Hall tree benches are an easy DIY project you can make in just a few hours. Here are some of the benefits of DIY hall tree bench projects:
Saves Money: The cost of making a hall tree bench yourself is much less than purchasing one from a store or online retailer. By doing it yourself, you'll save money by buying materials in bulk and not paying for labor costs associated with shipping and assembly.
Gives You More Options: You can choose the wood you want to use or customize your design based on what you have available at home or what looks best in your space.
Improves Functionality: A DIY hall tree bench will fit perfectly into any space because you can customize it according to your needs.
DIY Hall Tree Bench
If you love the idea of a hall tree bench but want to save Money, this DIY project is for you. It's made from simple materials found at most home improvement stores and costs less than $100. Along with being attractive, it also serves as a bench, coat rack, and seat – perfect for your entryway or mud room. It's the ideal storage solution, from your mail and keys to kids' toys and backpacks.
DIY Farmhouse Hall Tree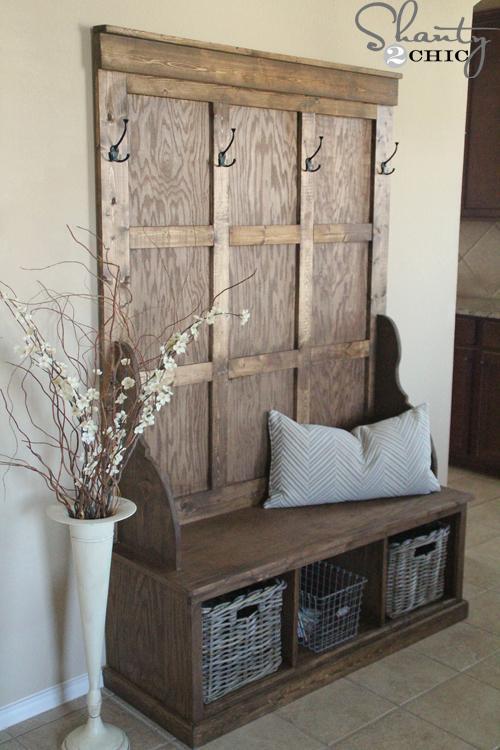 This DIY hall tree is the perfect addition to your farmhouse. Start with a rough-hewn Barnwood base, add an oak top, and finish with a pine door. You'll have a handcrafted piece of furniture that looks straight from your great-grandparents' place. This DIY farmhouse hall tree adds a functional and charming element to your home. This project includes walkthrough videos, detailed photos, and detailed cutting plans to help you build your dream hall tree.
DIY Hall Tree Bench Plans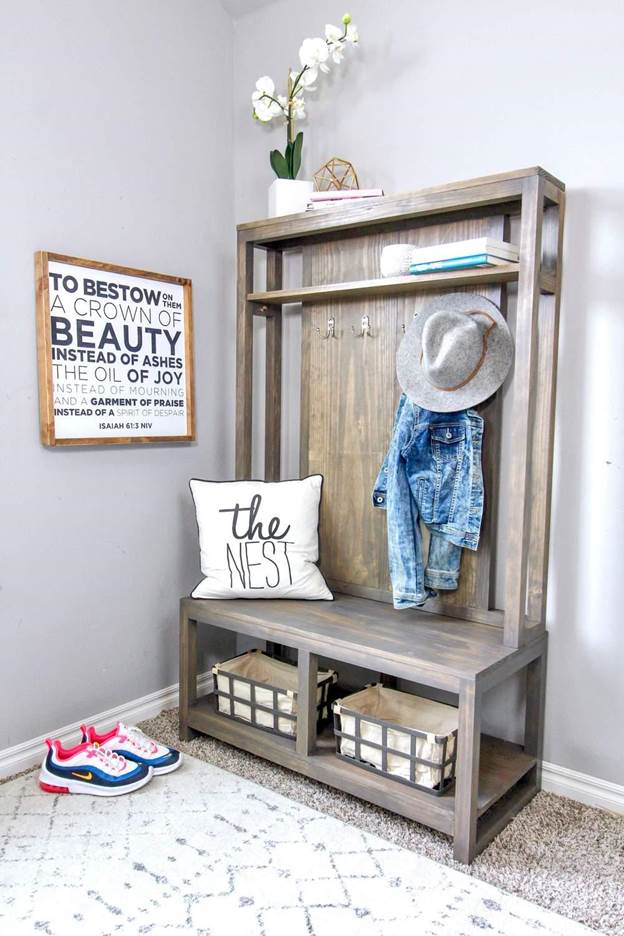 If you're looking for a functional and stylish piece of furniture that can double as a bench and hall tree, then this DIY project is perfect for you. It creates a unique, modern look that can be used in any house room. This DIY hall tree bench plan will show you how to build a durable, beautiful, and all-purpose storage bench in your home. The overall look of the bar is simple yet stylish and can fit any modern home décor.
DIY Hall Coat Rack With Bench
Transform your hall with a DIY Hall Tree Bench. This bench provides additional storage and style and features an upper body with coat hooks. This DIY Coat Rack With Bench is a simple hall tree bench you can build yourself. The Hall Tree Coat Rack With Bench features contrasting red cedar and pine and comes with all the hardware you need to put it together. Made from pine, this piece is built to be sturdy and last for years without breaking.
How To Make An Entry Bench
The DIY hall tree bench is a must-have for your entry. With accessible source materials and a beginner-friendly approach, you'll have this project done in no time! A beautiful finish is obtained by contrasting the baskets placed in the storage section against the white-colored frame of the entire piece. This DIY hallway tree bench makes the perfect entryway storage solution and couldn't be easier to build. Plus, with inexpensive materials and simple steps, you can build this one on the weekend—no need to hire a contractor or wait weeks for delivery.
DIY Hall Tree Storage Bench
A DIY hall tree storage bench is perfect if you need extra storage space! This piece is impressive on its own but paired with this DIY Hall Tree Bench DIY Bookshelf can make any house or apartment look big and spacious. The unique thing about this piece is that it has six storage box partitions across two layers in its storage bench. This DIY project can be easily modified to your needs and space constraints by adding, removing, and relocating various components and boxes.
DIY Hall Tree Bench Plans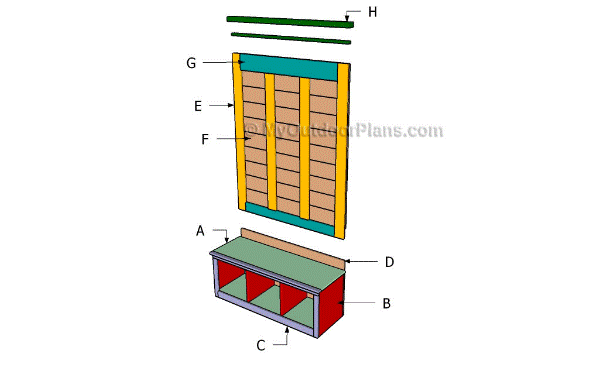 Get organized! This DIY hall tree bench has all the space you need to hide your mess while simultaneously showing off your style. The classic design is easy to follow and won't take long to make. This bench is customizable, too. Just change up the colors and hardware as you like. It provides plenty of storage for your coats and shoes and two small shelves in case you need more room for a full coat rack.
DIY Modern Hall Tree Bench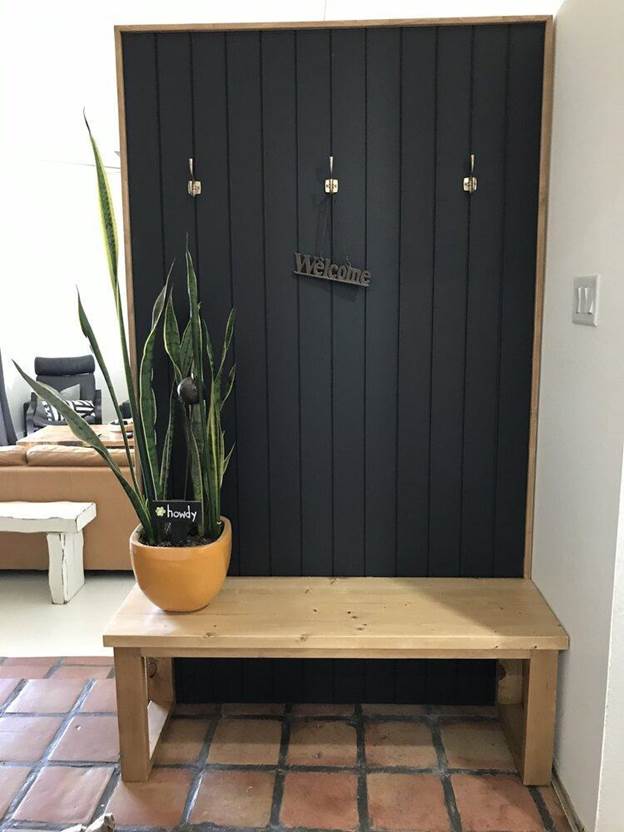 This DIY modern hall tree bench is the answer when looking for a stylish yet functional entryway piece. Requiring just two simple cuts and one hour, it's easy to assemble and sturdy enough to last several years. Create your own Hall Tree Bench using this DIY Modern Hall Tree Bench plan. Not just for hallways, this project has lots of storage options for coats and accessories. Create the perfect piece for your entryway or mudroom by adding any style or stain.
Modern Hall Tree Bench DIY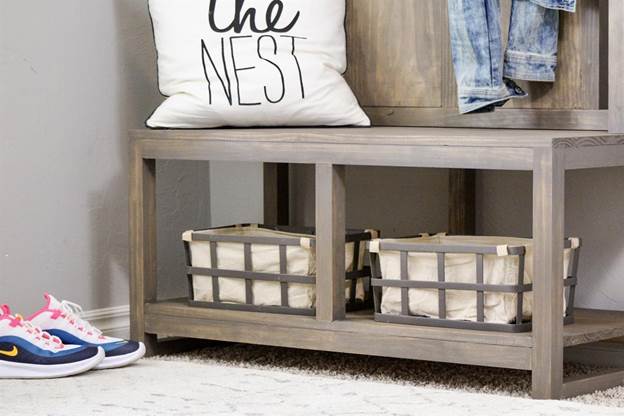 Who says you need special skills to create your stylish hall tree bench? This easy-to-follow DIY guide walks you through the steps of making your very own hallway tree bench. This DIY Hall Tree Bench is the ultimate solution for a problem space in your home, and it's super fun to build! This DIY project shows you how to build a shelf that looks like an ornate tree bench. It may seem intimidating at first, but once you get started and see how easy it is, you'll soon be on your way to creating your own unique piece of functional art.
How To Build A Hall Tree With Chalkboard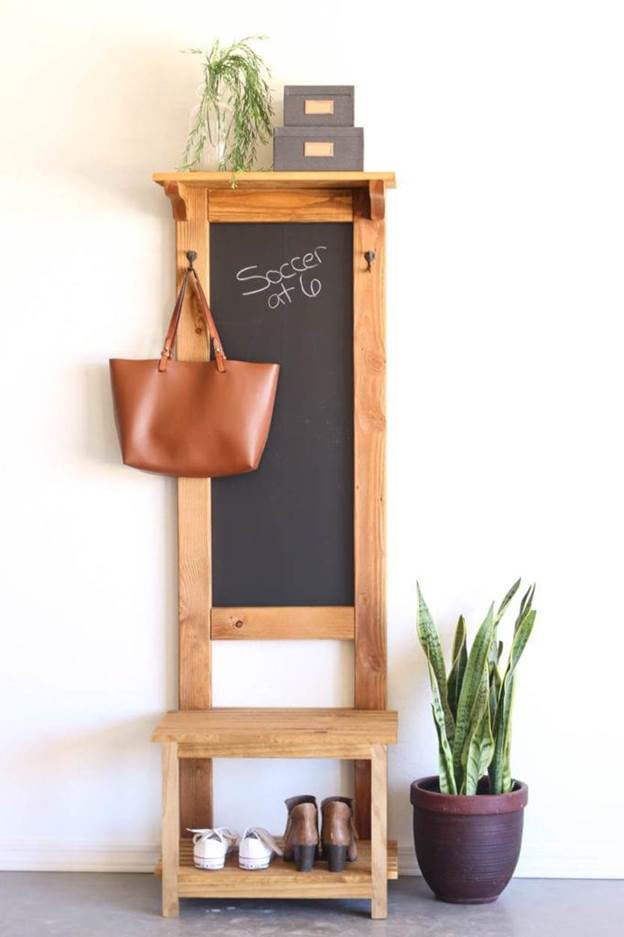 You do not need to buy a new hall tree bench; you can use an old chalkboard that is no longer of good use and build a chalkboard hall tree bench out of it. The best part is that you'll save money since it costs less than $100. This is a super easy and cheap alternative to the usual entryway piece you can buy! This hall tree bench with a chalkboard is so simple and practical that you'll be amazed at how much you can get done in no time. Plus, it looks adorable!
DIY Pallet Entryway Bench
An excellent entryway bench can make a massive difference in the feel of your home. This DIY pallet bench is perfect for creating a small nook inside the front door that helps transition you from outdoors to indoors, and all of the items you need for coming and going will be right at your fingertips. The design has a rustic touch with lines that stand out, whether it's unexpected guests or your family members. It also functions as an excellent place to sit down after a long day of exploring, making it a great place for parents to sit down and catch up on the day.
You can also see: DIY Garden Bench Plans 
DIY Hall Tree Storage Racks
Build a shoe storage bench with drawers and hooks to keep mudroom clutter under control. This hall tree has wide, sturdy shelves and plenty of room for all your family's favorite shoes. Use this bench as a recipient table, entryway shoe tower, or mudroom seating. Space is only sometimes abundant in smaller homes, but this simple DIY project takes up little room even when fully assembled and provides plenty of hidden storage space.
Hall Tree Bench Build DIY
If you need a slim hall tree to keep your family's shoes organized, this DIY hall tree is perfect. Its clean lines and simple design will fit into any room you choose. This tutorial shows how to build it from scratch; woodworking experience is unnecessary. This DIY hall tree bench will be the perfect addition to your home. Watch it come together and add the finishing touches of paint or stain. This simple, slim hall tree is a great way to start your DIY projects!
How To Make A Coat Rack Bench Hall Tree
A coat rack hall tree bench is essential furniture in any entryway. It creates an organized, stylish way to store and show off your coats, purses, and more. This DIY project shows you how to make an essential hall tree bench – with easy-to-follow instructions and all the necessary materials. With this easy DIY project, you can make a cheap, rustic coat rack hall tree bench yourself. You can pre-cut your wood while buying to make your work easier and ensure you have accurate dimensions. You'll only need tools like a hammer, saw, or drill to build this piece.
DIY Shiplap Hall Tree With Bench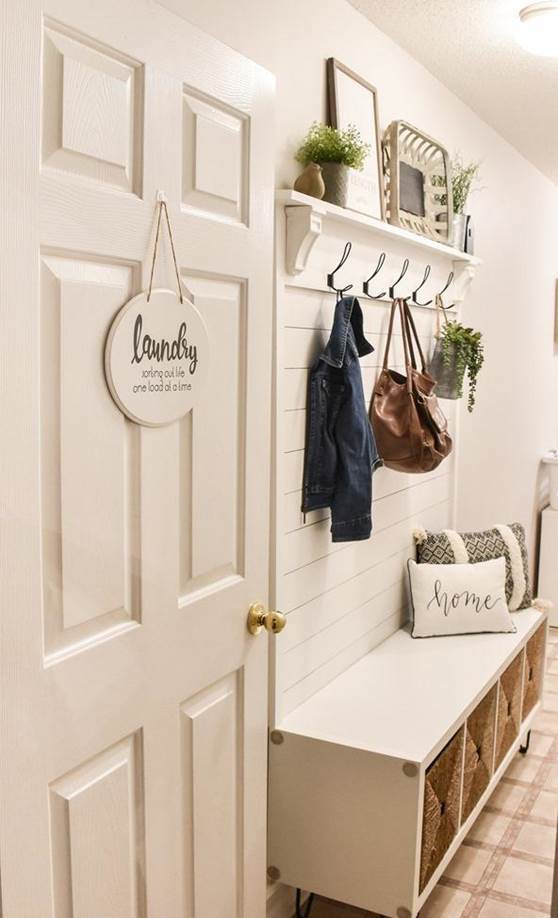 If you're looking for a space-efficient way to organize your entryway, look no further than this stylish DIY shiplap hall tree with a bench! This nifty piece of furniture serves multiple purposes: an alternative to a coat rack and an extra seat for guests. With these simple plans, you can make your own in about an hour. This classic hall tree looks great with or without a bench. The perfect way to keep your mail, keys, and coats organized, it has three hooks for hanging coats, jackets, and scarves and four slots for holding backpacks, umbrellas, and more.
DIY Hall Tree Bench Plans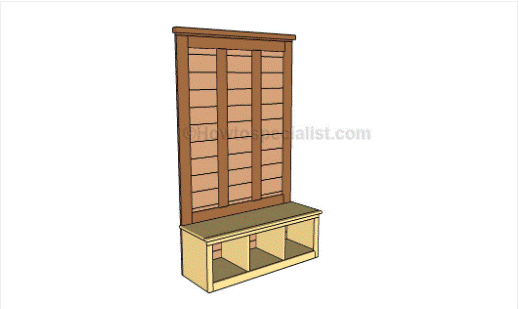 This hall tree bench plan will let you build a multi-functional piece of furniture that can double as a coat rack and bench. It also includes two storage bins for stashing hats, gloves, scarves, and other items. This DIY project is perfect for beginner woodworkers looking to get their feet wet with a simple project that gives a lot of bang for the buck (pun intended!). It's a functional piece that sprues up an entryway or mud room.
How To Build A Hall Tree Bench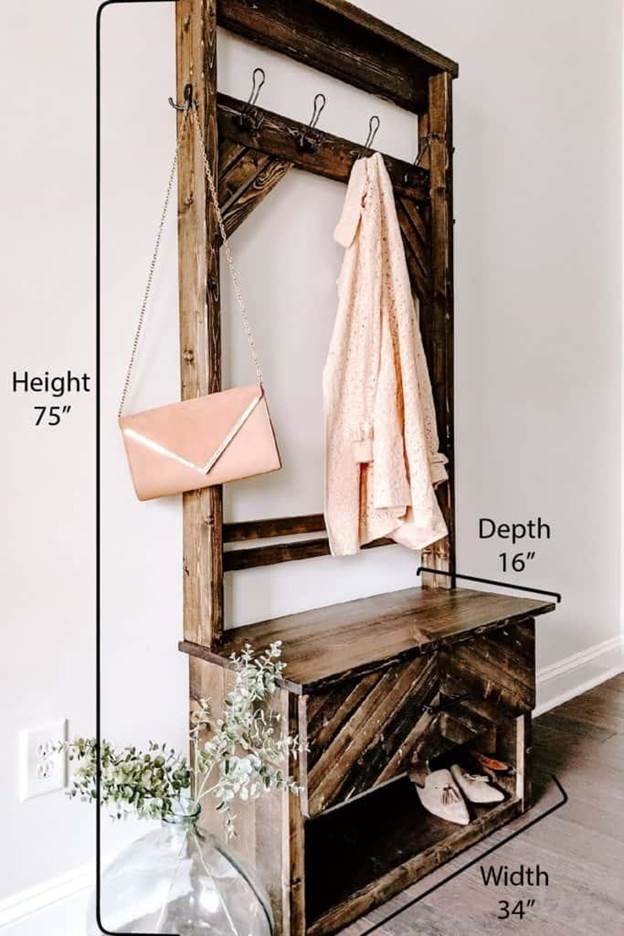 Do you need a place to hang coats or store your shoes and keys? What about a bench for guests to sit on when they stop by for a visit? This DIY hall tree bench is perfect for all these things. And if you add an old trunk as storage, it will be a great accent in any entryway. The design's modern lines make this piece fit in with any decor style, from traditional to contemporary.
DIY Hall Tree Bench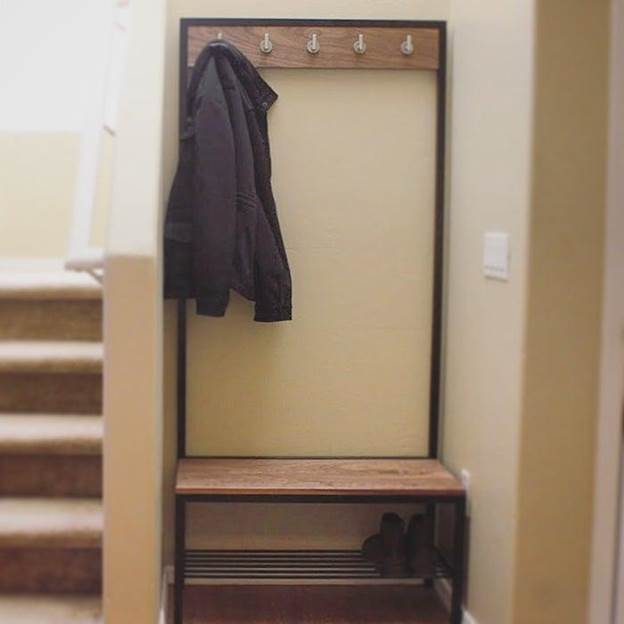 This DIY hall tree bench will look great in your entryway or mudroom. It features a shoe rack, coat rack, and wood storage below for bags, gloves, and other items. This DIY hall tree bench is the perfect solution for a hallway that needs to keep both shoes and coats off the ground. It's built with simple materials and requires no special tools. The shoe rack under the bench can hold pairs of shoes, while the coat rack above doubles as shelf space.
Pottery Barn Entry Hall Tree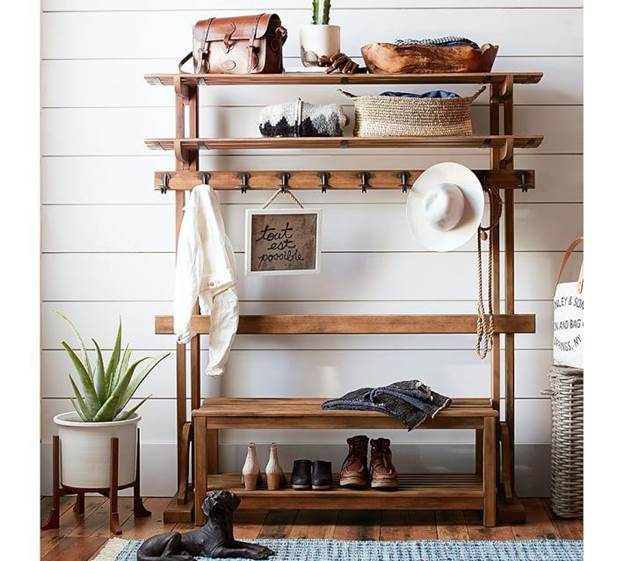 This project is a great way to add style to your home while creating a functional communal space at the same time. It's a practical piece of furniture and adds visual appeal to our entryway by providing a beautiful place to hang coats, store hats and bags, and set shoes. The structure is simple and easy to assemble, so go on and make something great.