If you love guitars, then check out these DIY Guitar Hanger Ideas. These ideas will help you hang your guitars on the wall for display and safekeeping. There are unique and cool things to display on your guitars. Look at these awesome designs for inspiration. Give your home some musical accent with this DIY guitar wall mount. Using simple and recycled materials, you can easily attach an acoustic or electric guitar to the wall. The ideal gift for the musician in your life! Add a little musical flare to your home or office with these easy DIY guitar Hanger ideas. Get inspired by vintage and modern designs, then pick the best one for you!
DIY Guitar Hanger Ideas
Installing a guitar hanger on the wall is one of the most effective ways to keep your guitar safe and out of children's reach. While commercially made guitar hangers clamp or adhesive to the wall, plenty of DIY-friendly options are also available. There are several ways to hang a guitar on the wall. There is probably a reason why this is so popular nowadays; it looks very good, especially if you display multiple guitars in rows and columns.
Whether your musical instrument collection is large or small, these 25 DIY Guitar Wall Mount Ideas will help you decide where to hang them all!
You Can See: 18 DIY Surfboard Racks
What makes a good guitar hanger?
A good guitar hanger should be able to hold the weight of your instrument without causing any damage to it. It might be made from sturdy material that can withstand wear and tear. In addition to this, it should be easy to install on the wall so that there is no need for any professional help in doing so.
Tips To DIY Guitar Hanger
1. You can make your guitar hanger using a single piece of wood and some nails. Cut the board lengthwise into halves, then take each half and cut it down the middle lengthwise, making four pieces total.
2. Nail one piece of wood to each corner of the other two pieces at a 45-degree angle so that there are two nails on each end of the two boards that touch in the middle.
3. Hammer a nail into the wall at least 18 inches away from where you want to hang your guitar, then use that nail as a guide for hammering in nails to secure all four corners of your wood hanger onto the wall.
How To Hang Guitar
This guitar wall hanger is an awesome way to display your favorite instruments for musicians and musicians-to-be. It uses a simple system of elastic straps and wires to hang up your guitars so they can be easily seen and played. The DIY guitar wall hanger is the most popular way to display your guitars. Use wires and strap belts to mount your guitars on the wall perfectly so you can enjoy beautiful music anywhere in your house.
Cheap To DIY Guitar Hangers
With this DIY tutorial for a guitar wall hanger, you can start making your own hangers in a few easy steps. These are perfect for hanging up your favorite guitar on the wall or ceiling, it makes cleaning and storing your guitar much easier. Get the best guitar wall hanger that is durable, easy to install, and, most importantly, inexpensive. This DIY guitar wall hanger project is economical and has several other benefits.
4-Guitar Wall Hanger

This straightforward DIY project shows you how to build a four-piece guitar hanger that can hang four guitars at once. This simple design is perfect for musicians with multiple guitars who want to keep them organized and close by. This DIY tutorial is quite easy and affordable also. If you have been looking for a way to hang your guitars in a neat and organized manner so that their sounds can be heard in harmony, then this is it!
Electric Guitar Hanger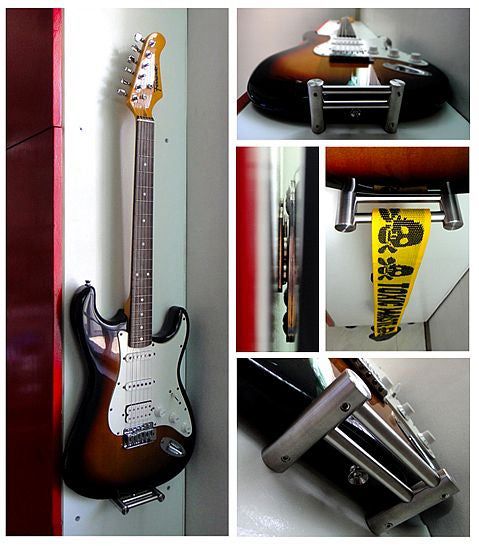 Electric Guitar Hanger Using Magnet is the perfect solution for hanging your electric guitar. The hanger can hold most types of electric guitars with comfort and security due to the strong material used in its manufacture. Electric guitar hangers use a magnetic system to store your guitar in place securely. It features a hook, hook lock, and magnetic tip. The theme stays on the wall, and the instrument hangs from it, making your electric guitar safe.
Wood Guitar Hangers With Custom Design
Custom guitar hangers made out of wood can be used to display your prized guitars in a way that showcases the natural looks of these instruments. From walnut, oak, and mahogany, these custom guitar hangers can be made to order as both wall mounts and stands. You can craft custom wood hangers for your guitars, basses, and other musical instruments with simple scraps and a little imagination. All you need are the right tools, saws, sanders, and alligator clamps.
Guitar Hanger Using Wood
Starting with cherry wood, you'll cut and drill your guitar hanger holder to size. Sand down the edges and apply stain. Use a workbench to drill pilot holes, then use those holes as guides to prepare the wood for your wall mounting screws. Add some polished brass hooks that screw into pilot holes, then lay them all together to create a beautiful guitar hanger. These instructions will guide you on how to make your own custom guitar hangers out of cherry wood to suit your room or home.
Simple To Make Guitar Holder
The guitar holder is the perfect guitar accessory for any player, especially those who don't have a dedicated space or stage. We've all been there; we've got the one spot where we set our gear down and move it from gig to gig to practice and record. This simple and beautiful DIY project helps solve that problem by giving you a special place set aside for your instrument. This guitar stand makes it easy to see your device's beauty while resting in an elegant home.
DIY Guitar Hanger Dimensions
We all know guitars are expensive. They are an investment you want to keep on to for a long time. So it's important to keep them safe, and out of the way so your instrument isn't accidentally bumped or damaged. This wall mount guitar holder is a great way to secure your guitar, ensuring that your investment stays in good condition for years to come! This wall mount guitar holder allows you to free up floor space for other things and keep your guitars safe when needed.
Guitar Hanger Hooks to DIY
If you love playing guitar and are always looking for new places to hang your instrument, this DIY Guitar Hook is a great solution. It is easy to make, and the design can be customized for any room or style. Save your space and your wall, then saves some money on buying more expensive stands with this DIY guitar hook. This makes a perfect gift for beginner guitarists or any musician who needs to be inspired. Hang a favorite player, or display them all!
Guitar Wall Mount Sideways
Are you a guitar lover? If yes, this $3 wall mount is not just another DIY project to satisfy your hobby but one you should get because it will keep your guitars safe and clean. This is a very challenging project for anyone who loves guitars but does not have the budget to buy one. It is quite portable and can maintain a clean and safe guitar, making it one of the best wall mount projects in its price range. This guitar wall mount has a very simple design and is quick and easy to build. This wall mount can be done by anyone in your house with a hammer and some time to spare.
DIY Wall Mount Guitar Holder
This beginner guitar hanger is made for easy use, and it is also built to last and keep your instrument safe. Perfect for beginners who want to put the guitar on display without damaging the device or putting it in a condition where it can be easily broken by someone who accidentally sits on it! The stand is designed for amateurs and beginners, reducing the home's risk of damage and accidents. Despite its simplicity, it provides a stable structure for the guitar without making any invasive corrections on it.
DIY Guitar Hanger Wood
The new hanger is here if you're tired of using expensive but flimsy, fragile guitar hangers that can twist, break, or scratch your guitars or basses. The design of this hanger gives your instrument the freedom to move naturally and won't bend, warp or snap under typical use. It is durable and will hold your guitars safely. Learn about the simple step-by-step process for cutting and building this hanger using wood-bent lamination and essential tools and materials that can be found anywhere.
Guitar Hanger For Wall
Build a simple, rustic guitar holder from scrap lumber. This guitar rack is also great for holding books and other objects around the home or office. You can customize the sizes to fit your needs. This DIY guitar rack is simple, inexpensive, and easy to make! This project will guide you in creating an attractive, sturdy guitar holder out of scrap wood. Building your own guitar stand is a great way to save money and use up scraps that might be left over from some other projects.
Wall Mounted Guitar Hanger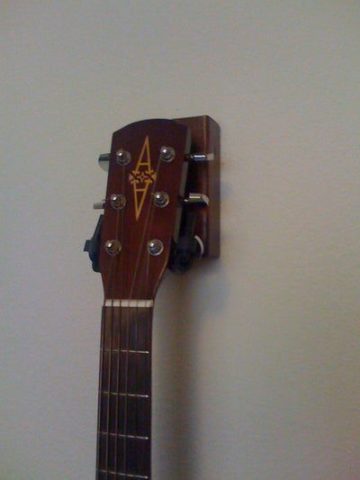 Add an impressive and stylish feature to your home with this Handmade Wood And Metal Guitar Hanger. This project features the use of metal rods, which can be purchased at any hardware store. It is ideal for displaying your latest guitar purchase after you get it fitted or if you want to show your favorite acoustic or electric guitar. This guitar hanger is perfect for those who love to display their guitars and play them regularly. The design is simple and beautiful, made from wood and metal.
DIY Guitar Hanger For Five Pieces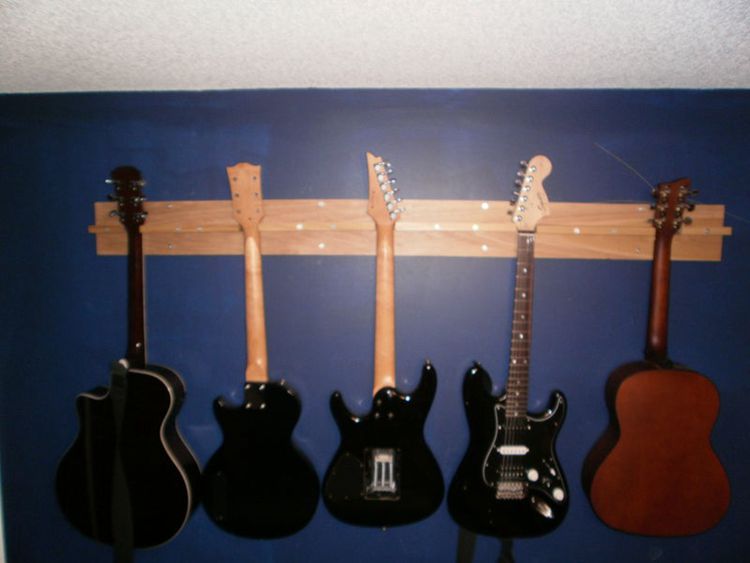 This beautiful piece will look fabulous in your home if you love hanging guitars on a wall. The craftsmanship is amazing and will only enhance the beauty of your guitar wall hangings. This is a handmade and rustic set of five guitar wall hangers. Hang these on any wall, or cinch your favorite guitar strap around the wooden frame for an out-of-this-world display. These will look wonderful in your home, office, or studio!
Wall Mount Guitar Hanger Plan
As a guitar player, if you love having and displaying your guitars around the house or office, this guitar hanger tutorial is perfect for you. Easy and fast to make, it does not have to cost you anything, so it's an excellent DIY project for beginners too! In this tutorial, you will understand how to make a cool guitar hanger with the help of a wine stave. In addition to its fun and artistic side, it is easy and simple to make. You need some simple material that you can buy from your local store at home or online shop.
Wall Guitar Hanger Idea In 10 Minutes
You can create this masterpiece when you don't have any time to spare from your busy schedule. This guitar hanger is easy to make and will maximize your room's space. In a few hours, you'll have something unique. The most useful part is that it is free and made from recycled materials. This wall-hanging hanger provides a unique way to display your guitars, ukulele, and other musical instrument collection. It's super easy to make with basic woodworking tools and a few simple supplies.
Best Wall Guitar Hanger
Do you need an easy and practical way to hang your guitar? The Easiest Guitar Hanger DIY is the answer! It's made for the beginner, so it's easy and quick to put together. If you have a collection of guitars, you need a way to keep your precious instruments out of harm's way. The easiest guitar hanger is the perfect option and is made with simplicity. This guitar hanger is made with an eye to simplicity and ease of assembly. Easy-to-follow instructions will get you started right away. The result is a compact yet sturdy hanger that can be installed on any wall in your house or garage.
Acoustic Guitar Hanger
A guitar stand is essential to keep your instrument safe and sound. But most of the time, you would need to keep your guitar on the ground or hang it on a wall. This is where our Floating Acoustic Guitar Mount comes in - it lets you do both! This easy-to-follow tutorial will show you how to build a floating acoustic guitar stand. Learn how to cut out the right parts from your wood and adjust them so that your guitar is held horizontally. The result is a pretty piece of art that will inspire you every time you make music in your home!
Guitar Hanger Using Leather And Pipe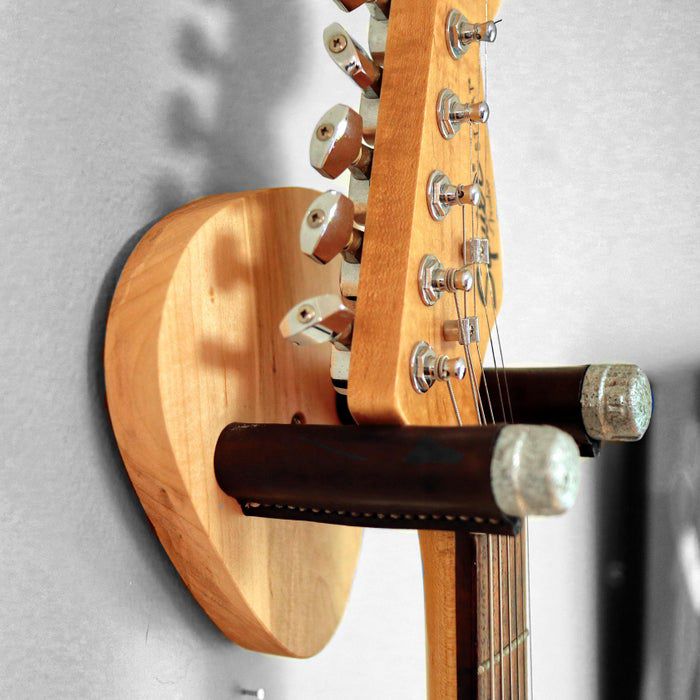 Get your guitar out of the closet where it has been gathering dust, and bring it up on your wall to show off this great hanger. With leather and pipe, this hanger will help you keep your guitar safe while enjoying it with friends and family. This guitar wall hanger has the highest quality materials and dimensions, supporting most guitars hanging on this wall hanger. You can turn your guitar on the wall, keeping it safe from scratches and damage.
Hanger For Small Spaces
If a wall-mountable guitar hanger is out of the question, you can use this fun and functional DIY version instead. This is a terrific option if you only have a few guitars or want to use the hanger in a smaller space. The trick? Mount it to the wall horizontally instead. This DIY guitar wall hanger is meant for small spaces. It can be used in a bedroom or other narrow areas where hanging guitars or other instruments like drums, violins, or the like won't damage or crowd out windows or doors. It can also be used behind a couch, piano, or any other place that's out of the way.
Best Wall Mount Guitar Hanger
This design allows you to hang your guitar anywhere in your house and can be smoothly taken down and packed away when not used. You could also choose to mount some smaller parts/tools onto it or hang them on the wall using hooks, whatever you like! It is a great display to show off your guitar collection or simply some pictures that you want to display on your wall. It would be a great gift to your family and friends as well!
Guitar Hanger Idea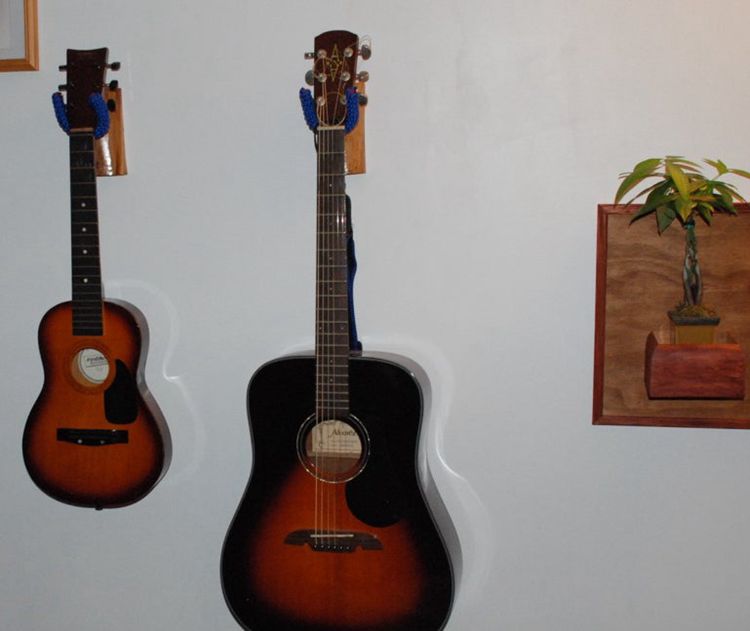 Guitar hangers are one of the simplest and most effective solutions to getting your guitars into a good playing position. In this Instructable, we'll look at how to make your own hangers and share tips and tricks for making them work for you. This is the Quick-Guitar Hanger, a guitar hanger that installs in seconds. It's a simple solution to every guitarist's problem at some point: How to safely store your guitar when you're not using it so it doesn't get beaten up or lose its tune.
Horizontal Guitar Wall Mount DIY
Are you tired of your guitar is in a case for days or weeks before you play again? If you want to snuggle down with your instrument in the evening, pick it up and go, or put it on a wall hanger if it's not flattered and put on a wall hanger. Sometimes you spend hours playing your instrument and still have to return to fix them; it is not easy to keep doing that every day. But with this, you do not have to worry about fixing it.