Grilling is a great way to bring families together and enjoy good food and company. While it's easy to set up a grill in your backyard, getting it out of the way once you're done can be trickier. That's where a DIY grill cart comes in handy! These carts are easy to make and will help you store your grill safely when it's not in use. You can also use them for other outdoor activities like camping or tailgating. If you're ready to start building your DIY grill cart, we've gathered some DIY Grill Cart Projects that might inspire you.
DIY Grill Cart Ideas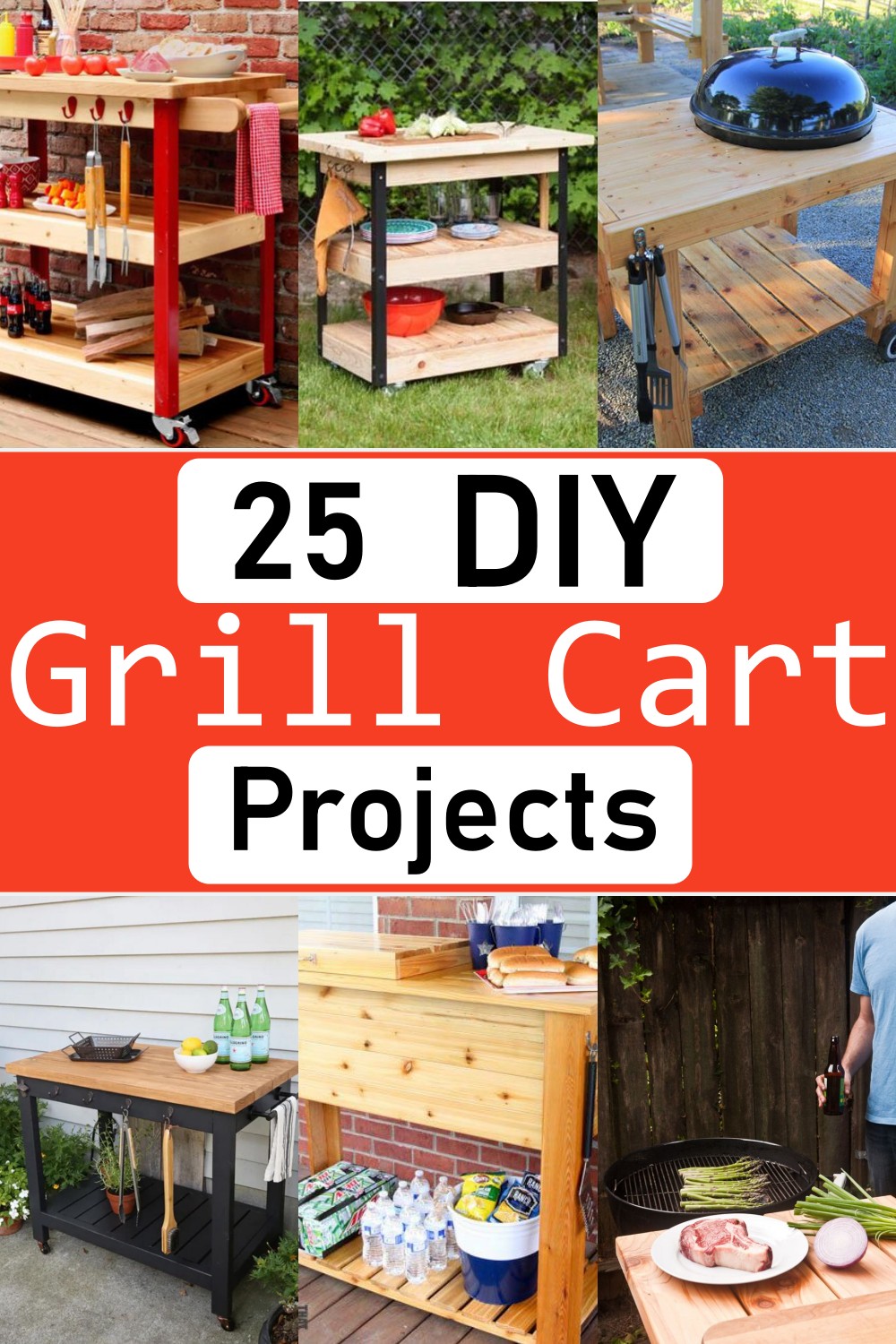 Grill carts are great additions to your deck, patio, or backyard. They help store your grilling tools, cook utensils, and more. Many people build grill carts because they can customize them to fit their needs and tastes. If you want to make your grill cart, here are a few DIY projects that might inspire you, and With suitable materials, you can build a sturdy and attractive grill cart with the help of a few tools.
Are you looking for the perfect grill cart project? Then look at these 25 favorite DIY Grill Cart Projects, and create your own.
Benefits of DIY Grill Cart Projects
DIY Grill Cart Projects are a great way to improve your grilling experience. They can be used for cooking, serving, and entertaining. The following are some of the benefits of DIY Grill Cart Projects.
Easier Grilling
You can use your grill cart to transport your grill from one place to another easily. This will make it easier for you to get a fantastic barbeque going without much fuss. You don't have to worry about setting up and then disassembling the grill each time you want a good meal on the patio or deck.
Improved Cooking Experience
Your DIY Grill Cart Project will also improve your cooking experience because it gives you more space to cook and prepare food. You can quickly move around while cooking and doing other things like serving guests or cleaning up after them. This means you won't have to worry about getting burnt by hot coals or grease splattering all over your clothes when cooking on an open fire.
Better Storage
If you own multiple grills, having a cart for each one will help you store them more efficiently so that they don't take up too much space in your garage or shed, where they are usually kept when not in use during winter months or rainy seasons.
How To Build An Outdoor Grill Cart
A well-designed patio is a great way to enjoy your backyard and relax with family and friends. If you love to grill, there is a good chance you already have one or two for cooking outdoors. Now it's time to take it up a notch by adding some extra storage space to organize all of your supplies. With an afternoon of building time using essential tools like a saw, drill, and screwdriver, you can have a cart that will last for years. Don't wait any longer - follow this detailed video tutorial and ensure that everything stays out of the way until it's time to use them!
Easy DIY Grill Cart
The Homestead Grill Cart allows you to move your heavy-duty grill where you need it. Its large rolling wheels and sturdy wooden construction enable you to move this multipurpose grill cart anywhere quickly you need it in your kitchen or patio. This multipurpose cart is the perfect addition to your outdoor kitchen, allowing you to prep, serve and grill in style. This all-in-one tool will help you run your party smoothly and save you money on catering costs!
DIY Outdoor Grill Cart
If you love grilling and entertaining, this DIY outdoor grill cart is a fun project that will impress your friends! With its stylish design, this grill cart can also be used as an extra table in your backyard when it's not in use. This video tutorial demonstrates how to deconstruct a wooden pallet and build an outdoor grill cart. We demonstrate the process using SketchUp, which you can use on your computer. This will allow you to design your grill cart without purchasing expensive tools or materials.
DIY Grill Station
A grill station is a great way to keep your party area organized and clean. This project takes it up a notch by using bright colours, making it perfect for barbecues or summer parties at the beach. Build your custom grill station with this simple building plan. All the recipes you need for a grill station include the different cuts of wood and their sizes and shapes, as well as how to layout each piece, so you can make it just right for your space and comfort.
DIY Grill Cart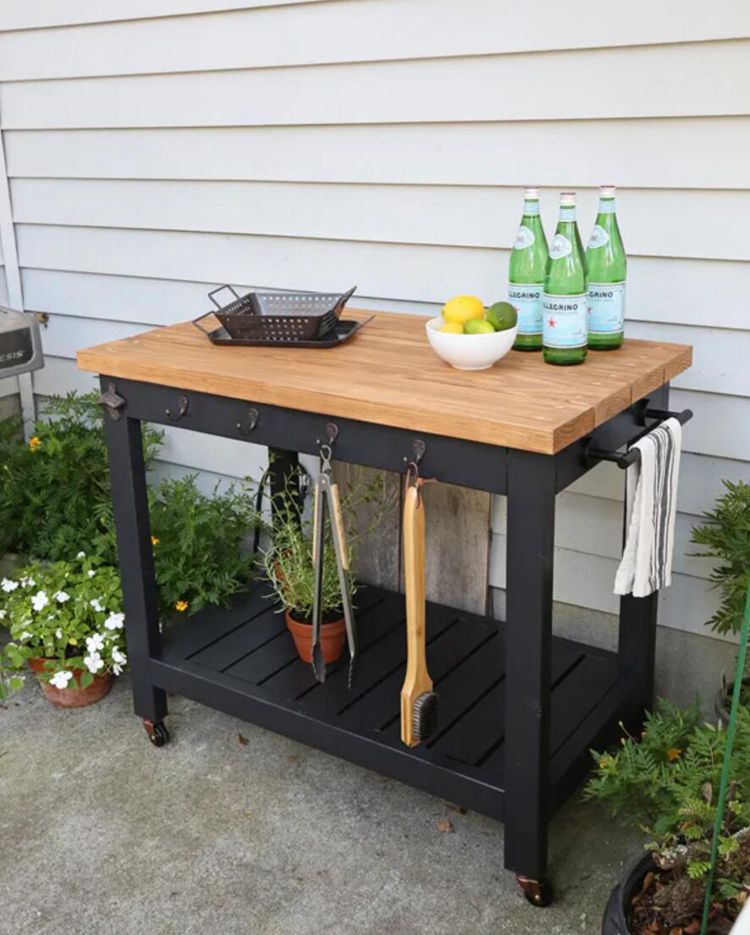 A DIY grill cart is a must-have if you love grilling and taking your meals outdoors! It will be a straightforward project if you already have a drill, power saw, and screwdriver lying around your garage! Once built, add your personalized touch with paint or stain. You can even make it to match your other patio furniture. Give family and friends the ultimate fine dining experience right in their backyard with this DIY grill cart!
How To Make A DIY Grill Cart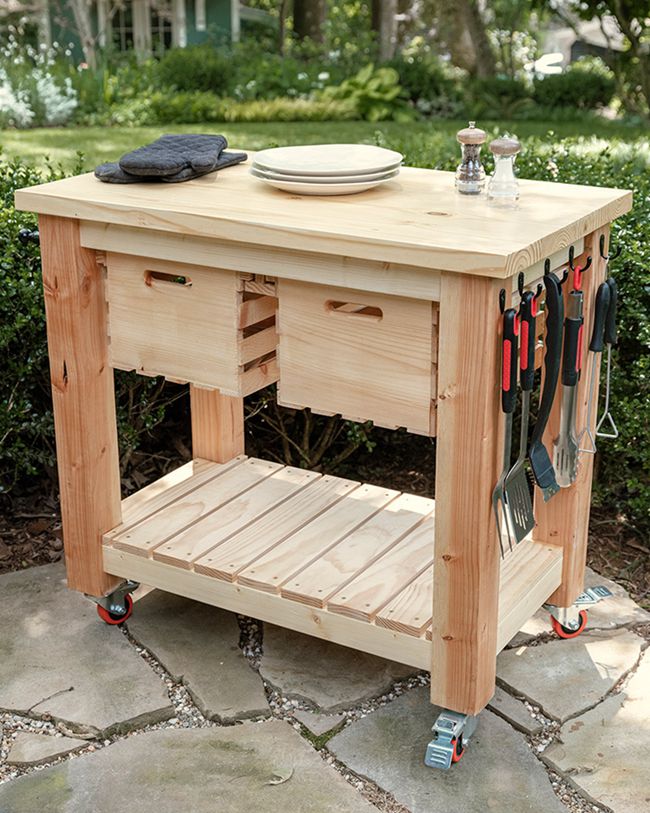 Don't miss out on all the fun! Grill outside with a grill cart that gives you enough space for cooking, storing and moving your grills quickly. The best part is that it might just spark new ideas to create a better food experience on the go. Whether you're just having a small gathering or a big party, an outdoor grill cart can make your grilling experience more enjoyable and wholesome. You don't have to be caught in the dirty kitchen or deal with messy charcoal and lighter fluid. With less effort, you can cook while others mingle in the backyard or poolside.
How To Make A Rolling Grill Cart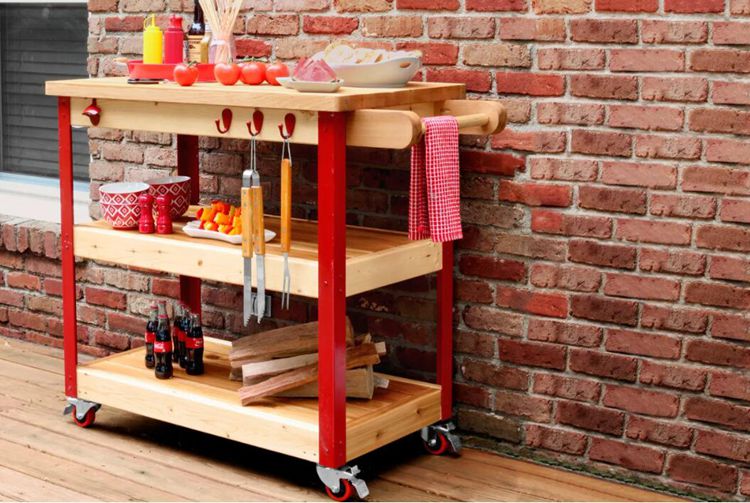 Who doesn't love a grill cart? Or call it a BBQ cart, either way, you can make one using some wood and wheels. This is a project that is quite simple and easy to do. Moreover, the materials used are relatively cheap and can be easily found in your house or at your closest hardware store. This DIY grill cart allows you to move your grill, tools and ingredients all in one place. The four caster wheels have a locking feature so that the grill stays in place while not moving. The cart is made from wood and metal, so it is strong enough to carry what you need without worrying about breaking.
Making A Rolling Grill Cart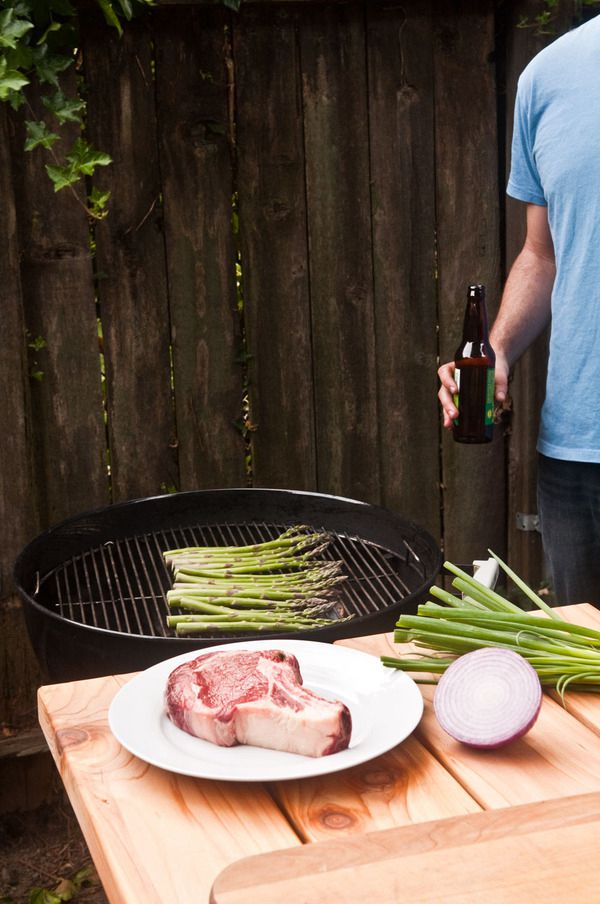 This rolling cedar cart grill is the perfect stand for grilling and cooking. The wheels are large enough to roll over outdoor terrain but small enough to be stored in a closet when not in use. This stand features shelves with a strong back brace and an underside storage compartment for keeping your tools and seasonings within reach. You can make a rolling grill cart for your backyard party by yourself. The task does not seem too difficult if you know how to use the power tools and drive screws. The best part is that you may save money by making it at home.
Grill Cart DIY
This outdoor grill cart is perfect for storing all the supplies you need to grill your favourite meats, seafood, and veggies. The adjustable shelves can be moved up or down to hold seasonings, utensils, and other accessories. The grill cart is built of cedar plywood and stained with a light brown. The grill cart can be used for storage and serving and is easy to build. You can build the grill cart out of any size of wood that you have on hand.
How To Build A BBQ Cart
This BBQ Cart is ideal for your patio, deck or backyard. The cart size depends on what you have in mind and the materials available. Learn how to build a barbecue cart with this tutorial woodworking project! This excellent weekend project will take around 6 hours to complete if you have the right tools. This barbecue cart is perfect for the backyard or deck and can be used for many occasions, such as a summer party or cookout.
DIY Weber Grill Cart BBQ Station
This is the perfect DIY project for you if you have a Weber grill. Do you need storage space for your accessories and tools? This cart is a must! It would be nice to have everything on wheels when doing yard work, so move it around the yard for all your tasks and then put it back in its place by your grill. This DIY Weber grill cart is perfect for those who love to enjoy their time outdoors. It will serve you well and keep your food warm, whether at a campfire, backyard, or beer garden. You can also see how much you need to build yourself one with these detailed instructions in the video guide.
DIY Barbecue Grill Cart
This barbecue grill cart is the ultimate in mobile grilling. Its simple design and outdoor-rated materials allow you to take your cooking station almost anywhere—it's perfect for camping trips, tailgating parties, long hours on the patio or a summer picnic in the park. Enjoy the excellent taste of grilled food right in your backyard with this easy-to-assemble Barbecue Grill Cart. This design is easy to put together and solid enough to survive the elements and keep your food hot while cooking.
Reclaimed Grill Cart Build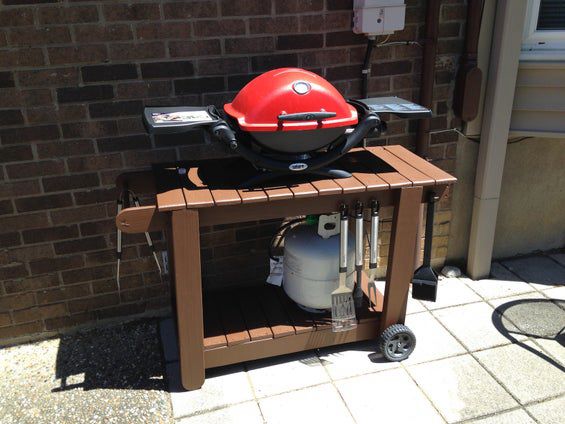 Finish off all your unused wood with this project. All you need is reclaimed lumber, wheels from an old cart, a little paint and probably the skills of a pro craftsman. If you're looking for an innovative way to use your leftovers, this portable grill cart is just the thing. It is made using lumber, which is both durable and sustainable. The cart features a frame that can be easily assembled or taken apart, making it perfect for parties in parks or at home.
Patio Cooler & Grill Cart Combo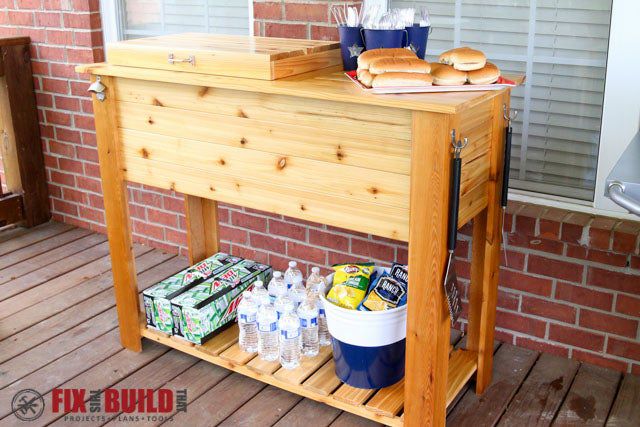 Your favourite food and grill are now in one cart! The Patio Cooler & Grill Cart Combo is perfect for every griller and enthusiast, as it combines a tilt-out cooler and side shelf with a grill. It has all the customization options, including removable shelves and trays that can hold a gallon of water. This patio cooler & grill cart combo will surely make your grilling experience more convenient, efficient, and enjoyable. Keep your grill and ingredients organized for easy access when preparing the food you want to cook.
DIY Weber Grill Cart Station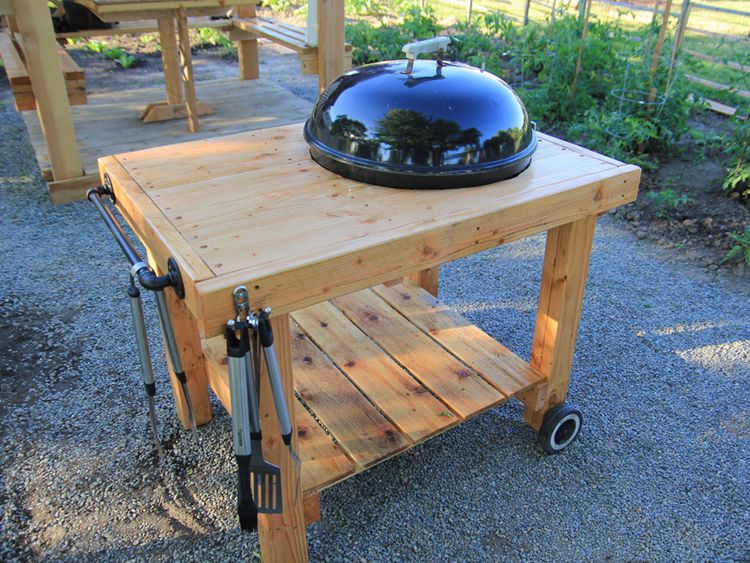 This Weber grill cart station is a great way to have your charcoal grill close at hand. Sturdy yet mobile, this cart can be placed anywhere in your yard for easy access. The heavy-duty construction features quality materials that will ensure you're grilling all summer! This Weber grill cart station is perfect for any patio, deck, or backyard. It can hold your Weber grill and other accessories on top, with room in the middle for additional storage. The heavy-duty metal base is durable and sturdy, while the handles make it easy to move around.
Easy Grill Cart Build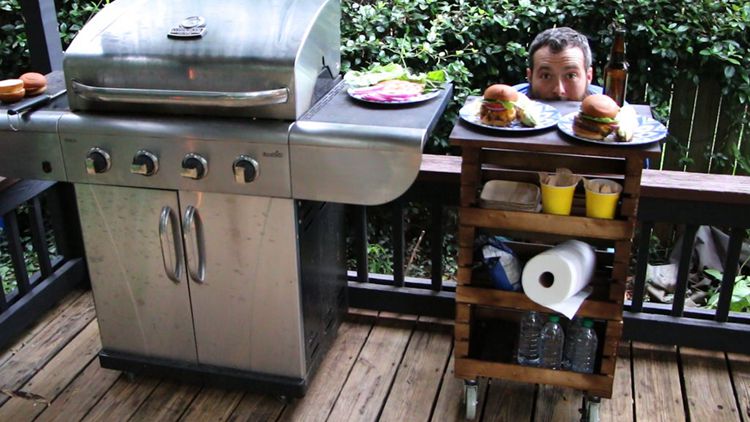 If you're looking for a way to make your grilling experience more straightforward, this DIY grill cart might be just what you need! The cart has three shelves, each big enough to store plenty of grilling equipment and accessories. Its sturdy frame makes it perfect for travelling around the yard with the grill. Build your grill cart with a few easy cuts and some screws. No longer will you have to go back and forth from the kitchen to the backyard. This grill cart is a quick project perfect for beginner DIYers, but it gets rave reviews from experienced woodworkers too!
How To Build A BBQ Cart
Are you looking for a great way to store and transport your favorite Weber grill? Look no further. This simple build will show you how to make a BBQ Cart that rivals the ones sold in stores. It features a storage box, an open shelf, and spots for charcoal and grill tools. This DIY how to build a BBQ cart for a weber grill is a project you can make with simple materials and essential tools. With a design that places the grill at an ideal height and within easy reach, the wood frame provides enough room for your tools and supplies underneath.
BBQ Grilling Station Plans
A grilling station is an excellent addition to your outdoor kitchen. It allows any cook to assemble food, cook it, and then serve it all in one accessible location. Plus, they make great conversation pieces! You can create an entire station out of ready-made products or follow these plans, which will take you through each step of creating a simple DIY cart that will last for years. With this DIY BBQ Grilling Station, you can create a grilling station with a shelf large enough to accommodate the entire grilling equipment and cooker, along with room for a quick drink or two.
DIY Outdoor Grill Cart
This DIY grill cart is ideal for those looking to replace their old and outdated grill with a functional piece. Don't be afraid to get your hands dirty with this super easy DIY project. Perfect for grilling enthusiasts, this plan will help you build a sturdy cedar grill cart. It's made from solid hardwood and has two shelves perfect for food storage. With casters, the cart can be easily moved around as needed.
Simple DIY BBQ Cart
Get ready to BBQ with some new style! This functional and stylish cart makes it perfect for organizing food and grill essentials. This simple DIY project is a great way to get your Weber grill up off the ground, providing more elbow room around it and keeping those hot coals isolated from the wood deck. You can build this barbecue cart in a few hours using only a few tools and materials you probably already have on hand in your garage or basement. It's an excellent project for seasoned DIYers as well as novice woodworkers.
How To Make A Grill Station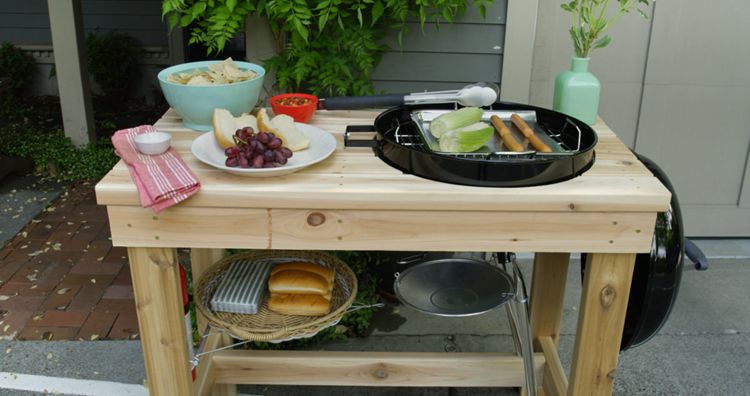 Grill stations are a great way to keep food ready. Not only do they provide easy access to cooking, but they also help you add an aesthetic element to an informal gathering or meal. The construction process is pretty simple once the materials are collected and cut, so if you enjoy doing your projects, this could be fun. This step-by-step guide will show you how to use your tools and materials to put your grill station together.
DIY Grilling Cart
This DIY grilling cart will let you organize your grill and all of the food you need together while grilling. You can roll it around as a mobile unit and store everything in one sturdy location so that you're not tripping over everything on the ground or putting things away when it's time to eat. It's made from solid fir wood and metal rods to be durable enough for many years of use. It's on wheels, so you can push it back into your house when not in use, protecting it from the sun or rain.
How To Build A DIY Grilling Cart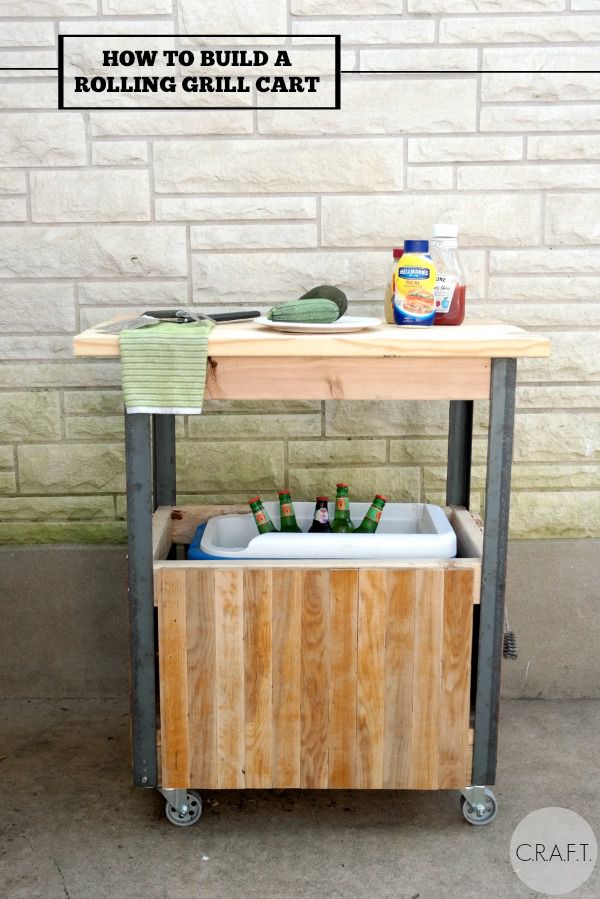 You can never go wrong with this multifunctional grill cart. It's an open-air table for dining and a traditional grill for cooking your favorite foods. You can add additional shelves to the top surface if you want to make it more spacious and perfect for various occasions. This universal cart is simple to put together. It's constructed with a heavy gauge steel frame and has a grilling tabletop, a Cooler space for your drinks, and other things.
Rolling Cart DIY
A cart with rolling wheels, this grill cart lets you move your grill around your patio. The tabletop is made of wood, and the casters make it easy to move. Two frames make up the main structure, with metal bars for strength. Also included are metal hangers that can hang large utensils and a large handle made of wood to protect the cart during transport. Made from high-quality materials, this cart will last through years of use.
Grill Cart With Concrete Top
If you love grilling out with your family and friends but don't have the room for a permanent grill station or patio, this Grill Cart With Concrete Top is the perfect solution. You can make this cart in two hours using cheap scrap lumber from your local home improvement centre. It's sturdy enough to handle whatever you throw at it, including steaks and hot dogs, plus there is enough storage space to keep plenty of grilling tools within easy reach.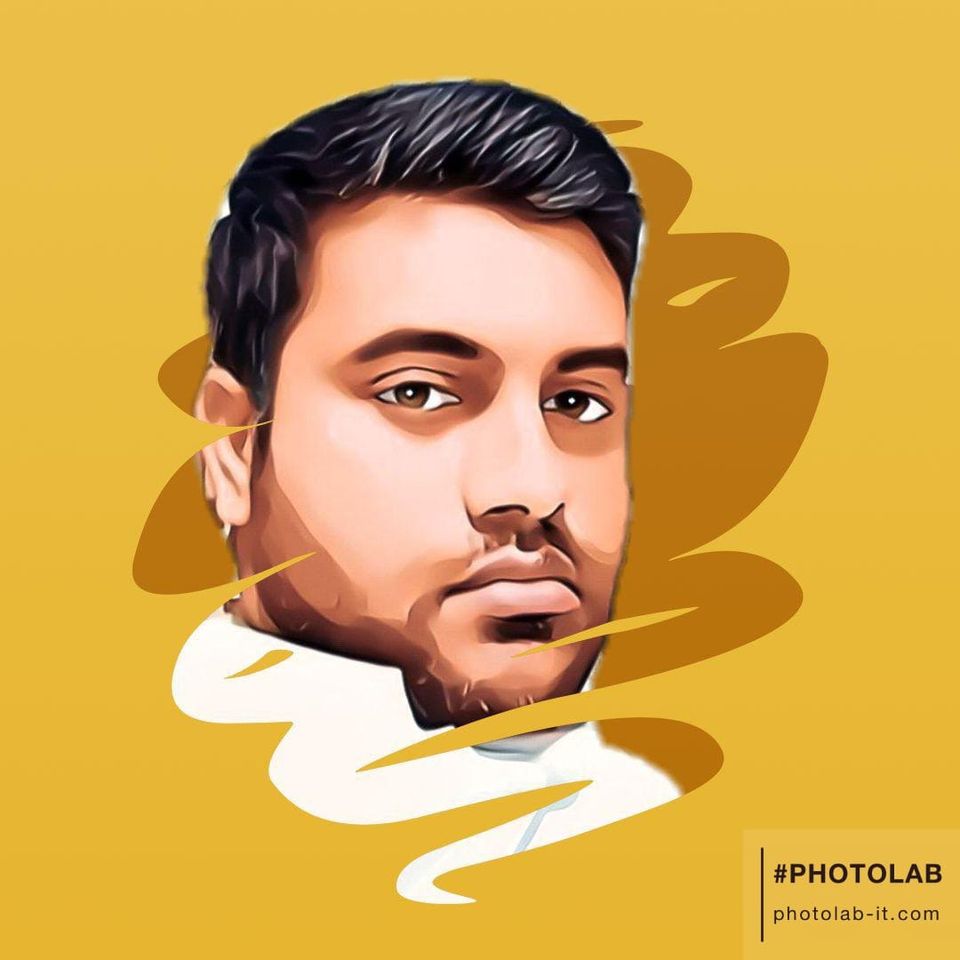 I am Raza, a crafts expert with 6 years of experience. I run this site for DIY lovers to provide the most exciting projects and ideas for your home, office, and everyday life. See More