People who live on large farms or ranches can always find a use for extra hay, and feeding it to the animals is one of the easiest and most cost-effective ways to ensure extra hay gets to where it's needed. Goats love to eat hay, but they don't always like to eat it from a traditional feeder. They might kick the hay all over the floor, eat it too quickly and choke on it, or not eat enough. A hay feeder can solve many of these problems by keeping the hay in one place where the goat can get to it easily. Here we come with Simple but pretty effective DIY goat hay feeder plans for your goats and other livestock that cost about $20 or less.
DIY Goat Hay Feeder Plans
Depending on the type of goat you'll be housing indoors or out, there are several designs for feeding hay to your herd. DIY Goat Hay feeder Plans are also extremely simple structures. They can be made of anything that has holes bored into it—lumber, pipe, PVC pipe, metal mesh, even plastic mesh. This means you have plenty of options no matter what your materials are like or whether you want something that will last through cold winter weather or not. You only need a way to hold your hay down so it doesn't blow away—a few heavy rocks or stakes will do the trick!
Tips To DIY Goat Hay Feeder Plans
We have some tips for you about making DIY Goat Hay Feeder Plans.
Use a nail gun to secure the plywood together. This will help the pieces stay together and keep moisture out of the wood.
Make sure your joints are tight so that moisture does not get in between them and cause rot.
For added strength, use screws instead of nails when possible.
Do not use pressure-treated wood as it may contain chemicals that could harm your goats if they eat it or lick it off their fur after eating from their hay feeder.
 Use the right materials
 Make sure it's safe for your animals
3. Be creative and have fun with it
Building Goat Hay Feeder
Goats are beautiful, small, cute animals, and they have a lot of demand as pets. They are so popular and looking for pets because they can be easily trained to do almost everything you want them to do. Goat feeders are essential when it comes to goat farms. This DIY goat hay feeder is extremely simple to make and will save you a lot of money on account of wasted feed on your farm. This feeder is made from wood and hog fencing and will be the ultimate solution for your goat feed problem. It is easy to carry around and can hold up to 10lbs of hay without difficulty saving on wastage.
Making A Goat Feeder That Works
When you're finally ready to make your own do-it-yourself goat hay feeder, here's a plan for you. You can build it fast and for very little money. Building your feeder is easy and inexpensive. You'll need to invest in a saw and a drill, but most materials are available at home improvement stores or lumber yards. Nothing fancy here, just some common sense and a little artistic flair. This simple yet effective plan tells you how to build a hay feeder for your goats. This particular feeder will take you less than an hour to put together, but it will make feeding time easier and more efficient.
Easy Goat Hay Feeder DIY
This is the perfect DIY project if you love arts, crafts, and working with your hands. This guide lists all the materials needed to make the feeder. In addition, it provides instructions on how to make this cute little feeder and how to assemble it step by step. It's a super simple design, and because there are only three pieces, it's easy to make from wood or metal scraps if you don't have lumber on hand. The parts can be cut in a couple of hours with basic tools, so if you need a quick project for your yard or workshop or want something to keep little hands busy on those crazy hot summer days, this is for you.
Cheap Hay Feeder For Goat
The Hay Feeder helps your goats eat more organized and prevents mess. Place a few hay or pellets into the trough, and the goats will pick them up one at a time to prevent waste. This hay feeder is a great way to organize your goat's food. It prevents waste and makes it easier for them to eat by preventing them from knocking the hay off the ground like they often do in the wild. You can buy this product at a low price because of its excellent design and high quality.
How To Make A Hay Feeder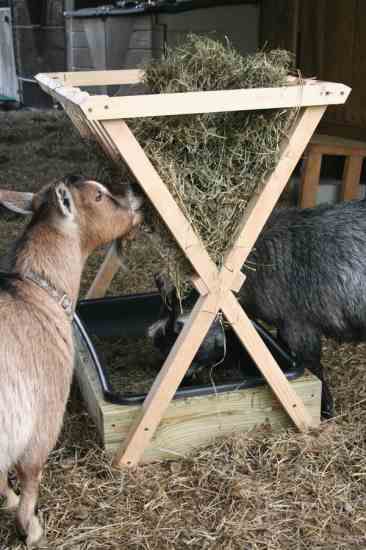 The easiest way to feed hay is to stack it in a rack where the feeder can easily get to it. This guide will teach you how to build a hay feeder that is cheap, easy, and should last for years if done right. A hay feeder is a great way to give your horses a snack while they are out in the pasture. All you need is some wood, nails, and screws. From there, you can build various models that fit your horses' needs perfectly. Build the hay feeder with this simple guide and save money over store-bought options by using lumber lying around your house waiting for a project!
Hay Feeder Rack Plan FOr Goats
Learn how to build this large, sturdy hay feeder for your farm equipment. It's the perfect accessory for livestock owners who want to keep their animals safely fed with easy access to food. This large hay feeder can be made from suitable materials on your farm and installed anywhere in your paddock. This guide on building a Hay Feeder will give you everything you need to create one yourself. This is a handy guide for beginner farmers just starting with this new skill.
Goat Hay Feeder Tutorial
Easy To Make Hay Feeder For Goats
If your goats or other farm animals are not eating the hay you put out for them, you may need to build a hay feeder. This DIY Hay Feeder For Goats is easy to make using pieces of wood, wire netting, screws, and some other hardware. Don't waste feed by letting it fall through the cracks of your current hay feeder. It will pay for itself after one use! Put together this handy feeder using an old wooden ladder, wire netting, and screws. You can also use a PVC pipe, but make sure to drill holes in it for better drainage.
Wall-Mounted Hay Feeder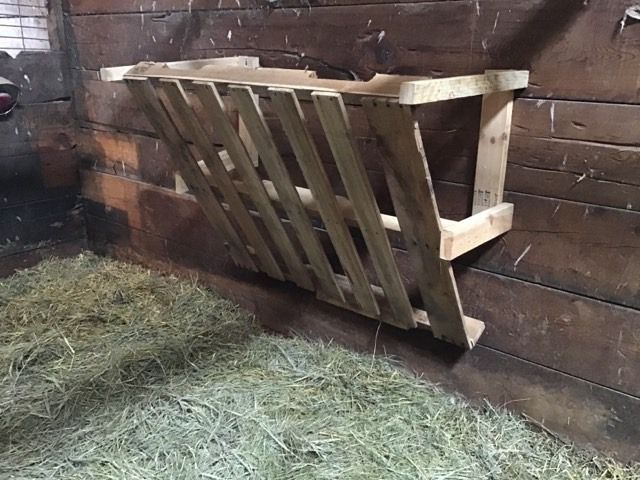 A goat hay feeder made out of pallet wood, this wall-mounted feeder is the perfect way to keep your goats' food off the ground.  It's also a great way to repurpose materials and save some money in the process. This goat hay feeder is made out of pallet wood. Its design makes it easy for the goat to feed, and the narrow gaps on the side allow the hay to fall right into its mouth. All you need to make this feeder are materials such as pallet, scrap wood, and some tools like a cordless drill, hammer, and other small tools.
Easy Goat Feeder Plan
With this DIY goat feeder, you can keep a constant supply of hay for your goats and ensure that the feeder is always in its original state. The main body is made from a wooden pallet; the sides are pine boards. The angle pieces hold it together, and their spacing allows the hay to poke through but prevents your goats from getting inside the feeder. This goat feeder can prevent the hay from being wasted by spilling out of the sides, especially for young goats. It also allows your goats to eat in a way that is comfortable for them, without having to put their heads outside of the feeder.
No-Waste Hay Feeder
This no-waste hay feeder is a dream come true, and no more wasted hay or worrying about your horse eating too fast. This DIY no-waste hay feeder has two advantages, which are 100% reusable and saves you money! It's quite simple to be made, and all you need is the IBTC totes. The best thing about this is that when there's no food left, you fold it up and put it in the recycling bin. This quick and easy DIY project saves money and creates a no-waste hay feeder. Grab some totes and remove the support, cut through the bottom, fold up a little, and have a no-waste hay feeder!
Building Goat Hay Feeder Yourself
Learn to make a goat hay feeder that is good for your animals and looks good around the place. This DIY project will require a few materials you can easily get at home. It is easy to build and will make feeding your goats or sheep a breeze. The wood pieces are cut to size with the miter saw/circular saw, then glued and screwed together to form the bottom frame of the feeder. Once done with this project, you will be able to provide adequate space for your goats and sheep to eat and beautify your home.
Goat Hay Feeder Plan
Tired of hay scattered all over the barn floor? These DIY goat hay feeder plans are easy to make and use building materials you probably already have around the house. This system allows you to customize any project by size or by style. You can customize this hay feeder in many ways, such as by changing the hole size or distance between holes. You will love this hay feeder plan if you like creative ideas and DIY. This is a very effective and easy way to keep your goat's food fresh, healthy, and clean.
Wall-Mounted Hay Feeder Idea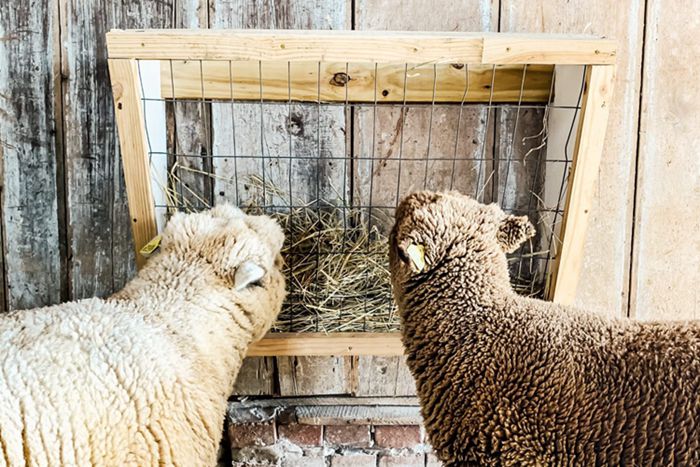 Wall-Mounted Hay Feeder is an attachment for your tractor and a Portable hay feeder that you can carry anywhere, anytime. It is easy to install and disassemble; it can be folded for self-storage. With this device, your cattle can always get fresh feed without wasting hay. It is a lovely wall-mounted hay feeder with a great design and futuristic appearance. It is also very durable and portable. The wall-mounted hay feeder is easy to set up and move around, making this product perfect for horse owners.
Square Bale Goat Hay Feeder Plan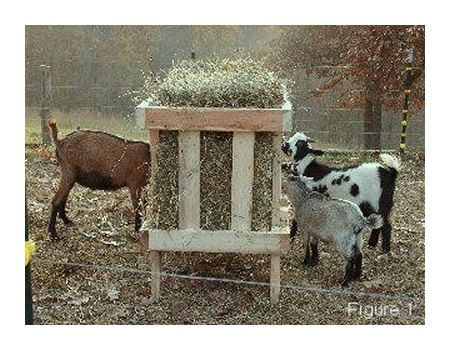 Are you looking for the best way to feed your goats? This isn't your average hay feeder. The DIY plans for it are detailed and provide a very thorough walkthrough of how to build a standard square bale hay feeder. This guide is perfect for you if you've been wondering how to easily make one with minimal tools. You can save money and have a lot of fun making your feeder. After you learn about the materials and tools needed, you will scramble for bales of hay and make an indoor or outdoor square bale goat hay feeder that works great for feeding your goats.
Easy Hay Feeder Creation
This Double-Sided Hay Feeder provides plenty of space for your sheep or goat to eat. The double-sided design discourages overfeeding and makes it easier for goats to share the feeder because there is always room for more. The design also makes this feeder ideal for under a hay chute since the hay can be spread across two sides so that the animals don't have to jump as high or reach as far to get their food. Keep your goats or sheep from eating too quickly and stealing each other's food with this double-sided feeder. Place it under a hay chute to keep them from chasing one another away and allow them to feed in a roomier space.
Hay Feeder DIY Idea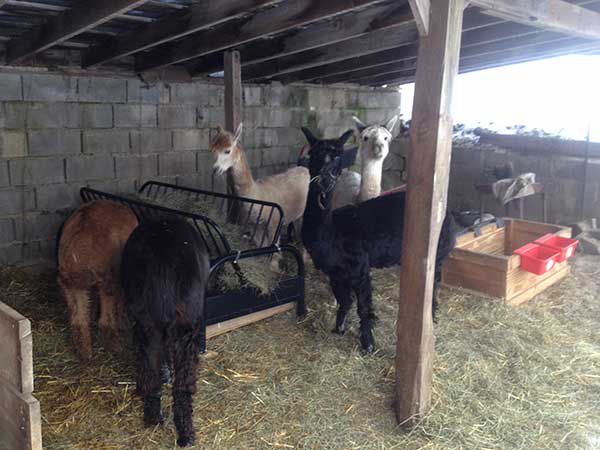 Hay feeders are incredibly important in horse ownership but can also be expensive. This easy-to-make DIY hay feeder will hold large amounts of hay at the perfect height for large animals. This DIY hay feeder is sure to save you time and money. For about $30, you can do this project to hold your horse's hay, so you don't have to keep refilling it. If you are looking for a weekend project that saves money, this guide is for you!
No Waste Hay Feeder Plan For Goats
Keep your goat's hunger stimulated with this basic design feeder with a large mesh top. The No Waste Hay Feeder is designed to move easily from one location to another. It also has a roof to protect your hay from the elements! This DIY project is simple and inexpensive to make, so you can put it together on the weekend. The simple design allows you to fill the trough with hay and keep your goats happy without worrying about wasting too much food. It's simple, inexpensive, and has plenty of room for hay. See how you can make this perfect solution for storing hay near your goats!
Garbage Hay Feeder DIY Idea
A great way to feed your goat is with a garbage can hay feeder. This project includes wheels that make it easy to move around and create a feeding station that is in a convenient spot. The best part, though? It was inexpensive! This garbage can feeder is an easy project that will provide years of service. This is a great way to use those handy garbage cans that you have on hand. Goats love the hay, but they don't love stacking it into piles which can become moldy and attract bugs. Use this feeder to keep the hay off the ground and away from bad weather.
Wall Mounted Hay Feeder
A hay feeder is a perfect way to keep your goats happy and healthy. This wall-mounted hay feeder keeps the goats from wasting their food while providing a safe place. Building a wall-mounted hay feeder is easy and takes a few steps. You will need to get the proper measurements of where they will be placing it and cut the wood according to those measurements. The plan is also very straightforward, which makes it perfect for goatherders and farmers who want to keep their properties clean by ensuring that hay doesn't come out after feeding time is over.
No Waste Goat Hay Feeder
If you want to learn how to save money, get a great discount, and help your environment simultaneously, this DIY goat hay feeder plan is perfect for you. It also helps stop wasting as much hay as it makes it easier for goats to get their food. Your goats may be hungry and eager to get a mouthful of hay, which may lead to their hay waste. You can stop your goats from wasting hay by giving them the need to eat more slowly. The feeder will be easy to carry and store.
Bale Hay Feeder For Goats
Goats love to climb, but with this round bale feeder, you won't have to worry about them getting over-excited and spoiling the hays. It's easy to install and keeps your goats from messing up their food. Thanks to its design, the Round Bale Feeder minimizes hay wastage from your goats. It is made of heavy-duty steel so that it can withstand continuous use by the goats and comfortably sits on a flat surface. It also has a removable lid that helps you easily refill the bale feeder whenever possible.
How To Make A Hay Feeder
Building a hay feeder is an amazingly easy and inexpensive project that can save you lots of money! If you want to see your goats waste precious hay, this is the only thing you can do. The feeder will keep the hay in a place, and the goat can access it through an opening on the feeder. Make sure your goats have an easy time accessing the hay in this feeder. Place the hay into the feeder, and your goats can access it from the opening on the side of the feeder.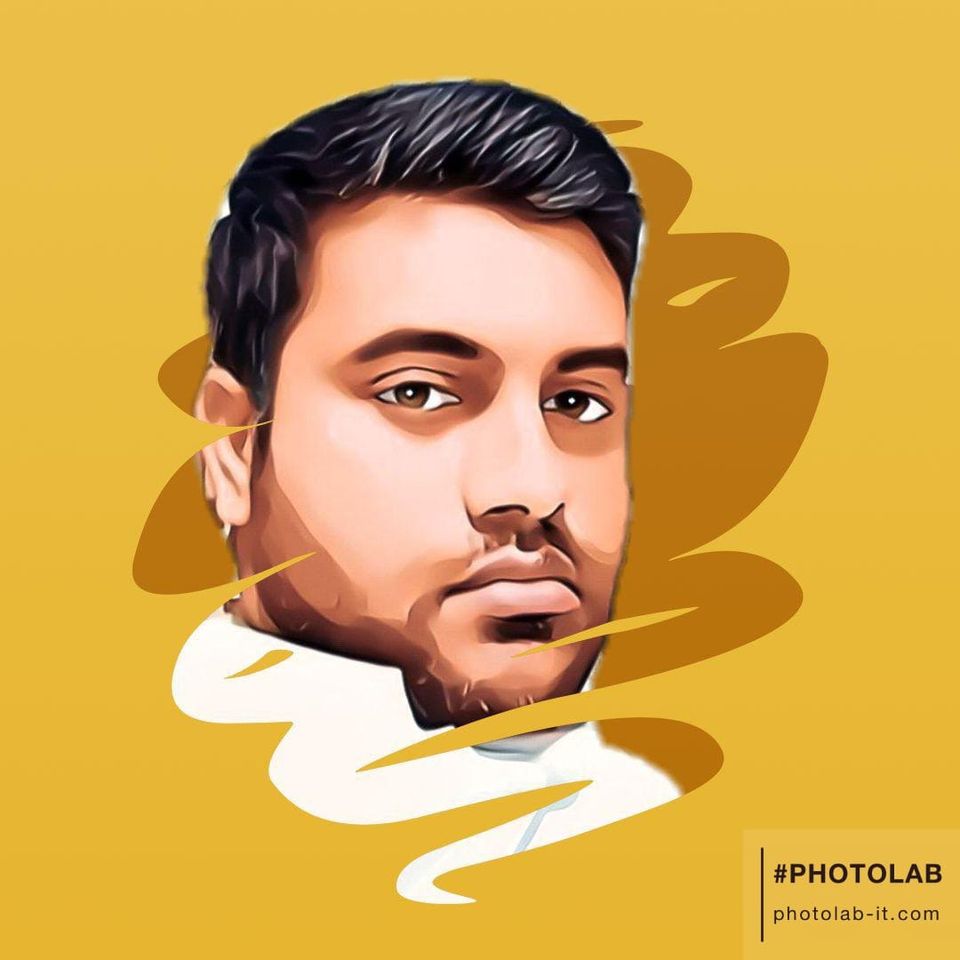 I am Raza, a crafts expert with 6 years of experience. I run this site for DIY lovers to provide the most exciting projects and ideas for your home, office, and everyday life. See More