25 DIY Garage Shelf Plans You Can Make Yourself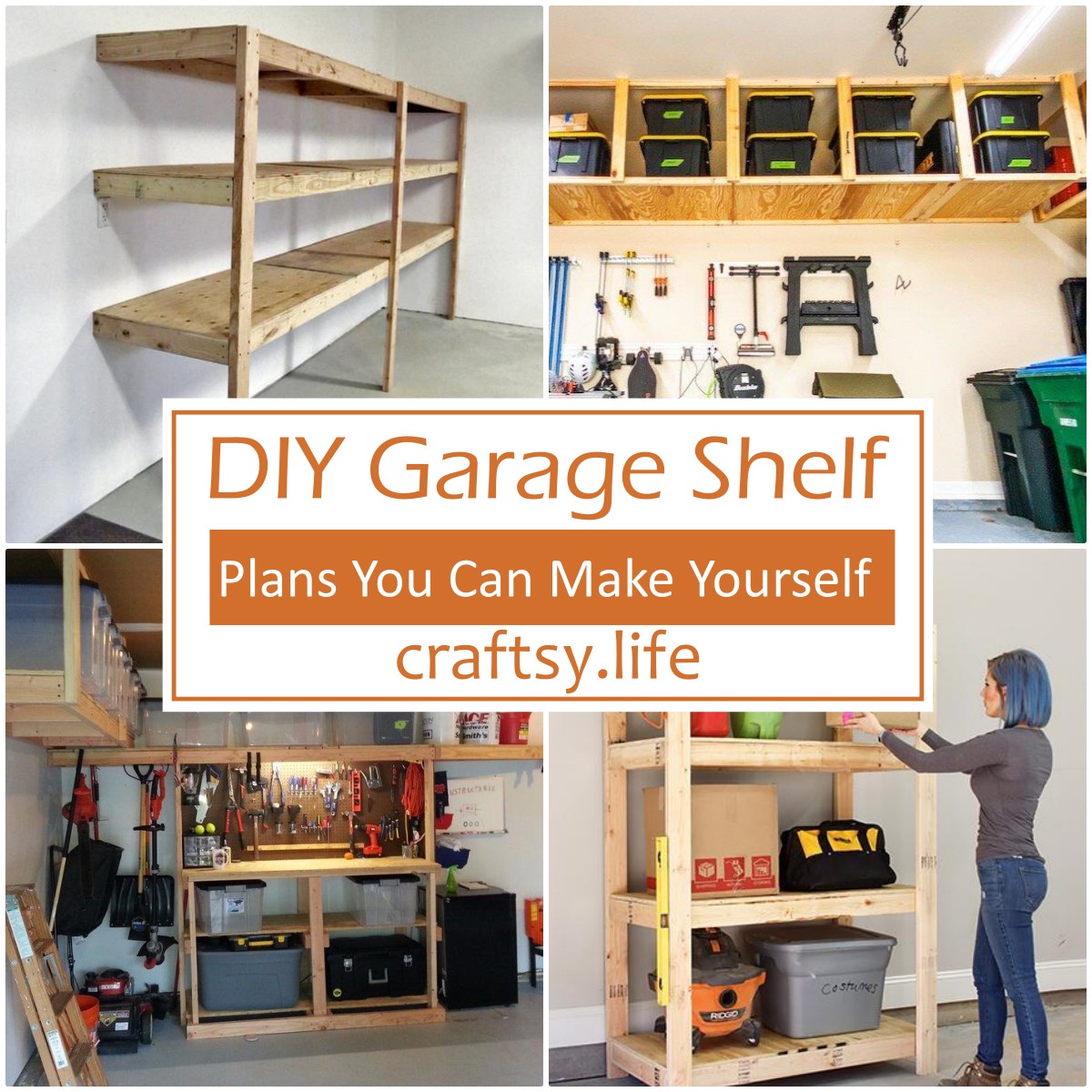 The Garage Shelf is a genius solution to a common problem: finding space for bulky tools, sporting equipment, and other oversized items that are too big to fit in drawers or closets. This DIY garage shelf system is super sturdy and will meet your storage needs for all those odds and ends you don't want lying around the house or garage. These DIY Garage Shelf Plans are perfect for anyone needing extra storage space in their garage. Building these shelf plans yourself will save a lot of money! The projects below will walk you through the build step by step, detailing your options along the way.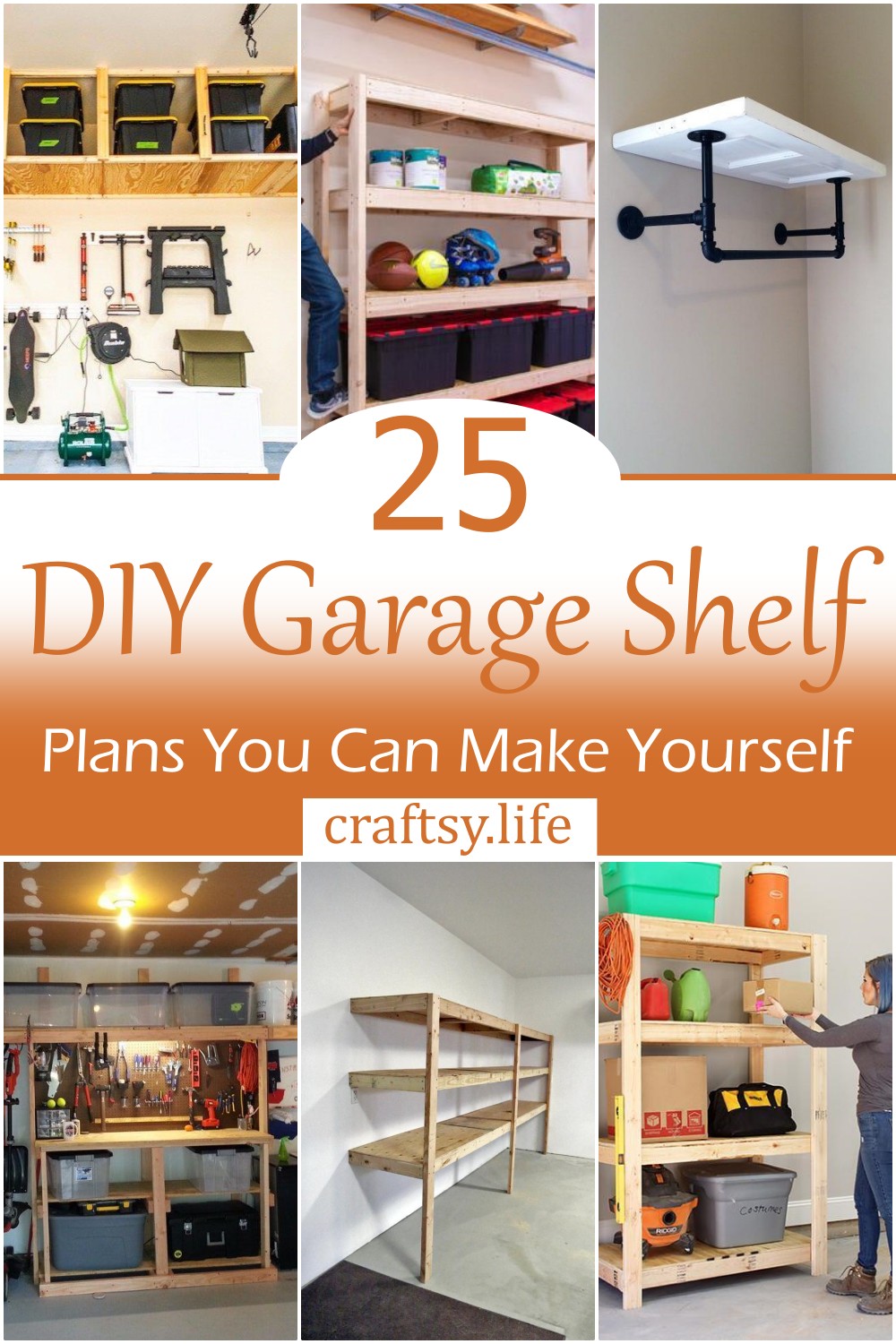 Looking for a way to display your excellent wares, or need a place for that tool collection? This collection's DIY garage shelf plans offer a wide range of design ideas, including plans for floor-to-ceiling wall shelves, floating shelves, and slide-out shelves. From luxurious varnished wood to bare plywood and even galvanized metal, these projects are accessible and affordable for any skill level. Many of them can be built in one day or less, so you'll have time left over to find out what's on TV tonight! So, If you want more storage in your garage? These DIY Garage Shelf Plans will help you build all the shelving of your dreams.
Here are 25 DIY Garage Shelf Plans you can make yourself; These great storage and organization ideas will help you transform your garage into a clean, well-organized space.
You Can See: 26 Unique DIY Wall Shelf Ideas For Home
How To Build DIY Garage Storage Shelves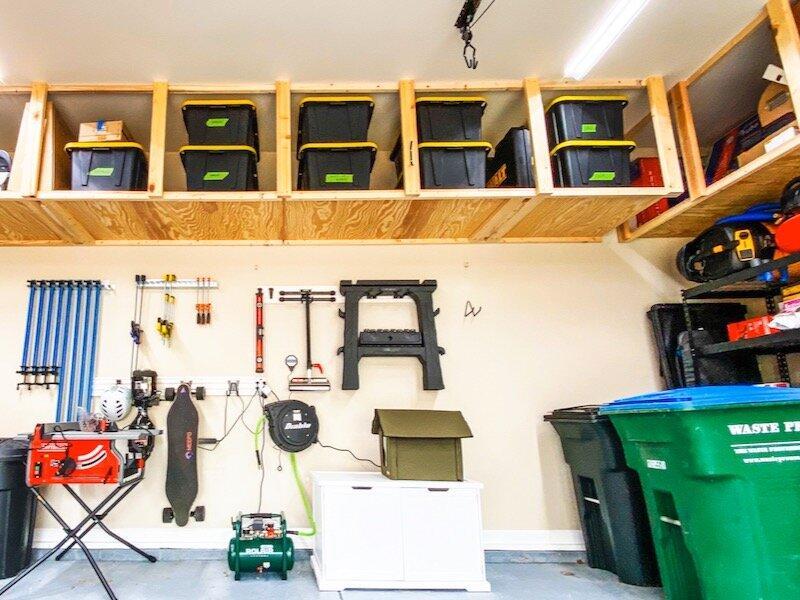 Garage shelving is a great way to organize your garage or shed and add extra storage space for your belongings. But many shelves on the market are expensive, and higher-quality wood takes quite a bit to work with. Manufactured frames can be challenging to install correctly, leading to problems. What if you could quickly build a set of sturdy and beautiful DIY garage storage shelves in a matter of hours? Well, now you can! All it takes is some basic carpentry knowledge and a few materials (some of which you probably already have). This guide will walk you through every step, so you're ready to build your own handy DIY garage storage solution!
DIY Hanging Shelves For Garage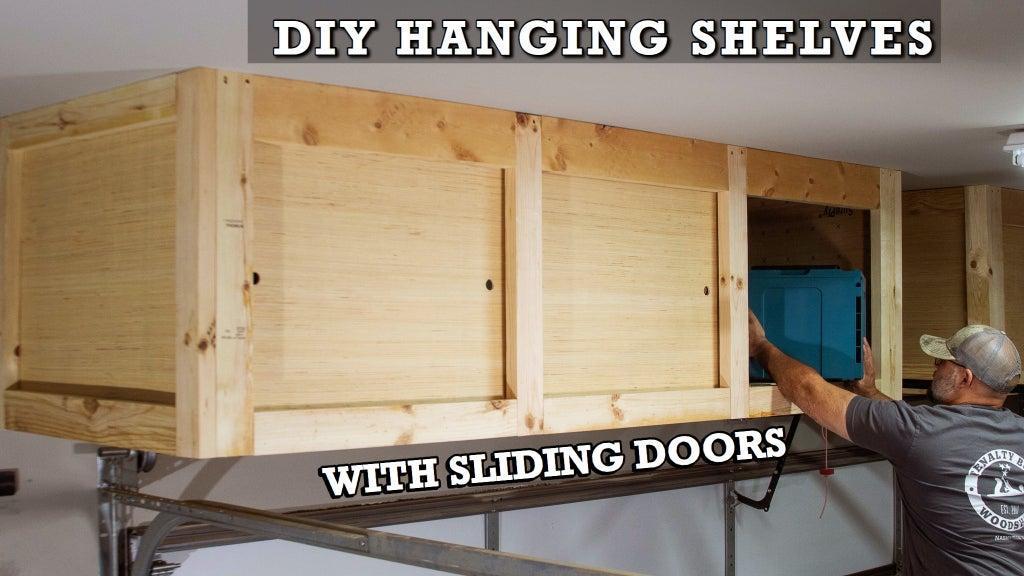 Suppose you're looking for a creative way to store your garage tools; look no further than these DIY hanging shelves. The pieces are made from simple materials, making it easy to build them yourself at home. You can do this project with very little carpentry and woodworking skills; all that's required is several wood boards and a few screws. Save space in your garage and hang the shelves yourself. This shelf system allows you to move around items on the shelves and adjust them if needed.
How To Build Garage Shelving
A garage shelf allows you to store and display items in an organized way. Building a rack is not as complicated as it looks, and with the right tools, you can complete the task in less than one weekend. The first step is to determine how big your shelves need to be and what they will support. You'll want the shelving unit to be perfectly on-level to function properly when filled with items. Building garage shelving doesn't have to be an expensive project. Building your own DIY garage storage can be easy if you know the basics of woodworking and have the right tools, such as a miter saw. By following these steps, you could build garage storage in no time!
DIY Garage Storage Shelves
Garage Storage Shelves are a great way to use dead space in your garage, shed, or closet to store anything from extra paint cans to holiday decorations. If you're looking for an inexpensive DIY project that adds value to your home and helps you get organized quickly, here's how to make Garage Storage Shelves. It will help you make room for your tools and keep them organized. It's less expensive than buying fancy shelving and can be customized to meet your needs.
Easy DIY Garage Shelf With Plans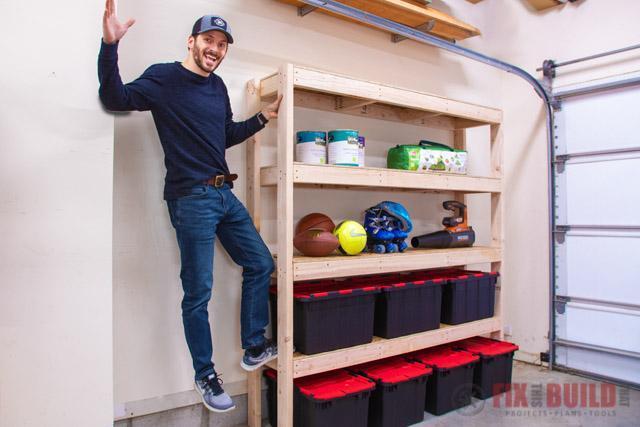 This DIY project transforms your garage or workroom into a sleek, space-saving, and organized environment. The shelf has a top flip foot stand to easily access all the tools and parts stored inside. This shelf is constructed from wood but can make out of any material you prefer. The DIY garage shelf is an easy project you can do in your backyard. You don't need a lot of tools, and it doesn't take long to finish in the first place. The costs are meager, so if you have any more storage needs, you can complete them quickly without spending too much money.
DIY Garage Storage Shelf
The garage is a place to work but not great for your tools. Old boxes and wood piles are eye sores that make you more inclined to do more shopping than working. It's time to get organized! With this easy-to-follow video, you can build a garage storage shelf with simple materials. This storage shelf can be a perfect addition to any garage. It is easy to make, inexpensive, and provides an ideal space for storing your tools or other items. Use the video as a guide for this project.
Easy DIY Garage Shelves
This DIY garage shelf project is easy to do. Even a novice can do this excellent shelving project. You will need a power drill, circular saw, plywood, and some other materials to start with the project. Follow the instructions in this video tutorial and gain that extra storage in your garage by building your DIY garage shelves! With less than a day's worth of work, you can make an efficient, easy-to-customize garage storage unit with versatile shelves. Here's how you do it:
Best DIY Garage Shelf
This DIY garage shelf will help you organize your garage space. It is made of wood, which makes it sturdy enough to endure rough handling and the elements. You will not have to use screws or nails to build this shelf and only need essential carpentry tools, making it easy to create yourself. This garage shelf is easy to assemble, has an open design, and gives you plenty of storage space in a simple package. The cost of this shelving unit is not much, and it takes less than a day to complete.
Cheap DIY Garage Shelf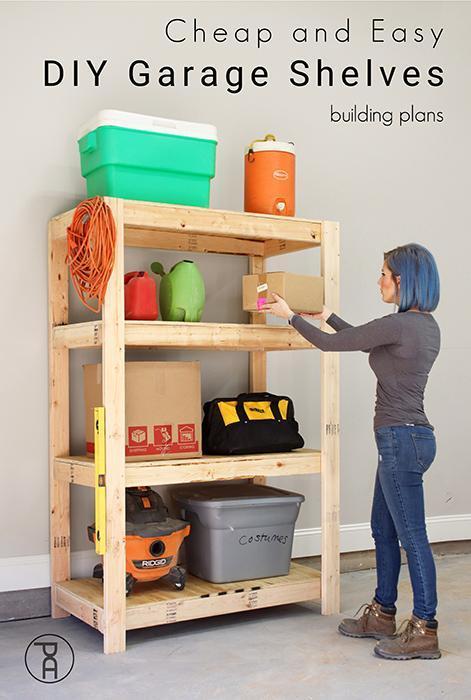 Add some built-in shelves to organize your tools and other items if you have a messy garage. This easy DIY project will help you create a beautiful custom storage unit in your garage! You don't have to spend much money or have extensive carpentry skills to build a customized garage shelf. It is better than many store-bought shelves. This DIY garage shelf is a great way to save space in your garage. You can build this simple wooden shelf out of lumber and screws with a few materials. It's easy to assemble and install!
DIY Shelf For Garage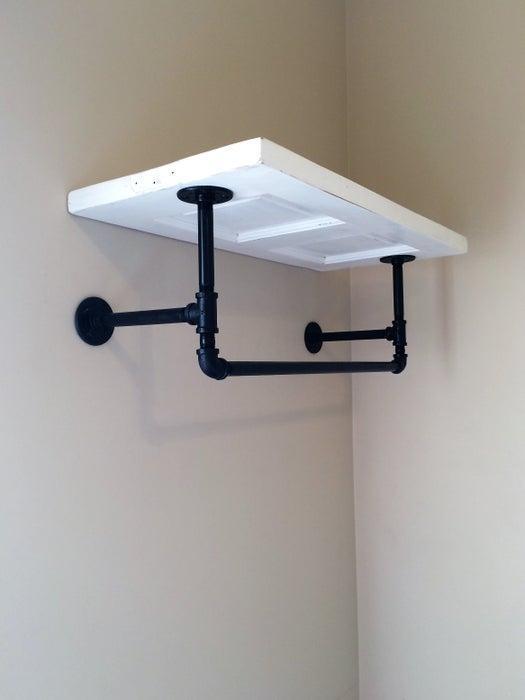 Do you not have enough space in your garage and want to make it work a bit better? Start by getting rid of the door from an old closet or cabinet. Then, paint it in your desired color. After this, sanding and staining give it a unique look and feel. Then take some pipes and figure out how they might fit together on their own based on the measurements you need. Add required brackets, mount them to the wall, and then place them onto the shelf with some bolts. This simple shelf provides ample room for your equipment, tools, and other necessities.
DIY Hanging Garage Shelves
Making your garage shelves is great if you have the place and time. Though it may require work hours, you can design everything to fit your needs. This easy-to-follow tutorial will help you make your heavy-duty garage shelving. You can save tons of space in your garage with the help of these DIY hanging garage shelves. Use them to store your tools and supplies, cleaning supplies, parts, and other items that require a lot of storage space. Within minutes you will have created your unique storage system that is cost-effective and functional.
DIY Garage Shelves
Now that you've had some time to clean up your garage, it's time to make a wishlist of what you'd like to store on the shelves. These DIY garage shelves are easy to build; they need wood glue, pocket hole screws, a drill, and others to put together. Once you decide where to install them and have the hardware ready, follow this step-by-step guide to getting organized. This great way to organize your garage by showing off your tools, sporting goods, and other gear.
DIY Garage Storage Shelves
Looking for new storage solutions, look no further than these DIY Garage Storage Shelves. These shelves are simple and inexpensive to build, giving a quick punch of storage space. They're great for storing heavy items that are usually relegated to the floor or hard-to-reach spots. This is a great DIY project because it's so easy (and cheap!). You need wood, screws, and foam insulation to create the perfect storage area for your garage or shed.
DIY Garage Shelf For Tires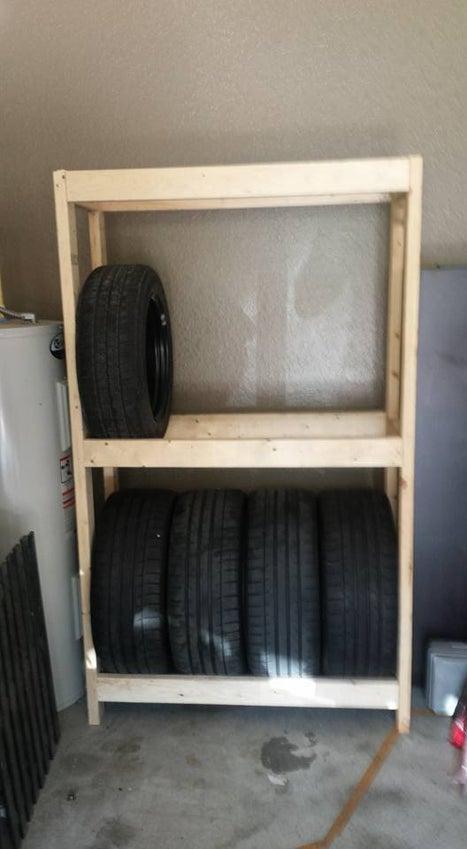 Do you need to organize your garage but don't want to spend much money on the shelves and items? Why not build them yourself? This guide shows how to make your garage tire rack. It can also double as extra storage space for other items in your garage. You can build your tire rack or shelving unit for tires with just a few simple tools and materials. This DIY project is perfect for those needing extra storage for their tires.
How To Build Simple Garage Storage Shelves
Storage shelves are a way to organize and add extra functionality to any garage. Their versatility makes them a great addition to any workspace, whether you're building a new garage or want to tidy up the existing one. This project gives you step-by-step instructions for building sturdy wooden shelves that will last a lifetime. This DIY storage shelf design is easy to assemble and cheap. It'll provide a great spot to store your tools and yard gear. These shelves are 31 inches apart and made of 2x4s and plywood. The bottom panel is not attached to the sides, giving it a floating look that allows water to run off efficiently.
How To Build Garage Shelves
If you love to work on DIY projects, then garage shelving may be something you have toyed around with. Building your own closet shelves is the perfect project for you if you do not have much spare time to take on more challenging projects and DIY tasks. It can be rewarding, but it does take time, effort, and specific skills, including measuring, sawing, and sanding tools. Installing garage shelves is a simple project that requires no expensive tools. Start by installing the main supports, then use more rails and screws to build on top of these.
DIY Big Garage Shelf
This shelf will be the perfect addition to your garage or shed. This project is an excellent choice if you love woodworking and enjoy working with lumber. Not only is it a fun DIY project to take on, but it will also give you the reward of having an attractive storage option for the extra tools or items cluttering your work area! This DIY garage shelf is easy to make and very functional. It can adjust in size depending on how much you need to store, and it's durable to hold all of your heavy things. It only takes a few hours to build, so you'll have the perfect garage storage for your power tools, garden equipment, and more.
How To Build Garage Storage Shelves
Consider building these DIY wall-mounted shelves if you have lots of tools and supplies in your garage but little room to store them. Simple and sturdy, they're an easy project that will take you less than one afternoon. This video will walk you through the steps of building your garage shelves from start to finish. Building out of 2×4s and ½" OSB, these shelves are simple to make and easy to be modified to fit any garage length you have.
DIY Garage Storage
This DIY garage storage shelf is an excellent addition to any garage, basement, or shed and can make by anyone. You will need plywood, a nail gun, sandpaper, and paint. Measure your space before buying supplies and cut accordingly. Attach the pieces using the included hardware and sandpaper to smooth any rough edges. Once done, clean the surface with a wet rag or paint it with high-quality spray paint if you want to ensure it lasts for years.
DIY Strong Garage Shelf
This DIY garage shelf is perfect for extensive collections of small items such as paint cans, tools, and other miscellaneous items. It mounts neatly in the corner so you can use the rest of the wall space in your workshop or garage for extensive tools. This shelf is customizable and can fit on any height or width wall. Whether a professional contractor or DIY handyman, learn how to build this robust garage shelving system today! This video guide will teach you to make a DIY garage shelf out of plywood. In addition, you can mount the piece by drilling some holes in it and assembling it.
DIY Garage Wall Shelving Unit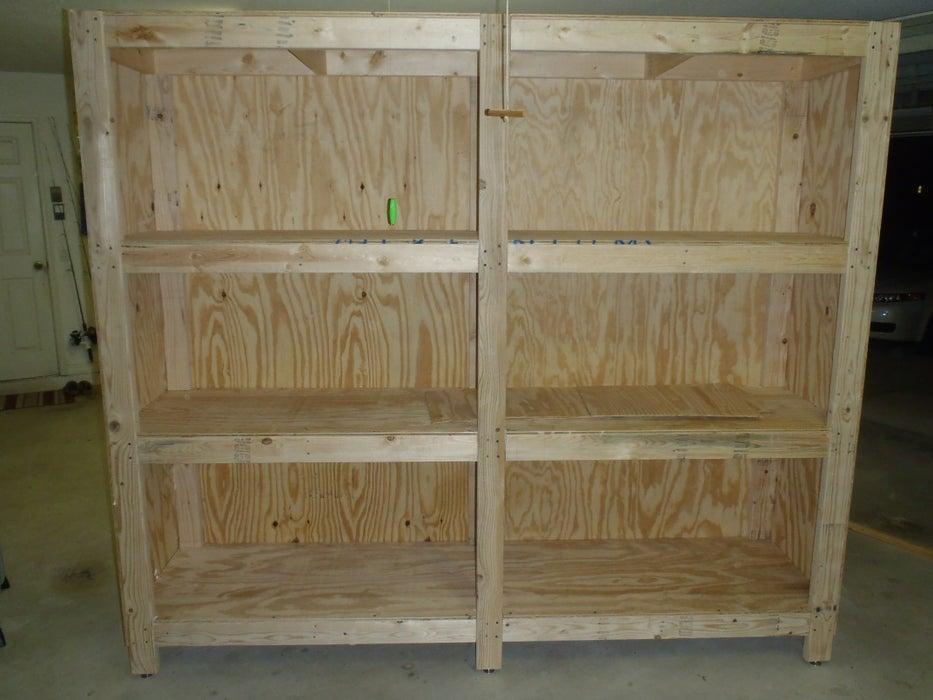 A DIY garage wall shelf is handy when you want to keep your garage organized. The free plan contains the cutting list, materials list, and step-by-step instructions on making this wall shelf. You'll need to ensure that you measure and cut all the pieces of wood required for the rack, then assemble the frame. Once the structure is intact, attach the brackets to it, and you're good to go. With your own DIY garage wall shelving unit, you can customize your space using shelves to show off your favorite items or organize like items together. The cost of this project will vary based on the type and number of materials needed, but overall this is a fun weekend project that will brighten up any garage
DIY Cheap Garage Storage Shelf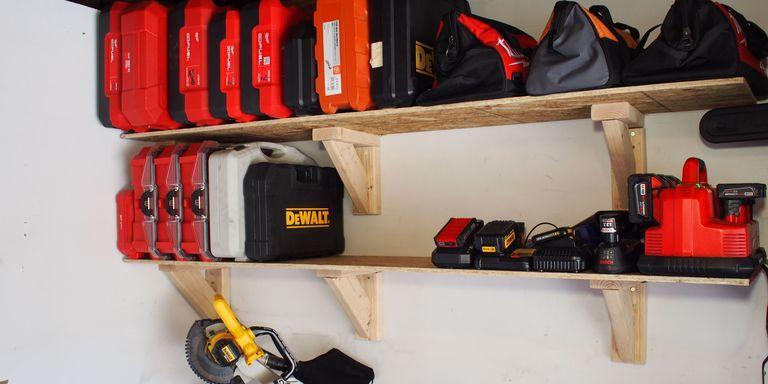 Building a garage storage shelf is not as hard as you think if you have never worked with wood. Anyone can do this project at home with little effort and patience. DIY Cheap Garage Storage Shelf will give you a simple and budgeted storage solution that can help you keep your garage organized and tidy without breaking the bank. You will need to clear your garage space, gather the tools and materials required and follow the instructions step-by-step. Once it's done, you will have your own homemade garage storage shelf!
DIY Garage Shelves With Plans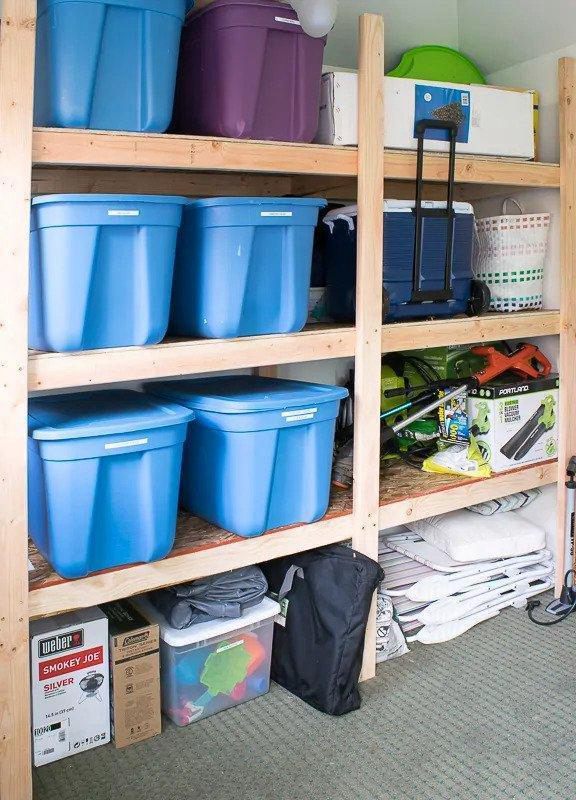 It's time to renovate your garage, but you don't have much money for tools or materials. You can still build a simple DIY garage shelf to help you get the most out of your space and stretch your hard-earned dollars. With these plans, you'll be able to build it using just a few sheets of plywood, some screws, and hinges.DIY garage shelves are necessary to make the space feel more organized and aesthetically pleasing, so share the DIY love with this do-it-yourself project!
DIY $40 Garage Shelf Plans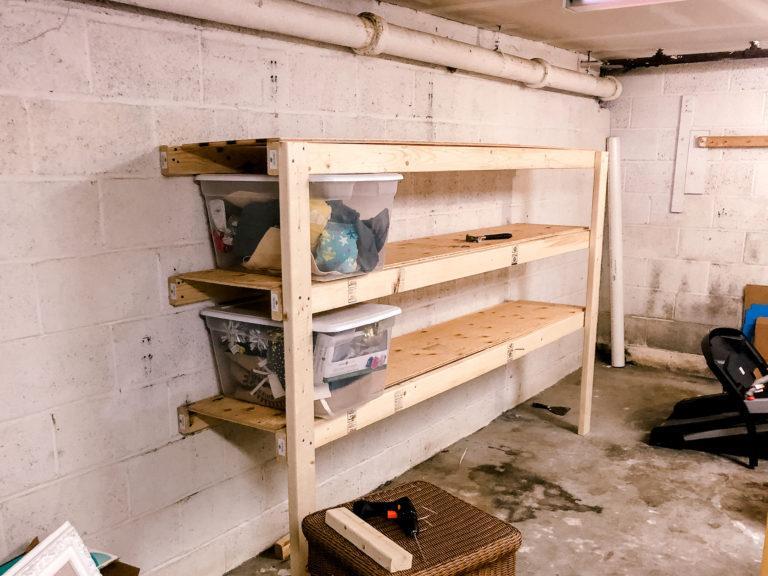 With this easy DIY garage shelf plan, you can build a versatile storage cabinet to fit where you need it most! Garage shelves are great for shelving tools, equipment, and other materials. They can make anywhere (actually should be) and let you organize everything from a single toolbox to every tool in your arsenal. A simple wood garage shelf plan with detailed illustrations and cutouts will help you make this project quickly. The details make the difference between a professional job and a messy one.
DIY Garage Storage Shelves
This DIY garage storage shelf is the perfect solution if you have restricted space to store your garage tools. It doesn't take long to build and provides a versatile storage solution that can fit most locations in your garage. Once you see how quickly it can be assembled, you'll want to create more! Build this DIY Garage Storage Shelf using standard tools and materials. The shelf is made with plywood, saw horses, pressure-treated lumber, and OSB to hold the weight of your items. Follow the steps below to build this fantastic product you can use in your garage or home.