Your gaming table is one of the most important pieces of furniture in your house, and it might easily become a part of your daily life. You can play your video games, watch movies on DVD or read your favorite book at the same table where you relax after a stressful day at work. If you want to create a gaming table for yourself, we offer 24 different plans for you to choose from. However, building  DIY gaming table plans might be a bit more complicated, but with the right tools, materials, and steps, you should be able to make one. These can help you enjoy your video games more conveniently. You can choose from gaming tables such as standing height or sitting height, single-player or multiplayer, etc.
DIY Gaming Table Plans
These DIY gaming table plans are a great way to build your table at home. DIY gaming tables add a new dimension to the experience. You can indeed buy one, but DIYing is not as expensive as buying one, and it gives you more freedom to customize its design. You can also modify these DIY gaming table plans to suit your taste or needs. If you are a gamer, you probably have an idea about the importance of having a gaming table for your games – they help you play better and enjoy them more. 
The gaming table is not just a place where you can play your favorite game, but it also has other benefits. These gaming table plans that you can make. Feel free to glimpse through and choose your preferred table for gaming.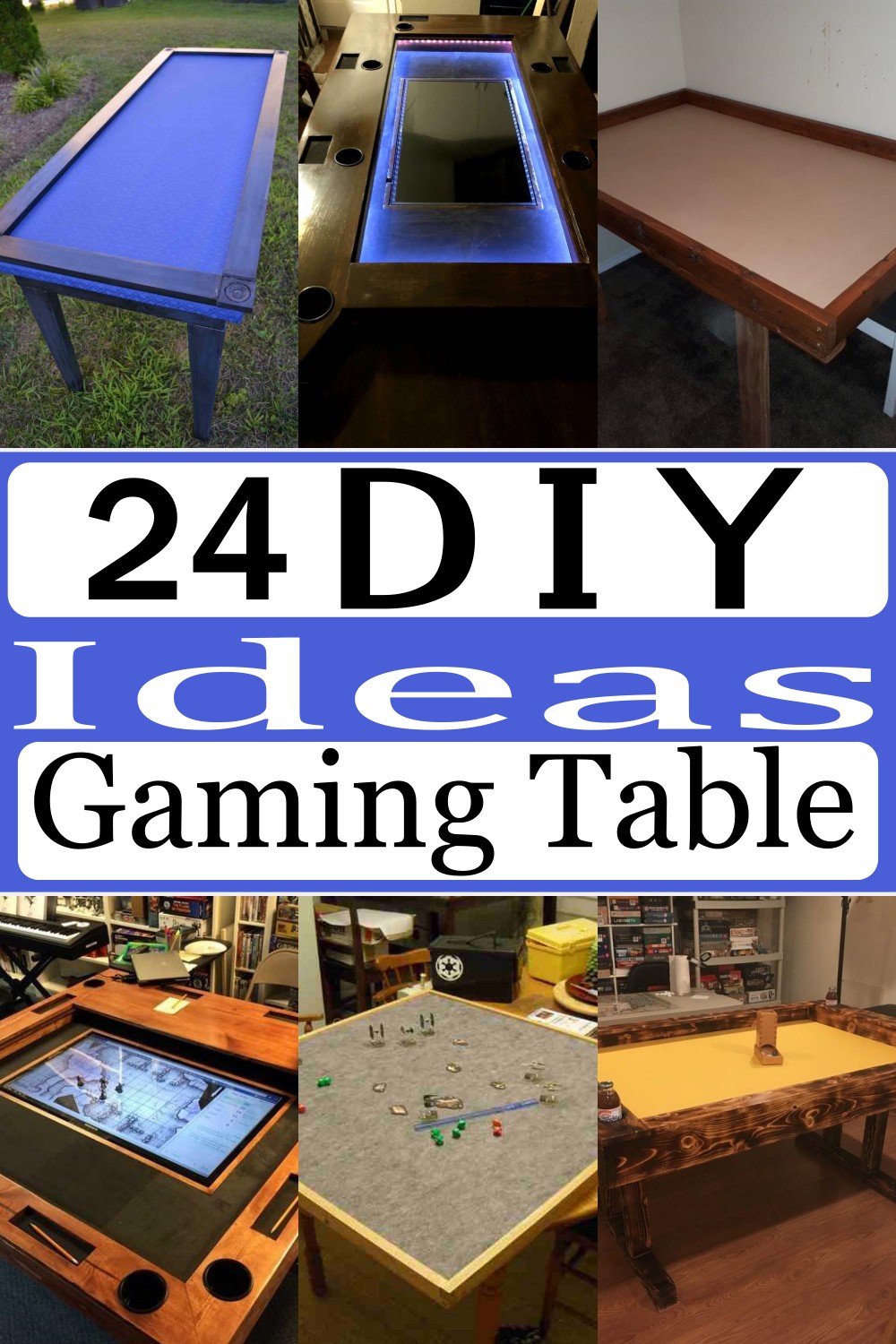 Easy Gaming Desk With Plywood
It is straightforward to make, and it will cost you less. It's a perfect project for beginners or intermediate woodworkers. The gaming table is durable, simple, and will make your room look more beautiful. If you are a gamer, the gaming desk is something you should have. You will feel easier to play games on your computer if you have a table to put your laptop and other stuff on. You can make a simple gaming desk using plywood and your tools at home. This gaming desk is excellent for an avid gamer, but it's also a great way to beautify any room.
Gaming Table Workstation
This simple yet cool DIY project gives you a gaming table for your game nights. Its metal frame will provide you with the durability you need to enjoy years of fun. If you're looking to up your gaming table game, look no further! This DIY gaming table will take you from amateur to professional. And once it's over, you can fold it away to make room for other things in your room. With this DIY, you can build a gaming table that is four ft. wide and eight ft. in length. It has a metal frame and shelves for storing gaming accessories.
DIY Lighting Gaming Table
DIY Gaming Table is an unbelievable project that you can build using your own hands. This tutorial shows you how to make a gaming table that fits well with any décor. The materials required for this gaming table include a miter saw, drill, screws, circular saw, and tape measure. Cut the pieces necessary for the project, then assemble them. This DIY table features a non-tilt slate top that allows you to set it up in any room of your home or office. It even includes a storage drawer under the tabletop to easily store snacks and extra games during the gam.
Easy Game Table
Make a gaming table to enjoy your favorite games with friends and family. Build the table frame by creating the hexagon shape and leaving space for the monitor or tv in the middle. Drill pocket holes into the bottom shelf to attach it to the legs, then paint all parts of the table with your choice of color. This DIY project is easy but requires patience and detail, and the ability to read a tape measure. The hexagon shape of the tabletop, which leaves enough space for an LCD monitor or television, makes for an exceptionally versatile piece.
Black Red Gaming Table
This DIY gaming table is easy to make and brightens up any room in your house. Here is designed this gaming table for the gamer who wants to be able to roll dice away from their computer with their friends. The legs, tabletop, top shelf, and bottom shelf are all made from plywood, making it super durable and easy to clean. This project takes a short time to complete, so you'll soon be gaming like a pro! This DIY gaming table is an excellent piece of furniture for your home. It features four shelves where you can store your game consoles, controllers, and other gaming accessories.
How To Build A High-End Gaming Table
Take your gaming experience to the next level by building your poker table. This diy poker table is beautiful and unique, with several features that make it stand out. To make things easier for you, we have broken down the process into a small number of easy steps so you can build your high-end gaming table at home. It comes with multiple features not found in the standard gaming table design that you would find on Amazon or Walmart. In this tutorial, we will discuss how to build a high-end gaming table and the steps involved so that you can build your own.
DIY Gaming Table Top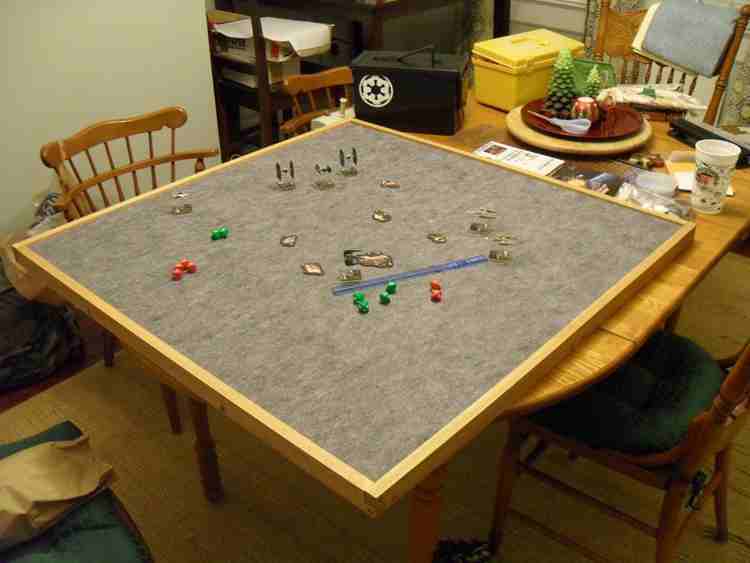 Make your DIY gaming table! This table features a natural finish perfect for games, puzzles, or dinners with friends and family. It has ample space on either side to comfortably fit up to 4 people, making it versatile enough to accommodate most game groups. This design is pretty great, and even though it has over 60 pieces, it doesn't take long to assemble. The materials needed for this gaming table include a miter saw, cordless drill, screwdriver, tape measure, clamps, wood paddle bits, Carpenter Square, popular, shrewd, and pine.
DIY Gaming Table Under 40$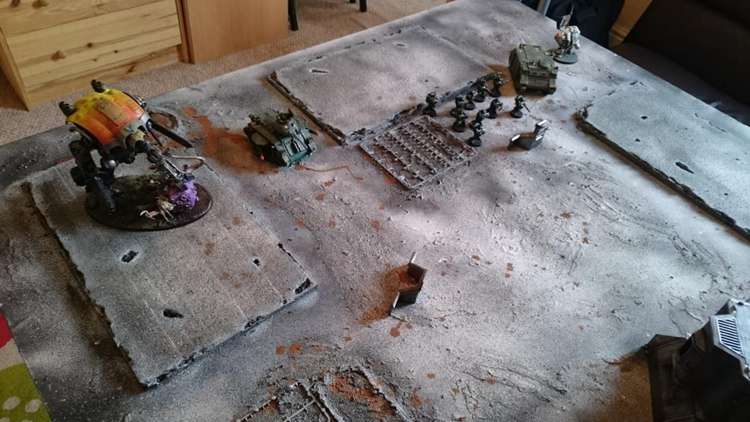 This DIY project is a superb gaming table that will make your home more inviting and fun. With just a few basic tools and some wood, you will have an amazing masterpiece. This woodworking project is not just easy to build but inexpensive, costing just 40 dollars to craft. It is easy to build and assemble, but most importantly, it won't cost you much money. A perfect gift for your family! The best part is that you can customize this table however you like based on the amount of space you have, the type of game you play, or the resources available.
DIY Modern Gaming Beam Desk
This desk is an excellent addition to your home office or workspaces such as craft rooms, hobby rooms, and art studios. Place it in any space that needs an extra table or workspace, or just as a decorative piece to style. It won't take too long to set up, and it makes a great gift for the gamer in your life! It's also perfect for a home office, den, or bedroom. This table looks elegant and modern, and you can make this yourself in the afternoon. This easy-to-follow project requires only a few tools and materials, most of which you probably already have at home. The result is a sleek and professional-looking table that will impress your family and friends.
DIY Floating Gaming Desk
DIY Floating Gaming Desk is a fun and easy build. This project is specifically designed to be built with 2x4s and plywood. You can choose the size of your wall hanging desk to fit in your gaming space and how many monitors you want to use. This DIY floating gaming desk will give you a unique floating design, perfect for drawing out plans on a chalkboard or drawing an impressive battle strategy on your iPad. This simple DIY floating wall-mounted gaming desk is perfect for those who only have a small space to work with or would like to show off their gaming system in their living room.
DIY Cheap Gaming Table
Are you a fan of gaming? You can use this DIY Cheap Gaming Table and save money by assembling it yourself. You will save a lot of money and have an awesome gaming table for the people who enjoy gaming. With this kit, you build a gaming table that can be adjusted from a small portable table to a full-size table for your living room. The table features an extension piece that allows the top to expand in size and provides ample space for playing board games or tabletop video games.
DIY LED Gaming Table
This beautiful gaming table is made from 25×25 square steel tubing. You can assemble the steel tubing yourself and weld them together or have a professional do it. Make space for the cup holes and attach the red LED light to the tabletop. You can then enjoy your games with friends without worrying about spilled drinks or crushed chips! The total cost of this DIY project is less than $50, making it possible for anyone to create their custom gaming table.
How To Make A Gaming Table
A gaming table is a must-have for every gamer. You can choose to make one by yourself or buy a readymade one. This video will teach you how to build a gaming table. It is easy to build and uses readily available materials. The tabletop is made with 2×8 sheets of plywood. The legs are built using furring strips, and these are screwed onto the top of the table through a hole drilled in it for this purpose. A cup holder is also included in this gaming table to keep your drinks close at hand while playing your favorite game!
DIY Kids Gaming Table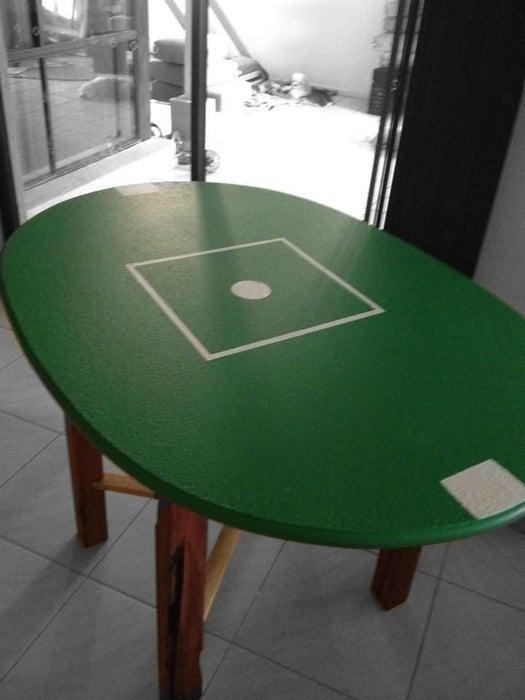 The DIY Kids Gaming Table is easy to build and looks fantastic. Begin this project by selecting the furniture you want to use as the base for your table. Then, using a table saw, cut the wood according to the cutting list. After that, assemble the tabletop piece, which includes 2×4s for the legs and beams for extra support under each shelf. Attach these 2×4s to one side of your tabletop with screws before adding extra supports underneath for even more stability.
DIY Gaming Table Plan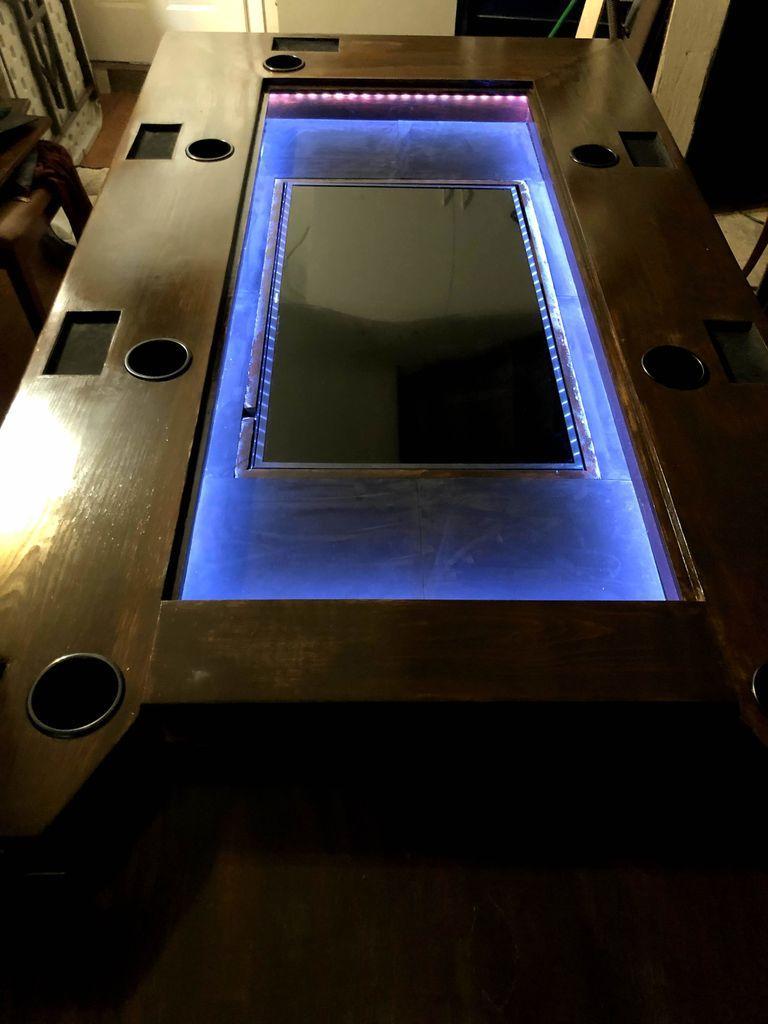 This DIY gaming table plans a hexagon-shaped table with an open central space for your monitor or television. The tabletop is made from plywood, while the legs and shelves are made from pine. This design lets you place more speakers around the room if you wish and even add additional shelves if you need somewhere to store your controllers or other gaming accessories. It is easy to make and even better if you efficiently utilize the space available in your home. It has ample room for a monitor or tv and can be easily modified to suit everyone's needs.
DIY Gaming Table Build
The DIY  gaming table build project is great for any gamer who loves to play card games and board games with friends. It is also perfect for tabletops. This piece of furniture has a sleek look, making it fit in any home room and can easily be rearranged as desired. This DIY gaming table will bring your family and friends together for hours of fun. It can be put away easily when not in use or stored in a closet or garage. The finished DIY Gaming Table looks fantastic in any room in your house!
DIY Ultimate Gaming Table
This is excellent for playing board games and other tabletop games. It has a stylish design and provides an ideal surface for craft projects. This fabulous set will provide your friends, family, and guests with hours of fun while they play their favorite PC or video games on it. It's hand-built but can be assembled in one afternoon. The final product has ample space for controllers, games, and snacks! This is simple to make and has excellent functionality for your home. It's easy to clean, fold away when needed, and is sturdy enough for almost anything you can throw at it!
DIY Table For Outdoor Gaming
This is an excellent table for gaming and great use of an old dining room table. You will need wood glue, wood stain, and polyurethane. Paint the old dining room table and allow it to dry before adding your fabric. Cut it a little bigger than the size needed and attach strips of wood around the table's edge to give it a framed look. Since gaming is so popular, here are going to show you how to make a great gaming table that you can play on. This DIY table is the perfect addition to your game room and will add style, color, and comfort.
DIY Board Gaming Table
The DIY board gaming table is perfect for your next get-together with family and friends. It's easy to make, inexpensive, and looks fantastic in any home or loft. You can even customize it by adding your favorite paint color! It is a great way to bring the fun of video games into the living room. You can build this table from scratch with the help of a few essential tools, including a jigsaw and a drill. The result is an easy-to-assemble and fun piece of furniture that provides hours of entertainment space for family and friends.
Custom Gaming Table Montage
Make the perfect custom gaming table for your friends, family, and guests with a DIY project. This homemade version will be the envy of everyone that sees it! This DIY gaming table is an excellent addition to any room. It can be used as an entertainment center, work desk, or conference table. Make sure you have the materials before starting by cutting sheets of plywood, screw, and a tape measure. Paint the tabletop with your favorite color and finish it off with our clear protective coating. This table was easy to make and looked impressive when finished!
High-contrast Gaming Table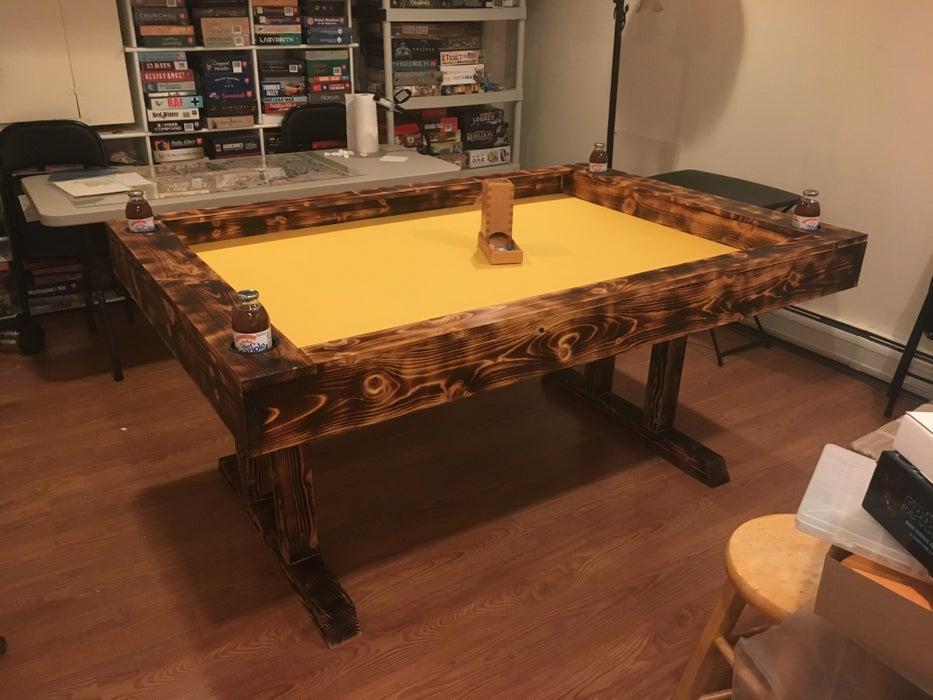 The project is the perfect way to create a personal gaming space in your game room. It is a fun project that the whole family can help out with. The materials needed are plywood, a small propane tank, a cordless drill, pine boards, assorted screws and nails, a miter saw, a sander, and a cordless nail gun. Improve your gaming experience with this DIY high-contrast gaming table. Build the frame, then finish it with a beautiful tabletop that matches your space, bringing a new level of comfort and style to your favorite game nights. This DIY project will have you playing in style in no time!
DIY Gaming Dining Table
The DIY gaming dining table is the perfect way to turn your dining room into a game night paradise. With this easy-to-build project, you can discover the satisfaction of making something for your home. Make a dining table you can use to play your favorite board games! This project combines both fun and functionality, plus you can make it in any size you want. This DIY gaming dining table is easy to make and will cost you a fraction of what retail furniture costs. Made from beautiful hardwoods, this design will give your home an elegant look.
Outdoor Gaming Table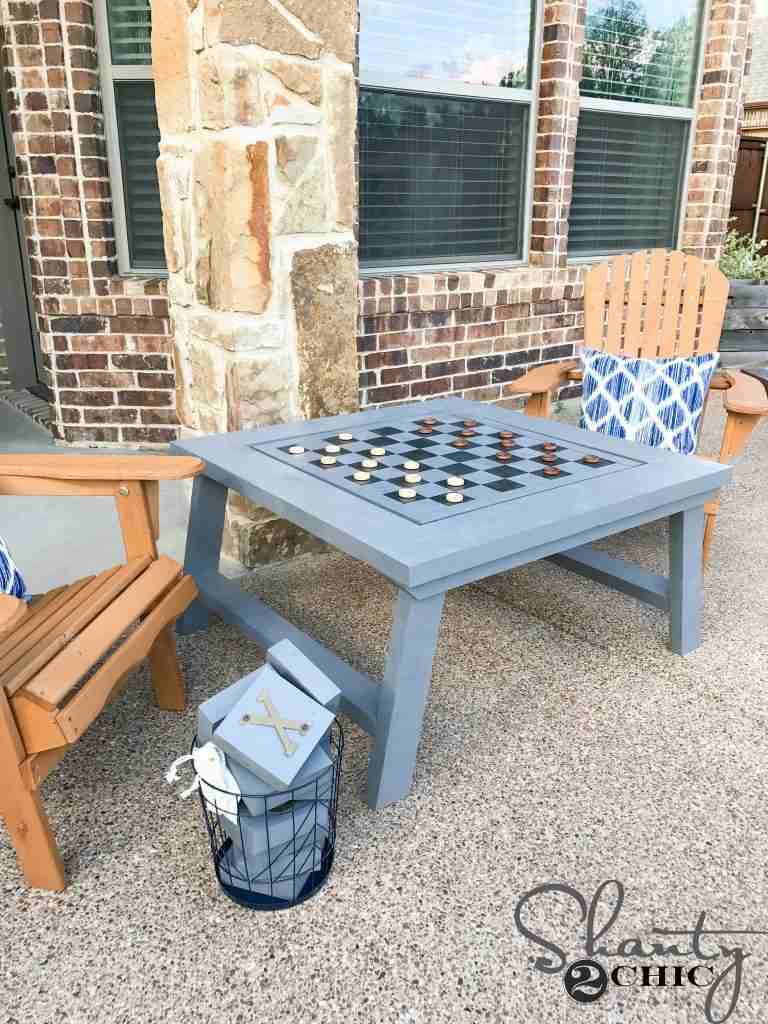 DIY Outdoor Gaming Table is designed to be a fun project that you can do with the family. It is easy to assemble and made of durable and long-lasting materials. If you're looking for an attractive and functional table for your backyard, look no further than this simple DIY project. This is perfect for game night, with all of the pieces you need to build a fun, picnic-style table for your next outdoor gathering. The waterproof wet/dry surface makes clean-up a snap and allows easy storage away from the elements when not in use.
DIY Game Table From Reclaimed Wood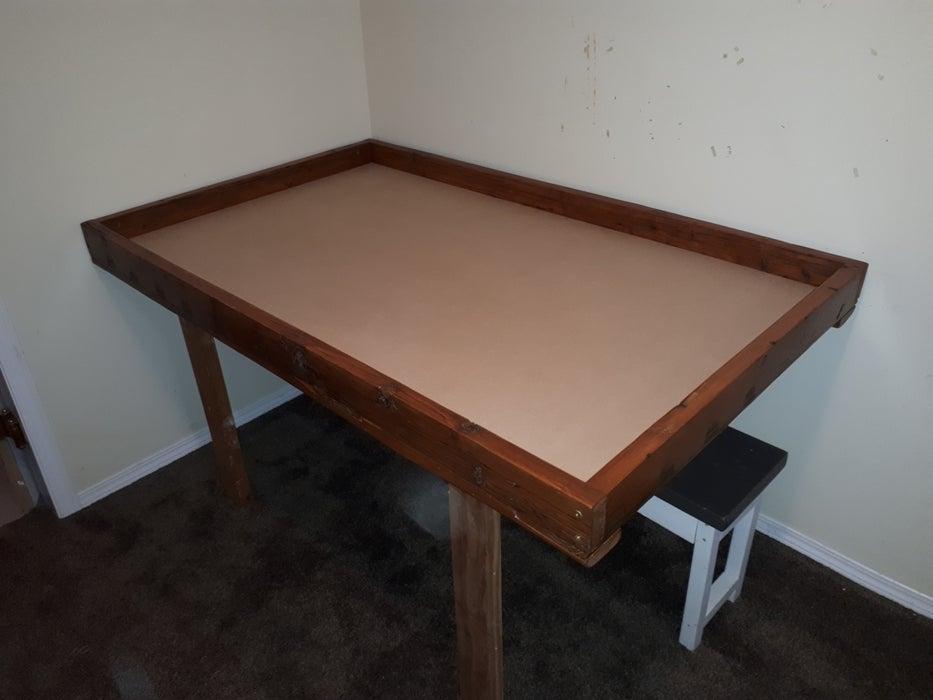 This reclaimed wood game table is the perfect solution for friends and family who love to play games but don't have regular access to a gaming table. It's handmade by a skilled craftsman using salvaged wood, screws, and nails. It's a unique piece of furniture that will stand out in any room. This table is made from recycled wood and other materials that are easy to find. However, you can use new materials if you don't have any leftover reclaimed ones. The table looks great and will last for a long time.
Conclusion
Building a DIY gaming table is fun to upgrade your game room, basement, or living room. You can make your table that fits your specific needs and budget, but these options are visually pleasing and improve your gaming experience. If you are glancing for something fun and rewarding to work on, this tutorial is for you. These DIY gaming tables require some skill and patience, but the results can be worth it.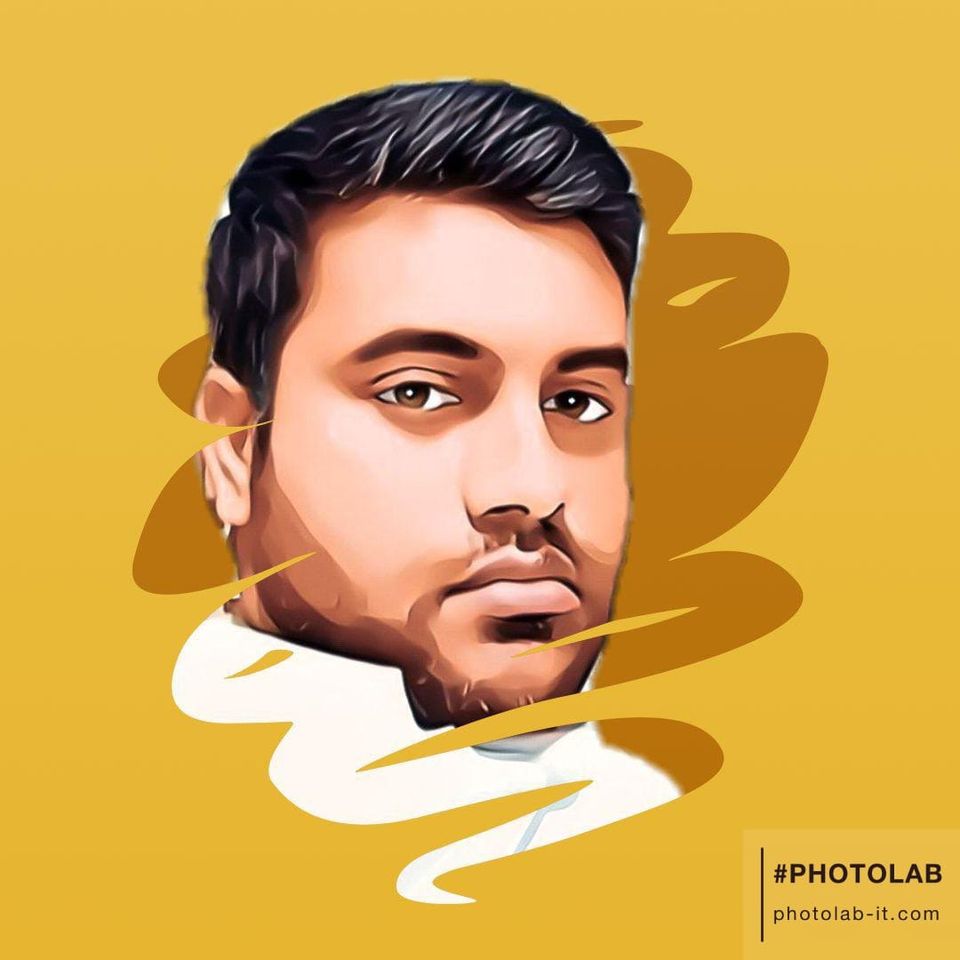 I am Raza, a crafts expert with 6 years of experience. I run this site for DIY lovers to provide the most exciting projects and ideas for your home, office, and everyday life. See More