They might not be the best for your back, but video game chairs are a great way to turn an ordinary room into something extraordinary. Some of the most popular gaming chairs on the market cost nearly $300, so why not make your own? Although expensive options will have more excellent materials and brand tags, you can re-create that style and comfort with DIY projects that use inexpensive materials like foam, wood, and fabrics. How often have you watched a movie or played your favorite game while hunched over your computer or console with a sore neck? If that sounds familiar, it's time to invest in new seating options instead! With options for the budget-conscious and those who love to craft, there's a DIY gaming chair project for everyone. These tutorials show you how to make DIY Gaming Chair Projects from everyday household items - plus, they're comfy and cheap!
Wood DIY Gaming Chair Projects

Do your gaming sessions leave you less than satisfied with your chair? Maybe it wobbles or won't stand up straight. The solution is as far as these homemade DIY Gaming Chair Projects. The size of the seating area will be determined by the seat's height and the chair's depth. You can also customize any other chair part to fit your needs. These would make superb additions to your home, but they also are ideal for anyone who needs a comfy place to sit and play video games. Check out these fantastic ideas for making gaming chairs to suit your needs.
Benefits Of Making Gaming Chairs At Home
DIY gaming chair projects are designed to help you create something functional and stylish with a low ownership cost. These projects range from simple modifications like adding buttons to the armrests to making an entire desk extension or center console. They can also be a great addition to your home office, workspace, and living room. With these DIY Gaming Chair Projects, you can craft an armchair, recliner, or a comfy beanbag. Ready to get started? Find your favorite (or all) of these gaming chair designs and make one for yourself.
The Best Cheap Gaming Chair For Your Living Room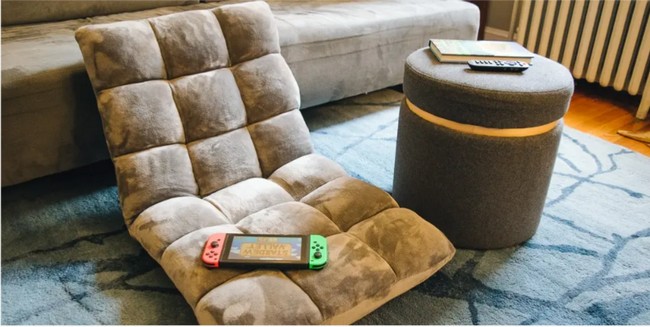 The best budget gaming chairs are designed to be comfortable and supportive while still affordable. They use high-quality materials and ergonomic designs to help you focus on your game. This chair is one of the cheapest gaming chairs. The chair looks quite impressive with a good plan and stylish look. It has a high back that will provide you with the best support for your back, keeps your neck comfortable, relieves your shoulders, and keeps your spine properly aligned.
You can also see: Easy DIY Dining Chair Ideas
Gaming Chair Wood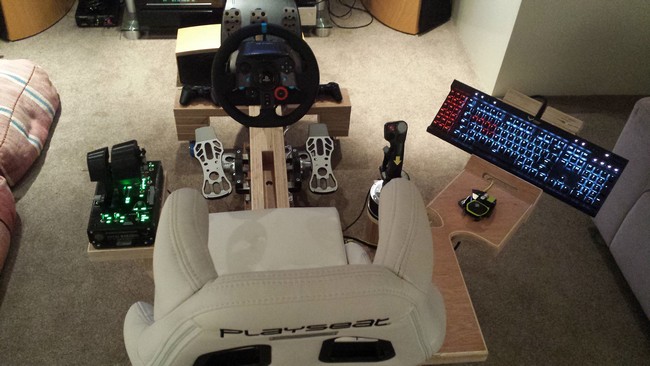 This simple and elegant-looking gaming chair has a natural wood finish with soft cushion padding with a high resilience foam to give you comfort and support during extended game sessions. With its sturdy construction, it provides the stability that you need while seated. The high backrest is designed to support the neck and head. The seat has a gentle contour that helps the lower back while keeping a low seated profile. This chair has a racetrack-inspired design that actively tilts the body into its natural S-curve position, eliminating pressure on the spine.
Computer Gaming Chair Becomes Reality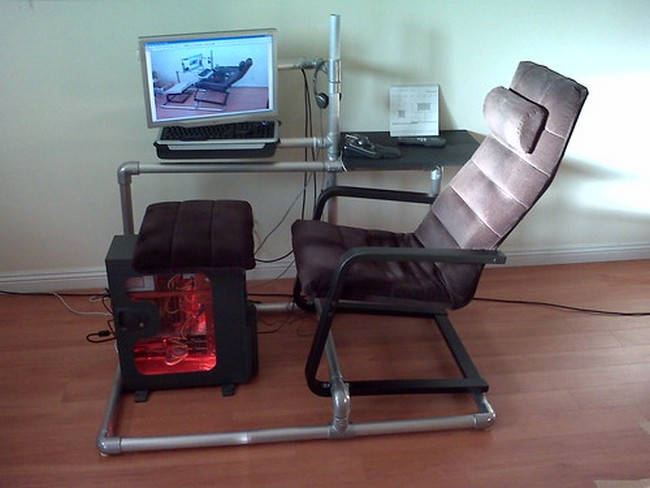 What if your favorite computer gaming chair could become a reality? That's precisely what happened in this project. A group of designers made their virtual idea into a real product that combines the traditional style of a desk chair with the comfort of a recliner. This innovative gaming chair can take your game to the next level. Designed with a high back and contoured, overstuffed seat, this piece is sure to have you sitting comfortably for hours on end.
Homemade Upcycled Gamer Chair
Are you looking for a gaming chair? You don't need to spend hundreds of dollars or even more on expensive gaming chairs; making one is easy. We've found this brilliant video tutorial on how to upcycle an old Easy office chair into a comfy gaming chair as the pros use. This gaming chair is not only cost-effective but will also save you space. It is made with an old seat and is far better than your regular lazy boy chair. The design of this chair makes it comfortable to sit on while providing better support for the back and arms.
How To Make A PC Gaming From Car Seat
This particular project requires a lot of help. It would be best if you had someone with the right tools, knowledge, and experience to build this PC gaming chair. You will have to disassemble the old car seat and strip off all its coverings, leaving just the frame. Using a piece of leather you've purchased or something similar to your new color, take some measurements and then draw out a pattern on paper to cut it into shape. Once your new leather is cut, fix it up on the cushion of your chair and then fix the seat back into place. And that's it; you now have a custom-made PC gaming chair!
How To Build Your Gaming Chair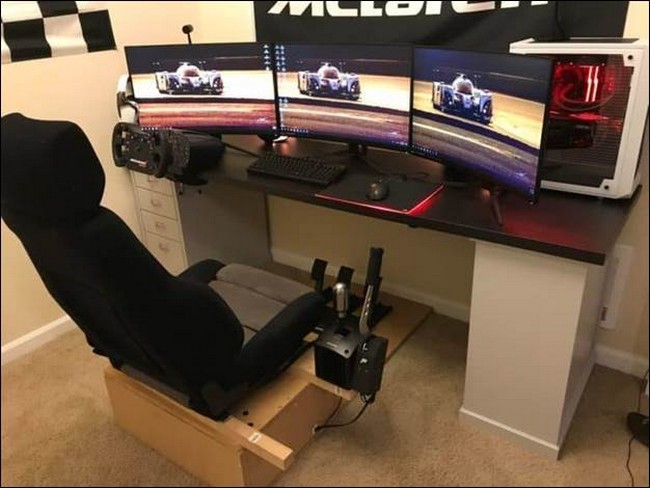 Starting from the base of your gaming chair, you can use an old office chair or a car seat. This is an excellent project to revamp the chair if it's leather and torn. You can take new leather and paint or use leather to vinyl paint with a brush to cover the damaged leather. Use bolts, nuts, and screws to secure your seat on top of your 5-star base. This simple step-by-step guide makes it easy to learn how to build your own gaming chair.
How To Build A Gaming Chair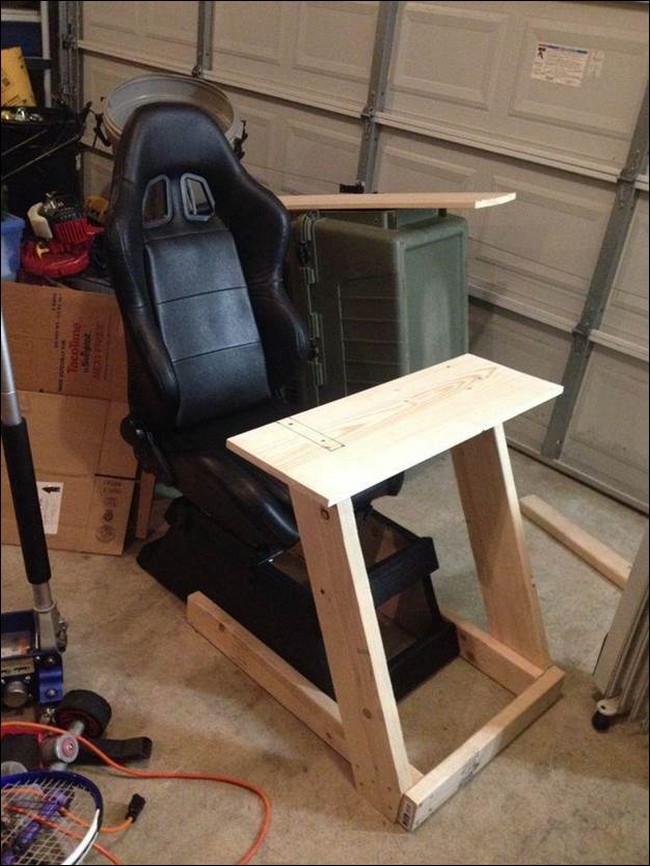 The gaming chair was made with comfort in mind and had a unique built-in table. Using wood and a car seat, you will build the base for the chair and table that L-brackets link together. On top of that, you will be using the basic knowledge of physics to construct your desk that is designed to fit below the chair perfectly so they can work together to elevate your gaming experience. Follow the instructions; our expert will show you how to make a custom gaming chair with a table that's every bit as stylish without taking up extra room in your home.
Making A Gaming Chair From A Plastic Chair
This is a gaming chair that you can build from plastic chairs. You will have to consider the plastic chair for this purpose, as any kind will not fit. Take an old roller backpack, remove the metal at the back, and attach it to your plastic chair. Use foam or cork to make a headrest and create side backrests. Cover them with the cloth of choice and then wrap a foam on the seat for more comfort. Add a small pillow to support your back while sitting on your newly made gaming chair!
How To Build A Gaming Chair
You're looking for a seat that offers comfort, durability, and aesthetics. What makes up the perfect gaming chair will vary from person to person, though several things are consistent among many gamers. The backrest should be extra-padded, especially if you plan on sitting for several hours. It should also adjust enough height to ensure maximum comfort while playing. This Gaming Chair can easily be made with the materials available at your local hardware store and doesn't take much time to assemble and decorate. You may need a partner to help you lift the larger pieces of wood into place, but once made, completed is yours forever.
DIY Pacman Gaming Chair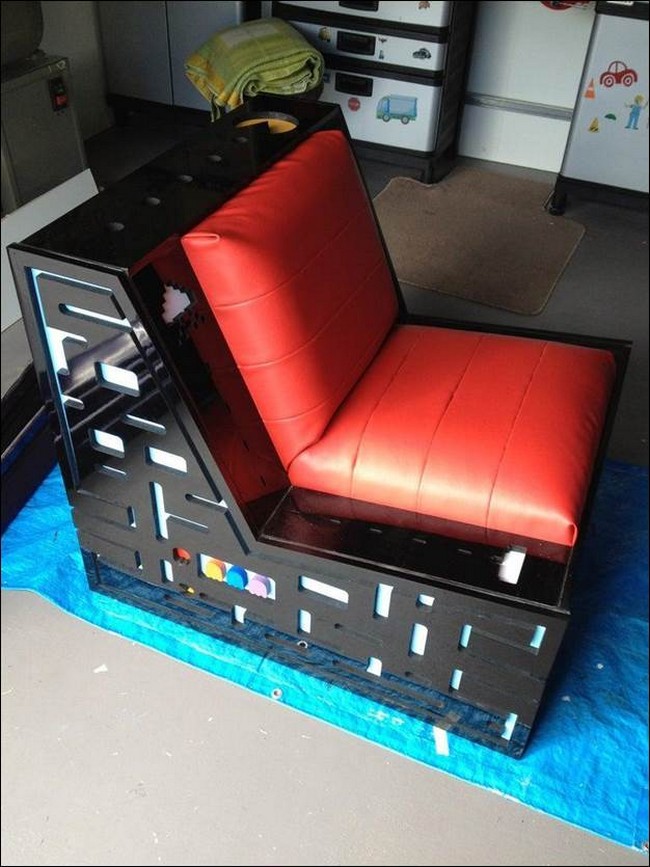 Crafting a Pacman-themed gaming chair is not as hard, but it requires a lot of effort and time. The first step is designing the chair, base, and cushion patterns. It should be made to your specifications; once you have finished with that, use plywood or beechwood to complete the construction. While making sure it fits right, place the cushion on top and mount speakers. You can also add a subwoofer before you finish your lovely chair. Your best friend will be happy as they watch you while playing with this chair because they know they're not going to get much time to play with it.
DIY Gaming Chair
The DIY Gaming Chair is a comfy, unique, and gaming-geeky way to enjoy your favorite games comfortably. You'll need a scrap office chair for this project. Drive out the screws from the seat to use the frame as a base for your racing car seat chair. Just clean up the racing car seat and then attach it to the frame of your scrap office chair to make this awesome DIY racing car chair. This DIY gaming chair is perfect for the gamer who likes to be comfortable but still wants the look of a racing seat!