Do you have an old futon in your garage that you'd like to fix for an easy DIY project? If so, you've come to the right place. These 15 DIY Futon Frame Plans are simple enough for anyone, but they all look impressive and make great transformations. You can find everything from a basic seat reupholstery to a sleek new sofa bed design. You can even make furniture out of your old futon frame! Futons are an easy way to add extra seating or sleeping spaces when needed, and they're cheap! Adding new legs, covers, and cushioning will make your old futon look brand new or like something completely different altogether."
DIY Futon Frame With Storage

Futon frames are a great alternative to regular bed frames. They're inexpensive, easy to transport, and can be transformed into several pieces of furniture. The futon frame is classic, particularly in dorm rooms and small apartments. It's sturdy, easy to assemble, and can be used as a sofa or a bed. But the standard design leaves something to be desired in terms of aesthetics. You're lucky if you want to make your futon frame look a little more sophisticated! These DIY futon frame plans will show you how to improve your frame with just a few simple additions.
Types Of DIY futon frames
DIY futon frames are a great way to save money and build your own futon frame that fits your needs. It's also a great way to reuse materials you may have on hand. Futon frames can be made with different types of wood, but the most common is pine or fir because they are inexpensive and easy to work with. Some people even use old pallets as a DIY futon frame! DIY futon frames come in all shapes, sizes, and colors, so there is sure to be one that will fit your space perfectly!
There are two main types of DIY futon frames:
Folding Futon Frame: A folding futon frame is perfect for those who like to change their decor often or want something that fits in small spaces easily when not in use. These futons fold into a flat piece of furniture when unused and can be stored almost anywhere when folded up!
Stationary Futon Frame: A stationary futon frame may not fold up like the folding models, but they offer a more stable base for your mattress. This type of DIY futon frame would be best suited for those who plan on keeping their futon for years to come!
DIY Futon
This futon frame is made to house an amazing futon with the help of building plans that you can use to make this quick and easy. The whole project is fairly easy. Building a futon frame is a great way to save money and create your own unique piece of furniture. It's ideal for someone with a spare room or an open loft space they want to use. This DIY futon was made easily and will be much more comfortable than what you have now. The project is easy and requires basic woodworking tools and some great expert woodworking skills.
DIY Solid Wood Bed Frame
This video is a DIY tutorial on how to make a simple solid wood bed frame. The process requires few tools and skills, and the materials may cost around $50. This is an excellent project for a beginner who wants to learn how to build something with solid wood. Simple steps help you create a DIY solid wood bed frame in your home! This video guide is filled with helpful tips and tricks that make it an easy project for any budget.
DIY Camper Van Futon Plans
DIY Camper Van Futon Plans is one of the most popular DIYs to make in the camper van. This project will give you the power to have a futon at home and even more space in your vehicle. All you need is basic woodworking skills, and you're good to go. Build a futon frame that you can use for your camper van. This will help you sleep comfortably in your camper van and ensure that you don't have any problems building the frame or making it something else later.
DIY Sofa Bed
This DIY convertible sofa is a great option for anyone's small home at a fraction of the cost of a sofa bed. The video instructions will help you make the most of your limited space while instantly converting your space from cozy seating to an extra bedroom whenever needed. Creating a sofa is not easy; DIY Sofa is one of the most popular sofa beds made in our time. It's beautiful, it's comfortable, and it can be easily converted into a chaise lounge.
DIY Storage Futon Tutorial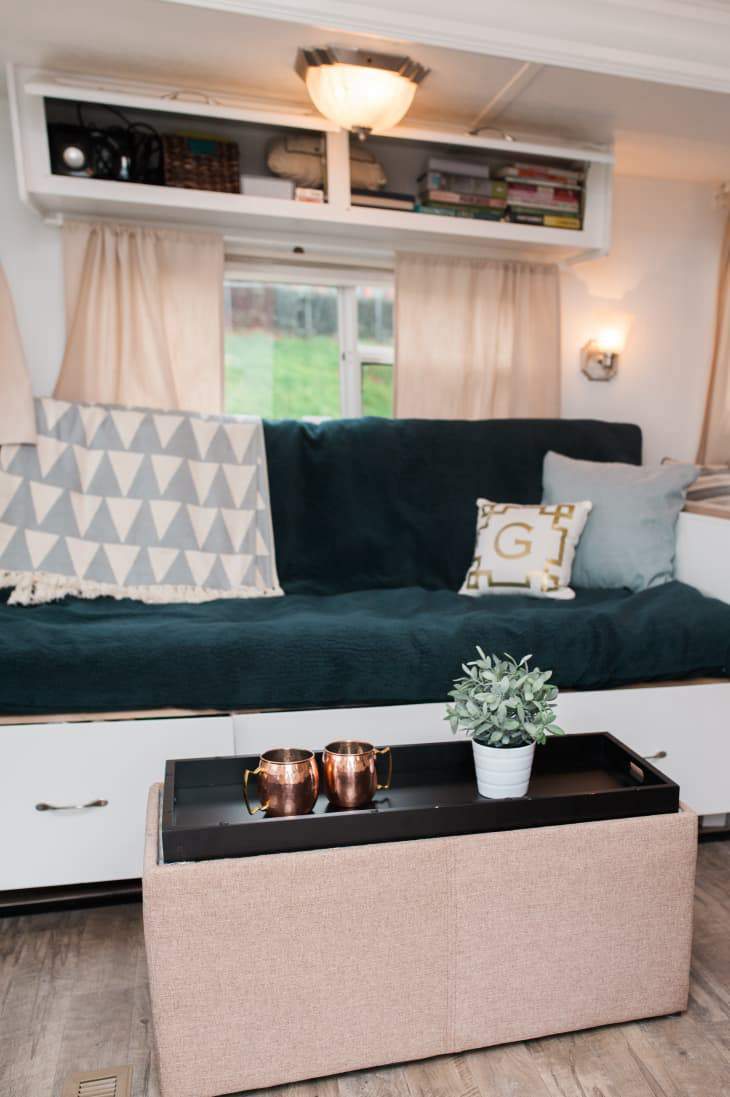 This DIY storage futon is easy to make and can be customized to suit your preferences. Using basic tools like the drill, screws, and saw, you can build this simple futon in no time. This futon is perfect for small spaces and has cool storage space for belongings. This is an easy-to-build project with no woodworking experience required! This DIY storage futon is beyond amazing. It has everything you need for a good night's sleep and plenty of storage for all your belongings. You can customize the size to fit any room and make it as big or small as you want.
DIY $125 Futon
If you are looking to turn that old couch into a new headboard, this is the DIY project for you. With the right tools, supplies, and know-how, you can transform your old futon into a new one that's better than ever before. This is a great project for anyone with expert skills and patience. No need to worry about missing pieces or the difficulty of adding your own futon frame; this is the do-it-yourself version with all you need to build it!
How To Build A Fold Out Sofa Frame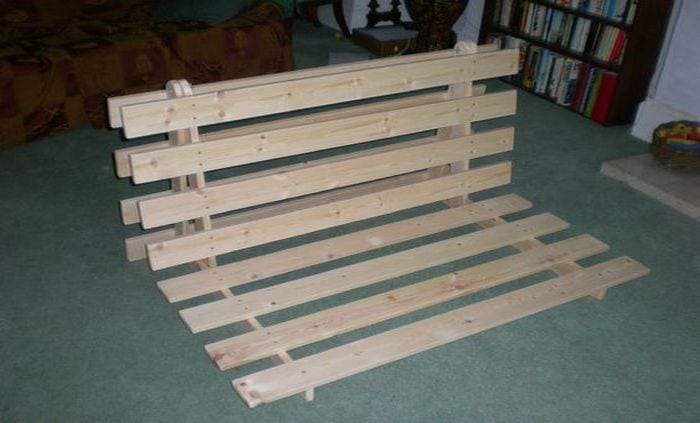 This sofa frame is a great space saver and perfect for any home. This fold-out sofa futon frame is perfect for a cozy and comfortable relaxing space. Set up this sofa in the corner of the room or beside your bed so you can have a place to keep your books or even watch TV while lying down on it. This project takes just a few hours to make and is perfect for a beginner. All you need are a few boards, hinges, screws, and spray paint to turn any space into an extra seating area in your home.
DIY Futon Frame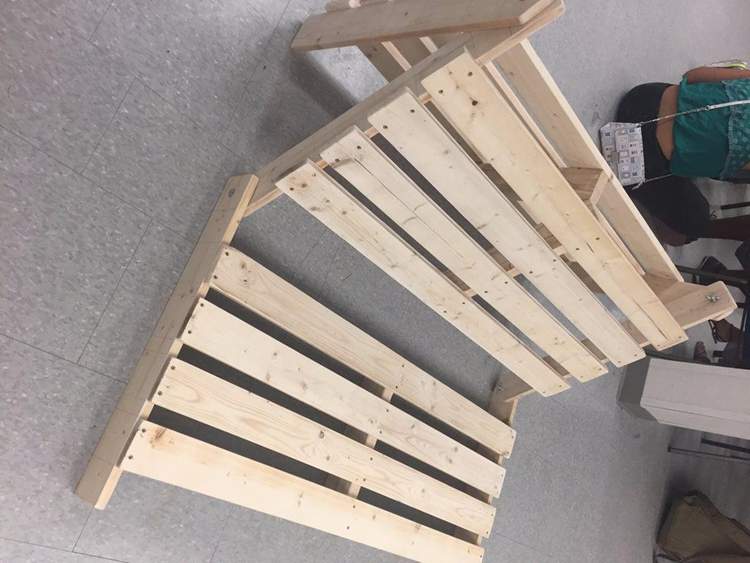 This DIY Futon Frame is easy to make and only requires basic tools. Check out our beginner's furniture-building guide if you've never worked with wood. This project will take your space from basic to beautiful in no time! Crafted from wood scrap, this low-cost futon frame is a great design for anyone looking to make their own DIY bed. With just a few tools and an hour or two of your time, you'll have yourself in the perfect spot to relax after a long day!
DIY Sofa Bed
Looking for a great DIY sofa bed that doesn't take up too much space and is super easy to build? You found it; this video guide will help you build a sofa bed frame fast. The fold-out mechanism works in 5 seconds, a new and improved feature. The sofa frame also has storage for books and bedding! This sofa bed can be folded within 5 seconds to reveal a full-size bed to sleep two people comfortably. Store things in your sofa when not in use by opening the slideable doors on the bottom of this futon frame from underneath.
How To Make A Sofa Bed
It's time to consider building a sofa bed frame of your own. Maybe it's not the same as this one, but it doesn't have to be. Perhaps you should make something completely different that could be a functional piece of furniture and even a practical storage option. Either way, this is a great idea for a DIY project which will help save space in your home by turning it into a multipurpose item. It looks small in couch form but reveals an extra-long twin mattress.
How To Make A Wall Sofa Bed
A futon wall sofa bed is a couch that can be easily pulled down to form the bed; it does not take much space to use. You can enjoy resting in the futon during the day and convert it into a comfortable sleeping place at night. There will be no more back problems if you follow this guide on making a futon frame for your home. The frame is made of wood, and it's an easy DIY project that will require you to get your hands dirty and dig up that expert-woodworker personality in you.
DIY Sofa Bed
This DIY sofa bed is a great idea to transform your furniture. It's sturdy and only requires a few simple steps. Making your own futon sofa bed is a great way to use extra space, and it's also quite fun to build. There are plenty of different plans online to choose between, and all you'll need is your time and the right tools to make this DIY project go smoothly. If you follow these directions, you should be able to construct a sturdy and attractive piece of furniture that will serve you well for years to come.
How To Build A Futon Base With Drawers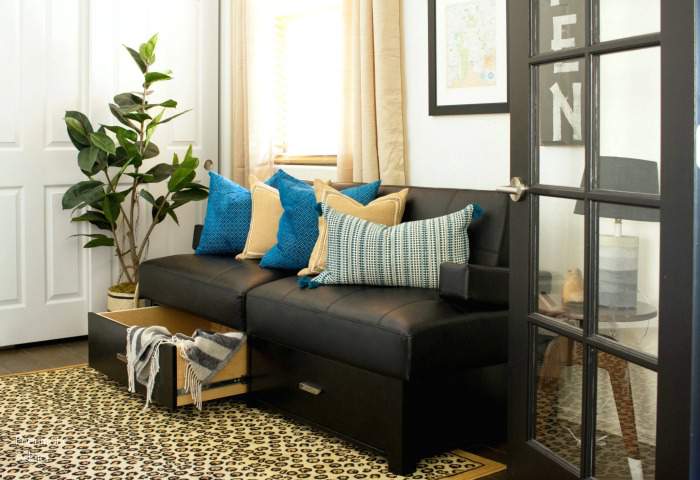 A futon sofa base with drawers is a great way to dress up the look of your futon. It can also be used as storage space for things that you use often or books, magazines, remotes, etc. Learn how to build a futon base with drawers. This is a great way to add extra storage space without drilling screws into your sofa and making it look too commercial. This DIY futon sofa bed is a great solution for adding additional storage space to any home. It can be modified to your liking, and the finished product will look great on any floor!
DIY Plywood Sofa Bed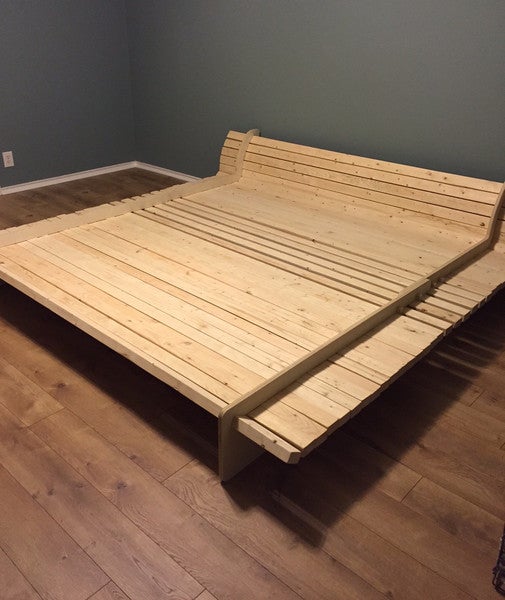 When you need a bigger bed or extra seating in your living room, this DIY Plywood Sofa Bed is the perfect solution. The frame is surprisingly sturdy and can be assembled in less than a day by anyone with a screwdriver and some spare time. This is a simple DIY project you can easily work on as a weekend project. You will need to invest time and effort, but the completed piece is worth it! In just five easy steps, you can build this amazing sofa bed frame for your futon, and it will look great in any room of your home.
DIY Space-Saving Sofa Bed
This DIY Space Saving Sofa Bed is perfect for small spaces. All you need is a minimalistic style, some impure tools, and a few minutes to transform your sofa or daybed into a comfortable recliner or sofa bed. This video is about a DIY homemade sofa bed you can build yourself. The simple design will help you save space in your living room, small bedroom, or wherever you put it. This sofa bed was made for a small bedroom space to prove its space-saving.