Fishing is a popular activity that many people enjoy. However, fishing rods can be pretty inconvenient to hold, especially when moving from place to place. In this series, we have put together 11 DIY fishing rod holders that are easy to make. The fishing rod holder is a great accessory to have in your home or outdoors when you are outside for quite some time. It keeps your rod in a safe place and protects it from dust and water. You can choose one of our DIY fishing rod holder projects from this collection that are easy to make.
DIY Fishing Rod Holder Projects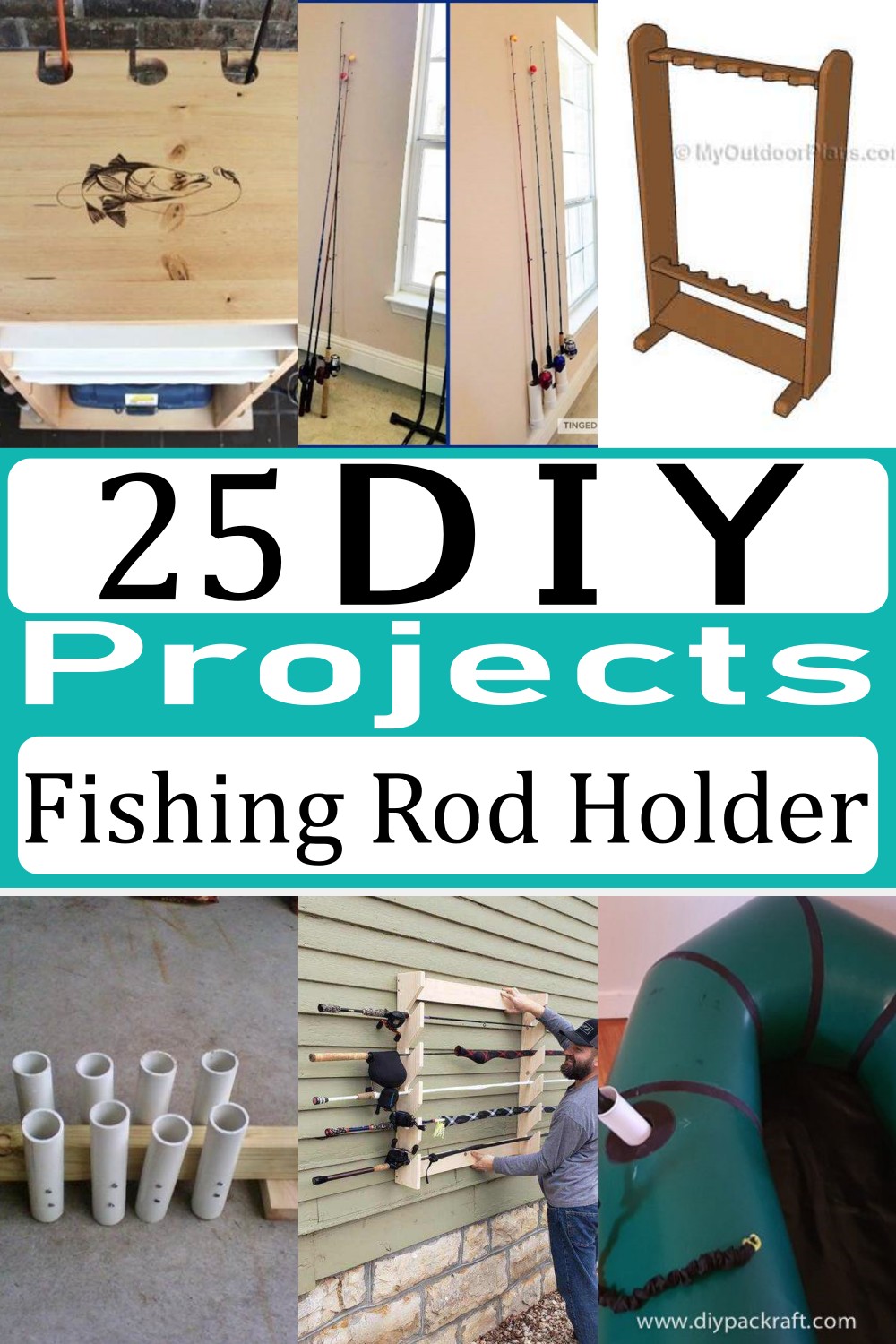 DIY fishing rod holders are a great way to organize your rods. If you think your fishing equipment is out of hand, this project will help you fix the problem. These projects are pretty cheap too. Making homemade fishing rod holder projects is a great way to do so. You can use them for storing rods in the garage or closet or even out by the boat. Organizing your fishing rods can be a pain, but you can easily find the perfect catch with these DIY projects. Follow the instructions to make your fishing rod holders and enjoy more time on the water.
Why We Prefer DIY Rod Holders
Rods, especially the ones with longer lengths and heavier weights, can be quite a handful when you have multiple rods to handle. The best way to tackle this problem is to create your custom DIY fishing rod holder. Creating one may not sound like much of a challenge until you account for the fact that you will have to find the easiest and most resourceful way to make it in a way that maximizes its effectiveness whilst minimizing its cost and effort.
DIY Fishing Rod Holder For Garage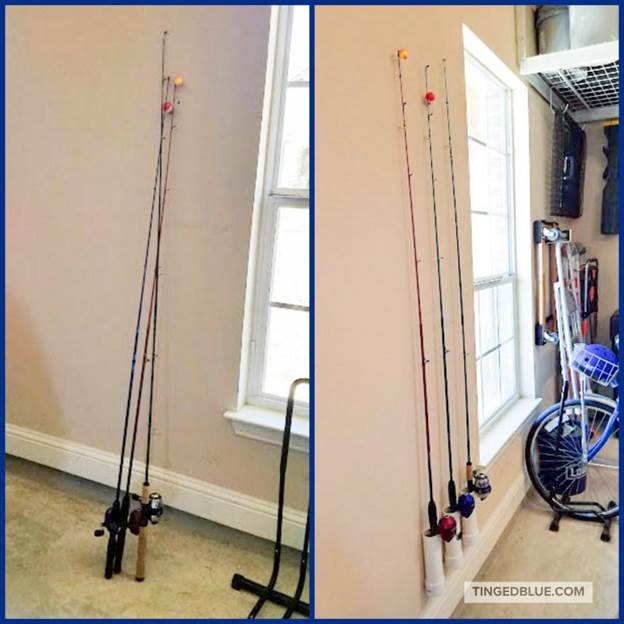 The fishing rod holder is easy to make and perfect for the garage, cabin, or shed. It hangs on a wall, so you can have your fishing rods displayed and hang up your lures simultaneously. The instructions are easy to follow, and you can make as many holders as you want to accommodate even more fishing rods. This is a great project to help crack their boredom and have some fun. It is relatively easy to make and can hold many fishing rods. You'll be able to make as many holders as is necessary to accommodate your fishing rods.
DIY Fishing Rod Holder For Car
This fishing rod holder is a great way to help you catch more fish, attach the roof of your car, truck, or boat, and keep your rods organized, safe, and ready to go. This DIY fishing rod holder is designed for the roof of your car. While driving, it will hold your fishing rods to keep them away from your kids or pets. You can take this with you on your vacations and enjoy fishing everywhere you go. The results are worth it, and you'll be able to store your fishing rod in the car without worrying about damaging them.
Wooden Fishing Rod Holder Plans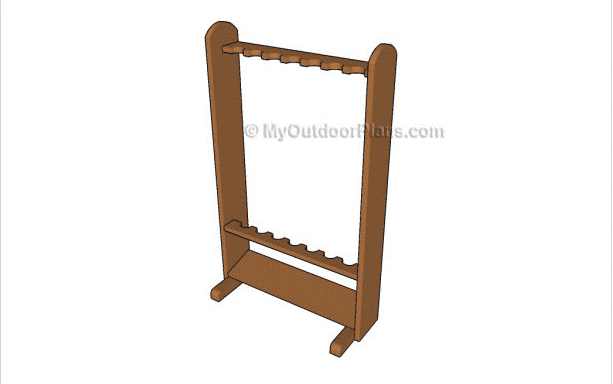 This Wooden Fishing Rod Holder is a great project to recycle old wooden timber for your DIY ideas. This is an efficient gift for any fisherman who loves to fish. The plans will provide you with a simple sketch and build yourself one of these charming custom holders. This is a simple way to display your fishing rods. It features a slotted top that allows you to hang up different sizes of rods and store them neatly on the wall. The dimensions of the sport are customized to fit in your garage or any other indoor space.
DIY Fishing Rod Holder With Storage
The DIY fishing rod holder can be a great addition to your home if you know that you love fishing. It's straightforward to make, but the finished product will look great in your home or garage. This DIY tutorial will show how simple it is to make one and how much storage space a simple rack like this can offer you. It is a unique, adjustable, and lightweight piece of equipment. It can hold 9 fishing rods at a time, but if you own more fishing rods, you should consider checking another fishing rod holder or adjusting the dimensions on this particular one to accommodate more fishing rods.
DIY PVC Fishing Rod Holder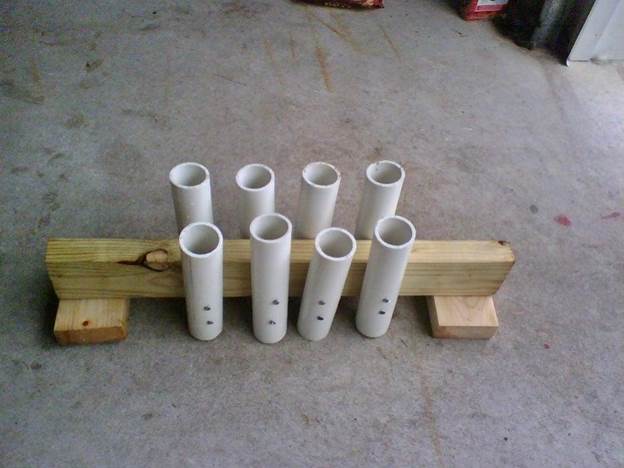 This DIY PVC Fishing Rod Holder is an easy project to build! You can increase the size of the rod holder and add more PVC pipes. You can also decide to app a PVC end cap, it's not in the original guide, but you can get creative with it. It's a pretty simple project, but very practical and so practical. You can use this in your garage or anywhere you want to store fishing rods. It's straightforward to make, and the finished product is strong enough to hold up to different fishing poles. You can also decide to use a PVC end cap for a more comfortable look.
How To Make A Fishing Rod Rack For $25
Building a fishing rod rack for your home is not as hard as you think. Here's how to make your fishing rod rack. This DIY project will help keep your tackle organized and free up space in your garage or shed. This is the perfect project if you love fishing and want to store your fishing rods in a neat, organized way. This tutorial will show you how to make your fishing rod rack. This is a lovely craft project and something you can make yourself. It will help keep your fishing rods organized, safe from rips and tears, and avoid being stepped on.
DIY Vertical Fishing Rod
This vertical fishing rod rack is one of the most fabulous products used in the home. It comes with a rustic look, and you will have your hand over it to ensure it holds up well. You can use it as a recreation room or place it on the porch with this product. This is a straightforward project that can do in a few minutes. Fishing rod racks are great, but they take up a lot of space. Here are designed a DIY vertical fishing rod storage rack that takes up a fraction of the room it should but still holds plenty of rods.
Homemade Fishing Rod Stand
Make these sturdy farmhouse-style fishing rod stands to store your favourite rod and reel. This DIY project will help you show off your prized fishing poles while keeping them in top shape for next year's fishing trip! This fishing rod stand is made of recycled pallet wood and has a modern design that works well to store your fishing rods. It's great for the outdoors and will look beautiful anywhere! It is not just for storing your fishing rods and accessories but also has a raised base where you can store other items like bait. The unique design of this stand adds to its functionality.
How To Make A Fishing Rod Stand
No other fishing rod stand is as sturdy, durable, and beautiful as this one. It is also designed to store up to 6 fishing rods. This lovely fishing rod stand can be used for the home, workplace, or garage. It has a large and small compartment to store fishing rods, bait containers, and other accessories. There are also hooks for hanging items such as lanterns or small tools. If you are looking for a beautiful fishing rod stand that can be easily constructed, this project is for you.
DIY Basic Fishing Rod Holder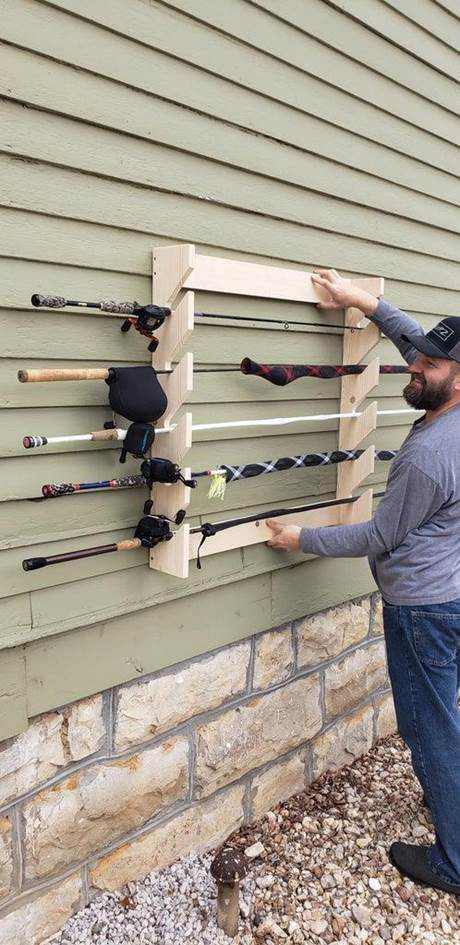 This DIY fishing rod holder is a great way to show off your favourite sport and save space in your garage. It is an efficient way to keep your fishing rods safe and organized, whether on the boat or in your off-grid home. Now you need to find the perfect spot and enjoy that upcoming fishing trip! It is also versatile, so you can easily customize it to hold as many fishing rods as possible. This primary fishing rod holder is easy to make and doesn't require a lot of tools. The project is super simple to build and requires minimal materials.
DIY Fishing Rod Holder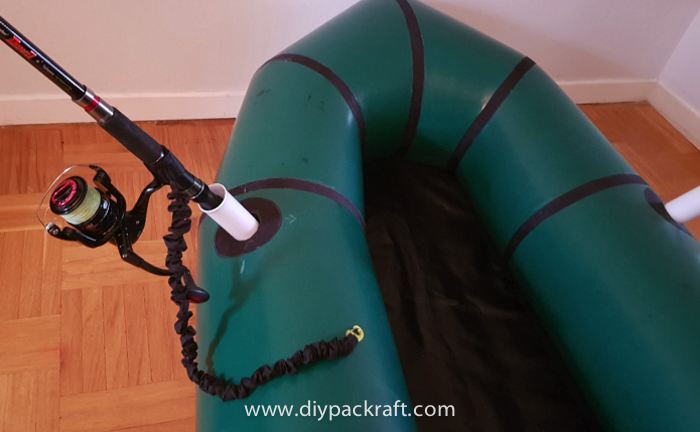 This DIY fishing rod holder is great for making your fishing tackle with wood. The result is a high-quality, sturdy fishing rod holder you would have to pay a lot for in stores. You can easily customize a sturdy fishing rod holder for the outdoors with your fabric. This project should be a cinch to make if you have the essential sewing skills. It is a great way to add some personality to your man cave. This is a simple, easy DIY project that anyone can do.
Conclusion
Fishing is a delight and a great way to exercise and spend time with your loved ones. You get fresh air, but you also get to feel the satisfaction that comes from catching a fish, whether big or small. But storing fishing rods is always a hassle, so these uplisted DIY fishing rod holders will surely benefit you to cope with that irritation. Make your fishing rod holder according to your needs. You can use a large bucket for multiple rods, a small bucket for smaller fishing rods, or a foam that matches the colour of your wall as well. It is all up to you!