We have put together some of our favorite DIY fire pit ideas for you to enjoy this summer. Firepits are a great addition to any home, so no matter if you need something to cook your food over an open fire or want an extra spot to snuggle up while you drink some beers, we have brought you these simple projects that are sure to make your summer the best one ever. Easy-to-make DIY fire pits are an excellent way to take your outdoor living space to the next level during the warm months of summer. Whether you're looking for a place to grill some food or want to snuggle up while sipping drinks with a group of friends, this list has something for every kind of DIYer!
Easy DIY Fire Pit Ideas
Are you looking for fun, easy, and cheap DIY fire pit ideas to help you enjoy this season even better? If yes, then these easy DIY fire pit ideas are what you need. Fire pits make for a cozy gathering spot for friends and family, allowing you to enjoy a relaxing evening with good company. Building these DIY fire pits will let you burn more wood than in an outdoor fireplace without worrying about smoke insulating your home or filling it with ash that needs to be swept up and carried away daily. Follow these amazing plans and have fun gathering in your backyard and garden.
Truck Rim Fire Pit Idea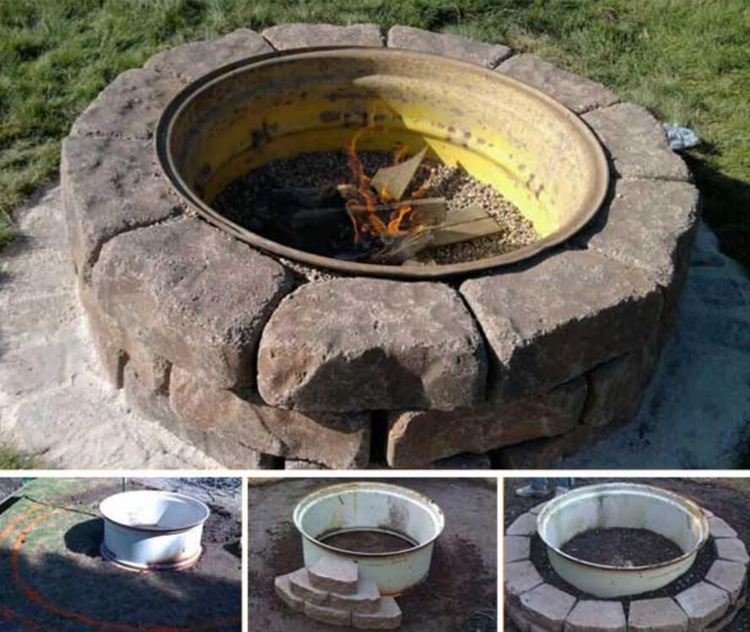 Create your fire pit using a truck wheel and clay bricks. It's durable and sturdy, making it perfect for all outdoor needs. This fire pit is ideal for your garden, decking area, or patio. It's durable, sturdy, and portable - making it perfect for outdoor needs. You can easily create your Fire Pit using a truck wheel, clay bricks, and some sand. Its high-quality finish will make it a feature of any garden, decking area, or patio. Use them for cooking delicious barbecue or sitting by the fire on a cold evening as you enjoy your favorite cocktails.
Idea For Both Patio And Fire Pit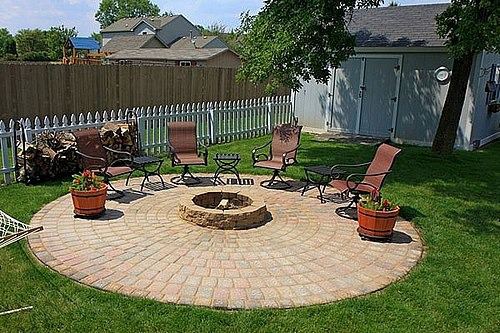 Follow this step-by-step process to build a patio and fire pit in your backyard. Level ground is a great way to start, but if you're working in an area with sloping or uneven terrain, you will want to ensure your fire pit is straight and sturdy. For best results, get help from a friend or two when it comes time to set the concrete blocks on top of the footing. All it takes is a little effort, but the result will make your friends envy your backyard.
Stylish Stone Fire Pit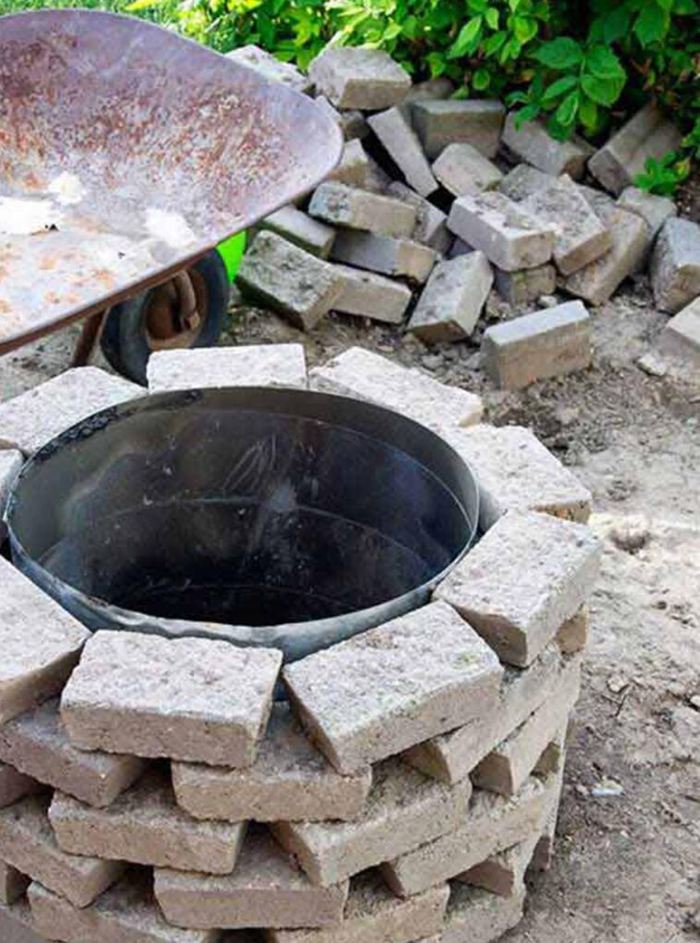 When it comes to designing a firepit, there are many different options for you to choose from. You can go along with the usual method of placing blocks around the firepit and stacking them up, or you can try something new that you haven't seen before. The creativity behind this fire pit is its design. Each block is marvelously stacked on top of one another to create an awesome display of flames when lit up. Take inspiration from this amazing outdoor fireplace and get creative yourself!
Stone Fire Pit Idea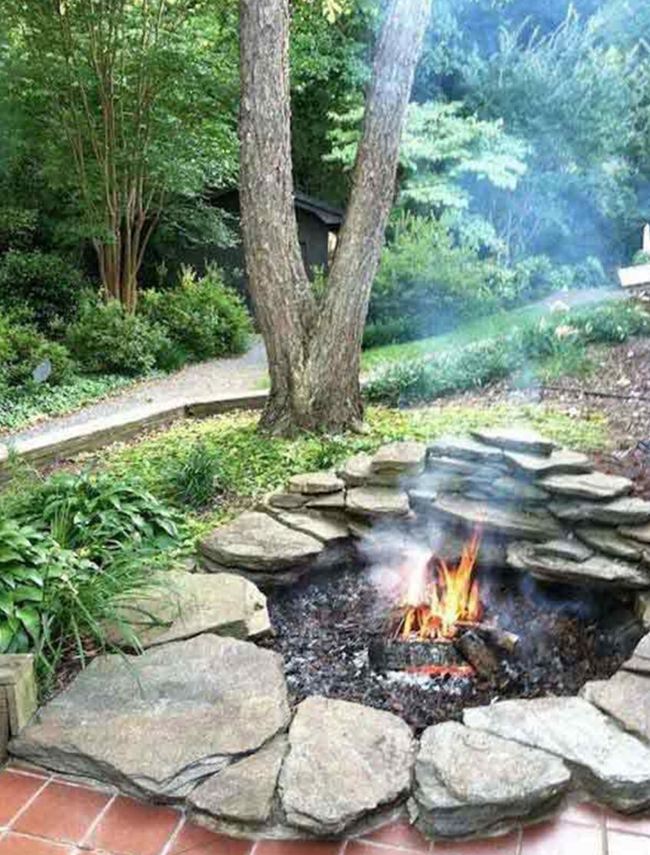 It doesn't get any simpler or more rustic than this. With just some flat stones and a pit, you can create your outdoor hearth perfect for roasting marshmallows, making s'mores, or telling tall tales by the campfire. Just dig a shallow fire pit in your yard and gather the stones – now you're ready to throw on some logs and enjoy the warmth of your DIY fire pit. The perfect evening relaxation spot for you and your friends.
Simple Stone Fire Pit Idea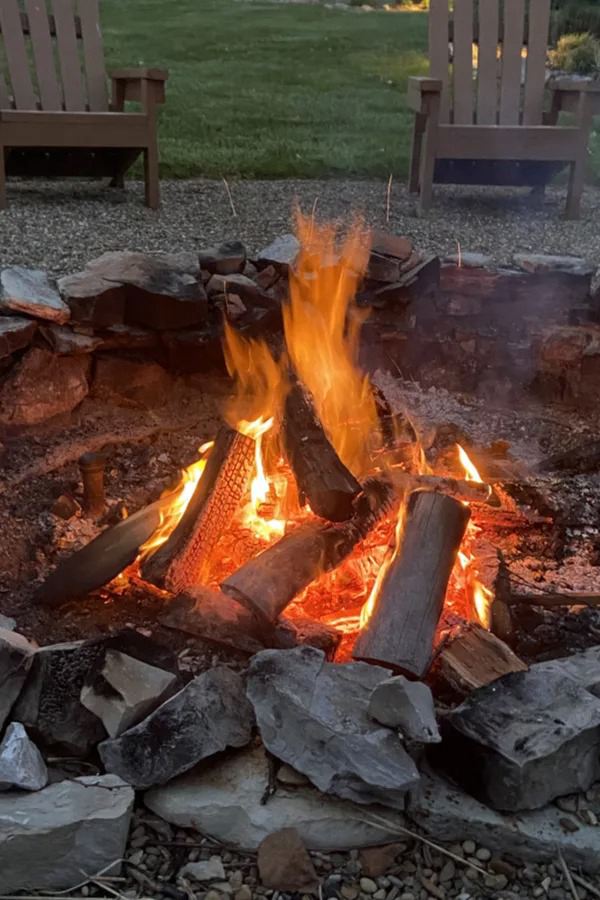 You can make your round fire pit if you have a house with a yard or a patio. First, clear out some space in the yard and mark out a circle where you want to put the pit. Then use a shovel to dig a shallow hole, forming the base for your fire pit. Next, arrange some large stones around the hole. The most important thing is to ensure there are no rocks with sharp edges or projecting parts. This project is a great outdoor activity for building community and family bonding!
Fire Pit Corner For Your Backyard
This great concrete firepit can fit perfectly into your backyard. Once you see how easy it is to make, you will want to make them in several sizes and put them throughout the yard. The rustic design fits the look of any backyard and provides the warmth of a crackling fire. One cool feature about this DIY fire pit is that you can add stones around it and separate the grass from the fire pit area without going through the dirt.
Simple Round Shape Stone Pit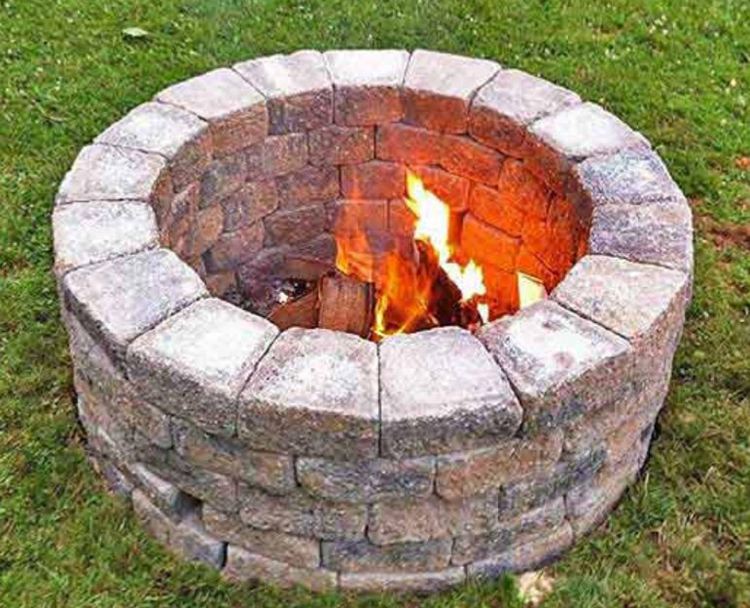 This DIY Round Fire Pit is easy to build and is the perfect piece of furniture for your backyard. This simple DIY project requires a few bags of concrete, some pavers, and a decorating imagination. This fire pit is easy to create with just a few materials and the right tools. It will be the focal point of your backyard oasis in no time at all! It only takes one day to build one of these pits, and here's how you do it: it will be an easier project and I hope you'll find it useful.
Concrete Ring Firepits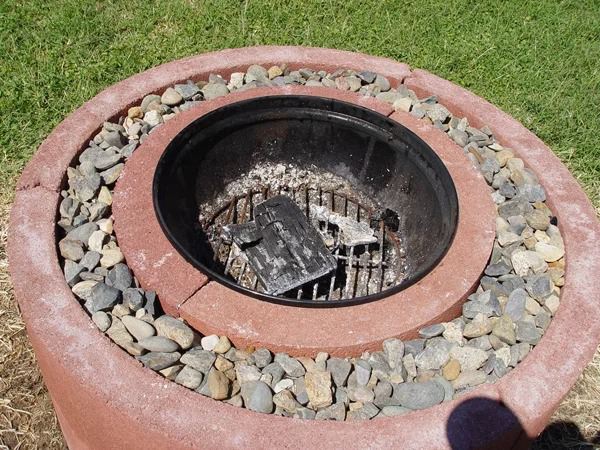 Save a little money, and create a great outdoor space with this concrete fire pit. This DIY concrete tree ring is easy to make and works perfectly in any garden; follow this step-by-step guide. It's made from concrete, so it can withstand high temperatures and will last for years. You can easily move the concrete ring around until you find the best spot for a fire pit, then fill it with sand to protect your deck.
Stone Fire Pit Idea
If you like the idea of building your fire pit but don't want to pay for expensive materials or hire someone to do it for you, this article is for you. Building a stacked stone fire pit is an excellent DIY project that can be completed in a very short period. Follow this step-by-step guide; you will learn how to create a beautiful stacked stone fire pit using the simplest materials – mainly stones and mortar. Whether it's for cooking or warmth, you'll love your new fire pit!
building this beautiful stacked stone
Brick Fire Pit Idea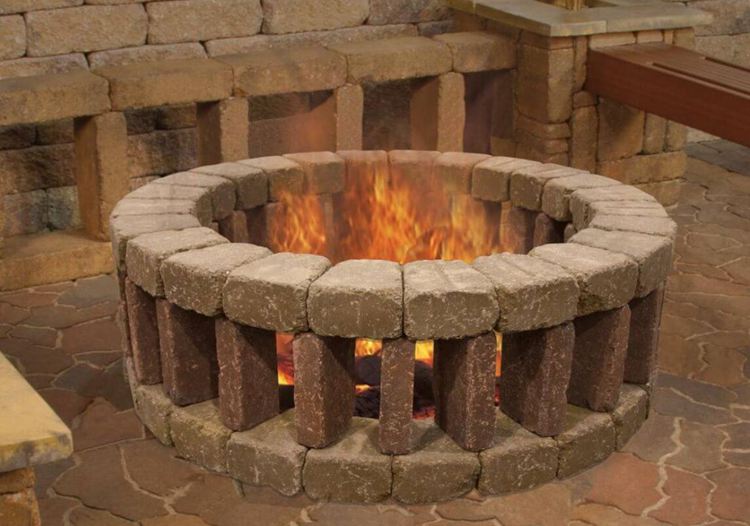 Have you dreamed of creating the perfect outdoor fire pit and having a place to gather with family and friends? Well, let us show you how to make one for yourself! You are just a few steps away from a functional DIY project that looks great no matter where you decide to place it. This fire pit creates an eye-catching focal point in your backyard while providing a beautiful backdrop for cooking and entertaining.
Easy To Make Fire Pit
This simple fire pit is perfect for creating a warm, cozy space in your backyard. Combining iron and stone creates a modern aesthetic that adds some rustic flair to your home's landscape. Featuring a round shape and circular base, this fire pit easily fits into small spaces while providing ample room for seating or roasting s'mores. With just a few simple steps, you can create this elegant fireplace and make sure everyone is warm enough on those cool fall evenings you spend relaxing by the fire.
Block Fire Pit Idea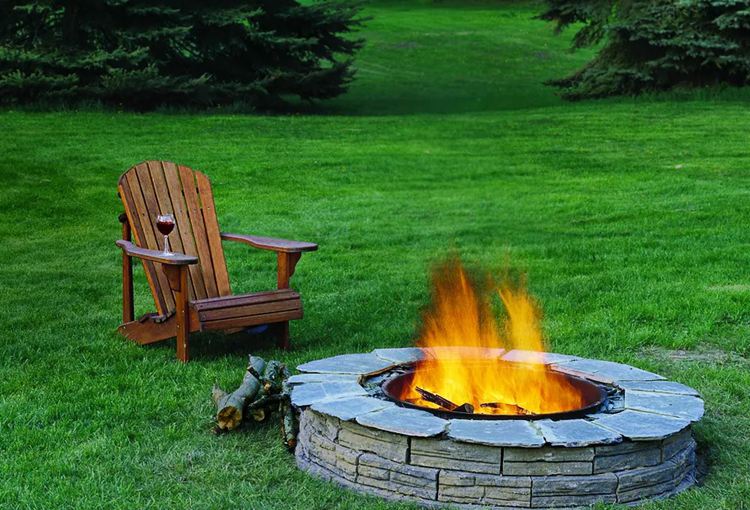 This DIY Simple Block Fire Pit is a great addition to your home. It's easy to assemble and works very well in any backyard setting. A round outdoor fire pit is easy to build and a great way to enjoy a warm summer night outside. Just ensure the fire is contained by setting the blocks around the edge of your pit and then putting your wood on top. Follow this step-by-step tutorial guide with pictures, diagrams and instructions for creating your round pit.
Fire Pit With Fireplace Glass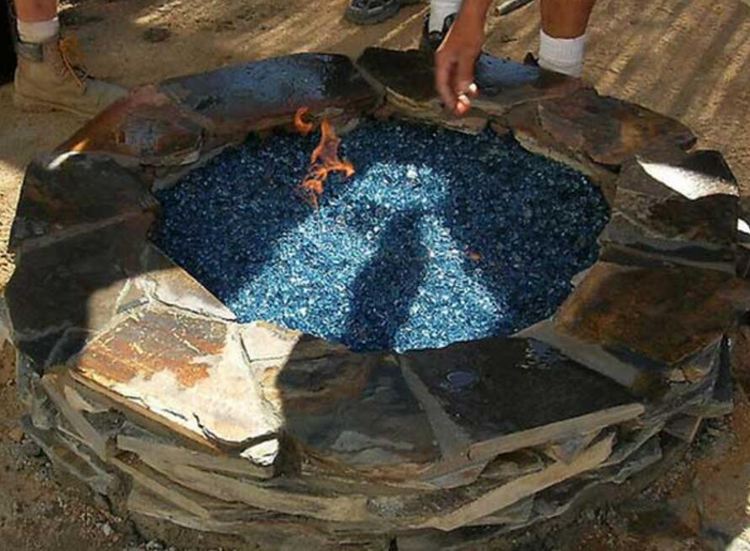 Building a fire pit is enjoyable and helps you bond with your family. However, building a fire pit that can double as a fireplace is much more intricate! This can be achieved with the glass fireplace "arms" surrounding the fire pit's base. Before diving into this project, there are some things to consider: pros, cons, and all of the variables that go into the quality, safety, and maintenance of your new structure.
Half Wall Fire Pit Idea
Decorate your patio and garden with this beautiful, round fire pit. It is made from high-quality materials; this fire pit is sturdy and durable. It is easy to assemble and holds heat well to keep you warm as long as you like. The beautiful stone paving around the edge of the fire pit creates a wonderful display that can't be matched by any other propane or wood-burning fire pit out there! This way, you can enjoy a warm and romantic atmosphere around your home with family and friends.
Brick Pit
Get up and running in no time with this simple DIY fire pit. Just stack the bricks to your desired height, and you're good to go! No mortar or concrete is needed. Round Fire Pits gives you everything you need to start, allowing you to build the perfect fire pit for your backyard. It is regular looking, so you can build it wherever you want and make it as much or little of a focal point that you wish.
Cinder Block Pit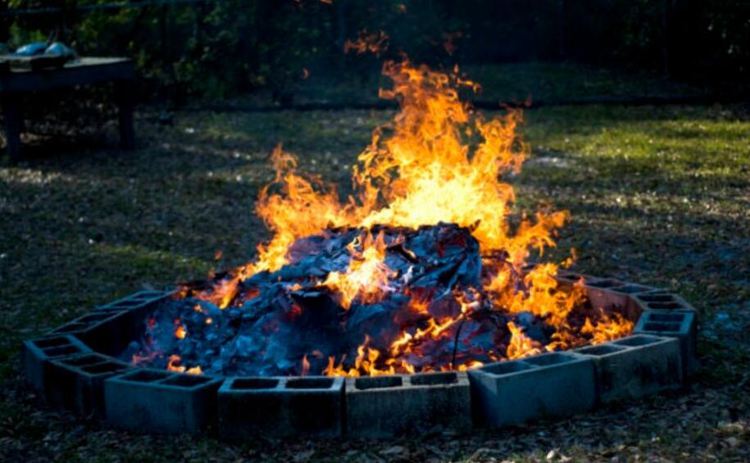 This fire pit is perfect for eco-friendly home builders. Cinder block is a cheap and easy-to-create DIY cinder-block fire pit. Creating a circular cinder block pit is also very easy, and you can enjoy this cool DIY project in your backyard! Build one block layer circularly and repeat to create a ring of fire. If you want a bit more height, add an extra block layer and cement it.
Fire Pit Using Nicolock Pavers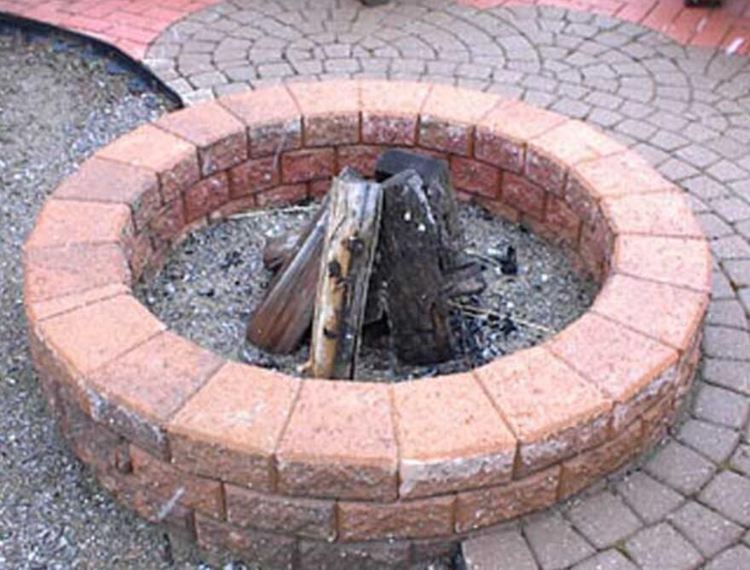 Nicolock pavers make creating a fire pit on your patio easy. Sturdy construction, eye-catching designs, and durable materials ensure this paver is built to last. Whether this tutorial is for you or if you want to build your backyard structure gathering place, this fire pit can be used as a standalone structure or as part of a larger paver project. This attractive fire pit features a classic design and is perfect for resting your feet around the crackling flames.
Easy Fire Pit
This tutorial is for you if you love having a fire pit in your backyard. You can have a great-looking, functional, eye-appealing fire pit in less than an hour. These fire pits will be the best conversation piece for your patio or backyard! Easy to build, and this might be the project for you expensive! Follow the step-by-step instructions on making your round fire pit indeed are blocked, cap block, metal ring, drainage gravel, & construction adhesive.
Classic Circular Fire Pit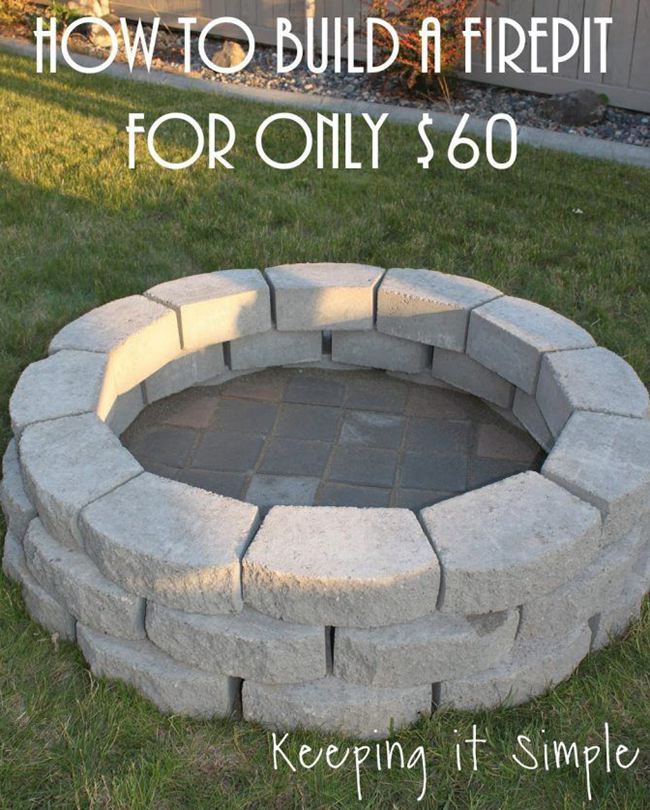 This circular fire pit is easy to build, fast, and easy to put together. This might be the project for you if you're looking for a simple DIY project that won't take too much time or money. This simple but elegant round fire pit requires no digging and is quite straightforward to build. It's the perfect solution for those who need an outdoor fire pit that does not involve heavy lifting or digging out the grass. Free up your weekends with this DIY project and have a perfect backyard gathering place.
$80 Fire Pit
Are you looking for a unique fire pit for your outside space? This easy-to-follow tutorial will walk you through creating a beautiful and functional fire pit from building materials you most likely have on hand! It will make your backyard look fantastic with the natural look of gravel and rocks. This easy outdoor DIY project will allow you to take a break from your busy life by spending time with your family, giving you a chance to reconnect with nature and yourself. This project does not break your bank and is complete at a very affordable price.
Country Cottage Fire Pit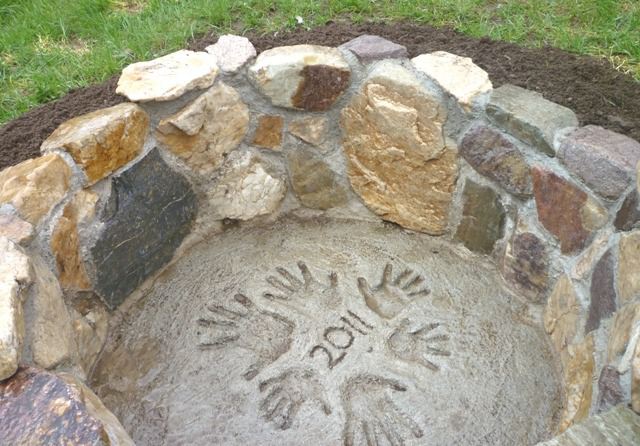 Enjoy the warmth and ambiance of a fire pit, especially in colder weather. This Country Cottage Fire Pit is sure to add character to any yard or patio with its rustic style to build, costs just a fraction of a custom-built outdoor fire pit, and gives you the same open flame design with no liner or grating necessary. You'll be amazed at how easy it is to make this elegant-looking backyard centerpiece. Our step-by-step instructions will guide you through the entire process, from shopping for your materials to the building and enjoying your handcrafted fire pit.
One-Hour Fire Pit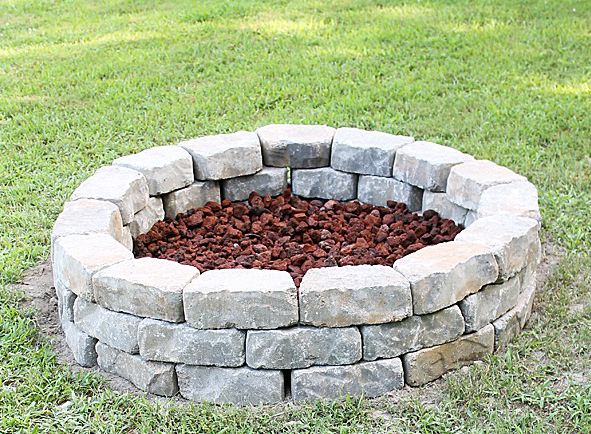 Are you looking for a quick, easy DIY project to build this weekend? Then make your fire pit! With a few simple supplies, this project can be completed in one hour or less so you can enjoy the outdoors throughout the winter seasons. These pits make great conversation pieces, and their simple design perfectly fits any outdoor space. This is the most budget-friendly way to enjoy the relaxation of outdoor fires, summer parties, and roasting s'mores with friends.
Inexpensive Stone Fire Pit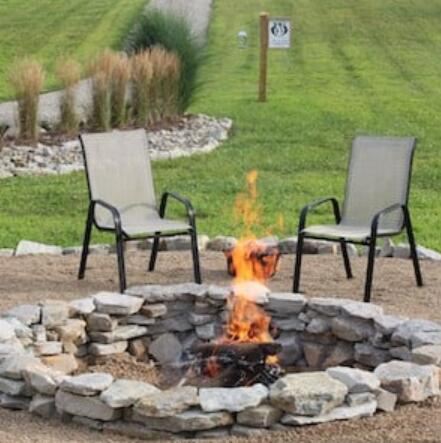 Building an inexpensive stone fire pit is easier than you think, as long as you have the proper tools and materials. The stone fire pit mantle can be made from cinder blocks and clay tiles, available at most home improvement stores. You need to complete the following five steps, which will allow you to create your fire pit in three hours or less. The size is perfect for small and intimate gatherings but also can be expanded for larger groups.
A Four-Step Fire Pit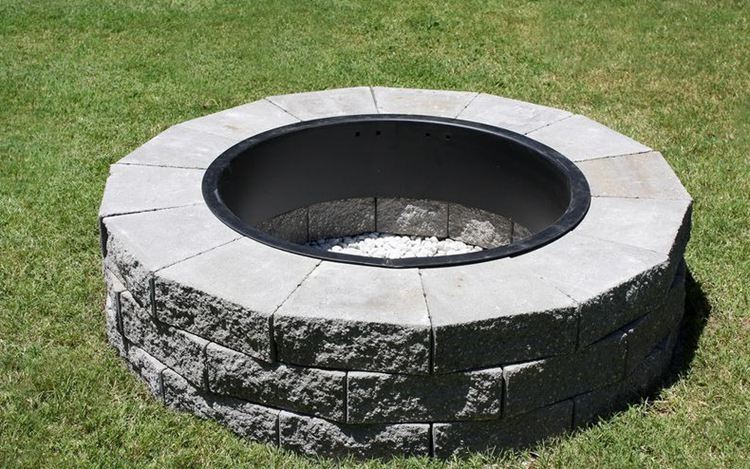 The fire pit is one of the most beautiful and convenient features you can add to your outdoor space, but it can also be difficult to construct. Fortunately, this guidance provides a detailed tutorial on building a four-step fire pit. The simple steps to building a fire pit are easy to follow and require minimal tools. It is a good idea when building your own, as it will help you determine what materials are needed and how much space is needed.
Fire Pit and Table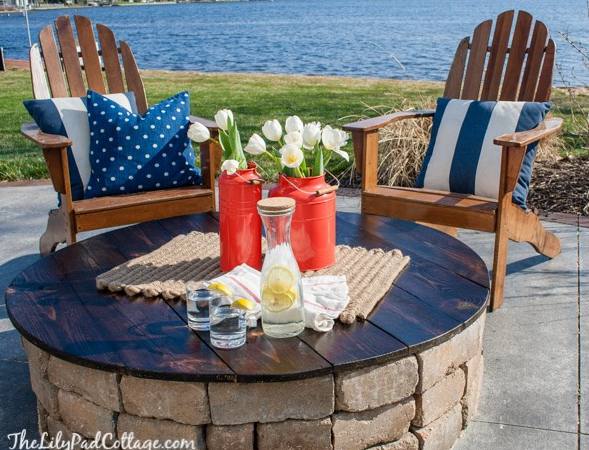 This practical design is a stylish solution for your outdoor space by splitting the difference between an outdoor fire pit table and a round fire pit. With a durable top, You can sit down to a meal with your family and friends or cozy up next to a fire pit when it gets chilly. And when it's time to go inside, turn the table into a fire pit! Follow along with these instructions to make one for yourself!
Landscape Wall Pit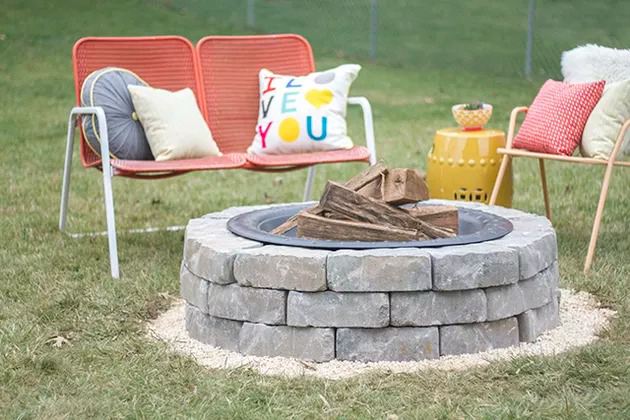 Ait is an especially delightful feature to have in your backyard. Creating one is easy and requires minimal time, effort, and money. Building a fire pit may look complicated on paper, but it's not as difficult as you think. You need to read this post and follow the steps below to easily build your DIY fire pit. Once you have completed your DIY fire pit, you can enjoy a warm fire in the evening with friends and family.
Follow this step-by-step guide
A $100 Fire Pit
You can build a functional and stylish fire pit with little imagination for around $100. This heavy-duty fire pit is built from durable materials such as concrete and stone, ready to withstand a lifetime of hot flames. Follow the step-by-step instructions and photos below to learn how to make your own DIY Round Fire Pit. All you need are a few simple supplies and an afternoon of free time to put together this Fire Pit.
Cheap Fire Pit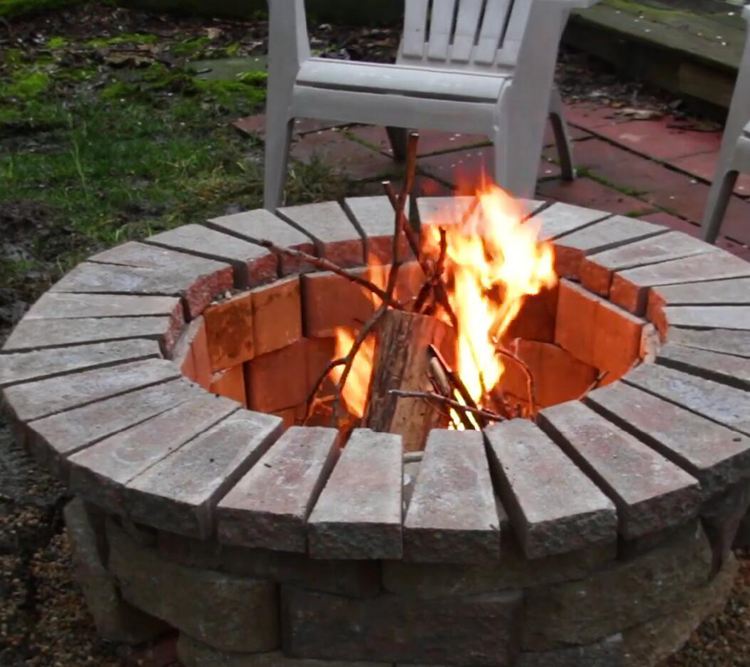 This easy-to-assemble fire pit is a great option if you're looking for an inexpensive, fun project. It will add a lot of style to your yard and get plenty of use in all seasons. The fire pit is the centerpiece for any backyard paradise. But it's also one of the most expensive parts of a build, so this cheap fire pit will help you save money. You need a few tools, some materials, and some elbow grease, and you will be creating your custom fire pit in no time.
Multi-Level Fire Pit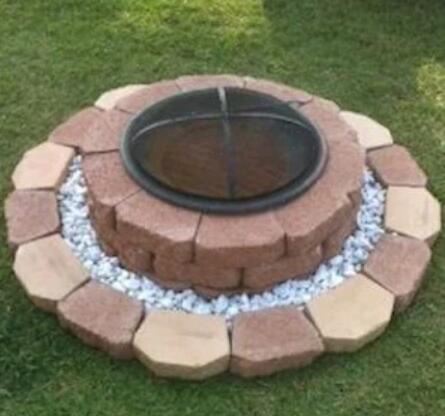 If you have always wanted a unique fire pit that doesn't look like the rest, this is the one for you. This is a unique project that requires time and effort, but you will be rewarded with a beautiful crystal clear fire pit at the end of the day. This multi-level fire pit will give your backyard a rustic charm, yet it's comfortable and easy to use for relaxing evenings. It's easy to build, too. Follow these instructions, and you'll be sitting around this beautiful fire pit with your friends in no time.
$125 Fire Pit
Want to build a fire pit but don't know where to start? This project is perfect for the do-it-yourselfer who wants an easy and inexpensive home project that can be completed in three hours or less while you enjoy quality time with family and friends. You need simple supplies, including boards, shovels, a fire bowl, and a little elbow grease. At the end of this project, you'll have your fire pit ready for use!
Learn how to create this one-hour fire pit.
Backyard Fire Pit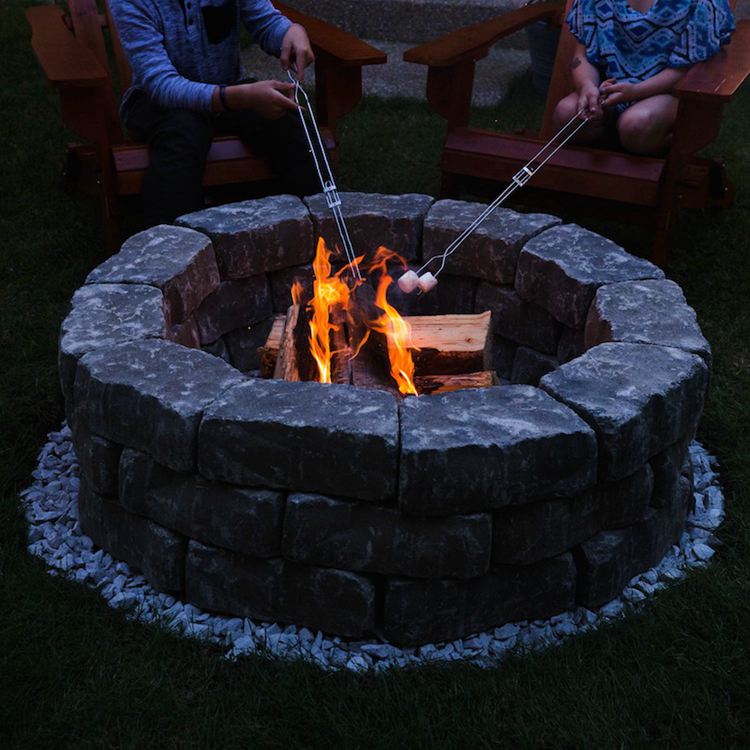 The key to enjoying the fire pit in your backyard to its full potential is to create a nice warm area that makes people want to gather around it. You can accomplish this by making a quality fire pit, which will be something everyone can enjoy and add character and warmth to your yard. Here are the complete step-by-step instructions for building your backyard fire pit. This is the perfect project for kids and adults alike. You will have a fun new way to entertain your family this season!
$30 Fire Pit
Making a fire pit is not difficult, and you can use anything small or round and costs less than $30. This Fire Pit is just what you need to create a place to gather around and share some cold ones with your friends. Set it up in your backyard with the cover, put some firewood and charcoals, and have a fun evening on the horizon. Whether you want to grill or toast marshmallows with family and friends, this fire pit will prove useful for both.
alwayschaginglife.blogspot.com
10-Steps Fire Pit
Build your fire pit using the 10-Steps Fire Pit kit. This fire pit offers a sleek, modern design that fits anywhere, plus it's easy to assemble. Just follow the instructions and place it together to have an impressive fireplace up and running in no time at all. Conveniently keep this beautiful addition to your outdoor oasis burning easily with a simple button press; this fire pit provides an exciting, warm, and elegant way to enjoy outdoor space.
 $127 Decorative Fire Pit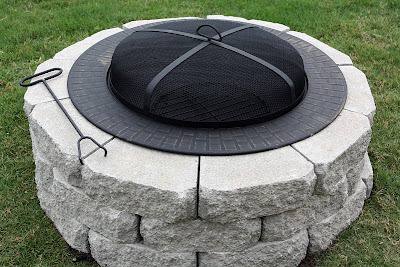 A fire pit is something you can build for your backyard, patio, or deck. It's a place to gather and tell stories, roast marshmallows, and toast s'mores; this project is so simple that the hardest part will be picking out the spot for the fire pit. The round shape makes this fire pit friendly for people of any age to enjoy, and it only takes materials costing about $27. The material list will include a few tools and materials that are relatively inexpensive.
Retaining Wall Fire Pit
This round-shaped firelighter and pit will surely be a hit with your family, friends, and guests. The round design is more versatile than a square one, accommodating different configurations and furniture arrangements. And the best part? It's made entirely from concrete, so it's easy to build and won't look like another random concrete retaining wall in your backyard. This tutorial will take you through the process of building a retaining wall and fire pit that is perfect for enjoying your backyard this summer.
Circular Pit with Octagon Deck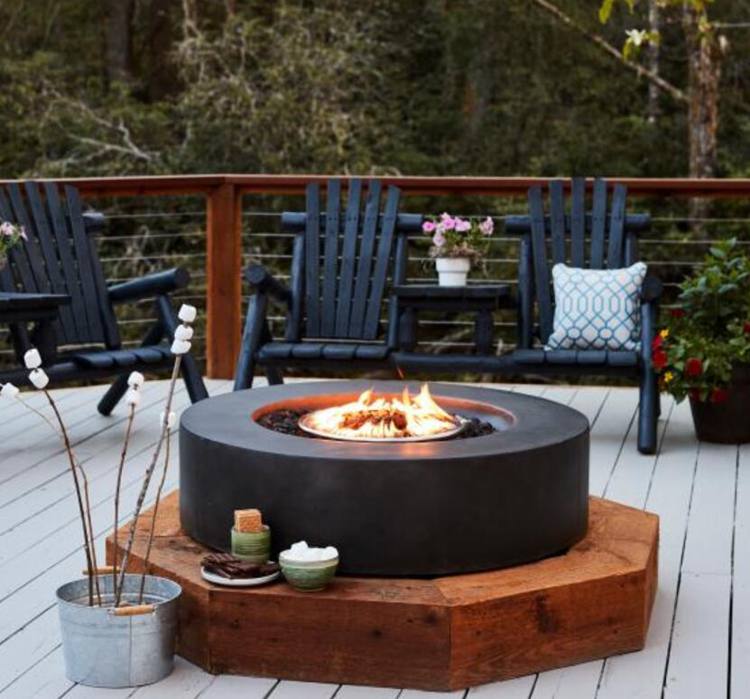 The Round Fire Pit with Octagon Deck is a classic fire pit and contemporary outdoor design. Its simple design brings warmth to any outdoor space, while its circular shape provides enough room for plenty of guests. This versatile fire pit features an octagon deck that provides a safe place around the fire pit so you can enjoy conversation while cooking marshmallows and roasting s'mores. The top of the pit is made with high-quality materials and will provide years of enjoyment.
Wooden Swing around Fire Pit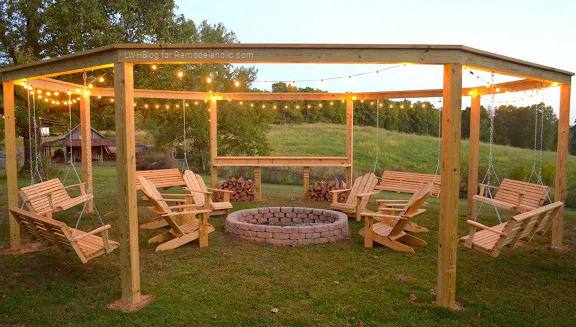 Haven't you ever wondered how romantic it would be to build your swing around the fire pit? This hanging swing looks like a dream come true for every lover. Constructed for comfort and relaxation, this swing will give you an amazing time and make your yard look gorgeous. Investing in quality backyard furniture is essential to maximize the enjoyment of any outdoor space. Whether you're entertaining friends and family or relaxing on your own.
Follow the step-by-step process to achieve this.
The "Camp Rosen" Fire Pit

This round fire pit and benches project is a great addition to any backyard. The stones are stacked to fit together like a puzzle but also look natural. The benches make the perfect spot for you and your friends to sit down and enjoy the views while having a few beers! This stacked stone fire pit is large enough to roast marshmallows and make a great centerpiece in your backyard. This tutorial will teach you how to build a fire pit like this one in your own backyard space.
Cheap Fire Pit
Looking for a cheap fire pit that you can build yourself? Are you bored with the same old backyard fire pit? This is the perfect project to help you create a unique and awesome round fire pit for your family and friends to enjoy. You only need a few simple tools and these easy step-by-step instructions. You can even use bricks or rocks as material and build a brick or rock fire pit if you like. The result is a stunning round fire pit that all will love.
Rustic Fire Pit
If you love to sit around an open fire and share stories with family and friends but don't want the mess of an above-ground style fire pit, building a rustic style in-ground fire pit is for you. Using durable materials like brick, stone, or concrete will give your new outdoor fireplace the look and feel of an old-time bonfire pit. Ensure to follow all local building codes when building this style fireplace and any local laws regarding burning wood or charcoal.
Firepit Idea For Backyard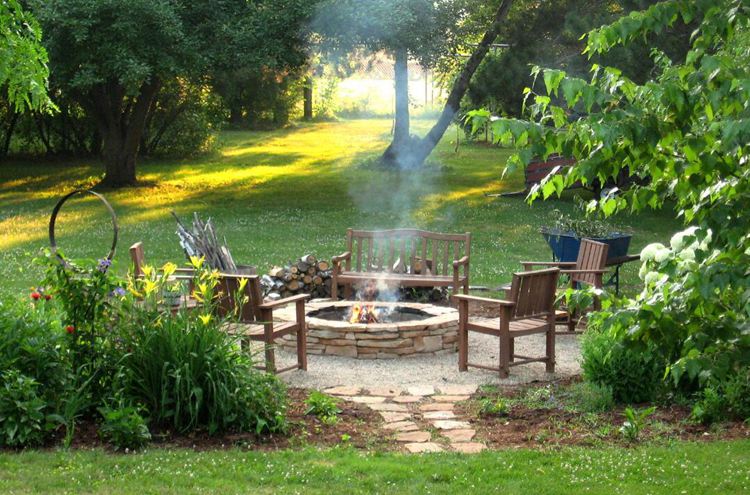 While you can use the stones as a fire pit, they make excellent accents to backyard layouts and are sure to add a design element to any space. The Flat Stone Firepit is a simple, rustic DIY project ideal for weekend warriors who love the outdoors and want to add an adventure to their backyard. With basic construction, this fire pit is built to last a lifetime. Enjoy a new space while watching friends enjoy themselves by the fire, or keep warm by the fire as you unwind after a long day.
In-the-ground Fire Pit with Patio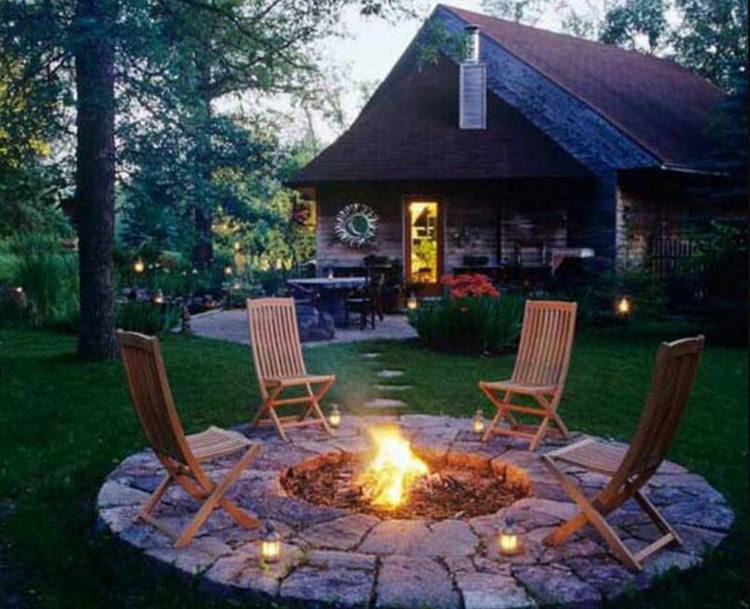 Fire pits are a great way to bring the warmth of a fire-side ambiance to your outdoor space. You can build one at home, in your backyard, or the middle of your garden. The project is not very difficult, and you own it. With the right materials and a bit of tech with bricks and landscaping stonesnical know-how, building an in-the-ground fire pit is a project that any man or woman can master.
Stone Fire Pit
Ready for a backyard party? Get your friends together and build this stone fire pit. Once you're finished, you can sit by the fire with a cold drink and enjoy the great outdoors. This fire pit is a great way to bring warmth and coziness to your yard; easy to build, with no need for mortar or any adhesives. With this guide, you will be able to finish your project quickly and enjoy the warmth of the flames stoking your passion for life.
Stone Fire Pit with Square Sitting Area
Are you looking for a fire pit design that combines creativity and functionality? If you have little space in your garden, you can use this square sitting area idea to match the firepit built. You can try recreating this and adding tree stumps if you have one. This round fire pit is the perfect symbol of relaxation, fun and socializing. Create a sitting area where you can stay warm. This idea might only be for those with trees around their home or area to enjoy.
In-the-ground Brick Fire Pit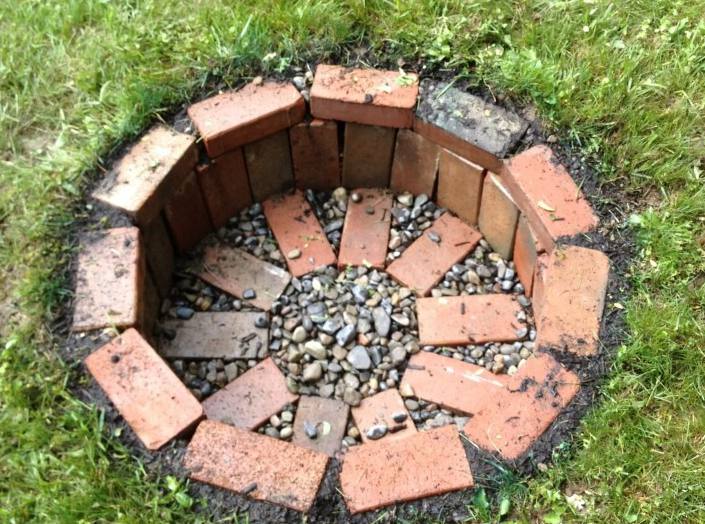 This fire pit was made to have a rustic cottage look. It is a great project for beginners. You can create this look in your backyard or patio area with bricks and landscaping stones. This tutorial will guide you through the step-by-step process of building an In-ground Brick Fire. Create a fun gathering place for you and your guests or a romantic spot where you can enjoy an outdoor fire together.
step-by-step tutorial to follow.
Slightly-Angled Fire Pit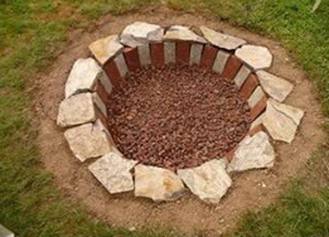 This fire pit is great for anyone who wants to get comfortable without the hassle of digging a large hole. It's easy to build and is best built outside when temperatures are below 85 degrees Fahrenheit. If you want to place your round patio bricks or flat rocks, you can! Build your slightly-angled fire pit with just a few bricks and flat rocks. This tutorial will show you how to build a highly aesthetic and practical fire pit by that you can entertain friends and family.
Easy Fire Pit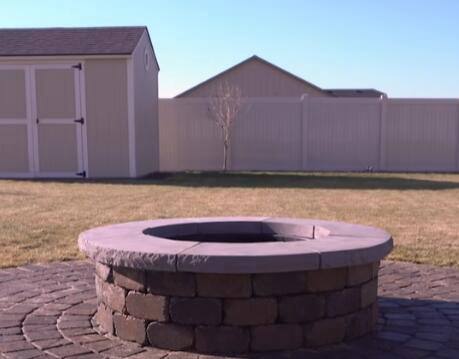 Adding a fire pit to your backyard can be a great way to take the chill off cool evenings. And, if you've got a yard that gets plenty of sun during the day (or just isn't shaded by trees), you'll find that an in-ground fire pit is easy to build and provides years of enjoyment. Ready to spend a lot of time on your patio with this In-Ground Fire Pit. Built from concrete and lava rocks, it's ready for bonfires, parties, and relaxation.
BlueStone Fire Pit
This is how you build the BlueStone fire pit. It's the simplest thing to do, and you'll end up with a nice fire pit that even a beginner can make. The BlueStone fire pit is a uniquely designed fire pit that is easy to assemble and does not release harmful smoke.  You can place this in your backyard to enjoy family time with friends or as a decoration piece in your home. Use this guide, and you'll have yourself an awesome backyard project!
Fire Pit By Dun Lumber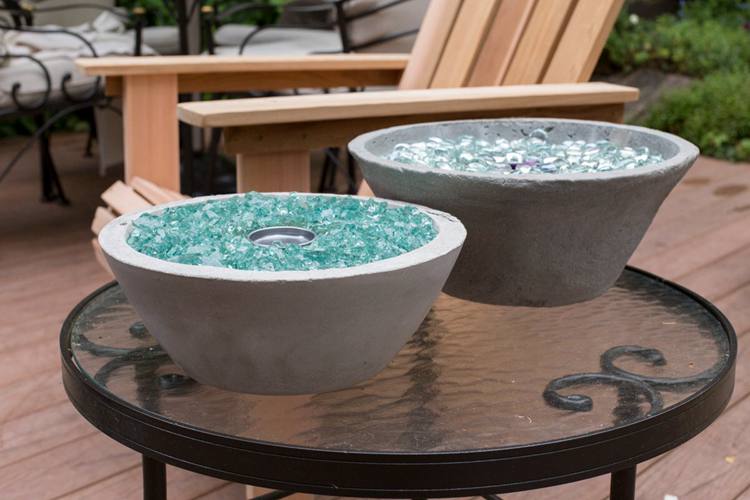 Fire pits are great spaces to gather friends and family, especially on cool fall nights. To create your tabletop fire pit, mold the fire bowl and add lava rock. Then, use different sizes of stones for a more eclectic look. This tabletop fire pit is a simple build that can be completed in one day. The fire pit includes decorative glass, lava rocks, and a metal mesh base that allows air circulation for the fire.
Faux Fire Pit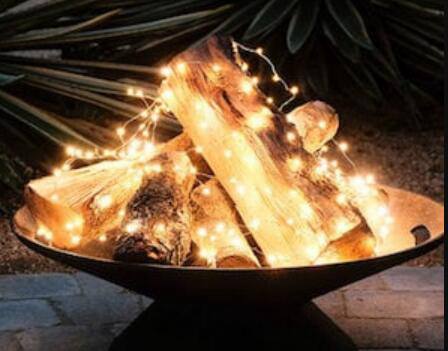 This Faux Fire Pit is perfect for the deck, patio, or outdoor area. Insert your favorite electric light and wood into the metal pan (a realistic-looking flame will appear). Great to have on hand when unexpected guests arrive, as it's easy to set up and use without having to open a real fire pit. This fire pit is a perfect piece of décor that will add light and life to any outdoor space.
Table-top Transparent Fire Pit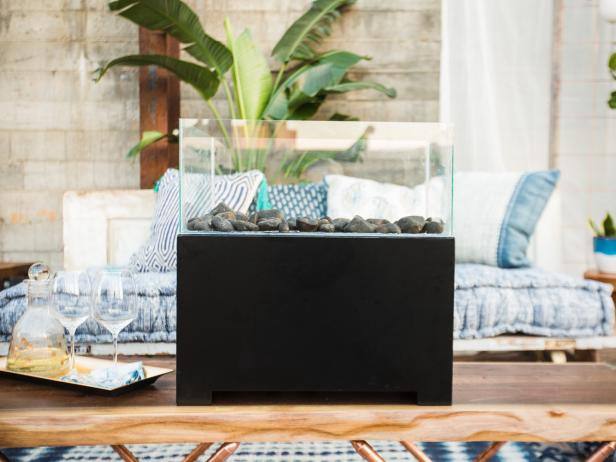 This DIY table-top fire pit will be a great conversation starter wherever you place it.  Start making the process quick and easy with the right supplies, including a recycled glass table top, mirror, two cans of spray paint, and a few other simple materials. Depending on your skill level, this project can take between three and six hours, but the time will fly by as you watch your creation come together piece by piece. Follow this detailed tutorial and create one today!
Beautiful Concrete Firebowl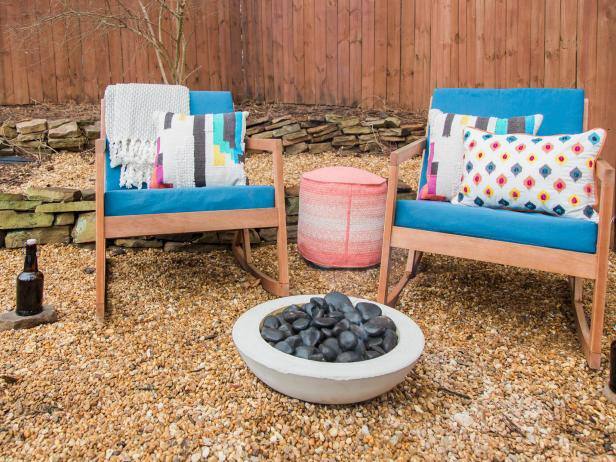 Looking for a DIY firepit that looks great and gives you an easy, mess-free way to have a fire? This gorgeous concrete fire bowl makes a striking addition to any outdoor space! It is easy to make, too. All it takes is an afternoon and these step-by-step instructions to create your own stunning and stylish fire pit. The steps are simple, and the materials are inexpensive. Read our how-to guide below, gather your supplies and get ready to create an "instant" ambiance.
Garden Fire Pit
A firepit with a bench on one side is the perfect place for your family to gather and enjoy the outdoors. Whether it's warm summer nights with friends enjoying a cocktail or chilly fall evenings roasting marshmallows, this piece can be used year-round!. Easy step-by-step tutorial to build this garden firepit with a bench. Learn how to build this firepit using simple tools and materials. The tutorial takes you to step by step through the process and gives tips on safety, landscaping, and maintenance.
Tabletop Fire Bowl
The tabletop fire bowl is the perfect centerpiece for gatherings with friends and family. This versatile piece can be placed indoors or outside on any flat surface. This tabletop fire bowl is also a beautiful way to add ambiance to your backyard. You can make one yourself with simple supplies and a little DIY know-how. Here's how. This project's two-component design makes it easy to make and assemble at home.
Modern Looking Fire Pit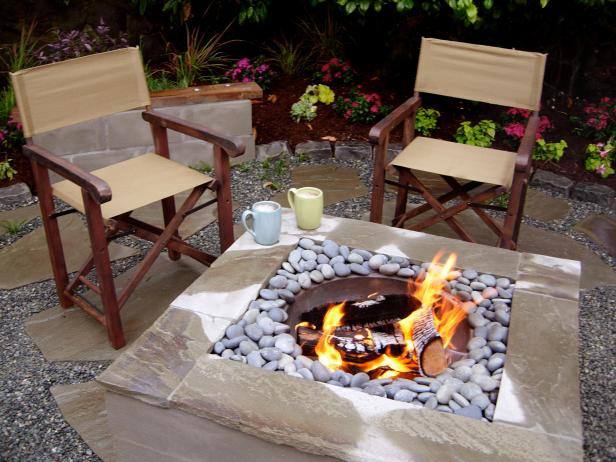 Are you looking for a unique fire pit design? Look no further because this square-shaped concrete fire pit looks like a fancy piece of art. It is modern and beautiful and will turn any backyard into a cozy place where you can spend time with family and friends. If you love this and want to make it for your backyard, it's pretty easy. Build the square concrete form first, insert a round metal fire bowl, and fill the outside with beautiful sea rocks. Then put a grill on top if you like.
Eye Catching Fire Pit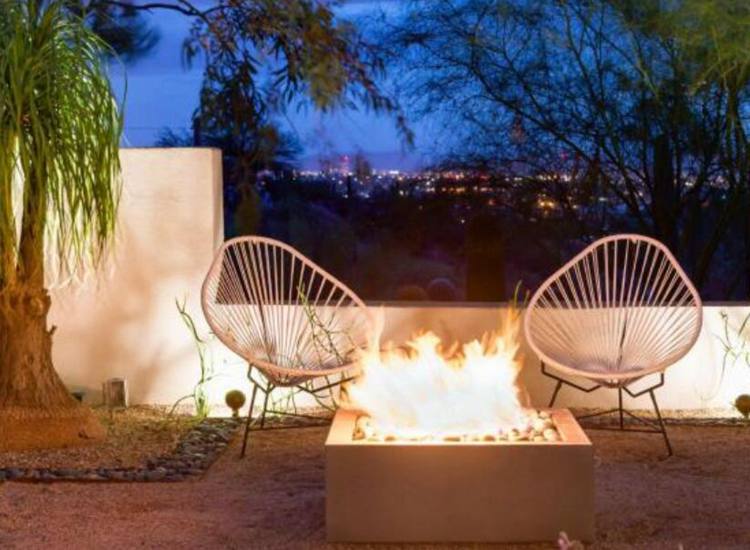 This square-shaped fire pit is a great decorative piece for your backyard. It is made of concrete or sturdy iron and can be placed on the floor or tabletop. This will add style and color to any backyard, whether a deck or poolside patio. You'll have a great time entertaining friends, family, and neighbors around this square fire pit. It's easy to complete with style. You'll love the look of this fire pit, from your lounge chair to the luxurious cushions in your backyard.
Charcoal Fire Pit
This fire pit is a great choice if you want a nice and stylish alternative to burning wood. The square-shaped fire pit is an attractive addition to any home. It will look great once you style it with this charcoal pit and couch set! This stylish charcoal fire pit adds a little flair to your backyard. With a dome-shaped cover and attractive metalwork, it's perfect for seating groups around the flame.
Cinder Block Fire Pit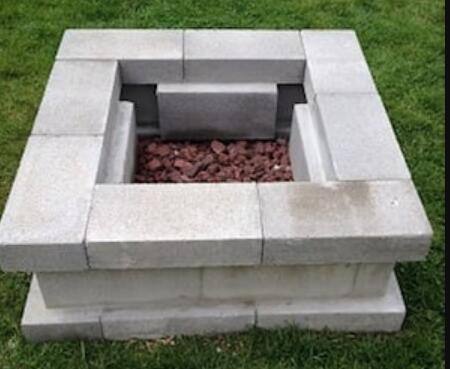 Are you looking for something interesting, attractive, and aesthetic to place in your backyard? A fire pit can be a great addition to your yard. However, the traditional round shape may not suit your needs. By combining square cinder blocks, you can make a fire pit that is both functional and stylish. This cinder block fire pit is easy to build and doesn't require much work. You can build it using many different materials (depending on what you have on hand), and there are many ways to decorate it.
Giant Square Fire Pit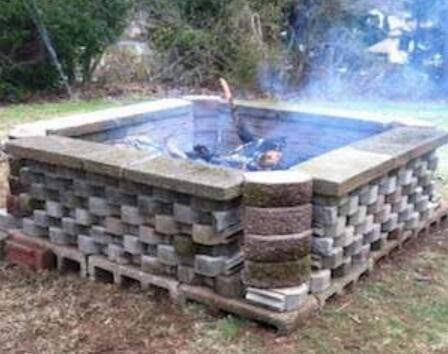 Enjoy the outdoors with this sumptuous Giant Square Fire Pit. The perfect gathering place for friends and family, it offers ample seating for everyone. The Giant Square Fire Pit is both inviting and comfortable, perfect for gatherings around the campfire or backyard gathering area. A large top surface makes it convenient for placing beverages or other hot items to keep them warm while enjoying the company of your friends and family.
Carole Knits' Square Fire Pit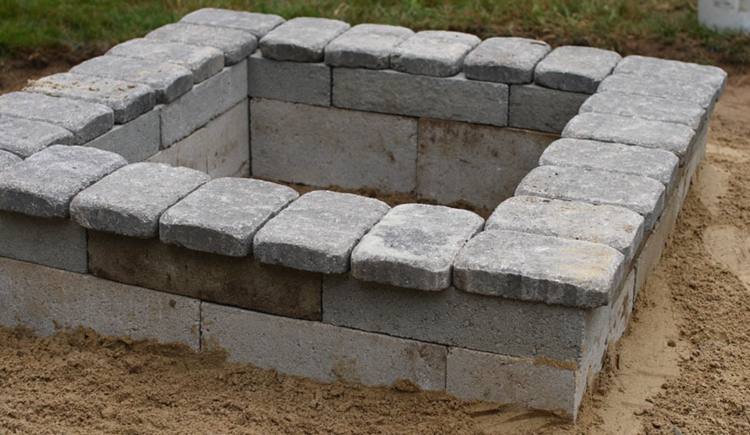 This fire pit is a great way to add fun and modern outdoor decor. It's made of cement blocks, crushed stones, and rectangular pavers, making it both easy to assemble and durable enough to last through years of outdoor entertaining. With this, you can relax and enjoy the outdoors after a long day at work or on the weekends with family and friends. You can go through the below guide that helps you make this fire pit.
Wide Slab Fire Pit
The Square-Shaped Fire Pit is a perfect addition to your backyard. The wide fire pit can fit into a rustic, stone-covered backyard perfectly and will create a warm and cozy atmosphere with its glowing embers. It has a wide slab to enjoy an outdoor fire with friends, family, and pets. The tutorial will walk you through the step-by-step instructions and follow-up steps.
$250 Concrete Fire Pit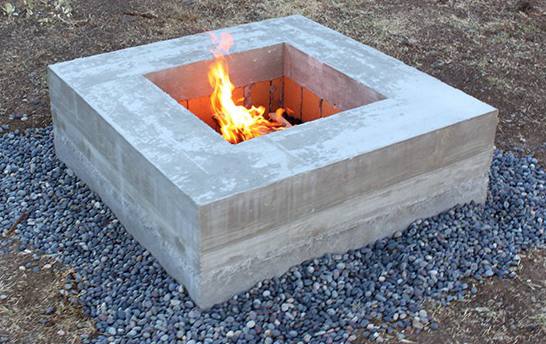 Whether you're looking for an outdoor accent piece or a new way to enjoy life on your patio, This concrete fire pit will be the perfect addition to your next gathering! Made from high-quality concrete, it's durable and versatile and can be used for anything from roasting marshmallows to making hot cocoa. This fire pit is handmade, and it has a beautiful finish. It will give you the artistic feel to your patio, garden, and backyard. Go through the below guide and Give your backyard the ultimate luxury feel with this square fire pit.
Benches with Fire Pit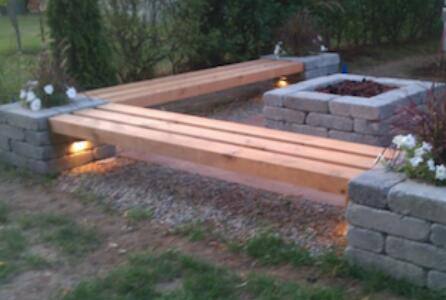 Your backyard sitting area has never been so stylish. This fire pit and bench set are classic outdoor designs that will go perfectly with your outdoor decor. This DIY project of a fire pit, benches, and planters will turn your backyard into a relaxing, cozy space where you can relax with friends and family on chilly nights. This fire pit and bench sitting area is excellent for entertaining guests. The tutorial will walk you through the steps needed to construct a similar set.
Stonehenge Bricks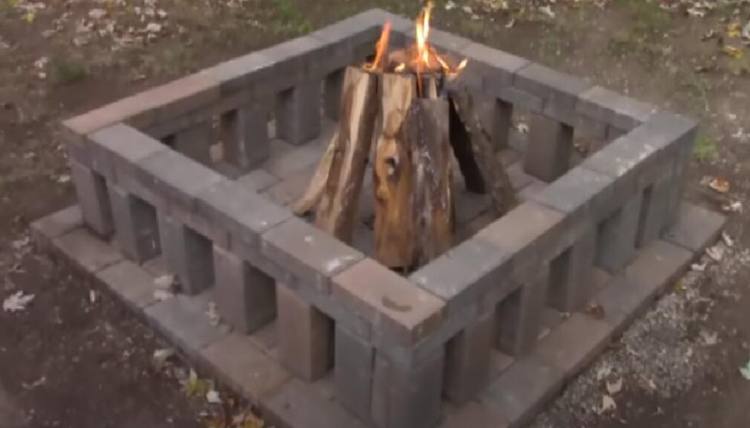 You can create your round or square fire pit with these Stonehenge fire pit bricks. Each brick is crafted from high-quality, heat-safe materials to ensure years of use. These bricks are the perfect way to construct a unique fire pit that is sure to impress all of your guests. Made from high-quality, heat-resistant material, Stonehenge Bricks will provide you with years of use without having to worry about cracks or other issues that can arise from extended exposure to extreme heat.
Fire Pit with Gravel Sitting Area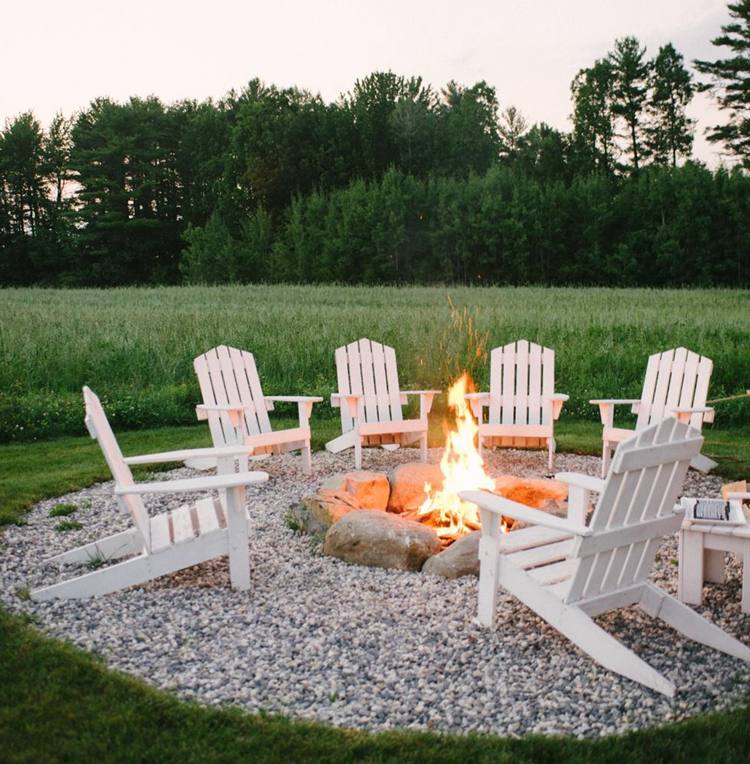 Does your garden have boulders? If yes, what are you waiting for? Using those boulders, you can create an informal fire pit sitting area. Preparing a map and pouring beautiful gravel would add up to its beauty. This fire pit can be utilized in any yard with a circular sitting area. Just pour beautiful gravel into your garden and place comfortable chairs around it, keeping in mind the safety aspect. Use this guide to learn more!
Washer Drum Fire Pit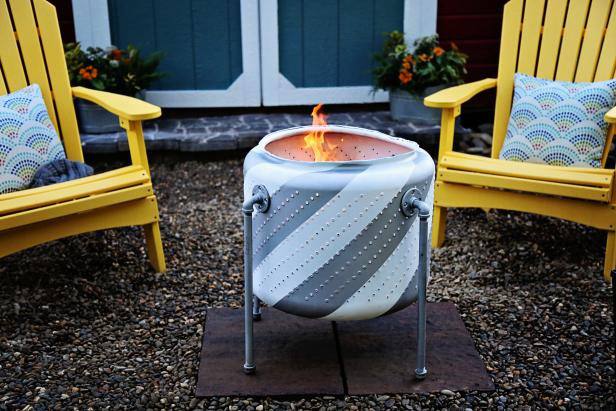 Have you ever seen a DIY washer drum fire pit tutorial? Well, here you go! This is perfect for anyone who wants to take their backyard game up a notch. Transform an old washing machine drum into a fire bowl for your next backyard party! All you need is a washing machine drum, some sandpaper, and a few other tools. This DIY washer drum fire pit is one of the unique ways to have a backyard fire.  The process is simple; anyone can make this in just a few hours with only four tools. Follow this detailed tutorial to create one today.
Transform it into a bThis five-step plan teaches your firepit.
Gas Fire Pit Table
If you have a gas fire pit table, here's your chance. This article will guide you through the fun, easy process of building a one-of-a-kind outdoor fire table for all to enjoy. This DIY Fire Pit Table Plan is the perfect do-it-yourself project. This five-step plan teaches you to build your fire pit in less than a day. Start building today and find out how easy it can be.
Learn how to build a gas fire pit.
Adirondack Fire Pit
This DIY Adirondack Fire Pit is the perfect project on a nice day. Create an outdoor meeting place and conversation starter with this multipurpose hexagon-shaped fire pit at your home. Learn how to make yours from scratch. Made from solid wood and steel, this piece of furniture can be enjoyed throughout the year. When you aren't using it, it can serve as a coffee table, footstool, or even a side table when needed.
Learn how to make yours from scratch.
You can also see: DIY Adirondack Chair Plans 
Stone And Metal Fire Pit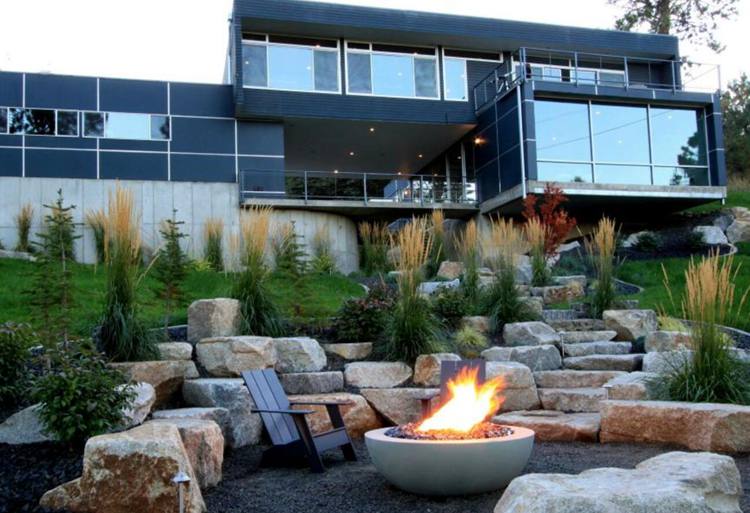 If you have boulders around your home, check out this short stone and metal fire pit that is perfect for any outdoor space. Create one yourself with these simple steps. Recreating the look will give you the relaxing, cozy vibe of a campfire in the backyard without having to leave home. The best part is that it's easy to make, and you can find everything you need at your local home improvement stores.
Burning Bowl
Create your own unique DIY Burning Bowl, great for low-maintenance fire-free night lighting or anything you need a heat source for. This unique design allows you to create the fire pit any way you want. Easy to make and only takes a few hours. It's so beautiful to look at and burns without much effort from you. Follow this step-by-step tutorial to learn how quickly you can make a beautiful burning bowl.
Whiskey Barrel Fire Pit
The whiskey barrel fire pit is a beautiful addition to your garden. It will provide a cozy area for conversation and allow you to enjoy your home while staying warm. These vessels were formerly used to age whiskey and can now be repurposed in several ways, such as this project! Get the whiskey barrel fire pit to look without paying a fortune! This tutorial will walk you through the steps of cutting, drilling, and assembling your very own whiskey barrel arbor.
Old Tire Rims Pire Pit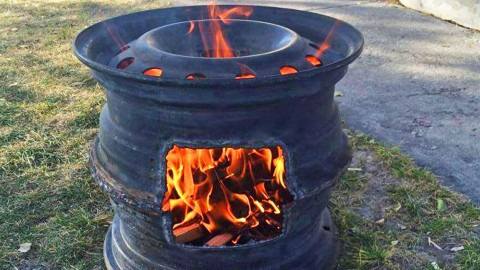 This old tire rims firepit is a great way to make an inexpensive, unique, and durable backyard addition. Use two old tires to create your custom fire pit in your backyard. No need to spend big bucks at the store for an expensive metal fire pit. This project will only cost you the cost of two tire rims and the welder! Its unique design adds simple interest and a classic style that your family and friends will love.
Metal Bucket Fire Pit
This is a simple project to build a fire pit that's both stylish and functional. The rustic design can easily blend into any outdoor setting, and the overall look will give you a country vibe. You only need a metal bucket, sand, gravel, and stones in varying sizes. By placing rock around the bottom of your metal bucket, you will have a secure surface to prevent it from tipping over. This creative project will be the center of your patio or backyard. You can make a perfect place for relaxing with your friends and family.
Vertical Drum Fire Pit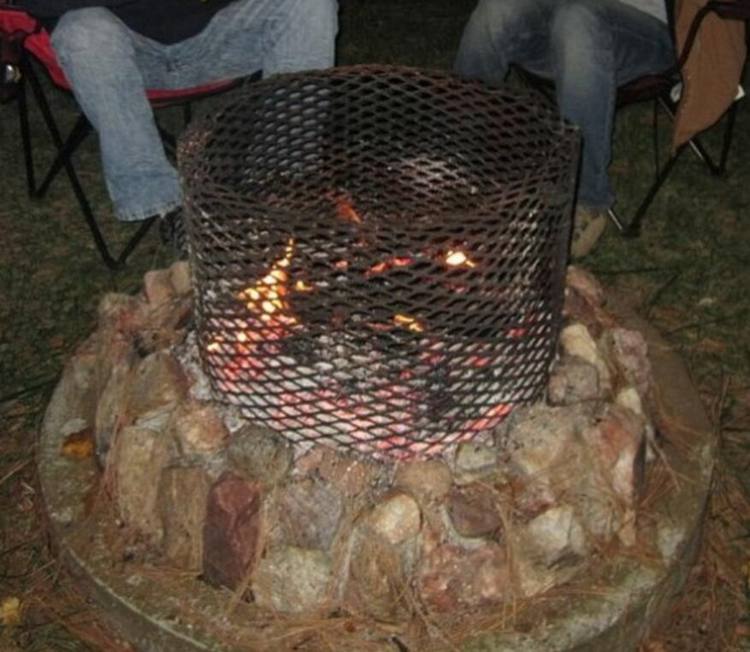 This DIY fire pit is easy to create and the perfect way to bring more light into your home. If you have some spare time, why not give it a try? You can create a rustic, industrial-style fire pit with just two items. The metal circular fire pit ring is made from sturdy steel and features a fine mesh of various metals for added design drama. This easy, inexpensive project looks great around your patio or deck.
Flower Pot Fire Pit
This flower-shaped gel fuel fire pit is the perfect way to add a little flair to your backyard. With a few simple materials, you can enjoy the warmth of an outdoor fire that's easy on the eyes! in this tutorial guide, and you will learn how to make this beautiful flower fire pit. You will need gel fuel and a few other supplies such as metal mesh, silicone, rocks, and glass frames. This beautiful fire pit can be used indoors or outdoors and looks great anywhere!
Gabion Fire Pit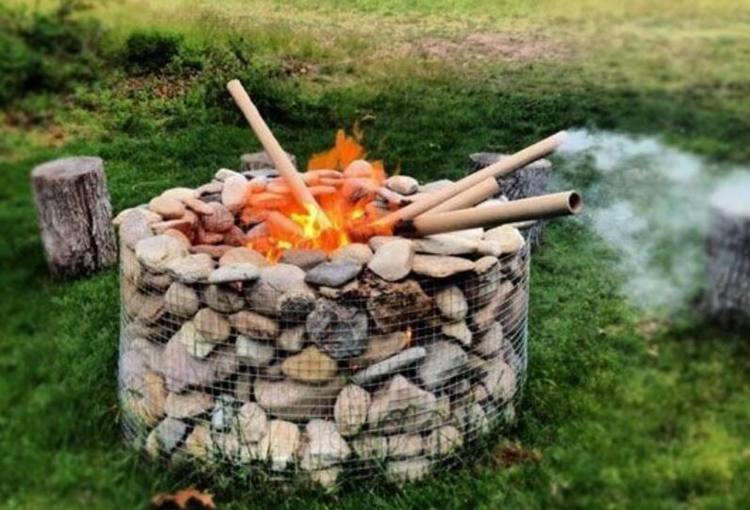 This DIY project is perfect for making a functional and decorative firepit in any garden. This simple but effective design is easy to make, so it's ideal if you've got a few friends over and want to show off your crafty skills or add some practical fun to your patio. It's also heat-resistant, so it won't burn or melt even if your fire stays lit all night. Great for a weekend project you can add to your backyard or garden and use year-round
Stacked Brick Fire Pit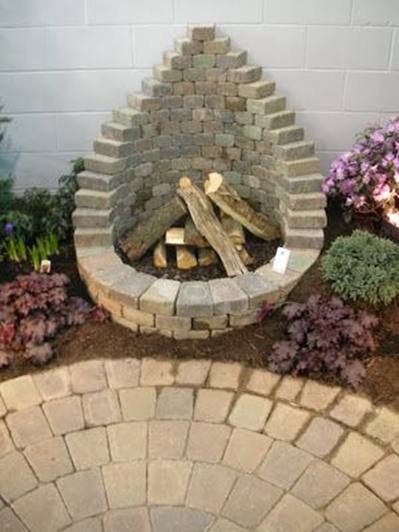 This stacked brick fire pit will help you create your own outdoor living space and provide warmth and ambiance in any setting. The best part about it is that it only requires a few simple tools and materials, so you can build it even if you're on a budget. The tutorial will teach you how to make this beautiful Stacked Brick Fire Pit. This DIY Stacked Brick Fire Pit is a great design because it keeps the wind out of your fire and keeps it lit.
Self-Feeding Fire Pit
Create a firepit with style, even if you have no time to spend in the workshop. Try out this DIY self-feeding fire pit and watch the firewood roll down on its own! All you need is a tire rim and some rods; then, you can build a firepit using some simple tools. You may need help constructing this firepit - but once it's done, you are set for an evening of wonderful entertainment!
Patio Fire Pit
Whether you have had an enjoyable metal hour for years fire pit patio is easy. Fire pits are not just for summertime. They can be part of your outdoor decor year-round. Follow each step and create your fire pit patio where you can relax comfortably with friends and family. It is very easy to build and will provide many enjoyable hours for years.
Metal Fire Pit
Metal Fire Pits are easy to assemble and stylish enough to complement any outdoor living space. Beneath the decorative top cover, a durable metal grate provides a sturdy flame base and helps maintain airflow under the fire. If you have such a metal cage, you can convert it into a fire pit; if you don't, you can simply wield one together. Pour rocks at the bottom, and your metal fire pit is ready. This can also be an excellent way to keep the local wildlife away from home.
Pizza-Like Fire Pit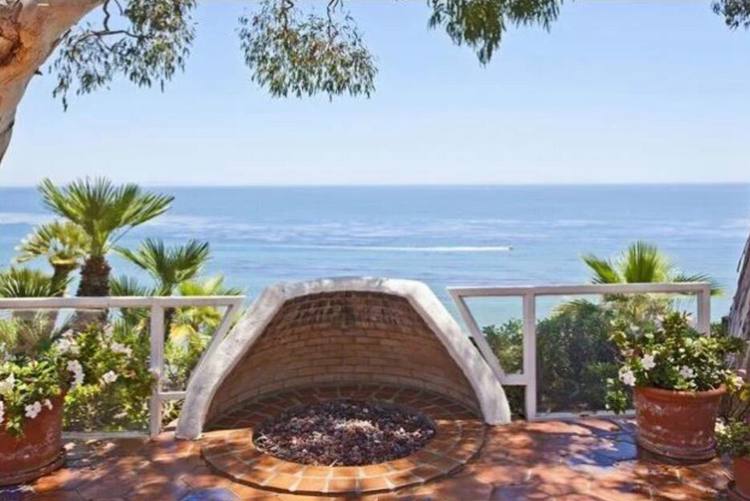 This pizza-like fire pit will surely be an eye-catching element in your backyard. It can be used as a garden decoration or added to the interior of your home; either way, it will bring you many memories and fun times with friends and family. The Pizza-Like Fire Pit is a great way to cook and keep the coals contained. With its pizza-style shape, the Pizza-Like Fire Pit has enough room to sit down around the pit and make it easy for you to enjoy it without being in the way when it's cooking or eating time.
Rustic Wheelbarrow Fire Pit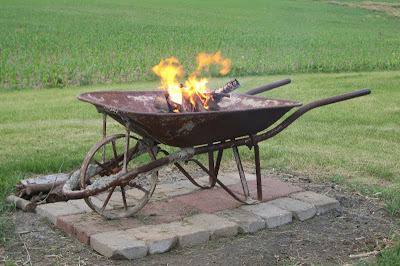 This fire pit is a great way to get the most out of your old wheelbarrow. It uses this common but rarely thought-of tool to put out some major sparks. Transform your backyard into a spectacular fire pit set with the simple addition of this rustic reclaimed wood piece. The wheels make it comfortable to move around so that you can place it anywhere - right in the middle of a lawn, on a porch or patio, or on any outdoor furniture.
Triangular Fire Pit
This fire pit is a unique statement piece and creates a stunning setting for your deck or patio. It's made from stone pavers, which are easy to clean, durable, and long-lasting. With its unique triangular shape, this fire pit lets you enjoy your evening around an open-air fire without any restrictions on space. You can decide to arrange your pavers in a triangular form to achieve this instead of a circular or square form, giving you the freedom to choose from many different types of paving stones.
 Shopping Cart Fire Pit

The Shopping Cart Fire Pit is a unique and fun way to gather around the fire pit together. This fire pit is easy to assemble, clean, and maintain; add water before starting your fire. The open design allows for ample airflow, making this fire pit less smokey than most. The legs are adjustable to ensure no gap between the wheels and the ground. This one is another amazing option that can help you to save money. The fire pit is in the range of 15-30 dollars. You can grab this fire pit for your patio or backyard!
Here,
Rustic Fire Pit Patio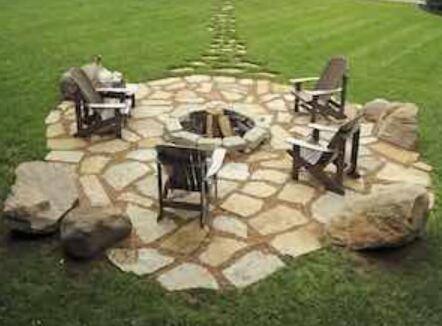 If you love to be outside, you know the pleasure of sitting around a fire pit. This DIY project will help your backyard become the perfect spot for relaxing or entertaining friends. You'll need just six pieces of flagstone and some large rocks to create a fire pit patio of your very own. This is a quick and easy project you can do on the weekend. This fire pit area has rocks that are both flat and rounded and have nice colors. And these rocks can be used on different patios and terraces. Use flagstones on your patio to make it look like this!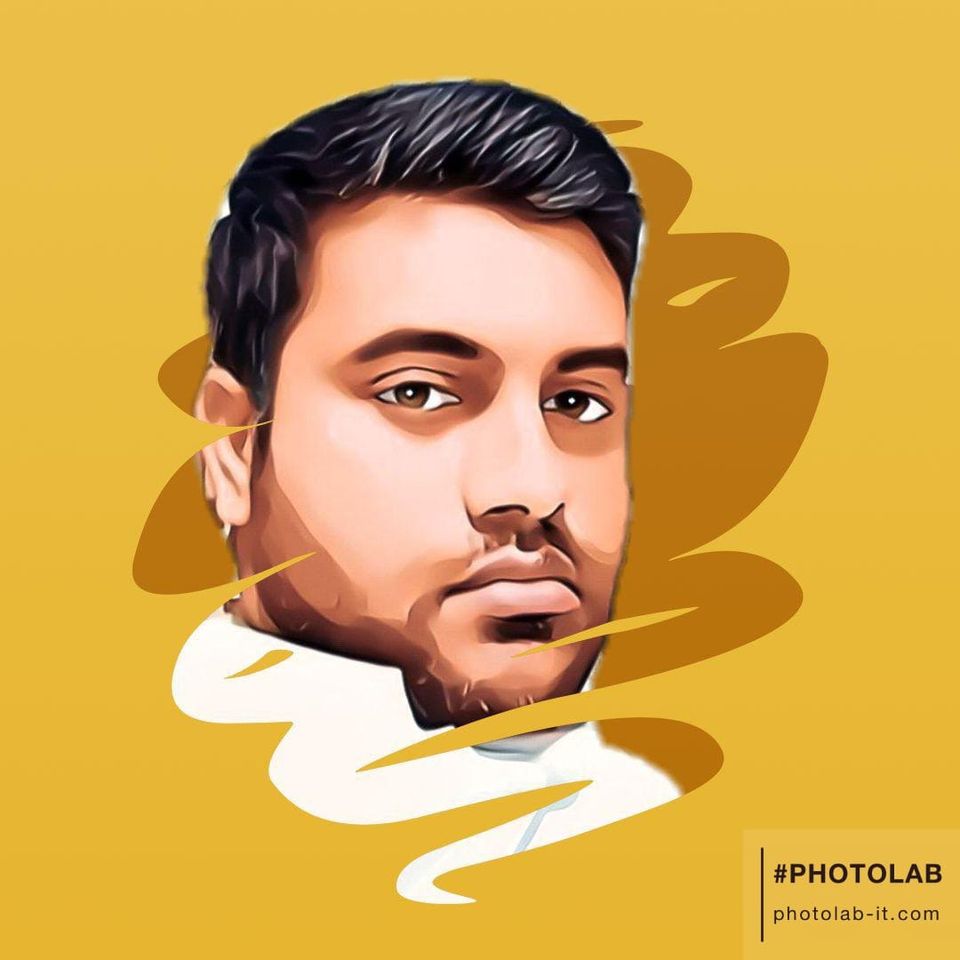 I am Raza, a crafts expert with 6 years of experience. I run this site for DIY lovers to provide the most exciting projects and ideas for your home, office, and everyday life. See More