Do you want to display your favourite fall decorations? Here are some unique DIY Fall Decor Ideas For The Home. Bringing the beauty of fall into your home means finding the best decor items to make it happen. Whether you have a small or large space to make beautiful, there are many ways to bring fall inside your home. Bring fresh fruit trees and plants, like pumpkins and gourds, that make great decor throughout the season. Fall is the ideal time to turn your home into a cosy retreat. From turning the leaves on your walls to putting out pumpkins, there are many easy ways to deck out your home through the end of October.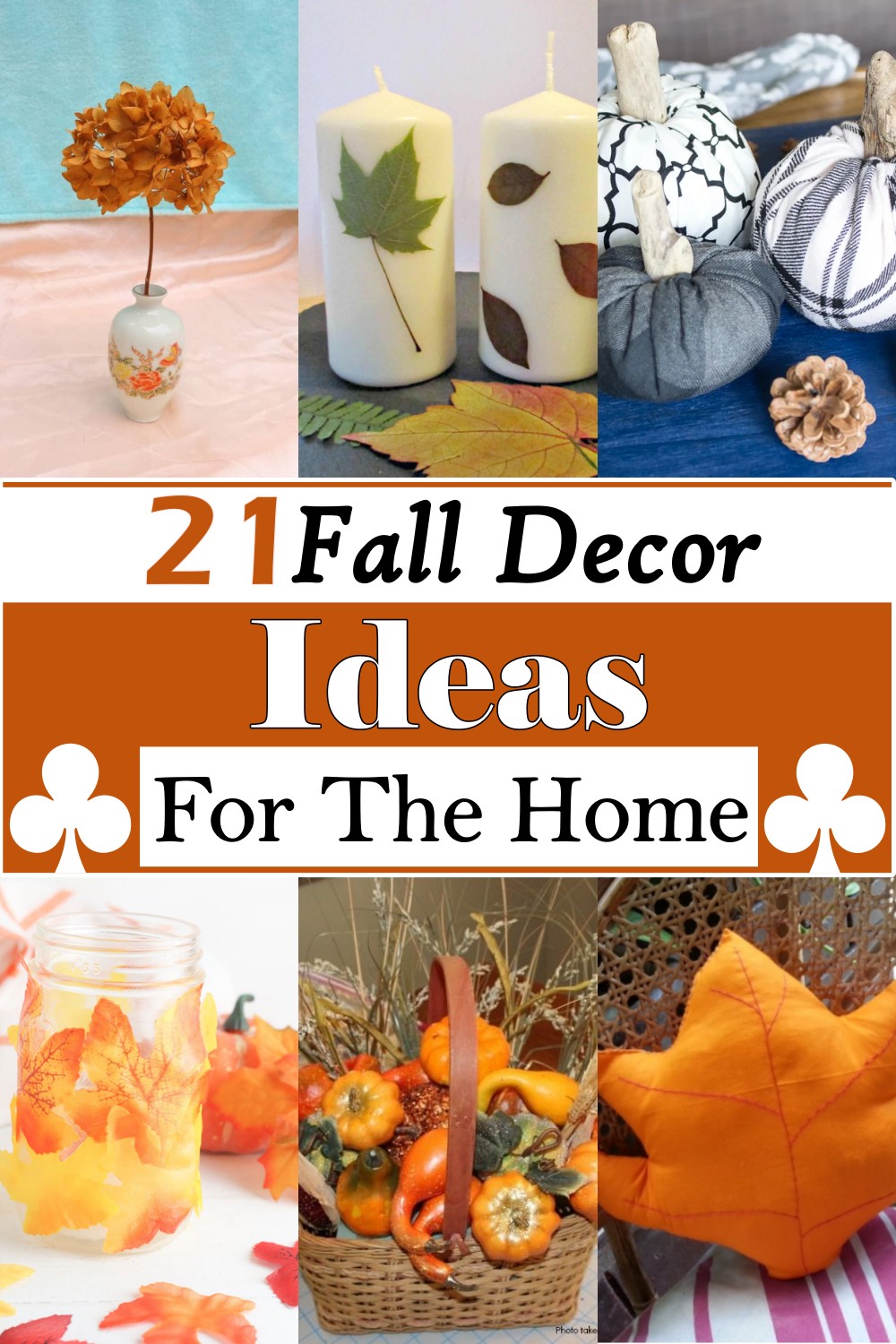 Fall is all about nature. The trees reflect their beautiful colours, and flowers bloom in the neighbourhood; It's an instant mood booster to cheer up your home with fall decorations. People usually spend months making Easter decorations for a holiday but overlook Halloween and Thanksgiving decorations. Fall is such a great time for decorating; The colours are beautiful, the air is crisp, and the fall scents are in the air. Fall is a wonderful time to decorate your home, from outdoor decorations to indoor items. There are some great ideas that you can use for your home this fall season.
Fall decorating ideas are plentiful, but these 21 DIY fall decor ideas for the home are sure to be the most stylish and convenient display you'll have!
You Can See: 30 DIY Room Decoration Ideas For Girls
No-Sew Fabric Pumpkins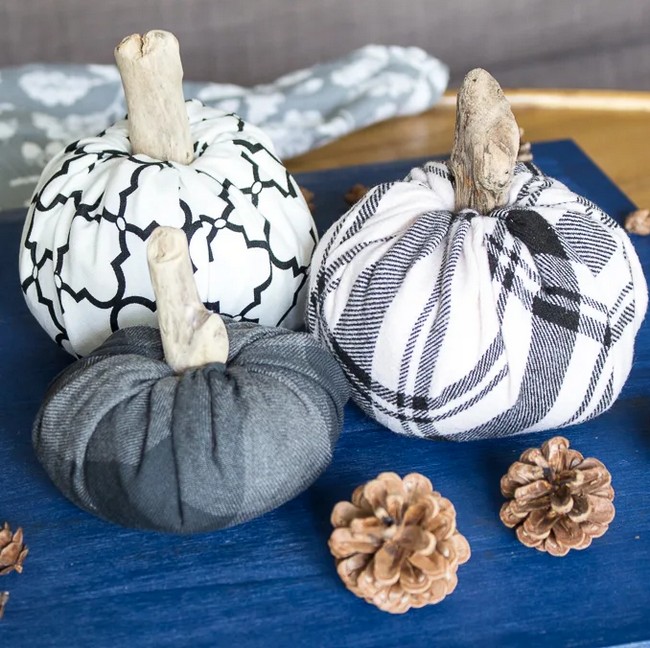 Source: getgreenbewell.com
Create some cozy and cute pumpkins for your child's room. For weight, you only need a few scraps of fabric, some stuffing, and navy beans. These plush creatures are quick to make—but their personality makes their handmade details worthy of your time. It's a fun activity to do with friends or make as fall decorations for any room in the house. These pumpkins are so easy to make and require absolutely no sewing!
DIY Chalkboard Pumpkin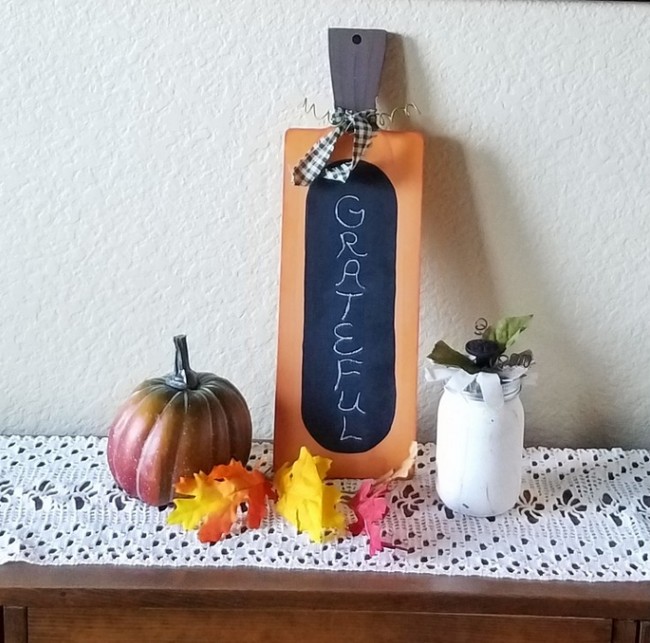 Source: mixedkreations.com
A great way to bring a fall decoration into your home is with this DIY chalkboard pumpkin, which acts as chalkboard and festive decor. Pumpkins are easy to make and add to the decor at a gathering. But if you want it to be more interesting, why not paint the pumpkin with chalkboard paint and write a message on it? It's more fun than carving words into it, and it will last longer, too, because no one can erase what you wrote!
Mason Jar Leaf Lantern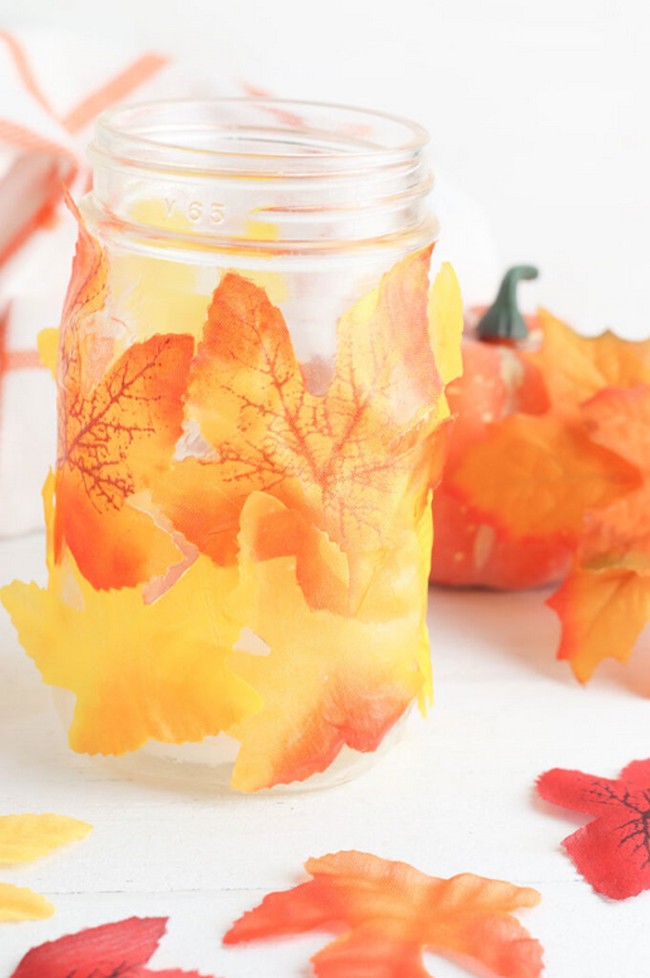 Source: mamasmiles.com
Looking for a fall decor idea that's easy and fun to make? This tutorial will show you how to create a mason jar lantern using a few pretty leaves, twine, and an LED candle. As semble your materials and get ready to make your leaf jar lantern. You can use some real leaves if you want or print a template and cut it out from some cardstock. With your shapes assembled, stick them on the glass jar and tealights. Your kids will love assisting you in creating these gorgeous decorations for their rooms.
Thankful Sign
Source: b4andafters.com
Thankfulness is contagious! This DIY wooden sign is fun to show your gratitude for what you have. Grab a few supplies to start, including wood, paint, and hardware. You'll stitch together a simple frame and affix the board, then add words cut from vinyl lettering or paint directly onto the board once it is ready to hang. This DIY thankful sign is perfect for your home and living space. Say thank you to someone with a simple and meaningful sign.
Fall Leaf Pillow
Source: craftbits.com
You're ready to redecorate your home for the fall season. Make it super fun yet incredibly cosy by making your leaf pillow. These fall-themed pillows are perfect for adding a pop of colour to your home this season. And don't worry about being intimidated by the idea of sewing— By using a simple leaf shape template and some sewing pins, you can create decorative additions for any room in the house. This pillow is not only engaging, and it's a very comfortable, soft, and beautiful centrepiece for any sofa or bed.
Hand-Stamped Books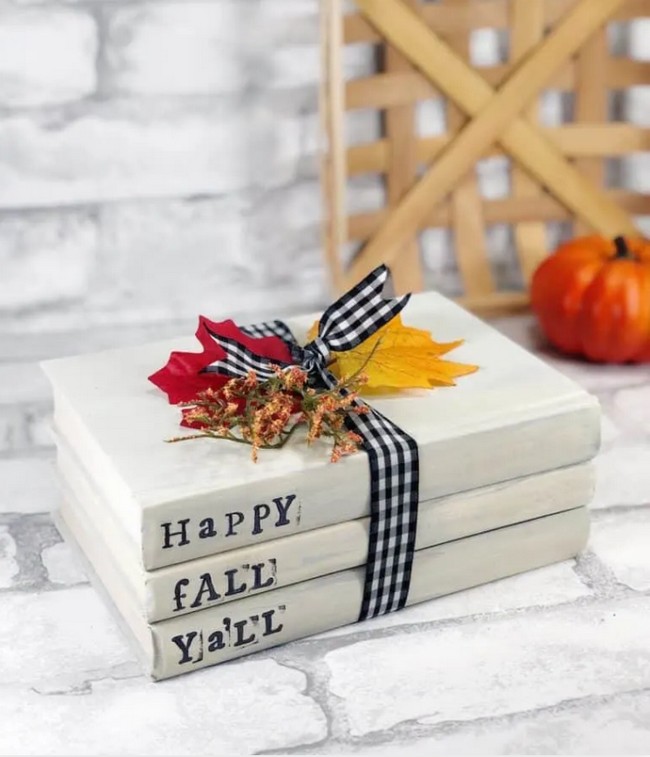 Source: singlegirlsdiy.com
If you love to decorate, here's a project you can't miss! This tutorial will show you how to create your own Fall-themed coffee table books. Super easy to make and oh-so-pretty. Plus, this will be a lovely addition to your home this autumn (and beyond), and it is an adorable way to spruce up any room in the house! With a few faux leaves, paint, and brushes, you can create something that looks like it took hours - but in reality, it takes just a few minutes!
Fall Centerpiece
Source: annsentitledlife.com
Fall is a wonderful time to get together with friends and family, so it's the perfect time for a party. But the most important thing about throwing parties is creating the perfect atmosphere. There are many decor ideas out there that you can turn to, but it is something that might not be on your radar—foil fall leaf centrepieces! They are easy to make and affordable, and you can always let your creativity run loose! With the help of a little floral foam, you can create a beautiful centrepiece that will add a festive touch to your gathering. With just a few flowers, you're ready to go!
Doily Pumpkins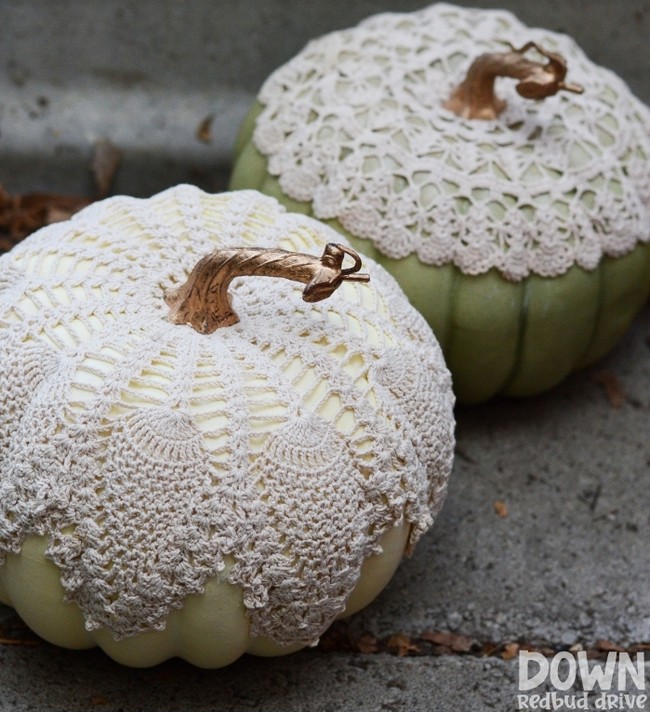 Source: downredbuddrive.com
Get the perfect look for every fall season with these DIY Doily Pumpkins. They're easy to make and add a touch of charm to any pumpkin you have around the house. Make these impressive pumpkins for your next Halloween party or as a fun craft for kids this weekend! Grab a few craft pumpkins from the dollar store, and you're all set. Perfect for any fall-themed home decor, these pumpkins add a touch of elegance and classiness to any gathering.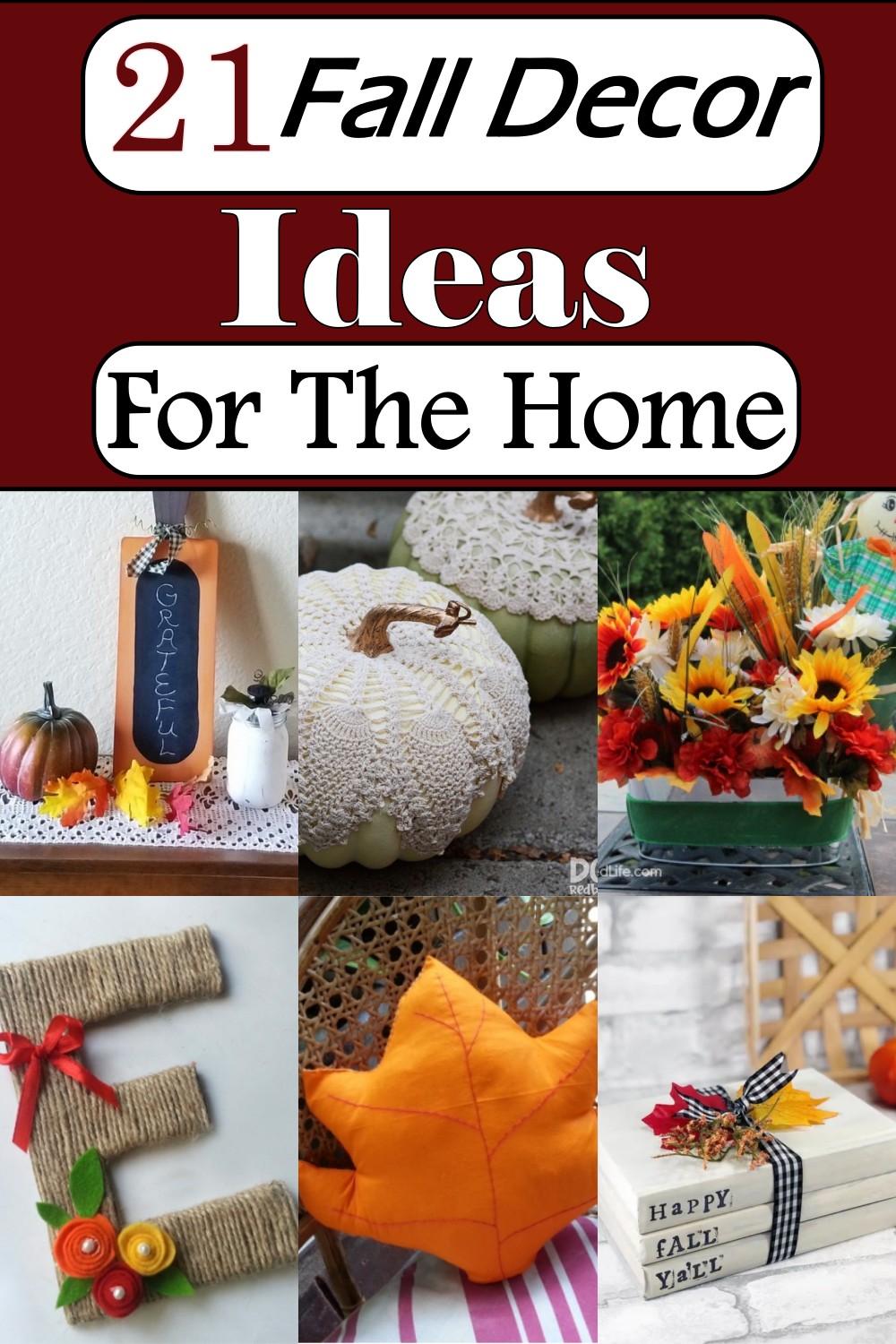 Stencil Doormat
Source: doodlecraftblog.com
Some people choose to carve their welcome message onto a slab of wood and place it outside the front door, but in this case, with a stencil. Using a stencil is much easier than carving out the letters by hand. All you need is some outdoor paint and a Cricut machine to help cut the letters out of your stencil. You can make this doormat for your front entrance as an alternative to a traditional welcome mat. It'll surely bring a smile to even the grouchiest faces each time they see it!
Painted Pine Cones Angel Wings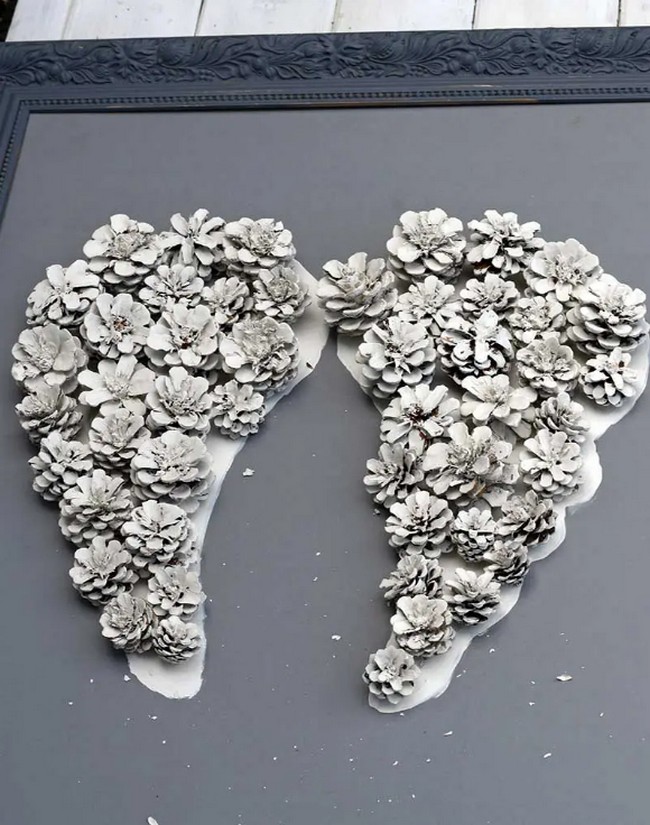 Source: pillarboxblue.com
Angel wings are an easy and inexpensive way to add a bit of holiday sparkle. This project requires little skill or craftiness; you need some pine cones and paint. Start by gathering your materials, then choose the colour of your pine cones. Paint over the whole cone, let dry, then carefully remove the seeds inside with a craft knife or pliers. This fun project makes a great gift or keepsake. This Step by Step tutorial will show you how to complete the project in a few hours.
Fall Inspired Letter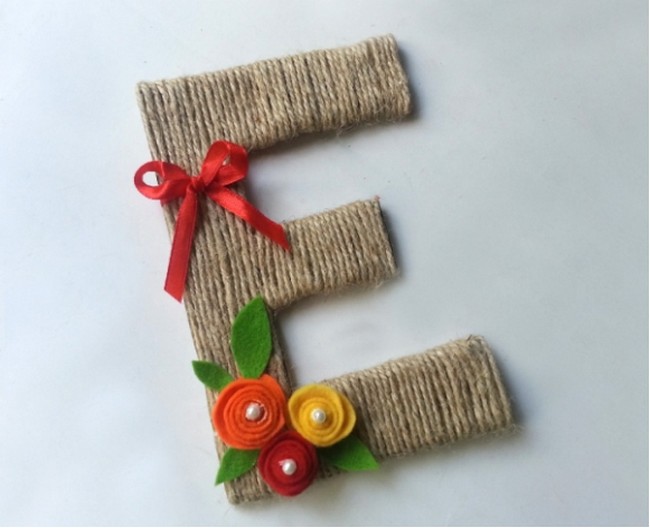 Source: craftbits.com
What could be more pleasant than decorating your home with these decorative fall letters? They're easy to make, and you can use them to liven up your living space or give them as a gift. These decorative letters will make a beautiful addition to your home decor or as an addition to your fall-inspired party to celebrate the season. It's easy to create and a quick craft project. Grab some cardboard and craft glue, then embellish with any glue that suits your style.
Glass Jar Pumpkin
Source: mixedkreations.com
Pumpkin jar crafts are the perfect craft for Halloween, fall, and the holiday season. You will love this Glass Jar Pumpkin Jar; it looks nice and is a great way to use up all the jars you have lying around your home. The burlap twine makes them look pretty and will add character to your home as you switch out your decorations for different holidays or seasons. You can use them as a candleholder or vase, too!
 Pressed Leaves Candles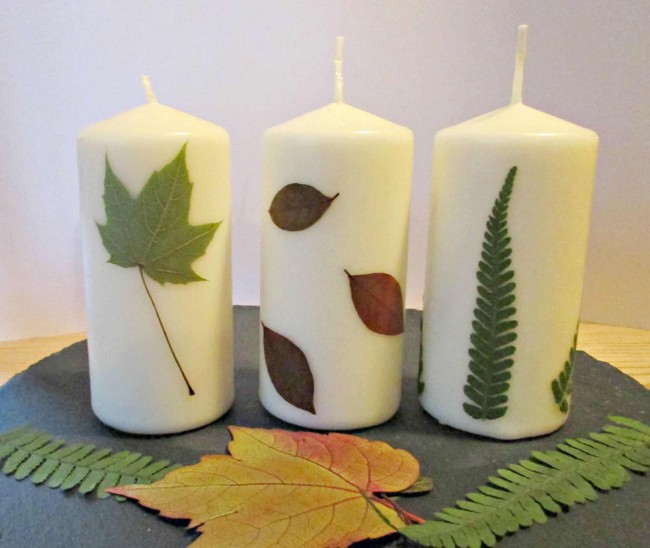 Source: craftinvaders.co.uk
Create beautiful pressed leaf candles for your home. These hand-carved candles are a great way to give your space that extra something special. All you need is a pile of leaves, a wick, and a heavy book. Plus, if you can't find the perfect leaf for your project, it's also possible to make pressed flowers or pebbles! Now you can start adhering your leaves to the candle. The most important thing to do is heat up the wax with a hair dryer just enough so that it's pliable but not hot enough to burn you. This will make it easier for the leaves to stick to the wax of your candle.
Harvest Basket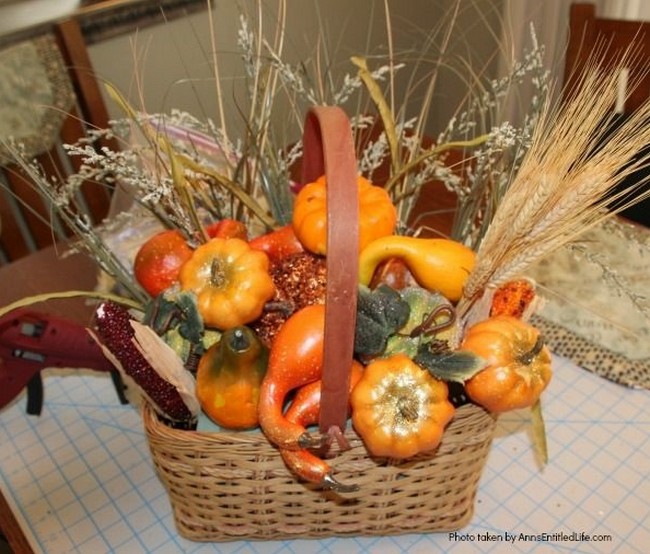 Source: annsentitledlife.com
A bountiful and beautiful fall harvest basket is one of the most popular items for fall decorating. It's easy to put together yourself and whimsical to look at. With a few additions and accessories, you can transform an ordinary wooden basket into an amazing display of lusciousness! With its soft tones and natural textures, this Harvest Basket is the perfect planter to accent any room. It will add a touch of fall charm to your home or bring some autumnal warmth to your next party.
Fall Patio
Source: greenwithdecor.com
Fall is the favourite time to get outside because you can always find a spot to go for a walk or sit outside and grab some tea with friends. Here are some simple ideas that you can use to personalize your patio and make it a special place this fall. The best way to decorate your patio is by getting creative with outdoor lanterns and planters, outdoor cushions and throws, and decorative outdoor pillows. You can add some greenery like plants, flowers or herbs to give your space a more natural, inviting look.
Herringbone Pumpkins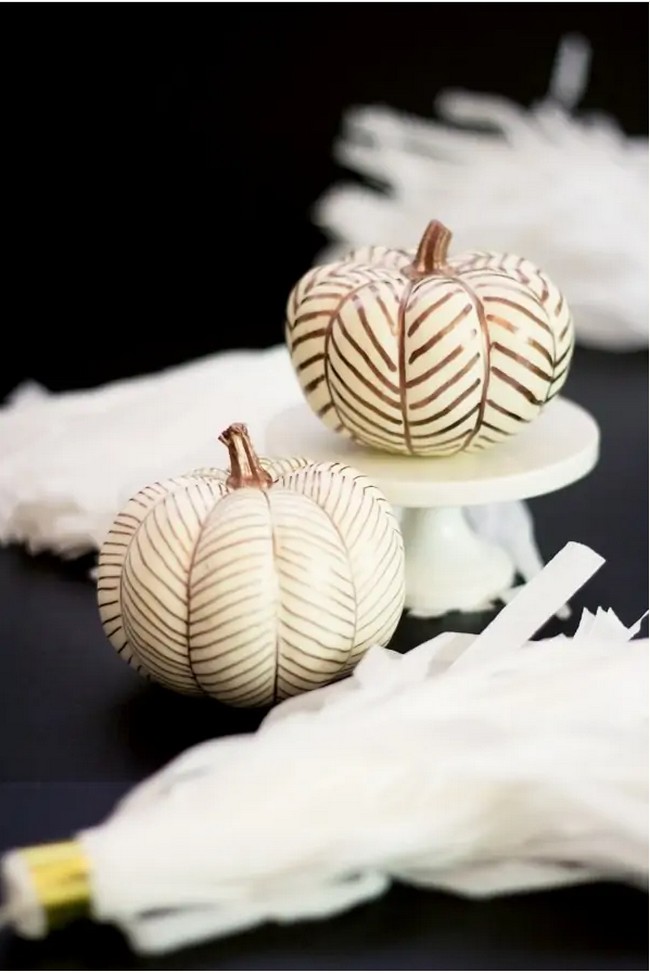 Source: lovelyindeed.com
This project is a great way to get into the fall spirit and use your imagination to create a unique pumpkin while also taking some steps toward your home improvement projects. Try adding these pumpkins to your table as a centrepiece. Create a classic Halloween style with this easy project. All you need is a pumpkin, paintbrush, and some metallic paint to achieve the illusion of a braid running up its surface. It also gives a lovely effect when you use pumpkins as decorations on your Thanksgiving table!
Table Centerpiece for Your Living Room
Source: thelivedinlook.com
This DIY fall centrepiece will make your home feel cosy and inviting. With the perfect fall colours and bulbs of flowers, you will be ready to welcome your guests into your home. You can tuck a few berries and faux succulents between the leaves and paint your craft pumpkins white. Pick out a fall-coloured mix of leaves, berries and white painted pumpkins for a centrepiece you can be proud of. You can make it for yourself or as a gift for someone special.
Denim Feather Wall Decor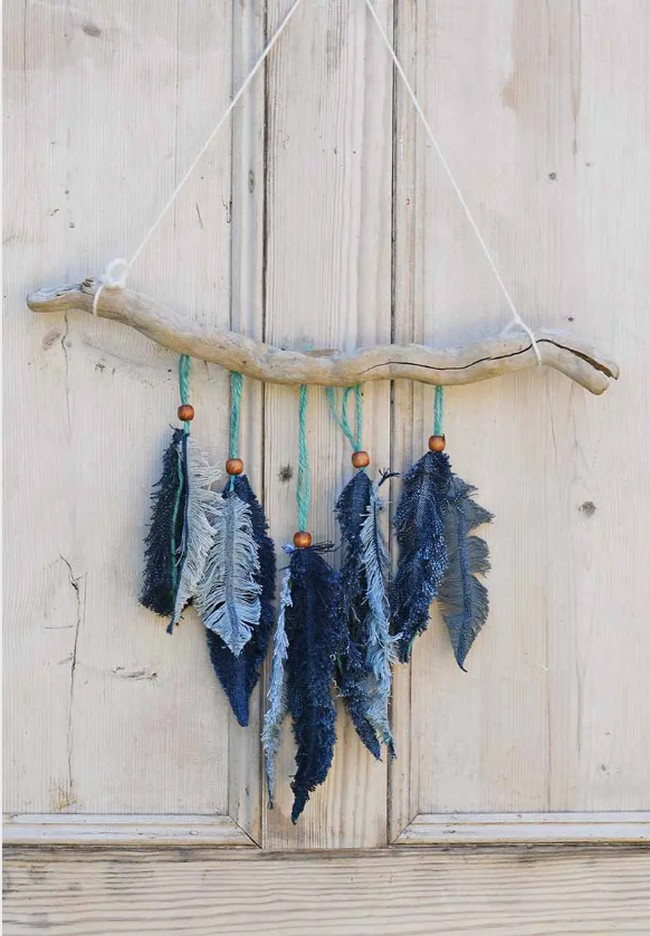 Source: pillarboxblue.com
This easy project will give you a beautiful and simple way to bring nature inside. Making this wall hanging requires only one material, denim. But it allows countless variations to customize based on the colors and patterns of your favorite pair of jeans. This is also a fun project with the kids; they'll have fun helping pick out colours and thread them onto the twine. It's very easy to make and inexpensive too. And as a bonus, it gives the room a charm and is sure to keep everyone who sees it in wonder.
Pumpkin Place Setting
Source: thelivedinlook.com
The best way to compliment your plaid tablecloth is with a few pumpkin place settings. The pumpkins can find at most dollar stores, but you can decorate them with as much flair as you would like: shells, pinecones, and acorns are just some ways to enhance the table setting. This Pumpkin Place Setting is quick, fun to make and looks adorable on your table. All you need are craft pumpkins, some pinecones, and a plaid tablecloth.
Fabric Pumpkin
Source: craftivitydesigns.com
Get ready, guys, and get creative. With this easy diy project, you will be able to create a fabric pumpkin that you can use in so many different ways. These fabric pumpkins are perfect if you want to add some embellishment to your house in the coolest way possible. Do you know how everything looks cute when turned into a pumpkin? Well, everything also looks cute when turned into a fabric pumpkin. All it takes is a few simple steps and some time!
27. Foraged Fall Tablescape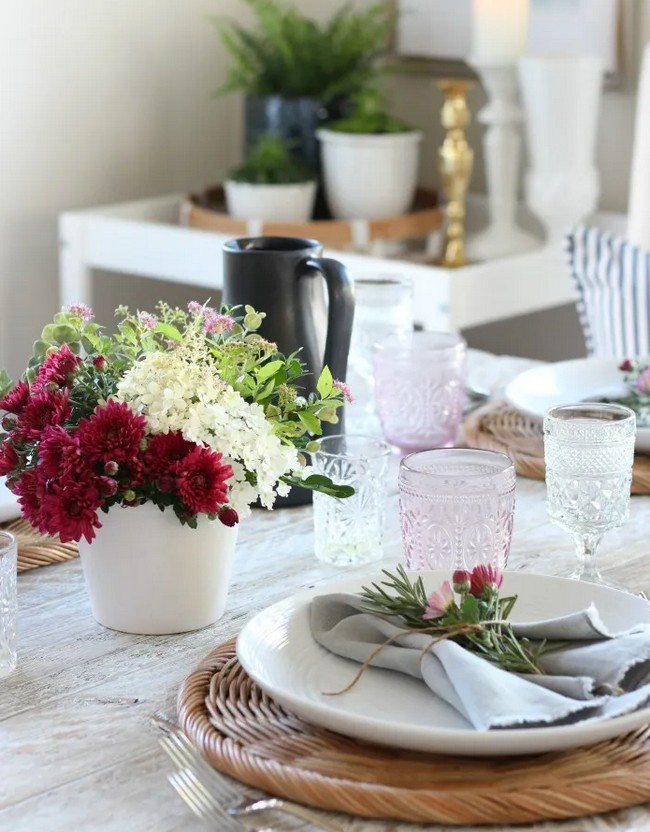 Source: satoridesignforliving.com
If you're looking to celebrate the seasons and nature but have limited funds, this project is definitely for you! You can use all the natural elements you already have around the house, plus one inexpensive way to pull it all together. It features a bunch of the leftover faux leaves, pinecones, craft pumpkins, and wood branches you have lying around. Place the real blooms in vintage containers like mason jars, teacups, and wine glasses. A table setting fit for any Fall harvest celebration!