No matter how many times you've made an emergency dash from your house to the vet's, it's always a good idea to have a dog door installed. It's a great way to expand your pup's living space; they could even get their own room! Even if you're not planning on turning your puppy into a spoiled prince or princess, every dog owner should consider installing a doggie door for safety and convenience. The problem, of course, is that they can be expensive. Instead of buying one, why not make your own? Here are 20 DIY dog door projects that will save you cash, keep your pup safe and sound, and maybe even give them extra room to roam.
DIY Dog Door Projects
If your dog is like many, they want the freedom of being able to go in and out of the house on their own. Our pets want to be able to come and go as they please, but we often don't trust them enough to let them do so. Why not put that paw-print door in yourself? This can be a fun weekend project for you and your dog—and it'll keep them happy and healthy. Get a little creative and make these DIY dog door projects. DIY dog door projects for all skill levels, from basic to fancy. Whether a novice or a seasoned builder, get inspired by this collection of ideas to create your door in any style or style (and every size!).
Characteristics Of DIY Dog Door Projects
DIY dog door projects are a great way to save money and get a customized look for your dog door. These projects can be as simple or complex as you want them to be. Below are some characteristics of DIY dog door projects:
1. Dog Door Installation Kits Are Available For Purchase: Many companies offer kits that include everything you need to install a new pet door. This includes the installation materials and instructions on how to do it yourself. This option is ideal for those who don't want to worry about getting all the materials because they can purchase everything they need in one place.
2. Some DIY Dog Door Projects Require Tools You May Not Have At Home: For some DIY dog door project kits, you will need tools that you may not have at home already, such as drills and saws. If these tools are required for your project, you will have to purchase them separately from the kit itself before starting your project so that your project can progress as quickly as possible once it has begun!
How To Design A Doggie Door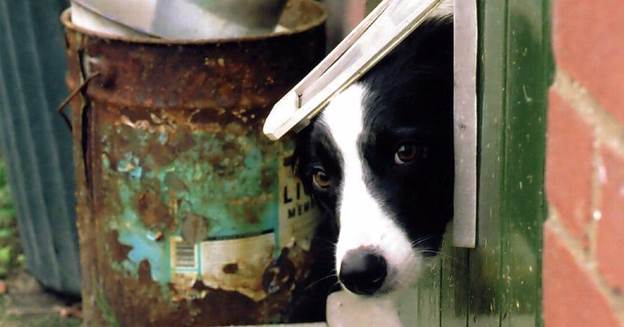 As a responsible dog owner, you want to provide your dog with all the necessary things that it might need. That is why you need to ensure he can get out of your house whenever he wants. Otherwise, it will be stressful for both of you. You could build a door from scratch or buy one from a pet store. To keep it simple, we have decided to explain how you can build a doggie door using your existing doors and easy-to-find materials for a more affordable price.
How To Install A Dog Door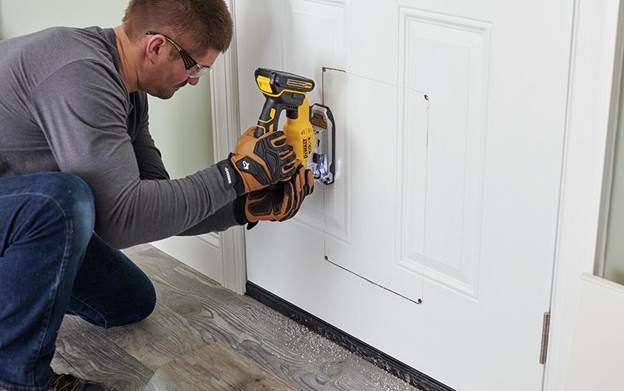 Learn how to install a dog door with this step-by-step guide. You'll find out how to choose the right type of dog door and get the measurements right. Use a power drill, pliers, pen, and hand saw to finish installing your door. Most people install a dog door by cutting the door's frame and wall and gluing it in place. To do that, you need to measure the opening in your door frame or wall for both sides to ensure everything fits properly. Once you have found where to install your dog door, use a hand saw or power drill and a pilot bit to cut several holes around the perimeter of the opening.
How To Make A Dog Door In A Wall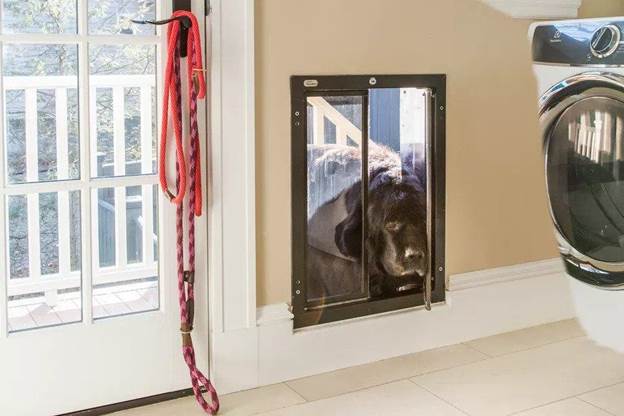 Dog doors are not very expensive, and they are incredibly helpful. They allow you to let your pets in and out while blocking larger animals, like raccoons, from coming inside. But if you don't have a regular door or windowsill to put your pet door through, you need to find another way. This guide will tell you how to install a dog door on a wall with the right tools, materials, and patience. Whether you need a new door or want to add an access point for your pets, the right dog door will do a great job of keeping you and your pet safe. You can opt for one of these easy-to-install kits or use a few carpentry skills to create your own.
DIY Magnetic Dog Door Flap
Let your pup stay cool in the summer and warm in the winter with this magnetic door flap! This flappy DIY project is a great way to protect your pet from harmful UV rays, rain, dirt, and other elements. This magnetic dog door flap is easier to install and saves you from having to cut any holes in your door frame. Mount the magnet and plastic bracket to your house trim or wall, and then attach the magnet flap that stays out of sight until you want it back in place.
DIY Doggy Door
Add a DIY Doggy Door to your home to make it easier for you and your pets to come and go as you please without causing damage to your door. For added convenience, it comes with a crash bar that automatically locks behind the pet, so they don't get lost in the cold. This DIY Doggy Door is a great way to help your dog feel more at home when you are away from them. Learn how to make this easy DIY dog door and enjoy the benefits of having an indoor pet gate in your home. It's an easy way to keep dogs from going outside when you don't want them to!
How To Make Screen Dog Door
A screen dog door is a nice touch for the summer, letting your dog have access to the outdoors. If you plan on leaving your door open for a long time in hot weather, you may want to consider making or buying a doggy door that you can use instead of your standard screen door. Doggy doors are available commercially but are quite expensive, so we will show you how to make one yourself. A dog door installed in your screen door can provide easy access to your fenced yard for your pet. This project makes it easy for you by having all the needed materials available at your local home improvement supply store.
How To Install A Dog Door In A Metal Door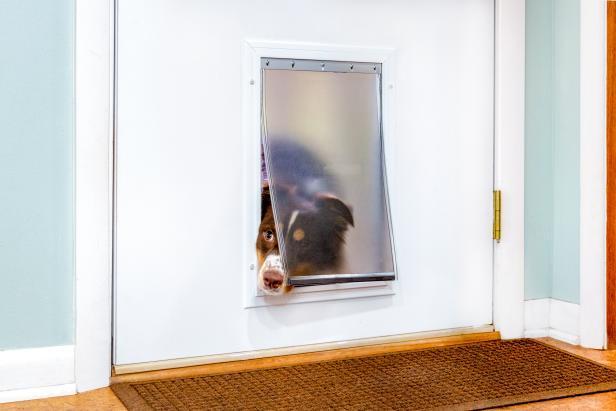 One of the best ways to make your home safe for your pet is to install a dog door. It gives them independence, allows you also to give them some space, and they also get fresh air. The installation process is not difficult, and many people are now making it their DIY project. But if you want to ensure that your dog door is installed perfectly and securely, follow this guide on how to do it yourself or get help from professionals. The process shouldn't take more than two hours unless you go for a high-end glass door.
DIY Heavy Duty Doggie Door
If your dog is a true outdoor lover and wants to come and go as she pleases, this heavy-duty DIY doggie door is definitely for you. The Heavy Duty Doggie Door allows you to cut any size hole into the glass and install it securely so your pet can enter and exit without breaking it. This DIY project will require a few materials and tools, but the work should be fairly simple. If a piece of plywood is too cumbersome, you may consider replacing it with something lighter that won't tip, like cardboard. You'll build this doggie door in your garage during warmer months so that you can test it out before covering it up for the winter.
Homemade Doggy Door
Do you own a dog? If yes, this is just what you need. If not, make it anyway and enjoy watching other people enjoy the benefit of your talent. This doggy door will give your dog his freedom and save you time and money. You really can't deny the fact that having a doggy door will save you so much money as well as time. It's great to have a homemade doggy door because it's easy to make and cost-effective. If you have an open window, you can use that as your doggy door by simply sliding it off and sliding this in place instead.
DIY Dog Door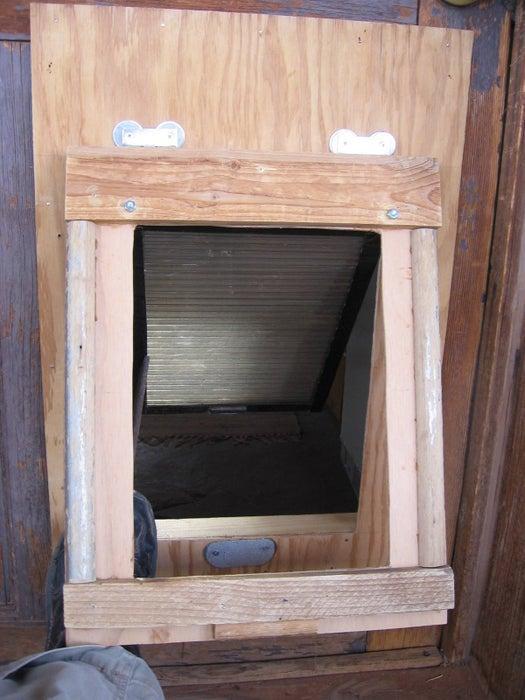 This dog door is a doable project for the average handyman. You will need to have some tools on hand, but you can accomplish this. The process is relatively easy with good instructions and a little elbow grease. You will save yourself money by doing it yourself instead of hiring a contractor and paying him tons of money for less than stellar work. Building a dog door into your house is not difficult, but it does take time and patience. It would be best if you considered that this process would be stressful for you and your pet, and some dogs will require a lot of training before they can use their newfound freedom.
DIY Dog Door Installation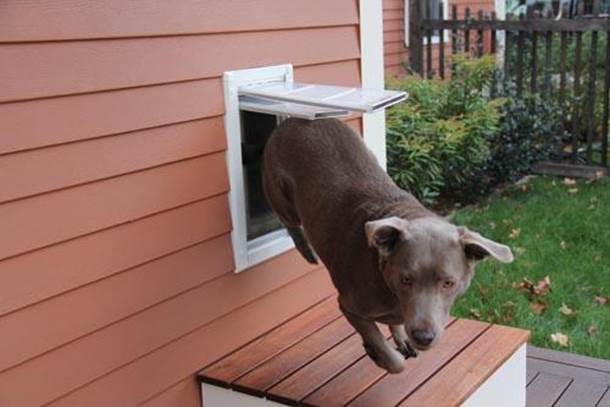 When installing a dog door, ensure it is at least three to four inches off the ground or another raised surface. This way, your dog's head won't hit the bottom of the opening when going in and out. A dog installation door is a great way to allow your pet access to the great outdoors while keeping them safe and secure in your yard. If you already have a fence, adding a dog door will make it easy for them to come and go while keeping other critters out.
DIY Doggie Door Deck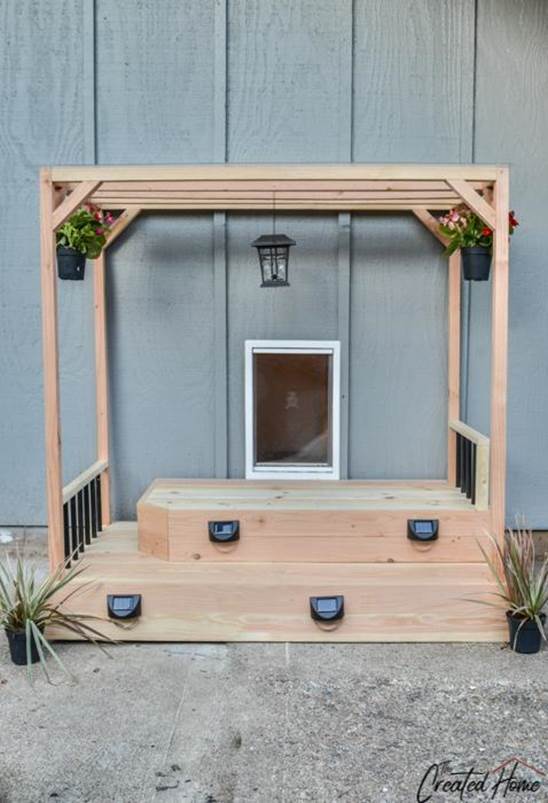 A dog door deck is a great way to save your sanity and protect your trailer or home from unwanted chew marks. It's a great idea to let your dog in and out of the house through a dog door, but finding the right place to put it can be hard. Instead of squeezing the door into an existing nook or corner, consider creating a custom doggie deck that will make it easy for your pet to enter and exit independently.
How To Install A Pet Door In Glass
It is important that you need to check the dimensions of your glass panel and take them with you when making your purchase. Measure the doors where you need to install the new pet door, cut it and install it. Pet doors are one of the easiest and most affordable ways to let a pet enter through the side of your home. They can be installed in windows or walls, and using them is simple. It's also easy to make your special pet door, cutting size holes in glass or fibreglass.
How To Build A Hidden Cabinet Doggy Door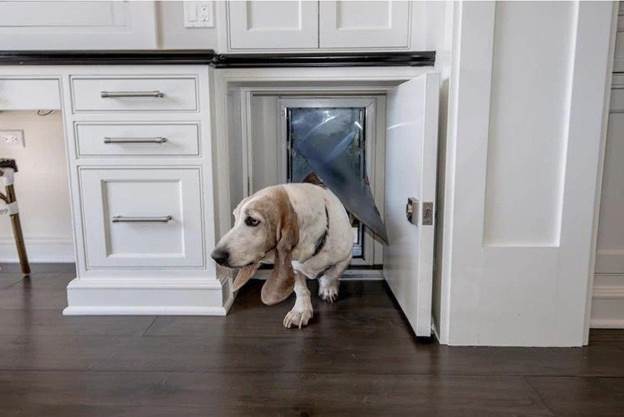 A doggy door is a hole that allows a pet to enter and exit the house if they are left alone when you are away. A doggy door will let your dog sleep and roam freely in his area of the house while still keeping him safe at home. This tutorial shows you how to build a hidden doggy door for your cabinet easily. This is a great way to add a door to your home or office without cutting a hole into the wall. You will love the convenience that comes with a hidden doggie door.
DIY Dog Door Flap
This simple, customizable DIY dog door flap will keep your dog from going out in the snow, rain, and wind. It's a great way to give them access to the backyard without letting them run all over the neighborhood. Plus, it's easy to make with things you probably already have lying around your house. This dog door flap is a great project for you and your dog. Make it as simple or complicated as you want by adding fancy appliques, but the basic design is simple and requires minimal sewing. It's also great to recycle an old t-shirt into something crafty!
You can also see: DIY Dog Pen Ideas 
 DIY Dog Door For Sliding Glass Door
This DIY dog door for sliding glass door is a great project that allows your dog to come and go as they please while keeping the sliding glass door shut. You can build this pet door with a few materials and in just a few easy steps. It's also very affordable, especially compared to other dog doors on the market. When it comes to dog doors for sliding glass doors, this one is a great option. It is easy to install and opens from the top of the door, so air can still flow through. The flap is durable and flexible enough to accommodate any size dog or cat.
DIY Temporary Dog Door
If you have a temporary home or just one that is not dog-friendly, this temporary doggie door will allow your pup to move around and use the bathroom within the house. It's easy to set up and can be folded flat when not in use. The DIY Temporary Dog Door is a do-it-yourself temporary solution for letting your friend outside when it comes to bathroom breaks. Designed to be installed in existing walls, frames, or doorways, this dog door can be easily attached by anyone at home with tools like a drill and screwdriver. Once the panel has been installed, your furry friend can go in and out as they please.
DIY Window Pane Dog Door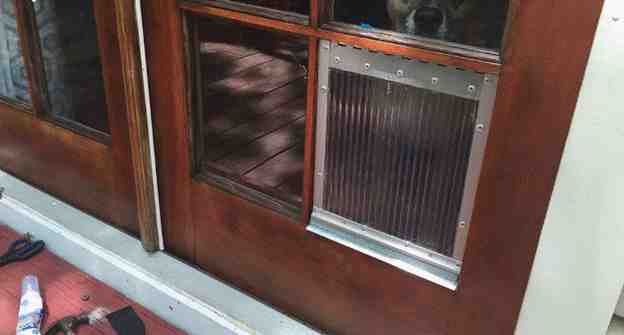 This easy-to-install dog door is built like a miniature version of your standard garage door. The frame is preassembled, which makes the installation go smoothly. This painted DIY window pane dog door uses an existing window frame to create a stylish entrance for your pup. It's custom to the perfect size for your dog and easy to install. This is a DIY dog door that can be made with the help of a jigsaw and some glass. A metal frame, window pane, and tracking are also needed for this project. The frame sits in the window opening and contains the glass window to keep it from falling out.
How to Make a Doggie Door Burglar Proof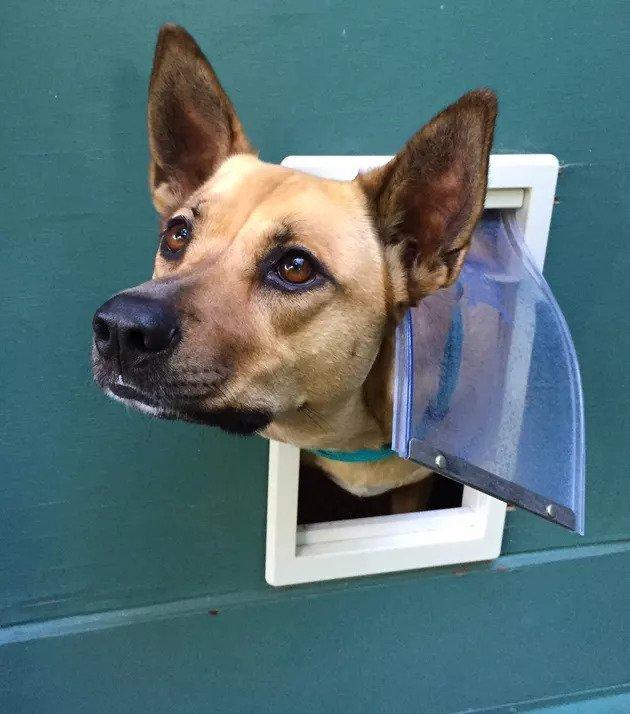 A doggie door acts as an entry and exit point for your pup. They are great for providing your dog access to the outdoors, especially if you cannot take them out for walks or runs regularly. You can install a pet door in your exterior or interior wall so your dog can come and go when they please. A doggie door ensures your dog will not be left alone if you leave home during the day or even at night.
How To Build A Large Dog Door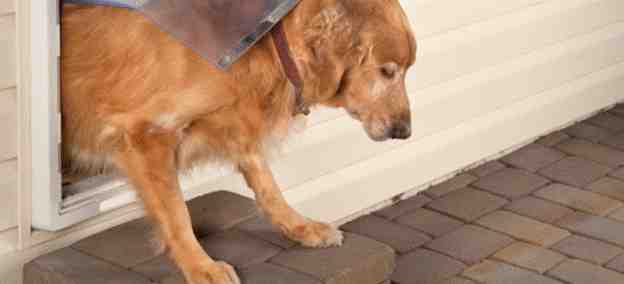 Building a dog door is fairly easy, but there are some things you should keep in mind. This includes the size of your dog and how big of an opening he needs to fit through. If you need help building a large dog door, read for more information. When building a dog door, you must consider your dog's size. You will be cutting out the hole for the dog door according to the measurements of your dog. The next thing is to decide on where to build this door. It would be best if you were sure that such a door would not interfere with any other part of your home when it is opened and closed by your dog.