25 DIY Deer Blind Plans For Hunters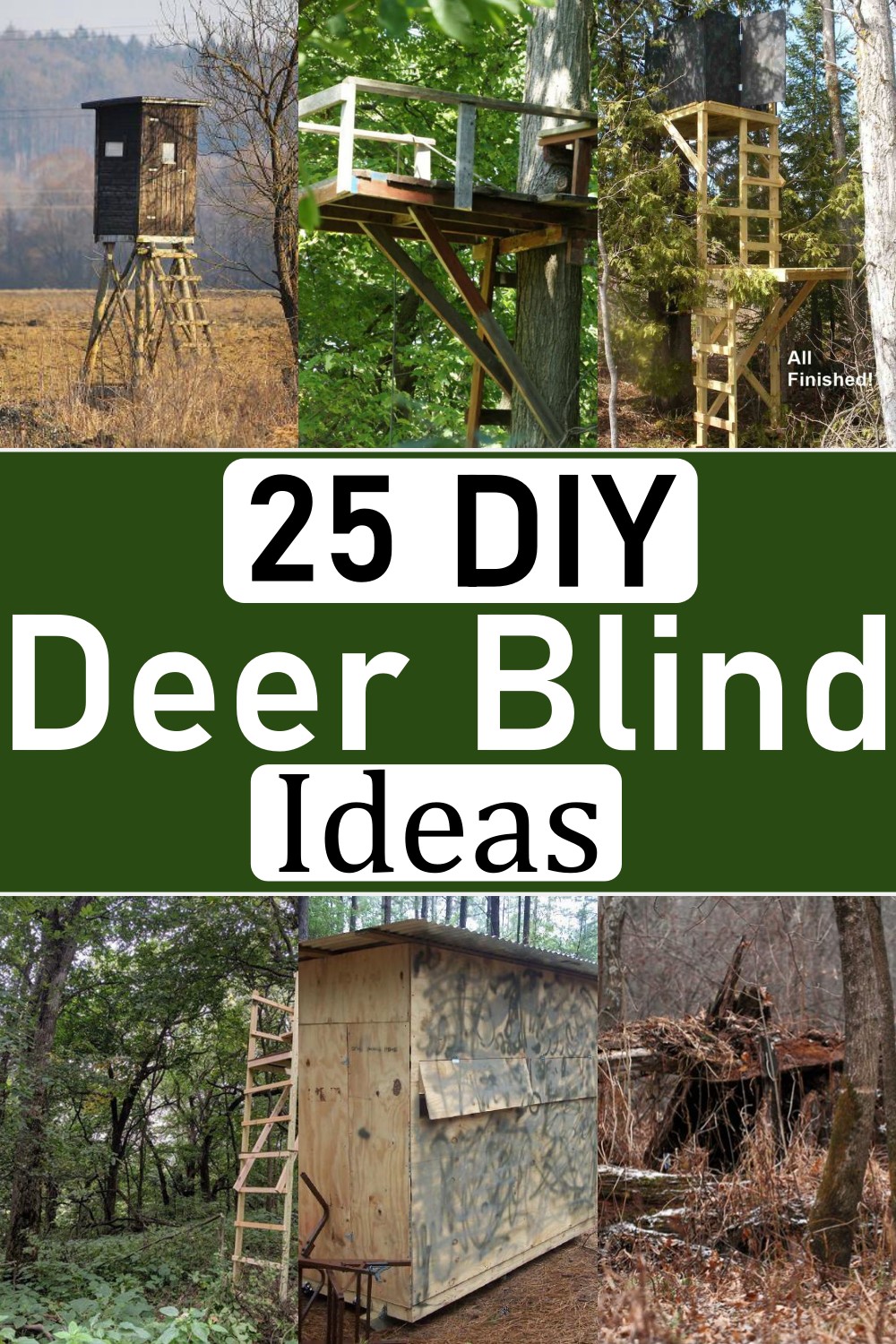 These DIY deer blind plans will help increase your chances of bagging that deer you want. There are different hunting blinds, but these free homemade blind plans will do the job perfectly. The DIY deer stand plans we have listed in this article will enable you to convert your backyard into a mobile deer blind and kill more game than before. Here are 15 free homemade deer stand plans to help you build cost-efficient hunting stands and blinds. They're easy to construct and help you get closer to that unsuspecting buck. Get exclusive access to these DIY deer blind plans with easy-to-read instructions, a list of needed materials, step-by-step photos, and more!
DIY Deer Blind Ideas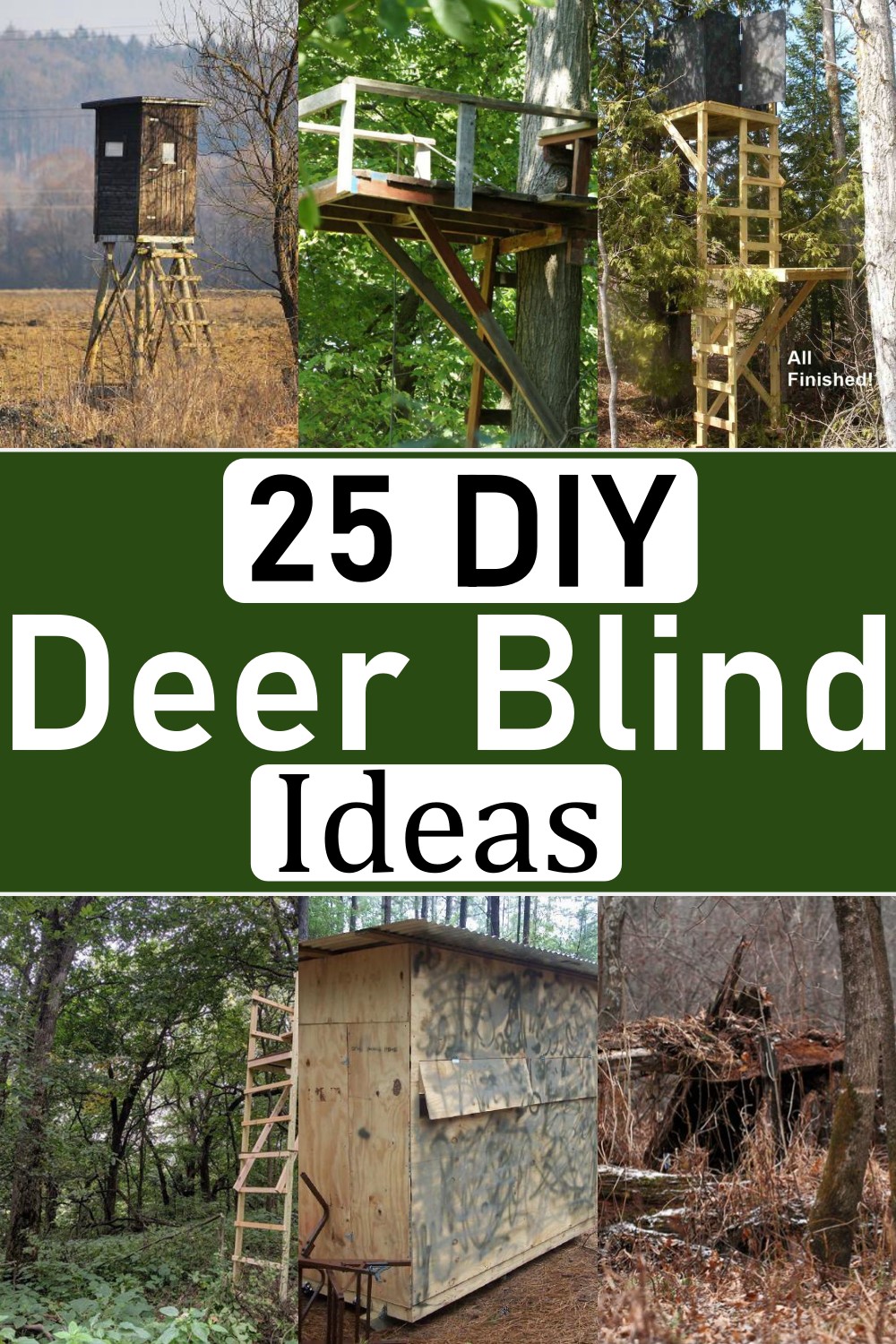 If you're a deer hunter, there's nothing more exciting than sitting in a deer blind at dawn, waiting for the deer to come out. But it's much more comfortable and convenient to build your DIY deer blind. Here are some DIY Deer Blind Plans you can use to build your deer blind. The best part is that they're cheap and easy to make—it doesn't have to be a complicated project. You'll be able to customize it as you like with whatever materials are most readily available, matching the style of your home or cabin. It also acts as a great hideout for other activities where you don't want to be seen.
Benefits of DIY Deer Blind Plans
DIY deer blind plans are the best way to save money and build a deer blind that's exactly what you want.
Here are some of the benefits of DIY deer blind plans:
Save money: 

You can build your deer blind for less than $200, depending on what you already have in your toolbox. Even if you need to purchase some supplies upfront, it's still cheaper than buying one pre-built from a store or online. Plus, you'll be satisfied knowing that you made it yourself!

Build it exactly how you want it: 

You can design your DIY deer blind exactly how you want it to maximize comfort, convenience, and concealment. Build one large enough for multiple people or smaller ones holding one person. Add features like windows, vents, and extra storage space as needed based on where you plan to use them and how often they'll be used.

Have fun with it!: 

Building your deer stand is fun, especially if you're doing it with friends or family members who can help out along the way. You'll have an opportunity to work together on something useful while spending time together outside enjoying nature at its best!
How To Make A Deer Hunting Blind
A deer blind is a hunting shelter to hold one or more hunters. It serves to hide the hunters from the intended prey. Have you ever wanted to make a deer hunting blind? Then you're in luck. Make your DIY deer hunting blind with this fun, easy-to-follow guide. Learn how to build a box-blind, what tools you will need, and how much time it should take. A great project for both beginners and advanced woodworkers alike. Don't forget to watch the complete video guide for more details about this DIY project!
How To Build A Blind Box Tower
Are you looking for an easy way to build a deer blind? If so, this video is just what you need! With only a few supplies, you can easily create your own elevated deer box stand with this great tutorial. The design is simple and keeps your hunting area hidden from sight and safe from rain or snow storms. This blind looks way better than any regular elevated stand, and it is more stable as well.
DIY Deer Hunting Stand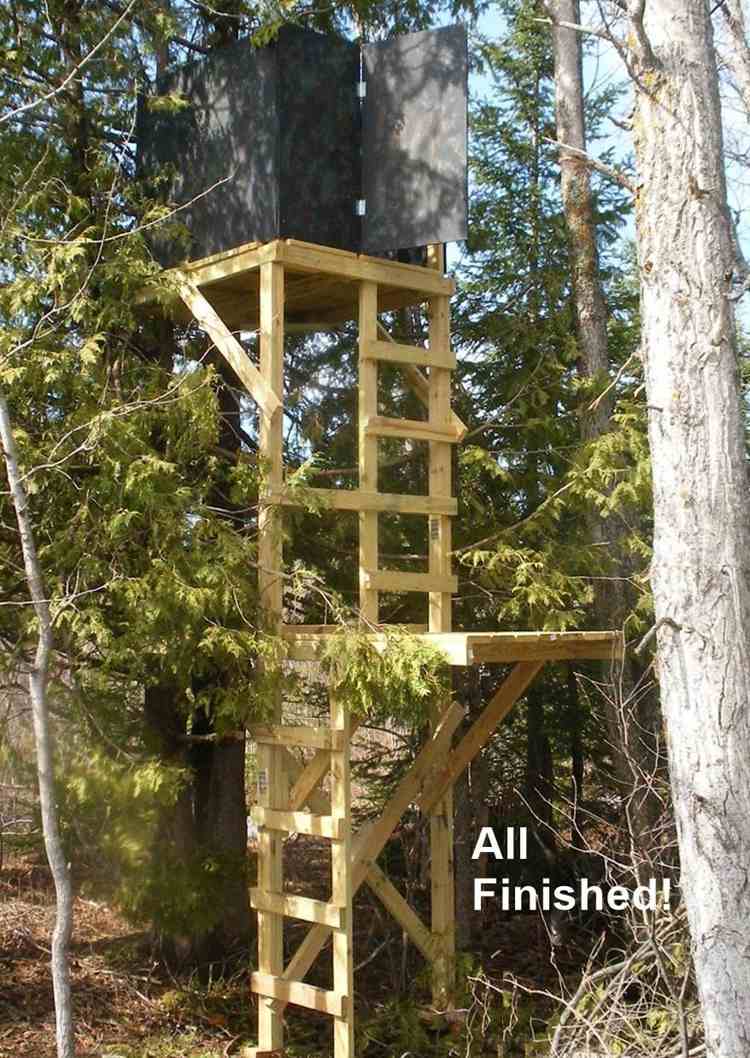 If you love hunting, and even if you are not a hunter but love DIY projects, this deer stand is for you. The steps are easy to follow, and the materials can be found at your local hardware store, lumber yard, or home center. This DIY project will take 1-2 days, depending on the size of the deer stand and your skill level. If this is your first time making one of these, do not worry – many different sizes make it easier to find one that suits your needs and skills. Make one yourself with simple tools and materials, and be ready for your next hunting trip.
You can also see: DIY Duck Blind Stand Ideas 
DIY Deer Blind Plans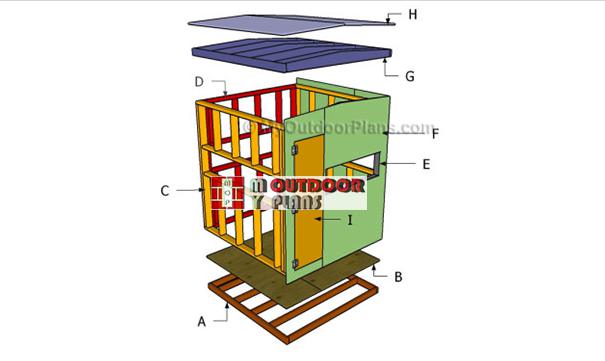 This DIY deer blind building guide has complete plans, detailed instructions, and photos to help you build an affordable deer blind. This shelter was designed by hunters and wildlife enthusiasts who wanted to make a budget-friendly, durable and easy-to-assemble version of the standard box blinds that offer even better concealment. Even if you're not a skilled carpenter, you shouldn't have any problems with this DIY project. The finished product looks nice and will last years due to its durable cedar material and smart design.
How To Build A Deer Stand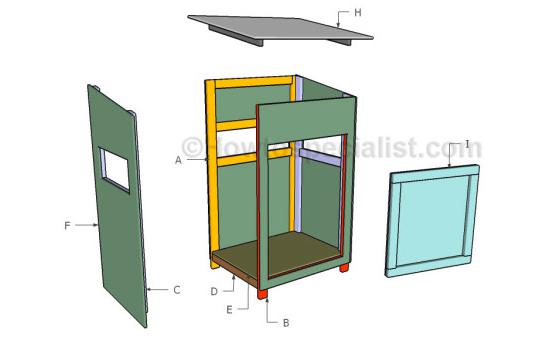 How To Build A Deer Stand is a simple project you can make from basic supplies. It's a great way to spend the afternoon in the woods and still have dinner on the table in time for dinner! Follow this plan step-by-step and build your deer stand. Determine the location you want your deer to stand in the woods and then clear the area around it of any obstructions that might hamper your view. Build a sturdy frame using wood, plywood, and screws. Cut out plywood to use as a roof and walls, and attach them to your frame with screws.
DIY Deer Hunting Blind
If you're new to deer hunting or even looking to improve your skills, this DIY elevated deer blind is the perfect tool. This DIY deer hunting blind is easy-to-make and extremely effective! The box-like blind is one of the easiest and best deer-hunting blinds. It's elevated, so you can stand up inside the wooden box and hunt deer. This easy DIY project takes a little work to build, making it more stable and strong.
DIY Simple Deer Stand
This video guide is perfect for you if you want a DIY deer stand. It covers everything you need to know, including the design, how to make it, and even how to shoot a compound bow. This handy step-by-step video guide teaches how to make a deer stand within two days. It's super easy, and you can complete it for less than $400 on your stand. For this project, you'll need a few basic tools and elbow grease.
How To Build A Deer Blind
Deer hunters are always looking for new ways to improve their odds of being successful. A quality deer blind is essential for a successful hunt, and this one is easy to make and sturdy enough for years of use. This How To Build A Deer Blind project is easy to build and use. It's built with plywood and a few common tools. The way this article is set up makes it perfect for beginners, but it's also a great idea for experienced builders.
DIY Deer Blind Build
If you are looking for the best spot to hunt, you need a ground blind. Here is a guide on how to build one and how it can be done easily. Building a deer blind can be a fun and rewarding project. Whether you're new to hunting or just new to building, this video guide will show you how to build a basic ground blind. All you need are the right materials, some basic knowledge and practice; give some time, and you will have your own deer blind.
Deer Hunting Blind Build
This hunting blind will stop the deer in their tracks. It's a nice, cosy, lightweight and easy-to-set-up deer stand that you can build in a short amount of time with some basic carpentry skills. The creator used 4×4 wooden posts, some pressure-treated lumber, and other materials to complete it. It can be used as a permanent or temporary deer stand because it's built to withstand the elements. It's also easy to build and uses minimal tools.
How To Build A Hay Bale Blind
The How To Build A Hay Bale Blind project is quite simple and easy to make; you need to make one plan in your head and start building. You will also learn to use equipment like a nail gun, drill, and other tools. A good quality hay bale blind will camouflage your silhouette so the animals don't see you. You can build a storage box blind out of plywood and make it look like any hay bale you come across. If you want to challenge yourself, it's the perfect project for you.
How To Build A Deer Stand
Deer stands can be expensive and hard to obtain, but they're also simple if you have the right tools. This DIY video will show you how to make a deer stand that's not only cheap but easy as hell to assemble. This is a tutorial on how to build a deer stand. First, find the area where you'd want to build your stand. You can build the stand with just a few plywood sheets and nails, some woodworking tools, and other supplies.
5×5 Deer Plans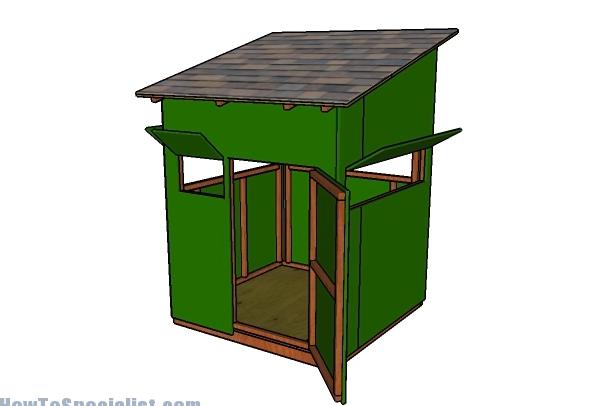 If you want to build your shed, then this deer shed PLANS is what you need. The Plan is easy to follow and is suitable for any skill level. It is designed for a 5×5 hunting stand, is easy to assemble, and does a great project for any beginner woodworker. This step-by-step plan will guide you through the build process, allowing you to learn more about your equipment, techniques and materials.
DIY Deer Blind Plans 4×6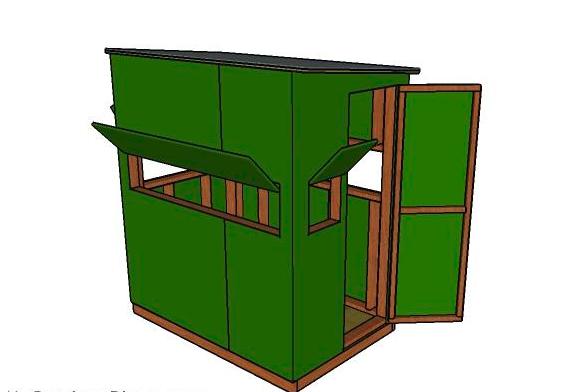 The DIY Deer Blind Plans 4×6 is a great way to make an earlier morning more fun and exciting. With a safe and secure hideaway, you can approach your surroundings without the risk of being spotted by larger animals or humans. And with enough space for a few people or used as a simple getaway place all on its own. The plan is easy to follow and made mostly from plywood so anyone can build it! You only need a few tools, some paint, and a little imagination!
How To Build An Inexpensive Deer Blind
A deer blind is a great accessory when you want to watch the deer. They're also handy for hunting. Deer can be difficult to see and disappear in a flash if you don't have something set up where they are likely to move around. If you are looking for a secure place where you can open your eyes and see deer? Here is a great solution for you. It's inexpensive, easy to build, and doesn't require much money or time. You need some wood and screws, which makes the construction simple.
DIY Natural Deer Hunting Blind
Make your deer hunting blind blend into the forest with this DIY natural deer hunting blind. It's a great project for anyone who loves hunting, camping, and hiking in the great outdoors. Build a deer blind from scratch and use natural resources to camouflage it. The wide, flat top makes this the perfect platform for peaking at the deer or standing while still having plenty of space to move around.
Custom Deer Blind Build
Need a customized deer blind? Here are some tips on how to build your own. This video gives tips and tricks on how to make your custom deer blind and where you can build it. This DIY deer blind is a durable, simple design that you can use repeatedly. This DIY Custom Deer Blind Build is a great way to spend your weekend. It's easy to build, and it's sure to impress anyone who sees it. It's perfect for being able to hunt in all types of terrain without spending too much money.
DIY Deer Hunting Box Blind
Making a homemade box blind is an easy way to make a difference in your deer hunting success. DIY Deer Hunting Box Blind is a great choice for hunters who want to save a few bucks and have a great hunting experience. DIY is easy, especially if you already have some woodworking skills. This video will show you how to build your own deer hunting box blind that looks like an everyday casual shed, but it is very effective for concealment and hunting deer undetected by the animals.
DIY Hunting Blind For $30
Are you an avid hunter but do not have the money to buy all those expensive hunting blinds? Well, now you can build your DIY hunting blind for JUST $30! This is great for the frugal people looking to save cash while still getting in on the sport they love. This DIY hunting blind is super easy to make with only a few key materials. The entire build process takes two hours once you've acquired all the materials and tools needed, but the payoff is well worth it!
Recycled Pallet Wood Deer Blind
Are you looking for a unique and cost-effective way to create a deer blind? This DIY primitive deer blind is made from recycled pallet wood, creating the perfect rustic hunting shelter. Whether you're hunting whitetail deer or any other game in the open prairie, this deer blind will help you conceal yourself while keeping you comfortable. This will help you save money and create a unique retreat where you can relax outdoors in the shade and hide from pesky deer as they pass by.
DIY Cedar Deer Blind Plans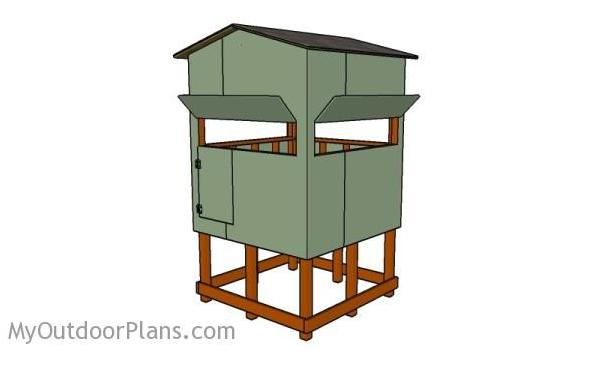 Build the perfect shed for a place near your hunting spots strategically. The DIY Cedar Deer Blind Plans provide step-by-step instructions with helpful illustrations, so you can start building immediately. The plans allow you to build your cedar deer blind in as little as a weekend. The plans are versatile, so this deer blind can be used for hog or turkey hunting or can be built in any size or shape to fit your specific needs.
DIY Hunting Tree Stand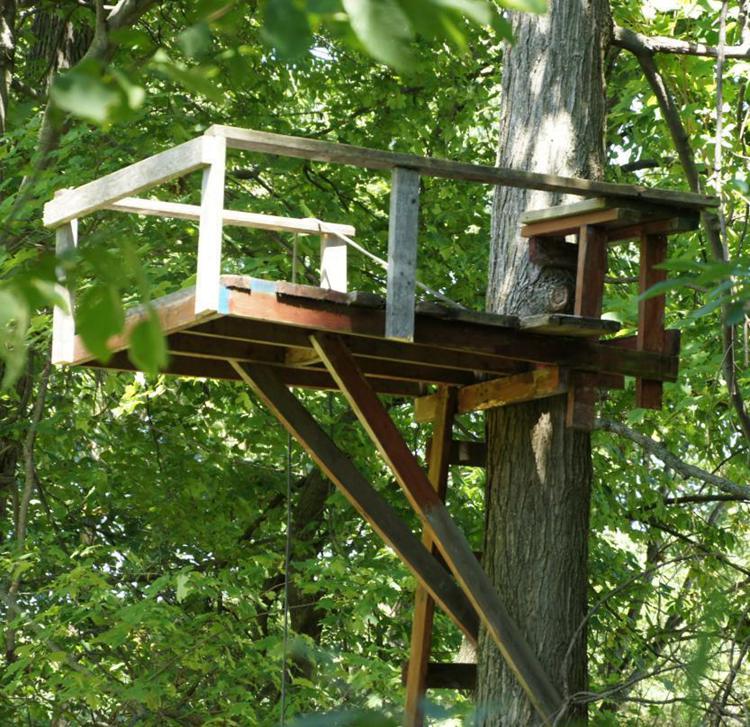 Whether you're hunting with a bow or rifle, this DIY Hunting Tree Stand is the ultimate DIY project that will allow you to spend more time in the woods. You can create a sturdy, safe, and comfortable tree stands with little effort and creativity. Thanks to this DIY Hunting Tree Stand, you'll never have to worry about being left in the cold again. A simple design, materials were chosen for their ability to withstand harsh winter weather. Crafted from wood, these stands are tough enough to hold your weight and keep you high up in the tree when the hunt begins!
DIY Box Blind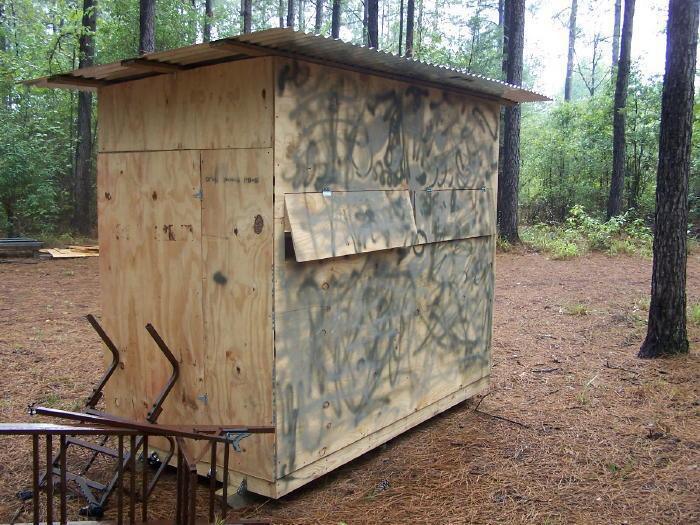 Time to get off the ground and get into a true deer blind. The DIY Box Blind is easy to make with sheets of plywood and some screws. It's also durable enough for years of use as it sits in the woods waiting for that trophy buck to come walking by…This deer box blind is an excellent option for your hunting outings. The guide is simple to follow, with clear instructions and step-by-step images.
DIY Deer Blind: Wooden Ladder Stand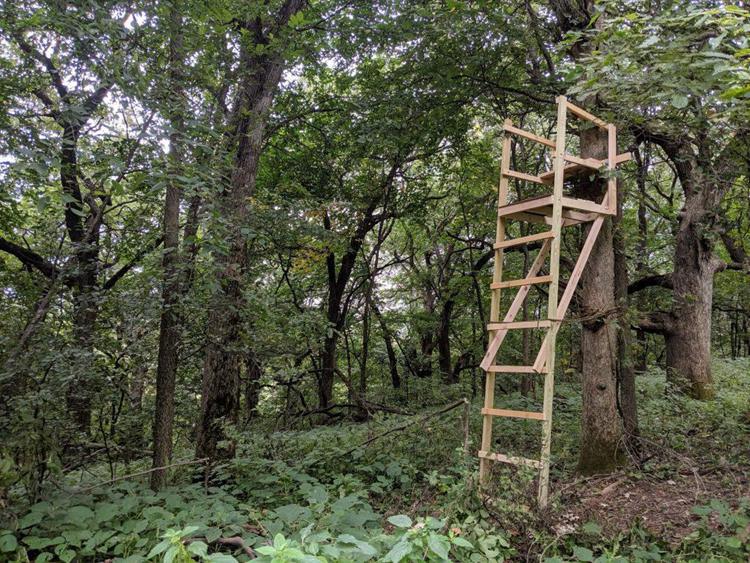 Are you tired of going to the same spots to sit at a deer stand? Do you always seem to be seen by the deer before they're within range? This DIY deer blind might be just what you need! This deer blind is made for someone who wants to be able to stay out and spot deer from a distance, as well as have some room for gear/clothes. This blind features a wooden ladder stand that allows you to climb up without stopping at a certain height. You can also use it for other animals if you choose not to paint it–there are so many possibilities!
DIY Hunting Blind For $0
A deer hunting blind is one of the best ways to get a close shot at a sure-footed deer. Many people have dedicated years to studying tree stands to build a good deer hunting blind, which requires some knowledge in carpentry. If you don't have the time or money to go through expensive books and files, then make it easy on yourself by building one from scratch. Here is a quick DIY Hunting Blind For $0 project that you can do with little effort – deer hunting blinds!