Give your home decor a lift with these easy-to-follow DIY crate projects. You'll discover how to create a stylish bedside table, a craft station for sewing or art projects, an outdoor storage bench, and more. There are plans to build wooden boxes from scratch that you can use as sturdy storage solutions. These simple DIY ideas can help you quickly and easily transform underused items into chic furniture or accents for the home—and save money in the process!
Unique DIY Crate Projects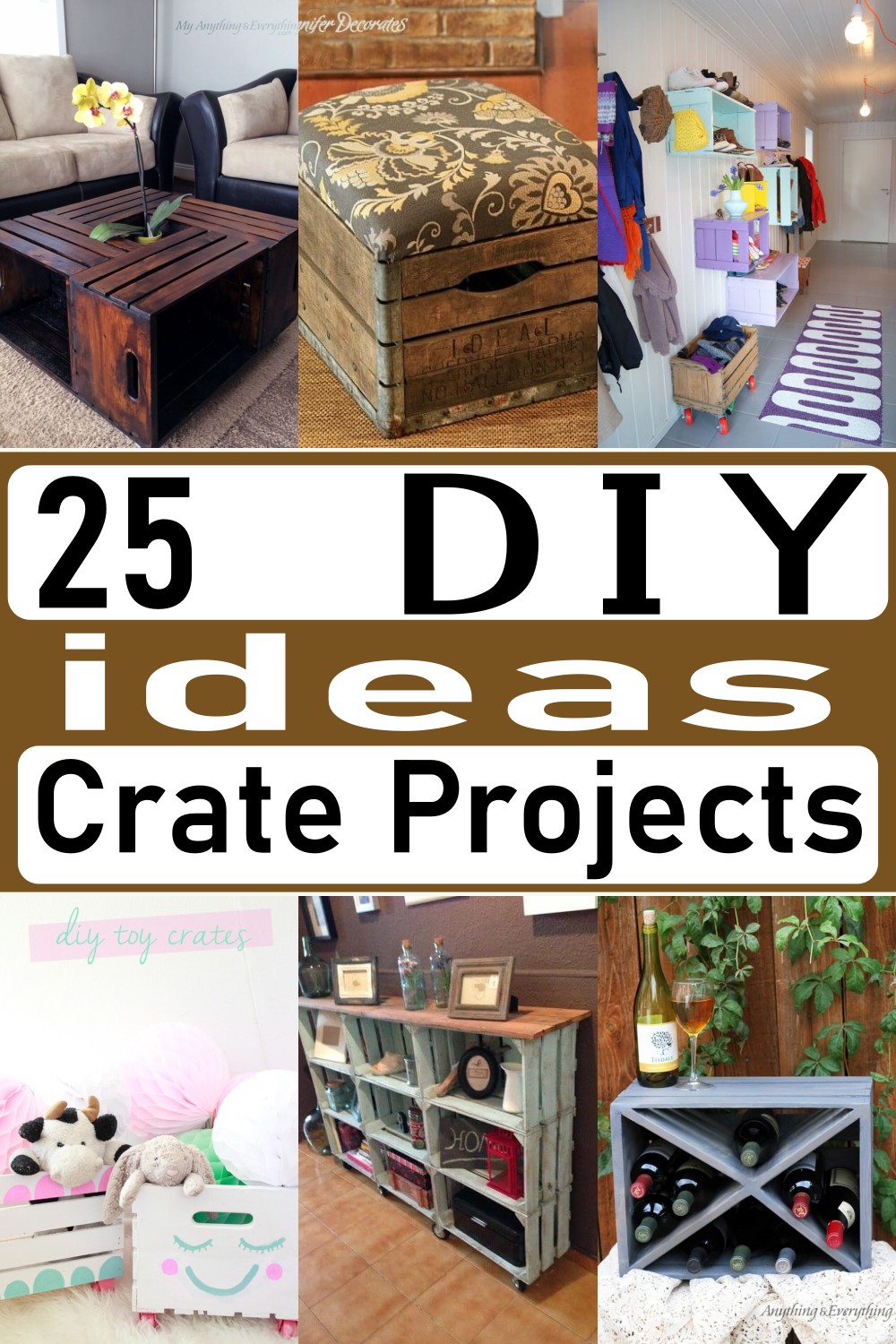 Crates are the perfect blank canvas for your DIY projects. Fill them with anything from twine and paper to books, plants, and wine bottles for a stylish display. These DIY crate projects will help you use those empty crates, creating contemporary, modern and unique home decor items that make your place look amazing! This article contains everything you need to know about creating stunning projects, from empty crates to tables and chairs to lamps and shelves. So, Fill your home with style and personality with these unique DIY Crate Projects. With attractive DIY crate projects of various types, you're sure to find something that suits your tastes.
You Can See Also:
DIY Crate Bookshelf
Attractive, sturdy, and perfectly sized to display books and keep backpacks tidy, this beginner-friendly tutorial shows you how to make a wooden crate bookcase with a few simple cuts! The storage ability of this amazing bookshelf is quite amazing. You can put as many as you want on one shelf and then either stack them or side by side. You can even adjust the height and make it shorter by repositioning the boards for different sizes for taller or shorter items.
Upcycle DIY Crate Desk
If you love repurposing, this desk is one of your favorite projects. It's easy to build and provides sturdy storage and bold addition to your home. A wooden crate desk is the perfect upcycle because you can use whatever containers are nearby or lying around that fit the dimensions of your project. The metal brackets add depth and character to the project, giving it a real rustic feel. This project will take about 1-3 hours to complete, depending on your skill level.
Upcycled DIY Crate Coffee Table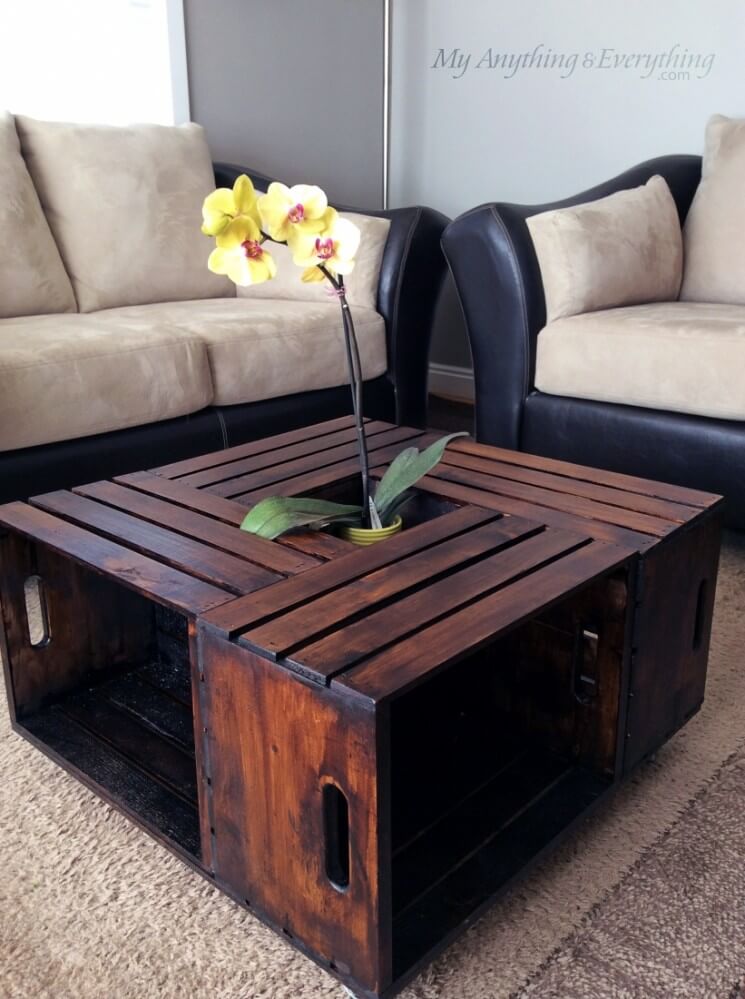 This tutorial guide is for you if you are looking for an industrial-design living room table with budget constraints. In this tutorial, you will learn how to use simple tools, develop this DIY rustic coffee table with a farmhouse flair, and add storage using common storage boxes. These contemporary coffee tables are distinctive and yet traditional at the same time. High-quality and stylish, they are built through a unique process that gives rustic tables an unbelievable character. The storage boxes hide your clutter in the living room, making the tables even more practical to use. You can set them on wheels when you need extra space to entertain guests or family members.
Inexpensive DIY Crate Side Table
An inexpensive and Stylish Side Table is a great table for your home. Perfect size for wherever that extra surface is needed. It's also stylish, so it can go with any design of your house or apartment. This Side Table is a piece of art made from a wooden crate. The table features beautiful copper legs that create a unique design to complement any room. With its sleek design, this side table can be placed in many places in your home or office.
Industrial Toy Box on Casters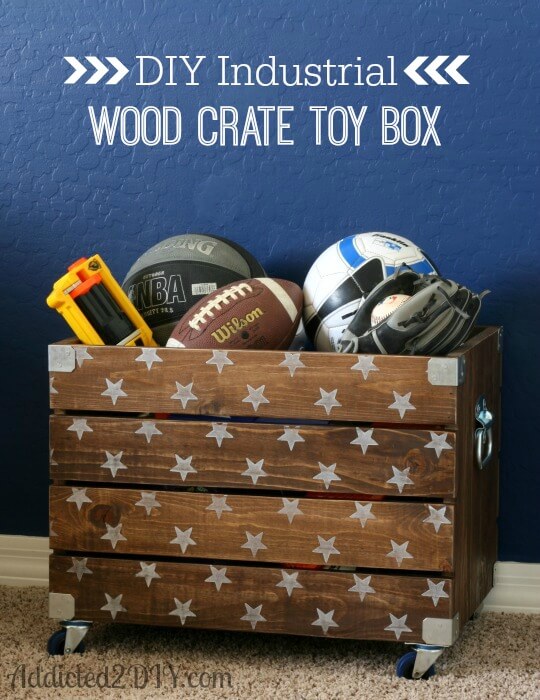 This DIY Toy Box will greatly add to your kid's room. Its handcrafted design and black finish will make it look great, while the rolling casters ensure you can move it around easily. Children can easily access their favorite toys, books, and other materials with the rolling box. The sturdy box will keep their favorite toys safe while making it easy to clean up after playtime. Its colorful design adds a pop of personality to any bedroom or playroom.
DIY Crate Bench Project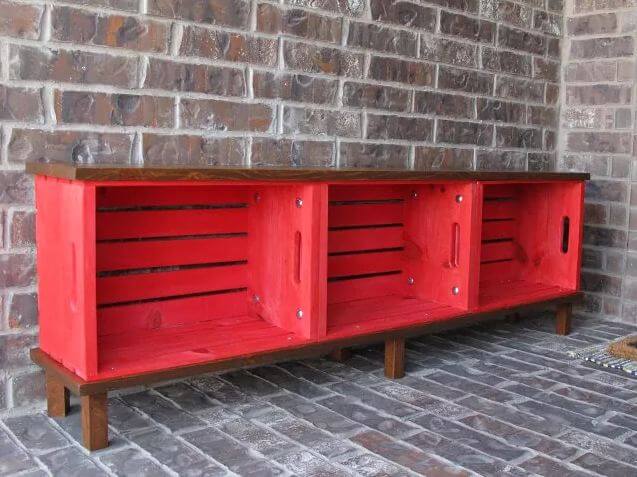 The Crate Bench is the ideal storage unit for your family, whether you live on a farm or in an urban loft. Complete with slots to keep your shoes organized, it's easy to see why this bench is not just a place to sit down but also a great place to store shoes, bags, and other items. With its sleek red wash, industrial-like bolts, and a few additional boards, the Crate Bench has a farmhouse staple look. Your home's style is enhanced with this functional wooden bench. The sturdy construction, storage crate design, and neutral tones fit well in any decor.
Repurposed Console Table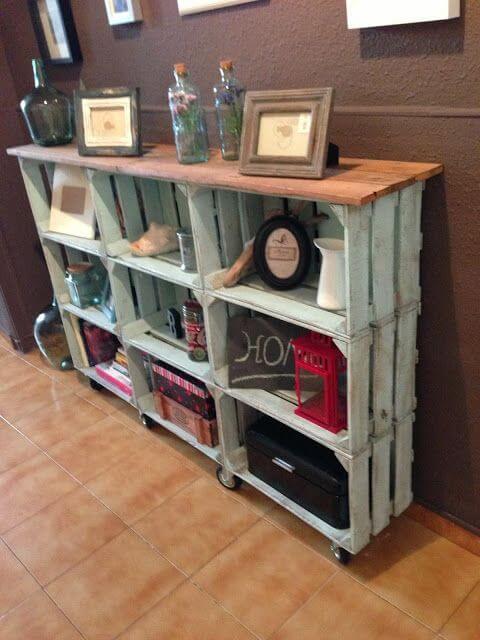 The rolling shelf from Crate and Barrel is the perfect combination of traditional style and modern practicality. Constructed with handsome plywood and a durable finish, this organizational table can easily be moved from place to place. You'll love how easy it is to access items like hats and gloves in winter or flip them over and use them in your playroom for organizing beach towels and sand toys during summertime. This versatile table has a classic look that blends with any style and is perfect for your entryway, living room, or child's play area.
Durable DIY Pet Bed From Crates
Why buy expensive new bed boards when you can DIY an easy, inexpensive, and unique pet bed from materials found at the hardware store? This pet bed is one of the easiest DIY projects, requiring no power tools and little technical knowledge. Create a charming, durable pet bed from an old wooden crate. This is a basic tutorial for those who want to make a strong, durable, and lasting crate that can stand up to large dogs.
DIY Crate Wall Shelves
Create an inviting entryway with the help of these stacked shelves. The crates are made to sit against the wall and can easily be transitioned into storage for out-of-season clothing or holiday decorations. A simple DIY detail for your door and cube shelves adds a relaxed, minimalist welcome to your space. Think about maximizing the surface area in small spaces like hallways and mud rooms by stacking your books or plants on these wooden cubes!
You can also see: DIY Pantry Shelve Ideas 
Sliding DIY Create Cabinet With Drawers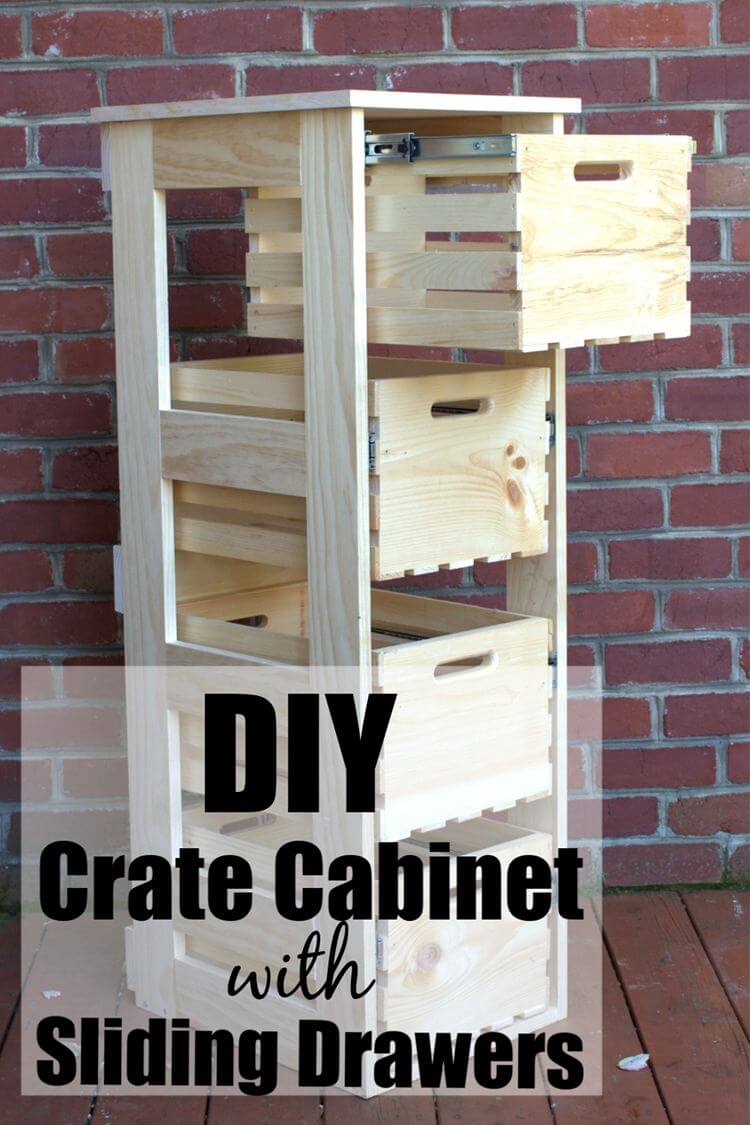 Sliding crate drawers are a great way to add storage space to your home decor. This simple project is perfect for both the beginner and the more experienced DIYer. With this tutorial and plans, you can build a unique sliding wooden crate cabinet to organize your home. The doors are supported by hidden sliders inside crates attached to the side wall. Using this simple technique, you can create unique storage cabinet solutions for your home. Learn how to make them yourself!
DIY Crate Shelf For Bathroom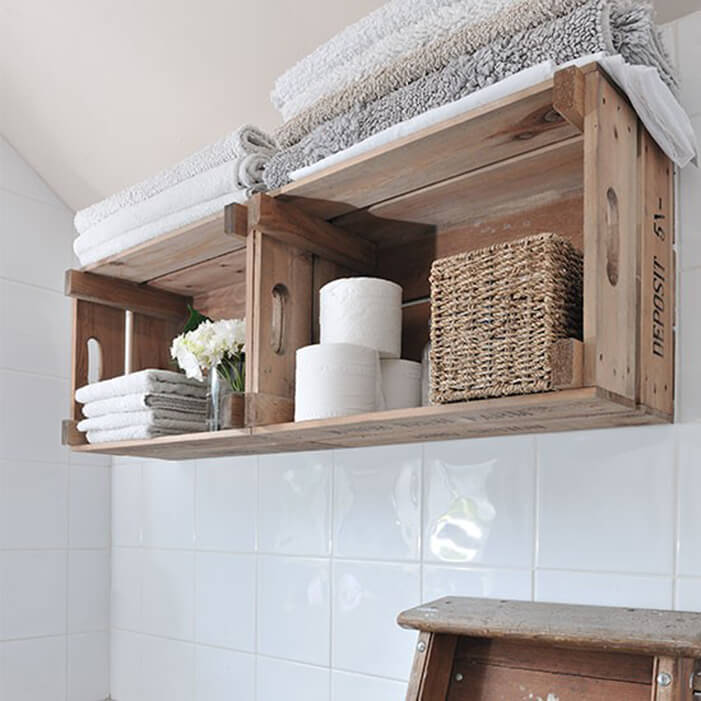 If you have run out of space in your bathroom or can't find a surface to organize your toiletries, try installing floating bathroom shelves above the toilet. Crates are a great addition to bathrooms because they can be used multiple ways and keep everything hidden while keeping things neat. They also allow you to keep them organized while adding warmth and interest to your bathroom. You can use this step-by-step tutorial to build one with just a few tools.
Easy Personalized Toy Crates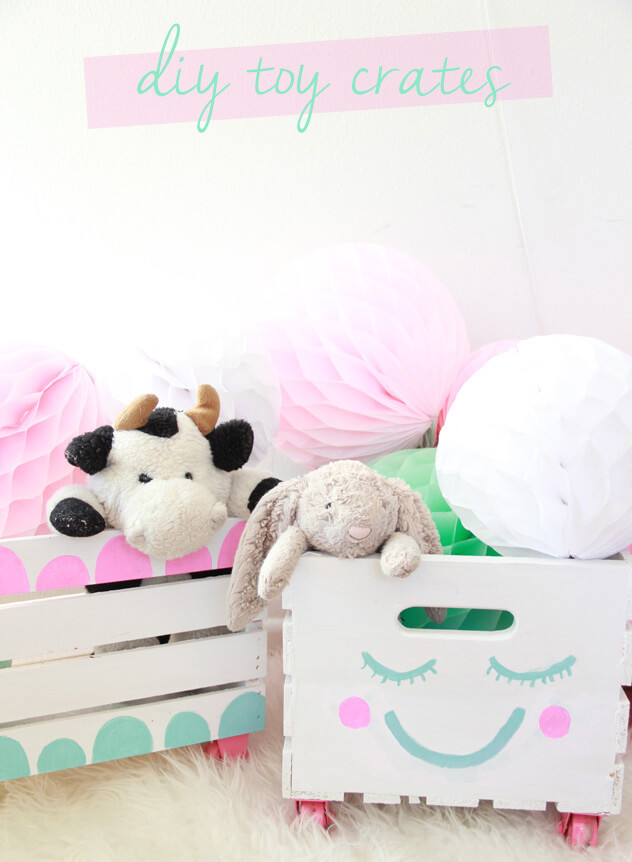 Assembling toys with designs and patterns of their favorite cartoon characters is a fun activity for toddlers. The toy crate rolls help delight the kids and make them learn to play independently. Right now, a toddler's playroom should be their haven where they can have fun, remember to take care of the environment, and make friends with imaginative play. So what better way to keep your child entertained than with this near-perfect handcrafted toy crate that is personalized just for them?
Tabletop Crate Projects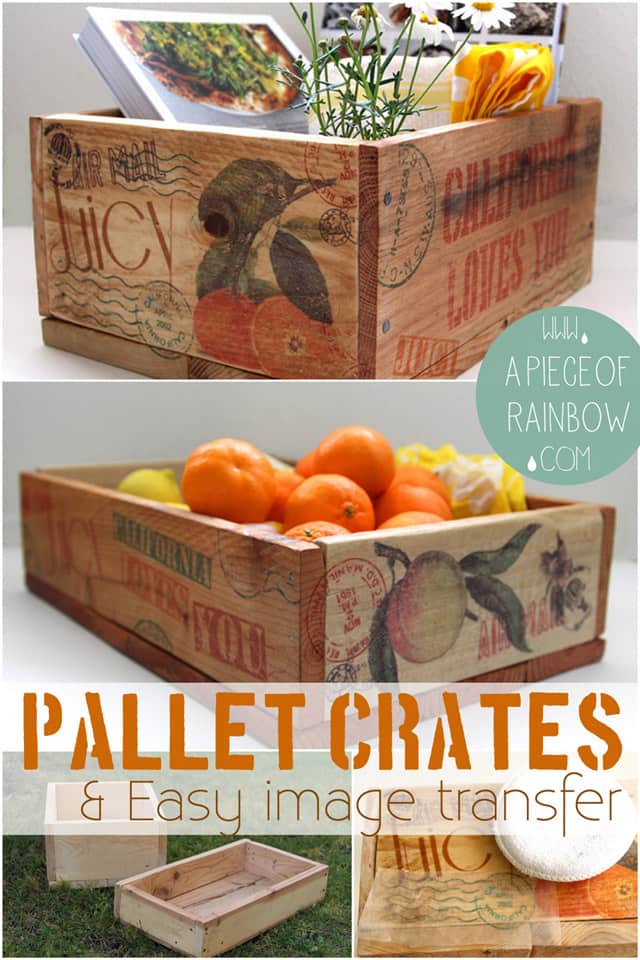 Do you need a great DIY project to add style and storage to your home? These versatile, rustic crates are easy to make and add a touch of texture to any area. With only 1 hour of your time, you can have each of these crates assembled! This clever DIY project gives you a few ideas to take advantage of unused pallets by turning them into beautiful wooden boxes. There's no need to buy expensive materials or employ complex tools. You'll need these simple steps and easy-to-use materials from your local arts & crafts store.
Easy To Make Side Table on Casters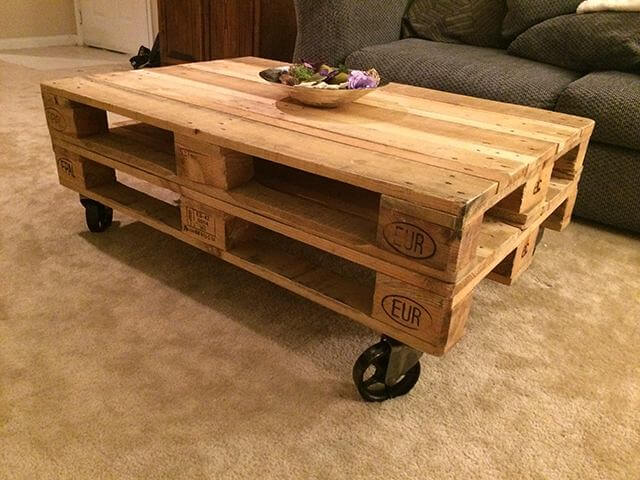 Are you looking for easy DIY projects without spending too much? Then this is the project for you! You can create a functional wooden side table on castors with these plans. You will only need to get your hands on some crates and paint them in any color you choose. This handy little side table will provide extra storage and stay in one place wherever it goes. Its rustic look can easily customize to create the perfect ambiance in your home.
DIY Crate Mud Room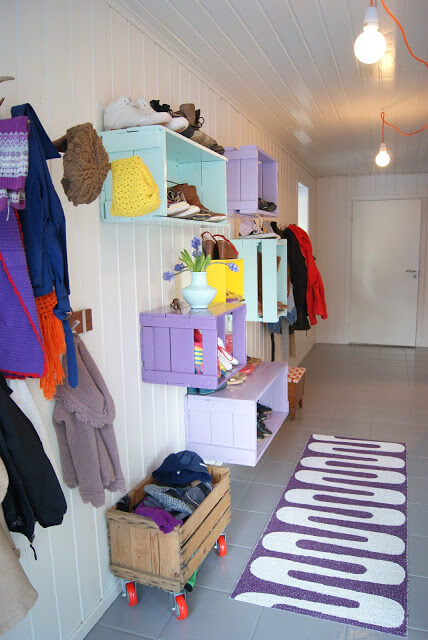 The mud room is perfect for these colorful cubbies because they promote organization and keep your belongings within easy reach. The cutouts and color choices add playful storage to any space, and the stacked look adds a functional advantage while expressing your style. These colorful mudroom cubbies are a practical and stylish way to organize your entryway or mud room. Easy to hang and look great, they can be repainted or refinished to coordinate with your space.
Creative Kid's Car Collection
Get the idea of making a wooden crate for your kids' toys. It's not just for them but adults too! This is one of the best ideas for creating different storage boxes at home or office. What do you need? Just a couple of old wooden crates and some metal go far beyond your expectations! You are bound to witness the satisfying result as it all gets implemented. This wonderful DIY idea is perfect and ideal for a perfect home.
Rustic Key Hanger From Crate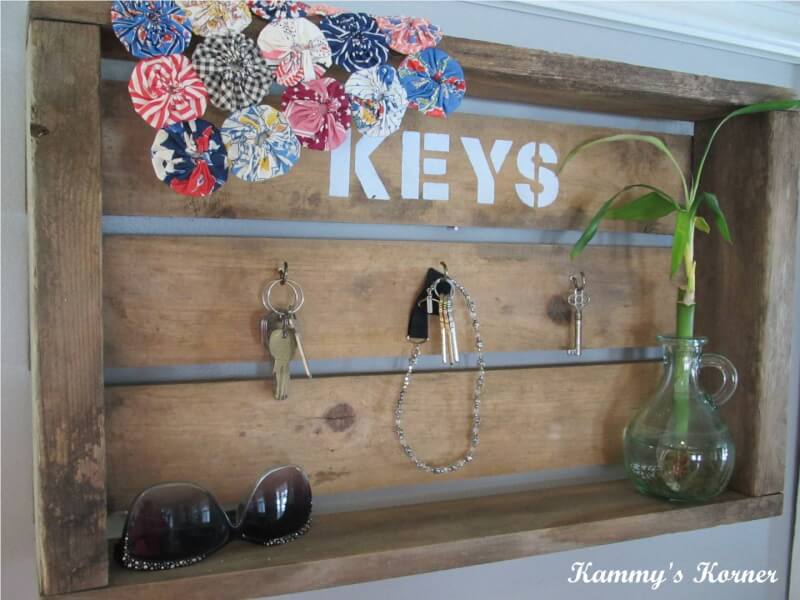 Bring character and charm to your entryway with the Customized and Functional Crate. This vintage-inspired crate features an ample size that can be used to store your keys or as a shelf. With its decorative brass knob and stenciled design, this piece is ideal for decorations, seating areas, or memo boards in any room of your house. All you need is a stencil, paint, and spray paint. And if you're a fan of shabby chic, then this crate is calling your name!
Rustic DIY Crate Nightstand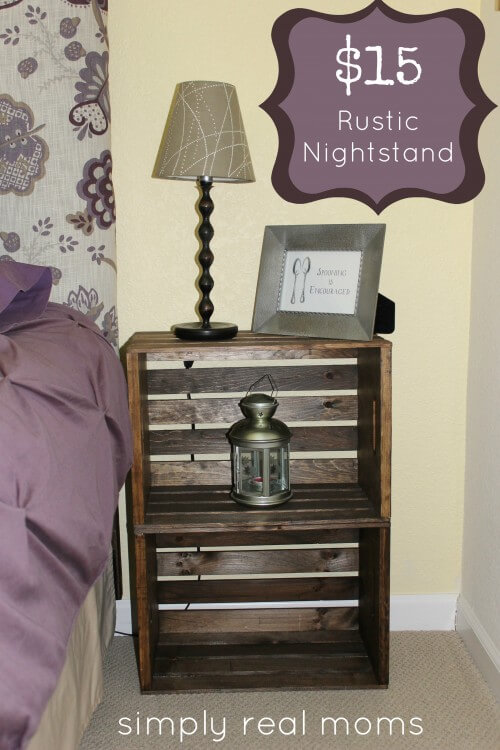 This nightstand is perfect for keeping their belongings in one place when you have overnight guests. Your guests can enjoy a restful sleep in their plush bedding with ample storage space. Give your guest room a rustic touch with this DIY nightstand. The project is simple to build but creates a piece that will stand the test of time. With just one hour and a few supplies, you can make this rustic furniture piece that adds character to any home.
DIY Crates Wine Rack
Reusing old crates or planks of wood makes a great project because you can use any color stain or paint that fits the settings. Turn those wooden crates, left over from your last move, into a simple wine rack. By just cutting two boards and placing them cross inside the crate, you'll have a stash of bottles stored away safely. This wine rack can hold more bottles of your favorite vino, perfect for small spaces and great for celebrating an upcoming event.
Chic Style Side Table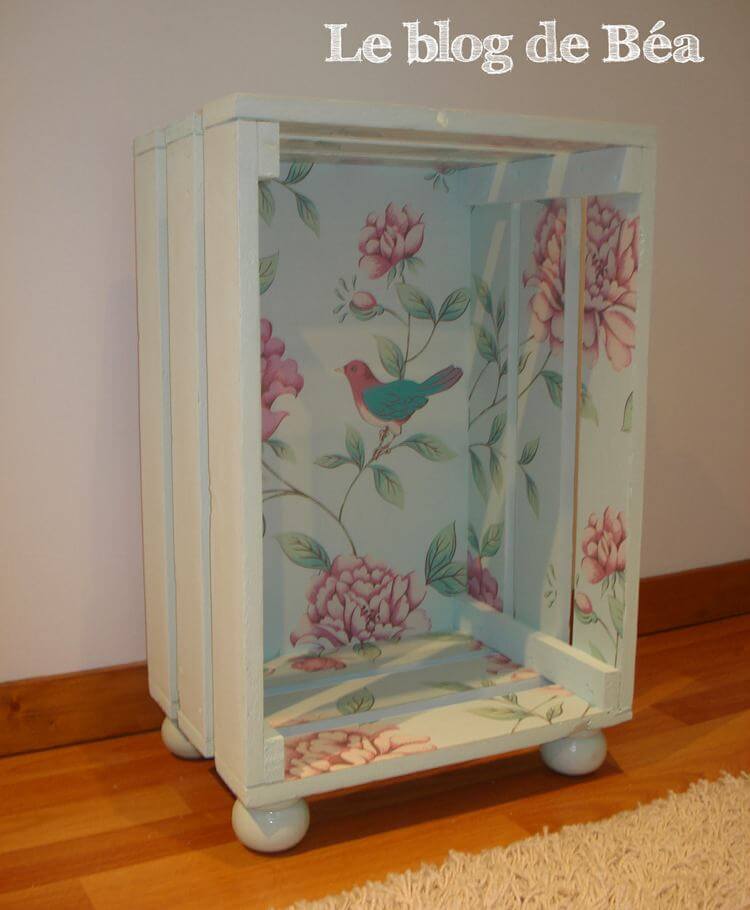 The Shabby Chic Side Table is a place for everything and a beautiful centerpiece in your home. This table is handmade from wooden crates and has been dressed with some vintage wallpaper to give it that shabby chic look. Be sure to check out the detailed instructions included with this DIY project so that you can get the same results for yourself! This table is a perfect addition to your bedroom or living room and can be used in any style setting.
DIY Crate Storage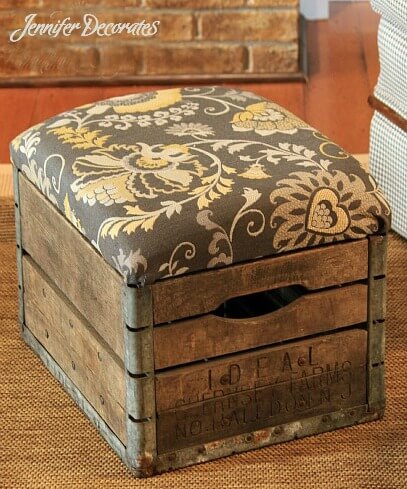 This stool can be a great addition to your space. A small wooden crate is needed for this project, but it's hard to find the exact crate. The upholstered storage ottoman is simple enough and can be put together quickly. You need to cut some plywood and pop in batting for cushioning. This project will give you a relaxed and comfy place to sit down and grab a cup of coffee or tea. You could use it as a footstool while watching TV or reading a good book. The perfect gift for your family members who need an extra seat!
Bedroom Storage With Crates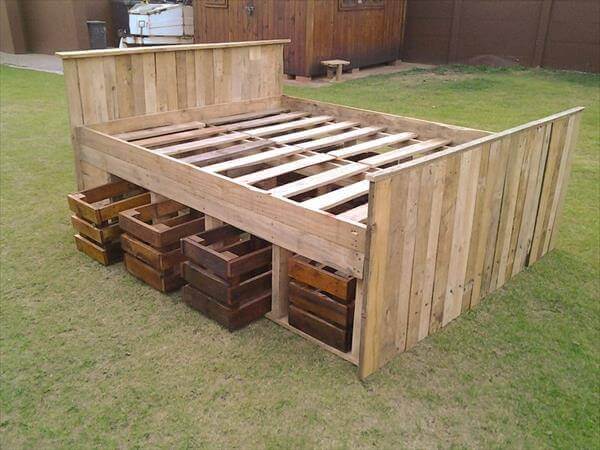 Bedroom storage doesn't have to be boring. Look at this Crate Headboard, and you'll see that these simple storage boxes can use in the bedroom to put your mind at ease when it comes to stowing away your things. Crafted from salvaged wood and finished with natural fabrics, this bed offers a unique display of your favorite items. This bed exhibits the ultimate wooden storage boxes and salvaged creative wood use. Easily moveable, the wooden crates can use to store books, cushions, toys, and clothes.
Storage Crates For Kid's Room

This kid-friendly storage unit gives kids a sense of ownership in their room. Simple to put together and colorful enough to be fun for younger children, this piece will help keep their clothes in place and prevent them from becoming unorganized. If your child has too many toys and won't be able to keep them organized, this storage organization will help! It is kid-friendly, making it easy to use even for the smallest children. It is also super cute with its bright colors and playful design.
Simple Book Storage Plan
This is the shelf for your little one who adores books: it's easy to reach and put away, and its design will never go out of style. It features a floating structure that holds single records on both sides. Children love to play with their books, but having their treasured books on a shelf does not appeal to them. These Floating Bookshelves for Kids will let little children have their favorite books close to them but off the floor, thus protecting those precious pages from getting damaged or dog-eared.
Bed Wall Storage From Crates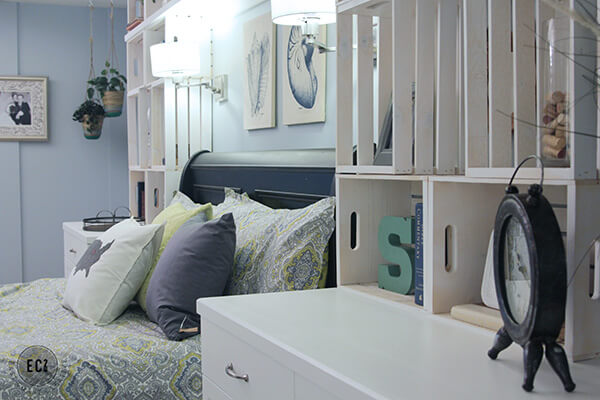 One of the most stylish and easiest DIY projects you can do in your home is to create a fabulous shelving makeover! Customize with whatever colors you love and add some drama to your bedroom. Ready to upgrade your main bedroom but don't want to deal with many headaches? This DIY project is perfect for beginner and experienced contractors alike. With just a few power tools and some elbow grease, you can have an alluring bedroom that blends in with the natural wall color.