A DIY computer desk is an excellent idea for anyone looking to save money on furniture or customize the look of their office space. They're also great because they can be built from different materials, such as plywood, metal, and particleboard. This means that you have virtually unlimited options for designing your desk. DIY computer desks are also easy to make with the right tools, so it's a sound investment for someone who wants to try their hand at furniture making or save some cash on a new desk.
DIY Computer Desk Design for Home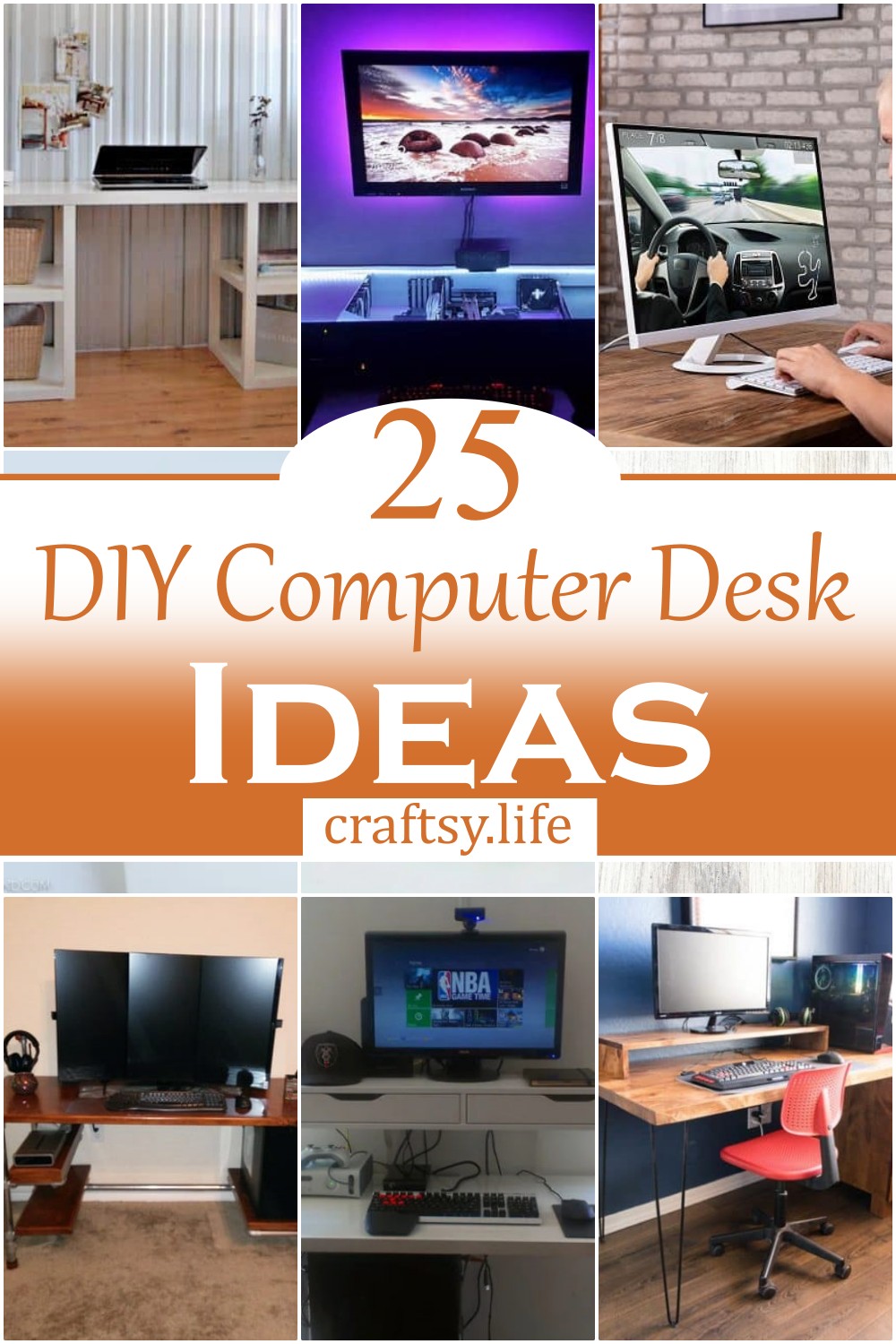 When working at a desk, it's essential to have a work area that promotes good posture. The longer you sit at your computer, the more critical it is to have an ergonomic setup for your health and the longevity of your equipment! Whether you're a student who spends hours writing papers or a businessperson who spends all day in front of the screen, make sure to take precautions to avoid problems like carpal tunnel syndrome and muscle fatigue. Here are DIY computer desk ideas to help you stay healthy while completing your work.
Benefits Of DIY Computer Desks
DIY computer desk Designs are a great way to create your unique workspace, and there are many benefits to using them.
They're Affordable: Do-it-yourself desks are one of the most affordable ways of furnishing a home office or workspace. They don't have to be expensive or high-end; you can find inexpensive materials at any hardware or home improvement store.
They're Customizable: There's no limit to how much customization you can add to your DIY computer desk, from adding drawers and storage cabinets (essential) to painting it a color that reflects your personality or design style. You can even add customized wall art, making it look like you spent a lot more money than you did!
It is cheaper than buying one: It is cheaper than buying one because you get all the materials needed for building this table at home, so you do not have to spend an extra penny on purchasing these materials. All you need is patience and creativity while designing this table yourself.
They're Versatile: Suppose you're going for a minimalist look. In that case, you can choose furniture with clean lines and simple shapes — but if you want something that looks more traditional and beautiful, plenty of options are available with different finishes and styles (like wood grain).
Modern Industrial DIY Computer Desk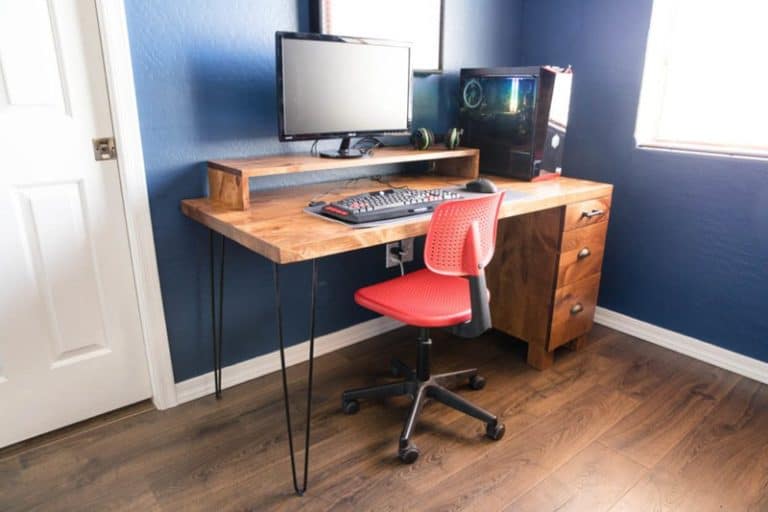 Experience an incredible gaming experience with a modern computer desk that suits your style. This DIY project will make your bedroom or office more comfortable, especially if you're a gaming enthusiast. Building this table will teach you how to design, master, and create this modern PC gaming desk. You will use various tools to create a truly unique piece and yours alone. Following each step and instruction, you will create an item with your touch that's a great addition to any room.
2-in-1 DIY Parson Tower Computer Desk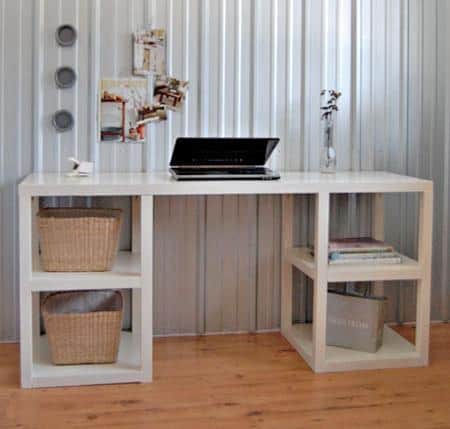 Are you looking to make your gaming desk? This two-in-one workstation is the perfect DIY project for anyone with a little bit of time and a lot of patience. With easy-to-follow step-by-step instructions, you'll be able to create this unique desk in no time. The Parsons Desk is a versatile desk that can be easily used as a writing or gaming desk. With two steeper-seated storage compartments on either side, the Parsons Desk is ideal for keeping your office supplies close by.
DIY Modern Beam Gaming Desk
Do something different with this DIY Modern Beam Gaming Desk. It features a traditional design with modern aesthetics and a gaming style, making it perfect for your home or office. The desk is simple to assemble and disassemble, allowing easy storage whenever you are not using it—handcrafted using only high-quality materials, from premium grade Baltic birch plywood to solid MDF hardwood beam. Become your interior designer and create the custom gaming desk of your dreams.
DIY Gaming Table for $100
Are you a gamer looking to build a DIY gaming table? This video guide will show you how! This is great for any gamer who wants to develop a gaming table that fits into any room of your house. This video shows how you can build a gaming table that is so sturdy that even the most hardcore gamer would be impressed. It's the perfect gift for all your friends, family, and children!
DIY Computer Desk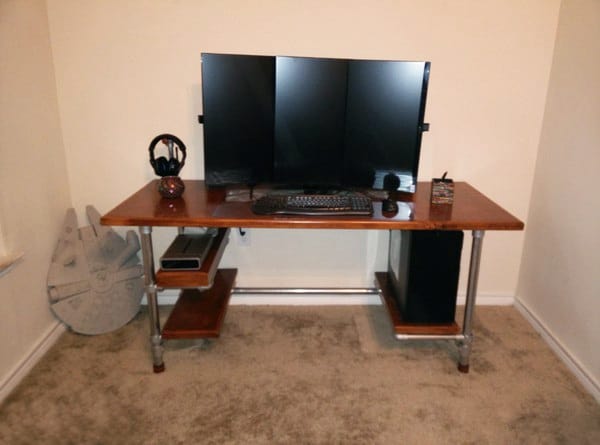 Are you nodding off using the old, boring desk for your computer or laptop? Would you like to know how to build a DIY computer desk that's both stylish and durable? This tutorial will guide you through the process of building a modern computer desk from scratch with detailed descriptions and easy-to-follow photos. If you are a gamer and don't want to spend much on a gaming desk, this is a fun project that can fit any room and has some lovely details. The main focus is to keep it affordable and easy to build but still look good.
14-Stepped PC Computer Table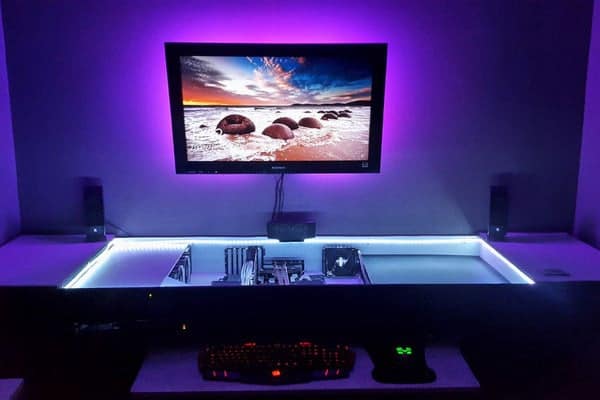 If you're looking for a standard-looking computer table with a clean, modern look, this is the DIY project for you. It looks just like a regular desk, but there's more than meets the eye. This one is bigger than most other computer tables out there, with room for your keyboard and mouse on top and ample space underneath for storage. This 14-stepped desk computer table offers much storage space while allowing a smooth and aesthetically-pleasing finish. It's also simple to build, using standard tools to do so.
DIY Black & Red Gaming Desk
Are you looking for an excellent computer desk with a bold red, black and white color scheme? You've come to the right place! Thanks to this black and red gaming desk DIY project, you can easily make your own stunning gaming space without spending a fortune. Create a gaming desk that fits your style with this easy-to-follow plan. This DIY tutorial walks you through creating a black and red gaming desk with drawer space, a mountable monitor stand, cable management options, and trash.
Ammo Epoxy Gaming Desk
Whether you're an expert computer gamer or just a casual one, this is a great way to express yourself through your gaming desk. This is an easy project and requires only essential tools you can get at any hardware store. If this design interests you and you want to create it yourself, watch the video for step-by-step instructions. This epoxy gaming desk is an excellent idea for those who love the military. This project is easy to do; if you love guns, ammunition, and all things military, this is how to show it off in style.
 Short DIY Gaming Desk Tutorial
This easy-to-follow DIY gaming desk tutorial makes building your computer desk, gaming desk, or workstation quick, simple, and affordable. The video walks you through the whole process step by step and provides excellent tips for creating a custom gaming desk so you can play computer games comfortably and safely. This is a quick build with only essential tools and a few pieces of wood. You can complete it in the afternoon, so there is no need to rent a tool!
Ultimate DIY Gaming Desk
For the serious gamer, this do-it-yourself gaming desk will make the perfect centerpiece for a big-screen experience you'll never want to leave. This project includes an easy-to-follow video tutorial that allows you to build your console stand. It features a sleek modern design that works great with game consoles and accessories, plus cable management ensures your workspace stays clutter-free. All you need are essential tools and supplies, common sense, and a willingness to apply yourself. After following these simple steps, you'll have your gaming desk!
DIY Floating Gaming Desk
The DIY Floating Gaming Desk is a great way to grade your gaming experience. This desk is not only a good piece of furniture but also a source of fun. The video shows you how to build your floating desk in less than a day. All the tools and materials needed can be easily found at home, so don't worry about them. The video is very detailed and does not contain any material that isn't helpful.
DIY Ultimate Gaming Table + free plans
Create your Ultimate Gaming Desk with an affordable look and easy-to-build instructions. This DIY project features a modern design and professional finish to help organize your gaming area. / The overall design has a sleek, modern look with a built-in cable management system, so wires stay hidden beneath the desk surface. Whether you're a casual or expert gamer, this table will give you all the features you need to turn your dream gaming setup into reality.
DIY Modern Computer/Gaming Desk
This modern computer or gaming desk has an angled grain pattern that creates a unique visual effect. This can also serve as a desk for your television and speakers. It was built using walnut and white oak. It has cable management holes for a clean look and plenty of space for your keyboard, mouse, and monitor or two monitors. The beauty of this Modern Computer/Gaming Desk design is matched by its functionality. Make this DIY desk using inexpensive materials and get the perfect gaming or office space you've always wanted.
Superb Money-Saving Gaming Desk
Creating a gaming desk is easy, fun, and cost-effective. A well-designed console at the home base of your gaming setup makes the experience more enjoyable and provides you with easy access to your peripherals. This video gives a quick and effective DIY solution to building a gaming desk that will fit your desktop and your needs as a gamer. This design can fit multiple monitors and configurations, making the desktop efficient and functional for years.
DIY Gaming Desk Build
Have you ever thought of building your gaming desk? Well, now is your time. This Instructable will explain all the steps required for this process, including the different materials and parts. This DIY Gaming Desk build tutorial helps you make a computer desk that's strong enough for stability and rigidity. This instructable takes you through creating a solid gaming table or workstation with a mix of woodworking techniques and power tools.
Gaming Table for Under $200
There are many reasons to build your gaming tables if you are serious about the health of your body and have the skills necessary to assemble them. You can create these beauties yourself and spend less than you would on a traditional gaming table. Build your healthy gaming table with this DIY guide made of wood, plywood, and a few other materials. This DIY gaming table is sturdy, easy to handle, and durable. It will take you to make less than a day yourself.
DIY Multi-Display Desk
The DIY standing desk will be excellent for a gaming space as it is tall and can accommodate multiple monitors. This multi-display desk design offers freedom of movement for the user as one can adjust the height to their needs. The entire project took a little over two hours to complete, but you can see from the video tutorial that it is not complex or challenging to build. The project costs significantly less than buying readymade desks but offers the same functionality.
Simple & Beautiful Gaming Table
This stylish gaming desk looks good in any room while being practical and efficient. Get ready to game in style with this DIY desk made of metal and wood. Additionally, your new gaming table can be easily customized with RGB lights or completely transformed into something different with a different color scheme. It is an excellent piece of furniture that can also be used as a work desk to edit videos or photos, draw, write, and more. The design is simple, but the result is exquisite.
Custom DIY Gaming Desk
When looking for the perfect gaming desktop, keep in mind that the size and shape of your office matter. Find out how to customize a desk to work best with your space and furniture while achieving your desired look. The table is made from simple Ikea components, and it's super sturdy as an L shape because it has a lot of corner braces that hold it together. You can make a sturdy desk for less than $50, so don't sacrifice form for function: build your custom gaming desk today!
You can also see: DIY Corner Desk Ideas
Easy-to-Build DIY Floating Gaming Desk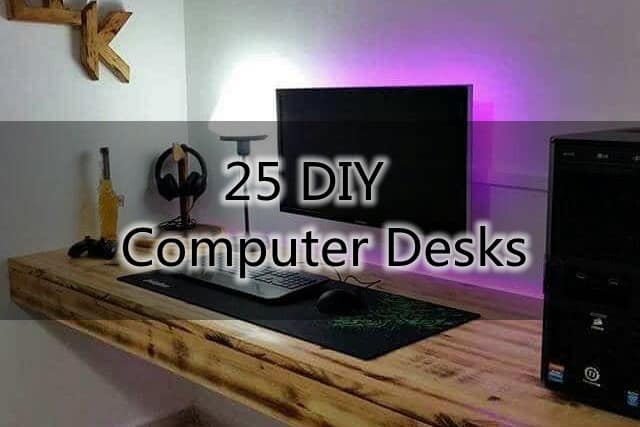 Get an elevated gaming experience with the Easy-to-Build DIY Floating Gaming Desk. Thanks to its sleek design, you can position this desk above the ground, allowing you to lift your monitor for a comfortable gaming experience. Constructed from plywood, this floating desk is strong enough to support multiple monitors and laptops—all with a clean and minimalistic appeal that can complement any space. Building your floating gaming desk will help you make your dream computer while having an extremely functional and convenient gaming platform.
8-Stepped Extreme Gaming Desk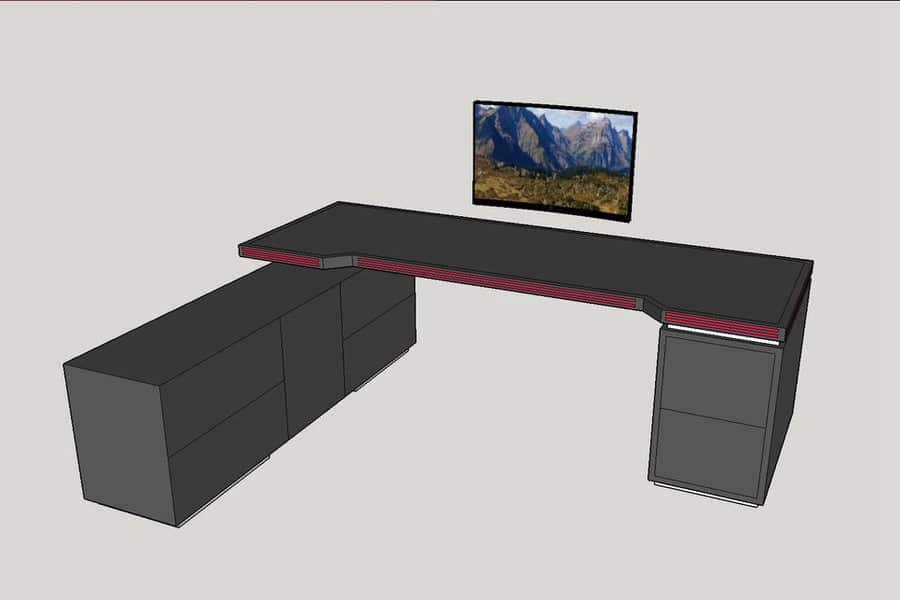 Desktop PC gaming is one of the most popular pastimes, but finding an affordable desk that's both large and functional enough to support your favorite games can be tough. This guide contains step-by-step instructions on building your console gaming desk with plenty of storage space, an LED light bar, cable management, and a hidden compartment beneath its surface. This desk also keeps your gaming PC stable and safe when moving around.
The Simple, Easy, Large & Cheap DIY Gaming Desk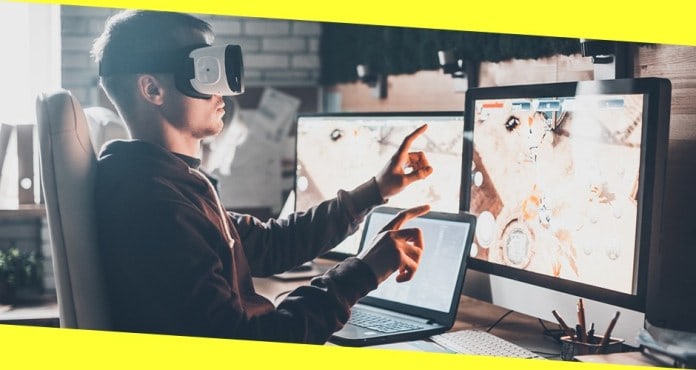 A gaming desk is a necessity for any hardcore gamer. Sometimes, you don't have enough space to enjoy your game, my friend. This simple DIY gaming desk will provide an excellent place to play on top of being super easy and inexpensive to build. The DIY gaming desk is a simple and easy solution to creating a custom video game table. This resource gives you the materials needed, along with tips on creating a large, sturdy desk that can be easily cleaned and maintained.
An Adjustable DIY Gaming Desk
This desk is easy to build and very affordable. It's built using minimal materials and tools and includes a pin-and-tuck joint that makes it super durable. All the parts can be found at your local hardware store; this DIY table can be customized according to your requirement, just like adding cable management channels to the desk below your tabletop, if you want. Help keep your gaming posture healthy and improve your gaming performance with this adjustable DIY gaming desk. Save a lot of banknotes by building it yourself!
Modern Gaming Desk with LED
Outfitting your space with multi-functional furniture is the key to creating an efficient and stylish room. With the Modern Gaming Desk, you can set up a compact workspace for your laptop or gaming console that also functions as a bedside table. The fundamental standout feature of this desk is the hidden storage space on the right side. It will help users keep everything they need at hand and organized without compromising style or functionality. The space-saving design makes it easy to switch from one purpose to another, yet it's surprisingly durable and stable for any activity.