Cue the circus music and break out the cotton candy because it's time to put on your Sunday best and bring the big top to town! In keeping with the season, we've compiled a list of DIY clown costume ideas that will transform you into a real-life ringleader in no time. The important thing is to have fun with it. Whether dressing up as Bozo or having a little fun with your hair, find something that makes you happy, and go for it! Not sure how? Turn yourself into a clown for Halloween with these 22 DIY costumes you can make at home. Hilarious and whimsical, these costumes will impress both children and adults alike.
Best Clown Costume Ideas For Kids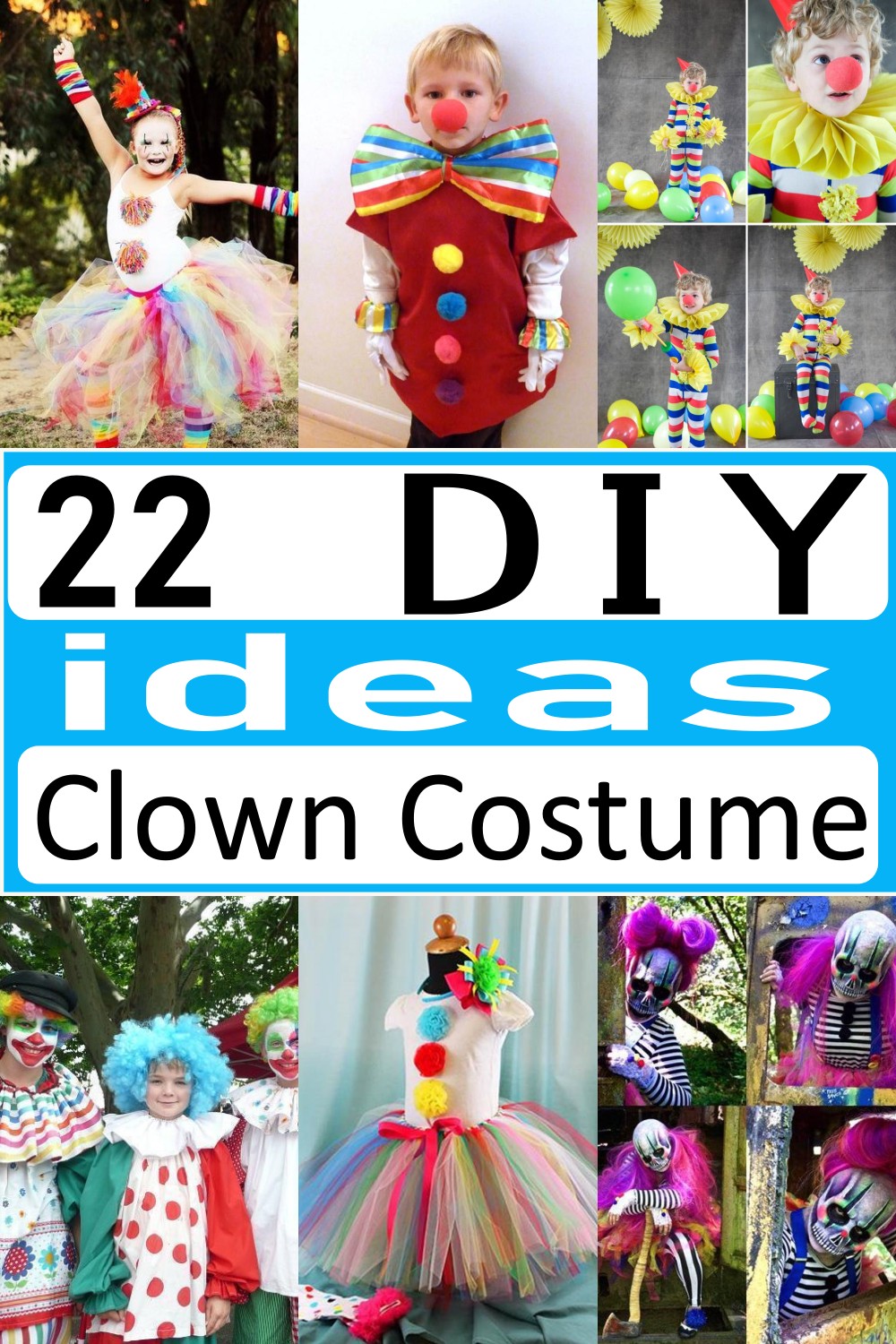 The circus is coming to town, bringing some whimsical, wacky characters! If you're looking for a fun and creative way to join in on the freaky festivities, why not try out a DIY clown costume? Whether you're performing mini-tricks in honor of this year's theme, "Circus Under the Big Top," or just strutting your stuff down Main Street in a custom outfit, these ideas are sure to provide you with all the inspiration and resources you need. As a general note, many of these costumes can also be easily adapted into an array of other colors and styles by using different shades of makeup, wigs, and clothing.
Benefits Of DIY Clown Costume Ideas
DIY clown costumes can be the most fun and creative costume idea you've ever worn. You get to be yourself, which is an excellent way to show off your creativity. The best part is that you can make it as simple or complex as you want.
Here are some benefits of DIY clown costumes:
They are cheap! You don't have to spend much on this costume because it won't look cheap!
They're easy to put together! If you have an idea, you can easily make it come to life with just a few basic materials.
These costumes can be as simple or complex as you want them to be! Go ahead if you want something simple like a funny hat or bow tie! On the other hand, if you want something more complex, like a full-body suit with makeup and everything else that goes along with it, then do that too!
DIY Rodeo Clown Costume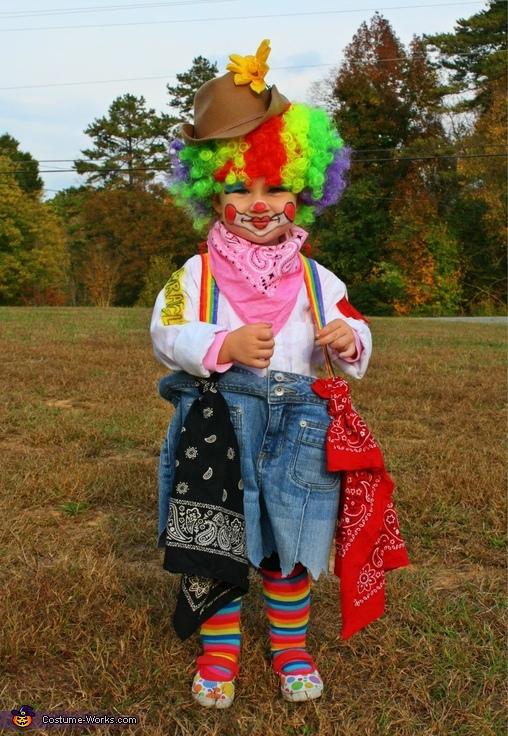 Get your child their first rodeo clown costume with this easy DIY project. This homemade, oversize jean jacket is perfect for an outfit that can be worn again throughout the year. Add some rainbow-colored socks and a fun hat. This is a simple DIY costume for your child who wants to be a clown. It's fun and easy to make, using any old oversized jeans, or you can find some at a thrift store. You can also do this project with the help of your kin or friends who have kids. A little rainbow-colored sock or two will do the trick to complete the look.
How To Make A Hobo Clown Costume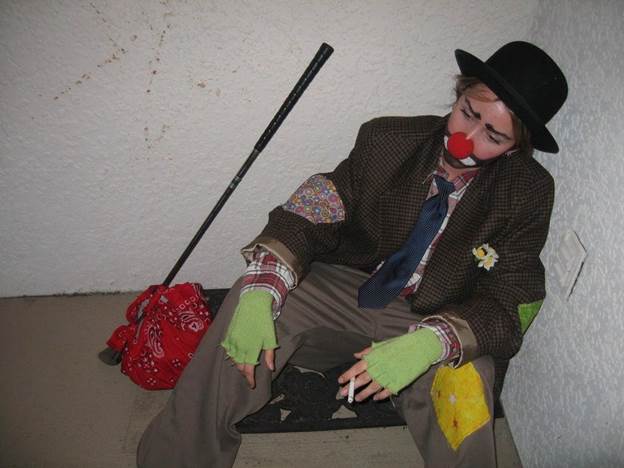 It is a great idea for Halloween and unique as well. You must use your creativity to get this costume done and make yourself look different. It will be the best party trick if you are looking for one. The idea of the clown or hobo is to look sad and scare people. You can wear a black t-shirt and pants, but only as a base since you will wear a lot of patches. You need to use white and red patches all over your attire to make people think you are an actual hobo. Finally, wear soot on your face along with the hat and shoes, then look at yourself in the mirror—you will be shocked!
Kid Clown Costume DIY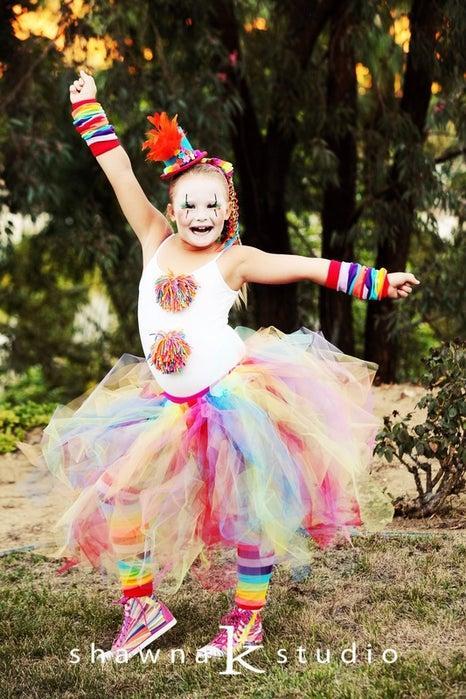 If you are looking for a DIY clown costume that is less expensive, then this is the one for you! It's easy to make and will turn heads. Start with a lightweight plastic cup and attach a circle out of cardboard covered by felt. Use hot glue to keep everything in place, then decorate however you want. This is an excellent project for anyone wishing to dress up as a clown on Halloween or wear it for fun any day of the year. Make your little one's dream come true with this DIY clown costume. It's easy, less expensive, and so much fun to make! It can be done in minutes, but your child will love it for years to come!
DIY Clown Costume For Kids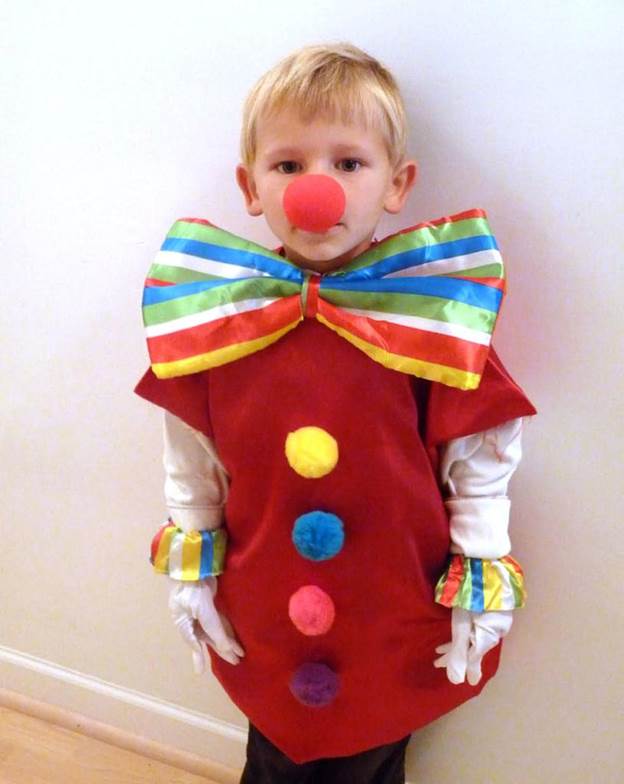 Love to have a DIY clown costume for Halloween? You will love ours. We make it simple for you to focus on your makeup and the character's facial features. This is a fun, easy-to-make DIY clown costume. Perfect for making with your kids or a group of friends set off together on a trip to entertain. This is a super easy project; you don't need to sew. Just glue! The end product looks like a clown costume you would buy from the store but requires no sewing.
DIY Vintage Clown Costume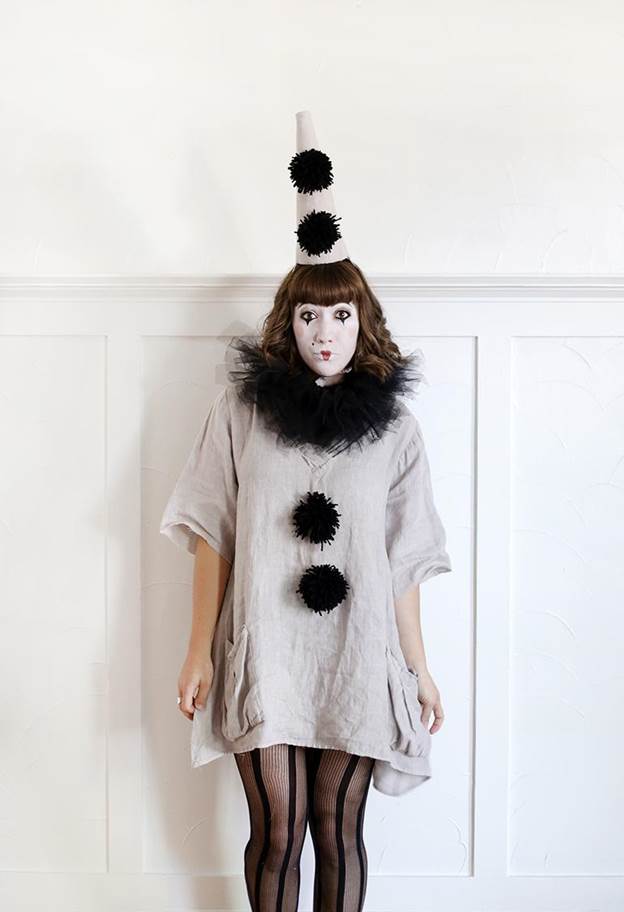 Are you ready to clown? You might need some help with your DIY clown costume, but this video will provide all the information you need to make sure that the clown looks perfect. Borrow from friends' old clothes, paint your face and throw on a wig. You'll have a great time in this fantastic DIY costume. This is a DIY vintage-style clown costume that you can make by yourself. Just choose the most clownish-looking clothes and decorate them the way you want. Your clown costume will be the hilarious costume ever!
How To Make A Clown Costume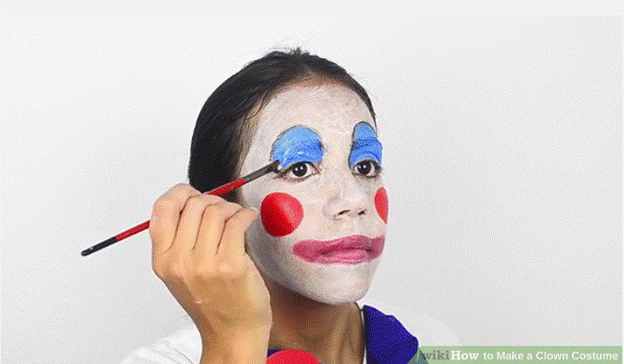 Need to come up with a quick and easy Halloween costume? Create your own DIY clown costume! This is perfect if you are looking to dress up for Halloween or a costume party but want something that looks like it took you a lot of work to pull together. You'll need only a few supplies, like easy-to-wash paint for your face and a rainbow wig. This DIY clown costume is a fun and easy project with only four main components: a colorful wig, face paint, oversized shoes, and oversized pants. The most significant part of the costume is made of fabric and can be adjusted to each child's size. The other parts (face paint and shoes) are store-bought accessories that complete your child's clown look.
DIY Kids Clown Costume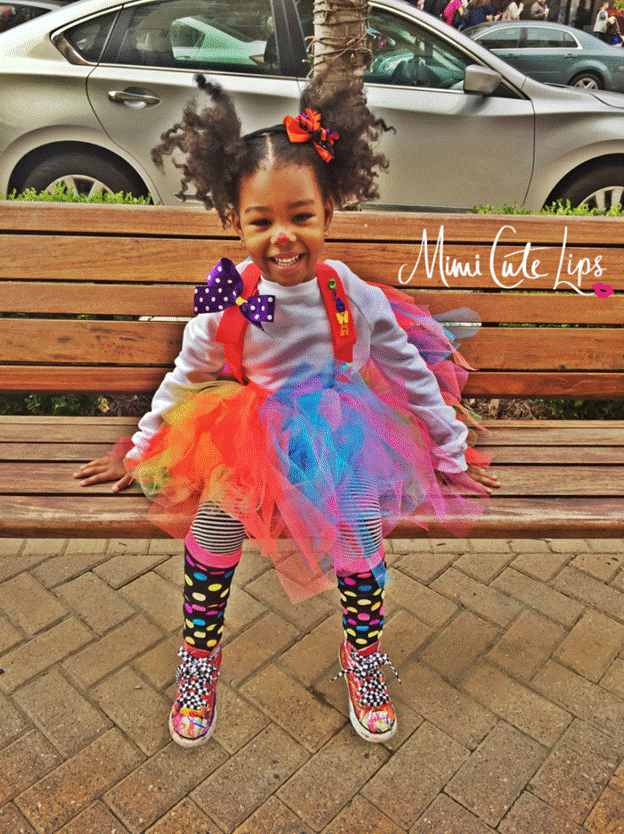 Clowns are fun to dress up as and often require the least amount of work. Make a tutu with tulle, ribbons, and suspenders for a quick and easy look. Choose funky socks to round out this costume for an extra fun touch. Let your little one shine in a brightly colored clown costume. This fun DIY project is easy to put together and hassle-free for parents. This DIY Kid's Clown Costume is fun to make and wear. All you need are some suspenders, funky socks, and red lipstick to pull this off! Easy DIY kids clown costume that can be done in a jiffy, perfect for a party or a class party.
DIY No-Sew Kids Clown Costume
Who says Halloween costumes have to be hard? With these easy-to-follow steps, making a clown costume will be a breeze. Your kids will love this DIY No-Sew Kids Clown Costume. You will only need a few things and about an hour of your time. It is definitely worth making. Your child's clown costume will be adorable and unique, just like your child's. Make your own DIY clown costume by following these easy steps. You will need pajamas, a paper hat, fabric tape, glue, and a paper clip to create an enjoyable costume for the circus.
DIY Sad Clown Costume
Are you looking for a fun costume idea? This DIY clown costume will make any child a jovial and happy clown. Help your kids to be creative while working on this DIY clown costume. This clown costume is beyond exciting as it allows you to show off your creative skills. You can even work on this DIY Sad Clown Costume with your kids, who will love creating their clown faces. Create fun and frightful clown costume with these easy DIY tutorials. You'll learn to make a headpiece, makeup and body paint, tutu skirt, and more. The best part? No sewing is required!
DIY Halloween Clown Costume
If you like to do your own thing, then this DIY Halloween Clown Costume is just the thing. All you need is an oversized shirt and red wig to start the costume, then throw on some black socks and clown shoes to finish it off. Whether you are a clown at heart or want to scare the kids this Halloween, this is perfect! It's easy to give your costume a DIY feel by wearing a got-made shirt and pants. We recommend adding a traditional clown hairdo, oversized shoes, and white face paint to complete your look.
DIY Pennywise Costume Tutorial For Ladies
This is it if you are looking for a fun DIY Halloween costume with a sexy clown twist. All you need to complete your clown look is some makeup, red lipstick, and fake fangs, pretty much everything a clown would wear. It doesn't have to be spooky or scary all the time! By making it funny or classy? There are many ways to transform it into your favorite character from horror movies. This tutorial is perfect for ladies who want to look classy while still being scary enough for everyone else at the party.
DIY IT Costume
If you enjoy DIY projects and have a little time on your hands, then this IT costume is the best choice. Pennywise, the clown from the movie "IT," loves to shock and scare people in his village by wearing a scary costume. This can be easily made given that all the materials are readily available at the nearest store. Create this DIY IT Costume with just a few simple things you probably already have. With this easy trick, you can be yourself and easily fool everyone.
DIY Clown Costume For Kids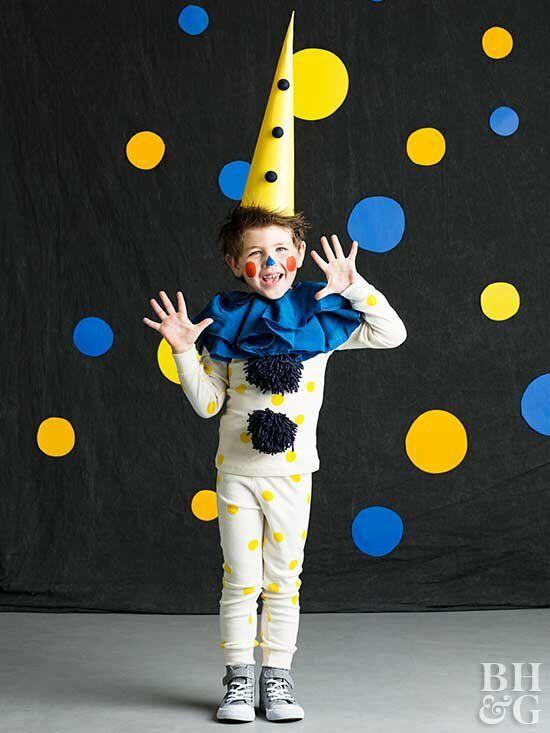 A simple and fun way to make a clown costume is to start with your child's pajamas, which you can personalize with whimsical embellishments. The following steps will guide you through the process of turning your child's pajamas into a DIY clown costume. Add a little bit of magic and mischief to your child's Halloween costume. Clowns are fun and colorful, but if you want to make them even more memorable, this DIY costume tutorial is the way to go. With a few whimsical embellishments, you can turn any pair of pajamas into an adorable clown-themed costume for your kiddo.
Maimie The Clown Costume DIY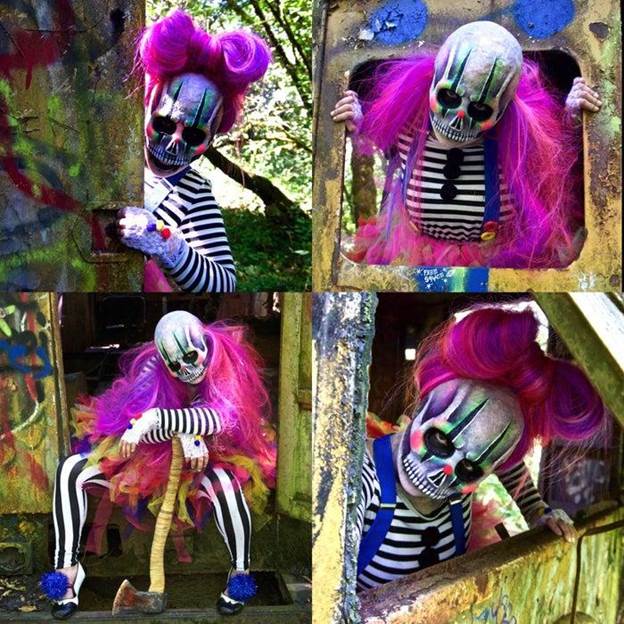 Are you familiar with the evil clown? Maimie is a horror movie character, and the classic clowns inspired her. This DIY costume is perfect for Halloween if you like scary and evil maniacs. You can make it yourself with a few necessary materials to get it done. This Maimie The Clown DIY costume kit is ideal for any DIY craft enthusiast. Skip the hassle of making your own evil clown mask, and let us do it for you!
DIY Dog Clown Costume
Your dog will be the party's life in this DIY Dog Clown Costume. A quick and easy craft foam hat and collar are super cute and easy to make so that you can put your doggy in a costume too. You can easily create this DIY Dog Clown Costume with craft foam, fabric, and glue. The hat can be made by folding a piece of craft foam in half, while the collar is created using fabric and hot glue.
Pennywise the IT Clown Costume DIY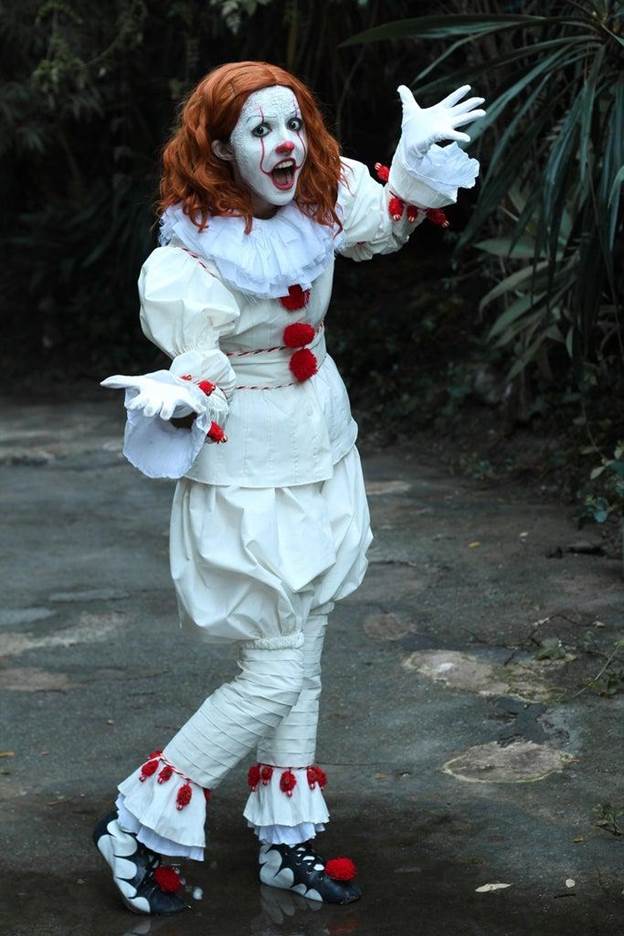 Create an authentic Pennywise clown costume from the film adaptation of Stephen King's novel, IT. You can get all the costume components you need in your closet or by visiting a thrift store. All you have to do is add some craft paint. This clown costume is easy to make but requires some sewing skills. Pennywise, the clown, is one of the scariest villains in cinematic history. Now you too can be just as terrifying with this Pennywise costume DIY! All you need is some white fabric, scissors, and a needle to sew it together. The best thing about making your costume is that you can easily customize it to fit your needs or body type.
Cute Clown Costume For Kids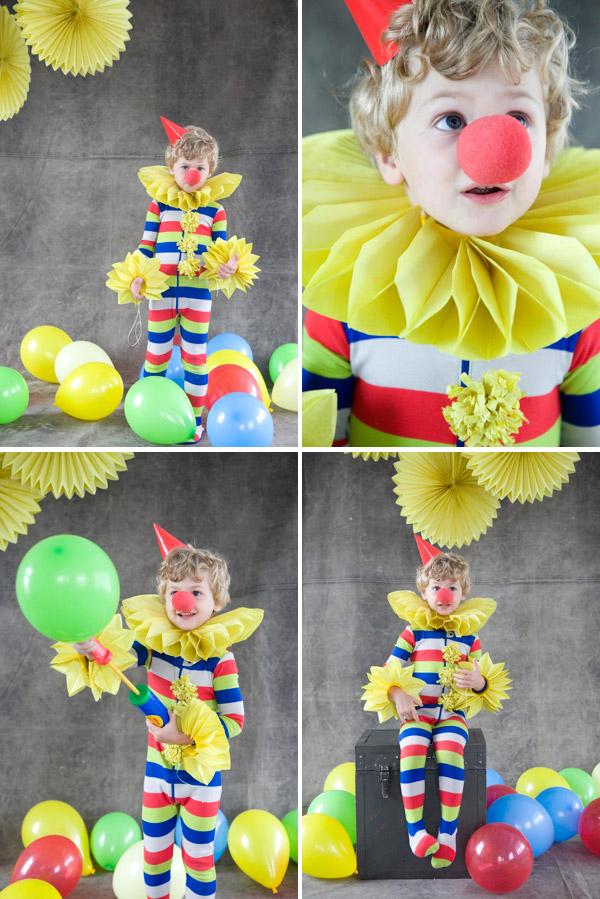 This Masquerade Clown Costume for Kids is the perfect outfit to wear on Halloween or a birthday party. It is made with paper daisies and bright colors and has that cute pink clown nose. Bright and colorful, this clown costume for kids is a perfect way to spend Halloween. Let your child's imagination run wild as they take on the role of their very own funny guy or girl in this bright outfit. The materials are easy to find, so you can prepare to make your costume in less than 30 minutes.
DIY Clown Costume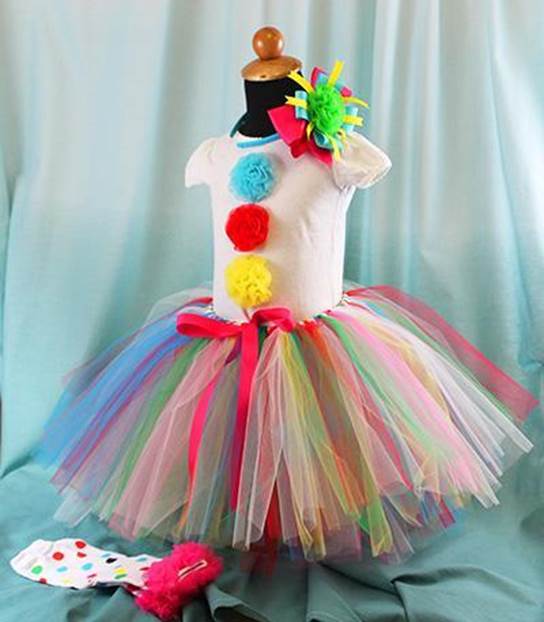 If your child is in a costume contest, try this DIY clown costume, and you are on your way to taking the first position. It comes with a detachable petti flower crown, which can be adapted to fit any size as your child grows. The colors of tulle lace used for these costumes are bright and showy, so there's no missing them when they're strutting their stuff! You will surely win the costume contest with this DIY clown costume. It's simple enough that you have time to make it at home but detailed enough that it will look great at the party. This dress has a pretty flower that can be attached and removed from the top.
How To Make A Clown Costume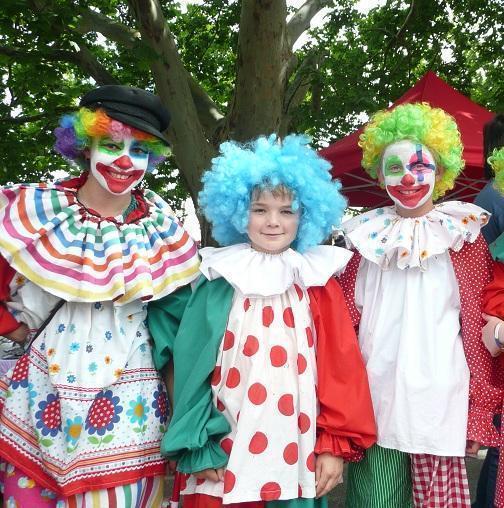 The clown look is ideal if you're looking for a fun and funny costume. This is an easy costume to make by using some simple materials and decorations. Ultimately, you can create a hilarious costumed character that will impress anyone who sees it. Creating a clown costume is easy. You can use clothes that don't match and achieve this effect by mixing and matching things like suspenders, a broad hat, a one-colored wig, and a bow tie or bib. An excellent way to achieve the look of a clown is to use bright colors in your attire.
DIY Super Easy Clown Costume
Want to make your kids look adorable and memorable on costume day? Then this DIY Clown Costume is for you. Creating cute clown costumes for kids that don't need to be too scary is already a big challenge, but making super easy costumes like this will boost their confidence. With just three materials, you can easily create a good clown costume. This is a great way to have a memory of the fun times with your children, and it also tells others that you can make incredible things quickly, just like this one.
DIY Easy Clown Costume
Looking for a simple costume that kids can create themselves? Try this easy DIY clown costume. Work with your child to make a paper mache face mask out of brown paper bags taped together to make a clown mask. Add some paint and make it funny! There's nothing better than dressing up as your favorite character, like a clown. This DIY costume is perfect for kids who love to be silly and entertaining. It's simple and easy; get some pom poms and attach them to the kid's fun striped shirt.
How To Make Joker Costume
This unique Joker costume was created for a cosplay fan who wanted to play dress-up as a famous comic book character. The supervillain Joker is portrayed in this gothic comic book version, and there are many different ways to wear it. But if you up your game with a color scheme, it can also look very cool. This fantastic costume would be easy to make if you have the required skill. This requires some thrift shopping, so get your shoes and fabric and make them look professional.
Cotton Candy Clown Makeup DIY
If you love creating a makeup look for your clown costume, this is the perfect project for you! Materials needed include an eyeball liner pencil, false eyelashes, eyeshadow in pink and blue tones, and cotton candy-inspired makeup brushes. This makeup tutorial gives you the perfect cute and fun look for Halloween or any costume party. You will learn how to create a clown face for girls by using a light pink base and top it off with organic cotton candy to resemble this delightful sweet treat!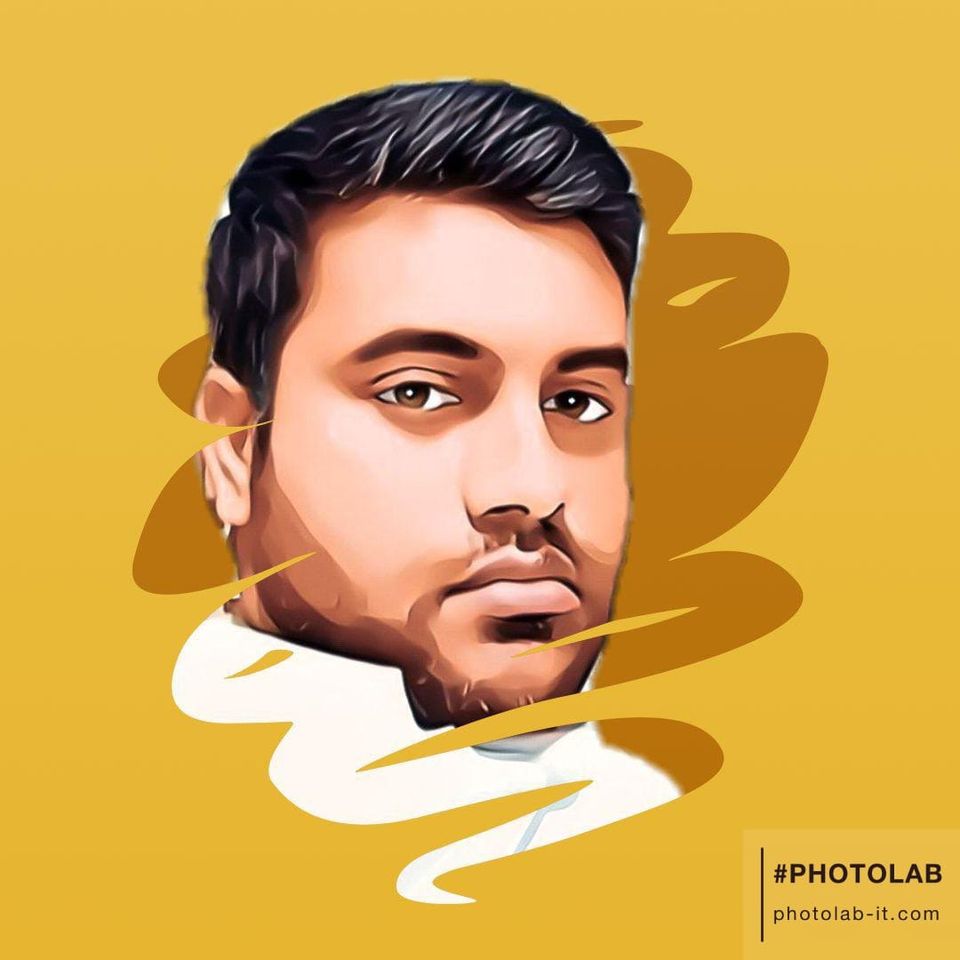 I am Raza, a crafts expert with 6 years of experience. I run this site for DIY lovers to provide the most exciting projects and ideas for your home, office, and everyday life. See More