40 DIY Cloud Light Projects To Brighten Your Home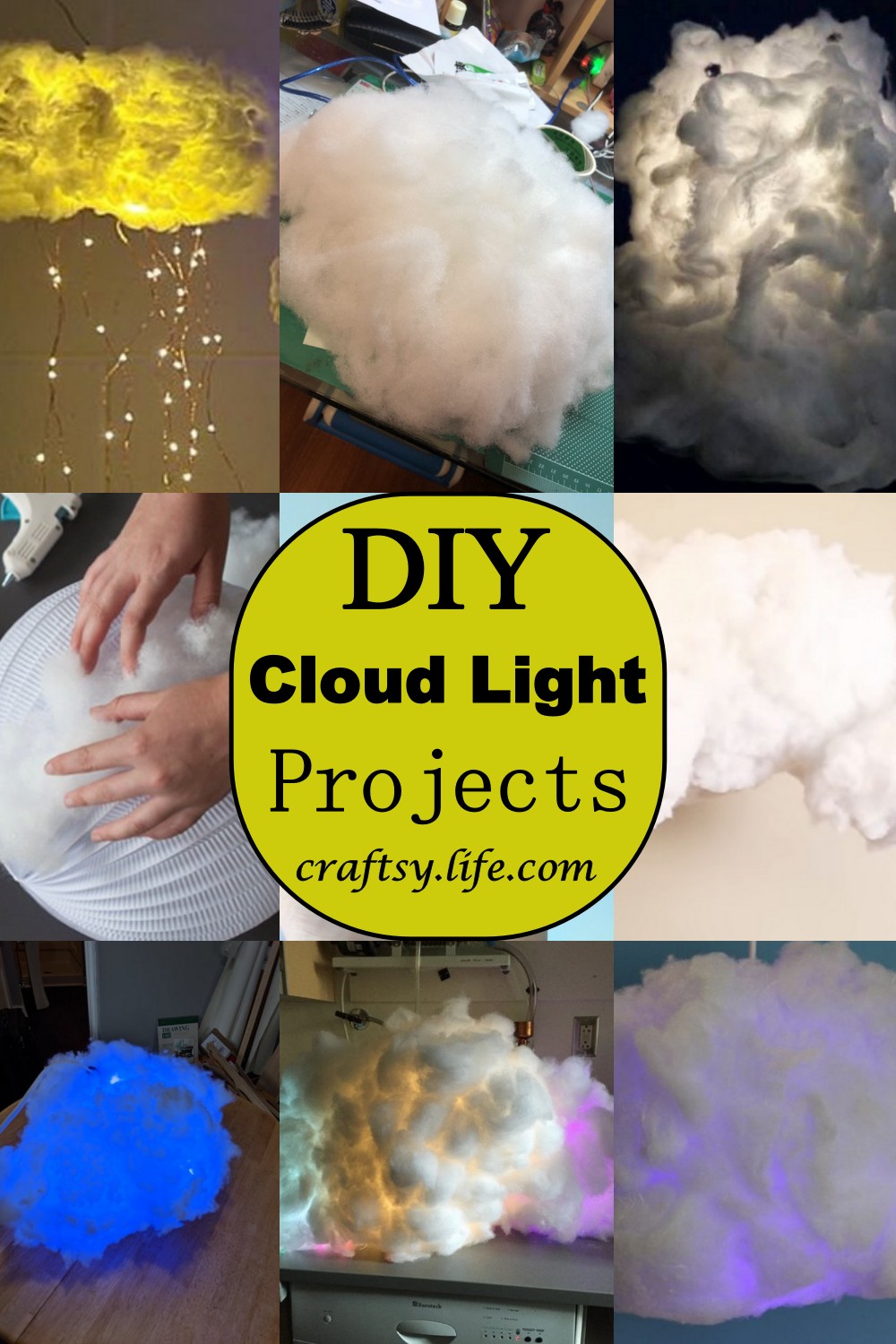 Want to add a touch of elegance and sophistication to your home without spending a fortune? Then check out our collection of 40 cloud light projects! These DIY projects can be done in just a few hours, and they'll turn your space into a dazzling masterpiece. Whether you're looking for ambient lighting for your home office or a beautiful chandelier for your living room, we've covered you. So what are you waiting for? Get started today and enjoy the beauty of well-placed lighting at a fraction of the cost!
Try these DIY Cloud Light projects if you are looking for a unique way to add light to your space and create a romantic, dreamy ambiance. A cloud lamp that is beautiful, bright, and fluffy to bring warm lighting and happiness to you from above. Cloud lamps have become a recent trend. If you are interested in trying this DIY project, then make sure that you get the right materials for it, such as an acrylic lampshade, cotton wool balls, fairy lights string (with small bulbs), a hot glue gun, and wooden support for the top and bottom of the lampshade. This will not take much time or energy but will give you amazing results. The best part about this is that it's easy enough for anyone to make it.
You can use many DIY cloud light projects to brighten your home. These puffy little guys are cute, charming, and a bit quirky!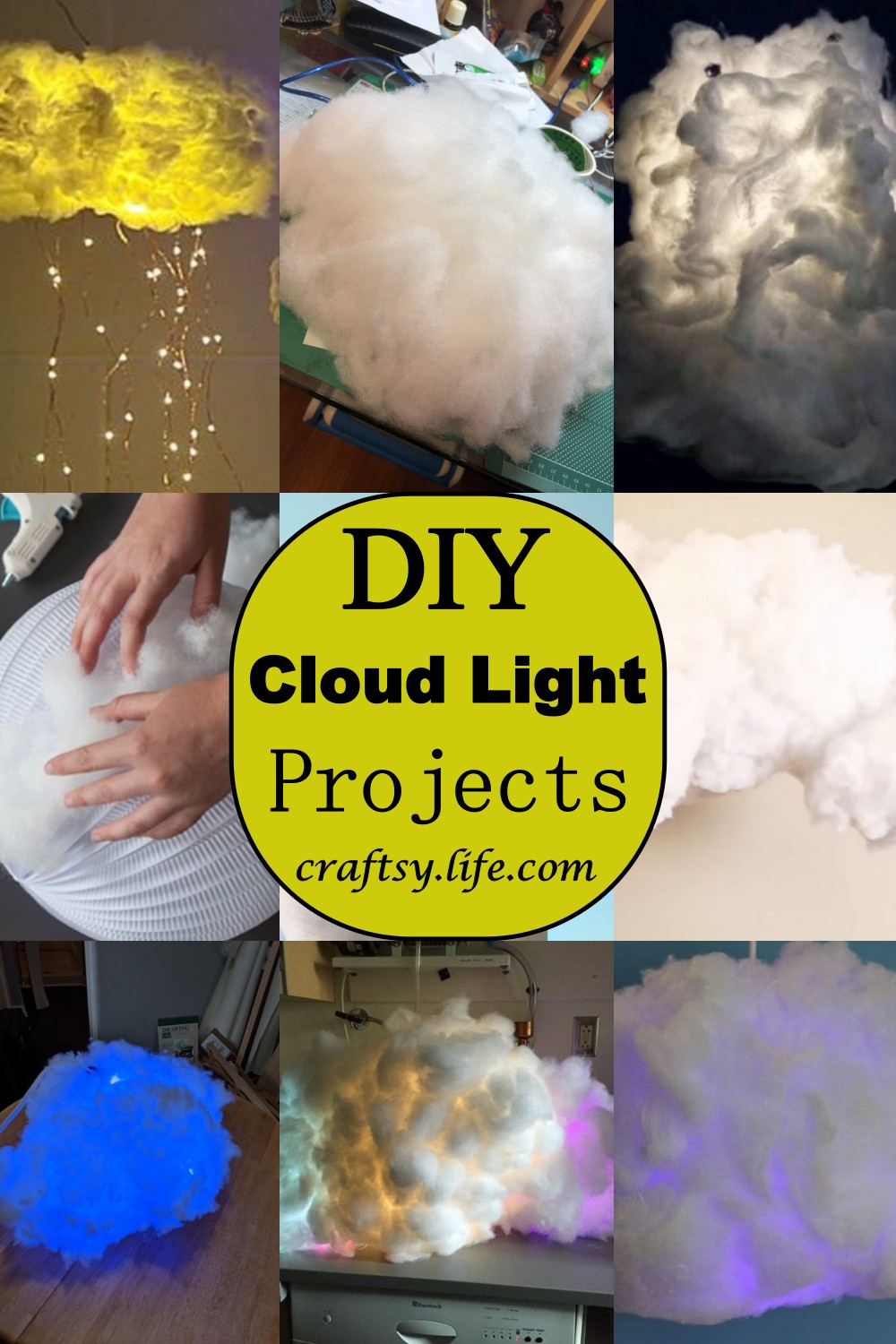 DIY Cloud Lights
If you feel like you have never had a perfect time in your home, then maybe it is time that you try something new. You can buy these lights for your home or even choose to make them yourself. This will depend on your budget and what you would like to do.
Why You Need To Have DIY Cloud Lights
There are plenty of reasons why you need to have these cloud lights in your home. Here are some of them:
The lights show creativity
When you see DIY cloud light projects all-around your home, especially at night, it shows how creative and innovative you are. You can use these lights to make a statement about who you are and the kind of person you are.
The lights create a romantic atmosphere.
You can use DIY cloud light projects to make your room more romantic than it already is. The lights add a soft glow of color to your room, making it perfect for a romantic dinner with that special someone and watching romantic movies with them. These lights also go together well with candles as they work perfectly in setting the mood for romance.
Most people love DIY projects, and this is because of the sense of accomplishment that comes from making something yourself.
Materials Needed To DIY Cloud Light Projects
DIY cloud light projects are a great way to bring the comfort of a summer storm into your home, and you can get the tools from any hardware store. Let's start with the materials you'll need to get started:
Cardboard Box

White foam boards

Posterboard

LED strip lights

Wire hangers

Wirecutter/stripper

Wire nuts or electrical tape

Glue gun and glue sticks
1. Dreamy LED Cloud Lights
Dreamy LED Cloud Lights are something you can use to decorate your home, improve the ambiance in any room and make your home look more unique. It's a great way to keep your room interesting and fun, no matter which room you hand them in. Add imagination to your child's bedroom or playroom with these fun cloud lights. Use them to decorate for a birthday, shower, or seasonal holiday. These dreamy LED cloud lights will create a comfortable and magical atmosphere. Display them as nursery decor, or hang them above the bed to simulate sleeping under the stars! They also make a great gift for babies and kids.
2. Make DIY Cloud Light
Looking for a cool and unique way to decorate your bedroom? This DIY project is simple, easy, and cheap. It just takes a couple of paper lanterns and some string lights, and you will have a beautiful cloud light to hang on the walls. Turn your bedroom into a beautiful cloud light with this easy DIY project! All you need is some paper lanterns and LED lights and you can create a custom piece of lighting for your room. This tutorial is easy to follow and doesn't require too much skill, making it a great craft for beginners. Plus, it's completely customizable based on your colors and preferences.
3. Diy Cloud Light
Bring some fun to your home with the Diy Cloud Light. This innovative light can be mounted on the wall or hung from the ceiling in any room. Hang it over your child's bed, use it to highlight a work area, or lean it against the wall for an interesting focal point in any room. This eye-catching light features a durable grey rope wrapped around a lightweight frame and powered by dimmable LED lights. The Diy Cloud Light instantly adds style and personality to your home, giving your guests something to always talk about.
4. How To Make Cloud Lamp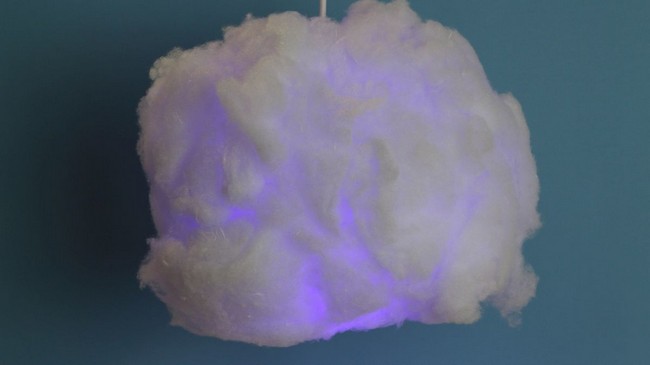 Show off your fluffy cotton ball lights at your next party, or just use them as a way to add some fun décor to any room of your house! These lights. Super easy and fun to make, using supplies from the hardware store and kits from IKEA, you can have the perfect addition to your child's room with this tutorial. This DIY project will brighten up any room in your house. You can make one and give it as a gift, or make several to add to your nursery or kid's room décor. These adorable clouds can be used for a birthday party or baby shower! You will love how cute this handmade cloud lamp is!
5. DIY Light Cloud
Cloud lights are the perfect addition to any party, event space, or nursery. This DIY cloud lamp is perfect for homes with limited space as it is merely a decoration, but also an essence of any room. The great thing is that you can customize them to whatever color you choose. Make sure you're prepared for multiple layers of paint because it will take a few drying periods in between to get the desired cloud lighting effect just right. Customized DIY moon lamp, super easy to personalize your room, the 3D printing keeps lifelike lighting effect.
6. Cloud Lamp DIY
Cloudy dream of light to brighten up your child's room, nursery, or playroom? Just shape this delightfully DIY with a few steps, using simple materials to create adorable lights in the shape of clouds. The cloud light is perfect for bringing a touch of fluffy, airy charm to your home. The light setup is an electric masterpiece of lighting and cotton combined with LED lights. This type gives your home an enchanting glow as it hangs from the ceiling. This DIY lamp is compact enough to be placed anywhere inside or outside your home, whether on a table or in the grass. This is perfect for summer evenings under the stars!
7. LED Cloud Light For Kids
Decorate your child's room with our super-cool LED Cloud Light. This DIY project provides an excellent way to pull off a mesmerizing cloud light for your little one's room. A simple balloon garland kit and white string lights are all you need to create an ethereal LED cloud light that looks great hanging from the ceiling of your child's nursery or bedroom. Once done, simply hang globular string lights from it to give the rain effect. This hassle-free DIY project is extremely easy to pull off and will transform a Chinese lantern into an incredible light you can keep in a room once done. Let your creativity run wild!
8. Cloud Light Brings Storm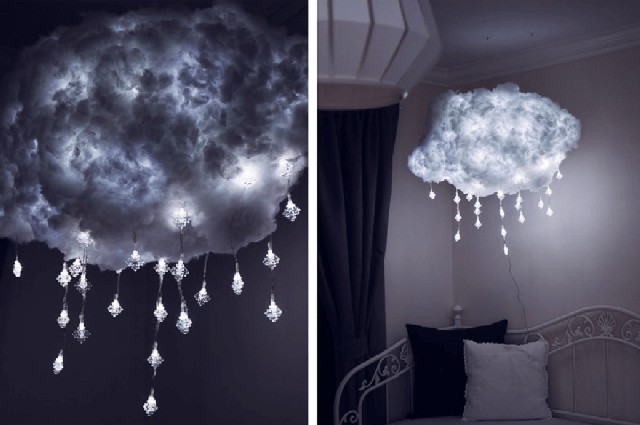 It explores the natural beauty of a thunderstorm without the risk of getting struck by lightning. Like a stormy cloud, this faceted Cloud Light makes for a dramatic hanging centerpiece. Designers Lukas Peet and Graypants collaborated to create it with gray powder-coated steel that's laser cut and folded with LED lights inside. Hang one solo or combine it with multiple different size lights in a series. Custom LED lights shine through this foam-crafted cloud, creating a realistic lightning effect. Using the remote control, you can adjust the intensity and speed of your storm, from light rain to raging thunder.
9. CLoud Light In One Minute
This craft is fun and quick to make, and the resulting room decoration will completely transform the look of any space. It's an easy way to add soft, diffused lighting that has a modern, decorative twist to any room. Transform a room with this project that only requires basic tools and supplies. In one minute, you'll create a cloudlike light fixture that will brighten your room and impress your friends! This project is suitable for beginners and requires no special skills.
10. DIY LED Cloud lamp
You often love seeing decorations in your homes, offices, and other places you spend time in. Decorations set a better mood and make you feel more comfortable. The clouds of cotton balls you can use as a decorative lamp are one of the most interesting decorations in your room. Create your very own cloud lamp with these simple steps. Now you can add a fun flair to any room with just a few materials and 60 minutes of your time. If you have been looking for simple home decor projects that use cotton, this is one of the most fun projects to make and enjoy. You will love making this cloud lamp for yourself or someone special in your life as a gift.
11. DIY TikTok Cloud Ceiling
The finishing touch to your dream gaming room. Enjoy the sunset skies of DIY TikTok Cloud Ceiling and accent light kits. These lights will make your room feel just like an outdoor venue with all the stars in the sky. Rainbows abound as you watch your favorite films with this unique interior design feature." It is the perfect way to bring your TikTok dreams to life! This kit includes all the necessary materials and step-by-step instructions for building a full cloud ceiling for any room. Creating the perfect game room, office, or children's room has never been easier! Made from wood-fiber material that absorbs light perfectly, this lighting system will give your room an amazing glow!
12. Changing Color Cloud Light
Add warmth and interest to any room with the Changing Color Cloud Light. This mood light can change to any color you want using a remote control, or if you prefer, it can cycle through all seven colors in a constantly changing rainbow or stay in one color. Perfect for dorm rooms and nurseries, it's also a fun night light for adults too! The Changing Color Cloud Light instantly adds soft sophistication to any space while providing a comfortable glow that isn't harsh on the eyes. It's like owning a piece of the sky!
13. LED Cloud Light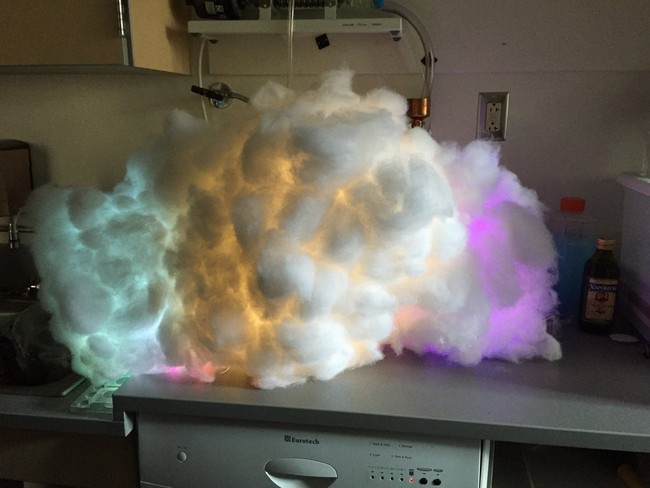 These LED cloud paper lanterns are so cute they melt your heart! These fun, easy-to-make crafts provide hours of entertainment for kids, making them the perfect rainy day activity. They also make delightful decorations that both children and adults will enjoy. The glowing LED cloud lights to illuminate a kid's room at night, illuminating gloomy days and adding a touch of whimsy to any space. This adorable cloud nightlight is handmade with care, safety, and creativity. It lights up automatically when it gets dark and turns itself off during the day to save energy.
14. DIY Cloud Night Light
DIY Cloud Night Light is a fun and easy craft that makes a cute decoration for your kid's bedroom. You can make your own cloud night light at home with a few common materials. This DIY night light is perfect for a child's bedroom or playroom or as a gift for a baby shower or birthday party. This cloud light catches the eye instantly with its unique and modern design but is kid-friendly and easy to create. Kids will love the adorable glow from this cloud light in the dark, making it an easy way to add some style and creativity to any child's room.
15. Tilt Activated Cloud Light
Bring the magic of clouds into your home with this striking ceiling light. This versatile piece can be an extra storage space by attaching pictures, flowers, or anything your heart desires. The cloud-shaped panel can be moved up and down in seconds thanks to its toggle fasteners. You can make multiple cloud lights and hang them all over the house. It's a great gift for children as well — who wouldn't want to feel like they're lying among the clouds every night?
16. LED Smart Cloud Light DIY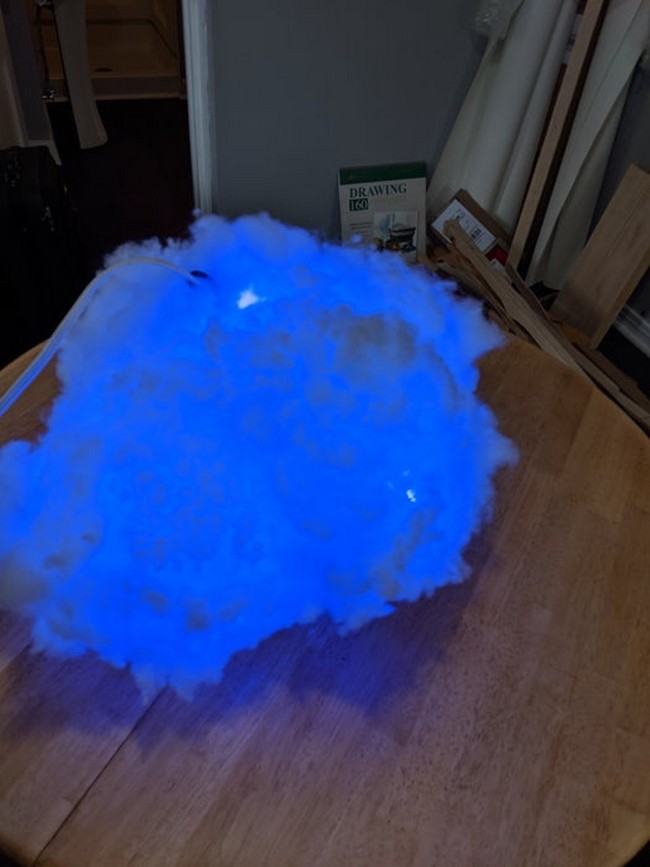 This cloud is a one-of-a-kind gift you'll get to make with your kids. Transform this kit into a unique decoration for the bedroom, or a special nightlight for their playroom. The rainbow of lights is sure to bring a smile to their faces. The instructions are easy to follow and all the extra supplies are included in the kit, but you'll also want to add paper lanterns and fiber filling from home. To get started, gather all the necessary supplies, a happy heart, and a team of loving hands.
17. How To Make A DIY Cloud Light
Anyone can make a DIY cloud light with a little patience and some supplies. Creating a DIY light fixture is easy and cheaper than buying one. All you need to do is get out some paper lanterns, fibre-fill, and a Lifx strip light that you can control through an app on your phone. These glowing clouds light up any bedroom and also make great decor pieces. Get started by lining the inside of your paper lantern with fiber-fill, then remove the interior hardware and wiring and replace it with a Lifx Light Strip to create a spectacular cloud ambiance.
18. $20 DIY Cloud Light
Looking for a different kind of light for your kid's room? This DIY Cloud Light will illuminate your baby's nursery or kid's room, and it's super easy to make from the comfort of your home. You can even get the kids involved in this fun craft activity. The DIY Cloud Light is the perfect addition to any nursery or kid's room – and it's inexpensive and easy to make. It uses real snow fiber that mimics a cloud and can also serve as decoration. The lights are remote-controlled, so you can easily turn them on and off. Just follow the step-by-step tutorial to make this unique piece for a fraction of the price of other versions on the market.
19. DIY Cloud Light With Ease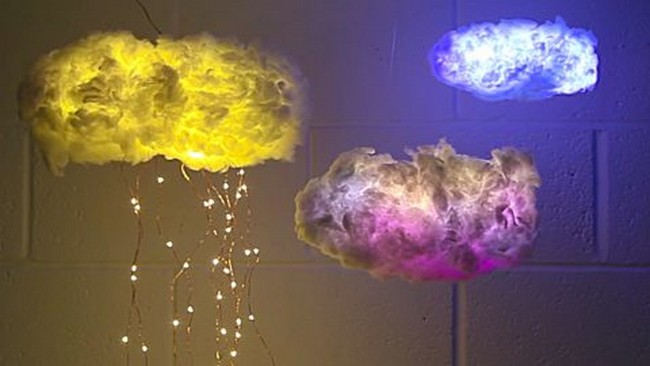 This DIY Cloud Light is a simple home DIY that's sure to impress! This crafty home accessory can be placed anywhere in the home and is an easy DIY project anyone can make. It uses an empty water bottle as its base, then filled with cotton balls for the cloud effect. Simply add a string light in the middle of the bottle to create a relaxing cloud light glow. It can be made very easily and is sure to look amazing in any space it's placed—bedroom, living room, bathroom, and more.
20. How To Make A Cloud Light
If you love DIY home decor, then this easy-to-make cloud lamp is right up your alley. Gather some plastic bottles, an old stuffed animal, and a few other supplies, and you're halfway to making a fun desk lamp. It's a simple project that will make your desk space a little more magical. This project is a great way to recycle old Christmas lights or bring a stuffed toy back to life. All you need are some cotton stuffing, a hot glue gun, an old string of Christmas lights, and plastic bottles! Little ones will love the glow of this lamp which looks like a cloud raining down stars.
21. DIY Cloud Light Tutorial
If you want to add a little ambiance to your room without spending a fortune, create this DIY cloud light with just a few items. Be the designer at your next party or your child's nursery when you create your own DIY Cloud Light. It only takes a few easy steps to make one of these cool creations, and then you can customize it with any cloud shapes and colors you want! All you need is some foam, craft paper, hot glue, and battery-operated lights. This project will take you less than an hour to complete. The easy-to-find materials make it perfect for any party, wedding, or family celebration!
22. DIY Cloud Ceiling Light Tutorial
This DIY cloud light is an eye-catching alternative to standard ceiling lights. It's so simple — even for a beginner. All you need are a few materials and minimal skills. You'll be ready to hang your cloud in no time! This gorgeous project works especially well in a nursery or over the crib. This gorgeous cloud project works great in any room, especially over a nursery crib. It's so simple to make that even a beginner can do it. This project can be done anytime since you don't need to consider the season or temperature of the weather.
23. DIY Colorful Cloud Night Light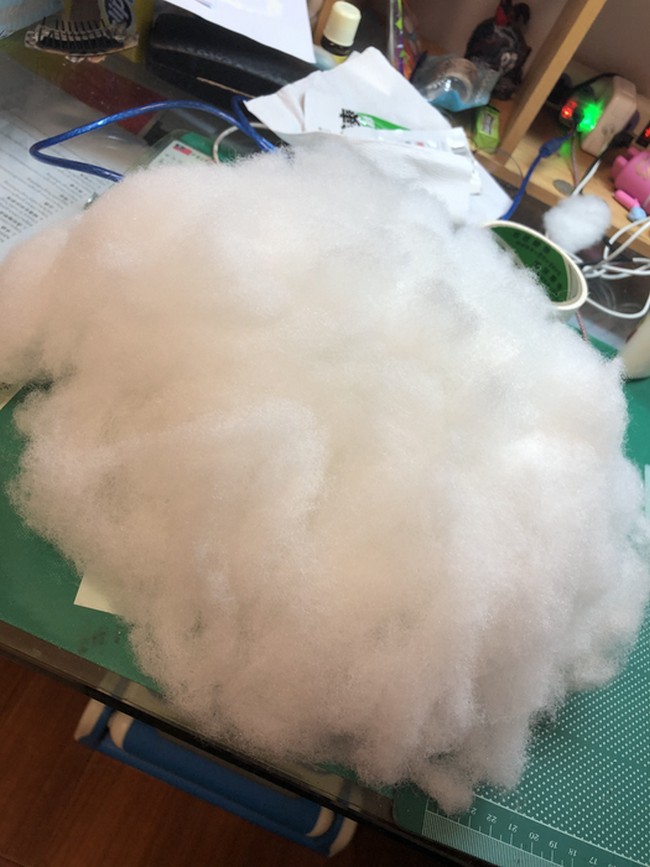 If you are looking for a modern, colorful, stylish, and affordable gift for friends who like DIY projects, this new DIY cloud light kit will be a good choice. Make a cloud lamp with rainbow LED lights and cool mist blowing that helps to refresh indoor air and reduce static electricity. Create this kit's project all by yourself to own this beautiful lamp. It's a perfect gift at Christmas or birthday party, and also a good way to introduce circuit and LED to your kids. This DIY Cloud Light will create a realistic lighting effect. This kit is a great way to introduce electronic components and lights.
24. How To Make A DIY Cloud Lamp
The cloud lamp you'll make for your kid's bedroom is better than the average lamp. It is just as sturdy and easy to set up as any other, but it comes with extra benefits. It's perfect for adding a special light to the ambiance of your home or event. It works with batteries and will run for a long time before you need to change them. The battery pack eliminates cords you might trip over, and it can be placed on most things, not just a table or nightstand. It also has an attractive design that will easily blend in with the rest of your child's decor! With this DIY guide, you'll learn everything you need to know. Get started today!
25. DIY Flowing LED Cloud Light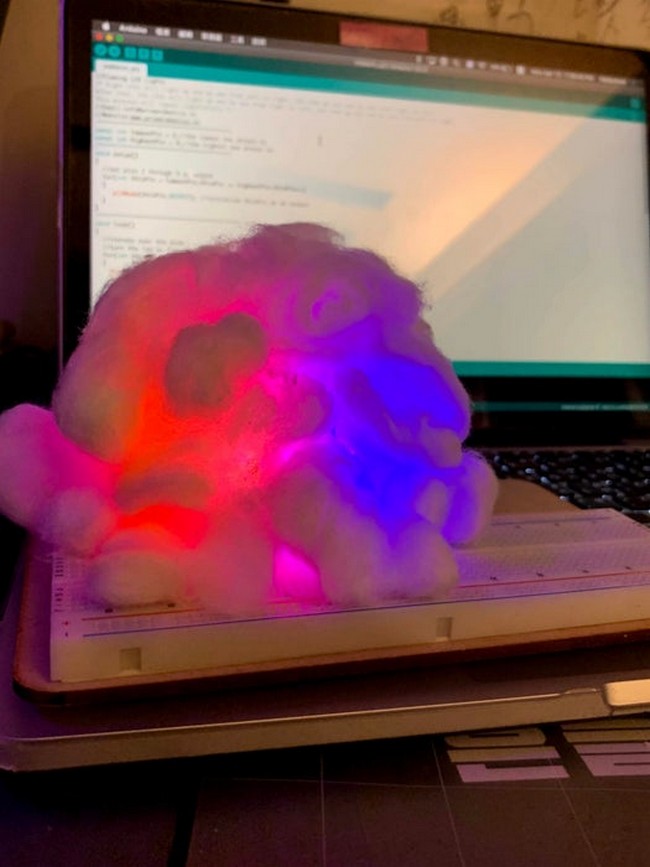 Are you looking for a unique gift idea or want to make a special addition to your kid's bedroom? This cloud lamp would be perfect. The stand makes it easy to place on most things and working with batteries; there will not be those annoying cords. This unique lamp has all kinds of benefits, such as the fact that it's cheap to make, sturdy enough to place anywhere, and works with batteries, so there are no annoying cords. Making this DIY cloud lamp is easy and a great gift idea that anyone would love!
26. DIY Tik Tok Cloud Ceiling Light
The Tik Tok Cloud Ceiling Light is similar to the one made famous on Tik Tok. If you're in the market for a new lamp, this DIY ceiling lamp will really brighten up your room and make it the best party room in town! You can choose which light source you want inside your cloud, so you can make it as simple or extravagant as you'd like. This light is perfect for any bedroom or nursery. It is a one-of-a-kind work of art, perfect for brightening up your bedroom, living room, nursery, or office. Assemble your lamp then choose how to light it up – options include different colored light bulbs and LED strip lights.
27. DIY Cloud Lamp
This DIY Cloud Lamp is perfect for you if you're a DIY freak and have a knack for making your own furniture. It's made of styrofoam, which makes it lightweight and easy to cut into. Once you've formed your cloud, simply glue on some hot lights for a funky, modern lighting fixture that will brighten up any room in the house. This DIY cloud light will help you to start creating your own. With a stylish, modern design and all the materials you need, you can make this cloud lamp and brighten up any room in your house.
28. DIY Giant Cloud Light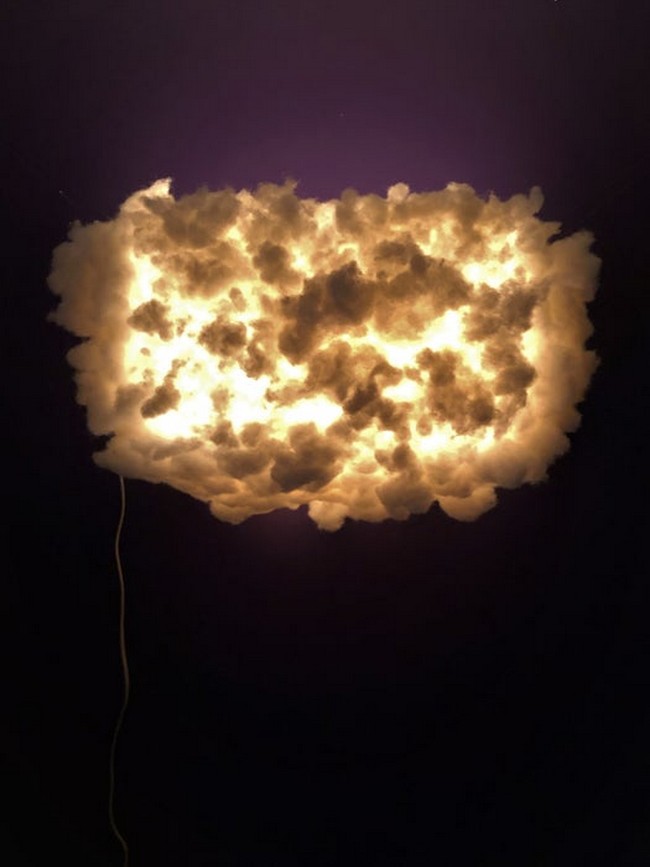 Everybody needs a little more light in their life, right? This stunning DIY light will add cheerful and fun lighting to your kid's room! This DIY Giant Cloud Light is the perfect fit for any room in your house! If you are looking for a fun and different way to illuminate your space, look no further! This listing will include all of the necessary materials for you to create this stunning cloud light. If you already have some supplies lying around, feel free to use these as well! The best part is that you can show off your individuality by creating something with your hands!
29. Build a Cloud Lamp with Sound Reactive Lightning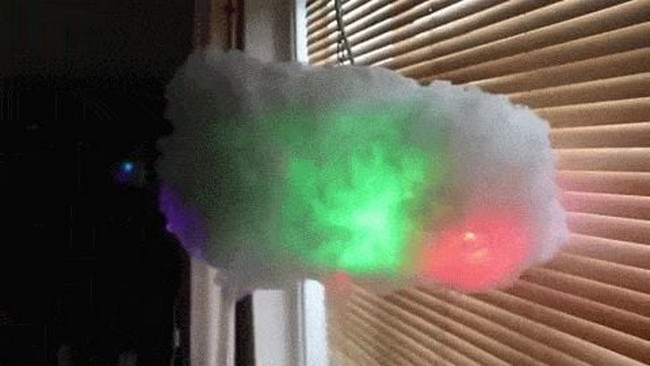 Get ready for a fun project! You will learn to program and assemble this great cloud lamp that can sense sound and make lightning flashes. In the process of building it, you'll be learning about solderings, electronics, input/output devices like sensors and LEDs, C programming, and more. Its cute lightning strikes and thunder noises make it the perfect mini storm cloud for your home or office! This cloud lamp can easily be customized to fit your style, and you'll learn how to work with electronics and microcontrollers along the way. Whether you use it as a decoration, a night light for your little ones, a white noise generator, or just an excuse to play with electronics – this project has something for everyone.
30. Cloud Lantern
The Cloud Lantern is a fun and easy to add whimsy and cheer to any room or special event. This Cloud Lantern is a decorative piece that will bring style to any space. It features the traditional paper lantern look, but you can use it as a focal piece for your home or next gathering with its unique starry night design. Hang this cloud lantern at your kid's birthday party for a whimsical touch, or string several across your ceiling to create a beautiful lighting display in your home!. Perfect for a nursery or bedroom, this lantern is also safe enough to use as part of a party in your backyard!
31. DIY Cloud Light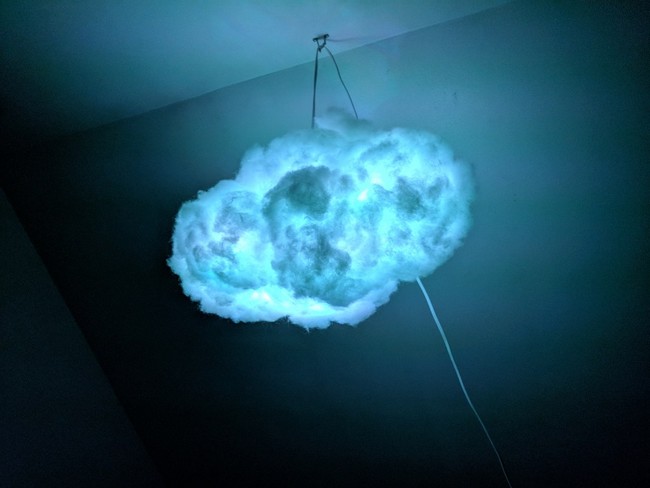 Are you looking to create a magical world for your kids? Then imagine how they'll feel when you make real clouds in their room. You can't get them out at will, but you can create similar ones with dry ice and lights! You don't even have to be an airy artist—realistic clouds are surprisingly easy to accomplish. Just go up to the ceiling, cut a hole, and let tons of bright light float through the edges of your ceiling, then dive right in. This creative DIY project only takes a few easy steps to complete and will give any ceiling or wall an enchanting effect.
32. How to Make Hanging Cloud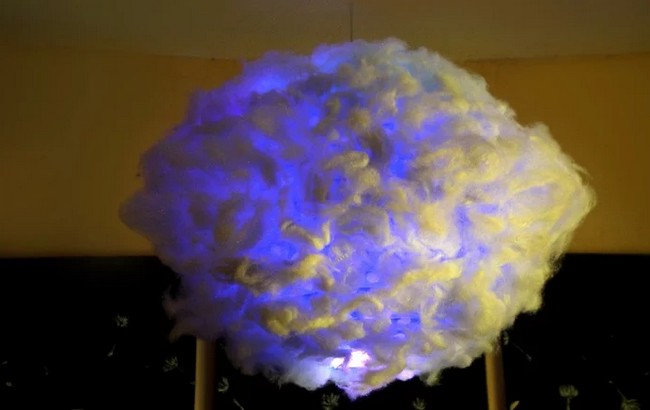 Put your love of clouds on display by creating a hanging decoration. This guide will teach you how to make a hanging cloud with colorful felt and paper, as well as string and tape. Kids of all ages can help put the project together. Hang your clouds at different heights for a fun look. These clouds are easy to make and fun to play with, but they can be costly to buy in stores. You'll need cotton balls, thread, and scissors for this craft. Gather family and friends to help put these creative projects together and hang them in your home.
 33. How to Build a Thunderstorm Lamp
Brighten up your home with this DIY lantern, which serves as a unique decoration and perfect mood lighting. Create the ambiance of a storm by building your own thunderstorm lamp. This project lets you create the perfect atmosphere for your home and immerse yourself in reading your favorite books. Make a one-of-a-kind lamp to add the perfect ambiance to any room with this DIY storm lamp. It only takes a few inexpensive materials, and you will have an original lamp that creates a great reading light, mood lighting, or decoration.
34. Fluffy Rain Cloud Pendant Light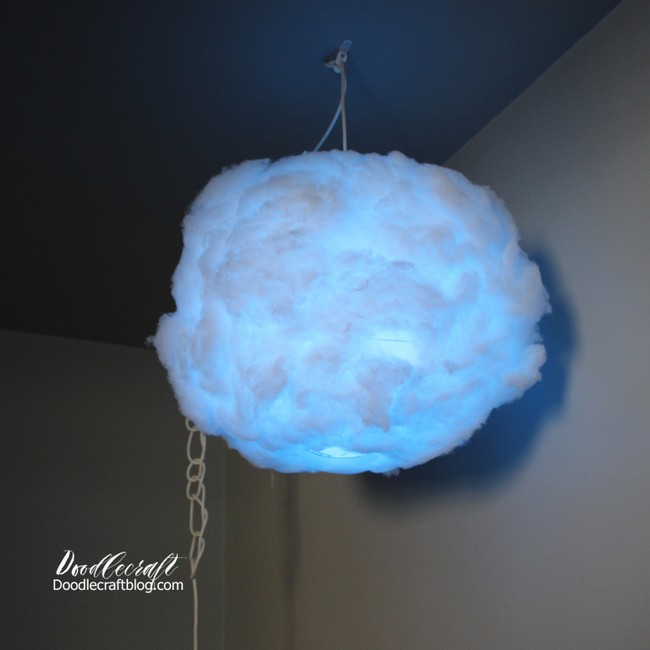 Just because we've all grown up doesn't mean you should pack away your childlike wonder, especially when it comes to home decor. This adorable rain cloud pendant light is the perfect way to add a touch of fun to any space in your home. The Fluffy Rain Cloud Pendant Light is durably constructed of three layers of hand-shaped felted wool set in a white-coated metal frame, with a subtle rainbow detail on the bottom layer. Its fun shape looks great, installed as a pendant or displayed on the floor.
35. DIY Cloud Lamp Will Bring A Thunderstorm Right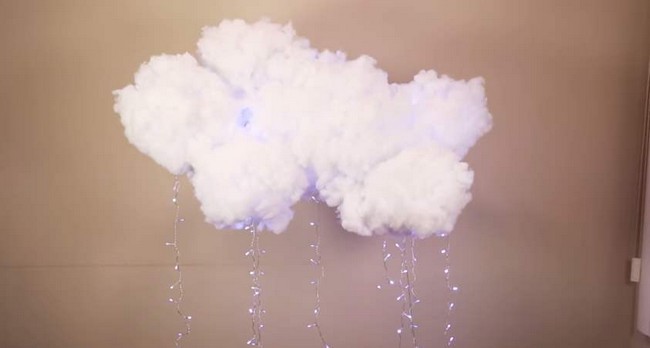 Lightning is one of the most beautiful displays in nature. It's massive, powerful, and frightening yet awe-inspiring. It leaves you simultaneously amazed and frightened – but you cannot help but watch it happen. If you have ever wished that you could be the one to create your own lightning, then this DIY Cloud Lamp might be right up your alley. Get ready for a thunderstorm in your room as you craft Dan Wasserman's cool cloud lamp that can spark bright lightning. Spend some time with your kids or have fun on your own as you do this simple DIY project, which is a great gift for any weather lover.
36. DIY Programmable LED Cloud Light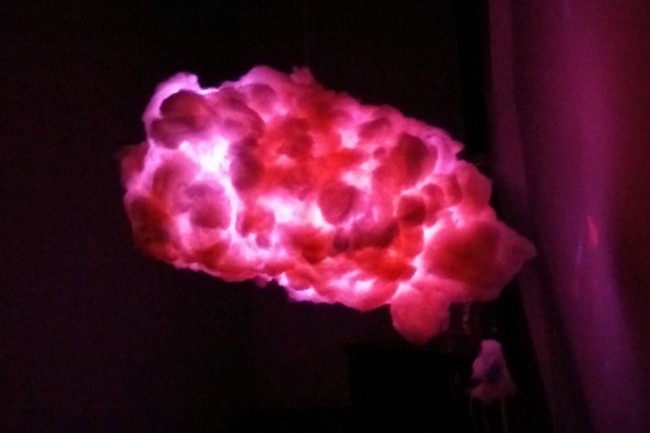 Are you looking for a fun and easy way to add a touch of whimsy to your bedroom or the bedroom of your favorite little one? This DIY programmable LED cloud light is just what you need! The cotton creates a soft, fluffy cloud look. You'll need a basic knowledge of electronics to make this decoration, but the project itself only takes two steps to complete. The LED lights are tucked inside to make it glow — just like a real cloud! A simple pull string turns the lights on and off. The best part is that makers will have access to all necessary supplies.
37. DIY Cloud Light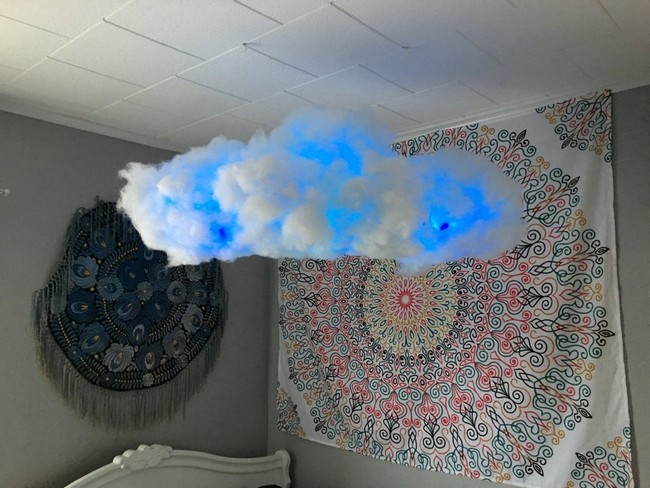 This DIY cloud light is super easy to make, and it looks great in any bedroom or living room. Turn off the lights, and you actually feel like you're lying under a fluffy cloud! This cloud light looks like it is floating in thin air. This artistic piece can be a great decoration for your bedroom or living room. It is also a perfect gift for someone who loves clouds and wishes one was in their room. It is a little bit challenging to DIY, but the outcome is absolutely worth it.
38. DIY Floating Cloud Light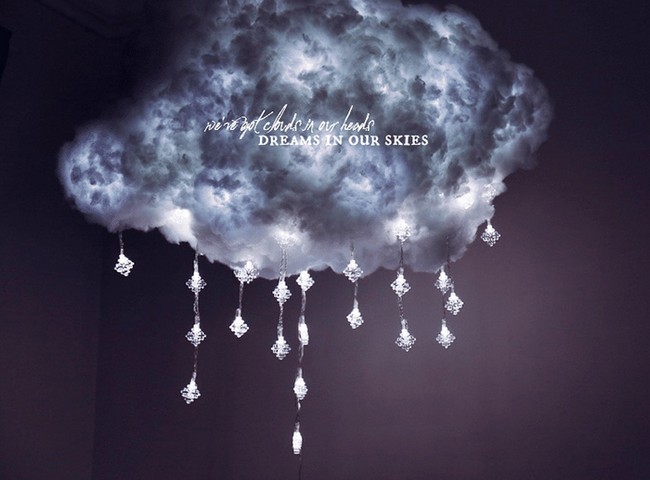 This helpful guide teaches how to make your own amazing floating cloud light. This DIY project is surprisingly easy and a great way to add some whimsy to your home or office. Create your own relaxing cloud-like atmosphere with our DIY floating cloud light. This simple, inexpensive project can be done in less than a week and requires no materials beyond cardboard, yarn, and lights. Makes a great gift for skywatchers, dreamers, and light chasers. This DIY floating cloud light is surprisingly easy to make and easily customizable to suit your taste and decor.
39. Glow Cloud Light
The Glow Cloud Light is the perfect accent lamp to add that little extra touch of light to any room while giving a contemporary and chic look. The adjustable hook makes it the perfect light for all occasions, whether you are looking for a pleasant nightlight or want to dress up your dining room table. It has a lovely soft glow and is made of safe materials, making it a fantastic addition to the bedroom or nursery. Easy to install, just plug the LED cloud light in any outlet and point it upwards to let your LED cloud shine beautifully against the wall. Made of Acrylic that is lightweight and easy to hang.
40. DIY Cloud Lights!
Try this cloud lamp for a colorful night light or acute DIY decoration! A perfect project for any age, this easy-to-make lamp is an ideal addition to your child's bedroom, nursery, or play space. Making something yourself is so much more satisfying than buying it. With this DIY project, you will learn how to make a super cute rainbow cloud lamp with LED lights! You will only need a few supplies, and you can complete the project even if you don't have many crafting tools – and this can be used as a night light or decoration and makes the perfect gift for any friends or family.