You can make your clothes rack at home. It's a great way to display and store your clothes fashionably and keep them organized. If you want to add organizational fun to your closet, these DIY clothing rack projects will help you do that. The creative ways that people have turned their old clothing racks into something more useful make them more attractive than those bought today or use simple materials to make some impressively beautiful and admirable clothing racks with minimal expense and effort.
DIY Clothing Rack Projects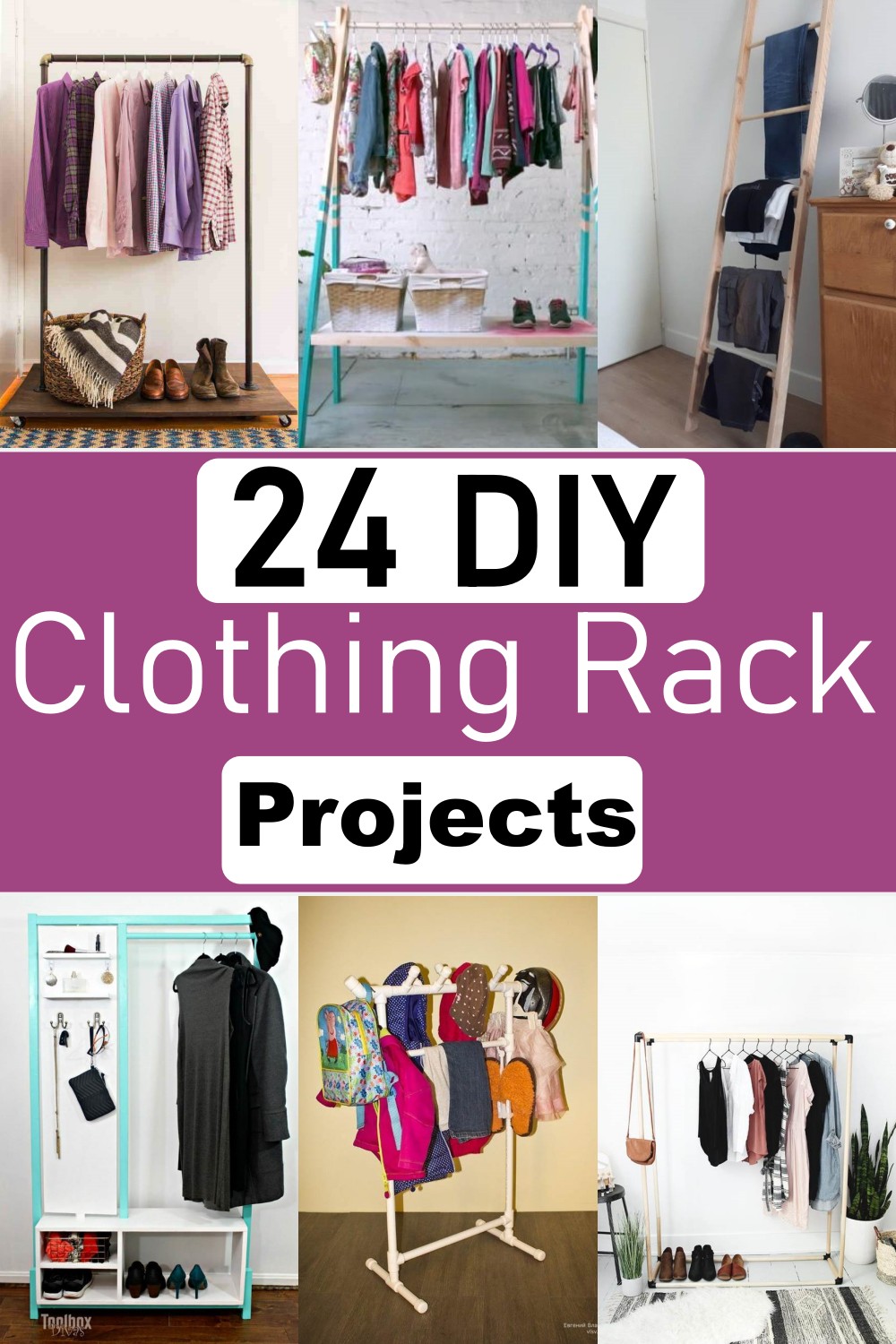 Clothes rack DIY projects are not that hard to make. These are very inexpensive and great ways to save money and time. This guide will show you how to make different racks like Pallet clothing rack, Heavy-duty clothes rack, and even more related items such as hangers, drying racks, and so on. Here are 24 DIY clothing rack projects for you to choose from. While reading, you'll find amazing clothing racks for kids and adults.
How To Make  A Clothing Rack For $12
This will be one of the best and perfect clothing rack for busy college dorms, apartments, and small spaces. This simple DIY can be ready to use in 2 hours and cost $12. The DIY clothing rack is easy to build and can be constructed from materials available at hardware stores. In addition, you can customize the dimensions and length of the rack based on your needs.
Tools;  four 8 inches pipes, two 6 inches pipes, two 50 inches two 31 inches pipes, pipe connectors, and spray paint of any color
Easy To Make Clothing Rack
The DIY Clothing Rack is the perfect way to store your favorite clothing or accessories when you need a place to hang clothes. Its compact design can be easily moved around, and its sleek, curved lines will fit nicely into any room. This is the perfect solution to add some much-needed storage space. Get your clothes and accessories organized using this Clothing Rack. This is Made of high-quality materials, and this versatile piece offers a stylish alternative to bulky storage units.
Tools;  PVC pipe elbows, 9 pieces of 48-inch wood dowels, E6000 glue, dowel screws
A-Frame Clothing Rack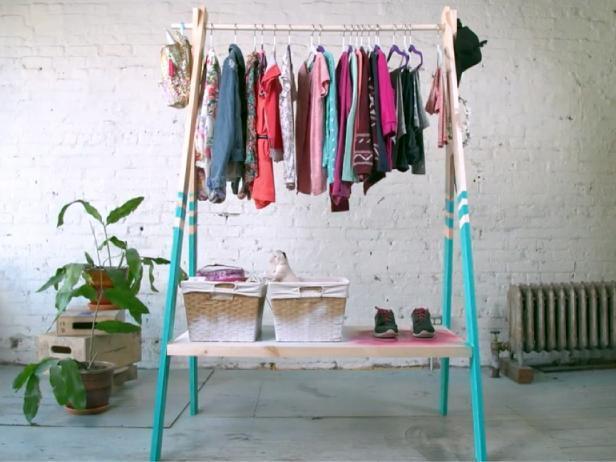 Here we come with a simple, easy-to-make clothing rack perfect for displaying your favorite pieces. The DIY A-Frame Clothing Rack gives you lots of space for hanging items, but it's also very portable, so it's always easy to move out of the way when not in use. This is a very inexpensive clothing rack, but you can make it as large or small as you like. The finishing touches on this project are what make it look professional!
Tools; some plywood, wood board, wood dowel, gold hooks, wood screws, wood glue, drill, grit sandpaper, and any color of spray paint you prefer.
Mobile Clothing Rack
A mobile clothing rack is an efficient and convenient way to store and display your clothes more visibly. This design uses backless racks to allow multiple people to access the merchandise. Unit is less than 8 feet long have wheels attached to their foot ends or two opposing corners. Larger units may have single or double-deck mobility. The handle can be placed at the top or on either side, depending on how you want it to move.
. Tools; measuring tape, paintbrush, oil paint, pen, or marker.
Copper Pipe Clothing Rack
This DIY clothing rack is a great way to store your clothing without space. It's made from copper pipe and durable cloth, so it can easily be moved from room to room—or closet to closet. And the best part? It's easy to make yourself! All you need is a few basic supplies like;
Tools 3 copper pipes that are 10 feet long, six elbow copper pipes, 6 'T' connectors, glue, a pipe cutter, and four copper caps for the base of the clothing rack.
Heavy Duty Clothes Rack Idea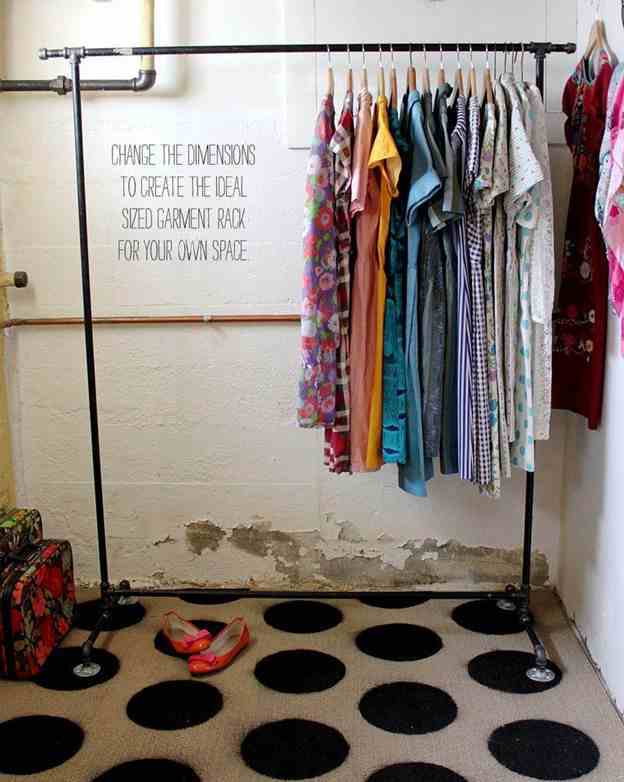 These DIY heavy-duty clothes racks are the perfect way to organize the home or commercial space. Made with durable construction and features a charming design that will complement any spaceship's heavy-duty clothes rack is made of chrome, with three hanging bars that extend to 6 feet long, and is made for residential, commercial, and personal use. To assemble, you slide the top pole into the bottom, and that's it!
 Simple Clothing Rack Plan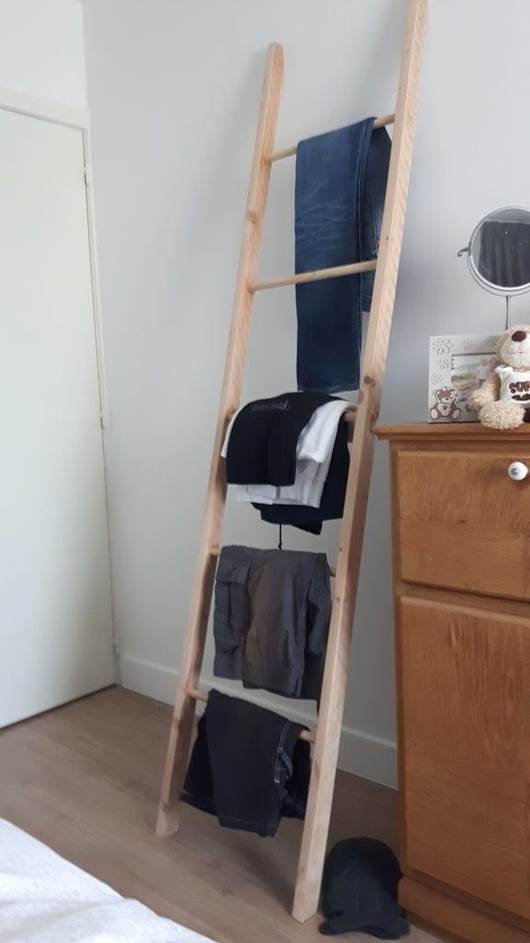 This easy-to-build DIY design turns ordinary clothes racks into stylish, modern displays. With just a few basic carpentry skills, you can build your own at a fraction of the cost of store-bought clothing racks. This DIY clothing rack is perfect for any room, especially in your bedroom. It can be used as a closet to store clothes or simply as a place to hang your jackets, hats, and scarves.
Tools; pieces of lumber, a track saw, pocket-hole drill, wood glue, clamps, and sanding paper to remove every irregularity from the wood surface.
Pallet Clothing Rack Tutorial
Add some creative style and unique personality to your space with our Clothing Rack. Made from reclaimed wood, this wall-mounted clothing rack comprises six slats where you can hang all your shirts, dresses, jackets, and accessories for showing off! Easy to build, this clothing rack will make organizing your closet easy. Keep your favorite shirts at the front of the closet and t-shirts stacked in the back. This pallet rack is especially useful if you have a large T-shirt collection that needs to be organized.
Industrial Clothing Rack Idea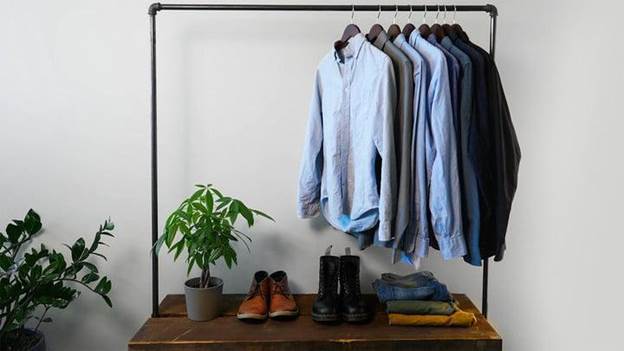 A great way to save closet space, this industrial clothing rack is an affordable way to maximize your wardrobe. Made of steel and coated with a durable black powder finish. The industrial-inspired design looks great in any house room and showcases your favourite items, from shoes to books and beyond.
Tools; plywood, drill, saw, T-shaped and L-shaped elbow iron pipe fitting, steel pipes of various dimensions, and a 2 x 8-inch board.
Make An Industrial Pipe Clothing Rack
An industrial pipe clothing rack will take your business or home's retail space to the next level. It is a great way to showcase your clothing and other accessories in a high-traffic area. With the right planning and materials, anyone can easily build one of these racks. This is an easy project with minimum tools and a little work to save money on materials.
Aesthetic Clothing Rack Tutorial
Add a DIY aesthetic to the room with this rack, perfect for organizing and displaying your favorite clothing items. The wood dowels are adjustable, so you can customize the space between them to fit your needs. This versatile piece can be used vertically or horizontally and is perfect for small spaces such as closets, bedrooms, bathrooms, and more!
Tools;42 feet long PVC pipe, 18 T-fitting pipe connectors, eight elbow pipe fitting, and just three pipe joints
Wall Clothing Rail Project
Build your children's closet with this DIY Wall Clothing Rail. You'll create a space that's organized, functional, and easy to customize. This storage solution is perfect for the small things they like to hang up, like hats and jackets – or remove the tracks altogether to use it hanging around their room as an art display. In addition to hanging clothes, it can also be used to store belts and handbags.
Tools; 2 half-inch floor flanges, two 90 degrees half-inch elbow pipes, two half-inch nipple pipes that are 5 inches long, screws, spray paint of any color, a drill, and finally, a half-inch back nipple pipe that is 24 inches
Wooden Clothes Rack
These simple DIY wooden clothes racks are perfect for displaying your favorite shirts, pants, scarves, and hats. It's easy to build and takes just a few hours to complete, making it an excellent weekend project for beginners! Wooden clothes rack a great item, mainly when you have limited space in your closet. With this DIY project, you will be able to maximize the space you have. Therefore it is versatile and suitable for homes, apartments, and other small rooms.
Mobile Garment Rack Project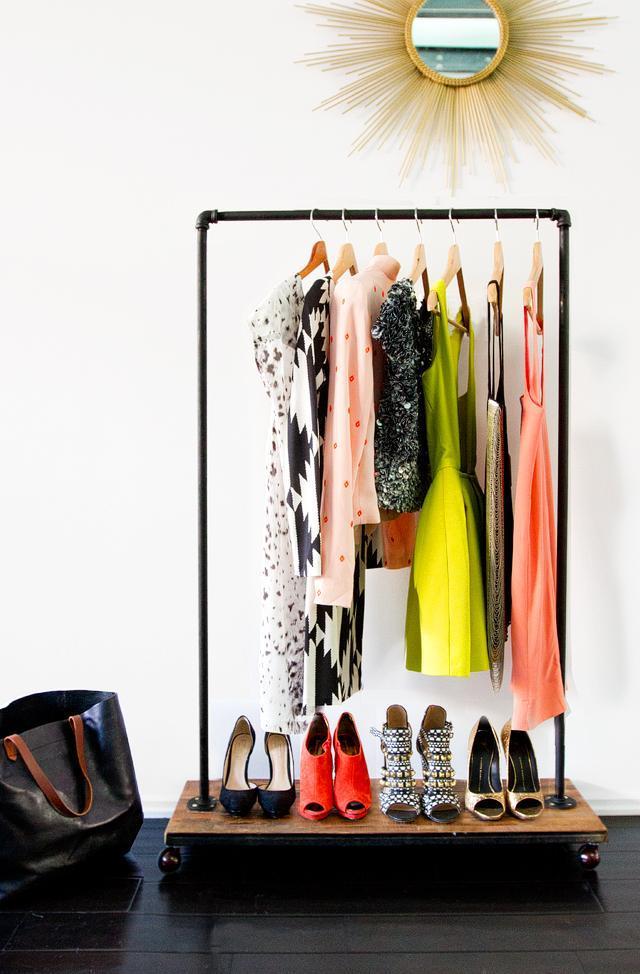 The DIY Mobile Garment Rack is the first item you never want to miss out on in your wardrobe when you dress up. This attractive, easy to set up, and sturdy clothing rack allows you to easily hang and store your clothes, shirts, and other accessories. It helps save space in your room by organizing your wardrobe more efficiently.
Tools; flanges, elbow joints, wood screws, wood base, casters, back color spray paint.
Kids PVC Clothes Rack Plan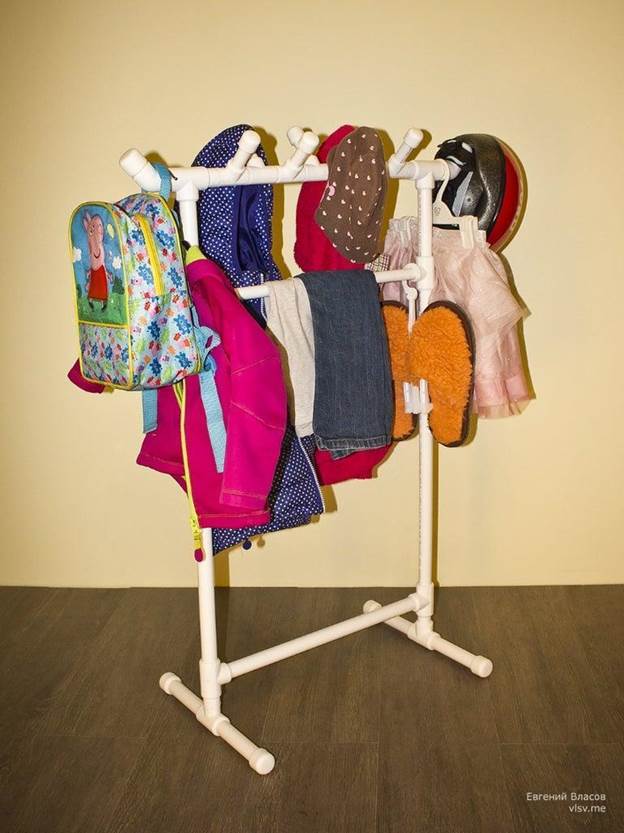 This PVC Clothes Rack is specially designed for children to get rid of the messy clothes and shoes on the floor so that your child can put/her clothes and shoes in one place. It also helps to save space in your house. Support up to 20kgs weight. Easy and safe assembly with step-by-step instructions. This DIY clothes hanger rack project is perfect for kids and teens.
Tools; some PVC pipes, Tee sockets, scissors to cut the plastic pipes, and glue.
Wall Mounted Clothing Rack Project
This stylish wall-hanging clothing rack is perfect for hanging up your favorite coats, hats, handbags, robes, and more! The wall-mounted rack makes it easy to tuck away when not in use. It only takes a few materials that you probably have around the house for this project to be completed. Its modern design allows for a contemporary feel, making it the perfect addition to any closet or room.
Tools; galvanized pipe food flanges, nipple pipes, threaded galvanized pipes, Minwax golden oak wood, and any color of spray paint
How To Build A Clothes Rack With PVC Pipes
Use PVC pipes to create sturdy clothes drying rack. PVC pipe is easy to work with and can be cut, bent, and shaped into almost any size you need. This guide shows how to make a basic clothes rack for hanging multiple garments in a small space; it can be modified for larger jobs by adding more pipes or multiplying the number of cross-pieces used in each section.
Tools; PVC pipes, masking tape, cardboard, Fevicol glue, scissors, and a wallpaper design material to make it beautiful.
Kids Clothing Rack
This DIY kids clothes rack a fun, practical way to keep your children's clothes hung up and out of sight. They can be used in any doorway, closet, or room, making getting dressed much easier with designated areas for everything! Plus, they'll help your little one feel more independent as they learn to put their clothes away.
Some wood glue, wood screws, and other materials
Clothing Rack Cheap And Easy Idea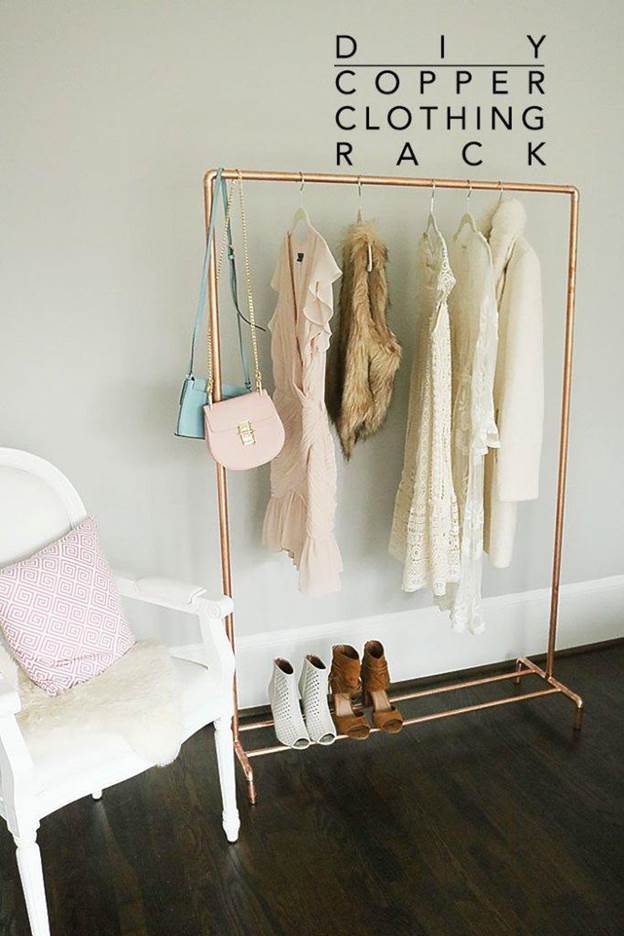 There are a lot of good reasons to use a clothing rack. It can help you save space in your home while making it easier to access clothes you do not need to wear daily. Clothes hung on a traditional bar hanger will probably get tangled and wrinkled, but if you have your DIY clothing rack, you can hang up your entire wardrobe in one go.
Tools; two 10 feet of copper pipes, 90 degrees elbow pipes, pipes caps, and E6000 glue. Check the guide to get the right dimensions for the pipes.
Clothes Rack Cheap
The DIY Clothes Rack Cheap is a piece of furniture that you can use to make your room more elegant and wonderful. These cheap clothes racks are designed in the modern style, so you can easily adjust the size to your needs. Easy to make and can find at home. These DIY clothes racks are ideal for a small space. It can be used in the closet or bathroom to hang your towels or bathrobes. You can make this cheap DIY clothes rack in a few hours.
Tools; PVC pipes, a lot of Tee socket connectors, pipes base cap, and you can get spray paint to change the default color of the PVC pipe.
Clothes Drying Rack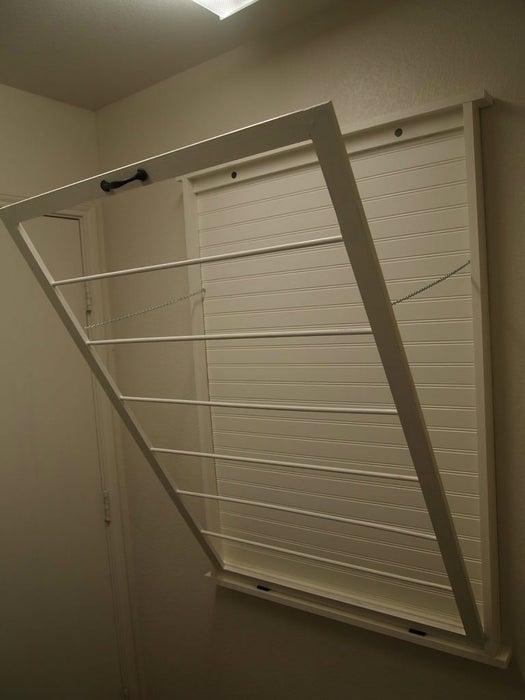 Discover the simple joy of DIYing with this Clothes Drying Rack. Designed for easy assembly, this acrylic drying rack is portable and foldable, making it easy to store when not in use. The Kinkajou has many uses: hang your lingerie, dishcloths, and hand towels; dry your sneakers or flip flops.DIY clothes drying rack is a great way to save space, add style, and save money! This hanging drying rack is easy to make and only takes about 15 minutes!
Tools;  some pine board, white beadboard, round hardwood dowel, back ceramic disc magnet, utility hinges, screws, wood glue, and satin enamel paint.
Easy PVC Clothing Rack
This Diy PVC CLOTHING rack can easily assemble with the pieces in the kit. Use it for hanging and drying your clothes. It is lightweight and sturdy, and you can make this DIY PVC Clothing Rack using an inexpensive PVC pipe. This rack is great for hanging coats, hats, and other accessories in a limited space. The caster wheels of this rack make it portable and easy to move around.
Tools; some PVC pipes, a wood board for the base, and a few swivel roller caster wheels.
Industrial Clothing Rack Plan
Take your closet to the next level with this easy-to-assemble clothing rack. This DIY Industrial Clothing Rack will appeal to any modern room, apartment, or office. This is a simple article that can complete in just a weekend. Follow the directions, and your DIY industrial clothing rack will be ready for wear! To create this project, you need wood from any lumber store. The most common types of wood are poplar, pine, or birch.
Stylish Clothes Rack With Mirror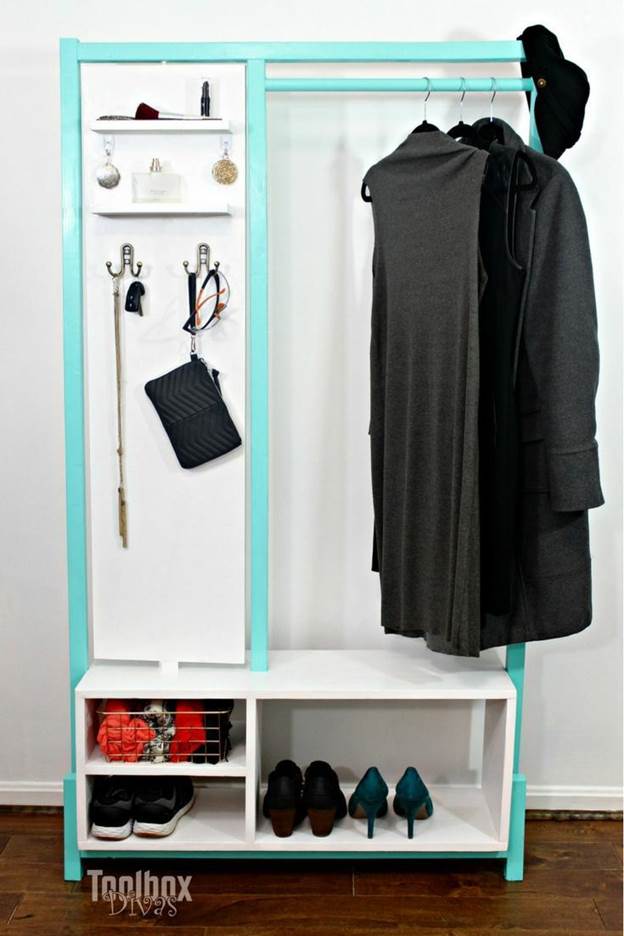 The DIY Stylish Clothes Rack With Mirror is the perfect addition to any room in your house. It can be used as a coat hanger or decorate your living space, adding an accent to create an interesting and unique look. The mirror gives a small glimpse into the room and reflects light; if placed in the right spotlight will bounce off the mirror, creating a warm glow in the room.
Tools; pocket screws, wood board, straight wood, wood dowels, and more
Conclusion
Clothes racks are not only good for decorating but also practical. With the DIY clothes rack, you can customize the size and shape of the grid as well as choose different materials for different effects. This way, you will have a unique and practical clothing rack that perfectly fits your needs. Clothes rack is the best place to store clothes and protect your clothing from dust. Also, it'll increase the air circulation inside your closet, increasing its lifespan.