Cat trees are great for your kitty to play, sleep, and scratch. And if you don't want to buy one, why not make one? There are so many DIY cat tree ideas that you can use as inspiration. DIY cat tree ideas are an excellent way to save money on buying a pre-made cat tree. You can build your DIY cat tree using simple materials you probably already have in your home. Cat trees come in many sizes and styles, so you can choose the one that best fits your space and your cats' needs. Cat trees also provide a place for cats to exercise and stretch out their claws away from furniture legs.
DIY Cat Tree Ideas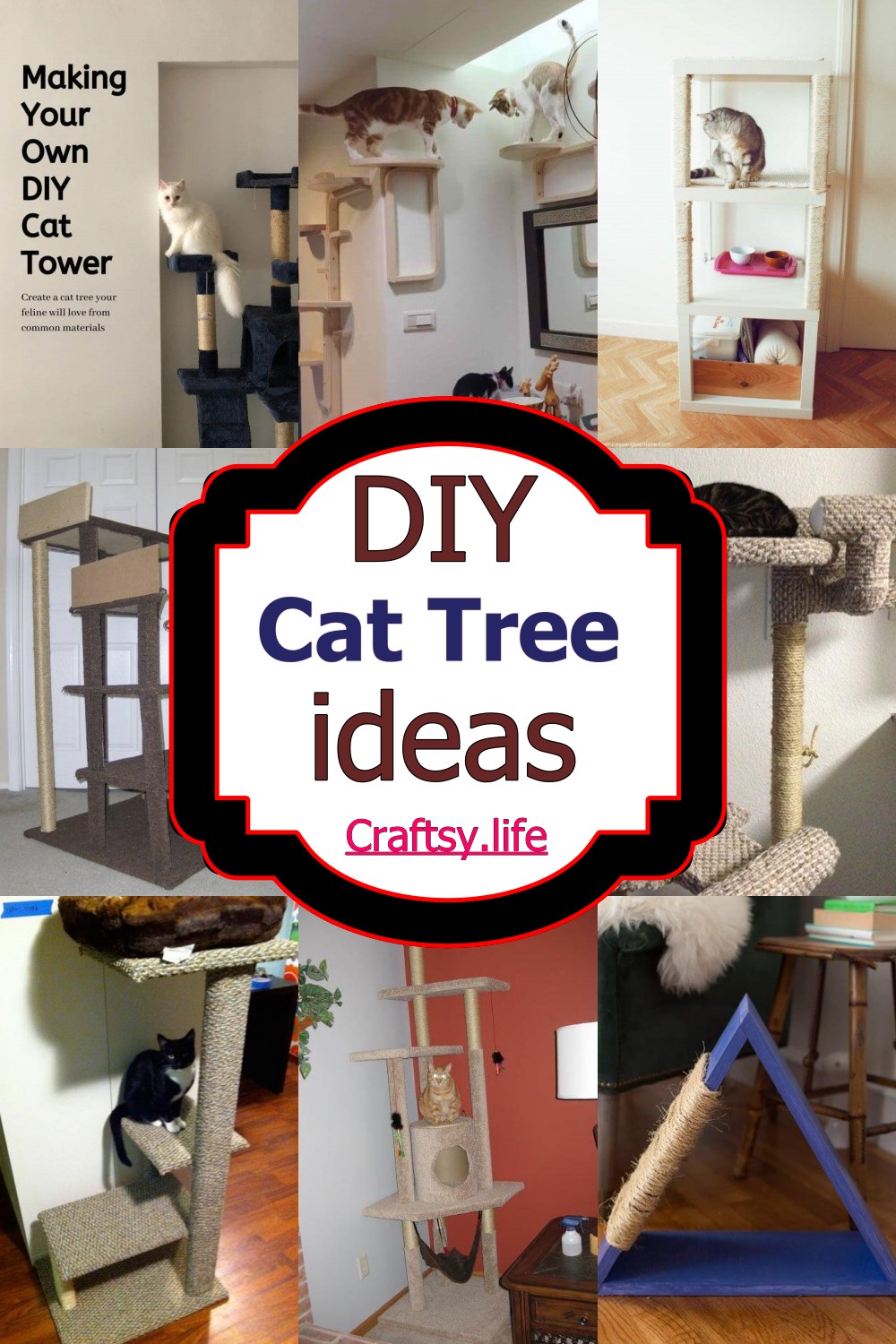 You love your cat. You want to make sure they are happy and healthy, but most of the time, you don't want to spend much money on their toys and accessories. One of the best things about cats is their impulse to climb and explore. Cat trees can help them exercise their instincts while keeping them safe and entertained. With so many options for DIY cat trees available, getting started is easy! This collection of DIY cat tree ideas will help you build an awesome cat tree for your feline friends without breaking the bank.
Here's a collection of 25 DIY cat tree ideas to help you make an awesome play place for your furry friend.
What is The Importance Of DIY Cat Tree
If you are a pet lover, you must know about the importance of a cat tree. This kind of furniture can be used to keep your cat happy and healthy. If you want to make your cat happy and healthy, buy a cat tree as soon as possible. There are many benefits of having a cat tree at home, and these benefits are mentioned below:
Health Benefits: A good quality cat tree can help your cat to stay healthy and fit. It is because when cats play with each other, they get exercise, allowing them to keep fit and healthy.
Sociability: Playing with other cats increases the sociability level of your cats. This is because they learn how to interact with other animals and people while playing together. It also develops their communication skills so they can communicate properly with others in the future.
See also:
Why should you build your cat tree?
A homemade cat tower can be an investment that will last for years. It is also a great way to save money because you can make it to fit your budget.
Here are some other reasons why it might be the right choice for you:
It's customizable: You can make it as big or small as you like and add different levels and platforms. You can even add cubby holes and hideouts for hiding toys or treats.
It's made from scratch: This means that your cat tower will be one of a kind! You designed and built the entire thing, so you won't need to try to find something similar in stores or online shops.
You get exactly what you want: From the size and shape of each piece to the color scheme and material used — this is all up to you! You can choose whatever materials are best for your home, whether they're wood, metal, or plastic pieces that are easy to clean and maintain over time without worrying about scratching them up too much with claws or teeth marks from playing with toys on top of them too much over time (which may happen).
How To Make A Cat Tree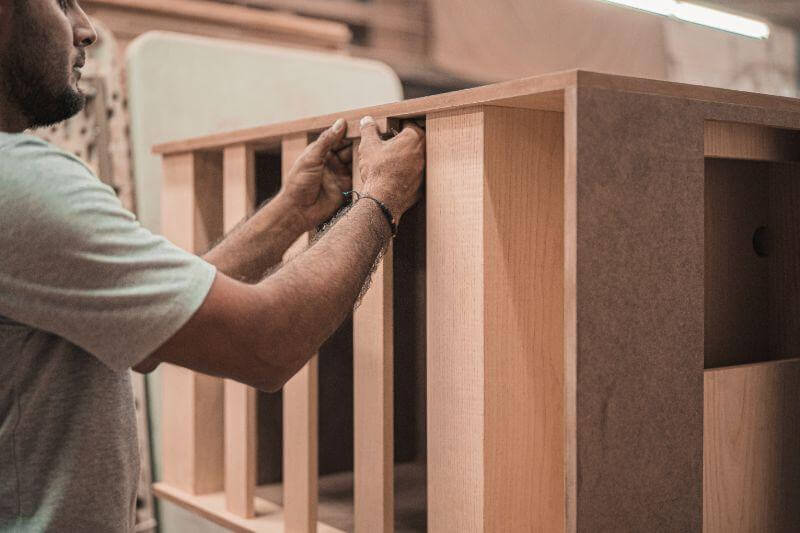 A DIY cat tree is a perfect project for the crafty and creative person. Building a cat tree yourself allows you to create custom design features while ensuring your furry friend gets the most stimulating activity they need. This cat tree provides a fun and safe place for your kitty to climb and explore. The materials required for this attractive cat tree will be sufficient for you to make two of these. This DIY project is simple enough for beginners and has been included in the plans so you can get started immediately.
How To Build A Cat Tree
Building a cat tree is a rewarding experience. By making the tree yourself, you can customize it to your cat's needs and decorate it as you like. Cats love to climb things, so the higher and more complex their perches are, the happier they'll be. Cat trees are a great way to help your cat stay active, gain confidence and give her something to do in her spare time. The video above has some tips and tricks for building your own cat tree.
Ultimate DIY Cat Tree
Build Your Cat Tree. A DIY cat tree is a great way to give your kitty the best home and make him feel like part of the family. Your kitty's happiness will bring you joy, but finding a DIY cat tree can be challenging. You need all the right supplies that'll offer comfort, safety, and durability to withstand heavy daily use by your cats for many years to come. Here, the video will walk you through each step so you can build an easy cat tree that your furry family member deserves!
Cat Tree Build DIY
If you're looking for a cat tree project that will not only keep your feline purring of happiness but that can also give your home a bit of a makeover, you've found the right product. This is a very simple and fun project for any cat lover! This step-by-step video guide will show you how to create a fun, upcycled cat tree for your furbabies. With a few household materials and a little imagination, you can make them unique cat furniture.
DIY Cat Tree Using Real Branches
If you have some trees in your backyard, do not throw away their branches that can be used to build a cat tree. Mount them in the house and use nails or screws to secure them on any post. Use two different-sized trees to create stages at every step of the branch. Make sure the posts are also of two different sizes so that your cats can easily climb them and land safely on them.
DIY Cat Tree IKEA Hack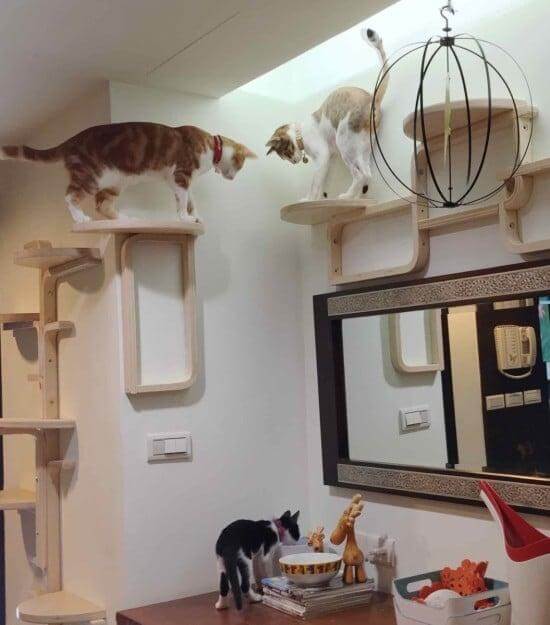 DIY Cat Tree IKEA Hack is a project that creatively transforms a set of IKEA Frosta stools into a cat tree. The Frosta stool can be easily combined with an innovative solution that enables you to attach the tree to your wall, making it possible for you to save space in your house and still provide your feline friend with the best comfortable place to play sleep. With these easy-to-follow instructions, you'll be able to create this beautiful cat tree using Frosta stools and your own creativity!
How To Make A Cat Tree From Home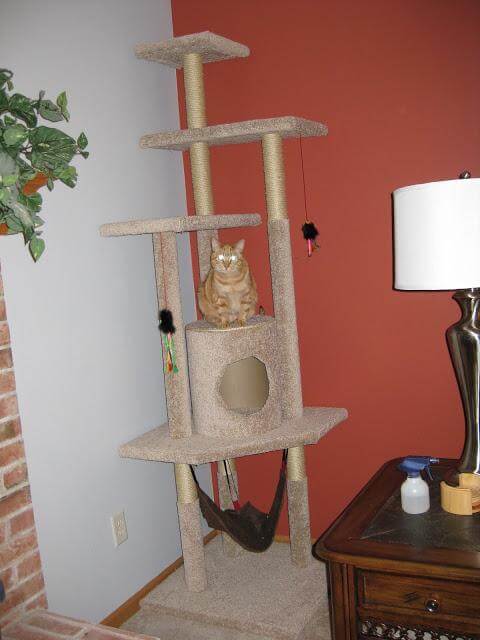 This cat tree is super easy to make and will have you feeling like a do-it-yourself pro in no time. It's durable, versatile, and will keep your kitties entertained for many years. This DIY project is good for beginners and is quick to make. You can reuse many things like PVC pipes, sisal rope, and wood boards. If you like this base design, consider making a cat tree. Here are some tips that will help you on your way to creating a nice cat tree:
Cat Tree DIY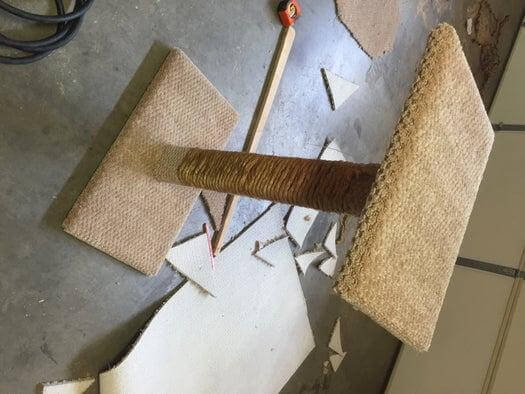 This cat tree is ideal for your feline friend to relax and play with. Made from durable wood sanded and glued, it's easy to assemble and will provide your cat with a safe place to sleep, climb or lounge around. You can easily make your own cat tree. It's pretty simple, just cut your wood to size and attach it with staples. Then you can staple the carpet to the bases and wind some rope there in a spiral effect from top to bottom.
DIY Cat Tree
Find your pet the perfect cat tree with this DIY project. It's made using long-lasting materials, and you won't have to spend a fortune. You'll need a thick plywood board, landscape posts, natural carpet and sisal rope, cup hooks, and screws. This is an easy way for you and your fur baby to enjoy their time together! This indoor cat tree is easy to make with just a few supplies so that you can get started quickly.
DIY Cat Tree With IKEA Hack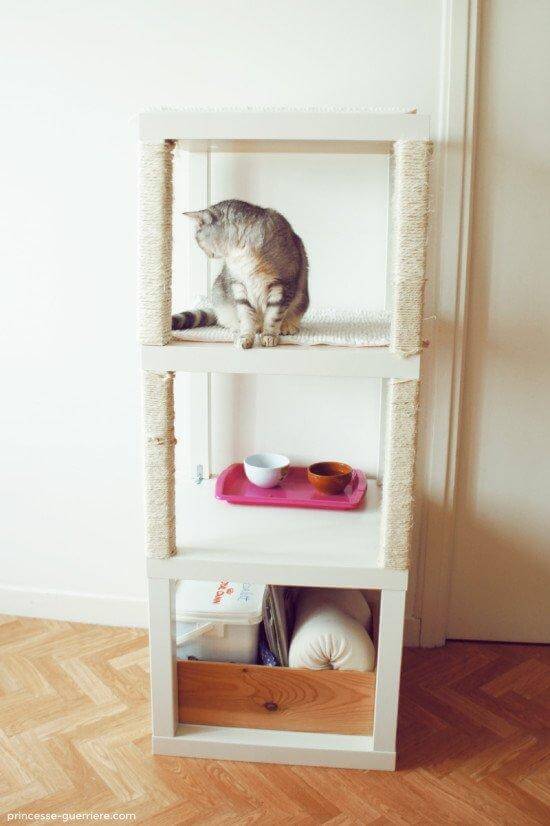 Do you want to make your cat happy but cannot afford a tree? Harness the power of Ikea hacks by turning a Lack table into a fancy cat tower. This DIY project is quick and inexpensive, using only five Lack tables and some brackets. The result is a stylish and comfortable place for your cat to relax. Make your own cat tree with just a few materials and no hacks. With a little bit of patience, you can make your kitty happy while saving money making it yourself.
DIY Cat Tree Near Desktop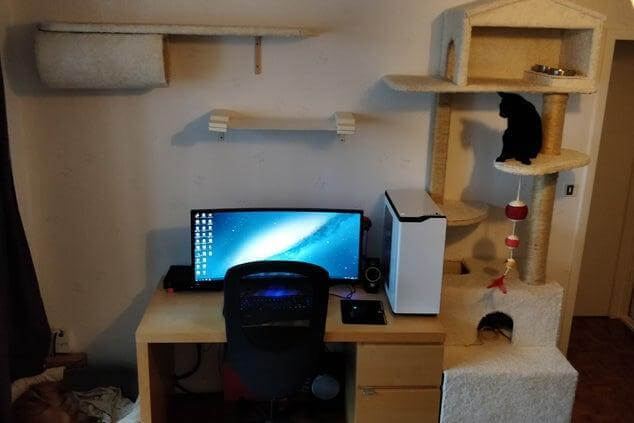 If you are looking for a DIY project that will keep you busy but is also fun, then this cat tree near-desktop might be one of the best. You can make it cheaply and adapt it to your cat's needs with different types of carpeting and toys. Cats love climbing, so why not have a few levels in one tree? This DIY Cat Tree is perfect for your cat to claw and play with. It has three compartments for cats to explore, scratch, sleep or socialize. The structure can be made by using PVC pipes and sisal rope.
DIY Cat Tower
If you're looking to give your cat a comfortable spot to rest, play and get some exercise, this DIY Cat Tower is the perfect project. This is a fun DIY project that any lover of cats would enjoy. It's really easy to build, and you can make it in a few hours using simple tools and raw materials. Follow the step-by-step instructions in this video, then use the pictures to inspire your own creation. This is the perfect size for smaller spaces – your cat will love it!
$14 Cat Tree
Cats love to climb and play. This cat tree is a great way to allow them to do both whiles also giving your home a boost in style. A tall staircase leads up to multiple platforms and resting areas, each of which can be dragged up or down for any size cat. This DIY cat tree is inexpensive, simple to make, and holds up multiple cats using it daily! This cat tree is not only a great way to build up your feline's upper body strength but also helps them sharpen their claws.
Amazing Cat Tree Build Idea DIY
It's easy to create a custom Cat Tree in your yard; you'll wonder why you hadn't done it before. This build idea is perfect for people with a big enough backyard and a sturdy tree branch. Cut off some plywood discs, attach them with lag screws to the tree's base, then add platforms and rope to ensure your kitty has plenty of space. This cat tree is a stylish and fun way to let your cats scratch, climb and play. It provides a great spot to sharpen their claws while providing an exercise area they are sure to enjoy.
How To Build A DIY Cat Tree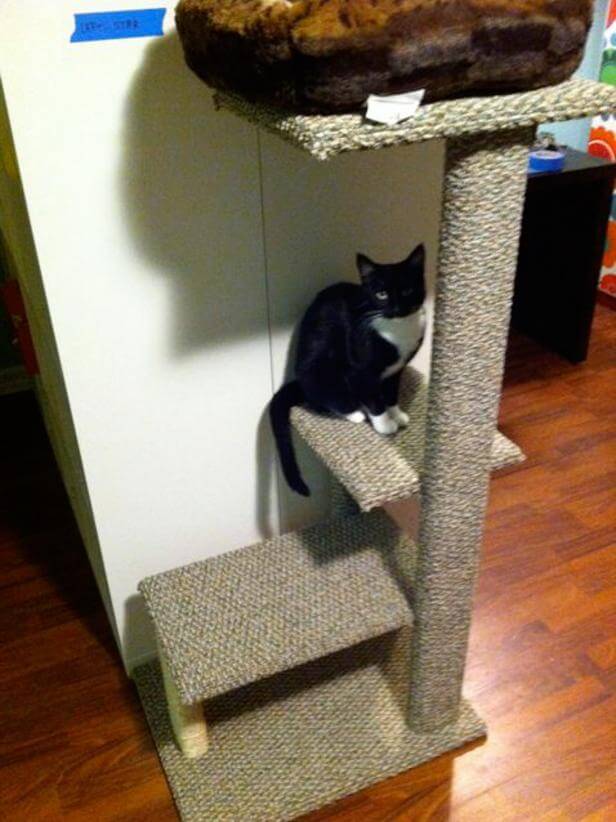 Cats love to climb, so if you want to get them off your furniture — and the windowsill — then this is a DIY project to work on. This DIY cat tree is an excellent project to make with your kids or if you're looking for a way to reuse old materials. This one uses carpet, sisal rope, and wood for the frame, but you can use any design that suits your space. It takes just a few hours, and it's easy enough that no building experience is necessary.
The Survivalist Cat Tree DIY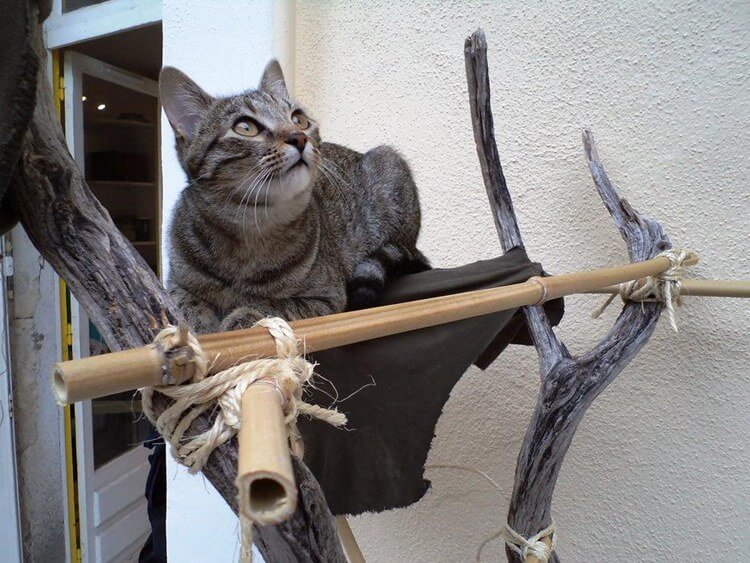 Create your cat's own adventure tree with natural branches and materials you can find around the house, like bamboo, shredded paper, or fabric. This DIY project is perfect for outdoor cats looking to climb high into the trees and make their human proud by instantly upgrading their home life. This cat tree is strong, long-lasting, and durable. You can use this outdoor cat tree indoors as a perfect outdoor cat condo for any size feline. Soft texture cushions will keep your kitty comfortable and happy for years!
DIY Cat Tree House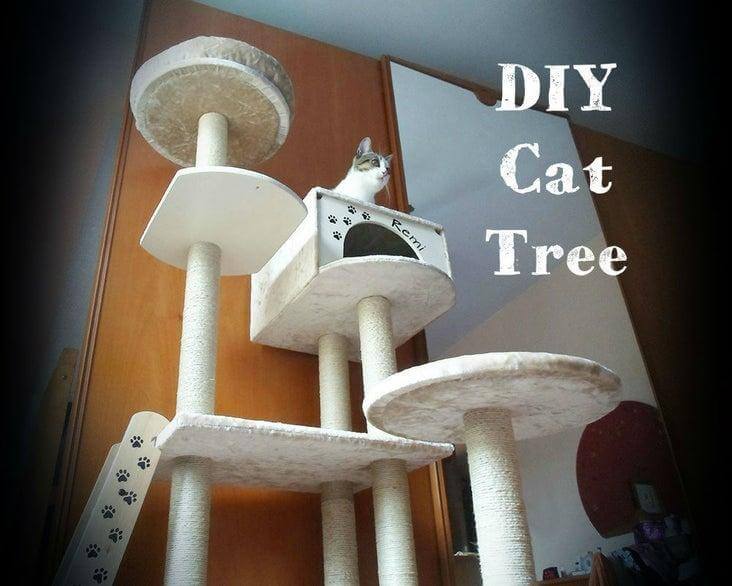 If you're looking for an easy and cost-effective way to give your kitty their very own space to lounge, play, and climb, this DIY Cat Tree House is just the project for you! This cat tree is so easy to build that anyone can do it — all you need are a few basic tools, some spare lumber, and a bunch of fun decorating ideas. The result is a stylish piece of furniture that both you AND your pets will love.
How To Make The Ultimate Cat Tree
If you've struggled to keep your Cat off your furniture and out of the houseplants, then the Cat's tree may be just what you need. With its unique cat tree design, this hanging sculpture uses gravity to provide a comfortable place for your feline friend to relax. With this floating cat tree, your cats will be free to play and rest as they please. It contains a post by a corner that can be carpeted, and the floating base on the wall is also made of high-quality sisal rope for scratching. This modern design comes in various colors to match your home decor.
See also: 18 DIY Cat Shelves To Build For Your Furry Friend
DIY Cat Castle
Build your own cat castle with this fun woodworking project. You'll use glass jars as legs and rafter squares to hold the pieces up, then carpet the base and top of your project for an amazing post for your furry friend. Make sure you have everything you need before starting this diy project! This DIY cat tree is a fun project for you and your pet. This modern cat tree will look great in your home and provides hours of fun for your favorite feline friend.
DIY Cat Tree Out Of Wooden Crates
This cat tree will give your cats a place to play and scratch. It is made from only vintage wooden crates, a flat board, and rope available at your local thrift store or online. With this Cat Tower DIY Project, you and your pet can have a fun time creating the perfect space for them to play and rest! This project is easy for beginners, and your cat will love it. You need wooden crates and a few other supplies to start making your cat tree.
DIY Cat Tree Build
This DIY cat tree is a great project for any cat lover. It's easy to make and will help your kitty sharpen his claws and enjoy quality alone time! Cat owners can create their own personalized cat furniture that suits the home's dimensions and makes the space fun for their furry friend. This is a big wooden triangular cat tree built quite high. The top platform is made from thin foam and fabric to make it soft and comfortable for the cat, and the rope is run along some sides of the wood to serve as a scratching post. The video shows you the complete procedure.
How To A DIY Cat Tree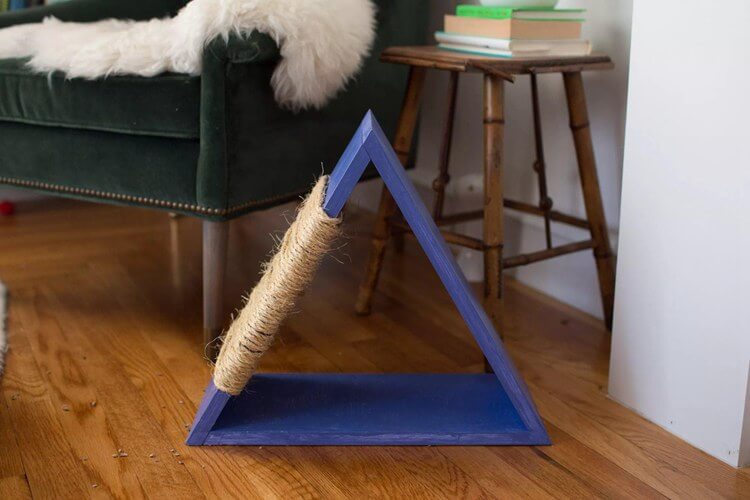 A DIY cat tree is a great way to provide your furry friend with a place to get some exercise, play, and rest. It can be made in any shape or size and can easily be upgraded to include different levels, jumps, or other features. A DIY cat tree will help keep your pet healthy while creating a fun space for them to use whenever they like! This cat tree is easy to assemble and can be customized to your cats' preferences. The finished product is sturdy, with plenty of places where your kitty can climb and play, but it can easily be disassembled so you can move it around the house or store it away.
DIY Multi-Level Cat Tree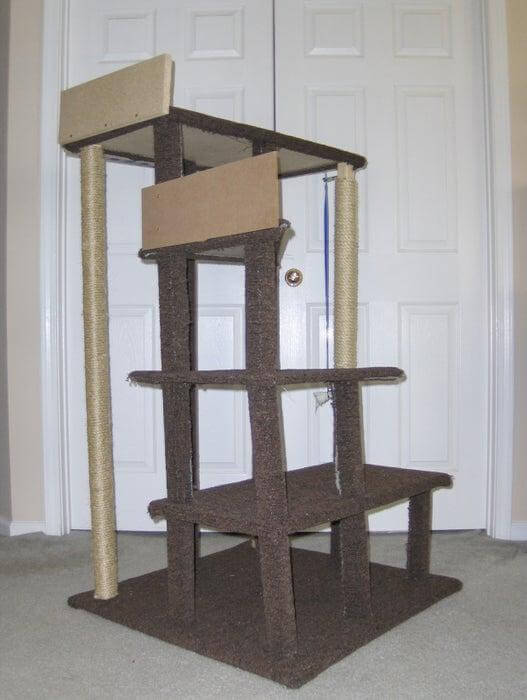 Let your cat climb to its heart's content. This multi-level DIY Cat Tree is a great project for even the most novice DIYer! So, Make your own cat tower that is more personalized than store-bought. This DIY cat tree has everything you need to create your own tower. All you need to bring is a utility knife and some carpet boards. The detailed instructions will guide you through the process from start to finish, allowing you to create a one-of-a-kind cat tower for your furry friend!
DIY Star Trek Cat Tree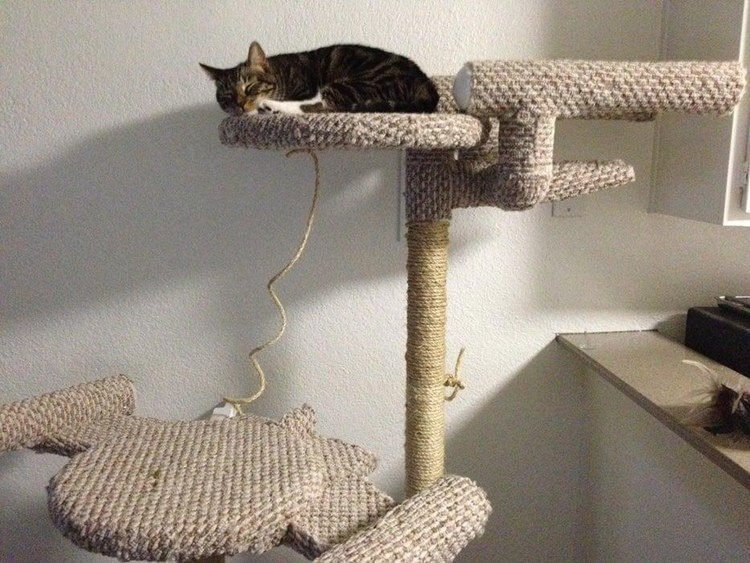 This Star Trek cat tree is a great addition to your home. It comes with everything you need for easy assembly and a fun way for your cat to relax and play. This DIY project will take around 4 hours to complete, but the result makes it worth every second! This cat tree is the perfect addition to your living room, waiting room, or anywhere else in the home where you want to provide your cat with something entertaining and comfortable. It's not just for cats, either. Your dogs will love this high-quality toy as well.