If your cat is an indoor pet, you will need to choose a litter box for him to do his business in the house. The cat litter box is one of your cat's favorite places. It is a must-have for any home that has a feline friend. Not only are they convenient and easy to use, but they are also necessary for keeping the house clean and healthy for cats everywhere. If you don't want to spend the money on built-in solutions, you should consider making your own DIY cat litter box! These DIY cats litter boxes are the perfect solution for small houses or apartments, and if you are living in the city, you don't want the cat hanging out in public but still want him close by. These DIY Cat Litter Box Plans are a great way to keep your home clean and your cats happy.
DIY Cat Litter Box Plans
If you're tired of cleaning up after your cat during bathroom breaks, it's time to build an elegant litter box that keeps your house smelling fresh. This set of plans has been designed to be built easily with common materials around the house. We'll show you how in just four easy steps! One of these simple-to-build litter boxes ensures your cat has a nice place to use the bathroom. These DIY Cat Litter Box plans are built easily with common materials around the house.
Cat Litter Box Bench
Keep your kitty out of the bathroom with this DIY Cat Litter Box that Doubles as a Bench. Never look for a suitable place to put the cat box again. The lovely cat litter box will help keep your home neat and decorate it simultaneously! Your cat will be glad you made this DIY litter box. It's designed to eliminate odor from the litter and keep it inside the box. Since it uses a bench top to contain the litter, you don't have to worry about your pet stepping in it and tracking it all over the house. The litter box hiding bench is a great way to hide a cat litter box attractively and stylishly. It's perfect for disguising your litter box or storing it when not used. This litter box bench looks just like a bench and can fit anywhere as it's only 12″ deep and 14″ wide.
Hidden Litter Box
Hidden Litter Box with De-Littering Cat Walk is a high-quality cat product with all the features you will ever need while it offers a stylish look, pleasing your feline friend and yourself. With its automatic sensor to detect the cat's weight, it automatically opens and closes the door when your pet enters or leaves the litter box, which minimizes odors and litter scatter. The cat box accommodates cats of all sizes and features a rubber tray for easy cleaning. The perfect way to hide your cat's litter box with a de-littering catwalk.
Dog Proof Cat Litter Box
Keeping your cats out of the litter box is no fun, and keeping your house clean can be a struggle. Before resigning to a messy house and more work than you can handle, check out our Dog Proof Cat Litter Box. It has a built-in flap that closes over the entrance when your dog is roaming around the house so that he can't go inside and tear it up.
The Dog Proof Cat Litter Box is designed to give your pet the privacy they need while preventing any messes that may occur by dogs or cats scratching and kicking around a regular litter box. The Dog Proof Cat Litter Box is a unique, high-quality litter box that will keep your home clean and reduce the spread of germs while shutting out those pesky pests such as cats, dogs, and other pests. At the same time, it allows you and your cat to enjoy fresh air without being bothered by prying noses.
Odorless Cat Litter Box
Odorless Cat Litter Box DIY is a must-have for your furry friend. This DIY home recipe makes for an odorless litter box and doesn't leave any mess to clean up. The best part about using a homemade odorless litter box is that you can make it in any size, shape, or color. But, the most important thing is that the cat can feel comfortable and safe while doing his business. Create your own odorless cat litter box and save money without sacrificing quality or performance. Let's face it, and your cats don't care about how fancy their bathroom is as long as it works for them. You can do this project in an hour or less with three simple items: a clear plastic storage container, cat litter, and a scoop.
Mess-less Cat Litter Box
The last litter box project inspires this Mess-less Cat Litter Box DIY. The original idea is to create space for your cat to scratch and relieve itself of waste. The two resources are plastic bins and corrugated cardboard boxes. The boxes are good for hiding the waste, and the plastic bins work well as the 'cat house.'Cats are notoriously picky about their litter box, which can be frustrating if you try to find a simple solution to a stinky problem. Fortunately, plenty of cat litter boxes make the process easy on you and your feline friends, including automatic self-cleaning and top entry designs. Just because they don't like the traditional style doesn't mean their needs should go unmet, so we've put together a list of the best cat litter boxes you can buy or make at home.
Feline Pine Self –cleaning Litter Box
Building a Feline Pine Self–cleaning Litter Box is a great DIY project, and it is easy to do. To start this project, gather all your materials. You'll need a small bucket or large soda bottle, ½ bag of Feline Pine Original Formula Cat Litter, a drill and some screw bits, one package of P-clips (similar to the picture below), and two pieces of plywood that measure approximately 6" x2" x6".You may not realize it, but you have the power to save your kitty's life by switching to a self-cleaning litter box. The Feline Pine Self –cleaning Litter Box will make this transition easy and provide years of cost savings over regular litter. That's because Feline Pine is completely compostable, unlike clay and other traditional litter formulas that break down into small pieces. Whether you live in a studio apartment or a spacious family home, there's something for every cat owner.
Pine Pellets Cat Litter Box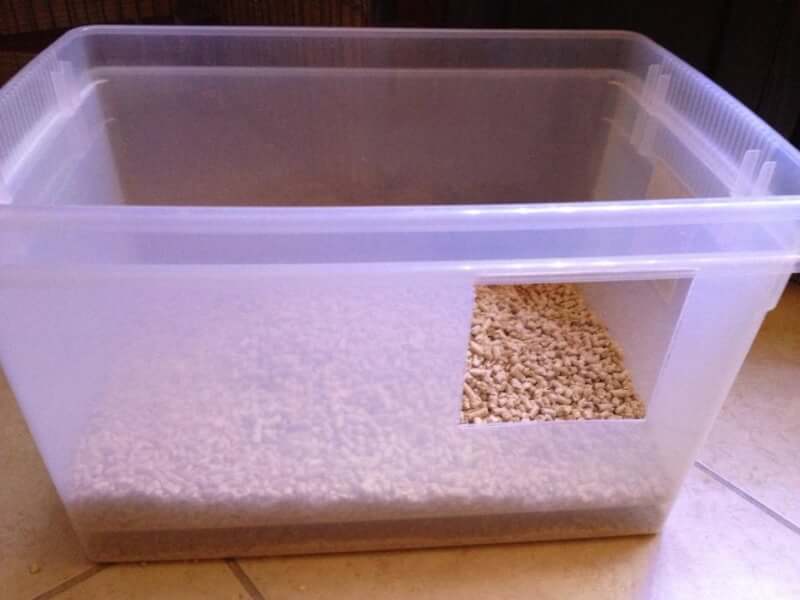 Ever wonder what to do with the cat litter you scoop out of the litter box? It could be used as a filler for mattresses, potpourri, or bird feeders, but one woman has turned her cat's poop into pine gas pellets. The green-minded woman who runs Cottage Crafty Ideas has found a more practical use for the waste by converting it into small reusable pine pellets for the home, garden, and fireplaces. This litter box is easy to set up and clean, which is good because you'll be doing both of these multiple times per week! The pine pellets are biodegradable and affordable, and the best part of this DIY cat litter box is that it's made from something you will use around the house.
Giant Cat Litter Box
The Giant Cat Litter Box is a great litter box for large cats and kittens. It features a removable grate that is large enough to catch the cat's mess and small enough to be easily removed with a scoop of litter. The top grate includes an opening where you can remove the clumps from your cat's litter box. This stylish cat litter box was made using a giant coffee can! The tray underneath makes separating the clumps from the clean litter a breeze.
Disposable Cat Litter Box
If you love cats and are interested in DIY projects, you have come to the right place. Look at this wonderful DIY project on how one of the most useful items for your cats is made from common household items and can be used instead of a cat tray. You can use this disposable litter box to easily take care of your cat's waste without risking getting dirty or damaging the floor or furniture. It features a fine texture that will absorb liquids and is easy to dispose of when it becomes full. You can save a lot of money by making your cat litter box. This video shows you how, complete with photos and step-by-step instructions
IOT Cat Litter Box
The IoT Cat Litter Box DIY is the best way to help your cat learn to use their cat litter box. The built-in camera can be connected to your home WiFi network and will alert you by email or text when the cat has used their litter box. This is a great item for everyday use and a good purchase for someone who travels often or has a busy life outside their home. This cat litter box is a great way to hide the messy task of cleaning out your cat's litter box and make it fun for your feline friend. This solution will eliminate the hassle of changing out messy bags at regular intervals because you won't have to deal with replacing anything! The IoT Cat Litter Box DIY can be customized with different designs, colors, and accessories to fit any decor.
Green Pee Cat Litter Box System
This cat litter box system prevents your cat from peeing outside the box. It helps you solve the problem of cat urine on carpets, furniture, and walls. It's biodegradable and safe for people, pets, and the environment! The Green Pee Cat Litter Box System allows you to train your cats to use and bury their waste in one box, indoors or outdoors. It will be a blessing if you're training your feline friend and will serve great for developing excellent habits among her.
Homemade Litter Box

You can make your litter box, which you call the DIY litter box. It is a simple version but effective and practical in-home sanitation and environmental protection. This easy, homemade litter box solution makes life for you and your pet much more pleasant. The cardboard box is lined with a towel, and your pet's bathroom habits are kept in check by using their scent as a natural deterrent to eliminate odor.
"Hide-in-plain-sight" Cat Litter box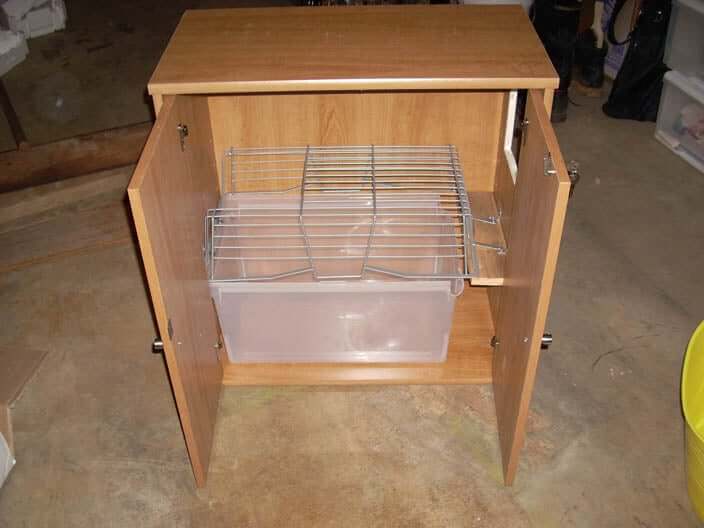 Make your litter box vanish! It's the most practical and stylish cat litter box ever. This DIY litter box hides in plain sight by attaching directly to a wall or cabinet. A great solution for cat owners in small spaces! It's big enough to accommodate most cats yet lean enough to blend in with your home's decor. This simple project can be completed in less than an hour and requires minimal supplies.  With this simple design, your cat will have a litter box that blends in with your home décor. For that, You Require the following materials.
Tools: a container to act as a litter tray, a wire storage drawer, l brackets, cabinet plywood, saw, and screws.
Air Filter DIY From An Air purifier
This filter is perfect for your cat litter box air filter; use an air purifier filter to "filter" out the smell from your litter box. The cat litter box air filter DIY is easy to make, and you can use the air purifier with a HEPA filter at home. This sleek cat litter box air filter DIY is perfect for any space and can be mounted on the wall or ceiling, depending on where you want your kitty to do their business.
Tools; squirrel-cage fan, air filter wire cutter, and duct tape.
Simple Litter Box Odor Filter
Simple, effective, and affordable. If you want to clean up your cat's litter box smell, this DIY odor filter is just what you need. Using common household items and tools, we made an effective ceramic clay cat litter odor filter that was less than $5 in cost and simple to apply. It attaches to the existing lid and pulls double duty as an attractive piece of furniture daily and a deodorizer by night. Your kitty won't even know they're breathing in fresh air while doing their thing!
DIY Litter Box Sensor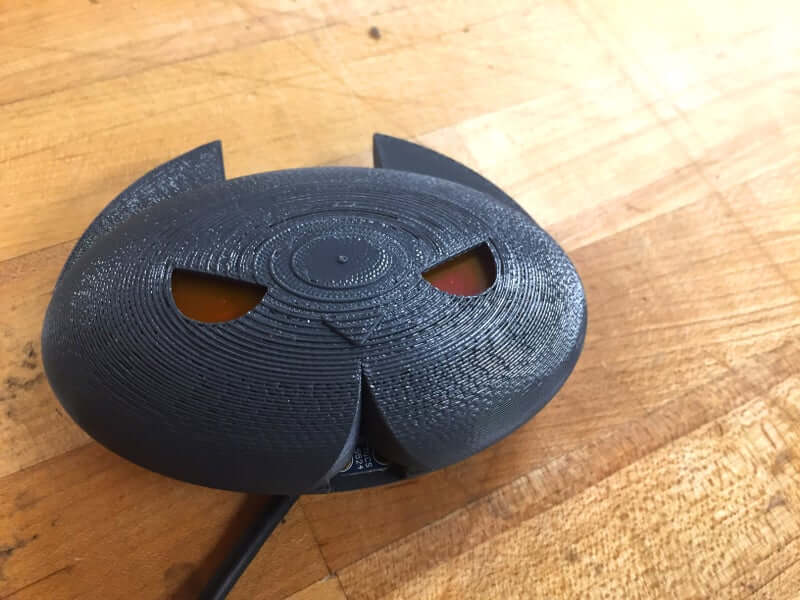 Stop worrying about your cat's litter box situation with this DIY Smart Litter Box Sensor. It senses how much cat waste is in the box and sends an alert to your phone or smart device when it gets full. A smart cat litter box is indispensable to modern pet care and your furry family's lifestyle. With a smart sensor to monitor your pet's behavior and promote healthy living, this device helps you understand how they use the bathroom so you can keep them happy and healthy.
Tools; wire strippers, laser cutter, resistors, ESP8266-microcontroller, Micro USB cable, and wire in assorted colors.
Outdoor Cat Litter Box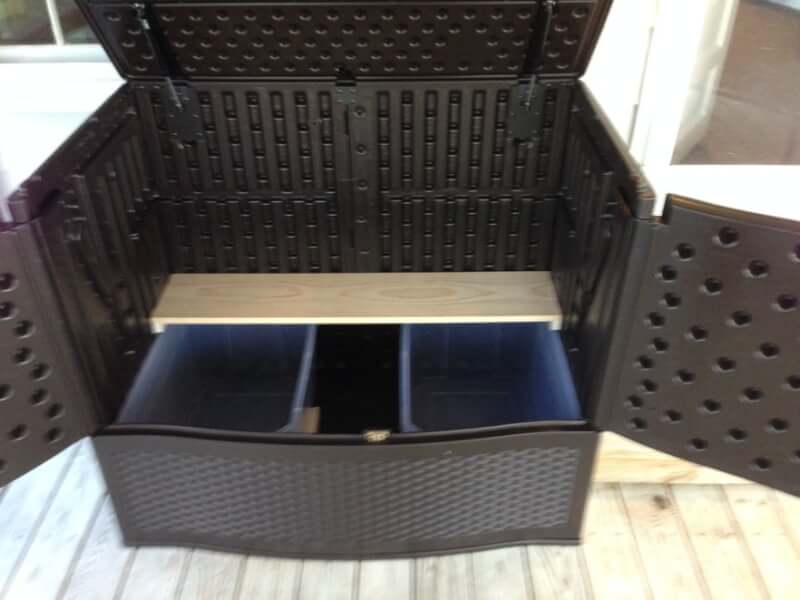 This is a simple version of a cat litter box DIY. Outdoor cat litter boxes are more convenient than indoor ones and can be cleaned easily without disturbing your cat. Save money and make your cat's litter box experience a little more enjoyable with an outdoor cat litter box. We supply you with everything you need to make your own DIY outdoor cat litter box. This is a great way to maintain the litter box outside, especially for those who want a pet but don't want to clean a box in the house.
Tools; a Sun cast box, litter bins, and saw.
Foldable and Disposable Cat Litter Box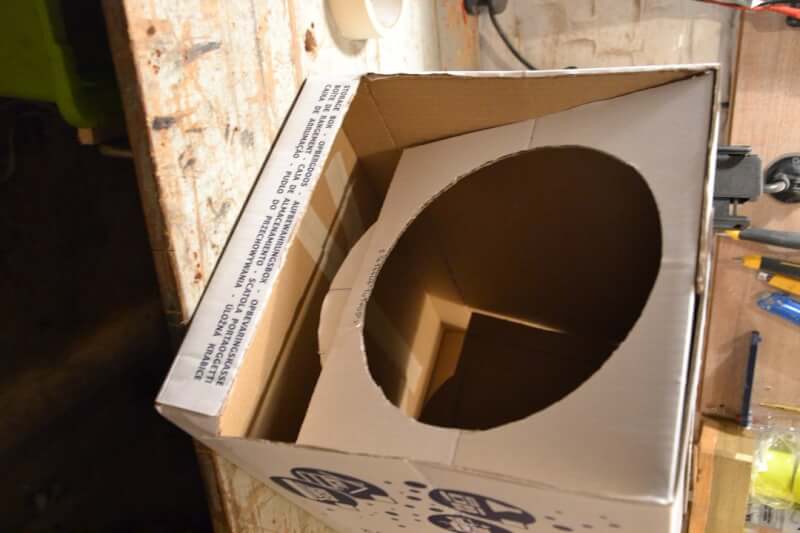 This cat litter box gives your cat the privacy it needs while you are on the go. All you need to do is roll up and tie the knot, and you can easily fit the litter box in your luggage or purse. It is easy for cats to scoop their waste into the waste box. The cat litter box tray also makes a handy carrying case so you can easily transport your cat's litter box wherever you go. The top of the folding litter box has holes to allow excess litter to fall out when your cat jumps in and out of it, keeping the bin cleaner longer.
Tools; a cardboard box, super glue, cutter, and measuring tape.
Custom Cat Litter Box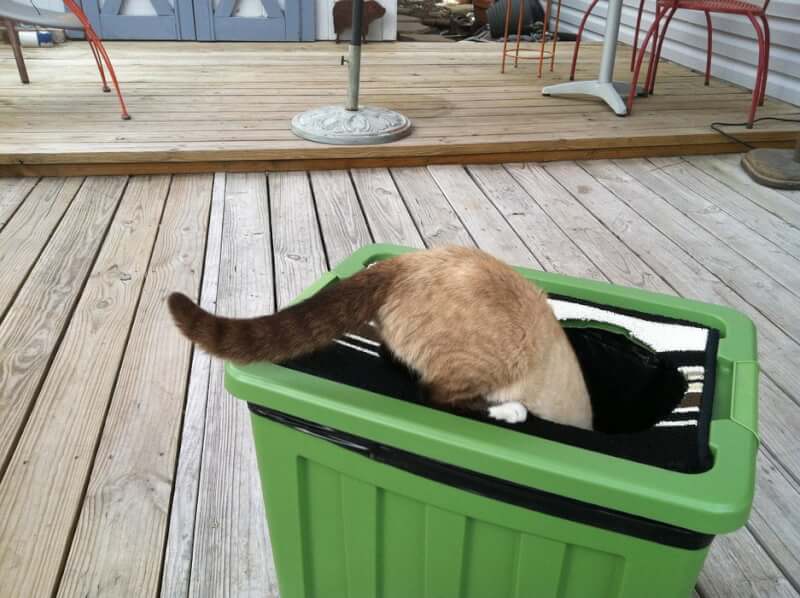 This is an amazing DIY project that can be made at home. If you are looking for a gift idea, make this cat litter box a gift for your loved one, but it is not as easy as other projects. For example, not just anyone can create such an awesome project without spending hundreds of dollars and much time. Therefore, if you are looking forward to making a perfect DIY cat litter box, continue reading the article. This article is about building an easy and inexpensive DIY cat litter box with a cardboard box component.
Tools; plastic storage tote, indoor carpet, cutter, liner, and cat litter.
Cat Litter Sifter Box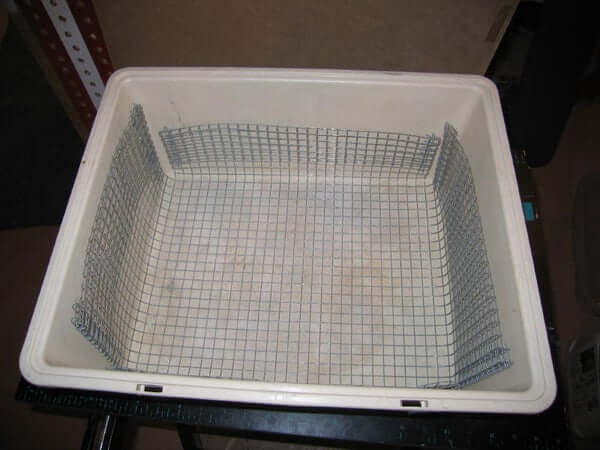 Create your own Cat Litter Sifter Box using a few simple household items. The Cat Litter Sifter Box DIY was invented by an innovative pet owner who wanted to make waste management convenient for her cat. The clever design allows you to sift the contents of your litter box through a wire mesh, eliminating the need for you to handle your cat's waste. You don't need any experience; it only takes around half an hour to put everything together.
Tools; litter box, mesh, tape measure, tin snips, and yardstick.
Cat Litter Box Cleaning Indicator
This cat litter box cleaning indicator tells you when to clean the litter box for your cat. Some cats are using this product, and it seems useful. Cat Litter Box Cleaning Indicator DIY is a simple and convenient way to determine when your litter box needs cleaning. The indicator will tell you when your cat's litter box needs cleaning by turning green to red. The easy clean-up area on the front of the indicator changes color from green to red.
Tools; Arduino kit, RGB LED.
Cat Litter Box Dust Reducer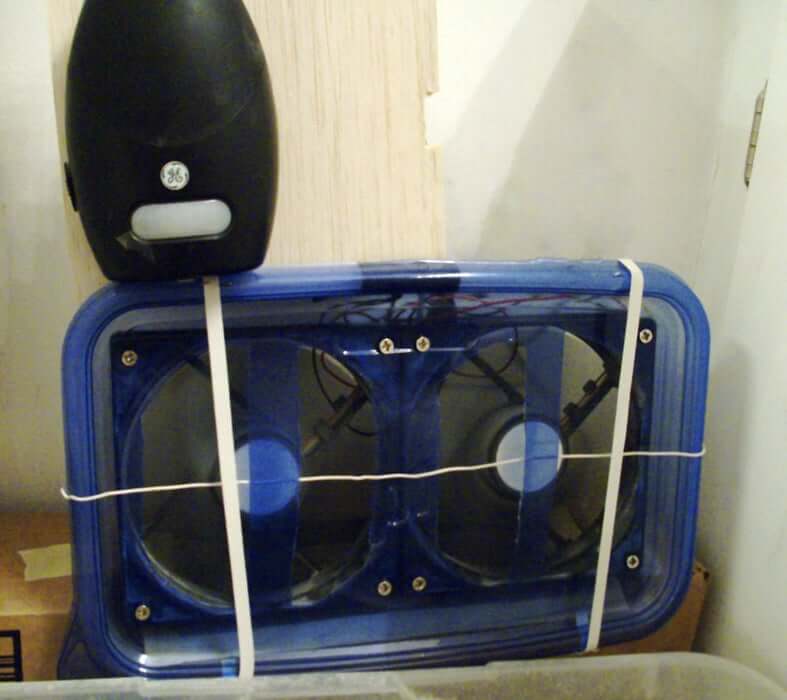 Cat Litter Box Dust Reducer DIY will save money and help keep your home clean! The cat litter box dust reducer works well with a lightweight, durable and washable silicone. It will help minimize the spread of germs and bacteria in your household by reducing dust levels in the air from your cat's litter box. It is easy to use; place the mat underneath your cat's litter box. This litter box dust reducer range is designed to help reduce the amount of dust created when cleaning your cat's litter box. This product comes in various colors and patterns for you to choose from; there is sure to be one that matches your style!
Tools; fans, motion sensors, and a container for your fans.
 Cat litter Box With Vent Fan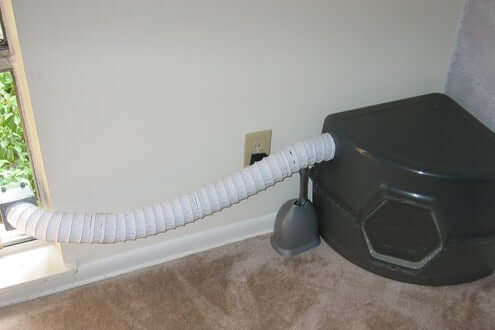 Make your life easier by building this DIY Cat litter Box with Vent Fan. It will keep your apartment fresh and pet odor-free! A safe and odor-free litter box is a great way to keep your cat happy, but you must ensure that it's appropriately ventilated. This DIY cat litter box (with full fan ventilation) provides airflow from the lower front and back of the box and up through the walls of the litter box cabinet. It provides more than enough airflow for your cat!
Tools; pc fan, plastic hose, litter box, glue, and screws.
Cat Litter Box With Scatter Stopper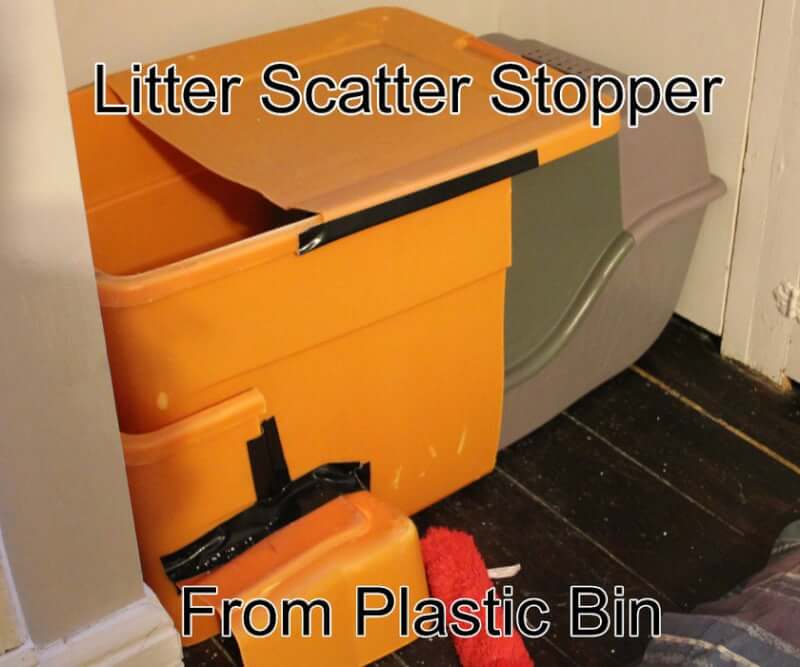 The Cat Litter Box with Litter Scatter Stopper is an easy-to-clean litter box that prevents the litter from being scattered outside of the box; along with a convenient, non-stick cat pan that catches all of your furry friend's messes. It's even easier with the Litter Scatter Stopper. You can save money on long-lasting cat litter, too! Simple and easy to construct, this litter box does a great project for the whole family. This litter box features a sliding door and top opening with a manual slide-out tray; allowing you to scoop the cat litter box while keeping your paws free from dirty work. The big backside allows you to hide away all the litter, so it doesn't look messy.
Tools; a cat box, plastic bin wide as your cat box, and duct tape.
Conclusion
The project is easy to build, and the best part is it's portable, making it perfect for traveling with your cat. It also looks great in any home decor and can construct cheaply. These homemade cat litter boxes are great for those who want to save money; then use the basic things they may already have around the house when adopting a cat or kittens. The DIY cat litter box can be simple and easy, allowing pet owners to handle their pet's needs easily.