You, your furry friends, and a cozy hammock are the Holy Trinity. Please make your own with our fun tutorials, then watch the magic unfold. Cats are great at finding comfortable places to sleep. But sometimes, their owners could use a break from the daily cat hair tumbleweeds that tend to pile up in beds, on sofas, and wherever else your cat likes to nap. Take care of that problem with these DIY cat hammocks. Make your pet happy with a comfortable cat hammock. This cozy cotton fabric, a large and comfortable hammock, is suitable for any size of cats and small animals. Moreover, it can be easily attached to furniture and beds, making it the perfect place to snuggle up.
DIY Cat Hammocks
With comfort in mind, these 25 DIY cat hammocks are perfect for your feline companion. You can choose to hang them from ceilings or walls or make a bed by attaching the hammock to a piece of furniture. These projects only require basic materials and tools, which you probably already have. Stop your cat from destroying your furniture or curtains, and make them a comfy cat hammock instead. You won't believe how many fun designs are waiting for you to try.
You Can see:
Advantages Of DIY Cat Hammocks
Cat hammocks are a great option for your pet cat. They are comfortable and safe and look cool. Many online stores sell cat hammocks, but you can make one at home if you have the time and resources.
Here are some of the advantages of DIY cat hammocks:
They are cheaper than those sold in stores
They will save you time because they don't require any special skills or tools to make them
3) You can choose your fabrics and colors when making them yourself
How To Make A Wooden Cat Hammock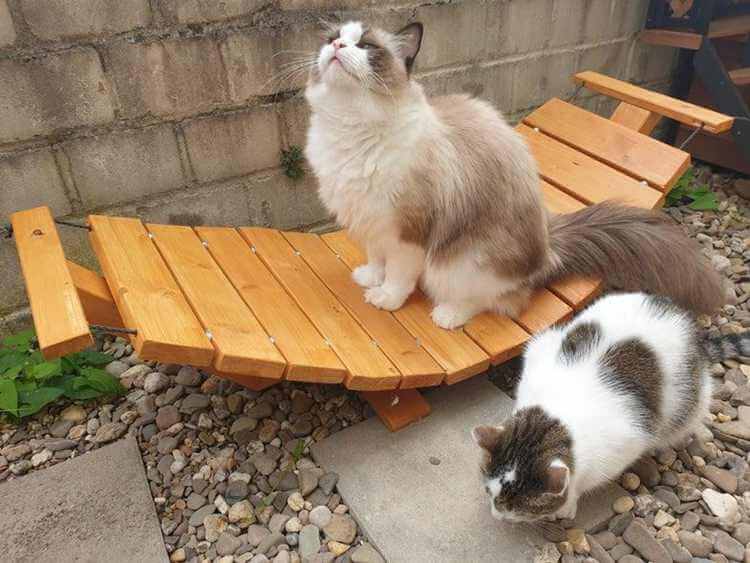 This is a DIY wooden cat hammock that you can make yourself. With the instructions below, you can create a comfortable place for your cat to rest, play or sleep. To make this hammock, you will need wooden bars, rope, washers, and glue. You can also add other finishing touches, such as painting it in your cat's favorite color or adding colorful fabric or carpeting. This project will explain how to make a wooden cat hammock from scratch, complete with easy steps and detailed pictures.
How To Make A Cat Bed Hammock
" Cats love to sleep in and on things, so why not create a little spot where they can spend their days with you and also keep them safe? With just a few pieces of wood and a miter saw, this Cat Hammock is a fun and easy project that will get you both ready for nap time." If you're looking to spice up your cat's life, this tutorial will teach you how to make a bed hammock. Create an enjoyable sleeping area for your cat with just a few simple tools and materials.
DIY Cat Hammock
This DIY cat hammock is a great way to keep your feline friend happy and warm. The hammock is made from wood, and the stand is built out of a box with braces, which you'll secure with a screwdriver. It's suspended over a heat radiator, so you must make sure your cat stays in good health before using this as an option. In this project, you'll learn how to make a sturdy, cat-sized hammock that can be suspended over a heat radiator. It's made from wood and fabric, and the project takes only an hour or two.
DIY Hammock For Cats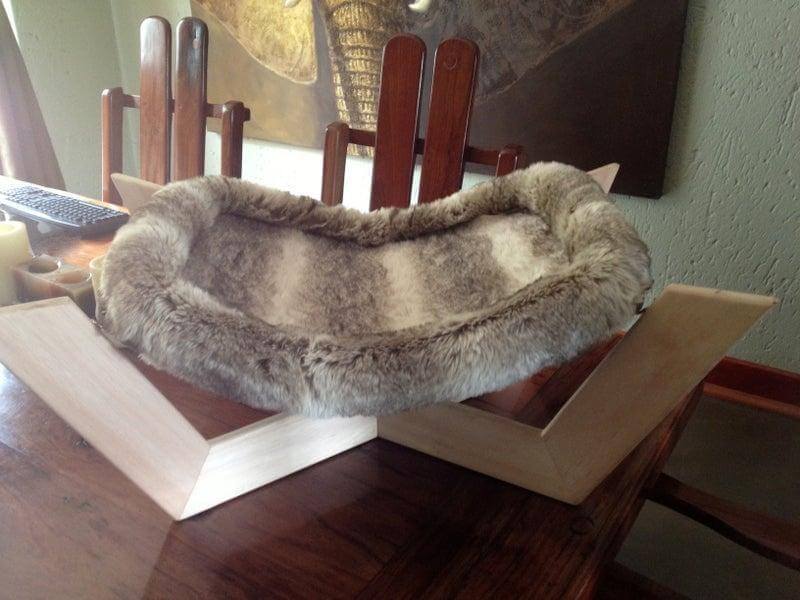 Who doesn't love a hammock for cats? This tutorial will show you how to make a super-cute DIY hammock perfect for any little kitty who likes to lounge in the sun. This DIY cat hammock is a soft and cozy place for your cat to relax. The design is easily modified, should you wish to make it larger or smaller. It can also be made into a dog bed; make sure to use a suitable fabric for your pet's hair or fur.
How To Make A Cat Hammock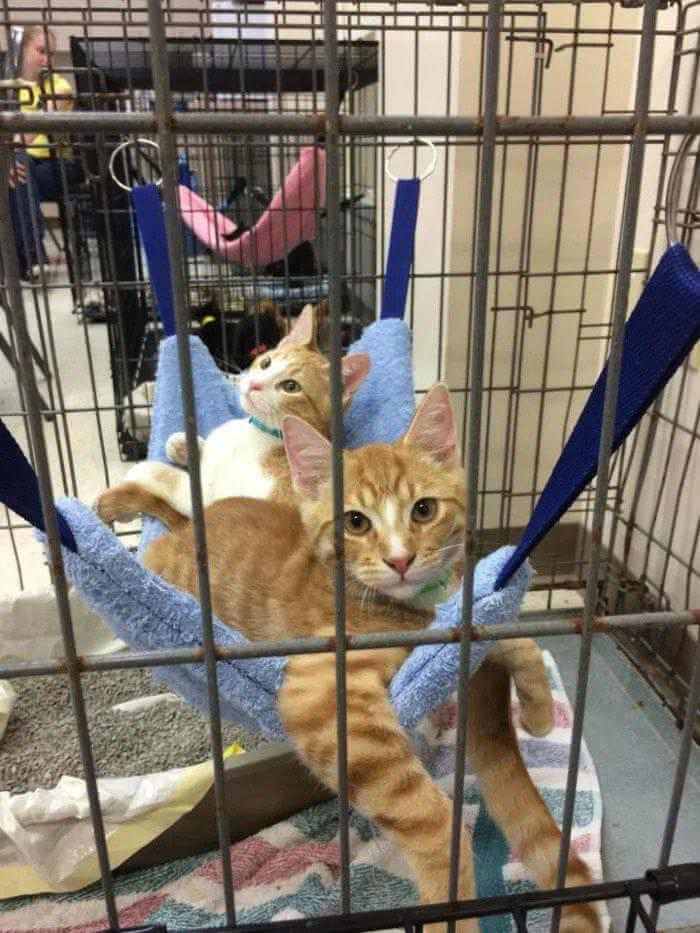 Making a cat hammock is not just a fun activity for the feline friend in your life but also an ideal way to repurpose extra materials around your house. Making a cat hammock is easy to give your cat a fun, comfortable place to rest. If you are sewing a cat bed that is too large for your sewing machine, use the same techniques to finish the edges by hand. This guide will show you how to make a cat hammock using polypro webbing and other basic sewing supplies.
DIY Cat Hammock From Cardboard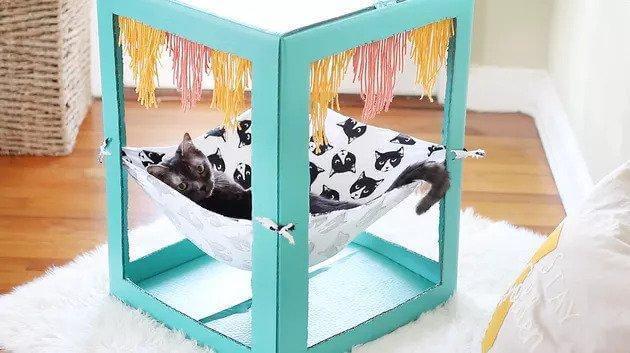 Your kitty will love this cat hammock! This DIY cat hammock is easy to make and can be personalized to meet your kitty's needs. With just a few simple tools and supplies, you can create a fun hang-out place that's colorful and comfortable. Adding bells, toys, or even a scratch pad makes the design possibilities endless! This simple project is a great way to upcycle cardboard and use all those fabric scraps in your craft stash.
DIY No-Sew Cat Hammock
This DIY cat hammock is quick and easy to make and requires only a few materials. It is made as a PVC table that can be used in any room of your home, and it has simple, straight shapes that are visually appealing. You could also use fabrics other than the ones shown here to give some visual interest! This hammock is so easy to make and only takes about 15 minutes. You can make it for indoor or outdoor use, depending on where you would like your cat to lounge.
DIY Cat Hammock Build
This DIY cat hammock is ideal for the outdoor cat or someone who wants to make their cat feel comfortable. With the right tools, materials, and patience, you can build your own custom-made hammock that will match your home'shome's decor and your cat's style. The fantastic DIY Cat Hammock is a fun project to do with your cat. It'sIt's also great for some time spent together as a family, building something useful and fun.
DIY Macrame Cat Hammock
This DIY Cat Hammock is a great way to give your feline friend a place to have fun and relax. The hammock can be customized, making it perfect for your cat's needs. The macrame cat hammock is easy to make, durable and fun for your kitty to hang out on. This hammock is the perfect size for your kitty to lounge in, but it's small enough that it won't get caught between the cords.
DIY Cat Hammock From Bath Towel
This DIY cat hammock from a bath towel is the perfect way to embrace your inner hygge. It's ideal for snuggling with your furry friend, and it will give her a place to nap in style. You'll love this easy DIY Cat Hammock from Bath Towel that you can make with your own hands. Simply follow the instructions and get help from your friends, and you will have a beautiful hammock for your furry friend.
DIY Hammock For Cats
This DIY cat hammock is perfect if you love hanging out in your hammock. Your furry friends can enjoy curling up in cool shade or sunbathing on warm, sunny days. This cat hammock is simple to make but looks very professional and cozy. All you need to do is cut out the cardboard, staple or tape it together, add some fabric, and your kitty will be ready to relax!
DIY Macrame Cat Hammock
This Macrame Cat Hammock is the perfect way to bring a little outdoors inside, and your cat will love lounging in their own DIY hammock! This hammock is easy to make with basic macrame skills and the materials you already have lying around at home. This DIY project for your cat will be a great gift for you and your pet. You can easily do this simple project like a professional with a few basic materials at home.
How To Make A Cat Hammock
Making a cat hammock is not as hard as you think. It's a great way to show your cat that you love them while giving them a spot they can sleep or play in comfort. Making one is pretty simple and a good way to pass some time on rainy weekends or days off. Get your cat a new comfy place to sleep with this easy-to-make hammock! It doesn't take long to make and will give the kitty a relaxing place to lie.
How To Make A Cat Hammock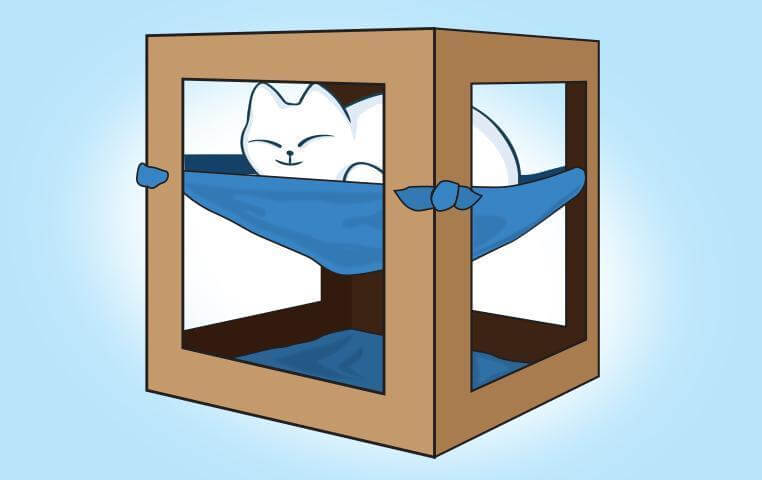 If you love your cats and want to get them something they actually want and will use, making a cat hammock is a perfect way to do it. A cardboard cat hammock is a must-have accessory for every clever feline. Your cat will look forward to napping in his new bed, and you'll be able to enjoy watching him relax in style. Here's how to make one for your own feline friend.
Cat Hammock DIY
Are you looking for a homemade cat hammock? Check out this DIY Cat Hammock project. This project is perfect for your pet; It's made of fabric, batting, and a quilting ruler to create a cozy bed that can be hung on any table or tall object. It's easy to make and will keep your pet happy and warm during the cold winter months. This cute fabric hammock cat bed is easy to make and makes your cat feel like a celebrity.
17. DIY Canvas Cat Hammock
It's time to make your cat a super-soft and cozy hammock. This fun DIY project will come in handy when you have a new feline baby in the house or want to spruce up their current bed. This super easy and cheap DIY project will make your cat the most stylish kitty! Just tie a piece of string to the ceiling and let her climb into her very own cat bed.
How To Make Cat Hammock
Create a comfortable cat's home with this hammock. This will provide your furry friend with a secure place to nap or lounge. Easy to put together, it can be assembled from parts found at any local hardware store. So, If you're feeling crafty, this cat hammock is a great DIY project for you! Simply assemble the table, cut the fabric to size, and knot it around the legs of the table. Your cat will love lounging on it.
Build Bunk Bed Hammock For Cats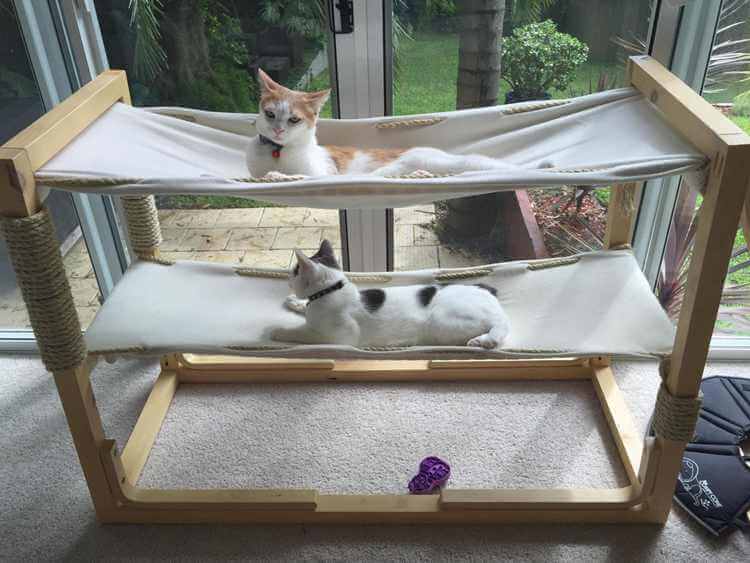 This easy diy cat hammock is perfect for your furry friends. In no time, you can create a cozy resting place for cats and kittens to enjoy. The best part? You can easily store it away when not in use, making the hammock space-saving and convenient. This project is a cinch and a great way to keep your cat off the furniture. Get a few materials, use some tools, and your cat will enjoy a unique resting place in the afternoon!
DIY Cozy Cat Hammock
A cat hammock allows your kitty to explore the comfort of your home and keeps her off the furniture. The DIY Cozy Cat Hammock has everything you need for a simple-to-build stand perfectly sized for your feline friend. So, This DIY Cozy Cat Hammock is perfect for cats of all sizes. It's made from sturdy boards and dowels to withstand lounging and napping hours by your pet.
DIY Cat Bed Hammock
This DIY Cat Bed Hammock is a great way to give your cat a comfortable and convenient place to sleep. The dowels are angled so that your cat has room to position itself however it wants, and the towel will give them extra padding to protect its joints. You can make this amazing bed hammock from materials you might already have around the house. You'll need dowels, plywood, a saw, thread, a needle, and a towel. Follow the step-by-step instructions for creating your own cat bed!
Cute DIY Cat Hammock
This adorable cat hammock is an easy DIY project for your furry friend. All you need are basic supplies and a few minutes of your time, and you can make this cute little cat bed in no time! It's perfect for keeping your cat safe and secure when lounging or napping in high places. Your kitty will love curling up in it this luxurious bed. The best part is that you can make as many as you need!
 Modern DIY Cat Hammock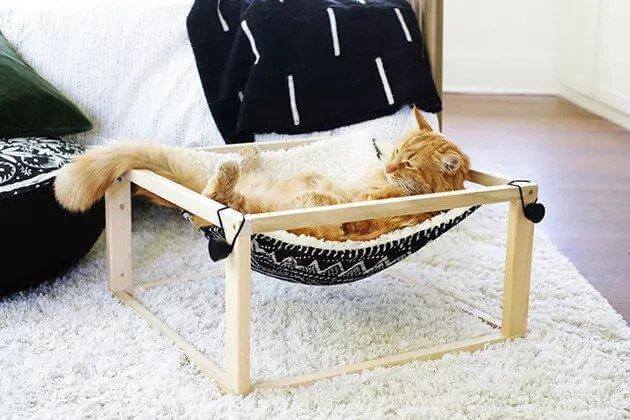 Let your cat relax with their very own custom-made hammock. This DIY Cat Hammock is perfect for any cat lover who enjoys making their own things and having a unique experience! This DIY cat hammock is a great way to make your cat comfy and help them sleep, relax and take a nap - all in one place. You'll need to use the dowels, in addition to the screws, anchors, and other tools, for this project. The final product will be an attractive place for cats to relax or nap out of the way of dogs and children.
Simple Cat Hammock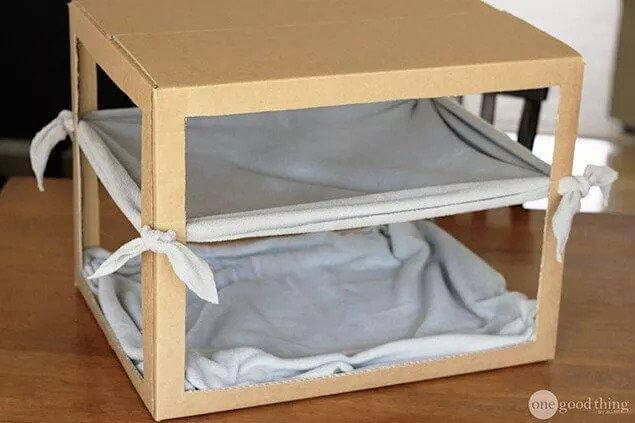 Looking for an easy way to create a cozy bed for your cats? A cat hammock is a great way to keep your feline friend comfy and warm in the winter. This DIY project is inexpensive, easy to assemble, and a great way to make your pet feel at home. You can easily create one with a sturdy cardboard box, glue, tape, and fabric. Follow these steps, and you'll have a comfortable place for your furry friend that fits right into your home decor.
DIY Low Budget Cat Hammock
This cat hammock is a great idea for those who want to spoil their feline friend. Using eyelets and hand towels, you can make your own. The materials are inexpensive and easy to find, and this easy DIY project can be completed in under an hour. Attach the hand towels to the cage using four eyelets, and your kitty will be purring in no time. If you are interested in learning how to do this, take a look at this simple DIY cat hammock tutorial.