Camping can be a lot of fun, and it's all the more fun when you have a good camp kitchen. This means you can bring along all your food and still have a place to cook it up for your friends and loved ones. As a camper, one of the essential things that you'll need is food. That's why we can say that DIY camp kitchen ideas are essential also when you're planning on spending a few days outdoors. You don't have to spend hundreds of dollars on a fancy, new setup. Unfortunately, you can't bring your fancy home kitchen along. So, your best bet, in this case, would be to create DIY camp kitchen ideas. Your food experience will enhance and you don't have to rely on biscuits and frozen items when you have a super useful camp kitchen along with you.
DIY Camp Kitchen Ideas

If you love camping, you will love these DIY camp kitchen ideas. You won't have to buy a pre-made kitchen and then store it away in your garage or shed when the camping season is over. Follow these easier and cheapest camping kitchen ideas and add fun to your camping experience utilizing your creative skills. These amazing DIY camp kitchen ideas need some work to do, and they can be a little more difficult than other types of camp kitchens. But on the plus side, they are often sturdy enough to last several seasons and, with a little maintenance, might even last for generations!
You Can See: 20 DIY Tent Stove Projects
Classic Plywood Camp Kitchen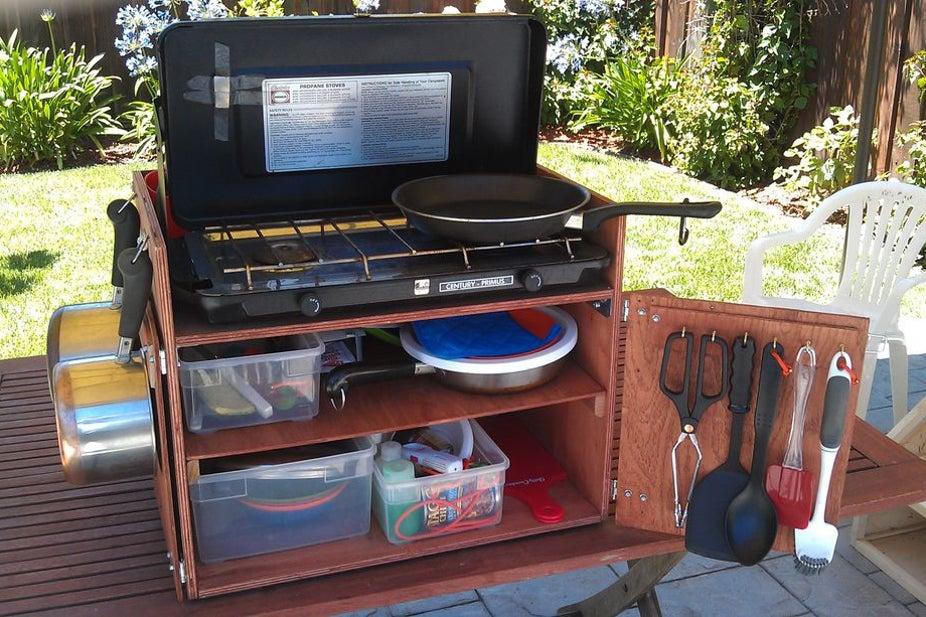 This DIY wooden camp kitchen is perfect for cooking, eating, and enjoying your meal. Not only does it looks great, but it also is easy to make. You can make it either as a stand-alone unit or as a part of your camping gear. If you are on a camping trip and have chosen a wooden stove for cooking food or heating water, this kitchen is what you need. The DIY plywood kitchen will be able to serve all your needs during your wilderness cooking adventure.
DIY Chuck Box Camp Kitchen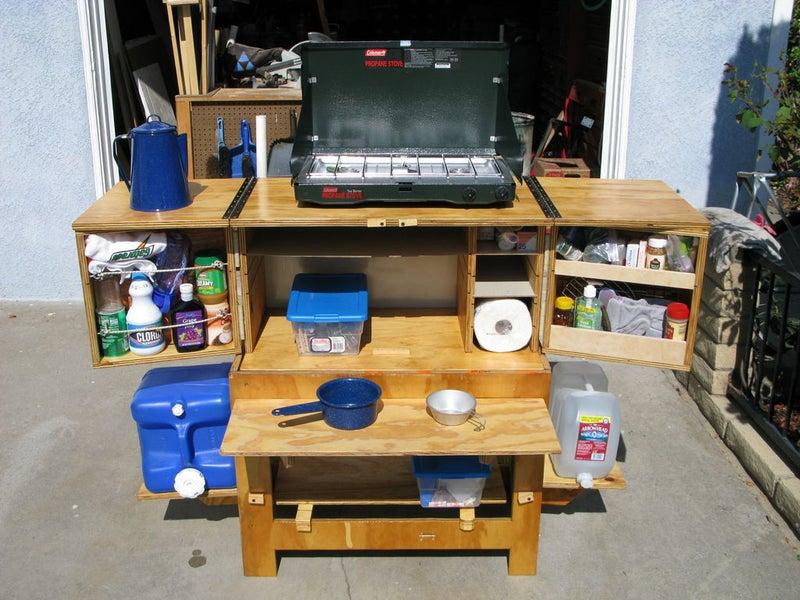 Setting up camp or getting ready for a fun family trip is a great experience, but not if you have to deal with messy pots and pans. This camp kitchen can help you keep your cooking equipment organized so that it's easy to find what you're looking for when you need it. It's also great for camping enthusiasts who have limited space for storing their gear. The tutorial outlines the steps required to build this Chuck Box Camp Kitchen, so you can customize it to fit your needs.
Space Friendly Camp Kitchen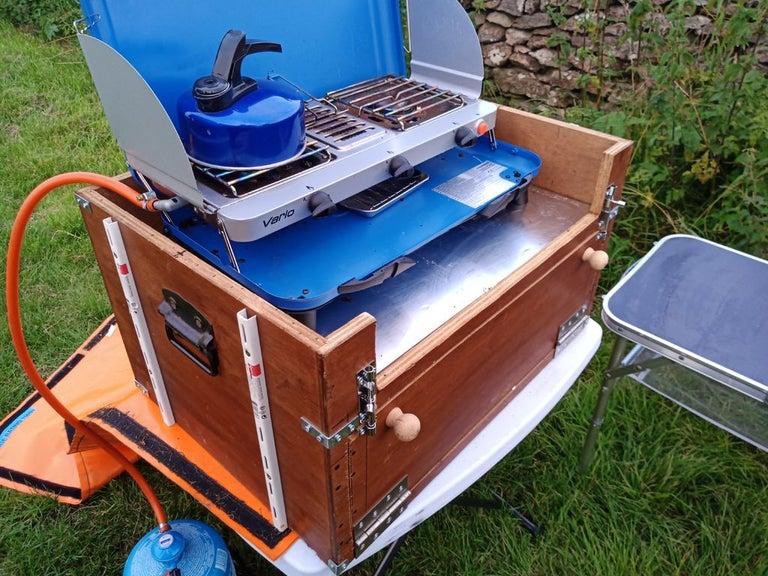 Do you want to go camping but do not have much space for cooking? Do not worry; this is the perfect solution for you to use when camping. This Chuck Box will allow you to make any meal in the wild. It has a basic set-up where you can place a gas cooker and storage space for your cutlery, tableware and other items required while camping. This DIY project is quick, easy and cheap so that you can add your design for extra flare.
Converted Tool Box Camp Kitchen
Do you have an extra toolbox lying around in your garage? If so, this camp kitchen will be a great project for you to take on. Simple and inexpensive, this conversion from a toolbox is a great choice for your camp kitchen. You can use it to hold all of your cooking utensils and supplies and serve as an easy-to-clean prep area when cooking meals outdoors. It is easy to carry around and durable, so it is perfect for those who like to make their way in life.
Portable Camp Kitchen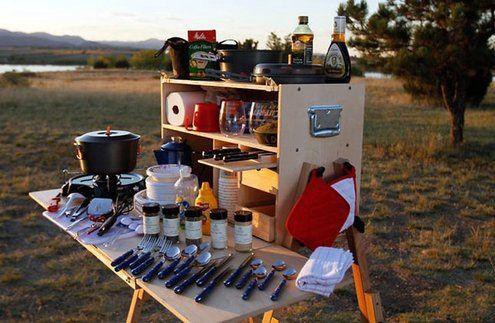 This portable camp kitchen is a must-have for all cooking enthusiasts. Whether you're camping out in the wilderness or just feeling like trying something new at home, this DIY project will help you make a beautiful and functional piece of furniture that would be perfect for your next island kitchen. You can easily make one from plywood with the help of a few accessories like pocket holes and a hinge. It is an awesome camp kitchen where you can store almost all kitchen-related stuff.
Simple DIY Camp Kitchen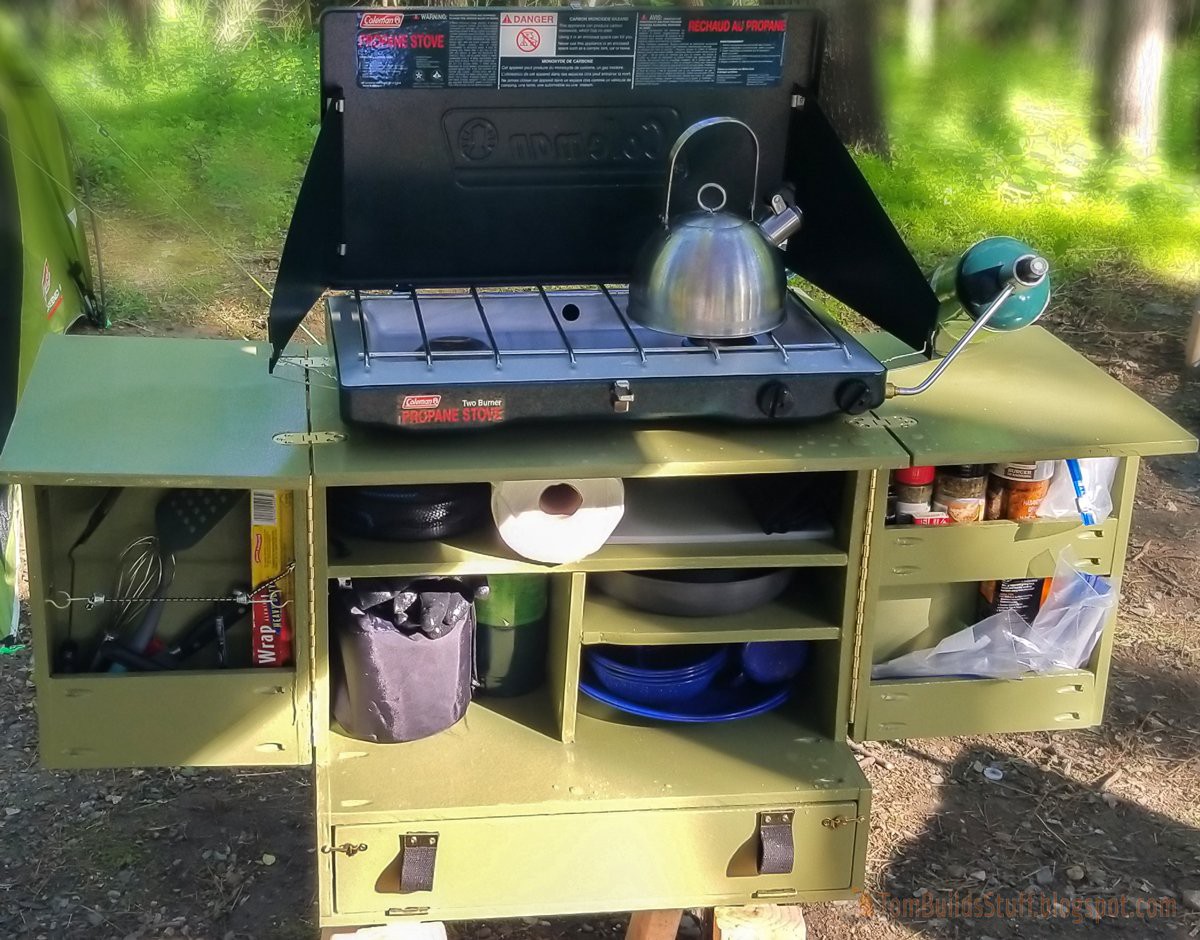 Do you like to camp? Then this project is for you. This DIY camp kitchen is made from pallets, and it has a lot of storage compartments. If you have some extra space in your car, this project may be interesting for you to try. Build your camp kitchen with plenty of storage and the tools you need to prepare a meal. With this simple design, you'll be able to pack everything up after use and store it inside your SUV (sport utility vehicle).
DIY Camp Kitchen Chuck Box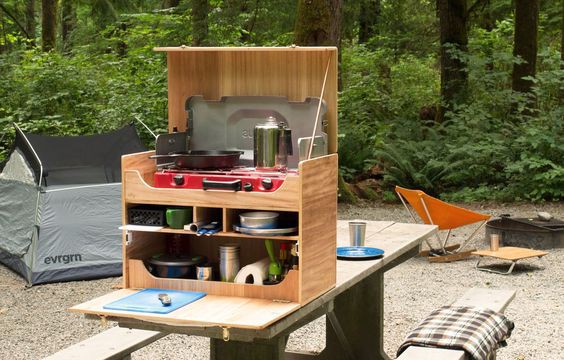 This portable kitchen camp does a great job organizing your kitchen ingredients together. This one is simple to assemble and easy to carry, so you can keep your camp kitchen organized and still be able to move around when you want! You can use it for various purposes, including tailgating, camping or everyday use at home! It features drawers with removable trays that can be used to separate food into sections.
Low Budget Camp Kitchen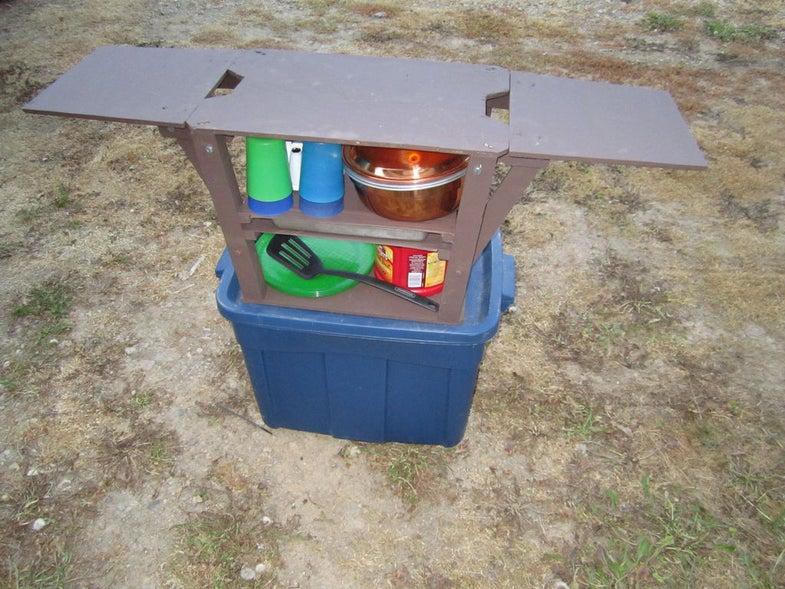 If you're looking for the best camp kitchen to survive the most intense camping trips, then this low-budget camping kitchen is perfect. The great thing about this project is that it doesn't require a lot of tools or heavy equipment to build. You can start with a few materials and end up with a user-friendly camp kitchen for your next outdoor adventure. The tutorial will show you how to make this kitchen out of some simple lumber and nails.
Large Counter Space Camp Kitchen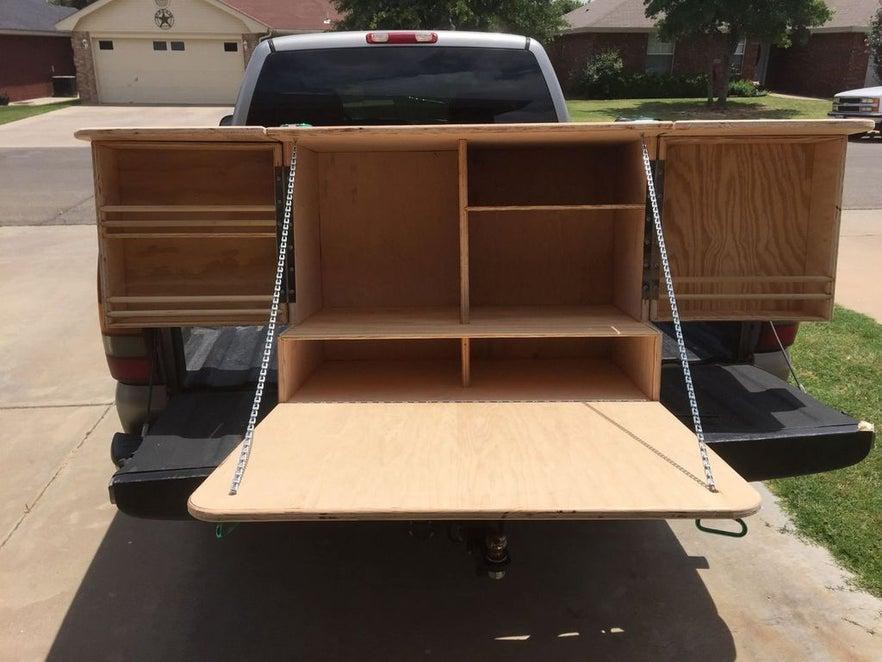 For the avid campers, you might have read somewhere that counter space is important in a camper kitchen. You might be wondering what comes up with this idea of making a large counter space camp kitchen. Well, getting back to the reason, if you have a lot of camping buddies and want to carry out some cooking outside your tent, you will need this counter space camp kitchen. This camping kitchen has everything you need for cooking, rinsing and serving food during your camping trips.
DIY Deluxe Camp Kitchen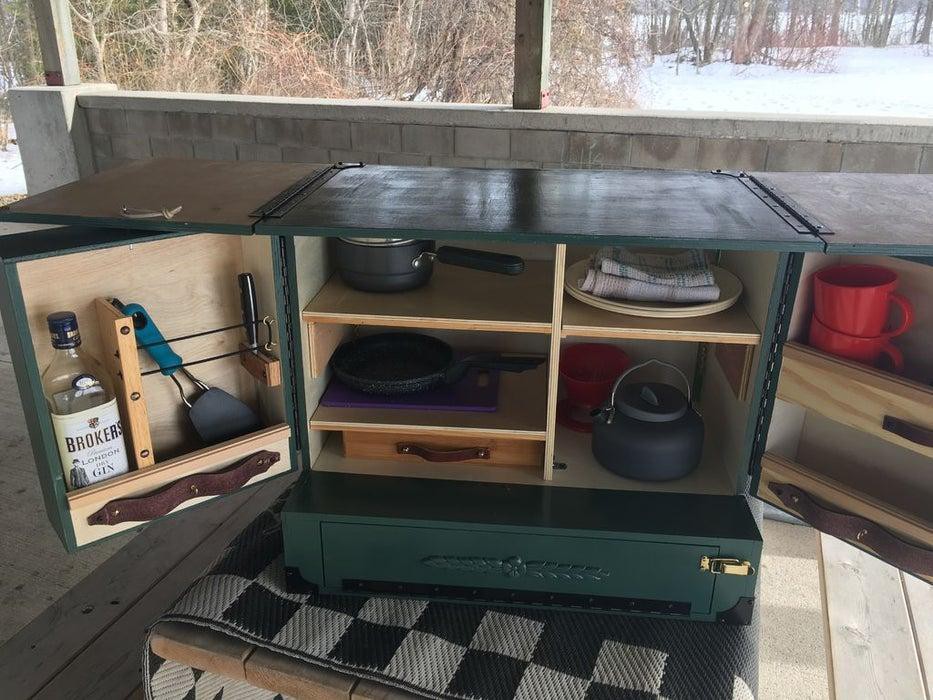 With the landscape of lifestyle changing, it's imperative to switch to a more convenient and energy-efficient lifestyle. If you're looking for a long-term, quality camp kitchen, this Deluxe Camp Kitchen is for you. The camp kitchen is perfect for camping and tailgating, camping trips, or when you want to grill outside! It has all the features that make it durable, easy to carry and portable. You can use this as a platform for cooking when out in nature or at home.
DIY Lightweight Camp Kitchen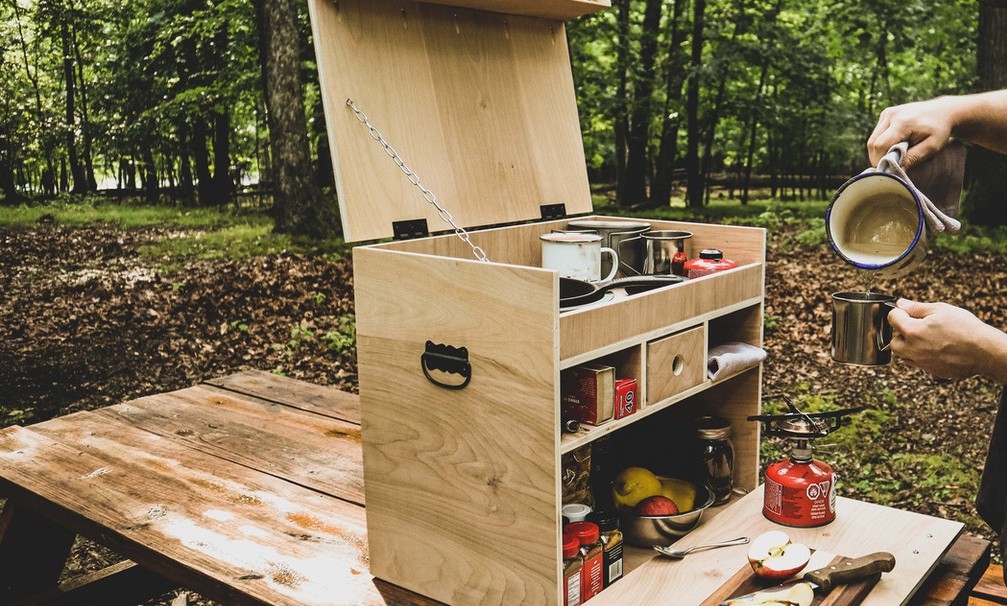 Do you love to go camping? If so, you should consider building a portable cooking box to help you conveniently store food and cooking items. This is a great idea for the family or group that likes to go on outdoor adventures, whether in the woods or at the beach. It will help you cook in more places and create new recipes! You can make your lightweight camping kitchen with this step-by-step tutorial.
DIY Portable Chuck Box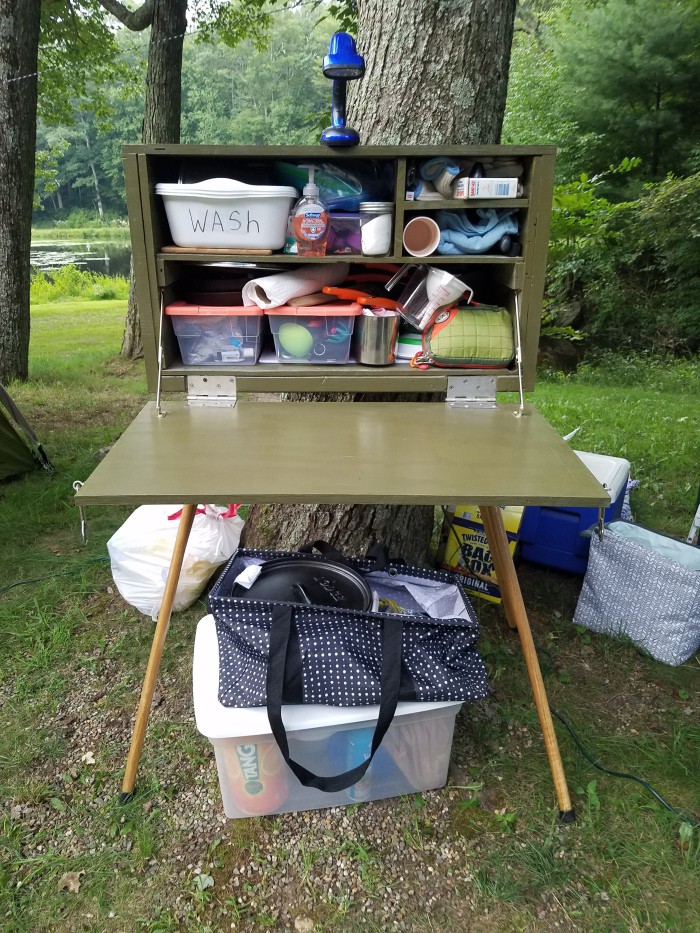 Are you looking for a low-cost and easy-to-make homemade portable camp kitchen? If yes, this is the right place for you! You can make everything easy with this DIY Portable Chuck Box Design, which will help you store kitchen stuff like pots, pans, cooking grills, etc. With this box, you can easily carry all the kitchen items you need for your camping trip. This will make your camping trip more convenient and relaxing.
Lightweight Plywood Camp Kitchen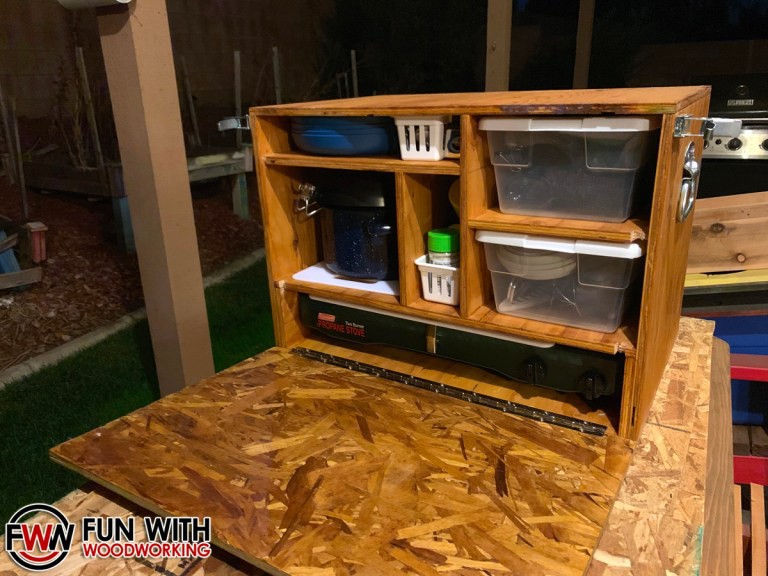 If you have thought about making your camp kitchen, this is the perfect project for beginners. It's one of the easiest camp kitchens you can make without any prior woodworking experience or expertise. You need a few materials and some skills in using a power drill/saw and a screwdriver. There are no fancy cuts and only one operation that requires precision - cutting the pieces to size. This plywood kitchen can be easily set up in an afternoon but will provide you with a comfortable working space for years to come.
DIY Kitchen With Great Storage Space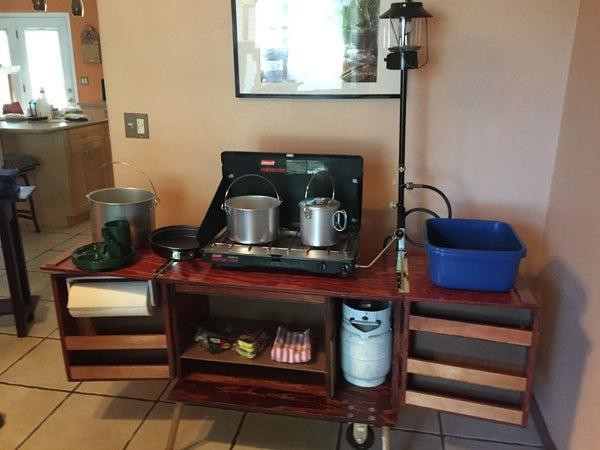 A well-organized, functional kitchen is the key to making your home more enjoyable. Make efficient use of space with this DIY kitchen project. With this design, you can build a long mess-free countertop to keep everything on and enough room for extra items. Here's a quick guide to building this storage-saving kitchen. All you need is a few tools, lumber, and some time to put it together. Building this storage-saving kitchen gives you easy access to tools, cookware, and even camping supplies right when you need them.
DIY Kitchen Box
This DIY Kitchen Box is an easy-to-assemble kitchen solution for your next camping trip or smaller family gatherings. This kitchen box is extremely useful for camping. It's lightweight but not flimsy, making it easy to carry. It has legs, which means it can stand independently, so you won't need to bring an extra stand. The box itself is constructed of high-quality materials that are durable and sturdy enough to hold heavy items.
Lightweight DIY Chuck Box
https://www.youtube.com/watch?v=OQ4rAwJCEp0
This lightweight chuck box is easy to make and will hold up outside in all kinds of weather. It's great for camping trips or if you want something portable and handy for your kitchen at home. No matter what you use it for, this DIY project should take less than a day to complete - even if you're not a seasoned woodworker. It's also a great handmade camping gift for friends who enjoy camping.
Easy To Make Camping Chuck Box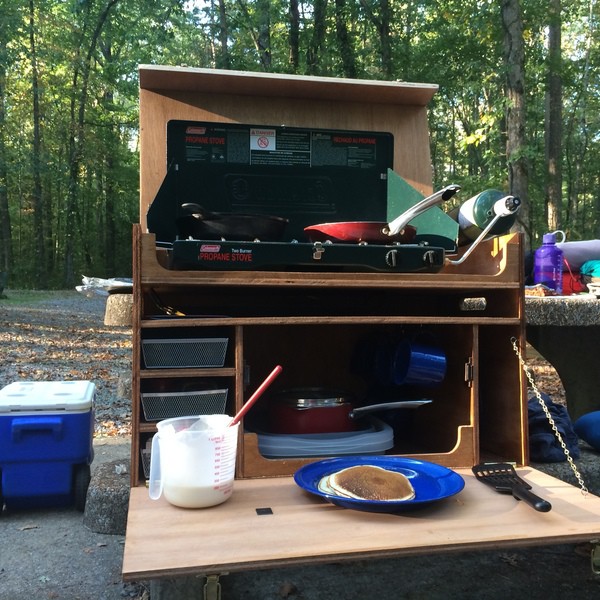 A chuck box is essential to any camp kitchen. It keeps your food, utensils, and cookware contained and organized. This simple recipe keeps things minimal and easy to disassemble for clean-up. If you own a wood lathe or have access to one, this project could be completed in a matter of minutes just by turning down some dowels with handles on each end that are secured with screws. The box is extremely easy to make since it only uses basic power tools and a few hours. All the dimensions are mentioned in this link.
DIY Camping Chuck Box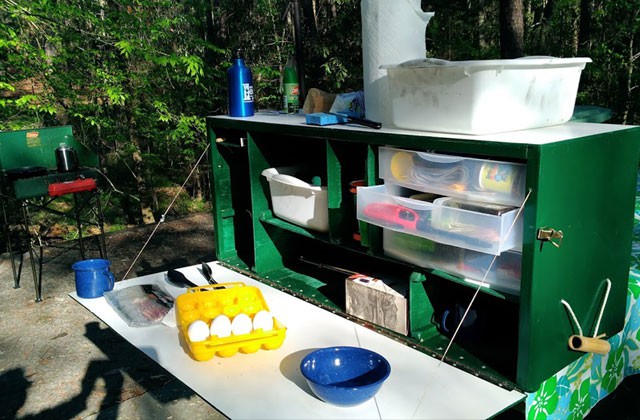 A camping chuck box is a great camping food storage solution. It's a largely effective way to avoid spills and keep the food safe within a guarded space during your trip. A chuck box can also help keep food clean and dry, especially if you are cooking at your campsite with an open fire or stove. This project involves installing a drawer system into an old shipping pallet and adding hardwood.
DIY Camp Kitchen With Sink
Here's a simple and easy DIY camp kitchen idea. This is a great design that includes a sink and large counter space. The video guide will walk you through the steps in building this simple camping project that can easily fit into any camper. The counter space is large enough for two people to work in this kitchen simultaneously. This kitchen could easily be brought inside when the weather turns bad or during periods of rain.
Large DIY Camp Kitchen
This large DIY camp kitchen is the perfect size for your family or if you're planning on feeding a larger group of people. Large enough storage compartments, this camp kitchen features a drawer, two doors, and multiple shelves. This unique design makes it easy to keep your kitchen supplies organized and accessible. There's enough room for pots and pans, plates, spoons, knives and more. And with plenty of room in this unit, it's easy to keep your food cool while camping. You can rely on this kitchen during your next camping trip, or perfect for home use as well!
DIY Camp Kitchen For Mini Van or SUV
Whether you're in your RV or SUV, packing a camp kitchen isn't an easy task. Fortunately, there are plenty of products available that can help you set up a functional mobile kitchen. This DIY video will demonstrate using some materials to create a camp kitchen. It's a great way to help save money while still having a fully functional kit that goes wherever the road takes you! You, too, can make this, but it is not low-budget-friendly.
DIY Camp Kitchen For Tent Or Van
Thanks to this brilliant camp kitchen project, you can easily explore the great outdoors. Love the sink the creator used for this project; it was created from scratch. With just a few budget-friendly materials, you'll be on your way to making this phenomenal camp kitchen for yourself. This video will show you how to build a mini-camp kitchen with stunning add-ons. This camping kitchen is perfect for a weekend getaway or short trip.
Canopy Camp Kitchen
In this tutorial video, you will learn how to make a canopy camp kitchen that is completely functional and free-standing. It sets up in minutes and collapses down as fast, with an easy set-up so you can set up or break down in no time. With the liner material, you can use this kitchen almost anywhere on your property and take it with you off-roading too! This DIY project will require some time but can be accomplished by the average person with very little experience working with steel and wood.
You Can See more: DIY Camper Trailer Ideas to Go Easy on Wallet
DIY Suitcase Camp Kitchen
Are you looking for a simple project that will completely change the way you camp? Have you ever wondered what it would be like to have a portable kitchen that can take anywhere? Well, this project is for you. In this video guide, learn how to create a suitcase camp kitchen that looks good, but you can also bring it with you on your next camping trip. A must-watch video for those who love to camp and do so in style.
Small DIY Camp Kitchen Idea
Camping is a great way to enjoy the outdoors, but access to quality cooking equipment can be hard to find. With a small DIY camp kitchen, you can easily prepare dishes while enjoying the wonderful sites of nature. Woodworking is a good skill; making this little kitchen would be an excellent project to practice your skills. You will learn in this video guide how to make your camp kitchen that will suit the most basic needs leaving room for extra cooking tools or items you may want to add to make more complex meals like a stew.
DIY Camp Kitchen Sink
Here's how to make a camp kitchen sink for your chuck box. It's a simple project that will make your kitchen work much easier. You'll learn how to build an all-in-one camp kitchen and sink box in the video. Follow these easy steps to create your DIY sink system. Start your next camping trip with a DIY camp kitchen sink perfect for washing dishes and cleaning up after meals. It'll fit right in an existing chuck box or another camp kitchen.
DIY Chuck Box For Camping
This chuck box is a fantastic go-to item for those who want to make camping trips more fun. If your car has sufficient room in its trunk, you should have no trouble transporting this chuck box. This box will fit just fine for cars with a large trunk, like a hatchback or SUV. The instructions are very detailed in this video and easy to follow, making this project very doable for beginners. Even with minimal woodworking skills, you should be able to finish this in no time!
Lightweight DIY Camp Kitchen
Camping can be fun, but it can be a pain if you don't have the necessary gear to get you started. That's where the DIY Chuck Box comes in. A portable camp kitchen that is lightweight, compact and easy to create. The design allows you to organize your utensils, pots, pans, and other cooking essentials in conveniently separated compartments by a divider. This video guide will give you step-by-step instructions on making your own Chuck Box with only one trip to the hardware store.