Whether you're looking to provide your kitchen with a new cutting board or want to create a fun project, then these DIY Butcher Block ideas will surely be a blessing for you. These butcher blocks are a great way to upgrade your kitchen and help you get the look you want. These great DIY projects add nice custom touches and elegance to any kitchen space. Plus, When you make your butcher block, you have greater flexibility in design and can save money by purchasing only the lumber that matches your needs. So why are you waiting? Get the idea below given and get started.
Wood is a classic material for butcher blocks, but plastic and composite materials are also often used. Investing in a good cutting board is the key to getting the most out of your kitchen space and creating an efficient environment for food preparation. A functional cutting board can be a great gift or focal point of a kitchen, so we've gathered DIY butcher block ideas to build for the home. Some of these projects might seem like they require more work than they're worth, but they're all doable with the right woodworking tools.
DIY Butcher Block Ideas
Modern-day butcher block tables are functional and stylish. They are instrumental in the kitchen and serve as an ideal food prep surface. Building a butcher block is easy to add character to your kitchen (or any room, really!) without spending too much money. These blocks are great because they're durable and look good. And the best part is that there are so many different ways you can go about building your own! Here are a few of your favorite DIY butcher block ideas for your home. All you need is some basic materials and tools, and you'll be able to build your butcher block in no time! These DIY Butcher Block ideas are timeless and functional; any one of these Butcher Blocks would make a great addition to your kitchen.
Uses Of DIY Butcher Block
Butcher Block is a strong wood product used in kitchens to cut meat. It is a solid wood made from hardwoods such as maple, beech, and cherry. Butcher blocks are used for preparing, cutting, and serving food.
Here are some of the most popular uses of DIY Butcher Block:
Serving trays:

Butcher blocks can be used to make beautiful serving trays. You can use them to serve salads, appetizers, desserts, or even your main course. These trays are also great for entertaining guests at home, making your parties look more elegant. 

Cutting boards:

 Butcher blocks can also be used as cutting boards for meat preparation purposes. They provide a solid surface for chopping the meat into smaller pieces, so it's easier to cook them evenly on the grill or in the oven. 

Cheese boards:

 If you have a cheese lover in your family, you should use your DIY butcher block as a cheese board! It will help you keep all the cheeses organized together so that you don't have to search through different drawers for each kind of cheese when someone wants a slice of something special for their meal tonight!
Tips To DIY Butcher Block Ideas
Butcher block countertops are easy to make and an affordable option for a DIY kitchen remodel. They're also simple to install and can be used in any room of your home. Butcher block countertops are beautiful and durable, but they can be expensive. If you're looking for a budget-friendly material that will last, butcher block is the way to go.
Here are some tips for making your butcher block countertop:
Start with a solid wood slab
Add polyurethane or mineral oil for protection
Sand down the top with sandpaper and putty
Stain or paint your butcher block
How To Build A Butcher Block
A butcher block is an excellent addition to any kitchen, but it seems like they are super expensive! Well, this butcher block only takes an afternoon to make, and you don't need any heavy machinery or machinery. Just some wood glue, wood screws, and the right tools. It's especially great for cooking because it keeps your knives safer and your cutting board cooler. Making your butcher block will save you money and allow you to personalize it with the wood that suits you best. This butcher block is a perfect addition to your kitchen and can be used as a cutting board, serving tray, or extra sideboard. It's portable too so that you can place it in any room of your house.
Butcher Block Desk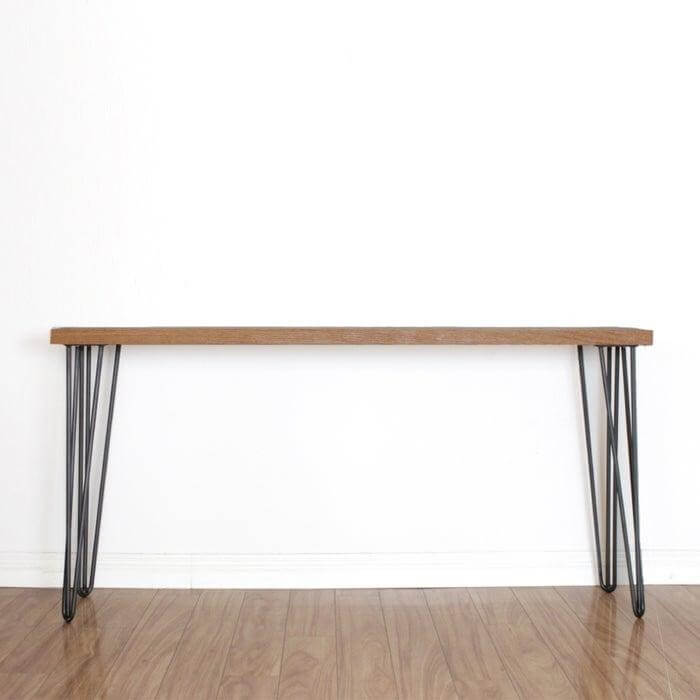 Transform a plain desk into a unique piece of furniture with a butcher block. This butcher block desk is an excellent project for those who want the look of an actual butcher block counter but need the sturdiness of a wooden desk. It's easily constructed from materials you can buy at your local home store and sturdy enough to last throughout your life! Perfect for those who value fine craftsmanship, this project requires just a couple of days to build and has you set up a new desk within weeks of getting started.
How To Make A Butcher Block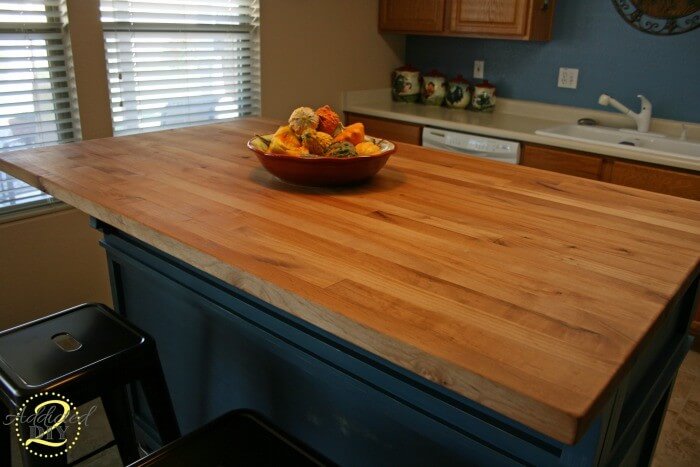 Converting an old, ugly kitchen cabinet tabletop into a classic butcher block countertop is easy when you follow these simple steps. Once finished, it'll last for years. This butcher block-making guide is perfect for those who want to create a homemade table top or cabinet top. This is a tutorial on building your solid butcher block. You can use it anywhere in the kitchen, such as on top of a kitchen cabinet or countertops. This tutorial will teach you how to measure, cut, and build a great butcher block. The finished product will be smooth and polished, perfect for any home decor.
Butcher Block Table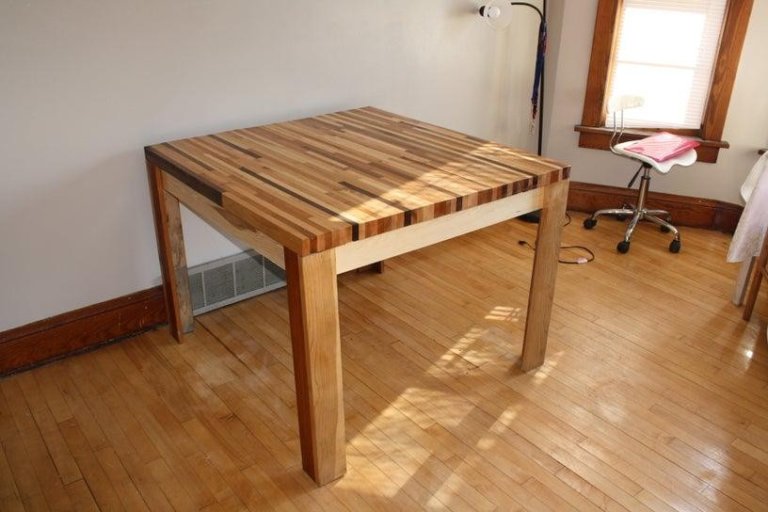 To make a butcher block table, you don't need to be a DIY expert. This one is simple, easy to make, and requires only essential tools. You'll save money and create something that will last for decades in your kitchen or dining room. It is the perfect project for beginners—it's a super-versatile, customizable, and beautiful addition to any home. With an oval shape, it can fit between two dinette chairs or under the kitchen island, and it's sturdy enough to stand on its own. And when it comes time to clean it up, wipe it down with warm water and soap.
How To Create A Butcher Block Countertop
If you don't have the time or the tools for a massive butcher block table or countertop, consider making a smaller one out of soft maple. The perfect way to add a unique touch to your kitchen or dining space! The procedure is not very difficult as long as you know how to use some essential tools. With this butcher block countertop, you can create your design. Cut the board to size and attach it to the wall. Ensure you have everything prepared before you start because once you do this project, it will take long hours to complete.
Cheap Butcher Block Countertop
The top of your kitchen island is the best place to display edibles and other home decor items. When it comes to making your kitchen island, butcher block is the perfect material. Create your masterpiece with this DIY butcher block countertop, made from inexpensive 2x3s and pine boards for a seamless addition that looks great in any home. It's durable and super easy to install, and once you get the hang of making them, you can make a few in one sitting! The only problem you'll ever have with it is keeping it clean!
Butcher Block Countertop
This is a countertop for a kitchen. After preparing the butcher block and cutting holes for the sink, faucet, and other kitchen features, you can apply varnish or stain to your design. This is a simple tutorial on how you can make a great-looking butcher block countertop without spending thousands of dollars on it. It looks like something you could buy at any store, yet this DIY sausage kitchen countertop is made out of wood and isn't nearly as expensive as any store-bought countertop. This video shows you how to make a butcher block countertop. It is a beautiful, functional piece of furniture that will last you through many years of use.
Edge Grain Butcher Block
Build an edge grain butcher block that you can get creative with. This DIY project is fun to express your personality and add extra color to any room. Add a touch of rustic charm to your kitchen with this DIY edge grain butcher block you can make at home. Show off some Old World charm in your kitchen with the DIY Edge Grain Butcher Block. It is made from hard maple, which offers durability and a smooth finish. The butcher block is easy to assemble and looks great in any kitchen. Plus, it's made of sustainable hardwood so that you can feel good about your purchase!
Butcher Block Island Top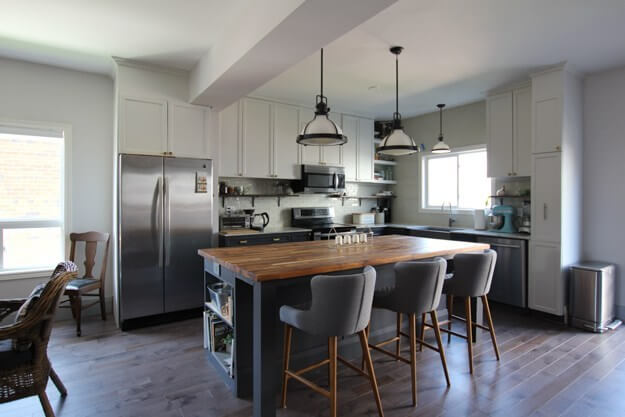 Whether you need to prep food at your home or make an excellent breakfast for your family, this Butcher Block Island Top is a perfect size. This butcher block is ideal for cutting boards and butcher blocks but also makes a grand kitchen island! This will add warmth and charm to your kitchen while keeping the room organized. The wood has been sealed, so it's water-resistant and durable - no stains allowed! Once you get the wood and tools, this project is simple to make. The butcher block island is beautiful and will enhance any kitchen with natural beauty.
$50 Butcher Block Bench
Are you looking for a project to make this weekend, a present, or a gift for your loved ones? Check out this easy-to-follow, step-by-step tutorial on building a butcher block bench! It's a great DIY project that is both fun and enjoyable. This is a great DIY project that only requires basic carpentry skills. It will cost you very little, so you can make this butcher block bench from scratch with your own hands and build it yourself! This video will teach you how to make a butcher block bench for just $50. It's easy, fun, and affordable to make.
Easy Butcher Block Cutting Board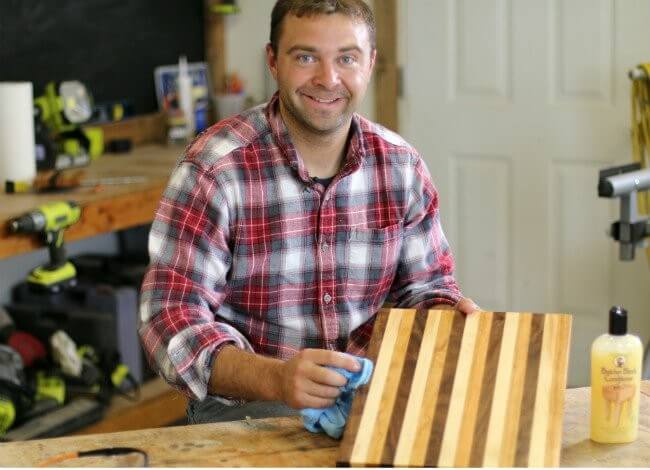 With this guide, you can create a unique butcher block cutting board that will make all your friends jealous. The combined effect of three different hardwoods gives this board a unique look that no one has seen before. Its size allows plenty of room on the countertop to prepare and cook your food. In just six hours, you'll be enjoying your freshly made masterpiece! The result will be a beautiful and functional piece that will enhance your kitchen décor while providing years of service.
DIY Butcher Block Countertop
Using this guide, you can build a butcher block countertop for your kitchen or bath. This design is cost-effective and easy to install. You might already have the wooden frame, or you can use lumber in your garage or local hardware store. The tools needed for this project include a miter saw, a caulking gun, a sander, Gorilla wood glue, and ½-inch screws. This DIY project will only take a few hours from start to finish. It's easy to make, great for traditional or rustic designs, and costs less than $100! The best part is that you can use it to create a perfect accent in any house room.
DIY Butcher Block Style Countertops
Build your own DIY butcher block-style countertops from scratch. In this project, we will make a detailed pattern of the butcher block countertop and build it accordingly to look and feel like natural wood. This is a do-it-yourself idea that can be done at the weekend while saving money over buying pre-made countertops at the store. The design is flexible, so you can change its dimensions or even shape and make it into any style of countertop you want to create. This DIY project is a great learning experience and will help you improve your carpentry skills.
Butcher Block Kitchen Countertop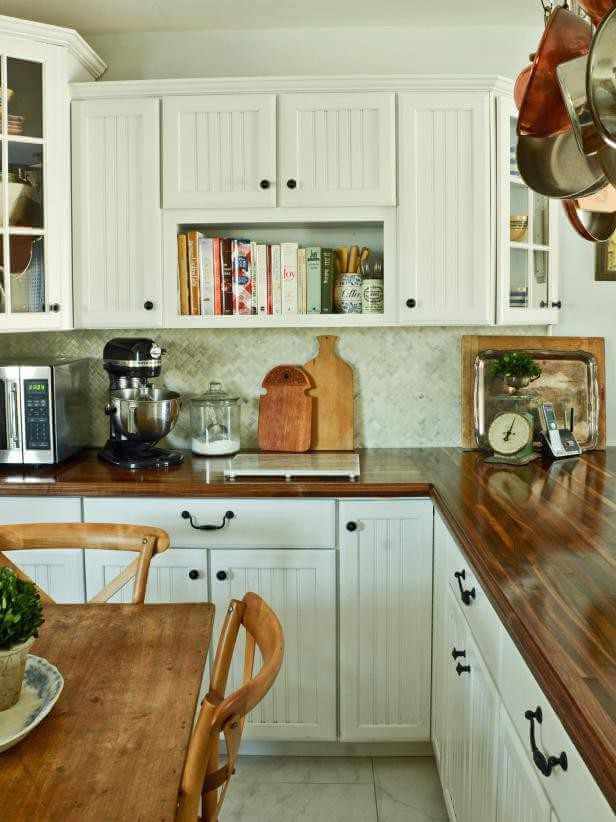 After making your butcher block kitchen countertop, you'll need to apply a protective coating to the wood. You don't have to, but I recommend it. Buy all the necessary materials from your local hardware store and gather the tools you'll need to build this DIY project. This butcher block kitchen countertop is made with simple and easy-to-find materials. You will need wood clamps, a combo square, flush trim router, circular saw, tape measure, wood filler, wood shims, mineral spirits, and more to make this counter. Many tools are needed to make it, so if you don't have them all, here are some options.
DIY Butcher Block Countertop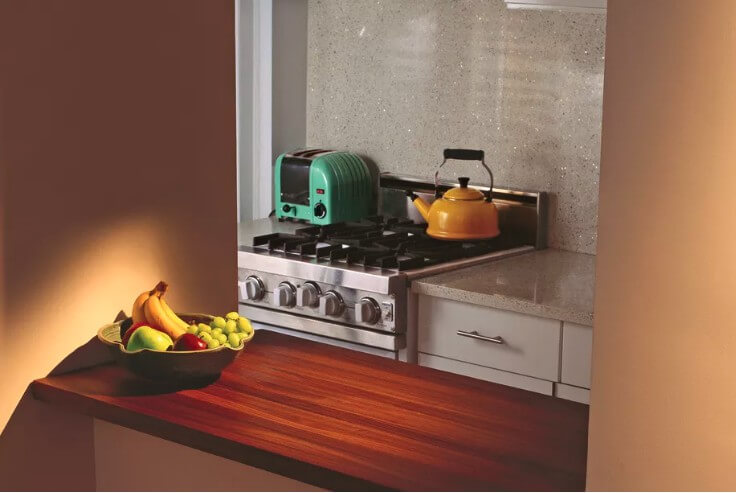 Making butcher block countertops is a fun and easy way to add a unique look to any kitchen. With just four supplies and simple tools, any crafter can make their butcher block countertop from wasted wood scraps. This butcher-block countertop is the ultimate in natural materials. It can be assembled in an afternoon, an investment that will last for years and years! This butcher block top will transform your kitchen into the warmth and natural beauty of a wooded cabin in the mountains. The DIYers looking for a unique way to add style to their home will love this project! With minimal tools, supplies, and effort, you can create a unique piece that impresses guests.
Make A Butcher Block Tabletop
This video is a DIY builder's guide for making your own butcher's block tabletop. If you're crafty enough and have some essential power tools that can cut wood, this is a doable project with nothing fancy. The key is to use the proper technique for cutting out each piece of wood on the tabletop so that each has smooth edges and an even finish. You can do it with the right tools and equipment, but it does take time and dedication. The good news is that you can create a beautiful tabletop for your kitchen using only basic carpentry skills and some simple materials.