Spring is here, and with it comes Easter and the chance to dress as a bunny! They're soft and cuddly; they hop around in the grass and nibble on their favorite carrots. The cuteness can be overwhelming. And if you're a bunny lover, it's something you want to share with everyone else. So in honor of all things bunny, here are 25 DIY bunny costume projects for all ages! These costume ideas are simple, easy to make, and offer plenty of variety! There's something for everyone here men, women, children, and even your dog! Bunnies are some of the most adorable creatures on the planet.
DIY Bunny Costumes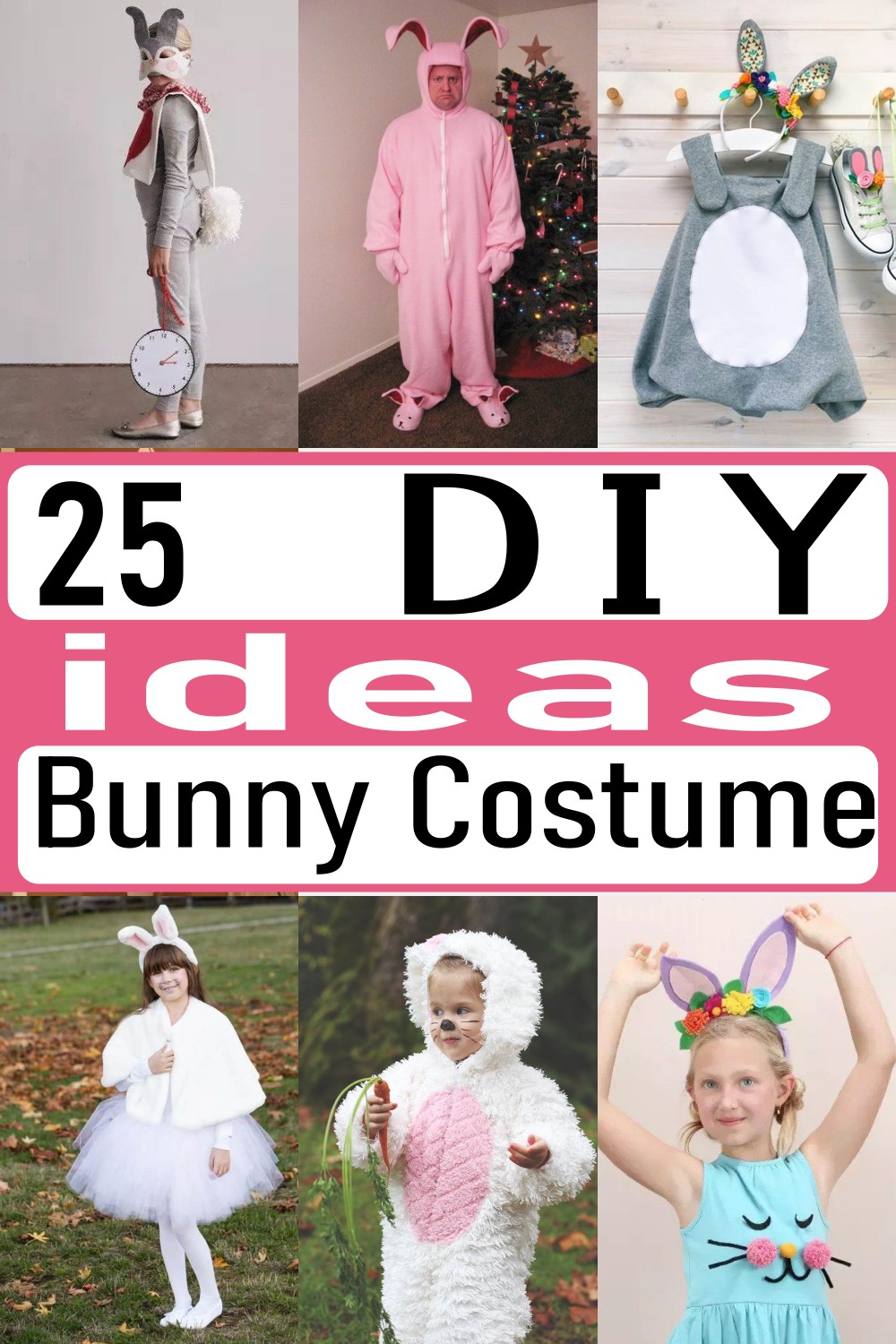 The holiday season is a time to celebrate with family and friends, and there's no better way to be festive than with an adorable Easter Bunny costume! If you're looking for an easy way to stick out of the crowd, follow these DIY bunny costume projects that use everyday household items. You don't need a sewing machine or fancy crafting tools, just creativity and the ability to let your imagination run wild. These bunny costumes are easy to make with supplies you probably already have lying around the house, and they'll make your children the hit of any Halloween gathering.
See More: 18 DIY Princess Peach Costume Ideas
Benefits Of DIY Bunny Costume Projects
DIY bunny costume projects have many benefits, including:
They save money: Making your own costumes can save you a lot. You don't need to buy expensive costumes from the store; you can use materials already in your home or purchase from a local craft store for minimal cost.
They're easy to make: Anyone can make a bunny costume! They don't require special skills or tools, so that anyone can do it! All you need is patience, creativity, and a willingness to try something new!
They're fun: Making your own costumes is fun for children and adults alike! It allows everyone to be creative and express themselves in their own way through their costume choices! It also allows each person's personality to shine through their creation!
Easy Bunny Costume For Kids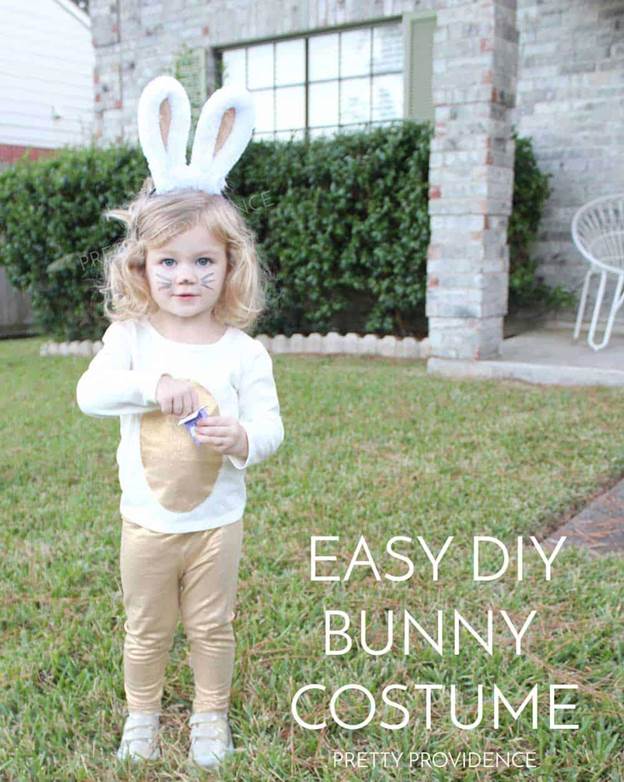 Girls and boys can enjoy this costume. It's easy to put together and will keep your child comfortable all night long. Your little one will be the cutest bunny with this Easy Bunny Costume For Kids. All you need to do is throw on gold leggings, a white top, and some ears and a tail in no time. The easiness of these costumes makes them the ideal choice if you are looking for an outfit to make your kids. All you need is a white top, gold leggings, and ears. Cut an oval from the gold leggings and attach it to the front of the shirt. Shape jumbo pipe cleaners and attach them to the headband.
DIY Bunny Ears
Bunny ears are a festive way to get kids in the Easter spirit, whether they're worn as a pair or solo. Clip them on your headband and show off your bunny ears at the Easter Bunny Hop! This quick bunny ears hat is so adorable and easy to make. You can make several of these at once, as it only takes a few minutes. This craft is perfect for Easter egg hunts, dressing your child as a bunny, or because they are too cute!
DIY Bunny Costume For Girls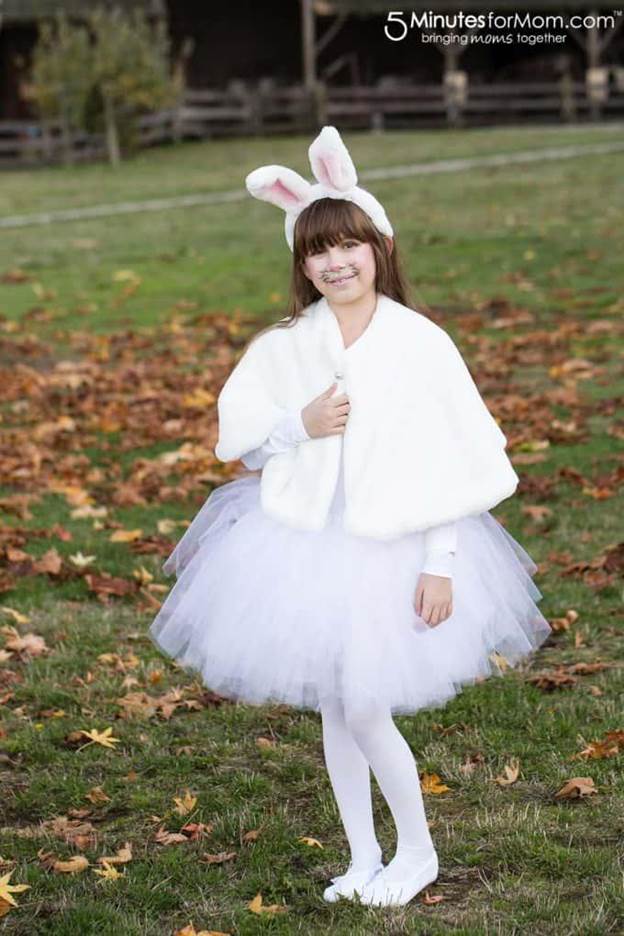 The DIY bunny costume for girls is a great way to celebrate Easter or spring vacation. The bunny ears are made from faux fur, making them soft and comfortable. The caplet can be sewn from any color of the fabric. Make your own DIY bunny costume with this easy-to-follow guide. It's white and a little pink to make it cute and cuddly. The braids are made of pink felt; the ears are crafted wire shaped into ear shapes and then adorned with faux fur to look like bunny ears, while the tail is a simple pom pom sewn on top.
DIY Easter Bunny Costume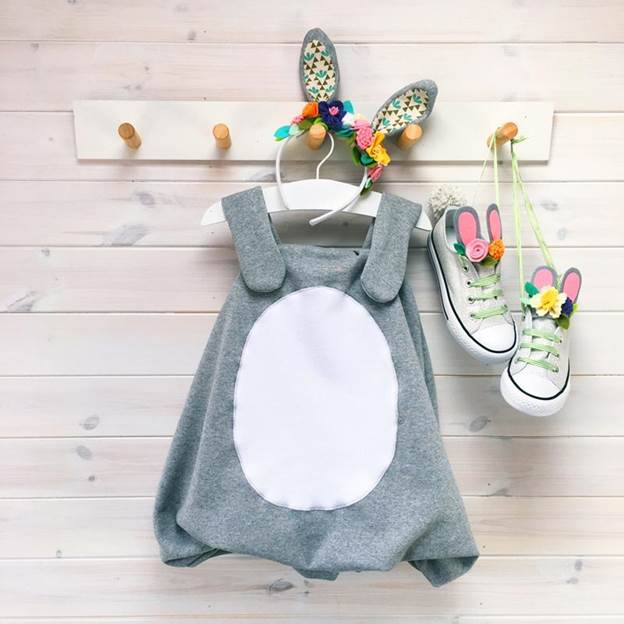 If your kids love bunnies and are looking for a way to make their Easter celebrations more special, then you will love this DIY bunny costume. You can celebrate Easter and make your kids happy with this DIY bunny costume. This can be used for celebrating Easter, school plays, and parties. This easy DIY project is a great idea to get the kids involved in making something special. It's an ideal project for the whole family to complete together. This DIY costume can be worn on any occasion, not just on Easter!
DIY Bunny Costume For Toddler
An excellent costume for a toddler is this DIY bunny costume. Have your child wear a white T-shirt, white leggings, shorts, and pink mittens. For the headgear, use a circle piece of fleece with two buttons on the top to secure it on his head. Cut two ears from pink felt material and attach them to the cap using a saucer as a pattern. Sew the ears onto the felt hat using a sewing machine. Finally, attach a tail made from fur to white fabric strips that can be tied around the waist.
DIY No Sew Bunny Costume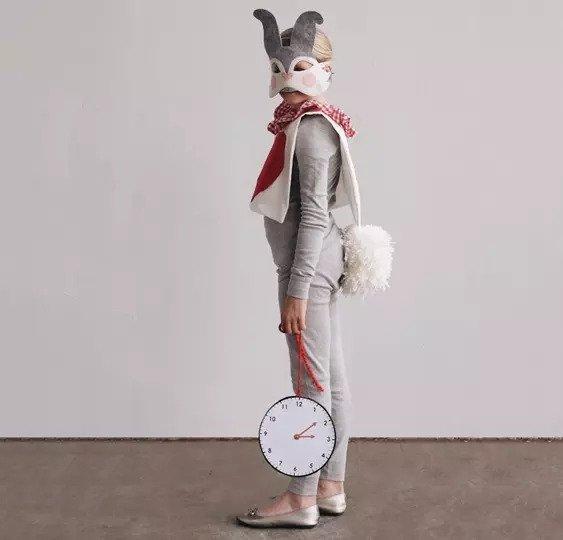 Show off your creativity with this DIY bunny costume. Cut felt shapes and glue them together to create a mask, a bib, and the tail, which can be done with any all-natural white material like cotton or felt. This is an adorable no-sew bunny costume that the kids can make themselves! All you need is an ash Kids PJ top and pants. For the Mask and bib, carve the design on felt and glue the pieces together. For the tail, make a large pom pom from white yarn.
DIY Sexy Bunny Costume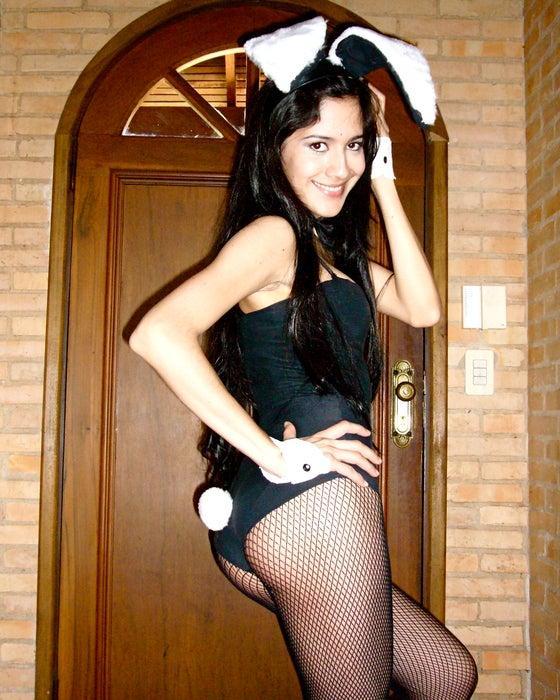 Do you feel like an all-girls night but not all bunny? This DIY Sexy Bunny costume will surely make a difference for you. This costume is easy to create; it only needs a shirt, leggings, ribbon, headband, bow tie, buttons, and some furry fabric. It can be easily made by any woman looking for something different on Halloween or to have fun at home with friends while watching movies or playing games. This costume is perfect for any all-girls party. It can be personalized by changing the shirt and ribbon color, adding or removing the buttons, and adjusting the tail length.
DIY Christmas Story Bunny Costume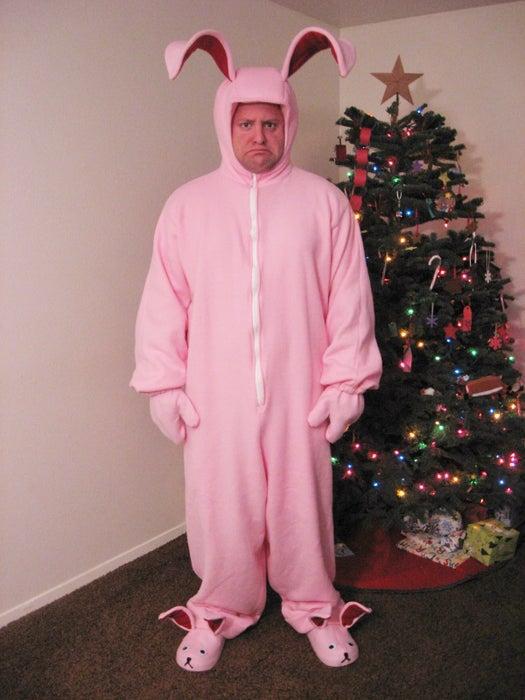 The DIY Christmas Story Bunny Costume is a great idea for Easter, Halloween, or any other time of year when you want to celebrate. This costume is easy to make, comfortable, and very festive. This bunny costume can be worn as a jumpsuit or leggings and tights. Perfect for kids' parties, Easter, and Christmas. This DIY bunny costume is made from an oversized shirt with ears hidden in the hood and padded, so it covers your knees. The feet are made from croc-type shoes that can be bought at most stores that sell kids' shoes.
DIY Bunny Ears Headband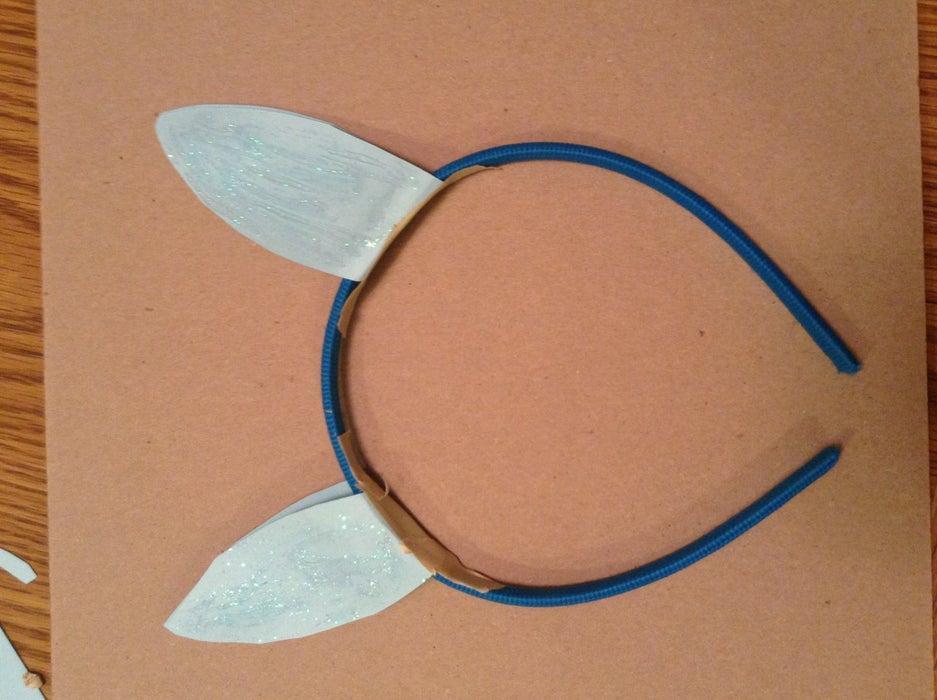 You don't have to spend a fortune on a costume that will hang in your closet after one use. With this simple, DIY bunny ear headband, you can have the ultimate outfit for yourself or your kids at an affordable price. Once you have wrapped your headband, it's time to find your ears. Cut two pieces of paper into the shape of bunny ears and tape each one to the front and back of the headband. Then, cover them up with cotton balls! This is a simple way to make your DIY bunny costume look adorable, no matter how many holes you have cut in it.
DIY No-Sew Bunny Ears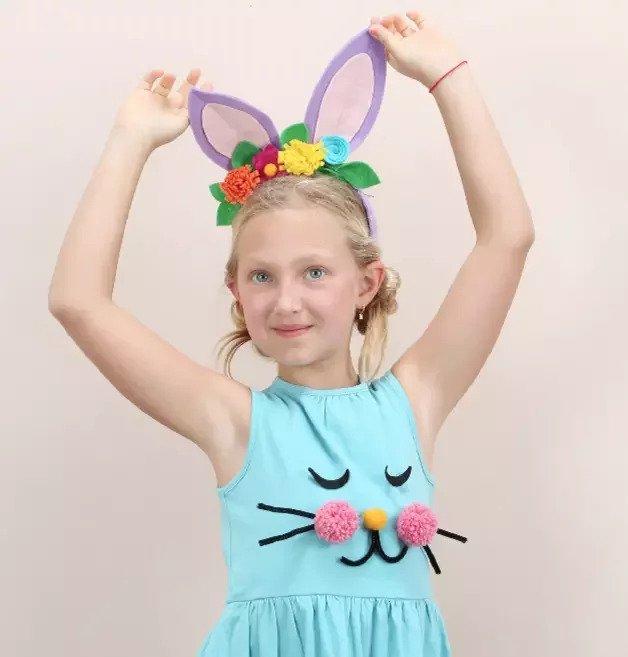 This is a straightforward DIY project. You can make it in less than an hour, using only a couple of pieces of felt material, some scissors, and crimp pins. They will love this one if you have kids around the house, as we do! Create a beautiful bunny ears headband with this easy-to-follow DIY tutorial. It's a great addition to your Easter outfits, but you can wear it any time of the year. This no-sew bunny ears headband is a great way to keep your ears warm and cozy during the spring and summer. You'll be happy to know that you can even use a range of colors for this project, so you don't need to worry about how it will look.
Cute Easter Bunny Costume
This cute Easter Bunny costume will surely put a smile on your kiddies' faces. It doesn't require sewing, so that you can get ready for Easter in no time! It is excellent for kids of all ages. With some soft material and a little creativity, you can make yourself this cute bunny tutu in just a few minutes! This easy costume requires no sewing, just materials and time to create it. The tutu-style skirt is made from tulle fabric and an elastic headband for the waistband. If you prefer not to use the tutu, you can also purchase a finished tutu at a craft store. Make the ears using tulle or felt, so they match perfectly with your favorite bunnies' ears.
DIY Rabbit Costume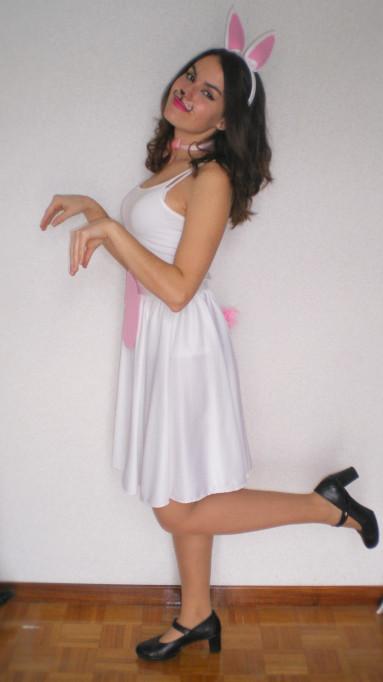 This DIY costume is perfect for Halloween and any occasion you want to feel like a cute bunny. It's easy to make, and all you need are the basic supplies one finds at home. The most important thing is to have fun! Dress up as your favorite little bunny, or dress up as a pair with your significant other in an Easter Bunny costume. This DIY costume is easy to make and perfect for a night of trick-or-treating or a themed party.
DIY Bunny Mask
This bunny mask is the perfect accessory for your Halloween costume. It is incredibly simple to make by cutting off the ears from an existing bunny mask and attaching them to a headband you supply. You can use this with any attire that looks good with a bunny mask. This DIY bunny mask is a perfect accessory for Halloween, Easter, and other themed parties. You can purchase a show from the store, cut off the ears and attach it to your own band, so it sits easily.
New Born Baby Bunny Costume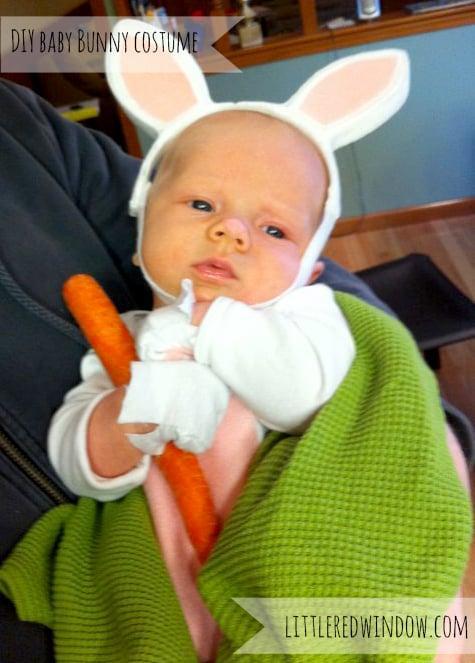 This simple but cute homemade bunny costume for your little one this Halloween. With this DIY project, you and your toddler can have a blast decorating these costumes together. Whether it's your own baby or a friend's, this newborn bunny costume should be one of the cutest on the block. Your little one will love the fuzzy felt belly and sweet marshmallow tail. This adorable pink bunny costume is made from high-quality materials designed for comfort. It's so cute, and you may want to keep him in it all day long!
DIY Bunny Costume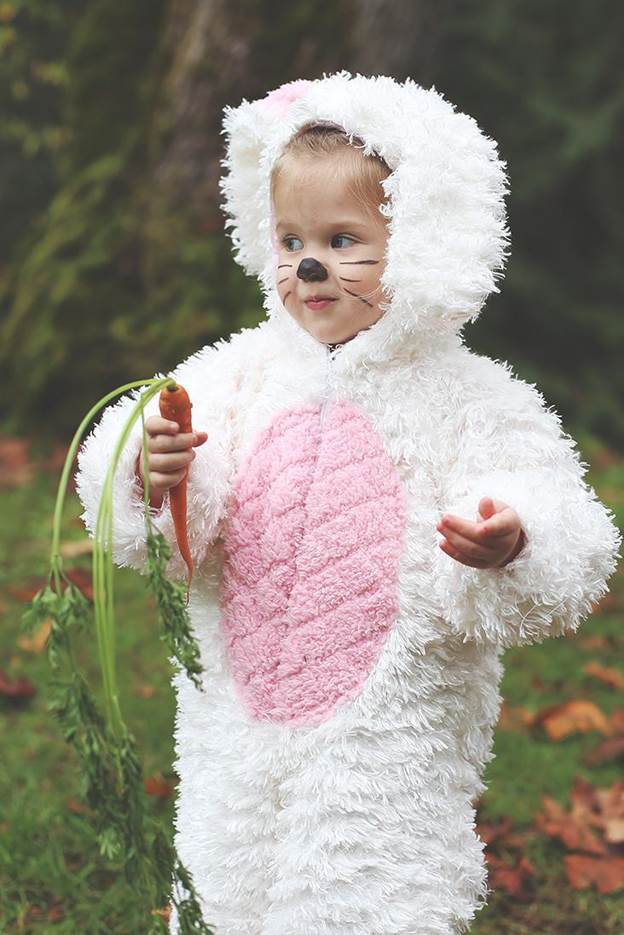 This DIY bunny costume is super soft, fluffy, and pink. It is made from faux fur, velcro, and other materials. Children of all ages can wear this DIY bunny costume during spring. This DIY bunny costume is made from a cute polka dot and white fabric. The dress has a sweet, fluffy tulle overlay that gives this bunny costume its signature look. This is perfect for Easter or to wear all year long! This costume would be great for an easter egg hunt or a birthday party at the zoo!
DIY Kids Bunny Costume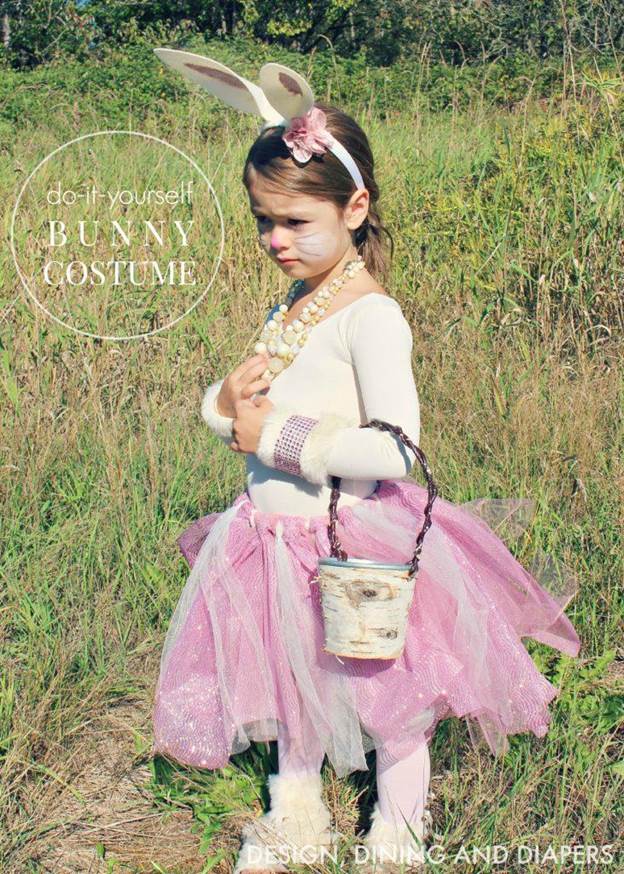 This DIY bunny costume is a bright and fun way to create a bunny for your child. Start with a onesie, add tulle to the skirt, and make pom-poms with felt and fur. Add details like faux pearls and buttons to complete the look. This DIY bunny costume will have your little one hopping around, happy and ready for Easter. The tutorial is easy to follow and doesn't require any sewing skills since all the pieces are glued together. A unique touch to a cute bunny outfit!
How To Make A Rabbit Costume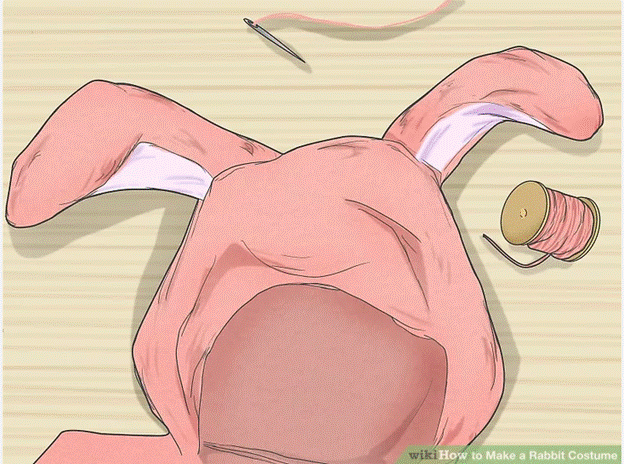 Decorate a simple fleece fabric onesie with bunny ears and a tail to create this easy rabbit costume. This is a perfect homemade costume idea for kids of all ages, including toddlers wearing their first Halloween outfit. You can make a rabbit costume using fleece fabric, a hood, ears, and a tail. Get the child's measurements and cut the fabric to make their onesie. Add ears and a hood or chest piece; add sleeves as needed. Create buttons for the eyes. Work on making sure everything is secure before presenting it to your child.
How To Make Bunny Ears
Bunny ears are a popular Easter craft for kids that are easy and can be fun to make. These bunny ears will add a fun flare to your Easter basket if you make them yourself, which I did for the children's Easter baskets this year. These bunny ears are the perfect finishing touch to any outfit. They were made using gold wire and attached to a bunch of artificial roses. It is easy and fun, and you can customize them by changing the color or shape of the ears to make them look even more adorable.
Bioshock Splicer Bunny Mask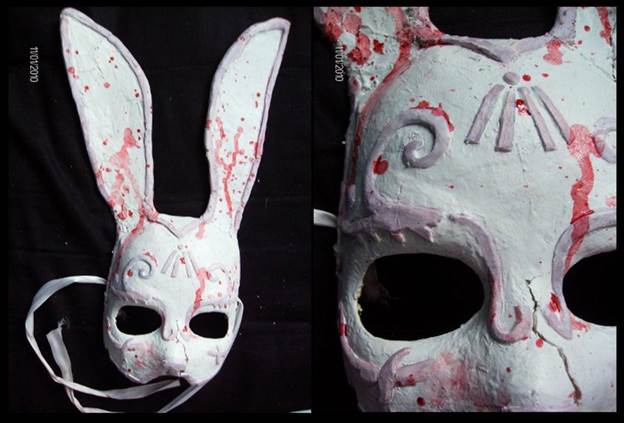 This Splicer Mask from the BioShock game is perfect for cosplayers, Halloween costumes, or just scaring your friends. It's easy to make and requires no special tools or materials. Made from natural clay, the BioShock Splicer mask is a great way to make yourself stand out at your next costume party. This DIY project features step-by-step instructions to ensure you get it right. The Mask is printed on sheets of cardstock, allowing you to easily trace it with an Exacto knife and cut it out. Trace the eyeholes and mouth, then sandpaper the surface to make it rough to catch the clay better when you add it over the paper.
DIY Easter Bunny Headband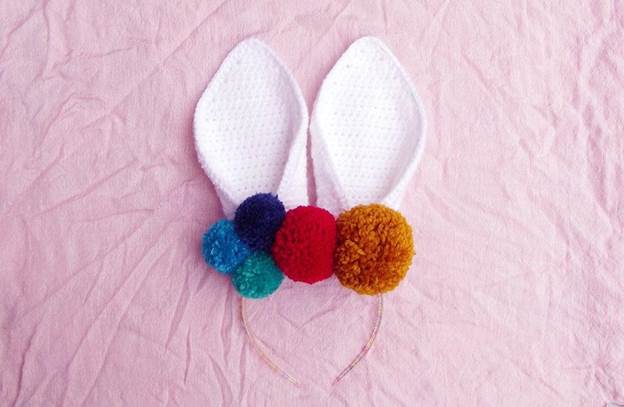 It's the little details that make Easter special. So grab your crochet hook, and make these DIY bunny ears. Add a pom-pom nose and fuzzy fabric ears to create the perfect Easter look. This cute DIY Easter Bunny Headband is ideal for any girl. The tutorial includes instructions on how to make the pom-poms, as well as instructions to crochet the bunny ears. The headband will be easy to assemble and can be completed in just a few hours.
Last Minute Bunny Costume
This diy bunny costume is perfect for a last-minute costume idea. After applying your makeup and brushes, fit on your black choker and rabbit ears. Make a last-minute bunny costume with the help of this DIY video tutorial. Apply your makeup and brush your hair before fastening the ears to your head and putting on a choker. This last-minute bunny costume is super easy to make. We love the black-and-white trend for Halloween, and our budget-friendly DIY version will keep you looking chic this season!
DIY Lace Bunny Ears
Nothing says Easter like a pair of bunny ears. This easy-to-follow video teaches how to make a cute lace bunny ear headband for Easter. All you need is wire, lace, and scissors. Add a little Easter fun to any room with these DIY bunny ears. The sky is the limit on how you can make these fun ears; use your imagination. You can add lace or glitter to make them stand out. Make these in just minutes with wire and lace, then spray them with a color of your choice for your unique look.
How To Make A DIY Bunny Tail
Cute little bunny tail for your Easter basket. I found a DIY bunny tail tutorial that is super easy to follow. It is just a large pom pom, a piece of felt, some ribbon, and a clip! This DIY bunny tail is so easy to make and super cute. This bunny tail is perfect if you need a quick and easy Easter craft! It is easy to make and will keep your baby girl warm in the winter. Just add a clip to a giant pom pom, then add two pieces of felt to the top and bottom of the ribbon before you attach it with a safety pin.
How To Make A Gangster Bunny Costume
Once you have your ears and gun, paint them to look natural. Then fit your led light into the ear and make it glow in the dark by turning off the lights of your house or room. This bunny costume is made of a white t-shirt, a pair of dark jeans, and some bunny ears. You'll also need to make your own gun. The first thing is to paint the weapon to match the color of your shirt. Then fit your led light into the ears.
DIY Bunny Costume
This DIY Bunny Costume is easy to make using a black dress and some lace. Cut the dress length to suit your taste, then strip back the back to create bunny ears. Make your own bunny ear headband by cutting pieces of lace and tying them onto your headband. This DIY bunny costume is super easy and affordable. All you need is a black dress, a part of lace, scissors, and a sewing machine! You'll need a dress, lace, and glue to make this costume. Cut off the back of the dress and then attach your black lace around it. You can also make bunny ears with the same lace.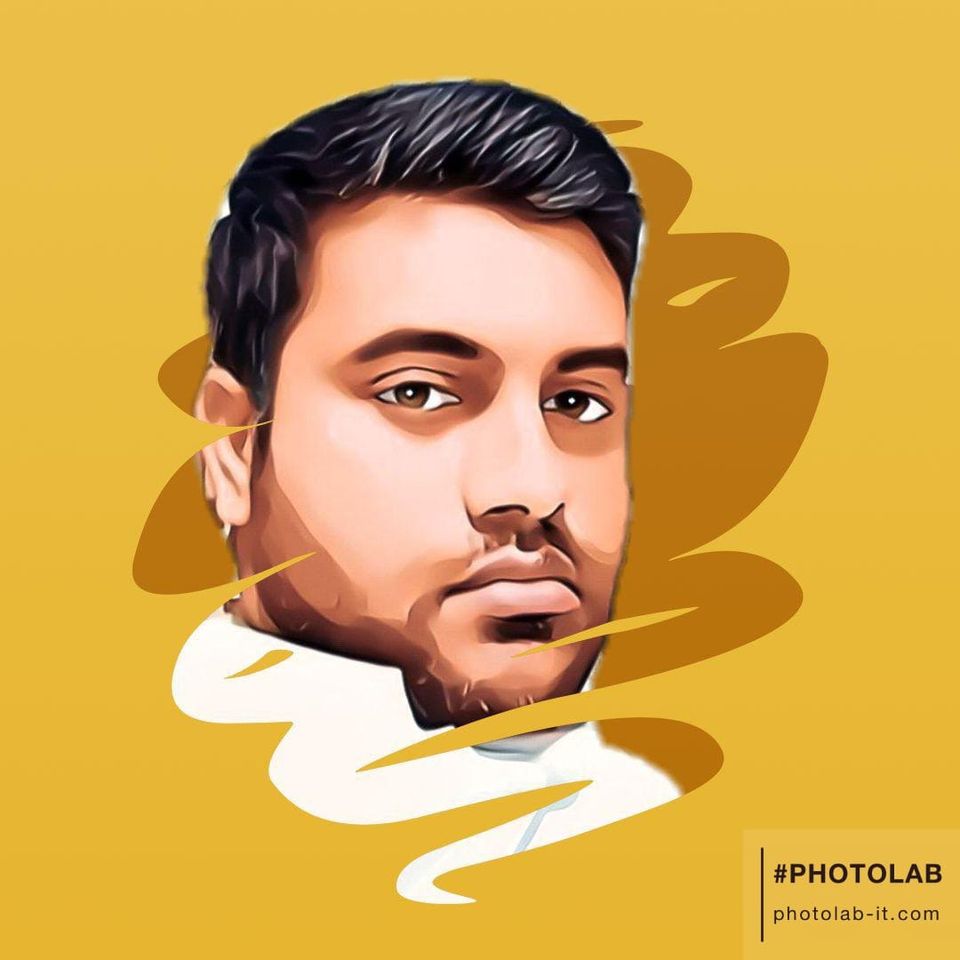 I am Raza, a crafts expert with 6 years of experience. I run this site for DIY lovers to provide the most exciting projects and ideas for your home, office, and everyday life. See More